Where to Stay in the Noosa Region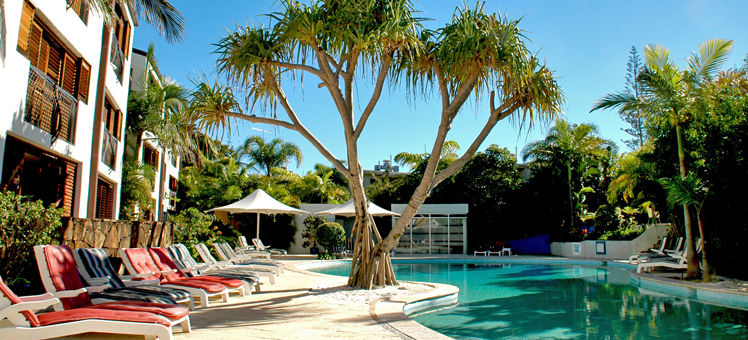 Accommodation throughout the Noosa region covers the full spectrum, spanning from practical and affordable hostels, to luxury resorts with ocean views, and lots of mid-range options. Many are conveniently situated close to the Hastings Street strip, but there are also a good number away from the town area, offering a more remote vibe.
Hastings Street
Hastings Street represents the beating heart of Noosa, making it the perfect place to stay if you want to be amongst the action. With its bustling restaurant and shopping scene, and proximity to both Main Beach and the Noosa National Park, it's also one of the most convenient choices. While resorts and apartments here veer towards the high-end, hostels and bed-and-breakfasts are also available for travellers on a budget.
Hastings Street offers the best selection of resorts in the Noosa region, offering facilities like pools, spas, saunas, and restaurants that be enjoyed on-site. There is also a wide range of apartments for those who prefer to self-cater.
Noosa Heads
Beyond the Hastings Street hub, there are plenty of other options throughout the town of Noosa Heads. You will never be more than a 15-minute walk away from the action.
Away from the Hastings Street entertainment hub, in residential streets, you'll find more affordable options, such as modern backpacker hostels and functional vacation apartments. Some even include private courtyards and barbecue areas.
Noosaville
Noosaville represents the ideal holiday location for those who would prefer to be some distance from the hustle and bustle of Noosa Heads. Located away from the beach, but along a scenic stretch of the Noosa River, the area has a good selection of shops and restaurants.
Serviced apartments are the most common style of accommodation in Noosaville, some of which feature views of the Noosa River. There is also a limited selection of resort-style retreats and holiday units.
Search for Noosaville hotels
Sunshine Beach
Sunshine Beach is just a 5-minute drive to the east of Noosa Heads. It's one of the best spots in the area for surfing, so keep that in mind if catching waves are a priority. Otherwise, Sunshine Beach is ideal if you're looking for a tranquil spot with less hustle and bustle.
Several hostels are available for those want to surf the waves without breaking the bank. There's also apartment accommodation available that boasts views of the surf beach, as well as offering resort-style facilities in some instances.
Discover
Find your perfect holiday in Sunshine Coast
From 0 hotels.