10 Best Things to Do in Vienna
What is Vienna Most Famous For?
Vienna, by the tranquil Danube River, is full of 17th-century palatial grandeur. Throughout the city, you can find fascinating history that's extremely well preserved and beautifully presented. In visiting Vienna, you get to experience a dynamic art culture, with historical cobbled streets among tall Gothic buildings where Strauss' waltzes echo through the ages.
Vienna has an efficient public transport system, but the best way to appreciate it is at your own leisurely pace. You can easily navigate Vienna's city centre by following the wide Ringstraße, which winds through walking streets and squares lined with many of the top landmarks. Enjoy the Austrian capital with these great ideas for things to do in Vienna in a day.
What are the best things to do in Vienna?
1
Start your day at Stephansplatz
Sightsee around Vienna's geographical hub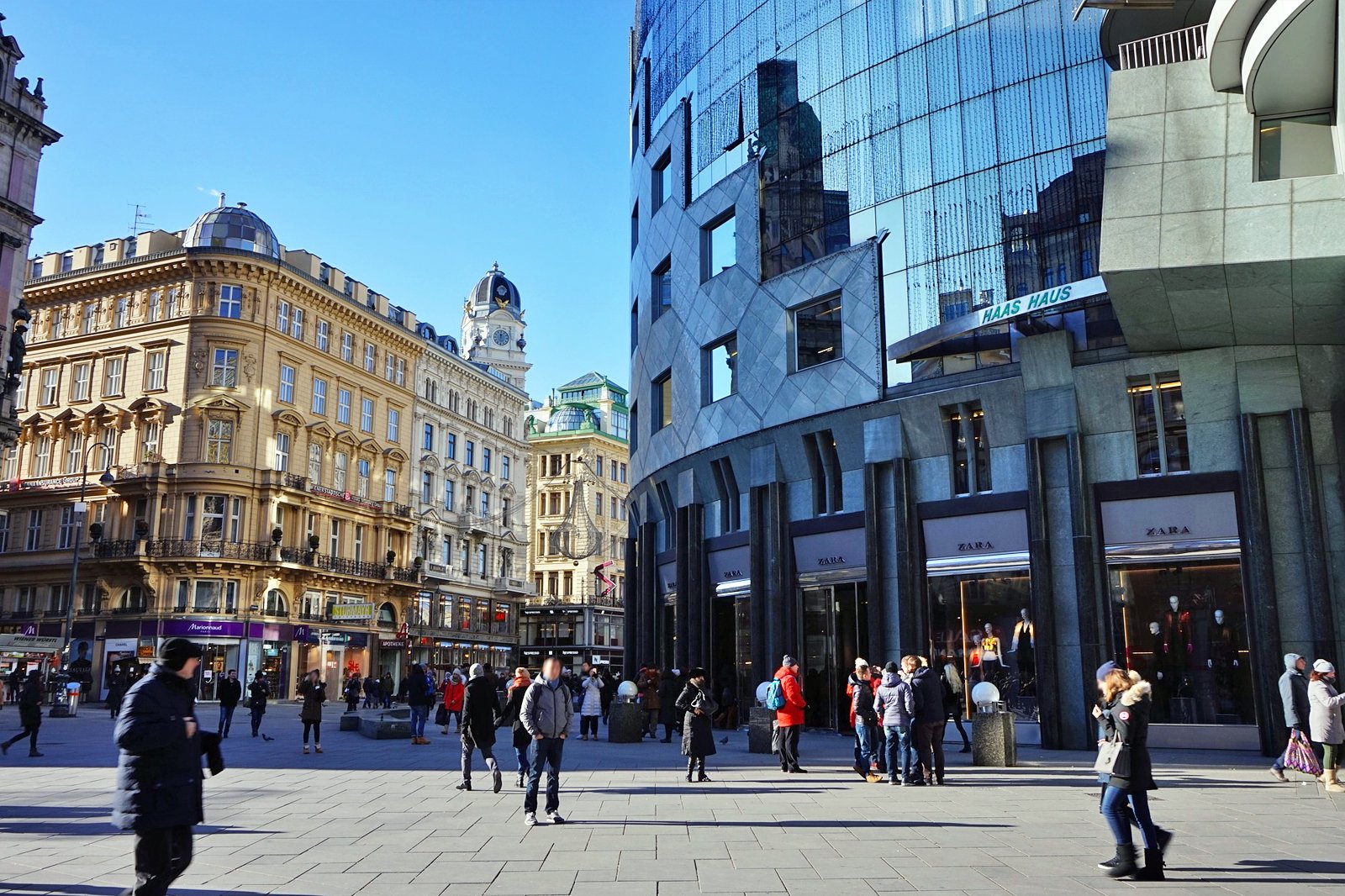 At the heart of Vienna, Stephansplatz is the major square where the majestic Roman Catholic Stephansdom cathedral stands tall. Ringed with shops, it's a hub for a network of bustling walking streets. The lively shopping street of Graben splits off from the square's southwest corner, by the Stephansplatz U-Bahn station. Here, you can pick a spot at a shaded coffee shop in the middle of the street. Busking bands often perform around the base of the magnificently gilded Baroque statue of Pestsäule, which is another historical Viennese landmark.
Location: Stephansplatz, 1010 Wien, Austria
2
Must-See: St. Stephen's Cathedral
A massive and awe-inspiring Viennese landmark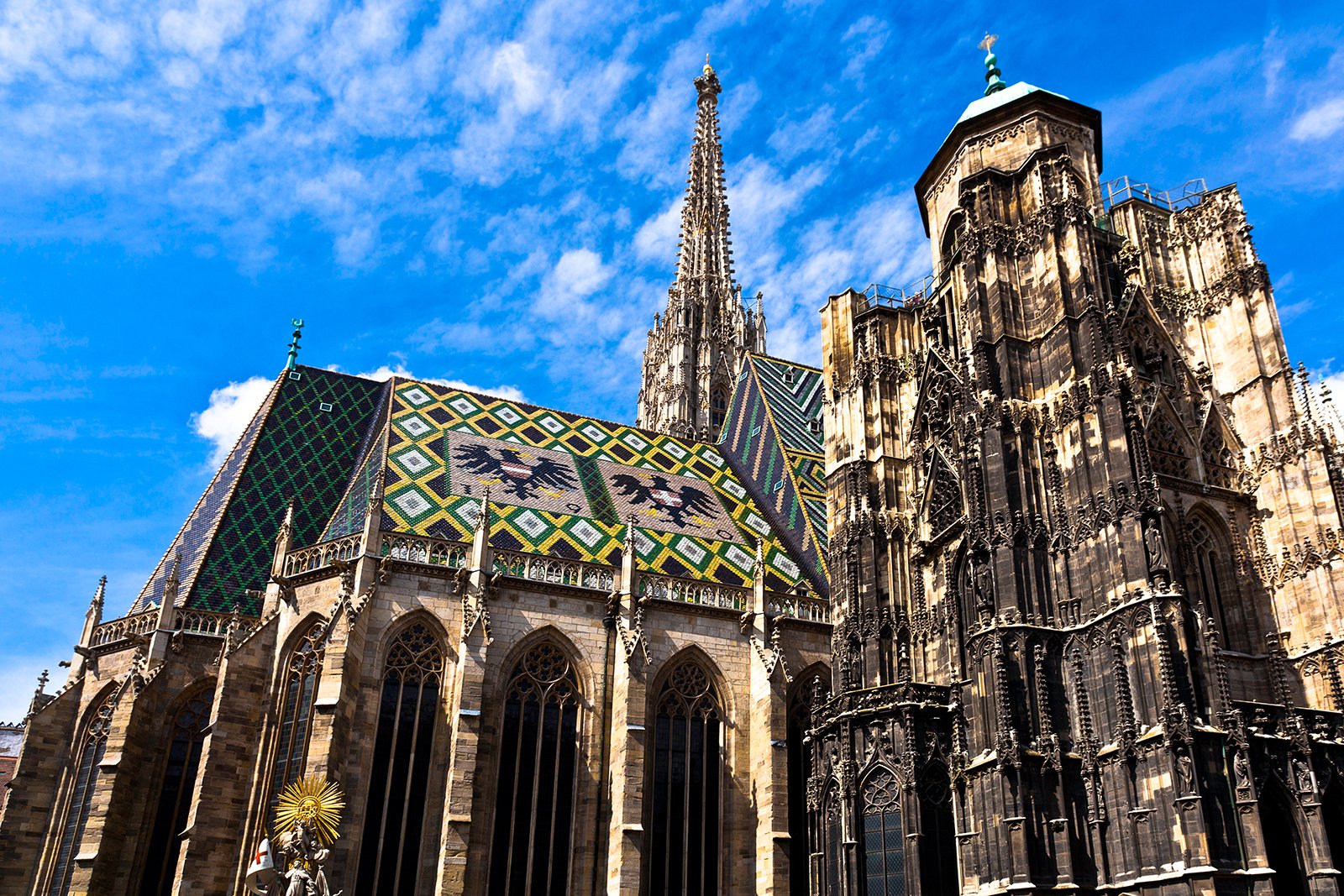 With its multi-coloured tile roof and towering spires, St. Stephen's Cathedral is one of the world's most beautiful Gothic structures. It sits right in the heart of the city. Stepping inside, you'll easily find yourself gazing at the tall, ornate nave with its Baroque overlays, as well as the colourful stained-glass windows. Check out the striking carvings on the Gothic masterpiece pulpit in the midsection. The stone self-portrait of its anonymous sculptor peeking through a window (giving it the name "fenstergucker") is a funny addition to an otherwise sombre sight.
Location: Stephansplatz 3, 1010 Wien, Austria
Open: Monday–Saturday from 9 am to 11.30 am and from 1 pm to 4.30 pm, Sundays from 1 pm to 4.30 pm
Phone: +43 1 515523530
3
Ride the Viennese giant Ferris wheel
For a fun ride with sweeping panoramas over Vienna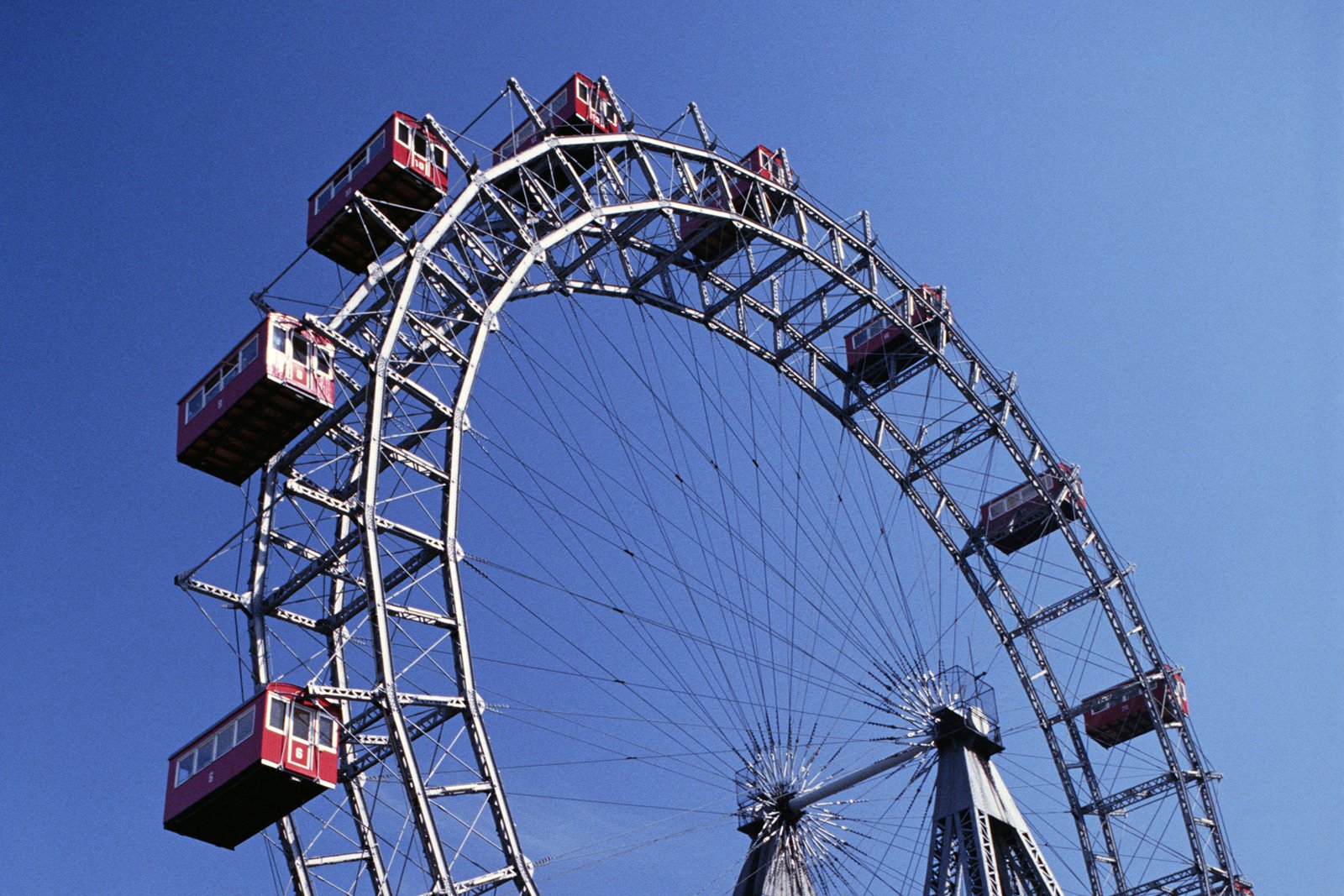 Couples
Families
History
Photo
The Wiener Riesenrad, better known as the Viennese giant Ferris wheel, has a colourful past. It dates back to 1897, was designed by British engineers, and was rebuilt with only half the number of gondolas of its original 30 (after being damaged during the Second World War). It was featured in the classic James Bond flick, The Living Daylights (1987). At the top of the wheel, the gondolas provide sweeping panoramas over Vienna from around 65 metres high.
Location: Riesenradplatz 1, 1020 Wien, Austria
Open: Daily from 10 am to 9.45 pm
Phone: +43 1 7295430
4
Must-See: Schönbrunn Palace
A regal complex surrounded by decorated gardens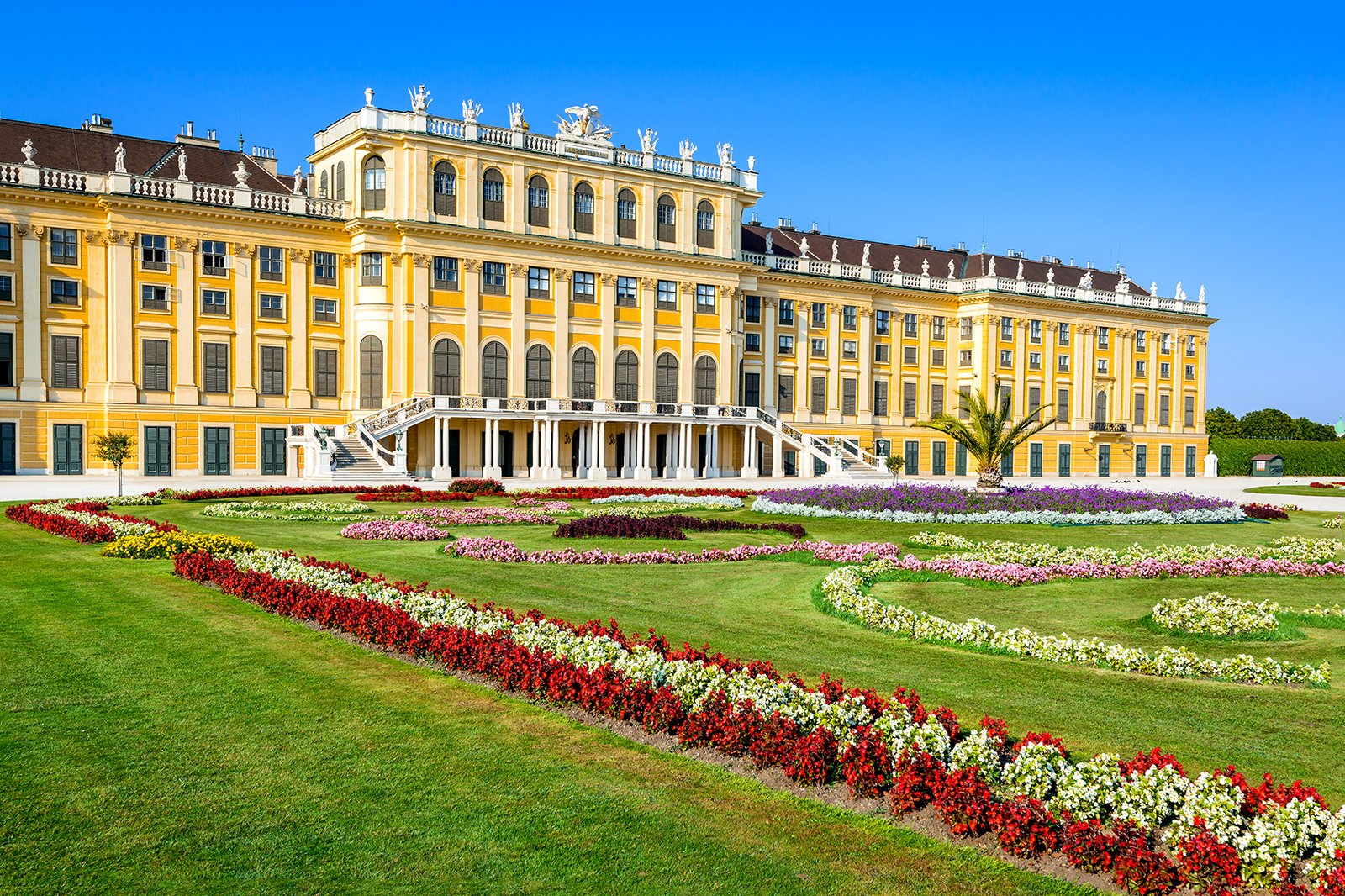 A visit to this magnificent Baroque palace in Vienna can provide you with an excellent idea of how European royalty lived in the 17th to 19th centuries. Schönbrunn Palace has around 1,400 rooms, 40 of which you can see on a palace tour, complete with their original décor and furniture. You can also take a glimpse into the royal apartments and stunningly frescoed galleries. Spare some time for inspiring walks through the palace's vast flowerbed-filled Privy Garden or the Schönbrunner Schloss Park.
Location: Schönbrunner Schloßstraße 47, 1130 Wien, Austria
Open: Daily from 8 am to 5.30 pm
Phone: +43 1 81113239
5
See animals at Schönbrunn Zoo
It's the world's oldest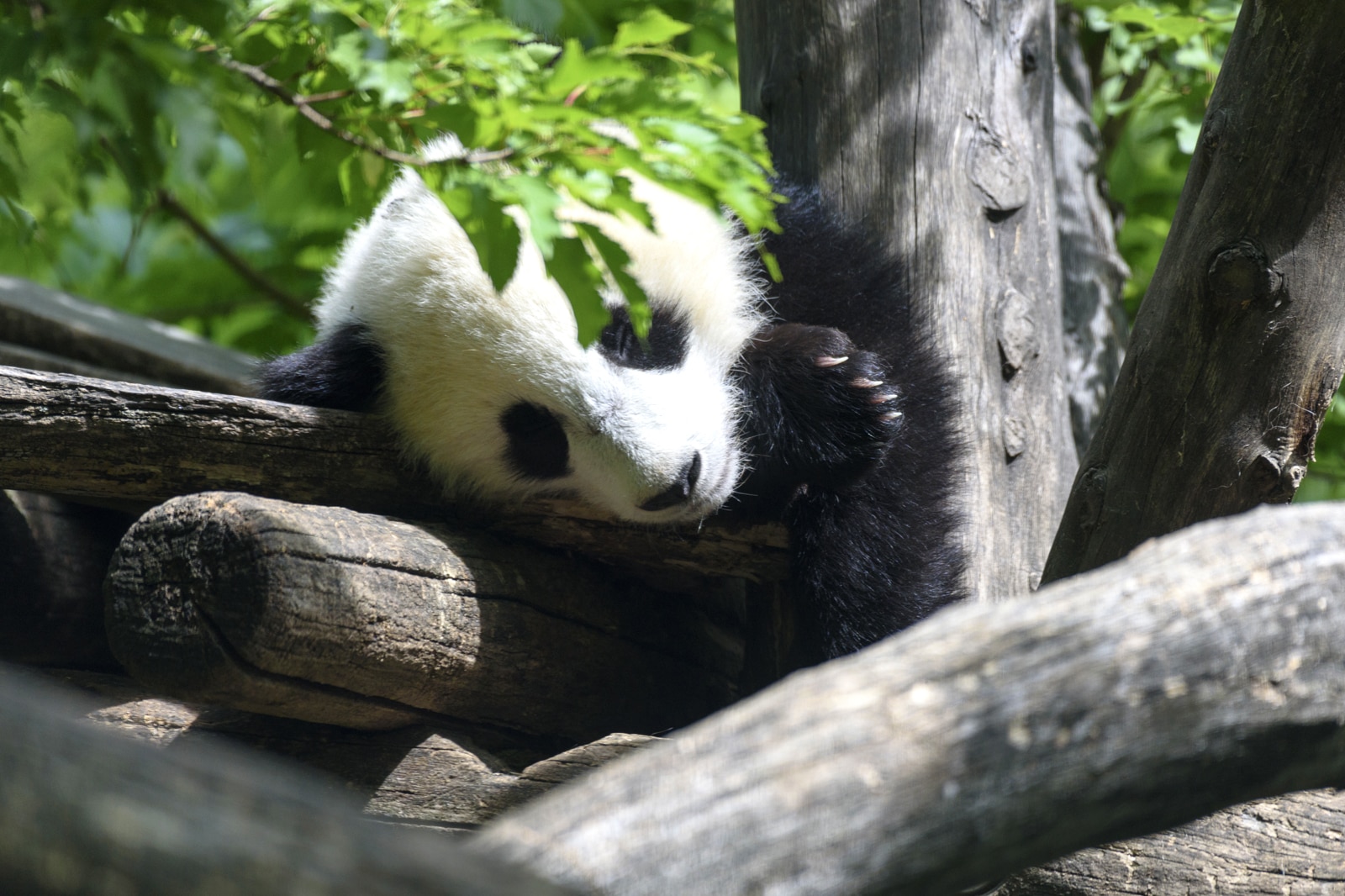 Tiergarten Schönbrunn, or Schönbrunn Zoo, is a 17-hectare green oasis near the namesake palace, southwest of central Vienna. The zoo dates back to 1752, making it the oldest in the world. The Baroque architecture from its old days is well-preserved. More than 8,000 animals from over 700 species live here, and it's one of the few zoos in the world to feature giant pandas. Check out the Amazon rainforest house, where you can see vivid specimens from the diverse biome on the opposite side of the planet.
Location: Maxingstraße 13b, 1130 Wien, Austria
Open: Daily from 9 am to 4.30 pm
Phone: +43 1 87792940
6
Find exotic flowers at Palmenhaus
It has among the world's largest botanical exhibits of its kind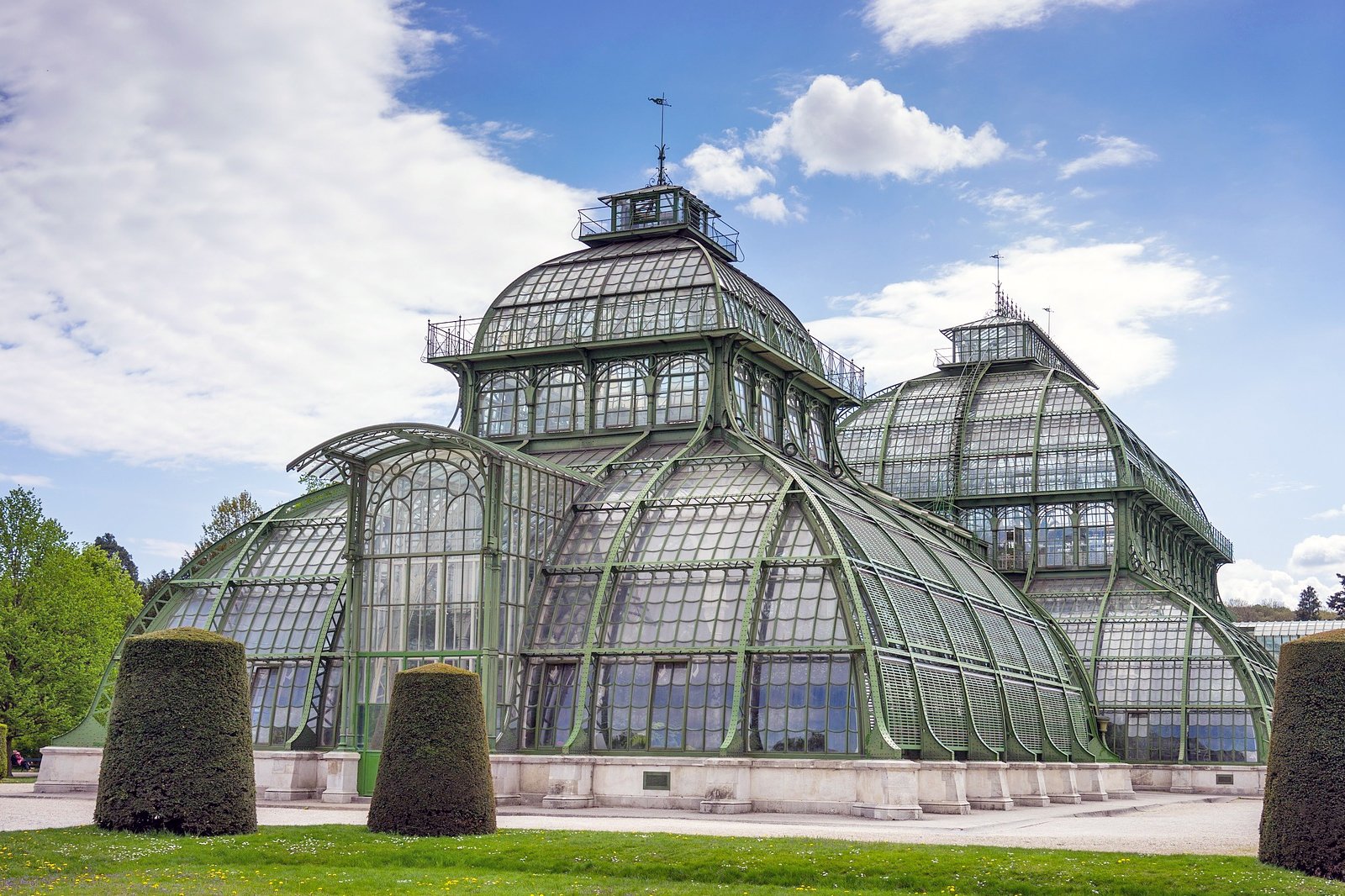 Couples
Families
History
Photo
Vienna's Schönbrunn Palace is surrounded by 4 lush botanical oases. Palmenhaus Schönbrunn is the most prominent, featuring a giant late-19th-century Art Nouveau greenhouse that contains thousands of different plant species from around the globe. Its steel structure is aptly painted all green on the outside, and giant cast-iron columns designed in the shape of trees support the central sections of its steel and glass structure. Besides admiring the colourful exotic flowers inside, you can enjoy a Viennese lunch at the onsite restaurant.
Location: Schlosspark, 1130 Wien, Austria
Open: Daily from 9.30 am to 5 pm
Phone: +43 1 8775087
7
Must-See: Museum of Natural History, Vienna
View Mother Nature's masterpieces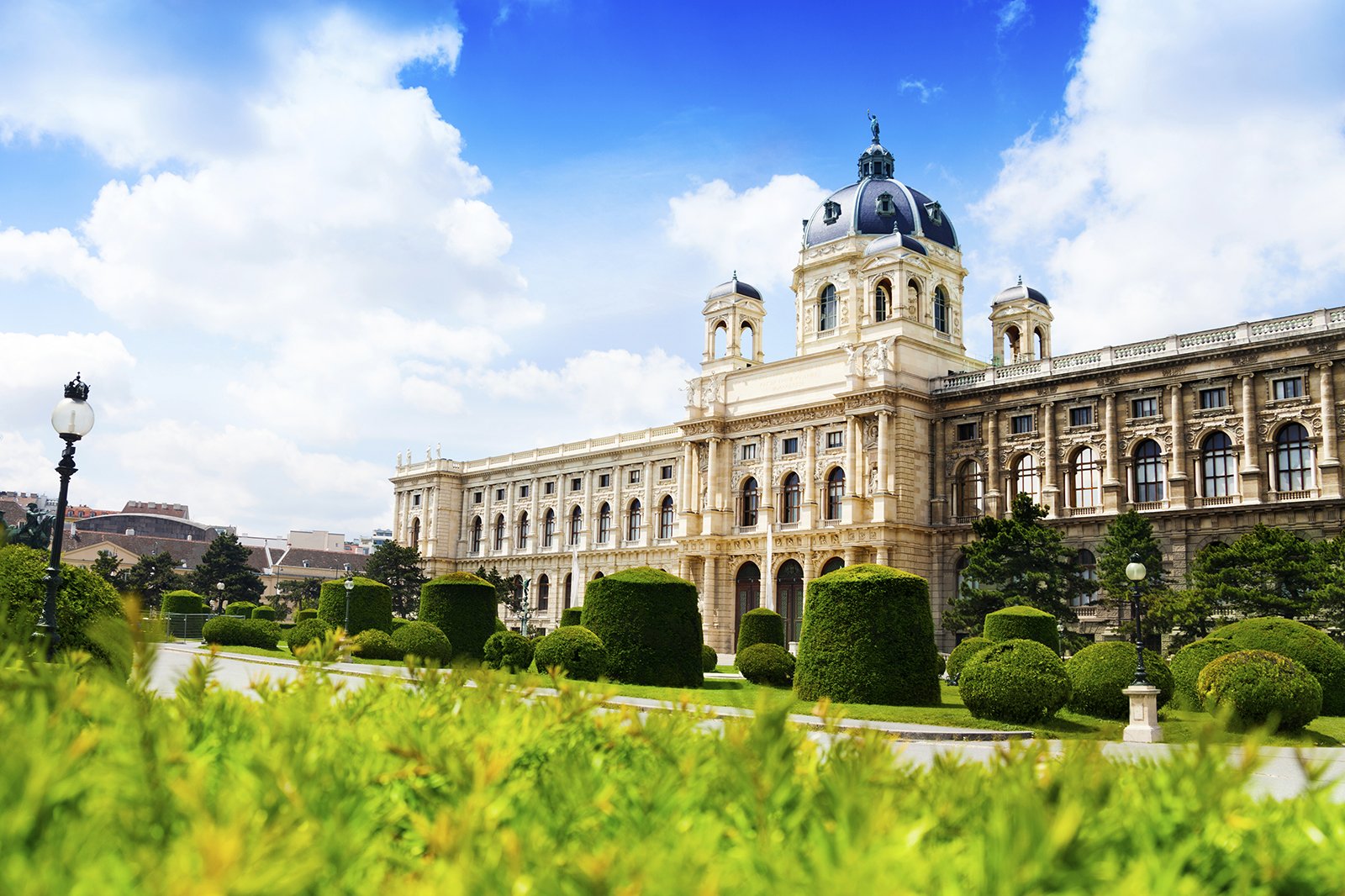 Vienna's Museum of Natural History lets you marvel at a collection of over 30 million specimens and artefacts from around the globe. It has around 39 exhibition halls across 2 main levels. Exhibits range from minerals, meteorites, and dinosaur fossils, to vertebrates and anthropological dioramas. The museum also has a planetarium, which takes you on awe-inspiring journeys across the solar system through a series of full-dome projection shows. Entry is around €12 per person and free for those aged 19 years and under.
Location: Burgring 7, 1010 Wien, Austria
Open: Thursday–Monday from 9 am to 6.30 pm, Wednesdays from 9 am to 9 pm (closed on Tuesdays)
Phone: +43 1 521770
8
Enjoy a scenic stroll through Volksgarten
Smell the roses in Vienna's 'people's garden'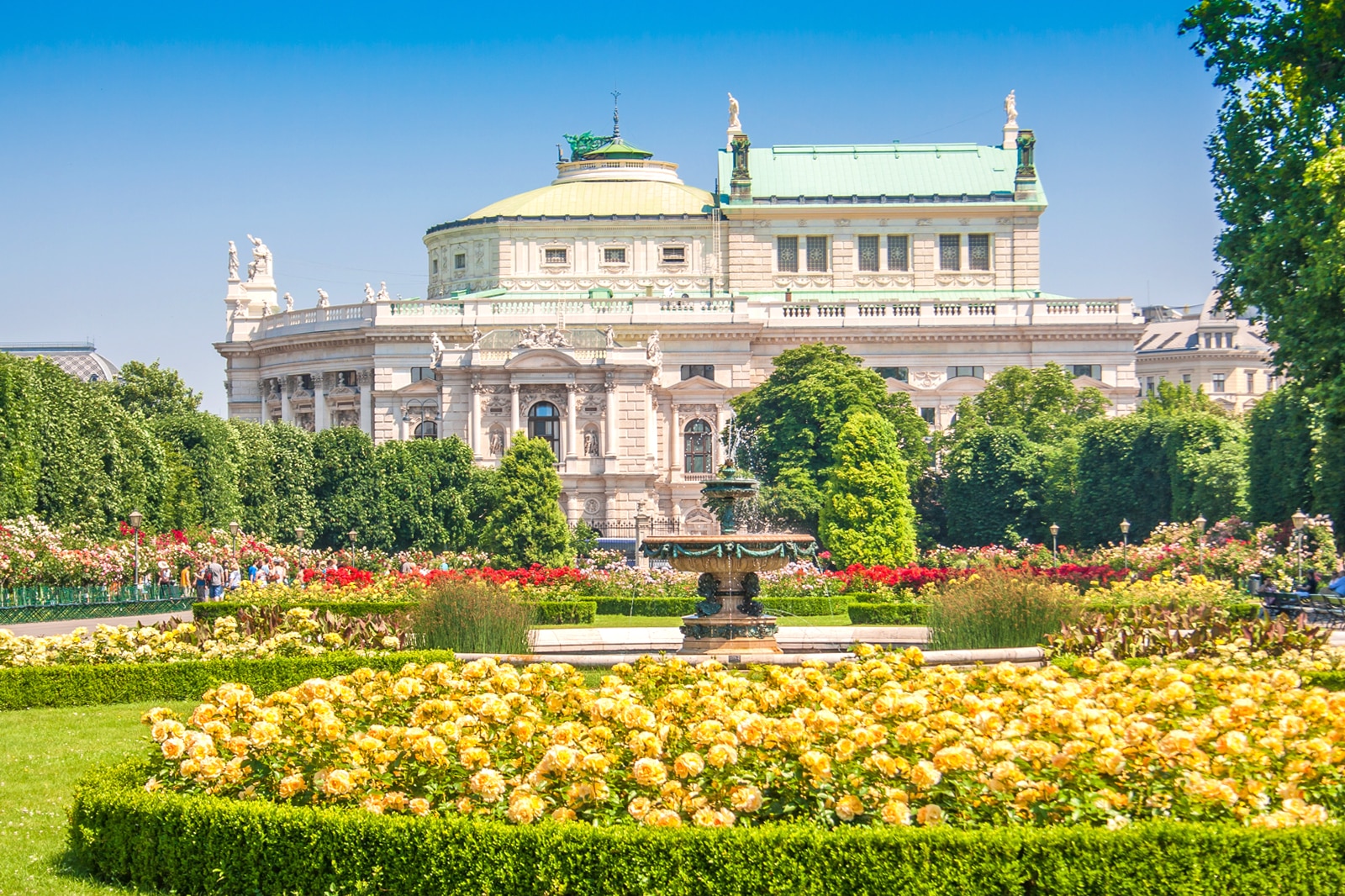 As the 'people's garden' of Vienna, Volksgarten has lovely pathways that lead you past a series of rose gardens and manicured flowerbeds. Walking through the grounds, you can encounter more than 3,000 rose bushes from 200 different rose cultivars. You can also see a few monuments dedicated to notable Viennese figures, including that of the Empress Elisabeth by Austrian sculptor, Hans Bitterlich. The garden is part of the Hofburg Palace in the Innere Stadt district, which serves as the official residence of the Austrian Presidency.
Location: 1010 Vienna, Austria
9
Try wiener schnitzel and sachertorte
Relish in the flavours of Vienna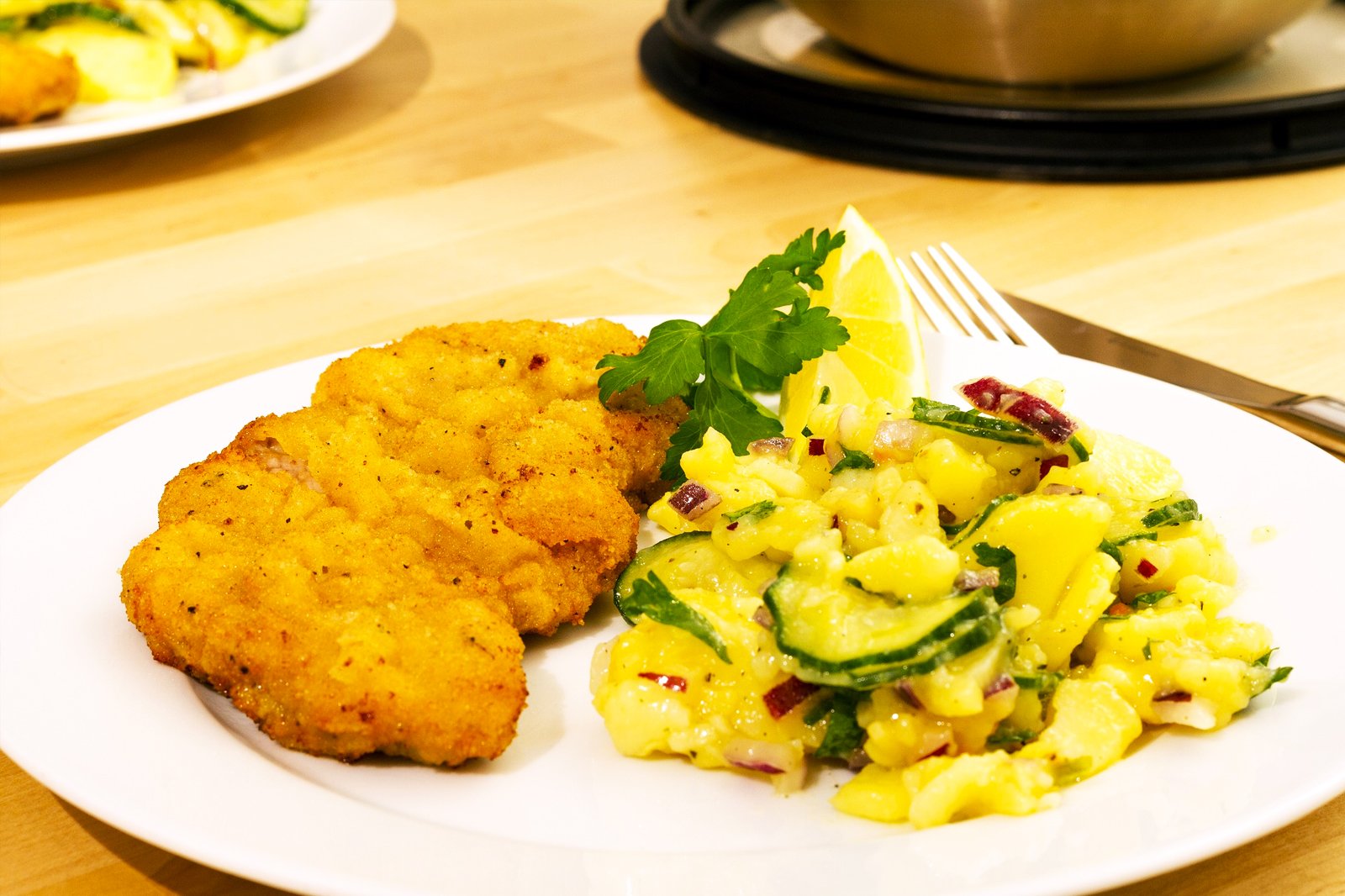 Wiener schnitzel is the must-try Viennese meaty treat, which is made up of a thin and breaded butterfly cutlet of pan-fried veal. Among the best schnitzel spots in downtown Vienna are Figlmüller near Stephansplatz and the rustic Schnitzelwirt on the Neubaugasse. For dessert, order Vienna's celebrated chocolate cake, Sachertorte. The original recipe for the iconic cake, which features a slither of apricot jam between 2 soft layers, is guarded at Hotel Sacher Wien. The cake ended up causing a legal battle between the hotel and Demel bakery in Kohlmarkt. Naturally, those 2 are your best bets for trying out this sinful delight.
10
End the day watching an opera at Wiener Staatsopera
The stately hub of Vienna's art culture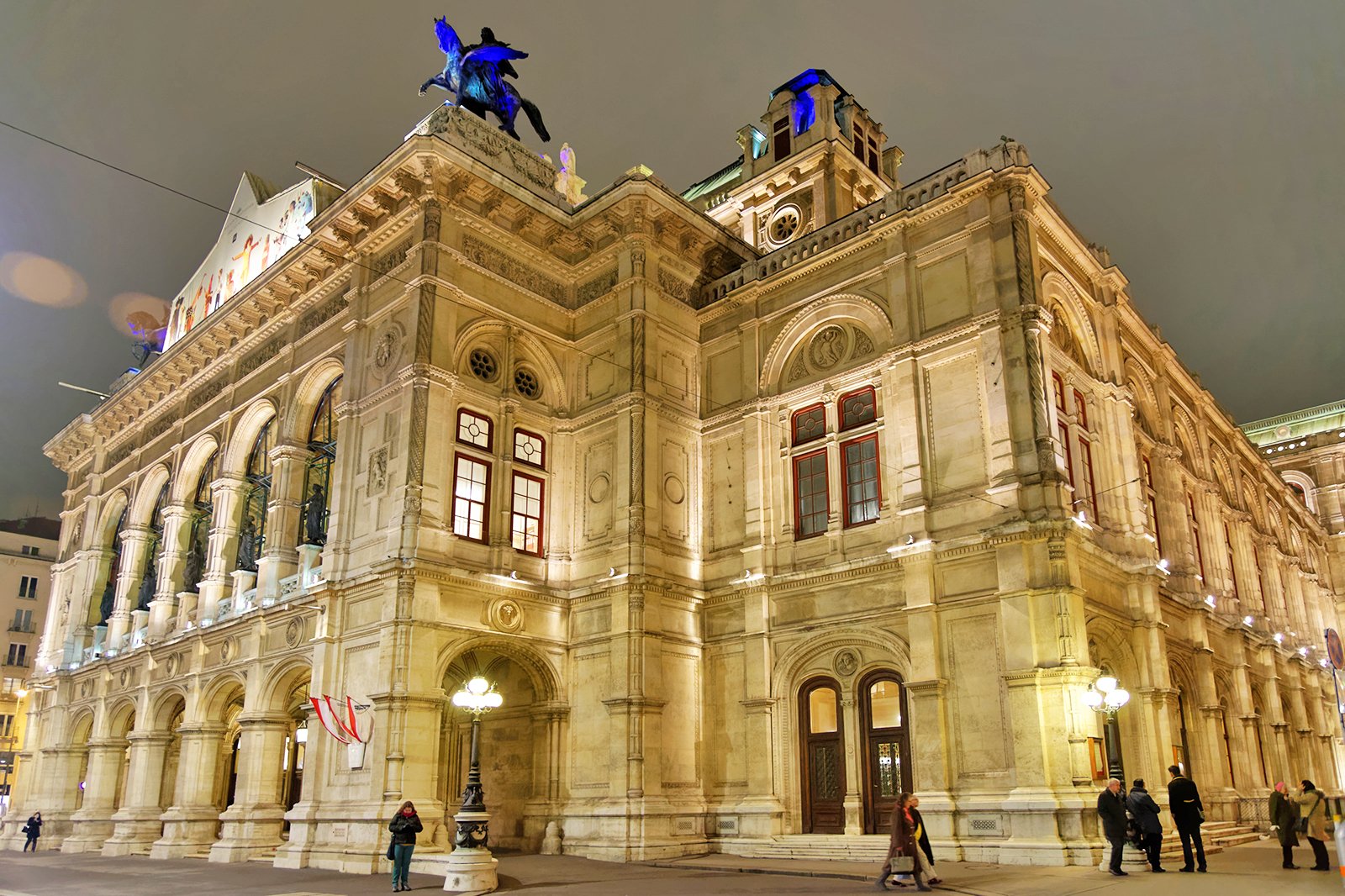 The Vienna State Opera House is a must-see when visiting the Austrian capital. It dates back to the 1860s, and it's still as magnificent as it was then. From the moment you step inside its lavishly frescoed and decorated entry hall and elegant intermission rooms, you can see how 'going to the opera' back in the day would be a whole lot more exciting than 'going to the movies' is now. The best seats are pricier than the latest blockbuster.
Location: Opernring 2, 1010 Wien, Austria
Open: Most shows start at 7.30 pm
Phone: +43 1 514442250
Back to top