The Harbour Bath (Havnebadet) in Aarhus
Atmospheric bathing facility with a view in Aarhus Ø
When the temperatures rise and the sun shines on the city centre, the Harbour Bath (Havnebadet) in Aarhus is the place to be. Young and old flock to the public bath during the summer months for sunbathing, enjoying the lovely weather and of course taking a refreshing dip in the 50-metre-long pool.
If you're hardcore, you can jump in the freezing cold water in the middle of winter, and follow it with a nice hot sauna – that'll get your blood pumping! Pack your bathing suit no matter the season, and join the numerous locals who love the water for a special swimming experience with an amazing view of the Port of Aarhus.
The Harbour Bath (Havnebadet) in Aarhus - one of the highlights of 10 Things to Do in Copenhagen with Kids and 10 Free Things to Do in Copenhagen (Read all about Aarhus here)
Highlights of the Harbour Bath
The Harbour Bath consists of a 50-metre-long pool, a kids' pool, a diving pool and two saunas, so you have plenty to choose between. You will also find a number of practical facilities, including a changing room, toilets and showers.
Along the pool, there are several stands selling food and drink to hungry and thirsty bathing guests. Cool down with an ice cream or a glass of white wine, and satisfy your hunger with a delicious Turkish pita bread or some sushi when your tummy starts to rumble. If you want to add some action to your bathing trip, you can also find beach volleyball courts nearby as well as Aarhus Watersport Complex, which offers activities including wakeboarding.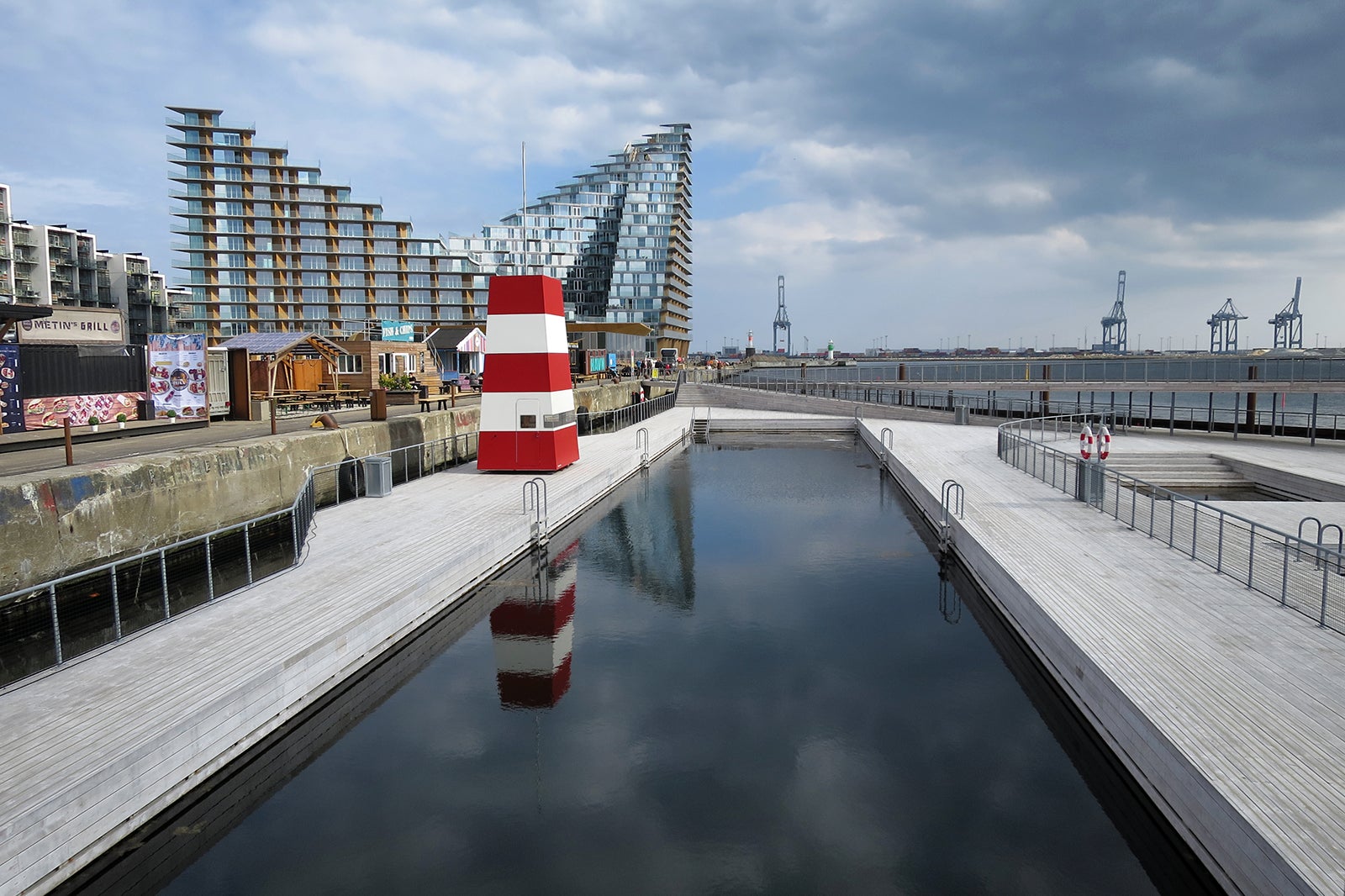 Good to know about The Harbour Bath
The actual promenade deck is open around the clock, but the pool area may only be used during opening hours, which is also when lifeguards are present. Both the pools and the promenade deck are also available to people in wheelchairs.
The Harbour Bath is located at Bassin 7 in the newly constructed district of Aarhus Ø, not far from the centre. It takes about half an hour to walk there from the Central Station, and you can also take the bus, which stops five minutes away on foot.
After swimming, you can take a walk in Aarhus Ø. Rent a bike and drop by Havnens Perle, a famous grill bar in Aarhus, which tempts visitors with Denmark's best beef sandwich.
The Harbour Bath (Havnebadet) in Aarhus
Location: Bassin 7, 8000 Aarhus C, Denmark
Open: Opening hours vary by season
Back to top