10 Best Family Things to Do in Naxos
Fun Places in Naxos to Take Your Kids
Naxos has gained a reputation as the most family-friendly of the Greek isles and for good reason. For one thing, it's not a party destination. The beaches are relaxed and tranquil and there are plenty of family-friendly historical attractions, from ruins to museums. The island is also easy to get to, with both ferry and air service, though there aren't any cruise ships that travel to the island, which means the tourist crowds are less than what you might find in other Grecian destinations.
So, if you're looking for a family-friendly Mediterranean island, look no further. Naxos offers convenience and a comfortable atmosphere that'll appeal to any family with small globetrotters eager to see a new corner of the world. Here are some of the top things for you to do in Naxos with the family.
1
St. George Beach
A family-friendly beach just a short walk from the centre of Naxos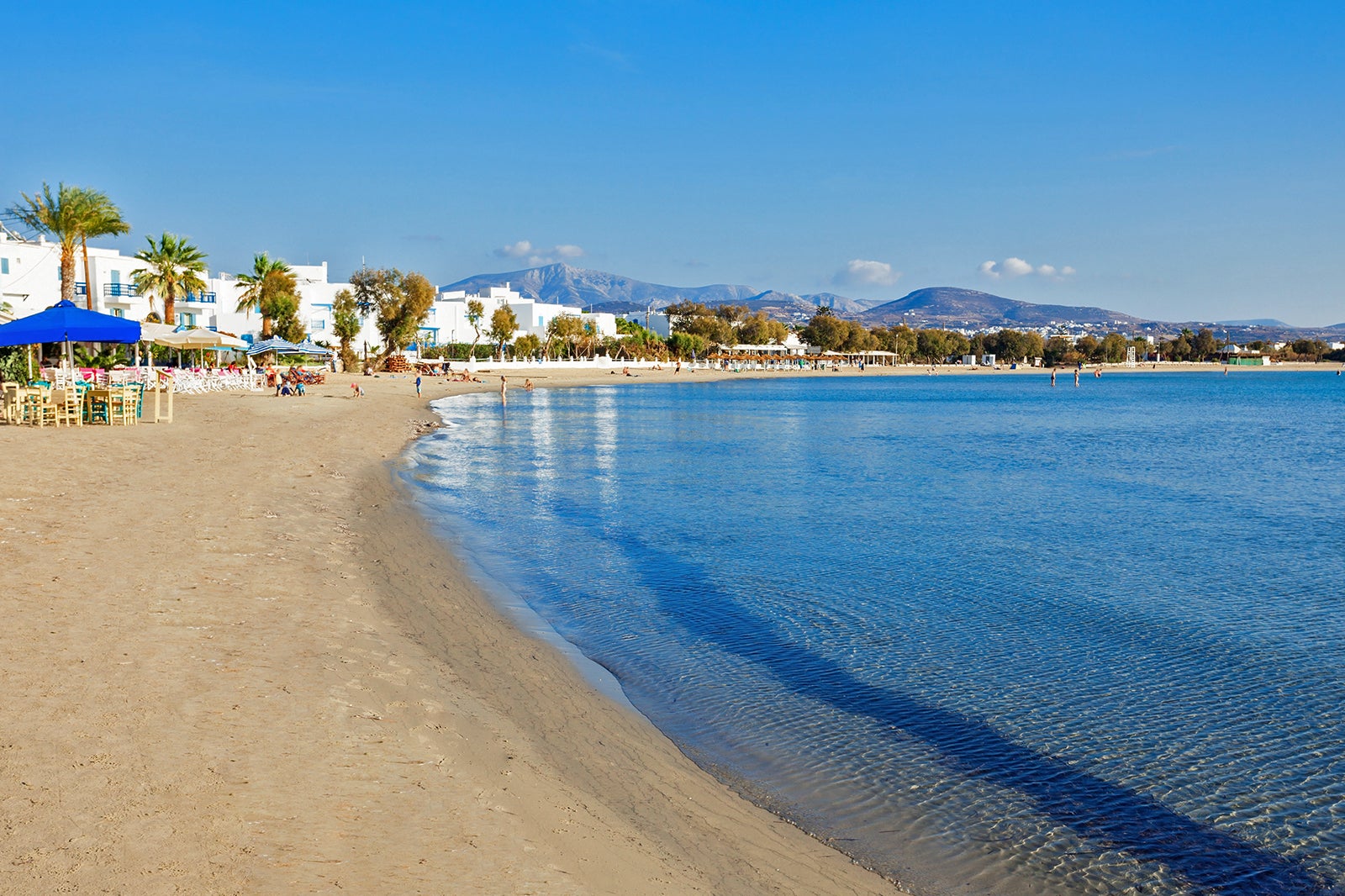 Families
Photo
Budget
Adventure
Paralia Agios Georgios (St. George Beach) provides activities for everyone in your family, whether you want to spend your time building sandcastles, trying out a new water sport or lounging under an umbrella with a book in hand (umbrellas and chairs are available for rent).
The water is shallow in most spots, making for an easy place to splash and play for weak swimmers and young children. The shallow lagoon is also popular with windsurfers, who find the flat, peaceful waters to be a fun challenge. Hungry? Taverns and cafés are located along the beach for a convenient, and often affordable, bite or drink.
Location: Naxos 843 00, Greece
2
Aqua Fun Water Park
Splash around under the Grecian sun, without all the sand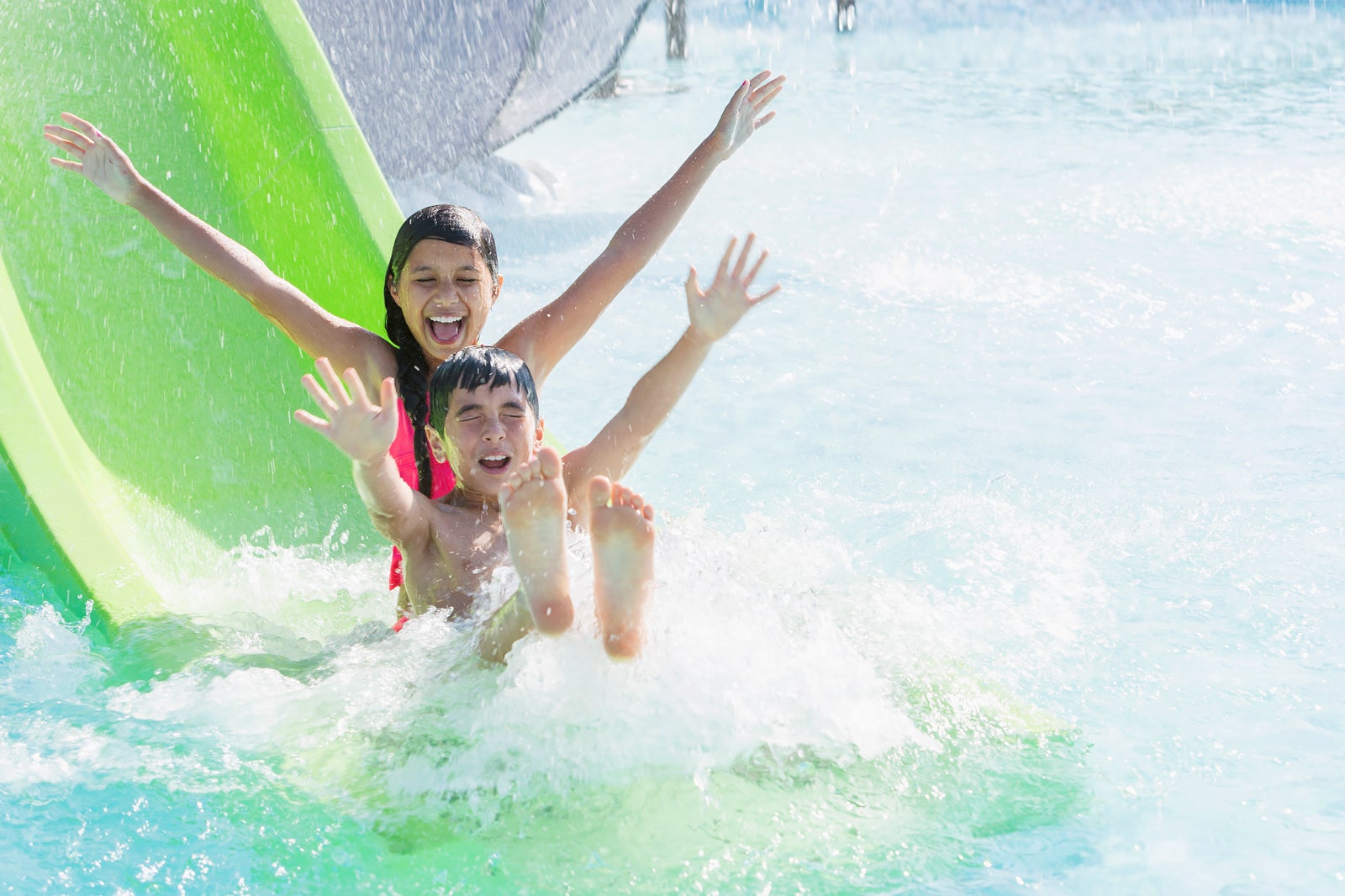 Take the kids to Aqua Fun Water Park in the Stelida neighbourhood if you've had enough sand in your shoes to last a lifetime. Everyone can enjoy the pools, multiple waterslides and other fun features. Shaded lounge chairs are available so you can comfortably watch the kids at play while you relax, and a café and tiki bar serves up drinks, both of the rejuvenating and alcoholic varieties.
One entry price affords families all-day access to the park, including use of umbrellas, chairs, the multiple waterslides, separate adult and children's pools, parking and Wi-Fi. Volleyball courts and a fish spa are also on site.
Location: Agios Prokopios, Naxos 843 00, Greece
Open: Daily from 11 am to 7 pm
Phone: +30 2285 025050
3
Sail on the Aegean Sea
Take the family out on the water for a relaxing and memorable day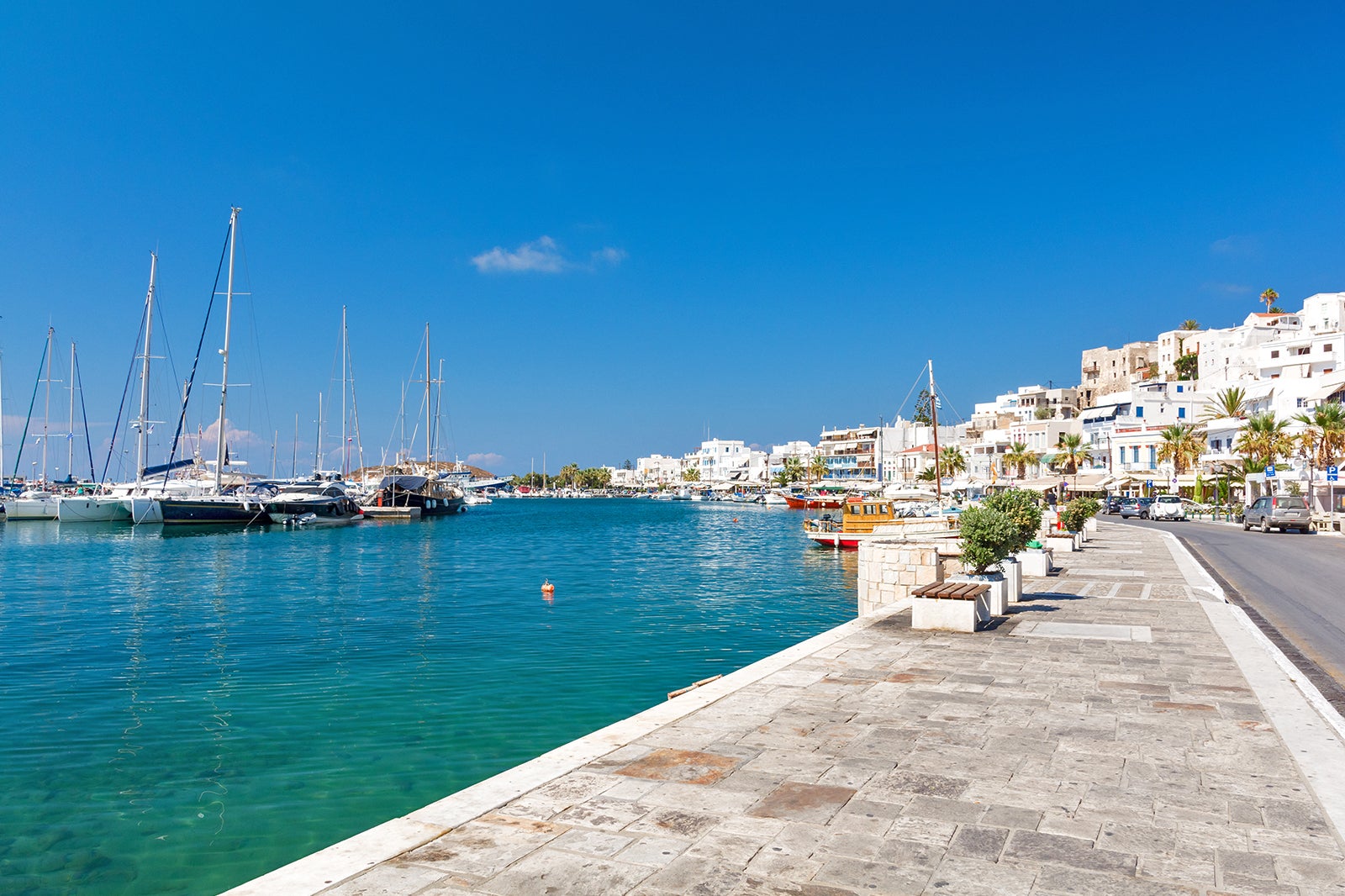 The crystalline waters around the Greek isles are famously beautiful, so it only makes sense to want to see them a little closer. Thankfully, there are plenty of boat rental providers on Naxos that can make this possible. Whether you want to rent a small boat to captain on your own (if you have the proper experience), or you'd like a driver to take you around and show you the sights, there are options for every family.
Lounge on the deck, see landmarks only accessible by boat, catch your own lunch or go on a snorkelling excursion. Whatever you've planned for your sailing adventure on the Aegean Sea, Naxos will hook you up with a travel provider with an option that meets your needs.
4
Windsurfing at Laguna Beach Park
A water sport the entire family can enjoy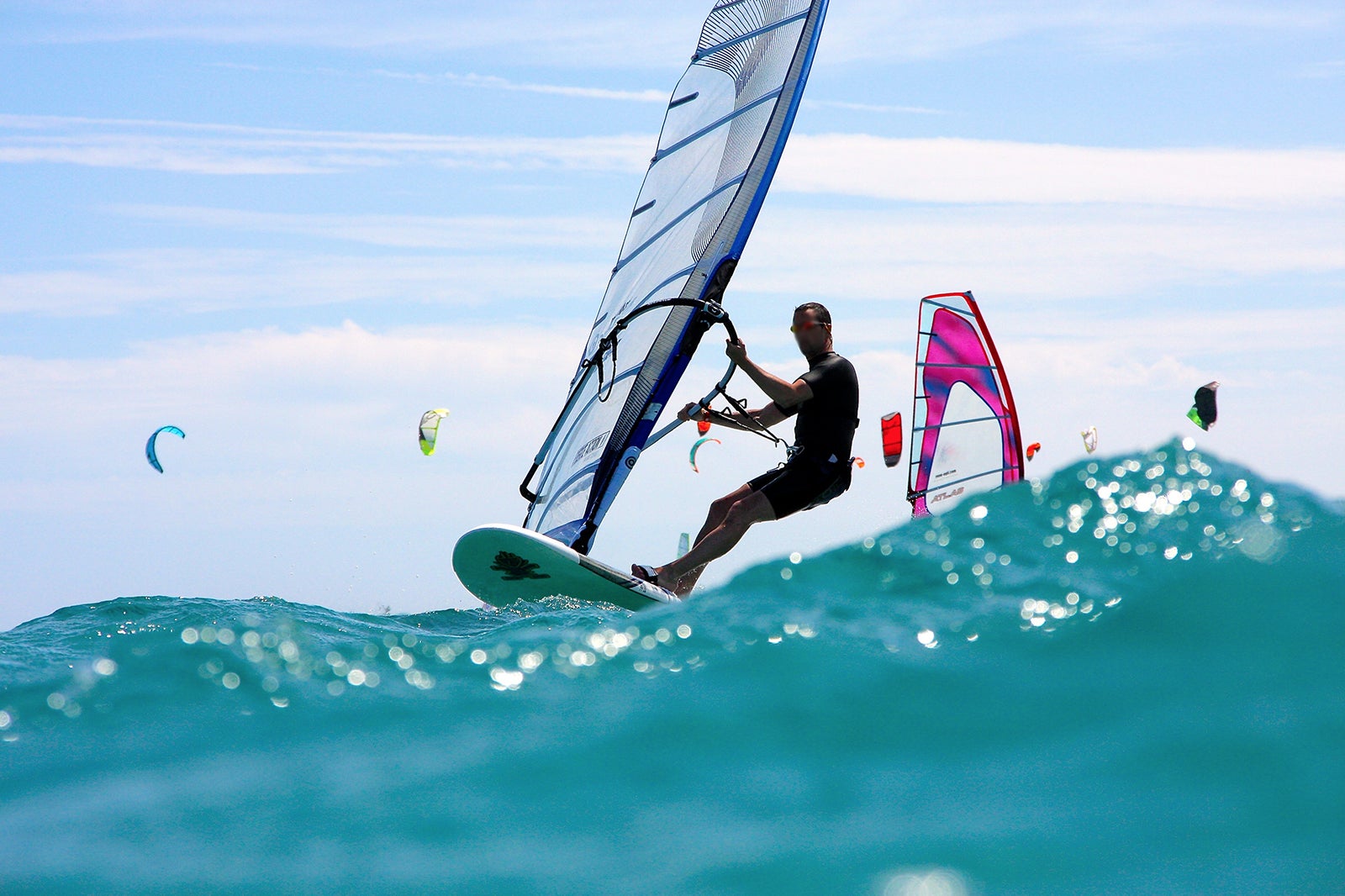 Windsurfing is very likely the most popular water sport on Naxos, as the calm waters and low waves make for a family-friendly, safe spot to try the sport. In fact, Laguna Beach Park on the west side of the island, where Naxos's premier windsurfing school is located, claims the park is the safest spot in the entire world for learning to windsurf.
Attend a workshop and learn how to windsurf with the pros at your side. The school welcomes windsurfing students of all ages and skill levels. You might just find a hobby the whole family loves.
Location: Laguna, Stelida 843 00, Greece
Open: Daily from 10 am to 7 pm
Phone: +30 697 242 6905
5
Old Town Archaeological Museum
From floor to ceiling, this historic structure is stuffed with interesting archaeological finds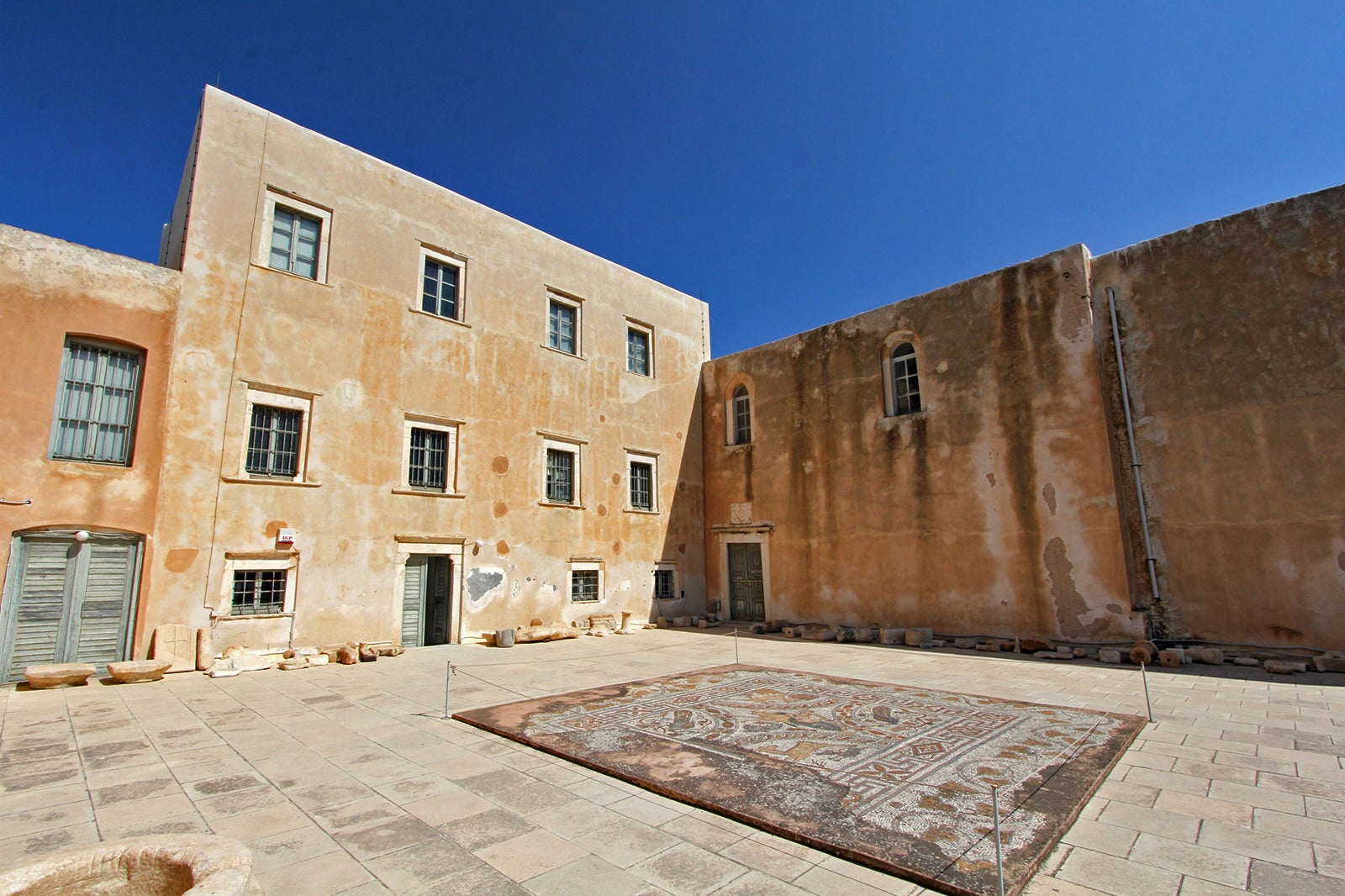 The Naxos Archaeological Museum is housed in a historically recognised building, constructed as early as the 1600s and acting as a Jesuit school. While the structure itself is interesting, its contents are just as fascinating, with artefacts ranging from burial items to earthen vessels dating to the Bronze Age. You can see a little something from every era of Naxos's history, whether you're interested in ancient cultures, art, burial rites or religion.
Since the museum is on the smaller side, it makes a wise stop for families with parents who want to experience a bit of culture and history, but with children who have short attention spans.
Location: Naxos and Lesser Cyclades 843 00, Greece
Open: Wednesday–Monday from 8 am to 3.30 pm (closed on Tuesdays)
Phone: +30 2285 022725
photo by Tilemahos Efthimiadis (CC BY-SA 2.0) modified
6
Naxos Old Town
Dive into the Grecian culture found in the island's historic capital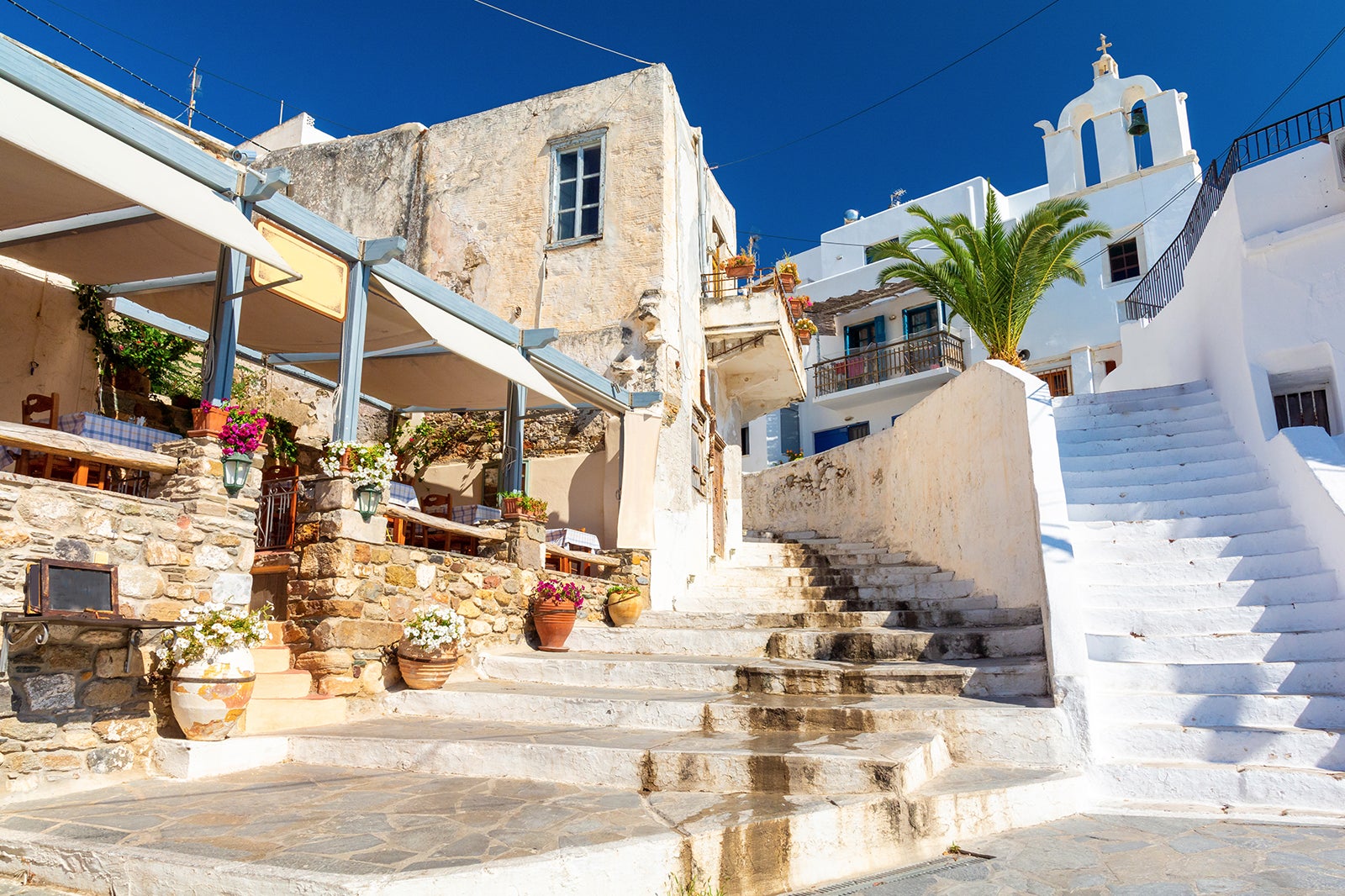 Families
Couples
History
Photo
Food
In Naxos's Old Town, stark white, squared-off architecture clusters around the seashore. Vibrantly painted doorways beckon. All around you, there are historical sights to be seen, authentic Grecian cuisine to be tasted and a unique island lifestyle to be experienced.
You can easily have an enjoyable afternoon in the Old Town just by walking the streets and seeing what you stumble across. Shops, restaurants and museums abound and are hardly difficult to find. Whatever you end up doing, though, families definitely won't want to miss out on sharing a meal at one of the crowded tables tucked in an alley, watching the people walk past as you dine on traditional Greek fare, featuring seafood fresh from the waves just steps away.
7
Eggares Olive Press Museum
Learn about the culture and history surrounding one of Greece's most famous exports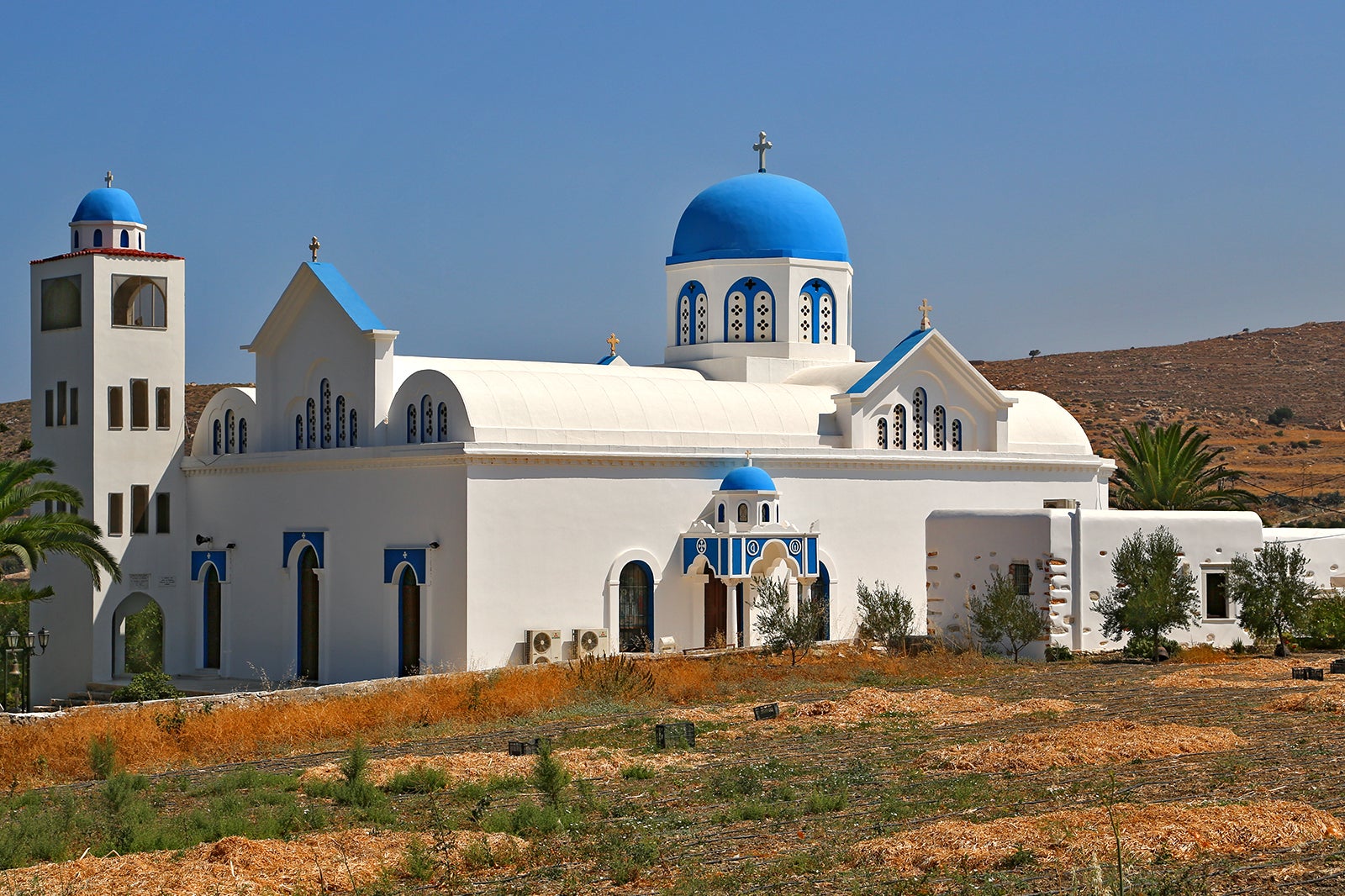 Naxos is home to 90 olive mills and the Eggares Olive Press Museum is housed in one of the oldest remaining mills, dating to the late 1800s. During the mill's infancy, generations of agricultural workers used the structure to press locally grown olives for the village. Now, travellers come from all over the world to learn about the cultural and historical significance of olive oil and the role it played (and still plays) in the lives of Naxos locals.
Visitors enjoy a brief tour and presentation on how olive oil was originally produced before taking part in an olive and olive oil tasting. Olive oil-inspired baked goods can be enjoyed on the picturesque patio before you pick up some gifts at the olive oil shop to take back to your foodie friends back home.
Location: Εggares 843 00, Greece
Open: Daily from 10 am to 6 pm
Phone: +30 2285 062021
8
Kastro of Naxos
Climb to the top of this medieval castle for unprecedented views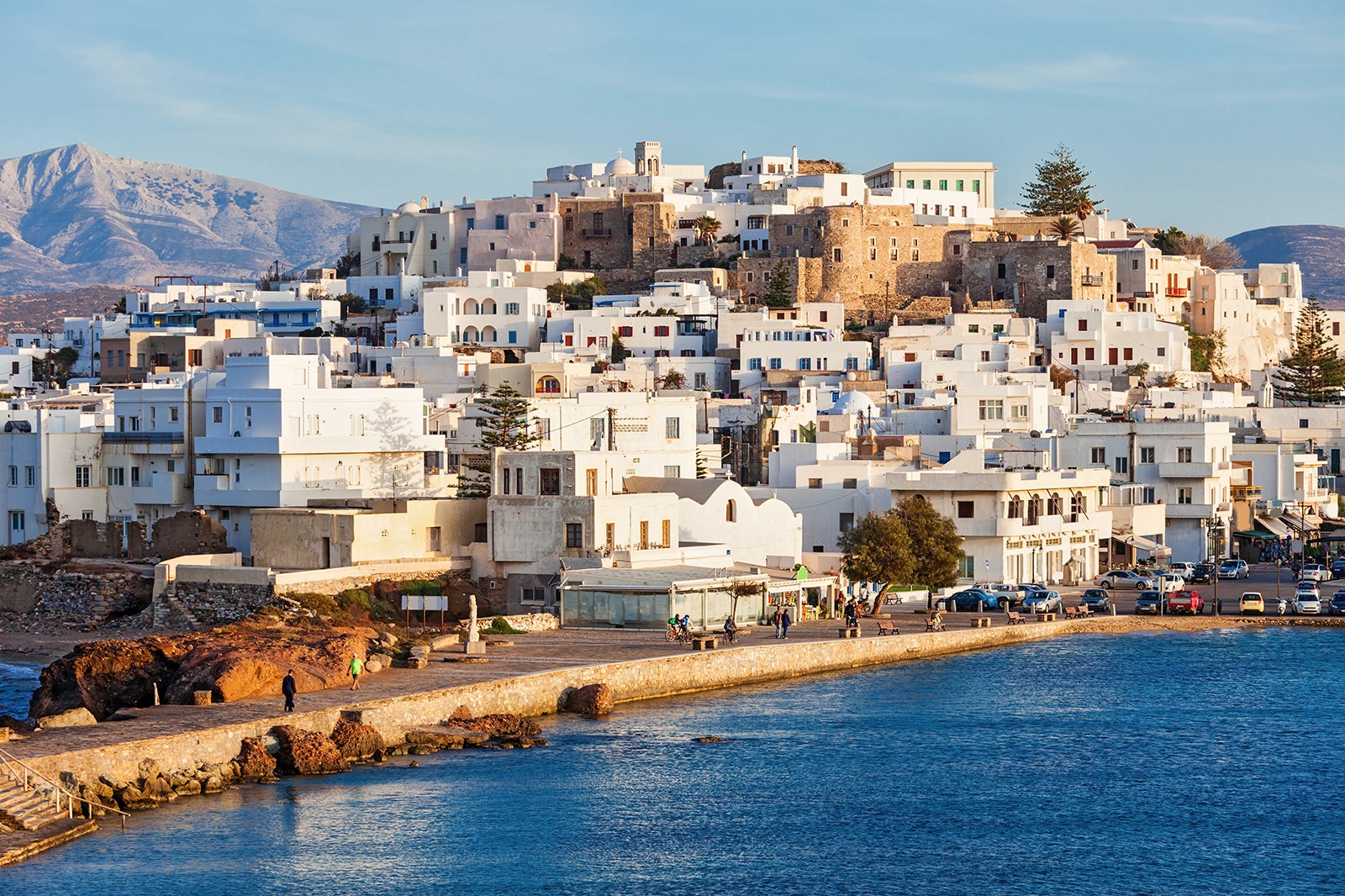 Families
Couples
History
Photo
Some visitors miss out on the best part of the Kastro of Naxos – the views from the top – as the surrounding narrow alleyways can make the way to the top of the medieval castle difficult to find. Even so, if you take your time strolling the small streets and browsing the local shops in Naxos's Old Town, you'll soon come across a steep path that will take you to the pinnacle of this historical landmark.
One of the oldest remaining structures on Naxos, it not only provides you with a bit of history but with excellent views of the island and vibrant waters beyond as well. Make sure your family is outfitted with comfortable walking shoes and bottles of water before embarking on this exploration.
Location: Naxos 843 00, Greece
9
Naxos Horse Riding Club
Tour the island from atop your very own steed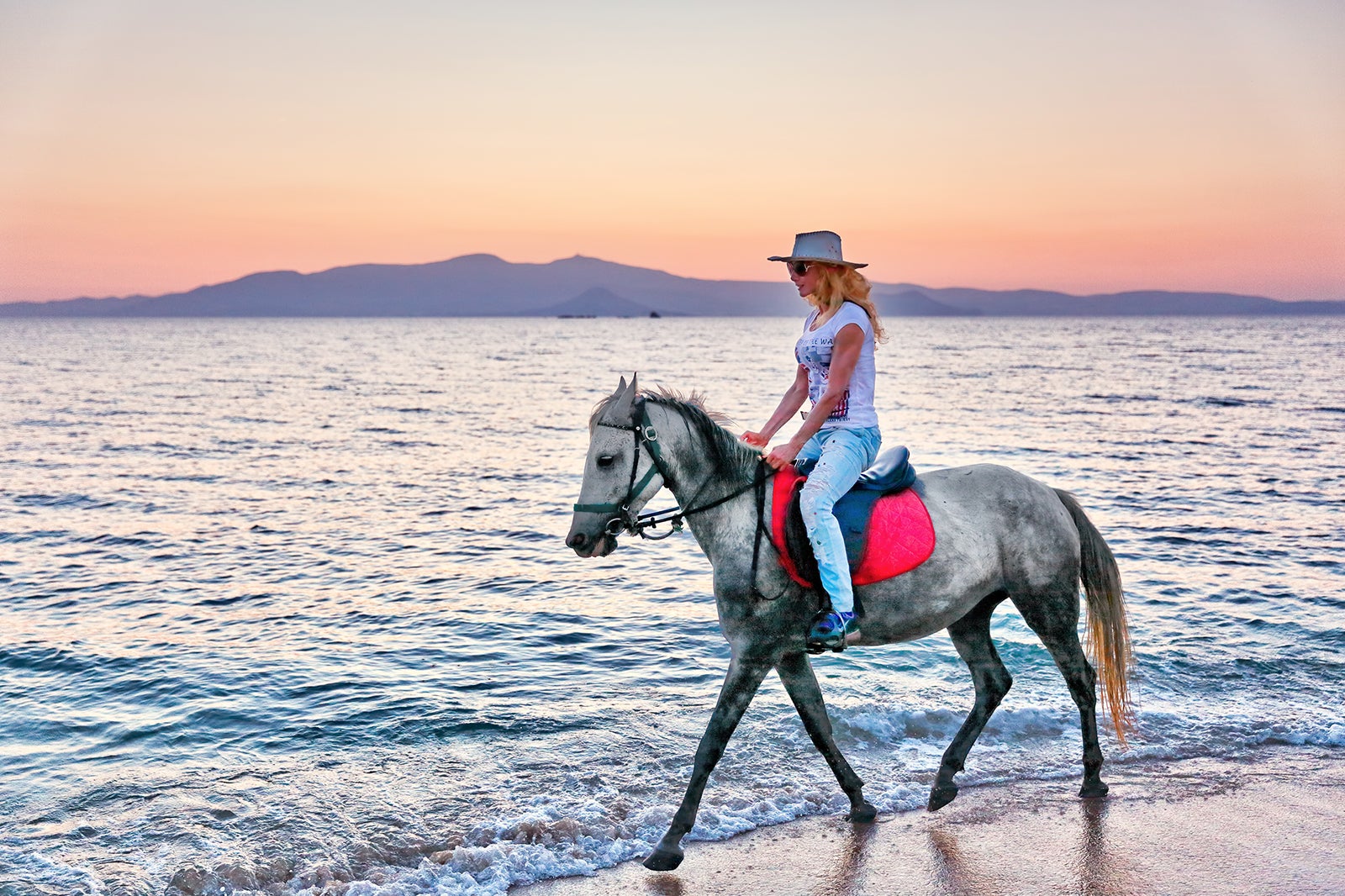 The Naxos Horse Riding Club provides 2- and 3-hour tours to adventurous travellers of all ages and skill levels. Those who want to see the island in a unique manner – from astride a friendly steed – can ride through bamboo forests, past mountains, on the beach and through the water, taking in the island views and, if your tour is timed correctly, the sunset.
The team of pros at the riding club is accustomed to working with beginning riders (as are the horses), so you can be assured you and your family will be safe and sound as you explore Naxos on horseback.
Location: Kokkino spitia, Chora 843 00, Greece
Phone: +30 694 880 9142
10
Temple of Apollo
These impressive ruins are situated on a landmass that juts out into the Aegean Sea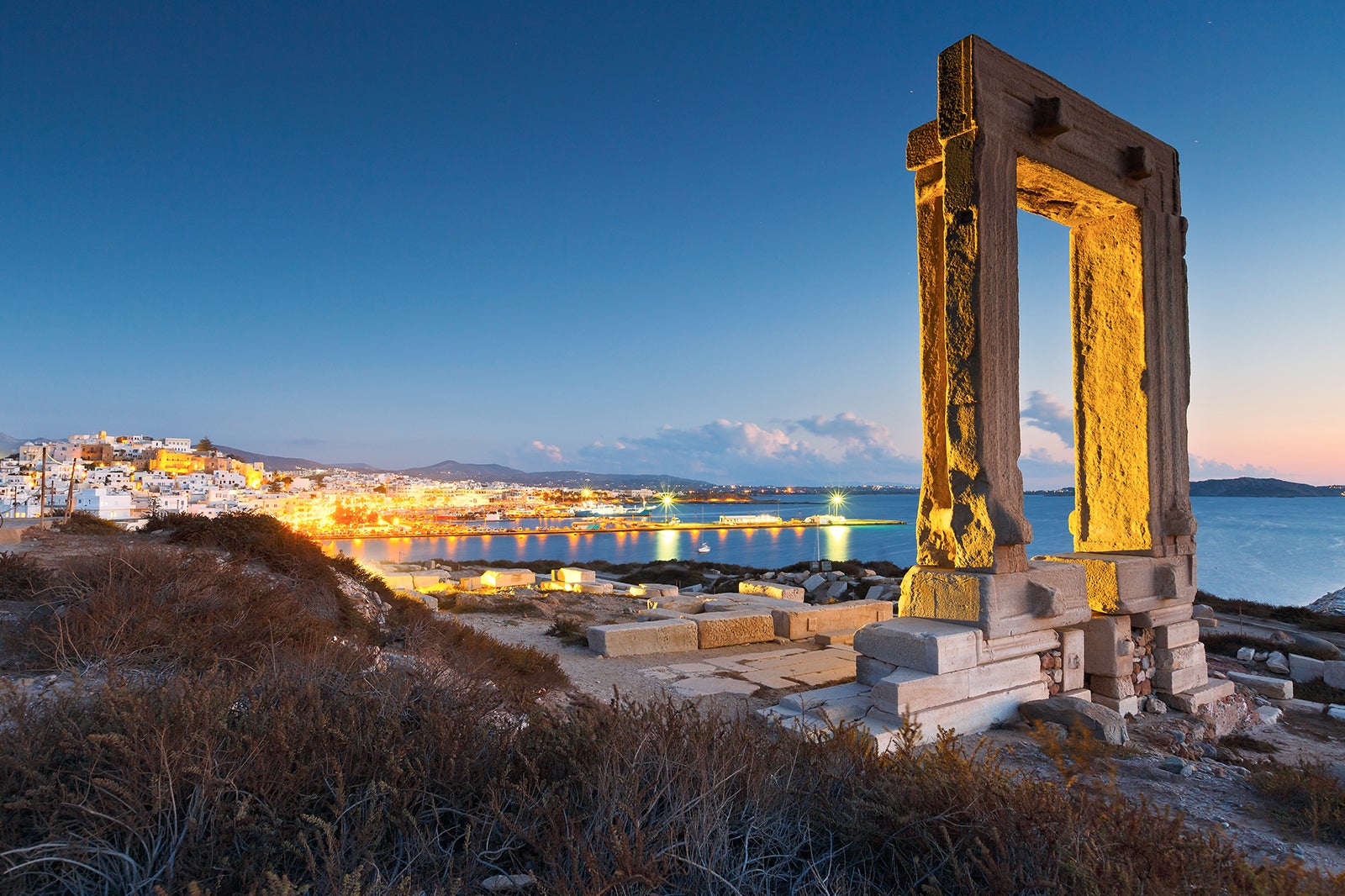 Walk from Naxos's Old Town on a narrow strip of land to reach the Temple of Apollo. Not much of the temple remains, save for a tall doorway that offers picture-perfect views of both city and sea and 6 Doric columns that are millennia old. The doorway is made up of 4 marble sections, each section weighing close to 20 tonnes.
The temple was originally built (though never finished) by the tyrant ruler of Naxos, Lygdamis, who was eventually overthrown by the Spartan army, leading Naxos into a period of prosperity. The grounds where the temple remains still lie are now associated with the worship of not only Apollo, but also Dionysus, the god of wine, and Ariadne, a Cretan princess.
Location: Naxos 843 00, Greece
Back to top