10 Romantic Ideas for a Honeymoon in Santorini
What to Do on a Couple's Trip to Santorini
Santorini has become one of the favourite European destinations for couples and honeymooners. The volcanic Greek island in the Aegean Sea has beaches, idyllic villages, fun activities, remote escapes, great restaurants, fruity wines, beautiful hotels, and wonderful views for you to enjoy together. Like a good relationship, a few surprises keep things interesting here, with hot springs and black sands among them. Have a look at our list of romantic ideas for a honeymoon in Santorini and see if it's the sort of place that'll get your life as a married couple of to an exciting start.
1
Rent an ATV and explore
Seek out the path less trodden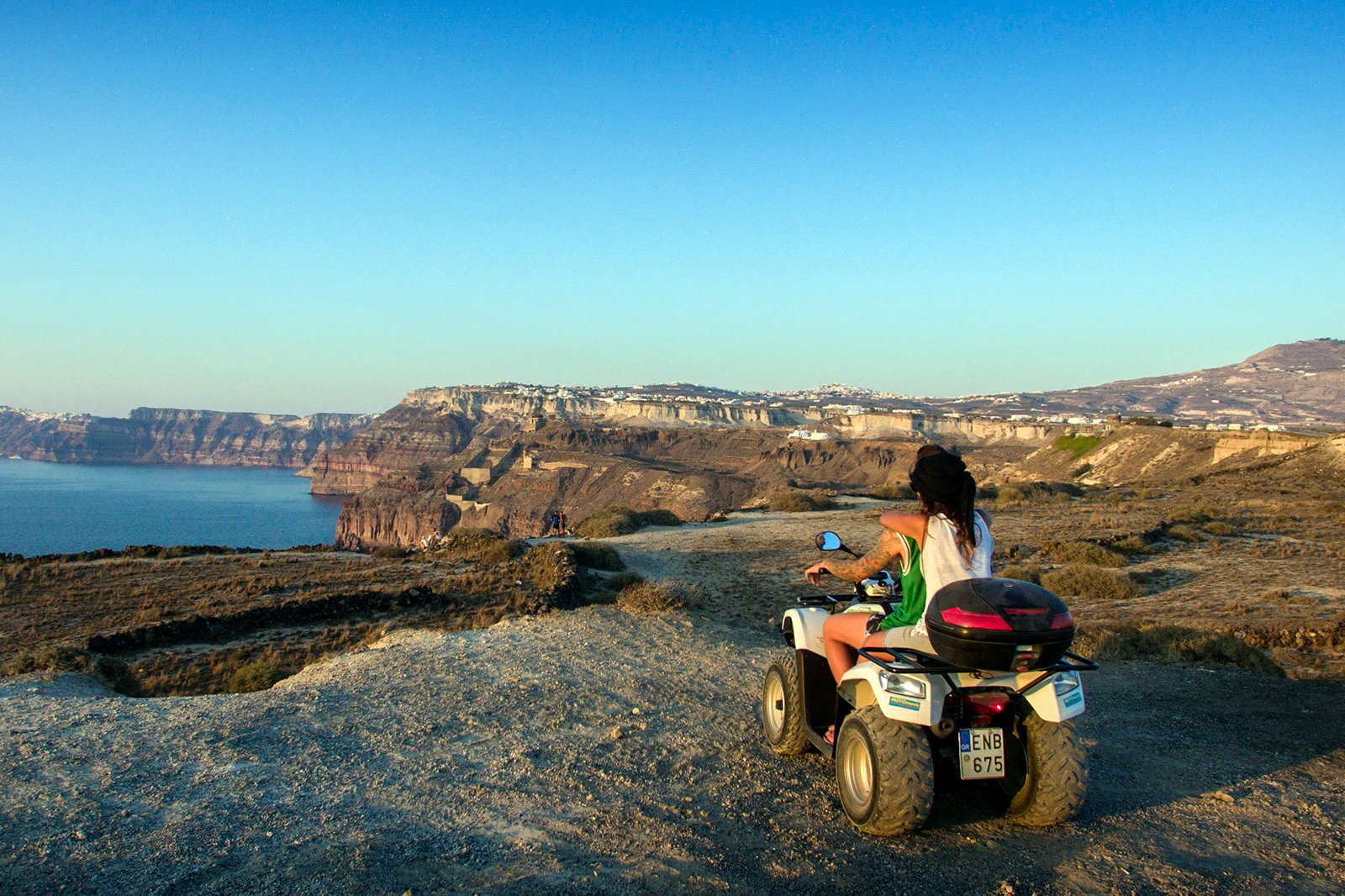 Relying on public transport and taxis in Santorini will not only be inconvenient, but will also be severely restricting. So many of the best places to visit (especially as a couple) are found at the end of rough dirt tracks which no bus will ever navigate. If you want to see the best that the island has to offer, you'll need your own transport. Enter the ATV. Safer and more capable than a scooter, you can generally hire an ATV for about €35 per day. While it will give you much greater freedom, renting a vehicle also comes with risks, so be sure you have the proper licence, get the proper insurance, and drive with the appropriate level of care and attention.
2
Sunbathe on Eros Beach
Work on your tan in the lap of the gods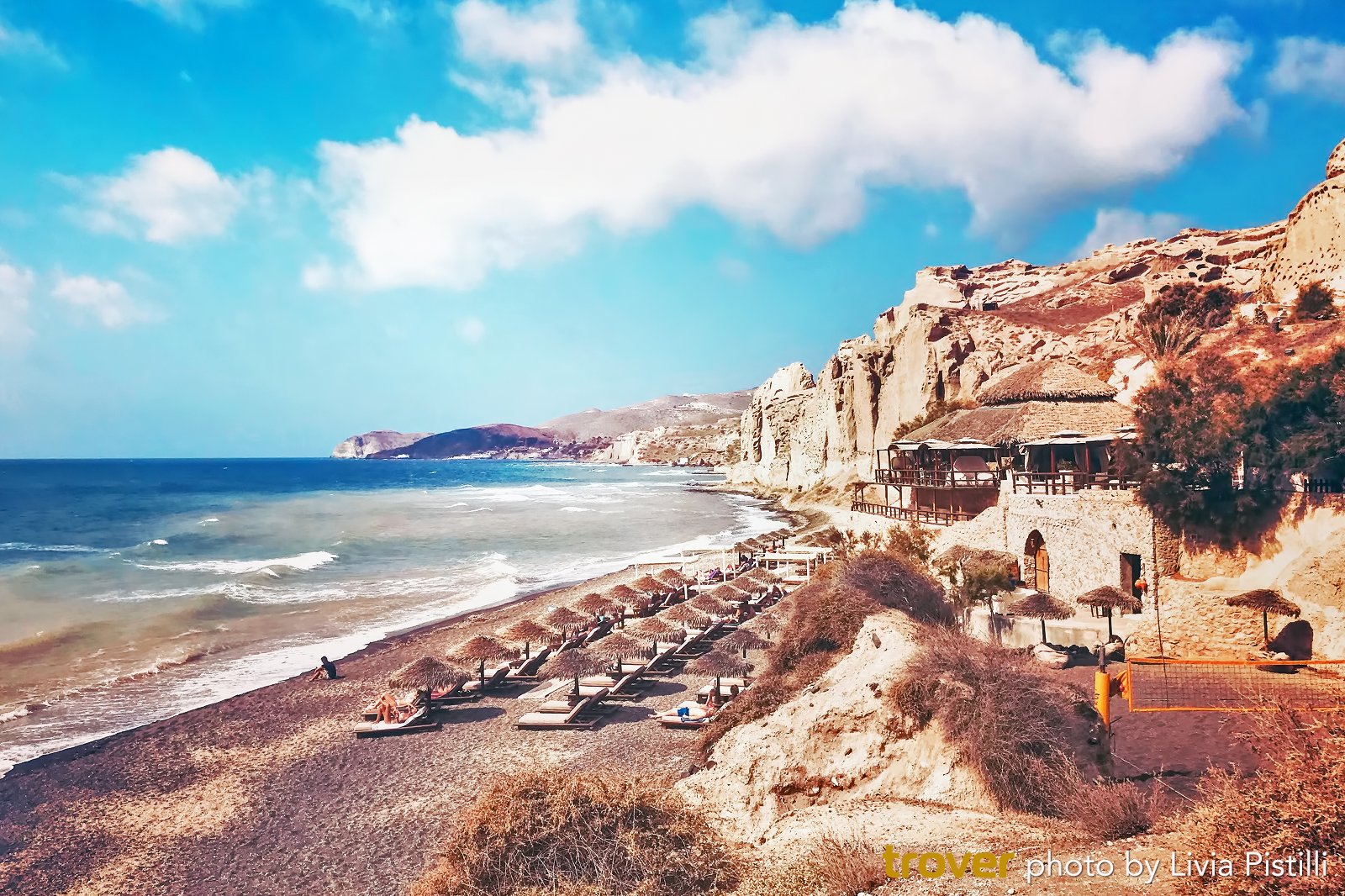 Couples
Photo
Budget
Unusual
If you know your classics, you'll know that Eros is the Greek god of sensual love and desire. Naturally then, Eros Beach is one of the most romantic on Santorini. It's on the south coast and is close enough to Vlychada Beach that the two spots are often bundled together as a single shore. You'll find the typical black, pebbly sand of Santorini, but here it's backed by sheer white cliffs. Being at the end of a dusty track about 10 km from Fira, and with no public transport routes running there, it's a quiet and secluded spot. There's an upmarket beach club on Vlychada Beach, but Eros itself has nothing but sand and open space. The waters here are clear and cool, but get deep quickly.
Location: Vlychada 847 00, Greece
3
Take the cable car down a cliff
Enjoy the view and save yourself a climb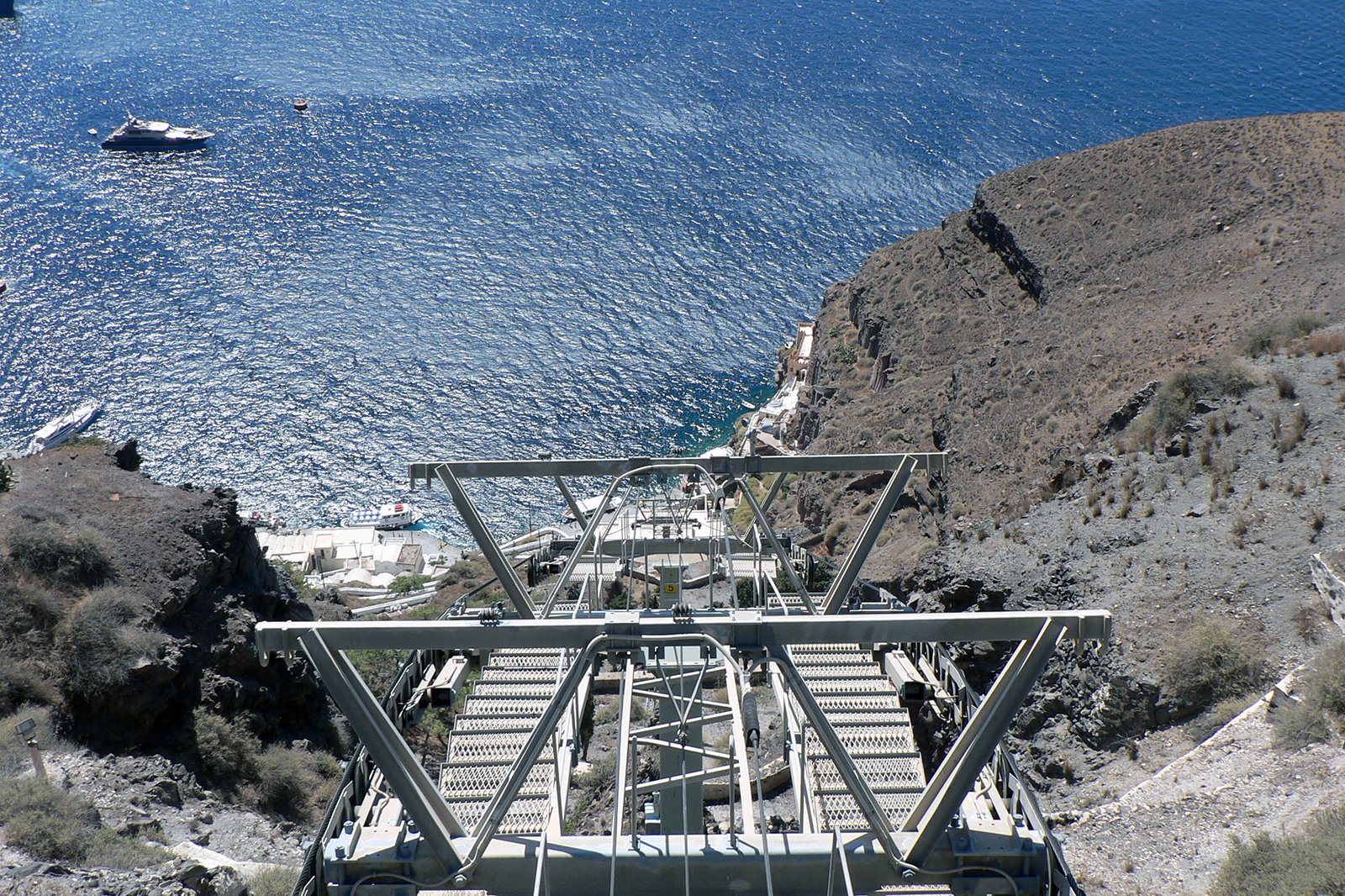 The Old Port area, down the cliff from Fira, is home to a good selection of tour boat companies and a number of great restaurants. Thankfully, you don't have to climb down the long, zig-zagging, shallow-stepped staircase to get there (and, more importantly, you don't need to climb up it on the way back). The Santorini Cable Car gives you some fantastic views of the caldera as you climb or descend the 220 metres between Fira and the Old Port. Tickets are quite cheap, costing around €6 for adults and half as much for kids.
Location: Nomikou M, Fira 847 00, Greece
Open: Daily from 6:30 am to 11 pm (till 6 pm in winter)
Phone: +30 2286 022977
photo by Alistair Young (CC BY 2.0) modified
4
Set sail on a caldera cruise
Take a dip in the hot springs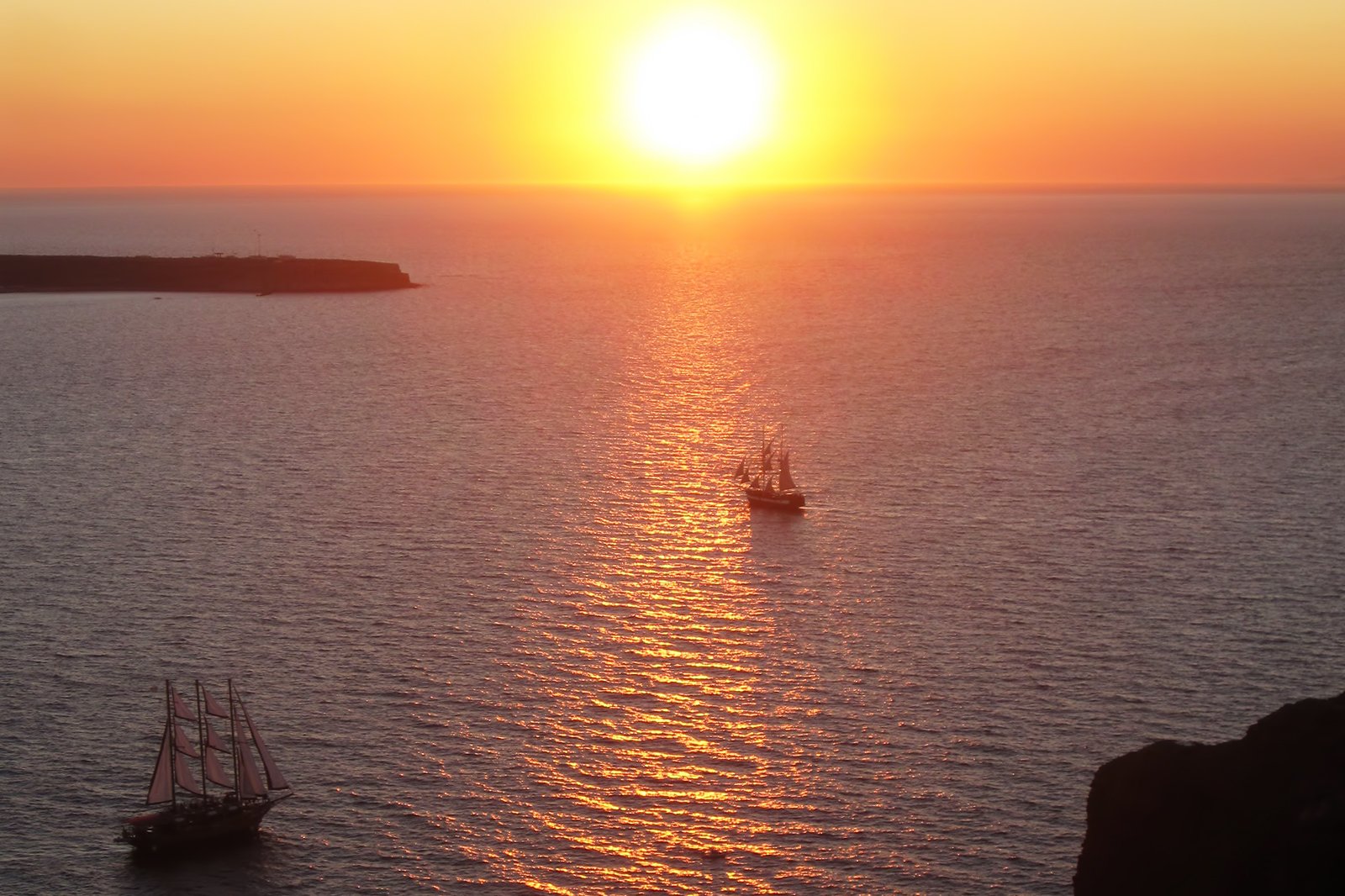 Couples
Families
Photo
Unusual
With its sheer cliffs and craggy islands, the Santorini caldera is a beautiful place to explore. Booking a boat tour is highly recommended as it gives you unique views and the chance to get close to some of the more interesting spots. Most tours will give you the chance to swim in the hot springs created by volcanic vents. They're really more 'slightly warm' than hot and the water here has a rusty colour that'll stain your swimwear, but it is a unique experience. You can also take a trek up to the peak of the volcano and have a mud bath at the springs – it's basically a giant open-air spa. Read more...
5
See the Heart of Santorini
A little-known romantic spot
The Heart of Santorini is a hole in a rock that's shaped like a heart lain on its side. It's a charming sight that creates a lovely frame for views of the caldera. As a bonus, it's a spot that isn't so widely known about yet, so the chances of you having the place to yourself are pretty good. You can find it by heading west from the village of Megalochlori and following the trail towards the tiny Chapel of Agios Nikoloas (which is itself worth a visit).
photo by Klearchos Kapoutsis (CC BY 2.0) modified
6
Take a wine tasting tour
And drink in the sunset
Wine-making in Santorini dates back to at least 1200 BC, with some evidence suggesting the industry goes back a further 500 years. The local method of cultivation is to cut the vines back to virtually ground level and then weave the vines into little baskets. The grapes grow nestled within, protected from the strong winds and harsh volcanic sand. The indigenous white Assyrtiko grape is the most commonly grown here and it produces an extremely dry wine with a citrusy, earthy flavour. You can find out more about Santorini's unique wine-making process (and try some of the end result) on wine-tasting tours, such as those provided by Boutari Winery in the traditional village of Megalochori. As a bonus, this is also one of the island's many fantastic sunset spots.
Location: Boutari Winery Santorini, Megalochori 847 00, Greece
Open: Daily from 10 am to 7 pm
Phone: +30 2286 081011
7
Watch the sunset
Take your pick of the best spots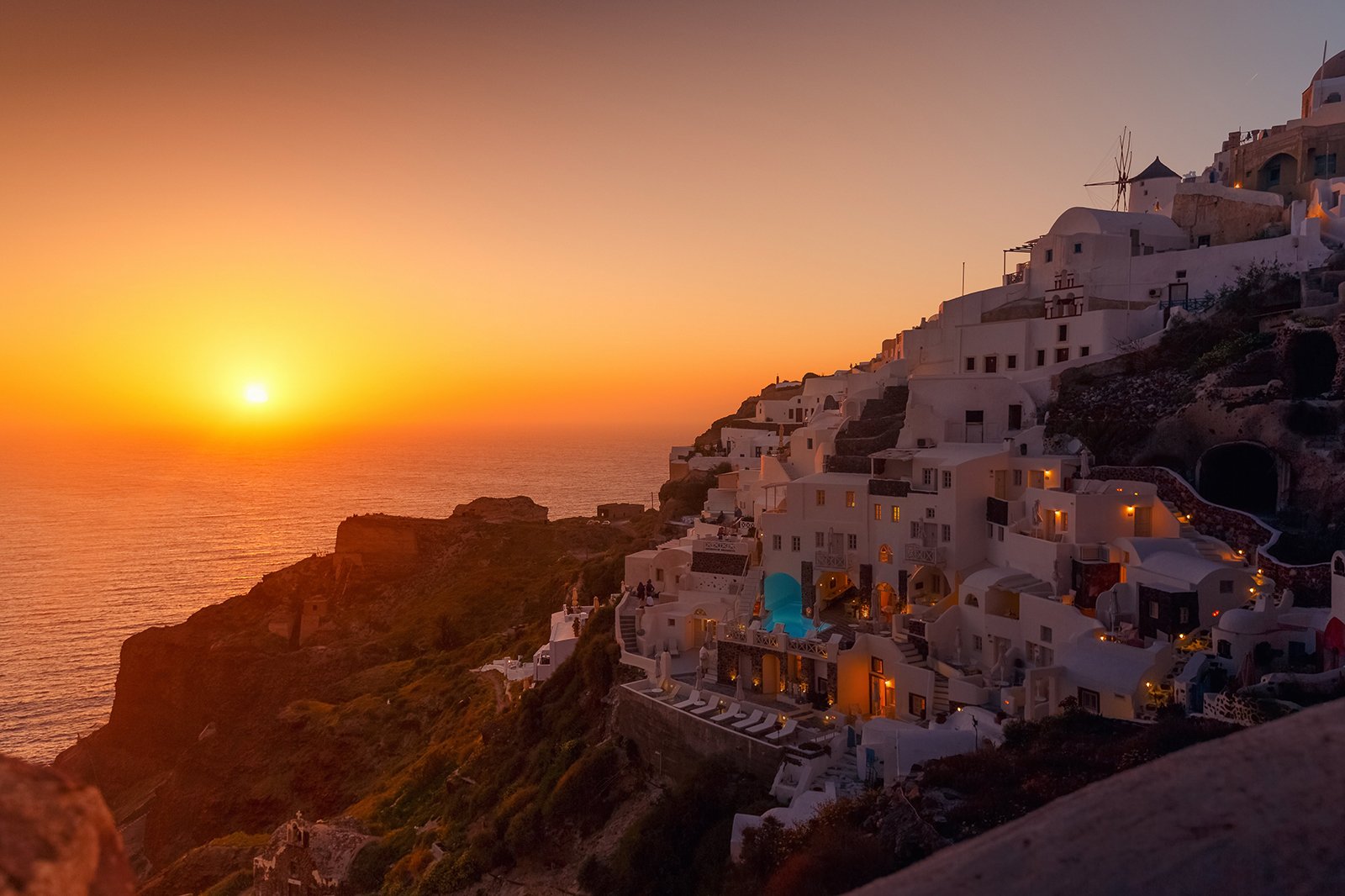 Santorini is famous for its stunning sunsets, with the orange glow of the day's last light staining the whitewashed walls of the village houses. There are plenty of fantastic spots to enjoy the spectacle from, with the most famous (and most popular) being the village of Oia. Some of the more romantic options include the Akrotiri Lighthouse, Franco's Café in Pyrgos, and Skaros Rock near Imerovigli. Wherever you choose, it's best to get there and get settled a little in advance.
8
Fine dining with a view
Table for 2 in sight of the caldera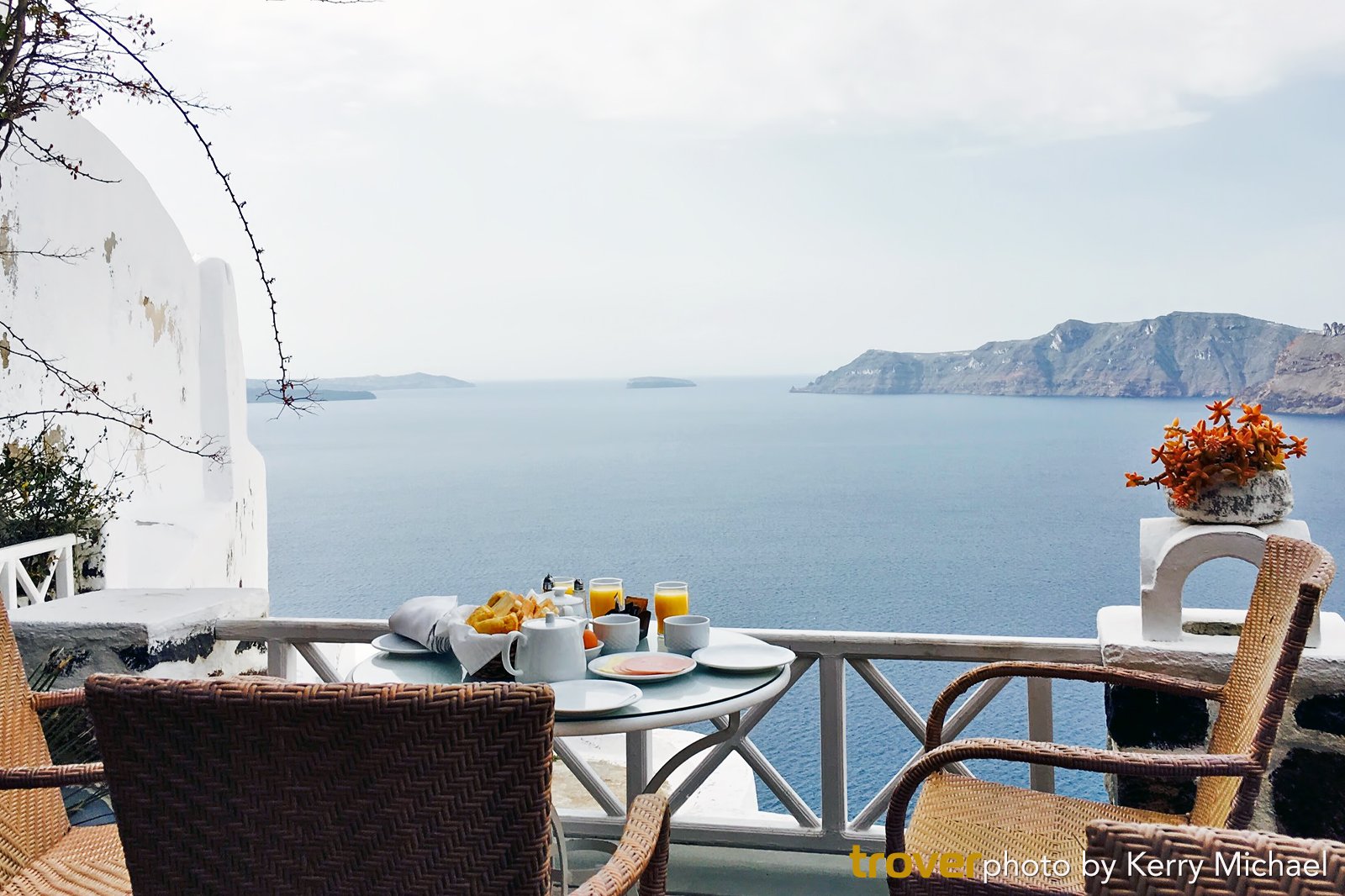 The choice of first-class restaurants in Santorini is astounding. Most offer excellent views across the caldera and usually serve Greek and Mediterranean cuisine. Unsurprisingly, fresh seafood is a common feature on many a menu here too. Among the best choices for a romantic dinner for 2 are La Maison in Imerovigli, Petra Restaurant at the Canaves Oia hotel, and Argo Restaurant by the steps between Fira and the Old Port. Be sure to book a table in advance however, especially if you want a front-row seat for the view, as all of these places are very popular.
9
Watch a movie at the open-air cinema
They do great cocktails, too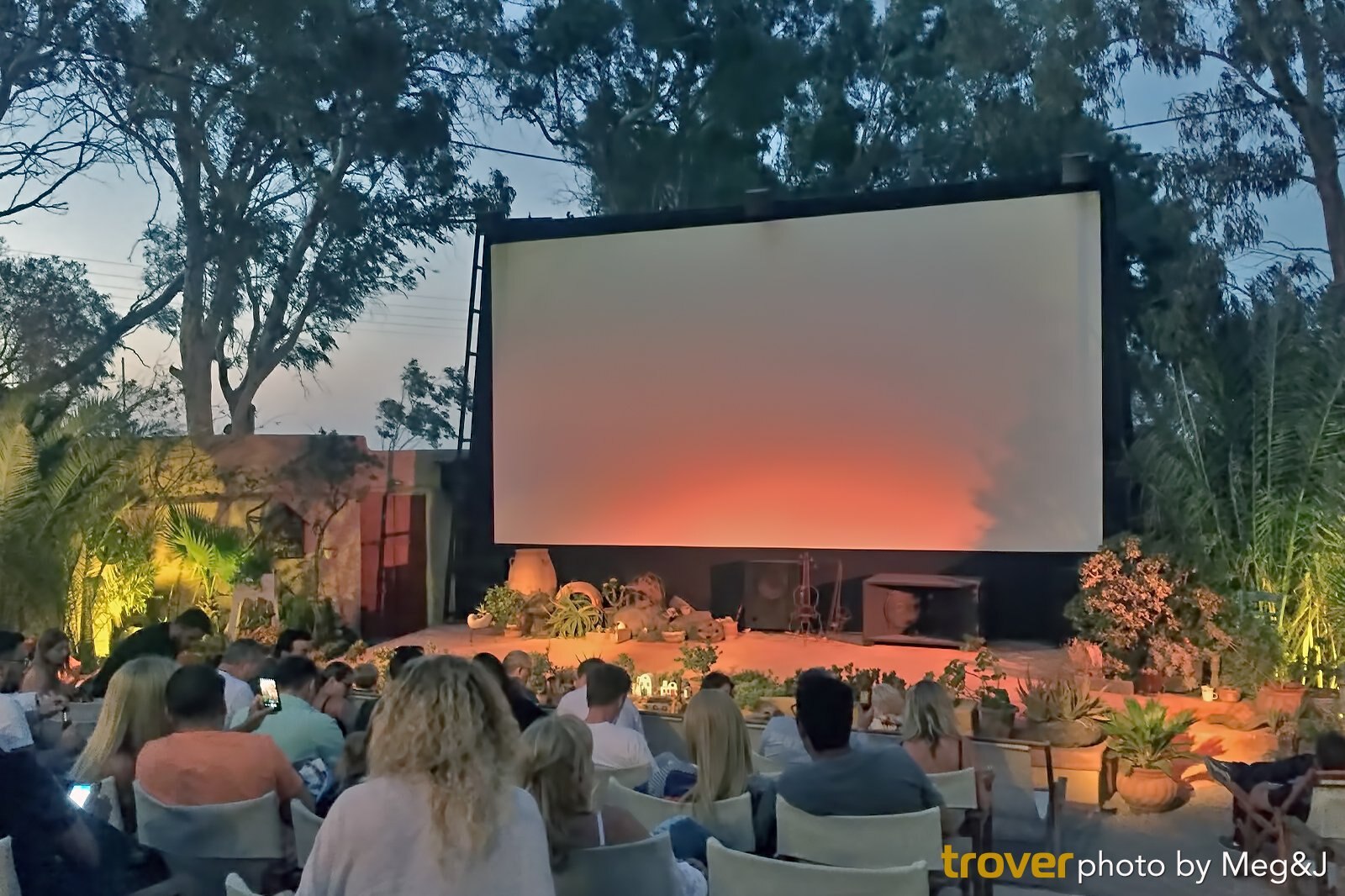 Open-Air Cinema Kamari is said to be among the best of its kind in the world, largely thanks to its setting. Ringed by trees and plants, it has the feel of a secret garden – albeit one fitted with first-class audio and projector technology, as well as a full bar and bathrooms. Tickets cost about €8 and movies are shown in English with Greek subtitles. The cinema is just at the entrance to Kamari as you drive into the town from Fira. There's a bus stop directly over the road.
Location: Epar.Od. Mesarias-Archeas Thiras, Santorini 847 00, Greece
Open: May–October: daily from 8.30 pm (movies start at 9.30 pm)
Phone: +30 2286 033452
10
Stay in a cave hotel
Relax in classic simplicity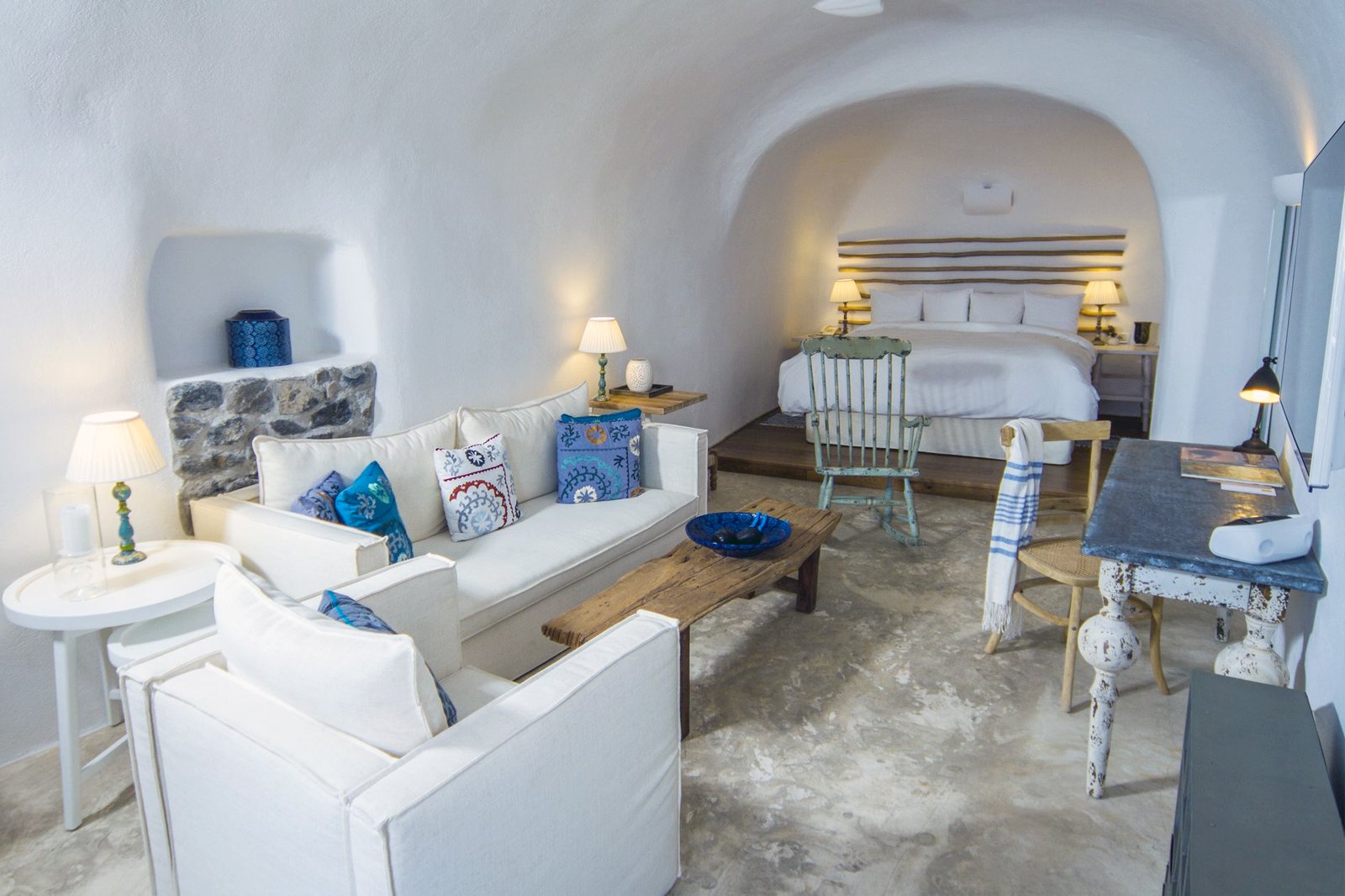 Cave hotels are cool, both as an experience and in terms of temperature too. Buried in the hillside, their thick stone walls provide protection from the heat of the day. Their usually simple interiors create a peaceful and relaxing atmosphere that can be romantic too. Santorini has an excellent selection of these places, with Iconic Santorini in Imerovigli being perhaps the best. Other great choices include Aris Caves and Perivolas, both of which are in Oia.