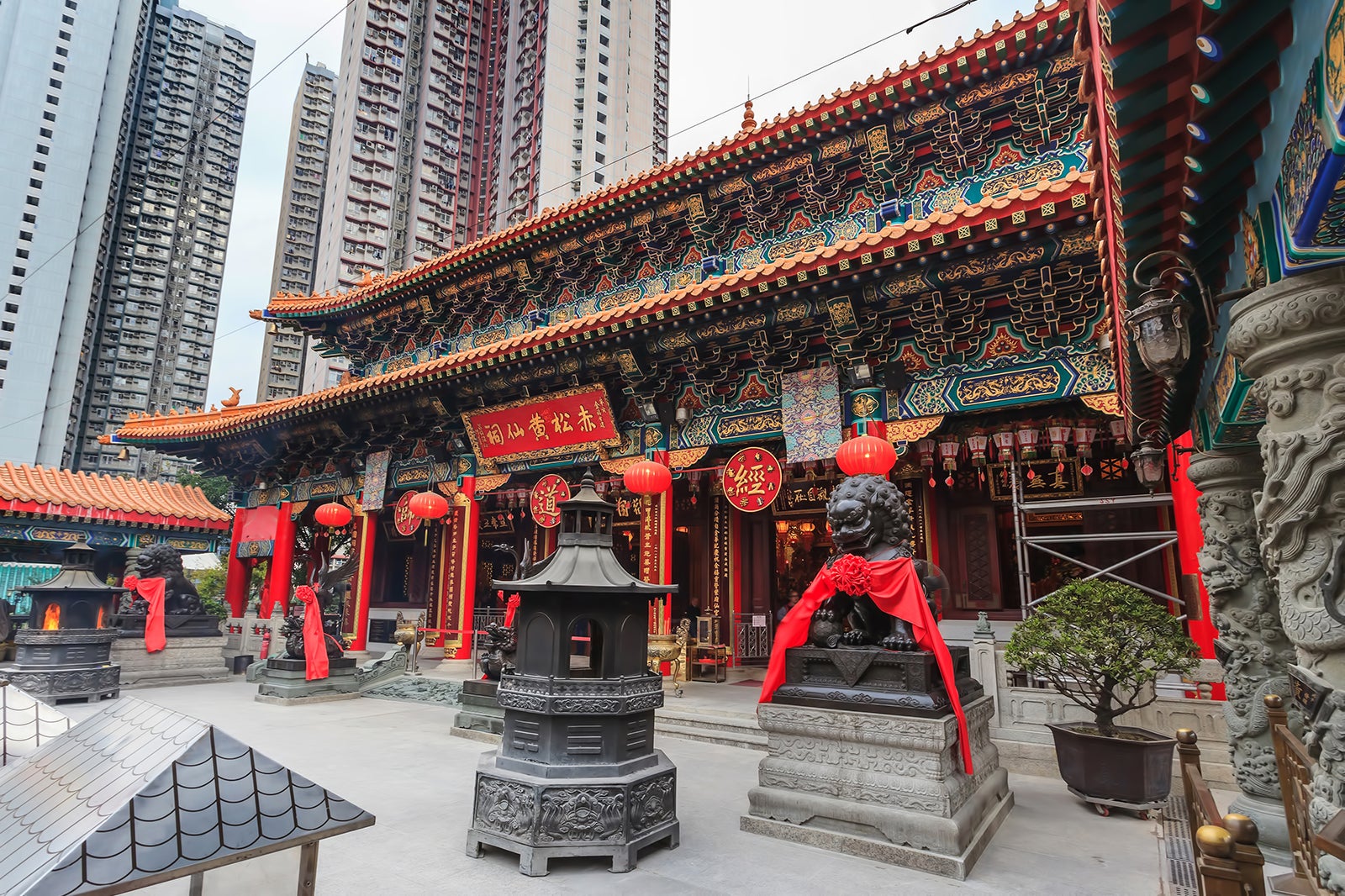 Wong Tai Sin Temple is one of the largest Chinese shrines in Hong Kong. Located in Kowloon, it dates back to 1921 and covers the 3 major religions of China – Taoism (Wong Tai Sin), Confucianism (Confucius), and Buddhism (Guan Yin). The temple was built to honour the Great Immortal Wong, a prominent Chinese Taoist deity from the Zhejiang province of China.
Wong Tai Sin Temple stands out from most shrines in Hong Kong as it's not a common practice to have several religions within a single temple. You'll see typical Chinese architectural designs like red pillars, paper lanterns, memorial archways, Taoist drawings, and carvings of mythical creatures.
Wong Tai Sin Temple Hong Kong - one of the highlights of 14 Best Things to Do in Kowloon and 11 Best Temples in Hong Kong (Read all about Kowloon here)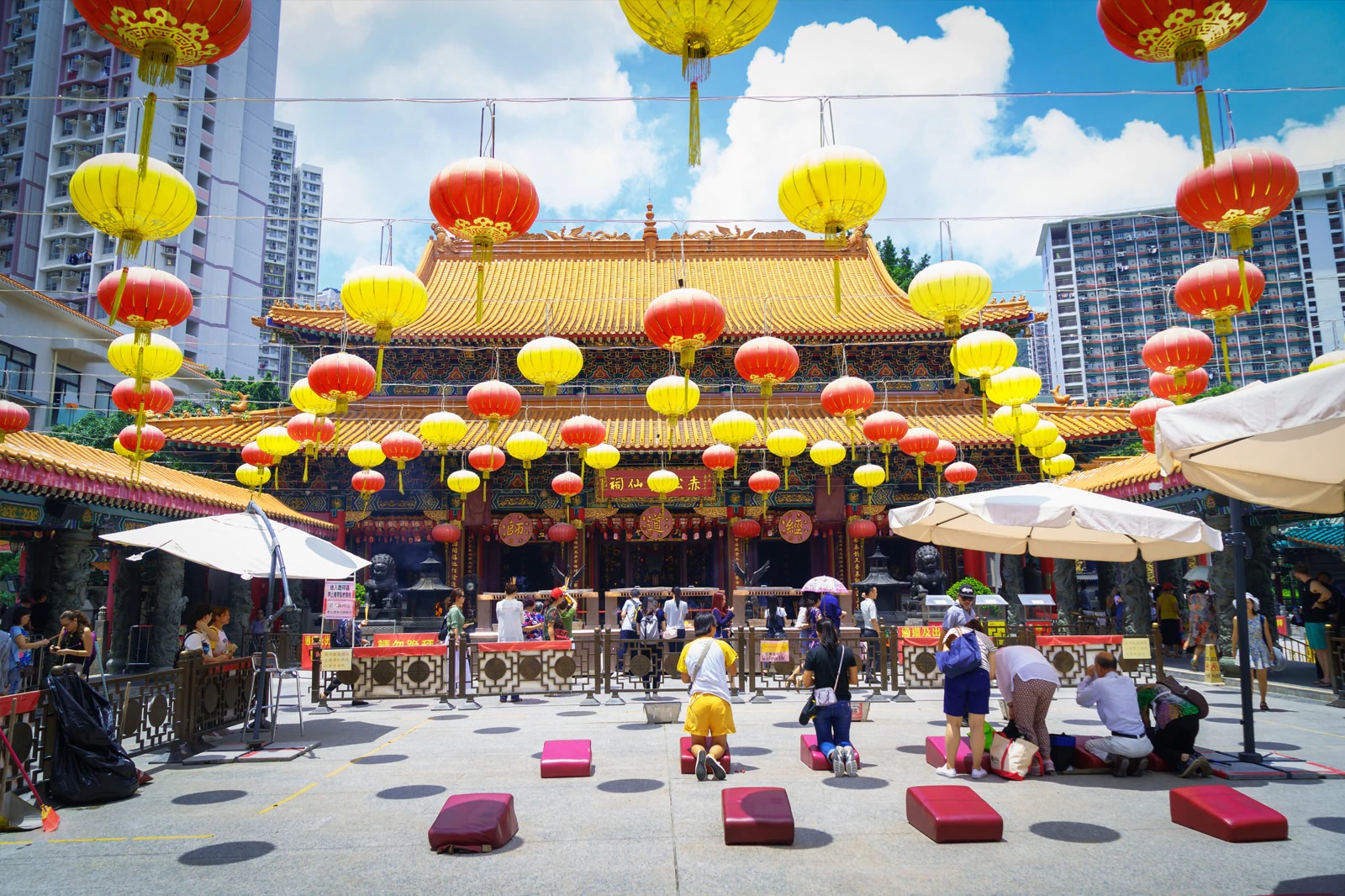 Must-sees include the Three-Saint Hall and the Nine Dragons Wall, as well as the Taoist temple, which has a collection of Confucian, Taoist, and Buddhist literature. The hall hosts altars dedicated to Lü Dongbin (Tang Dynasty scholar), Guan Yu (Han Dynasty general), and Guan Yin (Goddess of Mercy).
Wong Tai Sin Temple Hong Kong is usually busy on the 1st and 15th day of every lunar month. Worshipers bring incense sticks and offerings like chicken, roast pork and fruit to ask for good luck and spiritual advice. If you're interested, there are booths offering face-reading, palm-reading, and fortune-telling inside the temple.
It's also popular for granting wishes via a local practice called kau chim. You'll be given a bamboo container filled with bamboo sticks, each of which are numbered. Keep shaking until one of the bamboo sticks falls loose, before presenting it to a fortune teller to interpret its meaning.
Lion dance performances, firecrackers displays, and religious ceremonies take place during the Chinese New Year celebrations. On the eve of this annual event, many worshipers line up outside the temple before midnight so that they can be the first to offer their incense to Wong Tai Sin.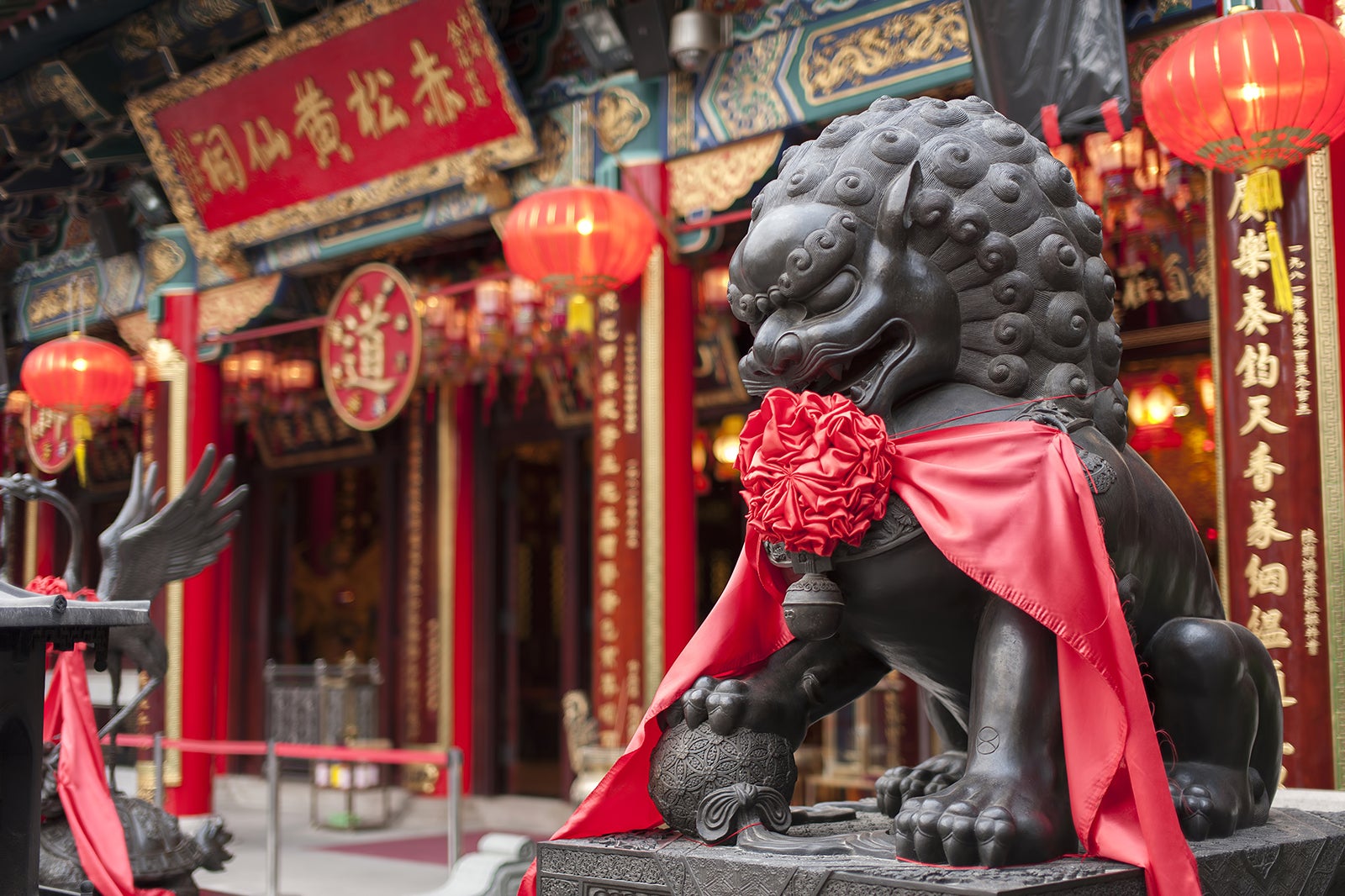 Entrance to Wong Tai Sin Temple Hong Kong is free, but you can make a small donation at the entrance if you wish. Avoid flash photography and video recording out of respect for the locals who frequent the temple.
Wong Tai Sin Temple Hong Kong
Location: 2 Chuk Yuen Village, Wong Tai Sin, Kowloon, Hong Kong
Open: Daily from 7am to 5pm
Phone: +852 2327 8141
Back to top