15 Best Things to Do in Nusa Dua
What is Nusa Dua Most Famous For?
Some of the best things to do in Nusa Dua can be found on pristine beaches like Pantai Mengiat and Geger Beach. There's lots of variety available here, from leisurely activities like swimming and snorkelling to challenging surf conditions. The beaches are also noted to be some of Bali's most secluded as they're situated in a luxury enclave of 5-star resorts and hotels.
Nusa Dua has several galleries that display valuable artwork collected from Asia and the Pacific Islands. Temples are everywhere to be found in Nusa Dua, and you can see unique rituals and celebrations on certain days of the month. Whether you're a beachgoer or an art lover, check out our guide on what to do in Nusa Dua.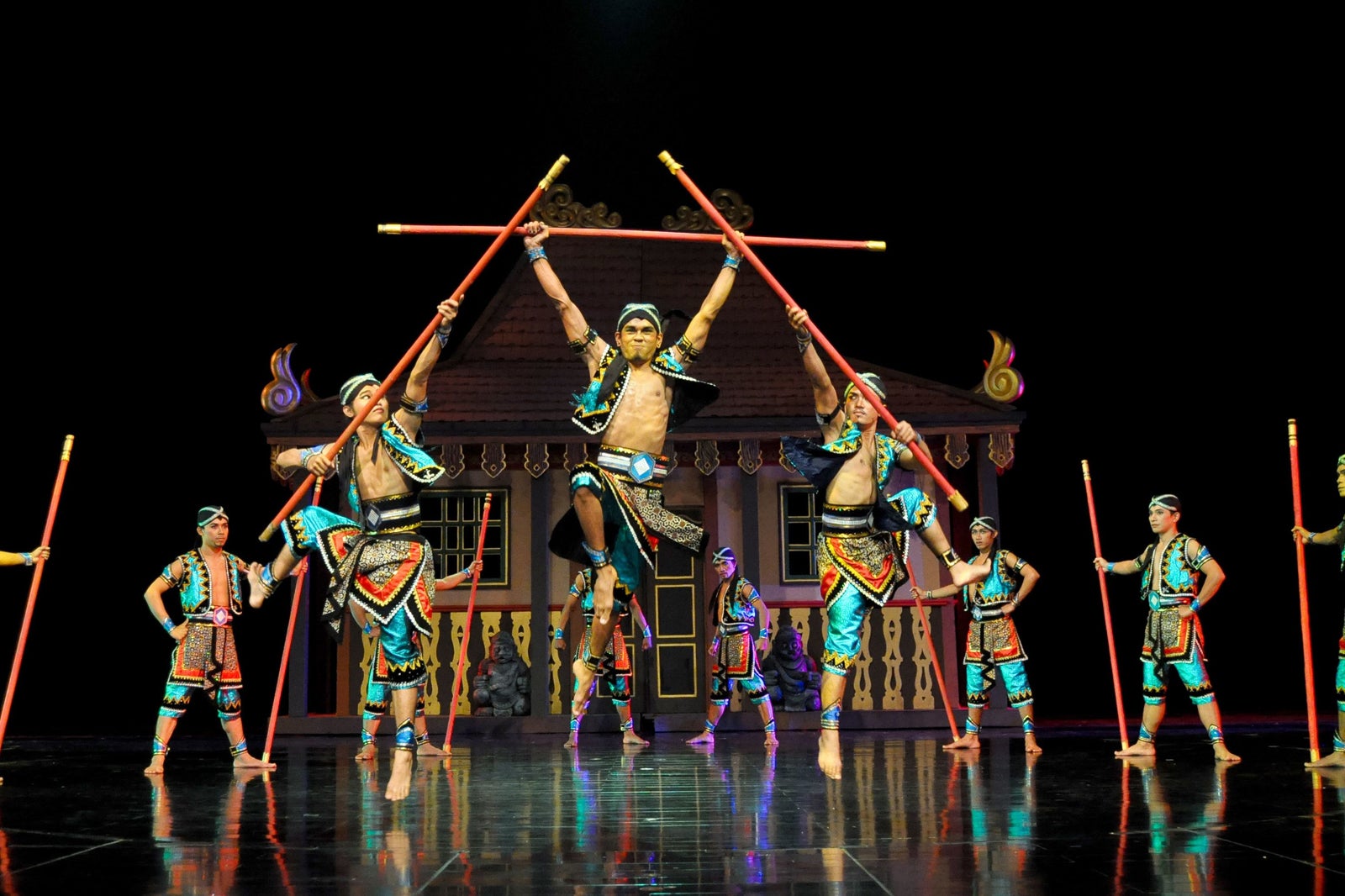 Devdan Show at Bali Nusa Dua Theatre presents a 90-minute journey through the Indonesian archipelago. The performance is narrated and acted by a boy and girl who discover a magical chest filled with items representing each island and culture. Stunning choreography by skilled dancers and acrobats provide non-stop thrills, with dances reflecting the diverse cultures of Indonesia, including Bali, Sumatera, Java, Borneo and Papua. The props are also visually stunning, combined with state-of-the-art lighting and sound systems, rotating stages, pyrotechnics and artificial rain.
Read more
Location: Komplek ITDC Nusa Dua, Benoa, Kuta Selatan, Badung, Bali 80363, Indonesia
Open: Monday, Wednesday, Friday and Saturday from 7.30 pm to 9 pm
Phone: +63 (0)361 770 197
Pandawa Beach covers 1 km of sand that's hidden behind limestone cliffs. The beach is around 8 km southwest of central Nusa Dua, making it a nice spot to escape the crowd. Pandawa offers impressive ocean panoramas and huge limestone cliffs with deeply carved arches sheltering large statues. Each sculpture depicts a hero from the Mahabharata epic, the Five Pandawas. Despite its rather secluded location, Pandawa Beach is lined with restaurants and water sports rental shops.
Read more
Location: Pantai Pandawa, Bali, Indonesia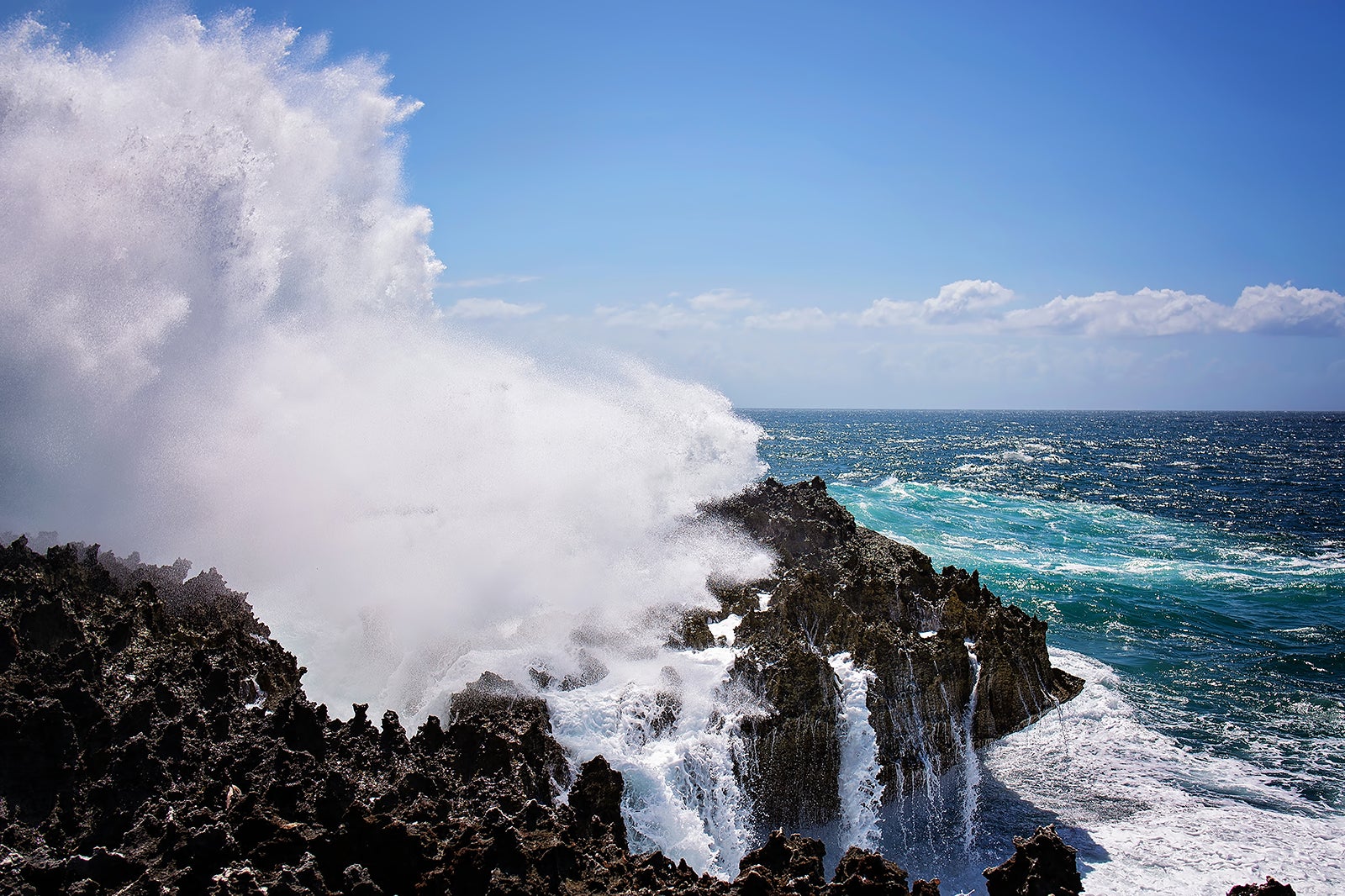 The water blow site in Nusa Dua is a point on the rocky shore where the funnelling of the waves causes the water to shoot up to 30 metres into the air. It has a purpose-built lookout deck where you can see the large waves from the Indian Ocean constantly crash against the jagged limestone edges. While it makes for a pleasant spot for photography, be sure to protect your camera gear from the unpredictable splashes and sprays. The chances of getting completely drenched at the water blow site are very high.
Read more
Location: Benoa, South Kuta, Badung, Bali 80363, Indonesia
4
Pantai Mengiat Beach (Nusa Dua Beach)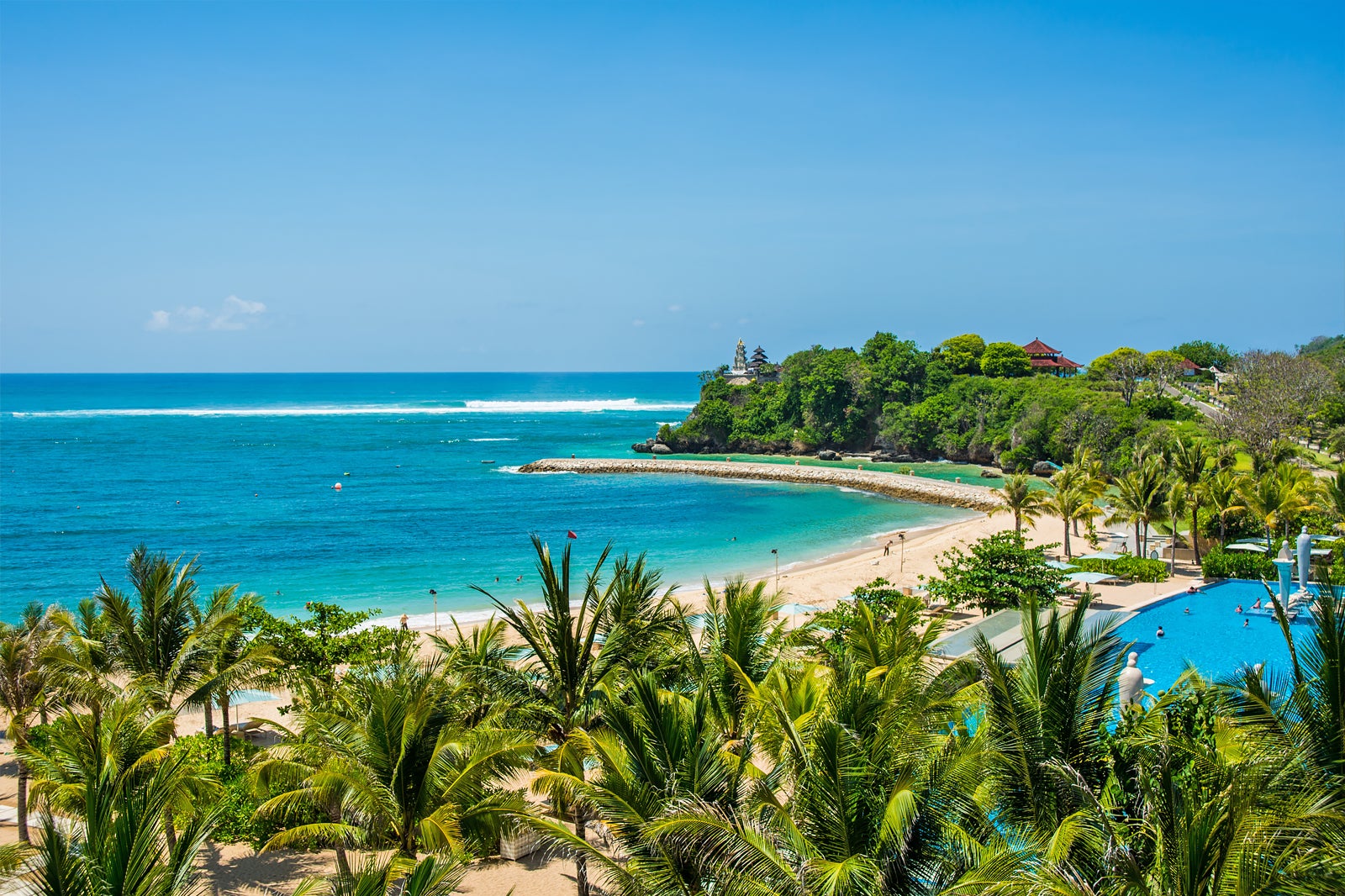 Nusa Dua Beach, or Pantai Mengiat, has clean white sand, calm waves, and is usually uncrowded. A 500-metre-long reef barrier protects the shore from the rough waves of the open Indian Ocean. Pantai Mengiat is where you'll find some of Bali's most popular luxury resorts.
There's a paved beach path bordering the hotel grounds and the sand – joggers share this path with cyclists throughout the day. You can swim and snorkel near Pantai Mengiat's coastline. Some of the local fishermen head out to sea from this beach with their traditional wooden boats, while tour operators offer glass-bottom boat rides and fishing trips.
Location: Jalan Pantai Mengiat, Nusa Dua, Badung, Bali, Indonesia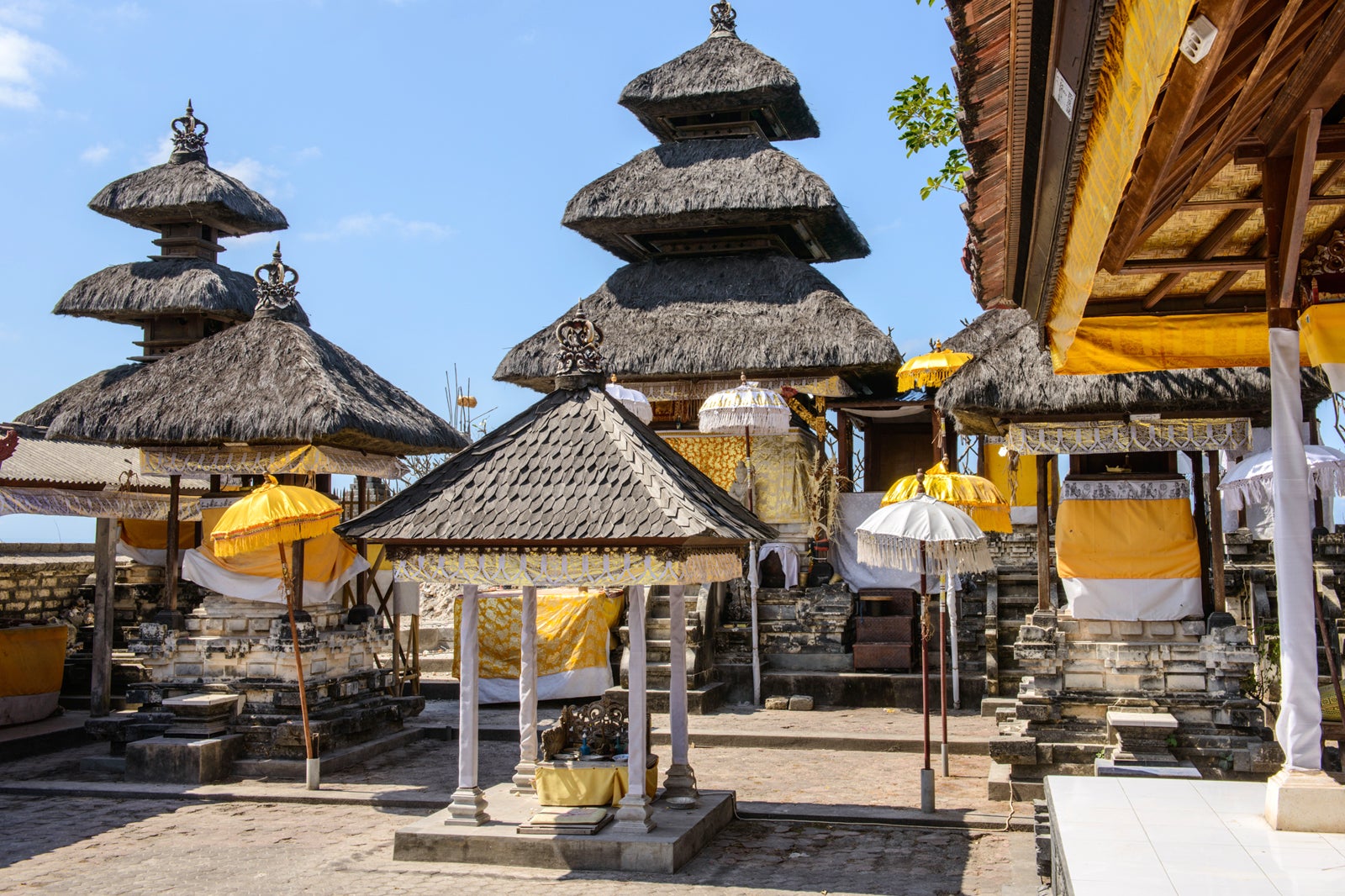 Pura Geger Temple is one of Nusa Dua's most important cultural landmarks. The clifftop temple overlooks the namesake Geger Beach. The outline of its towering shrines adds an impressive frame to the overall seascape. You can enjoy a panoramic view on clear mornings over the bay, with Mount Agung on the horizon.
The temple is closed to the public except during ceremonial events. Pilgrims frequent the temple on full and new moons, which are holidays on the Balinese calendar. Pura Geger Temple hosts major celebrations during Purnama Kanem (6th full moon).
Read more
Location: Jalan Pura Geger, Sawangan, South Kuta, Badung, Bali 80363, Indonesia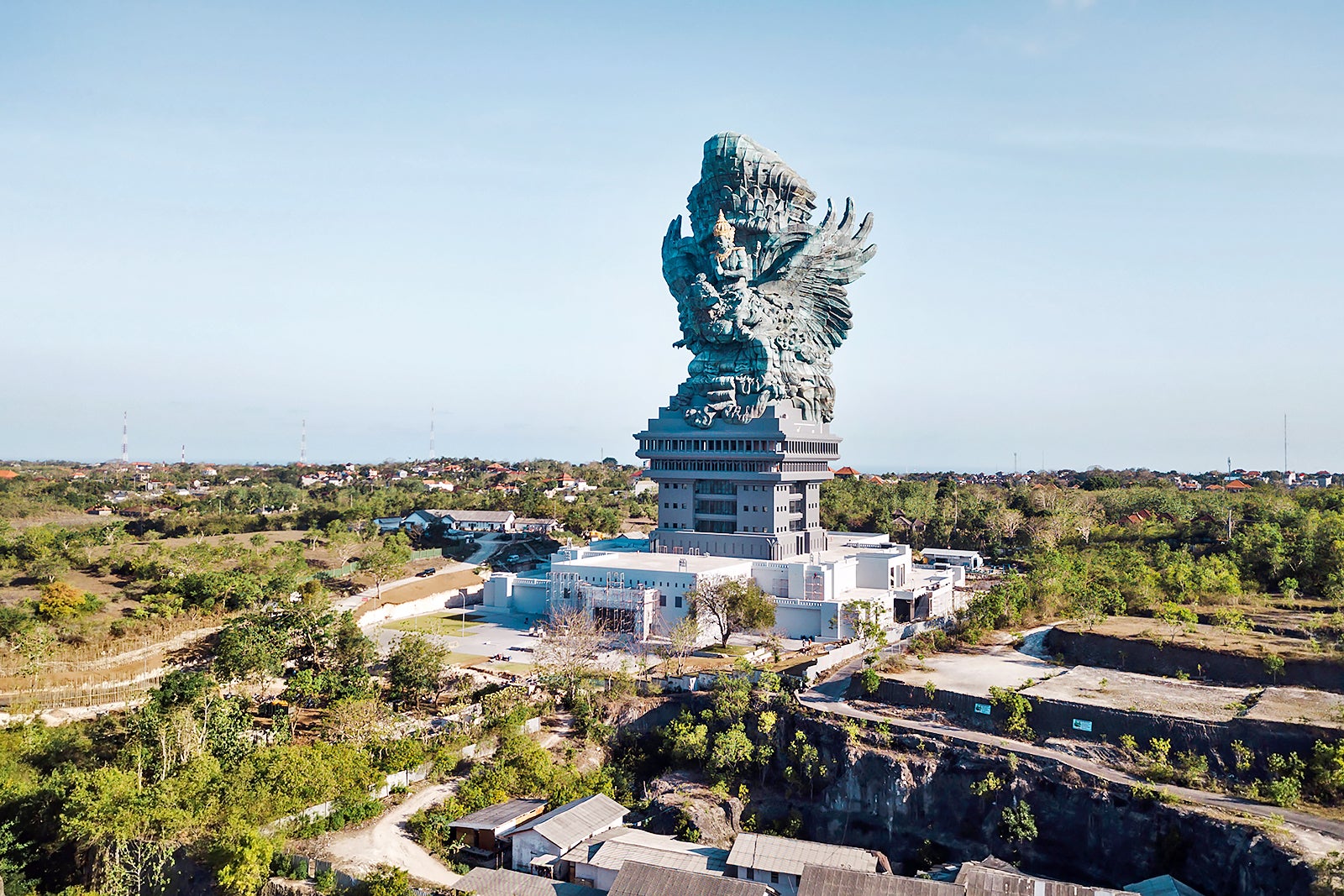 The Garuda Wisnu Kencana Cultural Park lies about 12.5 km west of Nusa Dua Beach. The main showpiece is a gigantic statue depicting the benevolent Hindu god Vishnu riding on the back of the mythical garuda eagle. The 121-metre-tall monument stands on a pedestal that's about 46 metres high, making it one of the tallest landmarks in Southeast Asia. Cultural performances, exhibitions, and world-class events regularly take place at Garuda Wisnu Kencana.
Read more
Location: Jalan Raya Uluwatu, Ungasan, Badung, Bali 80364, Indonesia
Open: Daily from 8 am to 9 pm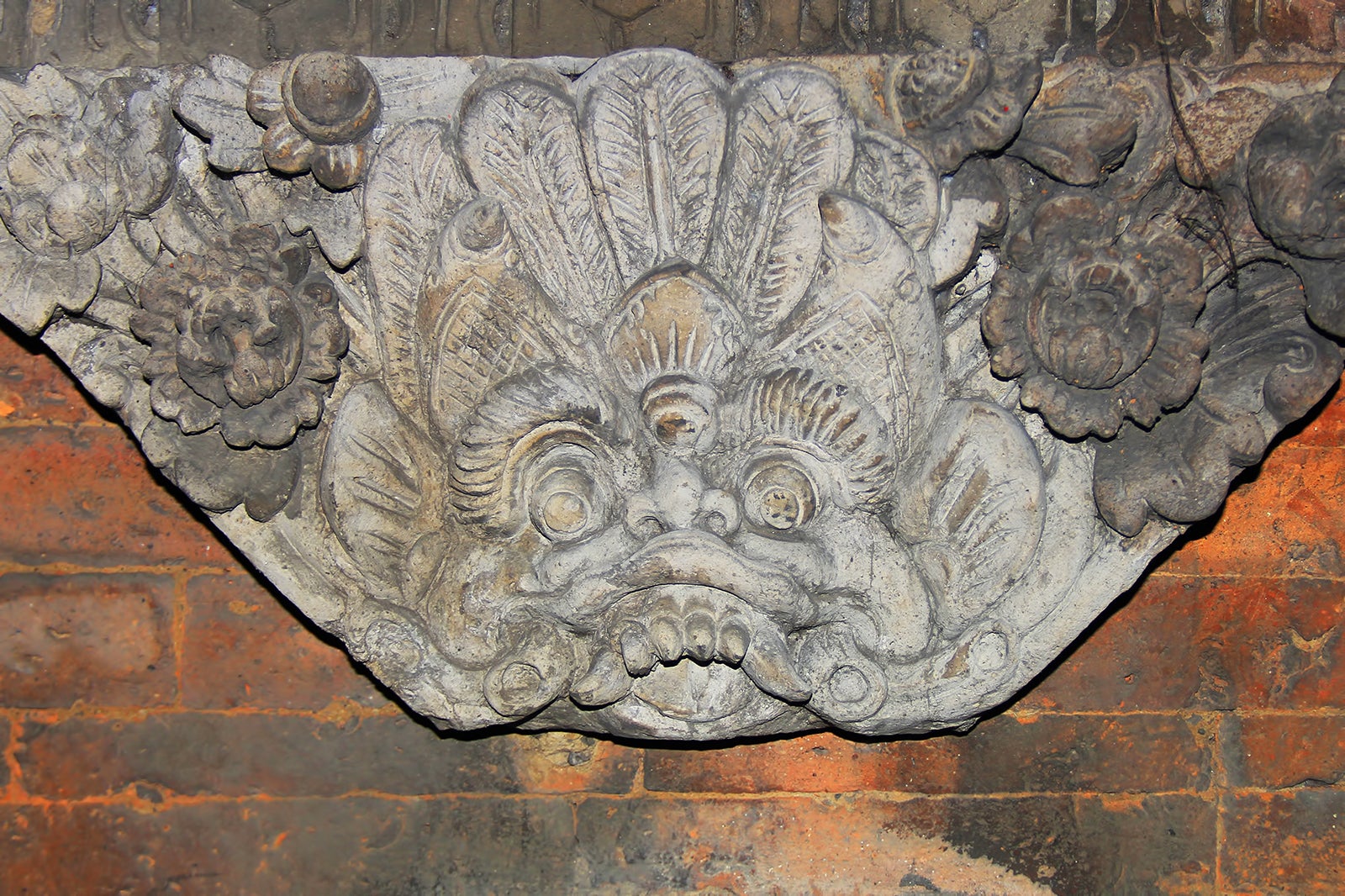 Couples
Families
History
Photo
Museum Pasifika displays historical artefacts and art pieces by over 200 artists from 25 countries. You can see the works of Balinese painter Nyoman Gunarsa and Javanese artist Raden Saleh, both of whom are notable figures in Indonesian art.
There are 11 display rooms with different themes – rooms 1 to 5 exhibits Indonesian, Italian, Dutch, French, and Indo-European artworks, respectively. The remaining galleries host temporary exhibitions and items from Southeast Asia. Check out tapa (bark) artwork of Oceania and the Pacific, as well as exotic paintings from China and Japan.
Read more
Location: Indonesia Tourism Development Corporation (ITDC) Complex, Block P, Nusa Dua, Badung, Bali 80361, Indonesia
Open: Daily from 10 am to 6 pm
Phone: +62 (0)361 774 935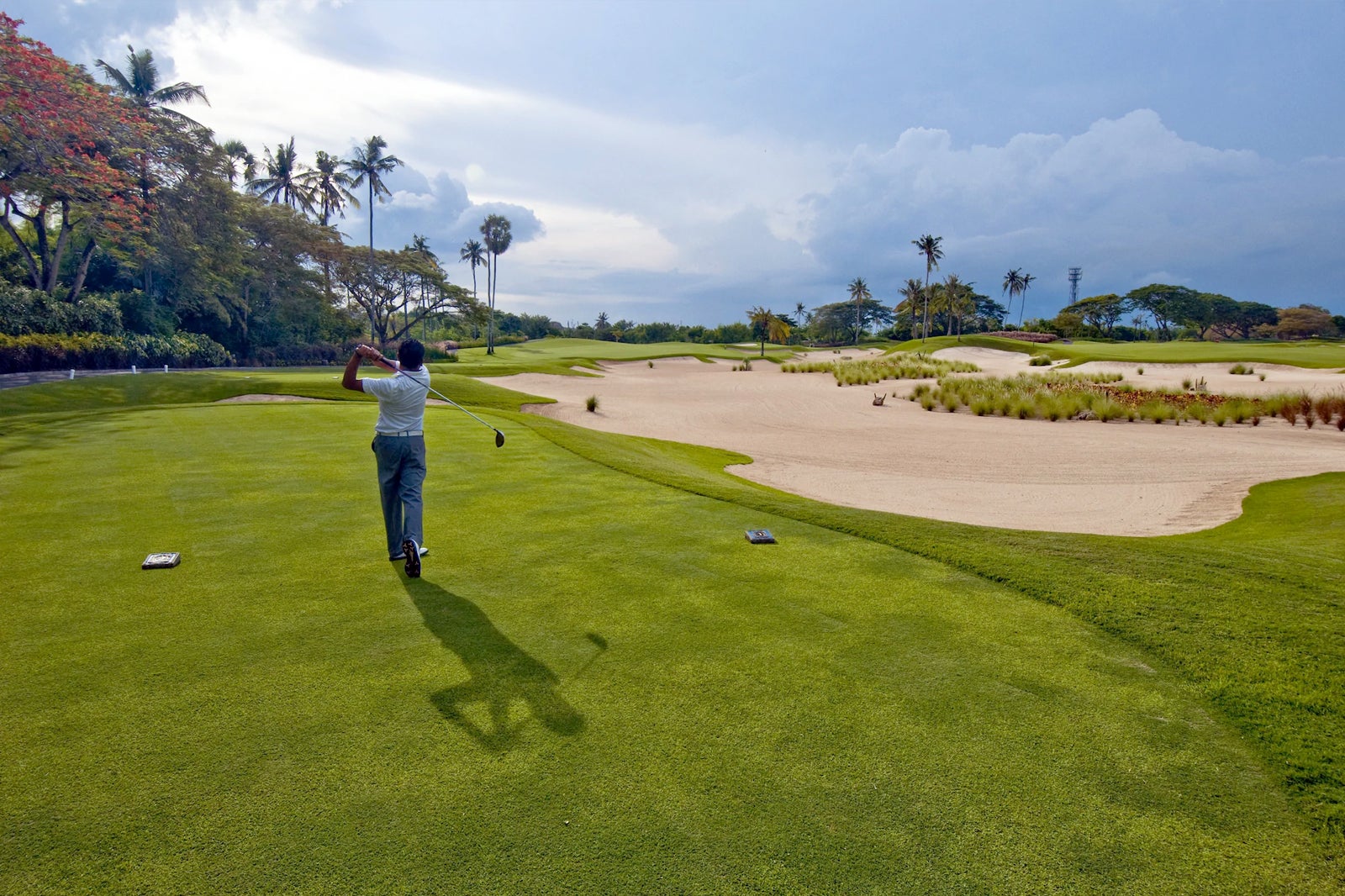 The Bali National Golf Club covers a considerable portion on the south of the Bali Tourism Development Complex. Designed by Robin Nelson and Rodney Wright, there are 3 distinct playing environments throughout the 18-hole course. Onsite facilities include the Leadbetter Golf Academy (LGA Bali), locker rooms, and a well-stocked pro shop. The Bali National Golf Club also has a driving range with putting greens, providing a nice spot for warm-ups.
Read more
Location: Kawasan Wisata, Nusa Dua, Benoa, Kuta Selatan, Badung, Bali 80363, Indonesia
Open: Daily from 6 am to 7 pm
Phone: +62 (0)361 771 791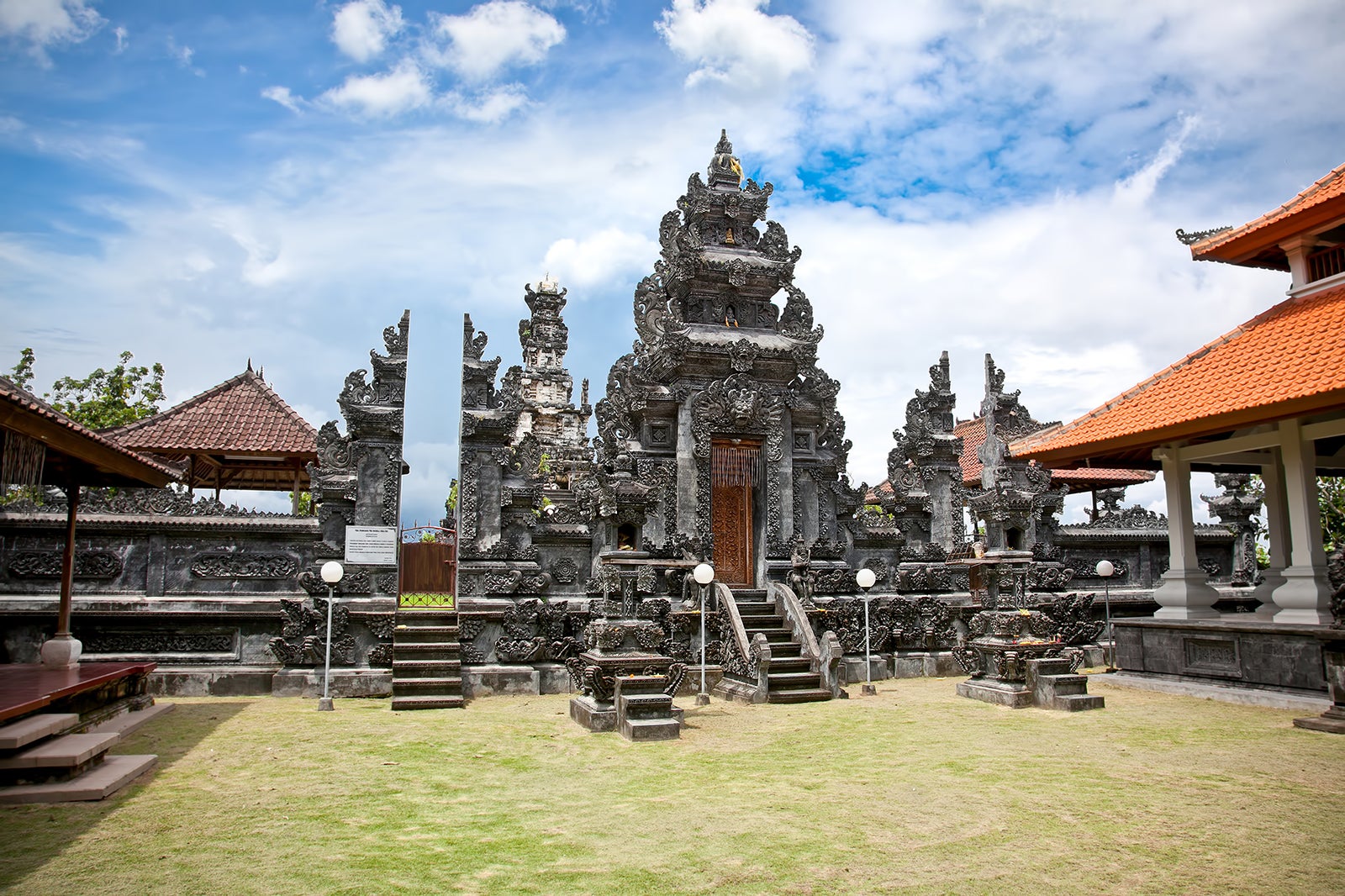 Couples
Families
History
Photo
Budget
Unusual
The Puja Mandala complex consists of 5 places of worships of Indonesia's main religions. Meant to be a landmark of religious harmony, its hilltop compound has a Buddhist temple, a Hindu temple, a Catholic church, a Protestant church and a mosque.
Each religious site has its own unique feature: the mosque displays an old prayer drum and a handwritten Quran, while the Buddhist temple is ornate with sculptures of large white elephants and bodhisattvas guarding its main doors. Puja Mandala often hosts weddings and holy days of the respective faiths.
Read more
Location: Jalan Nusa Dua, Kuta Selatan, Benoa, Badung, Bali 80361, Indonesia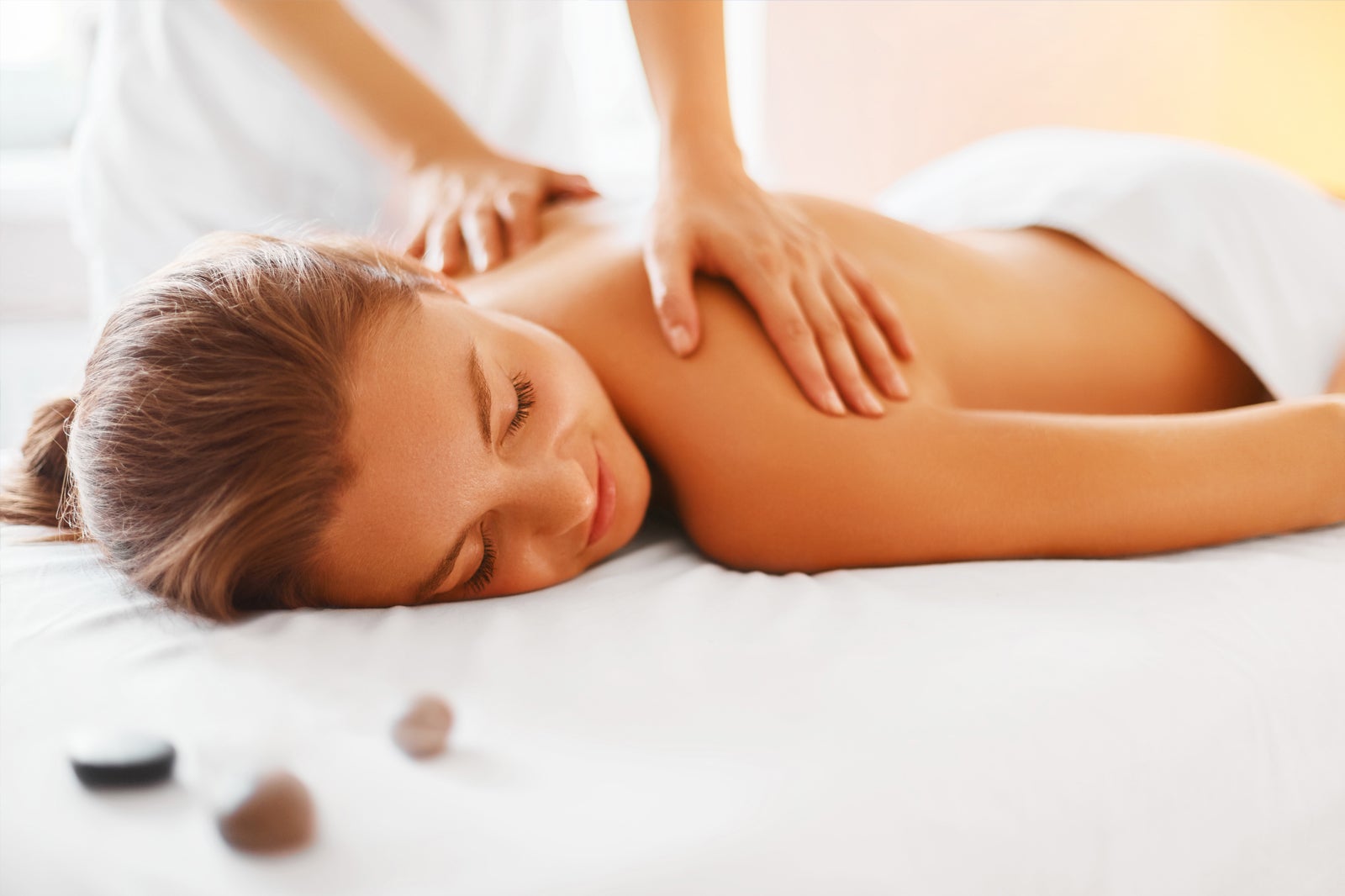 There's a wide range of spas in Nusa Dua, from luxury resorts offering wellness packages to standalone centres along Jalan By Pass Ngurah Rai Nusa Dua. Heavenly Spa by Westin has an extensive spa menu, along with modern amenities like steam rooms, Himalayan salt-saunas, hydro and cold plunge pools.
Couples may enjoy a day of pampering at The Laguna Spa, which has a couples' villa and overnight spa suites with views over a private beach. Its signature Couples' Romantic Spa Retreat includes a 90-minute Balinese massage, a 30-minute facial or foot massage, and a light snack of chocolate-dipped fruit skewers and a fresh mocktail after the treatment.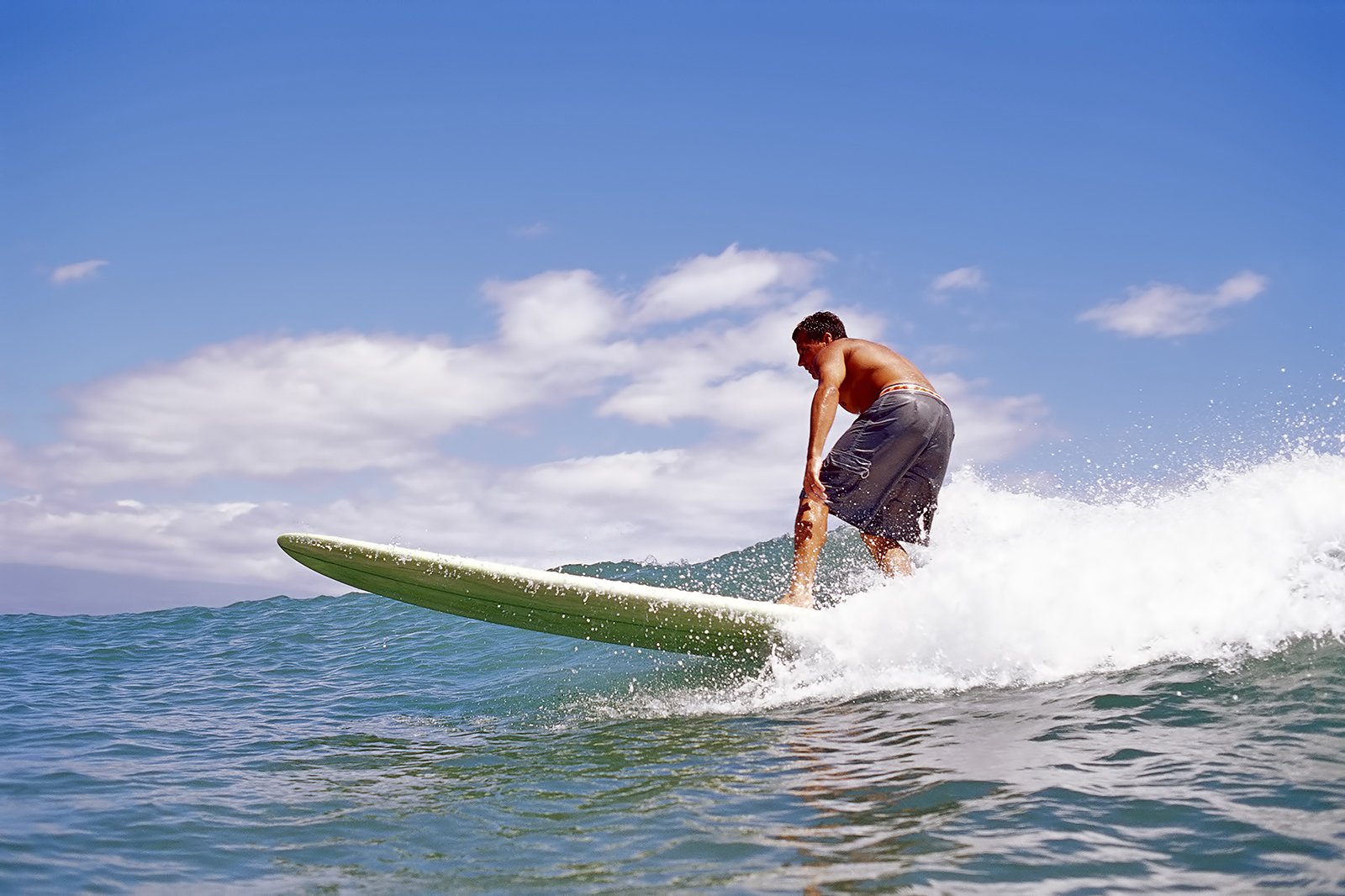 Surfing in Nusa Dua requires a boat ride from Geger to Sawangan, where you can enjoy some of the best swells on the island. The area between the 2 islets on the eastern side of Nusa Dua often gets crowded with surfers as the waves can produce swells of up to 4 metres. Non-professionals should be aware of the strong undertow and large distance from the beach. The best months to surf in Nusa Dua are from October to April.
Read more
12
Westin Family KidsClub at The Westin Resort Nusa Dua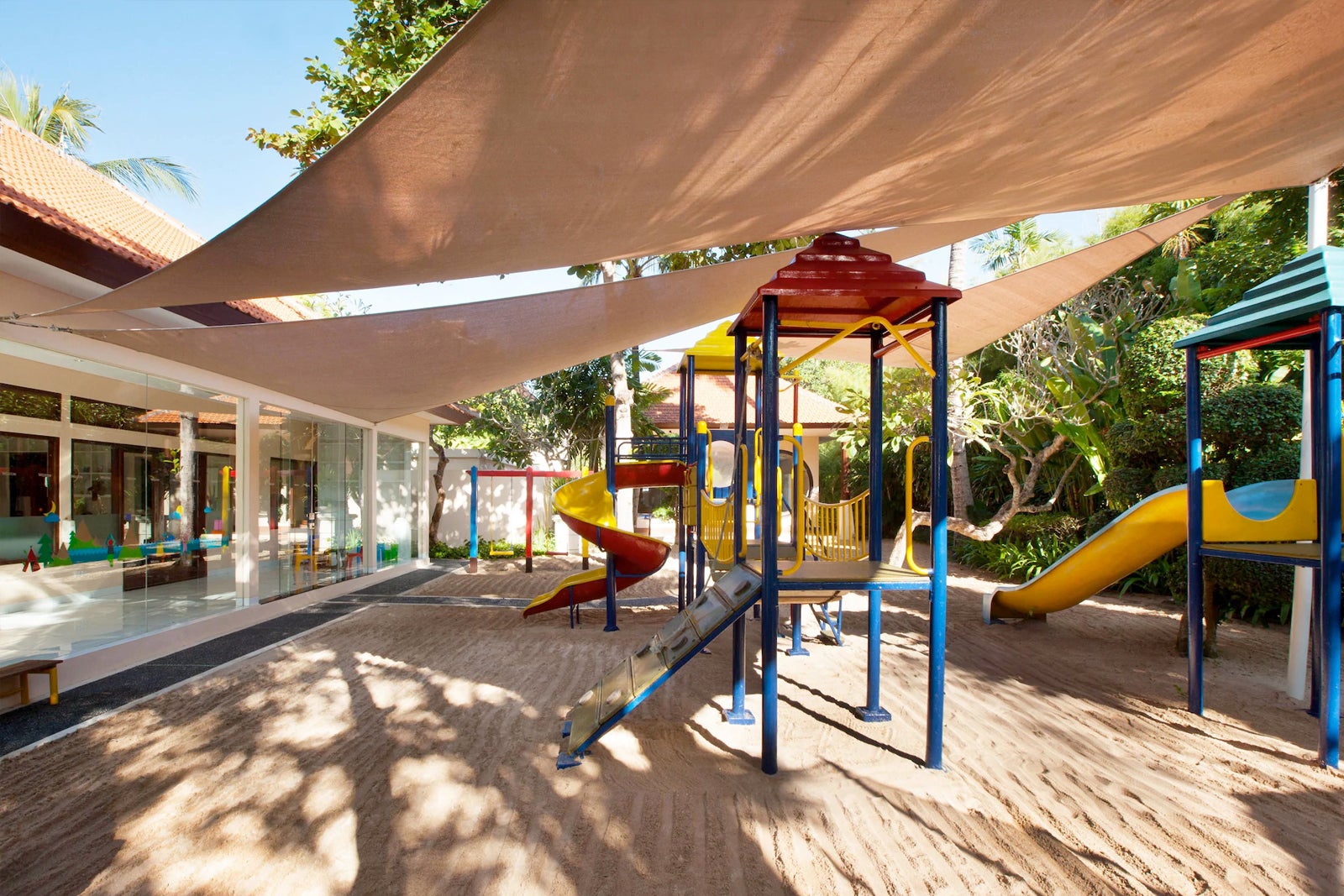 The Westin Family KidsClub is located in The Westin Resort Nusa Dua's northeast section, in a quiet garden corner shaded by tropical trees. It offers an interactive and fully-supervised environment with a range of fun games and educational activities for kids between the ages of 4 and 12. The little ones can enjoy a day of face painting, kite making, fishing, and stargazing (Mondays from 8pm to 9pm). If the weather isn't favourable for outdoor fun, Westin Family KidsClub organises movie nights to keep them entertained.
Location: Kawasan Pariwisata Nusa Dua, BTDC Lot N-3, Nusa Dua, Bali, 80363, Indonesia
Phone: +62 (0)361 771 906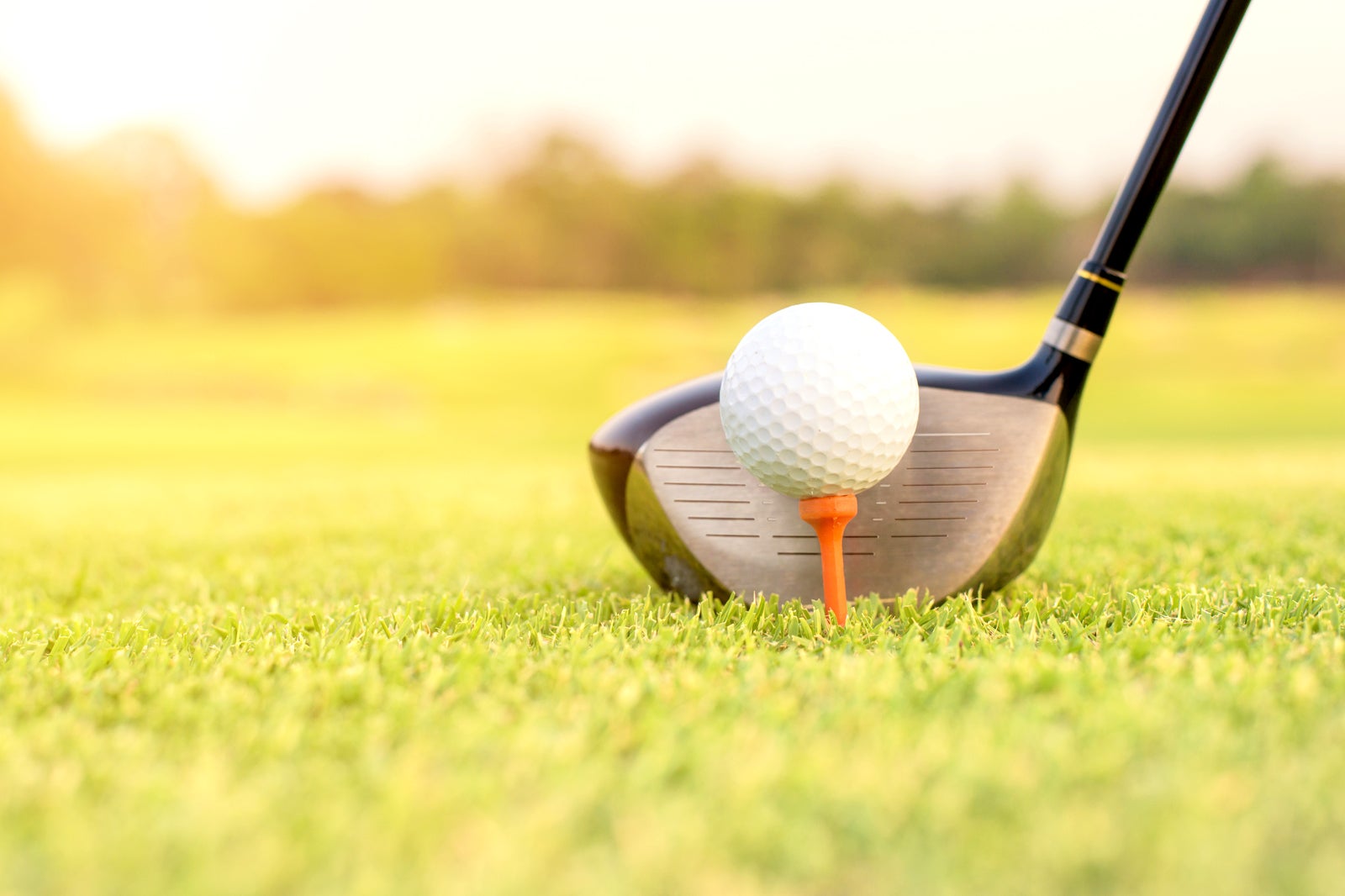 Bukit Pandawa Golf & Country Club offers an exclusive golfing experience over a 1.5-sq-km clifftop expanse in Nusa Dua. The golf course has 18 championship-calibre par-3 holes, 10 of which are complemented by panoramic views over the Indian Ocean. Its par-54 layout means that you can play a round of golf within 2 hours, depending on your skills. Bukit Pandawa Golf & Country Club's onsite facilities include caddie services, a clubhouse with a fully stocked pro shop, and a restaurant serving international cuisine.
Read more
Location: Jalan Gunung Payung, Banjar Panti Giri, Desa Kutuh, Pandawa, Kuta Selatan, Kutuh, Badung, Bali 80361, Indonesia
Open: Daily from 6 am to 6 pm
Phone: +62 (0)811 3811 2828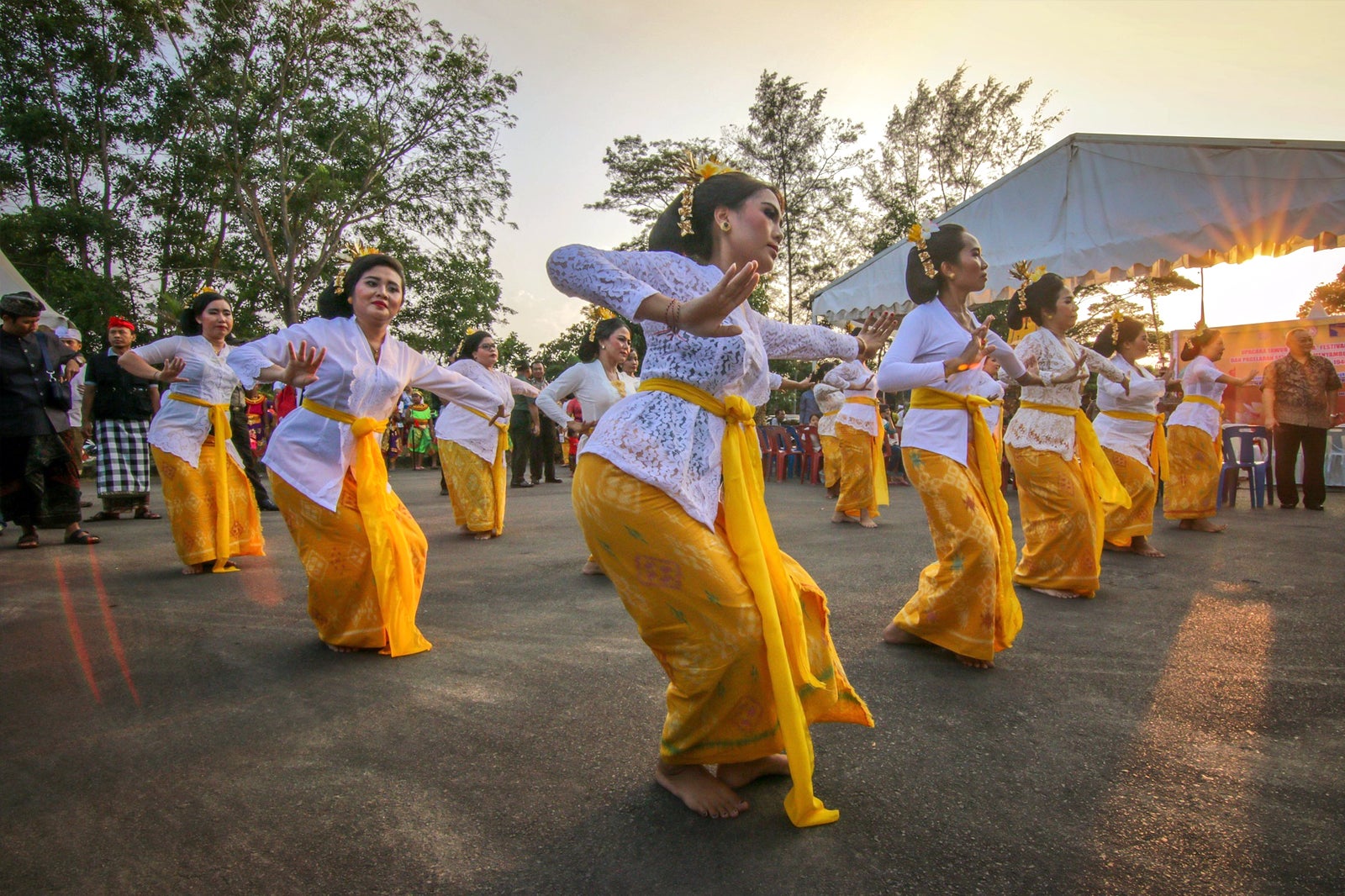 Nusa Dua Fiesta takes place every October, showcasing a wide range of art exhibitions, cultural performances and sporting events, celebrated in several venues within Nusa Dua. Expect a weekend of street parades and live shows like fire dances, cooking classes, and body painting sessions. Live bands include national headliners, along with percussionists and local artists performing world music.
Read more
Location: Nusa Dua Beach, Bali, Indonesia
Phone: +62 (0)813 537 81600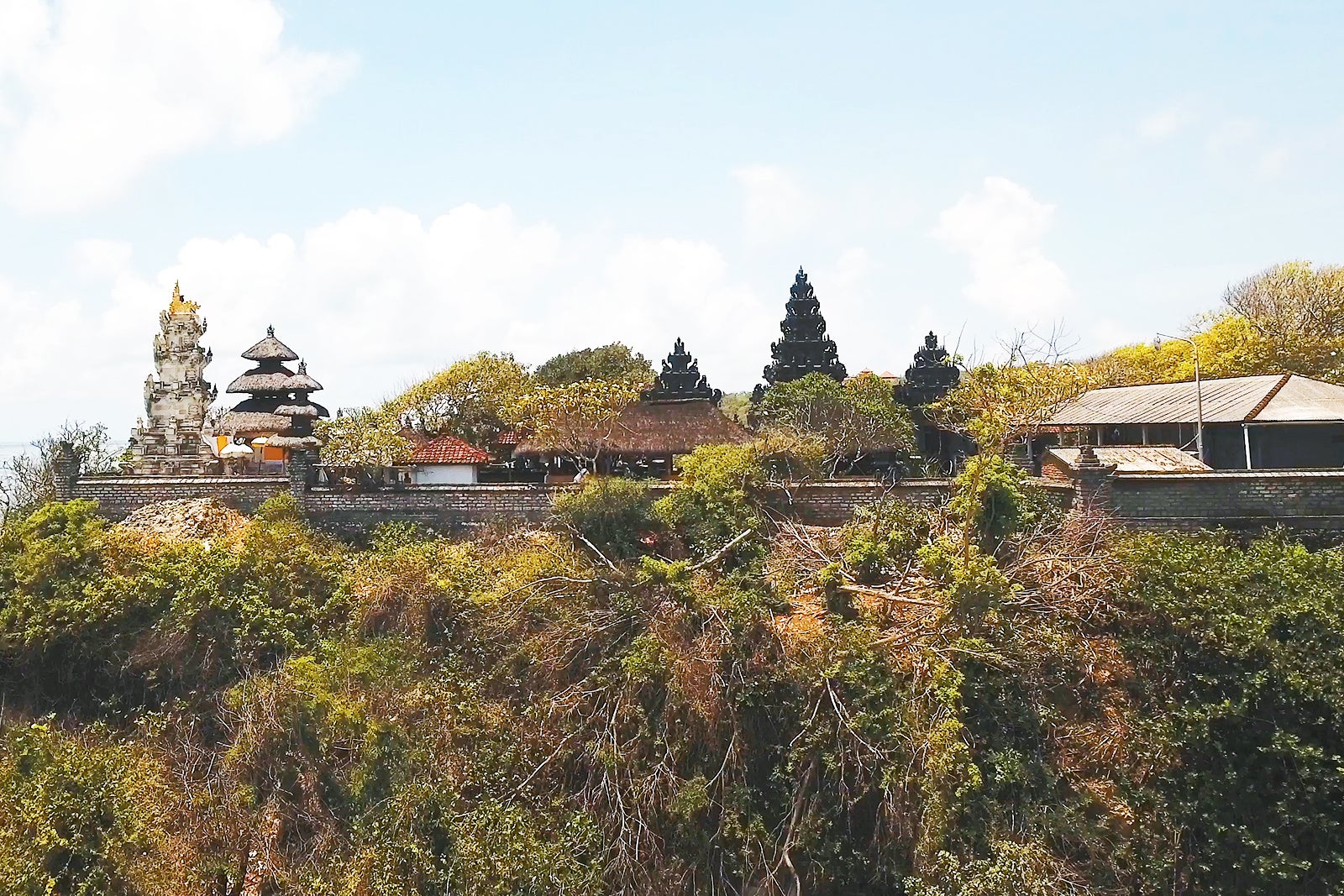 The temples in Nusa Dusa are impressive structures housing unique relics. Before entering Jalan Pantai Mengiat from Bualu Village, you'll come across Pura Desa, Pura Puseh, and Catus Pata. On the coastline of Nusa Dua and Bengiat beaches, popular Hindu temples include Pura Segara Nata and Pura Dalem Segara.
If you're on the Jalan Nusa Dua Selatan Road, you'll see a few hidden temples that are worth visiting for their peaceful atmospheres. Of course, no temple-hopping excursion in Nusa Dua is complete without a stop at Geger Temple, a clifftop shrine overlooking the Indian Ocean.
Location: Nusa Dua, Bali, Indonesia