Rock Bar Bali at AYANA Resort and Spa is stunningly set on a secluded limestone cliff south of Jimbaran Bay. This premier sunset venue wins the hearts of patrons, some who fly to the island just to experience the venue's signature cocktails, exceptional views, and moods set by its resident DJ and an occasional line-up of world-class international artists.
The Rock Bar features a minimalist design with an open-top platform that's seamlessly built onto the natural formation. Ambient lighting from around the bar and the shades at sunset, together with traditional fishing boat lanterns that dot the seascape, add to the dramatic appeal of the bar.
Rock Bar Bali at AYANA Resort and Spa - one of the highlights of 6 Best Party Places for New Year's Eve in Bali and 7 Best Nightlife in Jimbaran (Read all about Bali here)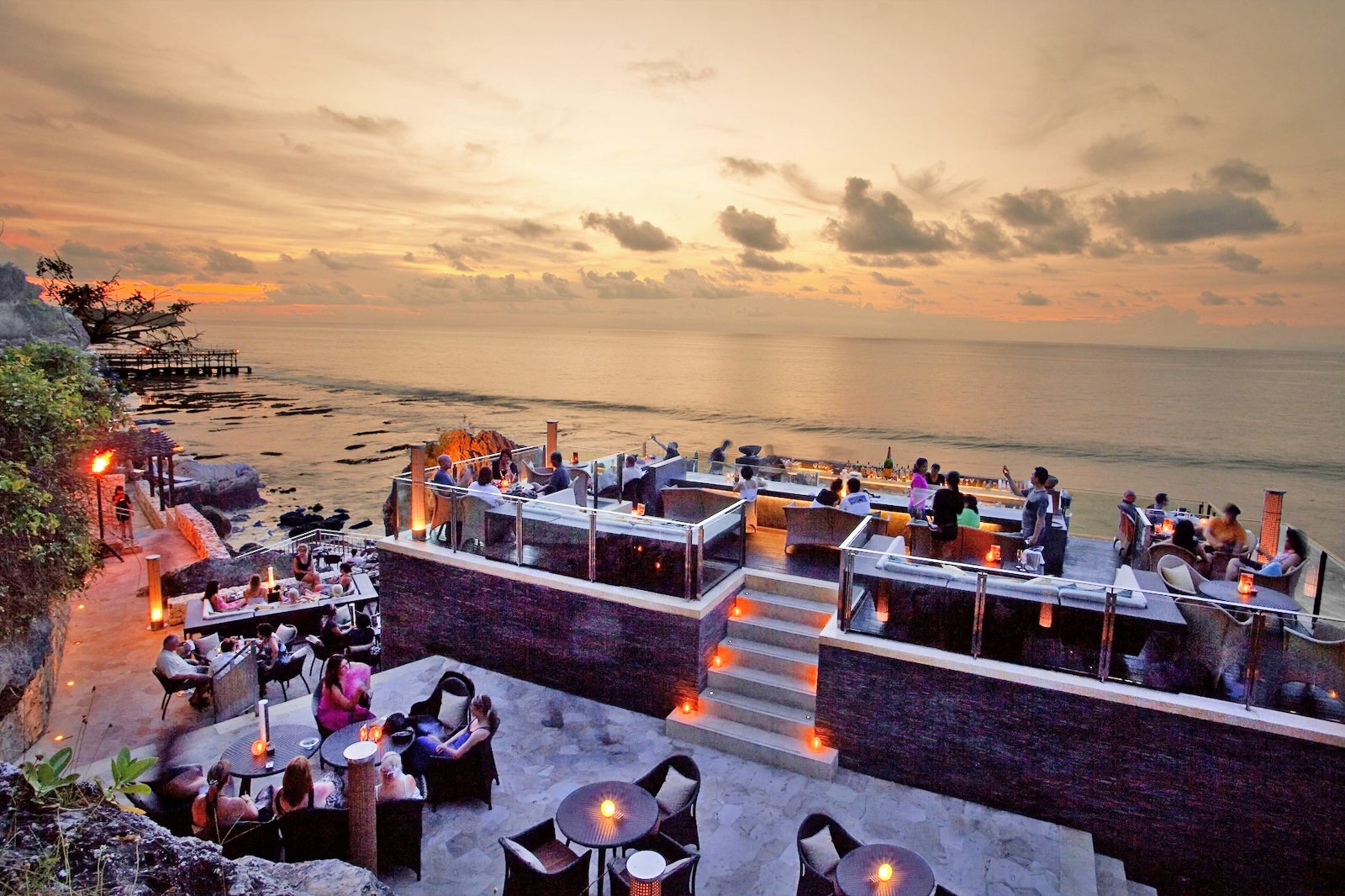 Getting to Rock Bar
Getting to the bar itself is an experience. Past AYANA's green cliff-top lawns, you'll notice 2 ways to descend, both of which provide spectacular bird's eye views. First is the 'hard way' down the extended flight of stairs that leads you to Kisik Bar & Grill, the resort's fine seafood restaurant with tables on the sand. Continuing to the Rock Bar, you stroll along the cliff base causeway around a freeform ocean beach pool.
The 2nd access to Rock Bar is an effortless option, using a funicular ride down. Expect queues, especially moments before sunset time. Queues are divided into 2, one of which is a 'fast lane' reserved for hotel guests. If you have the energy, we'd recommend going the 'hard way' as there are several stops along the descent that provide you with scenic and photographic moments of the seascape and horizon, the beach and cliff base, and most of all, Rock Bar Bali.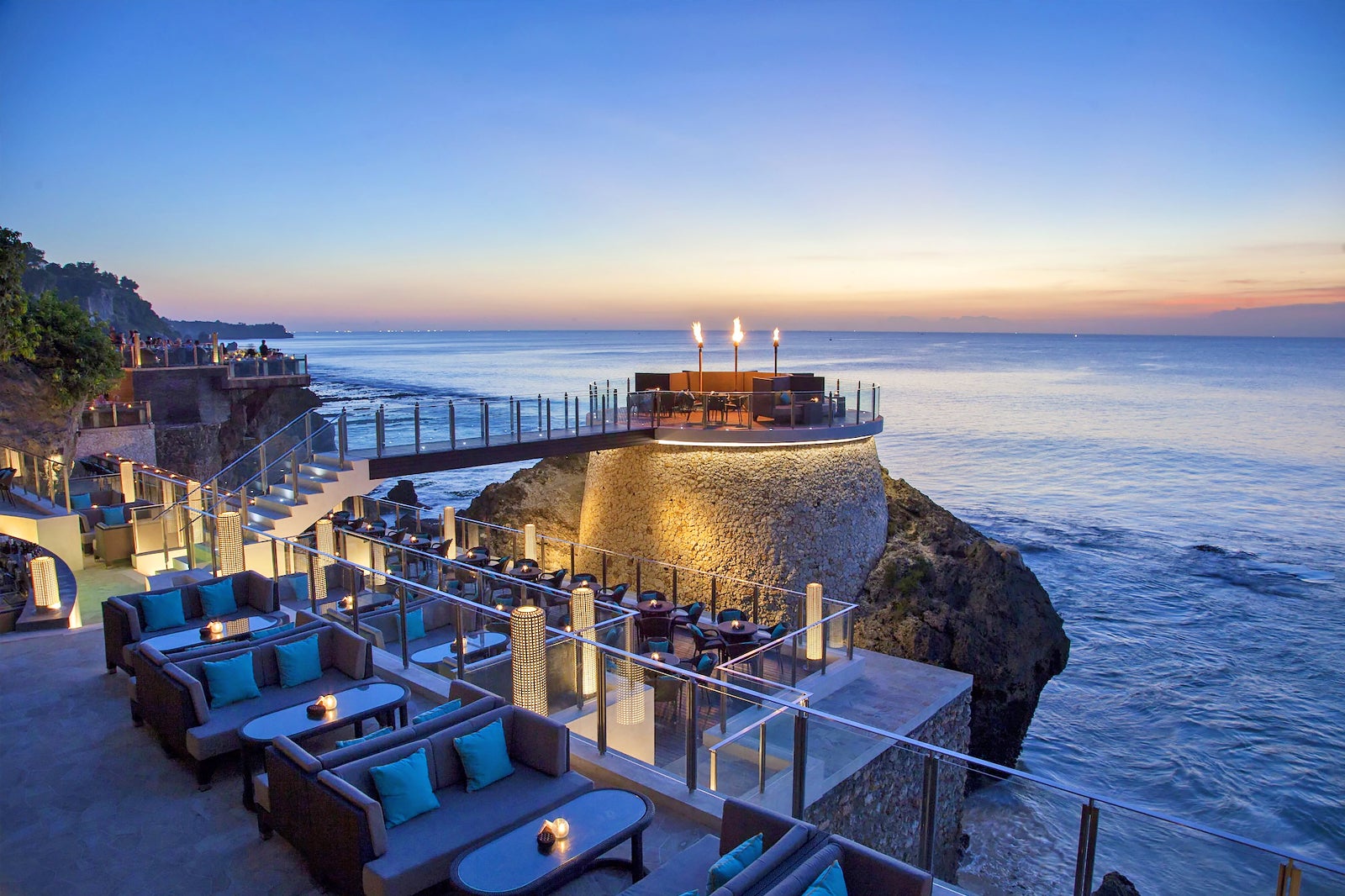 Rock Bar features
Perched 14 metres above the waves, Rock Bar Bali is a small centrepiece with the vast sky and Indian Ocean as the backdrop. There are many round tables at the lower foyer and several more steps up lead you to the main bar, which is bordered by glass screens.
The bar's innovative design was conceived by Yasuhiro Koichi of Japanese design studio Spin. Wooden deck areas provide additional viewing points on both sides of the main rock that stretches along the coast, one of which is accessed via a natural cave. The cave walls sparkle with what seems to be crystal, quartz-like minerals.
The bar centrepiece was built using thousands of layers of recycled glass canes and was created by Bali-based Japanese glass artist Seiki Torige. The barmen and team of waitresses are clad in elegant, signature black outfits. At the centre of the all-weather wicker tables, you'll find upright cylindrical menus. The moment you get here, just in time for sunset, pick a spot and go straight for the cocktails.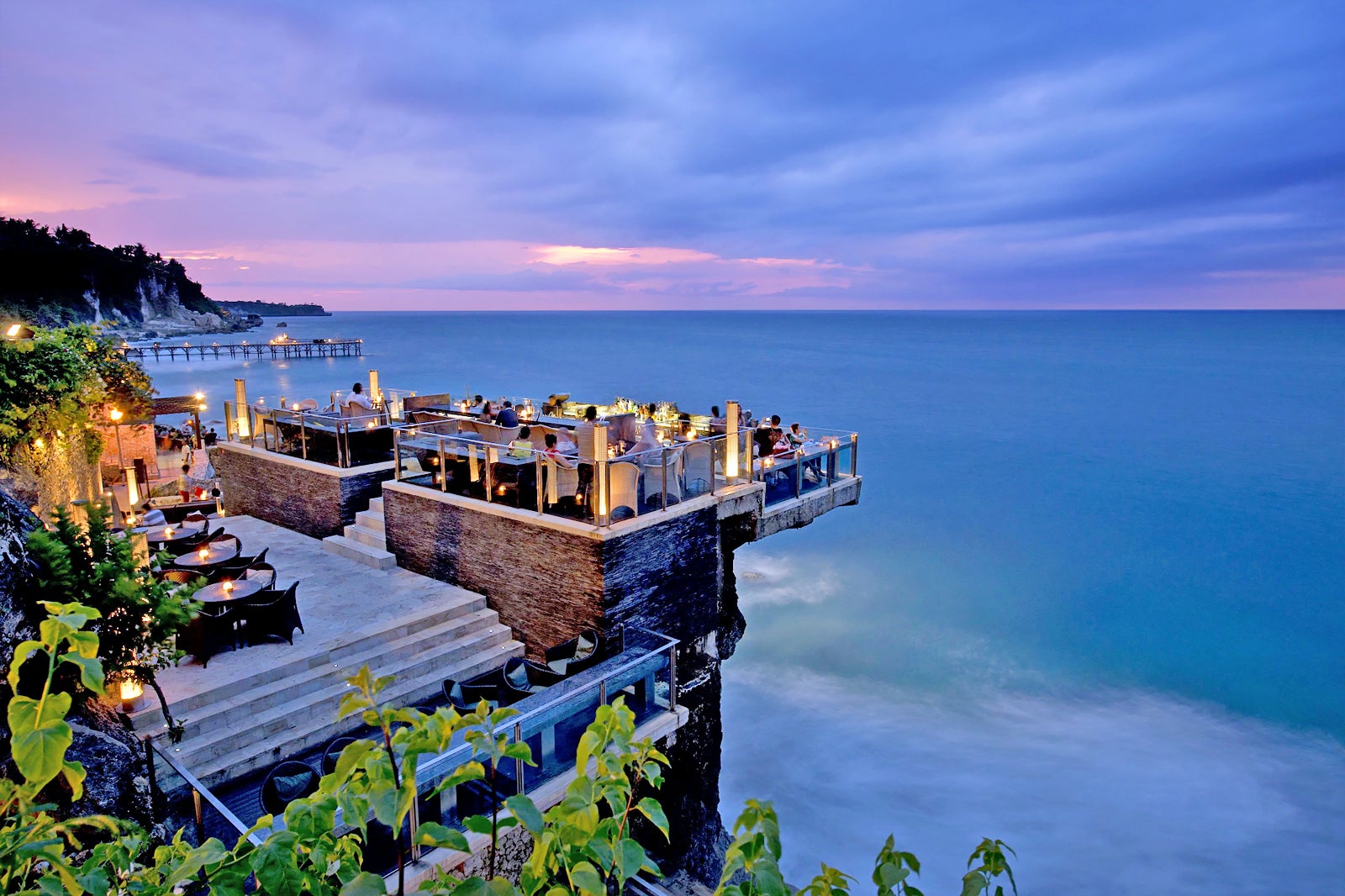 What to enjoy at Rock Bar
Among the favourites are the Rock Bar's martinis, comprising quirkily-named blends such as Punch Rock, Rockberry Martini and Spa on the Rock which is made of vodka, blackcurrant liqueur, blueberry and cranberry juice. Spa on the Rock is also the name of Ayana's equally dramatic spa on the resort's southern coastline. The cocktails were designed by international bar consultant Sebastien Bonnefoi, using imported liquors blended with local fruits, herbs and spices to complement the natural setting.
Rock Bar Bali's resident DJ spins mostly Mediterranean beats, nu-disco, deep house, and chill outs every sunset and late night weekends. International Ibiza and Indonesian guest DJs often 'rock' the Rock Bar by spinning tunes from a special booth carved into the rock face.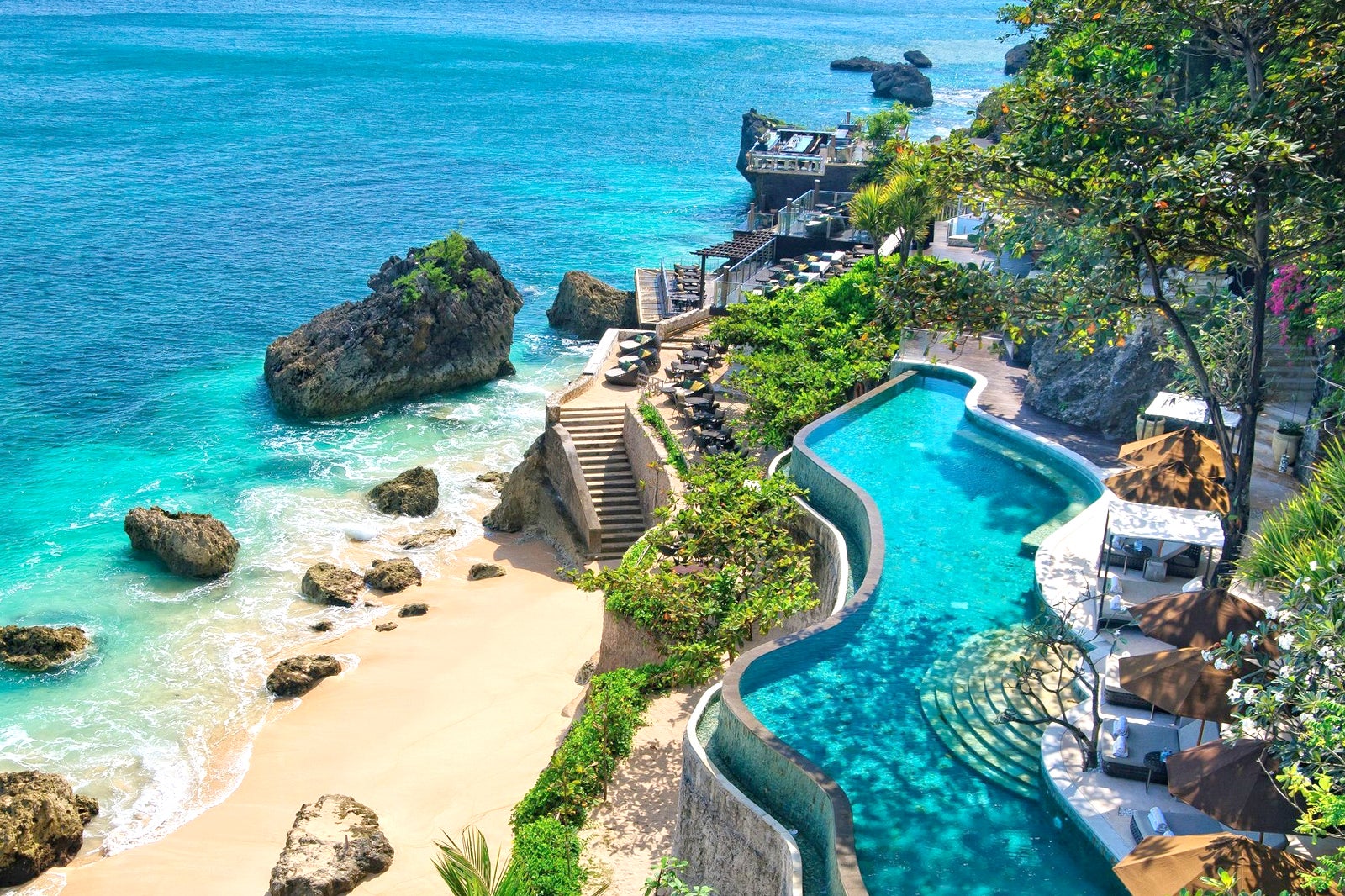 Rock Bar Bali at AYANA Resort and Spa
Location: Ayana Resort and Spa Bali, Jalan Karang Mas Sejahtera, Jimbaran, Badung, Bali, Indonesia
Open: Monday–Thursday from 4pm to midnight, Friday–Sunday from 4pm to 1am
Phone: +62 (0)361 702 222 Ext 40
Why book with Hotels.com?