The Tirta Gangga royal water garden is a cool retreat in the eastern highlands of the Karangasem regency in East Bali. It lies on the south-eastern slope of the island's highest mountain, Mount Agung, and was built in 1946 during the reign of the late king of Karangasem, Anak Agung Anglurah Ketut Karangasem (1887-1966).
Owned and maintained by the royal Karangasem family, the lavish water gardens feature 1.2 hectares of pools, ponds and fountains surrounded by neatly cut lawns that are adorned with stepping stones, ornate statues and tropical gardens. It saw a series of restorations following the destructive hot showers of volcanic ash from the Mount Agung eruption in 1963.
Tirta Gangga Royal Water Garden - one of the highlights of 39 Best Things to Do in Candidasa and East Bali and 11 Best Bali Hot Springs and Natural Springs (Read all about Bali here)
Highlights of Tirta Gangga
Entering the site, the first thing that comes into view is a pond where rows of guardian figures holding cudgels are neatly arranged. Also, polygonal stepping stones which enable visitors to 'tour' the pond are set out in order. This allows viewing the old and large golden carp from up close in the clear and shallow ponds.
Behind the first pond is the central towering fountain, again featuring guardian statues at its base. This 10-metre-high fountain has 11 tiers with a shape of a lotus at its tip. The spouting water splashes down the tiers creating a cool and soothing sight.
The springs are located at a higher ground to the right of the entrance of the site, under a large banyan tree. The water is considered holy by the locals and is used during religious ceremonies, while also being a source of potable water for daily use.
Water features at Tirta Gangga
At the lower level of the water source are 2 clear pools. One of them serves as a public wading pool and visitors are welcome to swim here. The pools have a design that harks back to the old days, consisting of sandstone and natural materials. Different floor depths enable all ages to enjoy the pools.
The grand pond at the southern side of the complex is filled with large golden carp and other large fish, and swimming is prohibited here. There are 2 bridges connecting the sides of the pond, which feature ornate mythical Balinese dragon statues at its sides.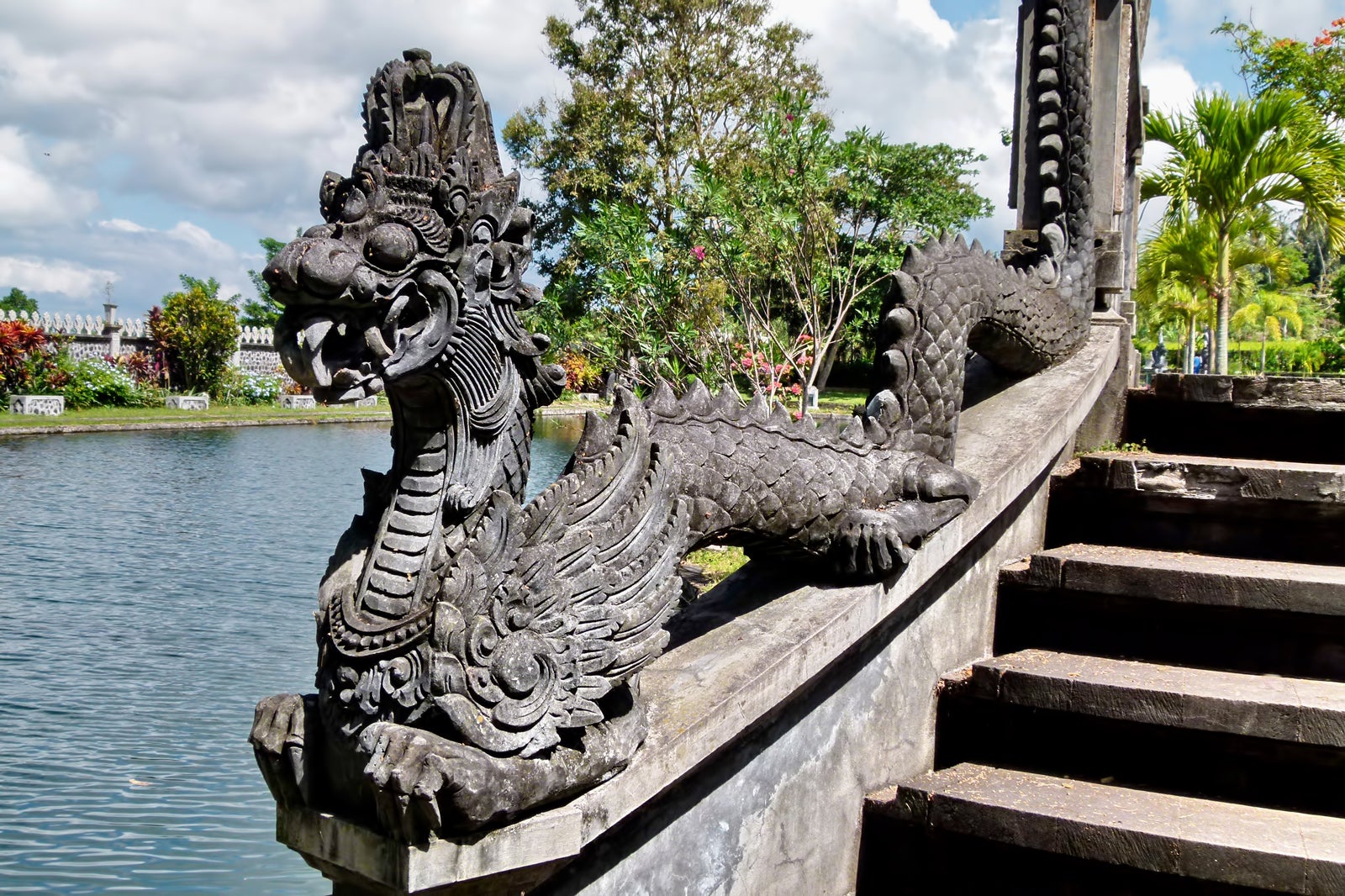 Good to know about Tirta Gangga
Tirta Gangga is a frequent highlight on tour itineraries to Bali's eastern region. A small entrance fee applies which goes towards the maintenance of the site. As it is a popular retreat for both locals and visitors, it may seem a bit crowded on some weekends.
Besides the many small warung stalls outside of the main site and around the parking area, Tirta Gangga also boasts accommodation facilities and a restaurant, as well as the Tirta Ayu Hotel & Restaurant just behind the main fountain.
Tirta Gangga Royal Water Garden
Location: Jalan Raya Abang, Ababi, Abang, Karangasem, Bali 80852, Indonesia
Open: Daily from 8am to 11pm
Phone: +62 (0)363 22503
Back to top