10 Best Things to Do in Capri
What is Capri Most Famous For?
The glitzy Italian island of Capri is a dramatic stretch of coastline peppered with grandiose villas – it's a playground for glamorous celebrities and cashed-up jet setters. But despite its expensive price tag and exclusive vibe, Capri has ample attractions to appeal to every kind of traveller.
Jaw-dropping natural vistas, immaculately manicured gardens, and spectacular secluded hiking trails abound, none of which will break the bank. Of course, if you don't mind racking up some digits on your credit card, there's also enough upmarket shopping and dining to suit the most cultured of travellers.
What are the best things to do in Capri?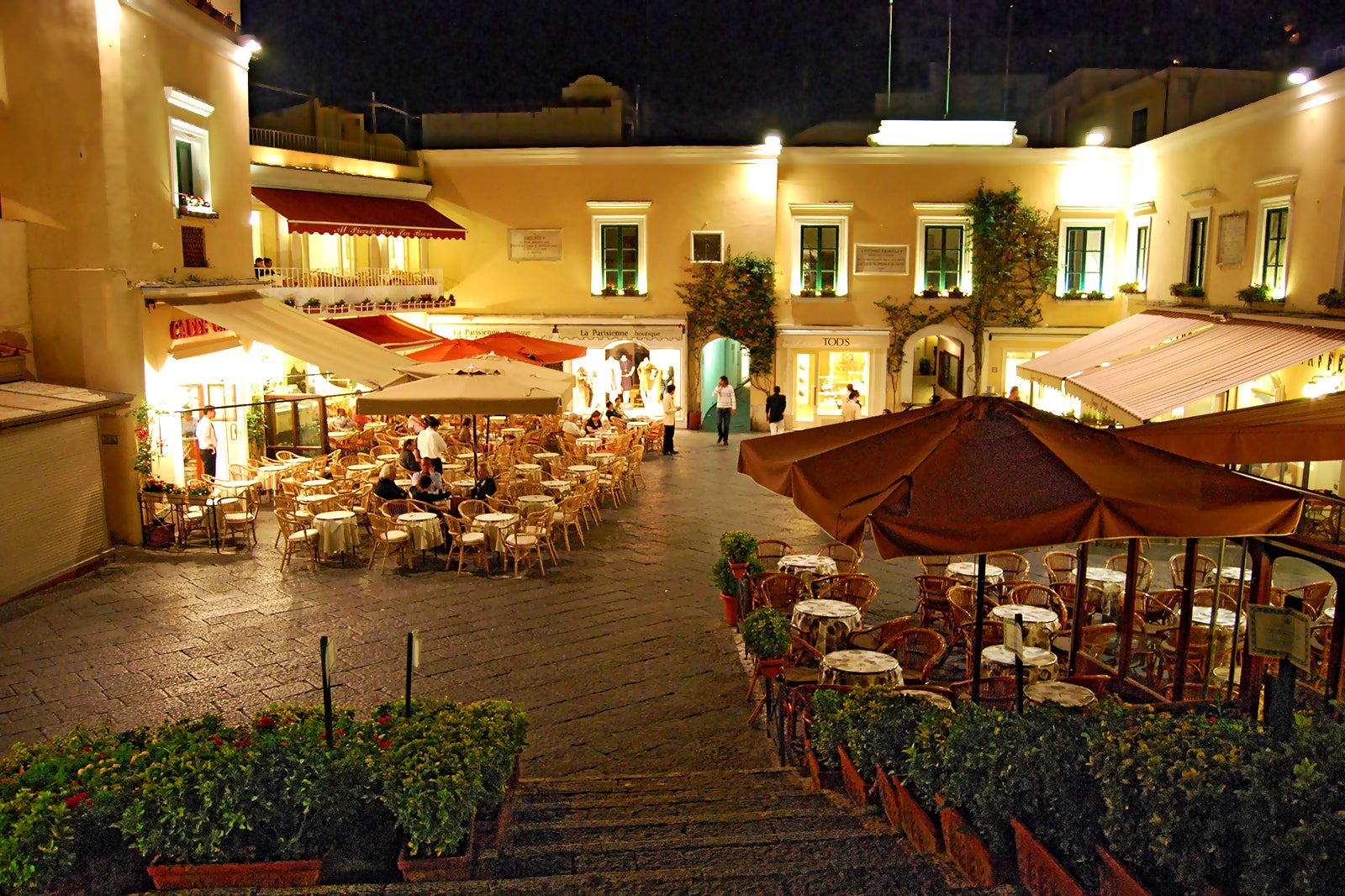 People watch at the Piazzetta
Where people come to see and be seen
La Piazzetta is the place to be for people-watching in Capri, so come for a morning espresso or a stiff late-night cocktail to watch the action unfold. Rows of fancy Italian restaurants and cafés line the bustling plaza, where guests and locals mingle under an iconic old clocktower.
For the best chance of spotting an A-lister, come between 7pm and 9pm once all the day-trippers have gone home. The surrounding streets are packed with high-end boutiques and also attract the occasional celebrity. If the crowds start to feel a little overwhelming, stroll over to the adjacent clifftop viewpoints for spectacular vistas of the Tyrrhenian Sea.
Location: Piazza Umberto I, 80076 Capri, Metropolitan City of Naples, Italy
Phone: +39 081 838 6211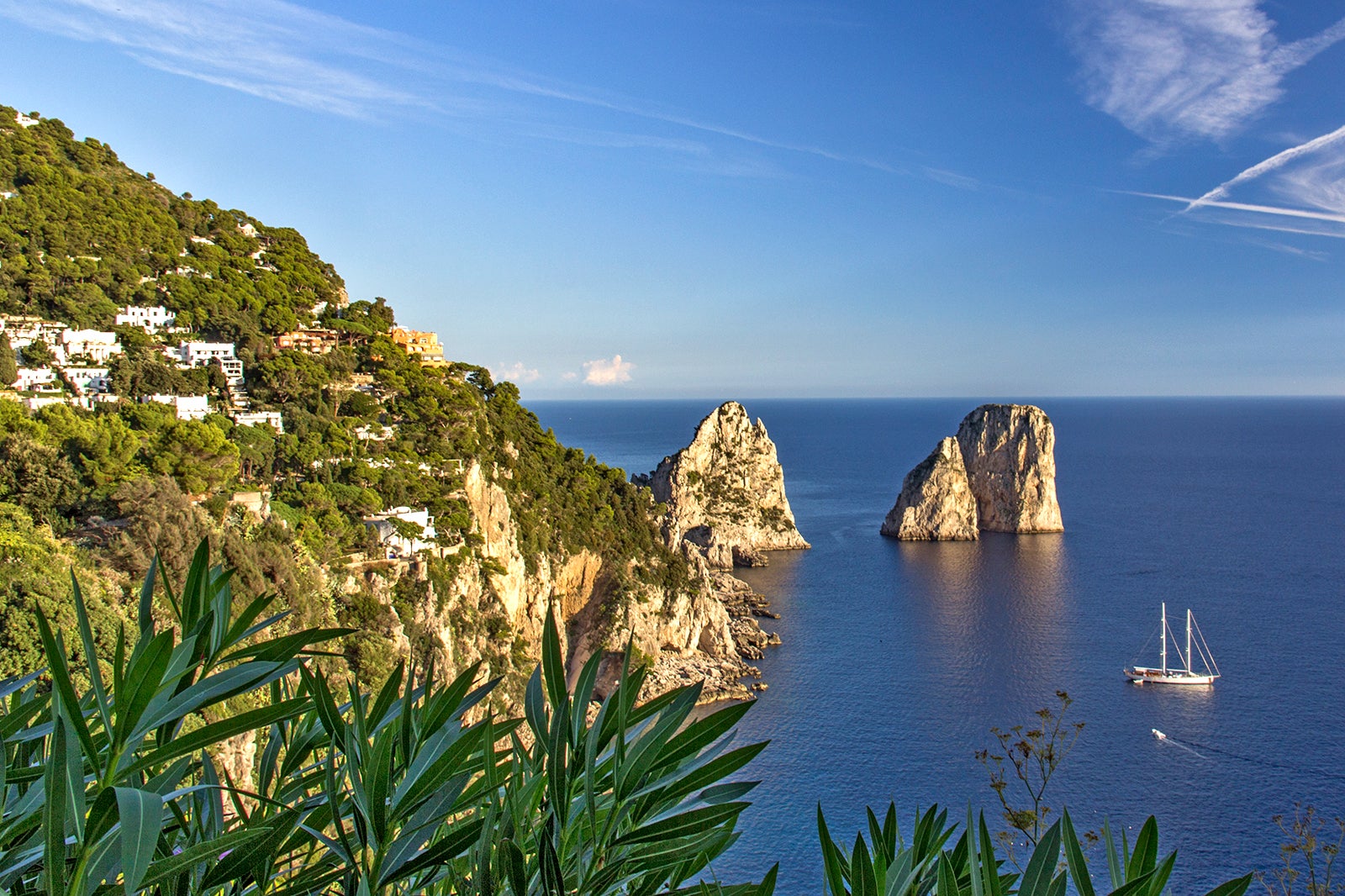 Take a boat trip around the Island
Go on an exciting nautical adventure
Capri's extraordinary beauty is best appreciated from sea level on an ocean-faring vessel. Whether you opt for an organised tour at Marina Grande or rent a dinghy for a self-guided sailing adventure, you'll enjoy jaw-dropping coastal views as you circumnavigate the island.
Pass through the natural arches of the famed Faraglioni rock before heading towards Grotta Azzurra to marvel at the luminescent blue waters of this stunning sea cave (you can choose to reach the cave by bus if you haven't found your sea legs). If you fancy a refreshing swim, the Grotta Bianca and the Grotta Verde offer similar natural splendour but without the crowds.
Location: Blue Grotto, 80071 Anacapri, Metropolitan City of Naples, Italy
photo by Marlis Börger (CC BY-SA 2.0) modified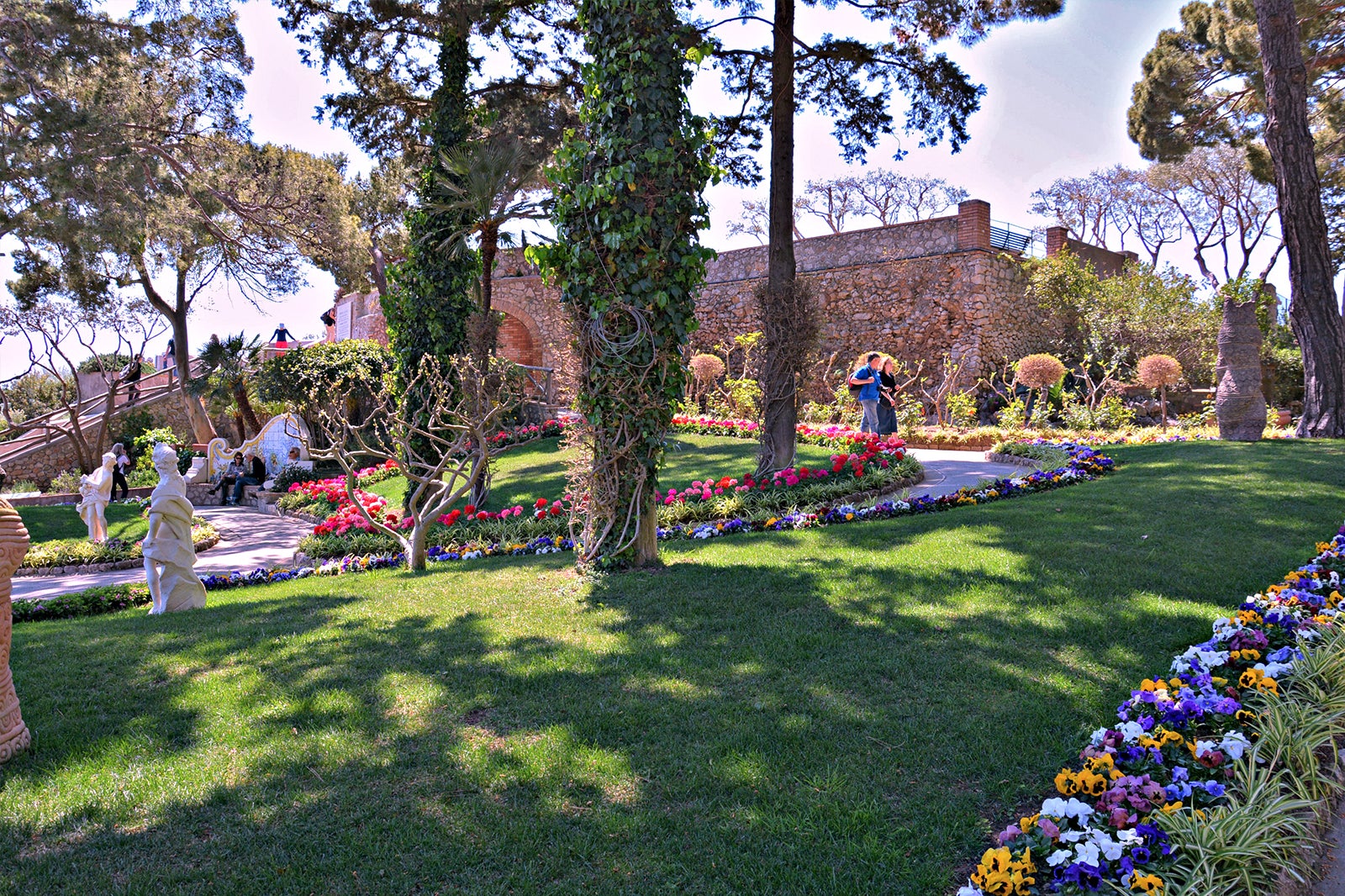 Marvel at the Gardens of Augustus
A Garden of Eden with breathtaking views
What the Gardens of Augustus lacks in size, it more than makes up for with breathtaking views from the terraces overlooking a dramatic Tyrhennian seascape. Tucked away on the southern edge of Capri Town, the beautiful botanical gardens boast a vibrant array of Mediterranean flora, where blooming geranium and dahlia flowers create a vibrant scene. A selection of stately statues adds aesthetic appeal to the grounds, which Friedrich Alfred Krupp founded in the early 20th century to adorn the adjacent hotel.
Despite its botanic beauty, almost everyone comes to admire the views from the clifftop terraces on the southern end. Sparkling blue waters, dramatic jagged precipices, and the famous Faraglioni rock make for a quintessential Capri photo op.
Location: Via Matteotti, 2, 80076 Capri, Metropolitan City of Naples, Italy
Open: Daily from 9am to 7.30pm
Phone: +39 081 838 6214
Couples
Families
History
Photo
photo by Mentnafunangann (CC BY-SA 4.0) modified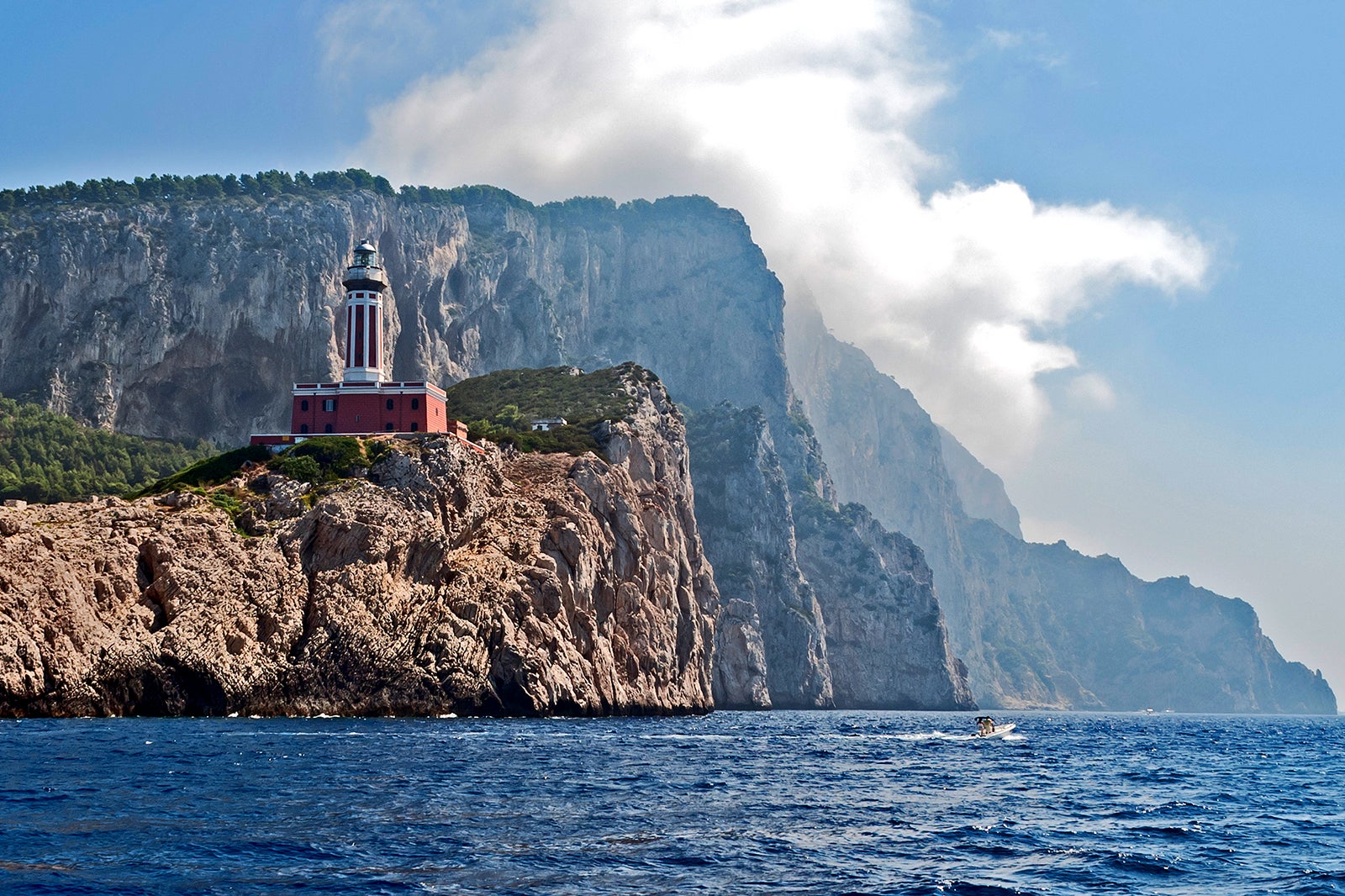 Watch the sunset at Punta Carena Lighthouse
Sunbathe and take in the dramatic view
The Lido del Faro beach next to the Punta Carena Lighthouse is an idyllic spot for sun-seekers to pull up a towel, as this local favourite hasn't yet caught on among travellers. After spending a lazy afternoon swimming and soaking up those glorious Mediterranean rays, make your way to the nearby Punta Carena Lighthouse to watch the sunset over the sea.
This historic tower was built to warn Sicilian merchant ships of the treacherous rocks below. Nowadays, it doubles as Capri's number one spot to catch the sun's glorious end of day display. Grab yourself a cocktail or 2 from Malibu Bar to enhance the experience.
Location: Str. Faro di Carena, 80071 Anacapri, Metropolitan City of Naples, Italy
photo by Mgimelfarb (CC BY-SA 4.0) modified
Take the chairlift up Monte Solaro
Views of the entire island and beyond
The views are magnificent from Monte Solaro's 589-metre peak, which is the highest point in Capri. You can spot virtually all the island's major attractions from the top, and even as far as the Bay of Naples and the Amalfi Coast on a clear day.
Hiking the steep 90-minute trail to the top is a rewarding option for those with energy to burn, while the novel single-seater chairlift is a hit for its sweeping Capri views. Be sure to pop into Cetrella, a small chapel that once housed a reclusive hilltop hermit. Regardless of how you ascend to the summit, you'll need to make your way to the nearby town of Anacapri at the foot of the mountain, which is about 15 minutes west of Capri town.
Location: Via Caposcuro, 10, 80071 Anacapri, Metropolitan City of Naples, Italy
Open: March–April from 9.30am to 4pm. November–February from 9.30am to 3.30pm. May–October from 9.30am to 5pm
Phone: +39 081 837 1438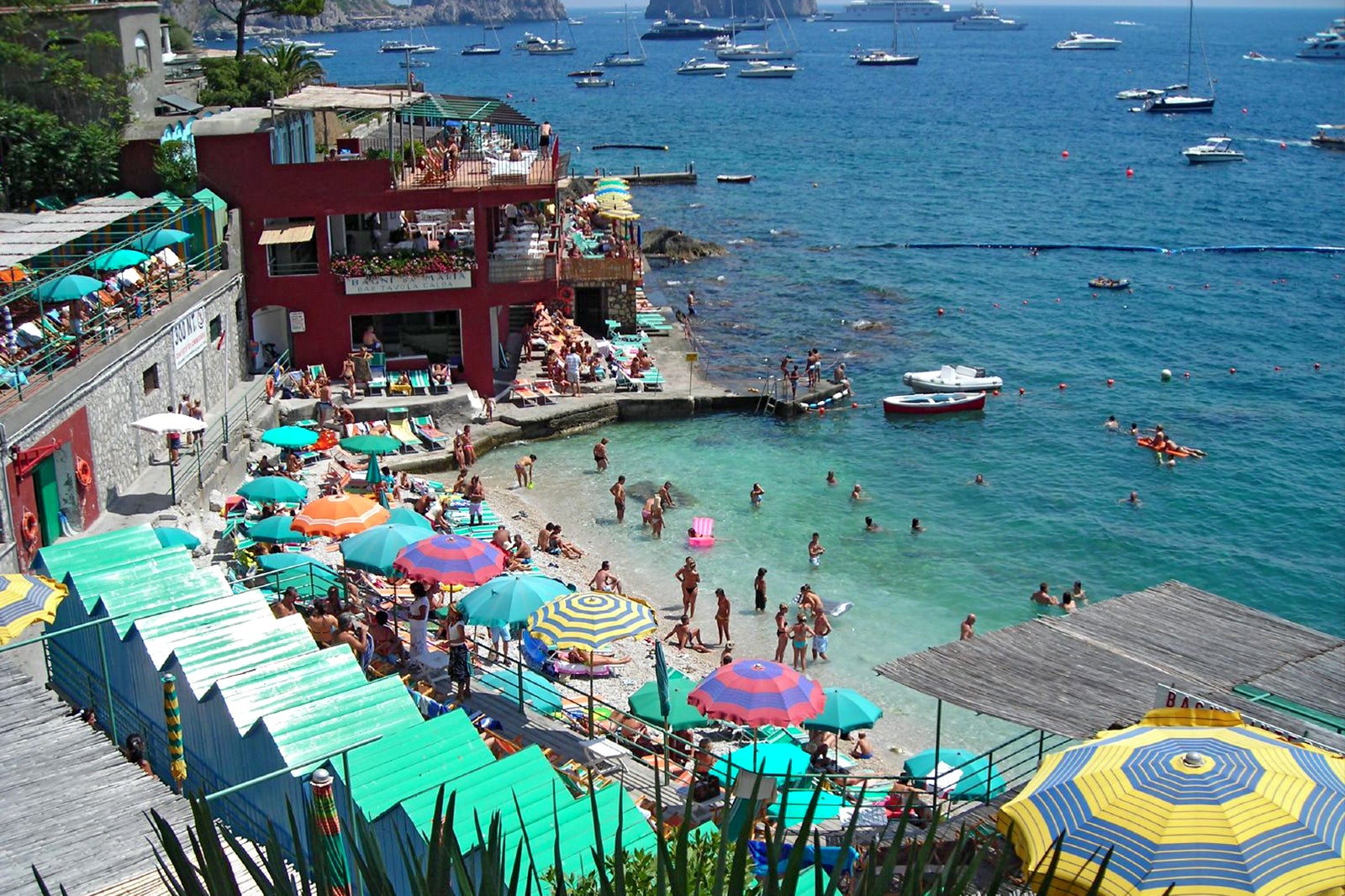 Sunbathe at Marina Piccola
An idyllic day at the beach
Marina Piccola lies at the bottom of the windy Via Krupp path and serves as the smaller of Capri's 2 harbours.
Although the port only houses a smattering of boats, sun-seekers come in droves to tan themselves on the best sandy beach in Capri. And it's not hard to see why because the scenery is stunning, not least for the uninterrupted views of the arched Faraglioni rock just offshore. Amid these crystal clear waters, you'll also find Siren's Rock where the mythical creatures were said to have seduced Odysseus with their sensual songs.
Come early to beat the crowds and leave before 4pm when shadow envelopes the bay.
Location: Via Marina Piccola, 80076 Capri, Metropolitan City of Naples, Italy
Phone: +39 081 838 6211
photo by Vito Manzari (CC BY 2.0) modified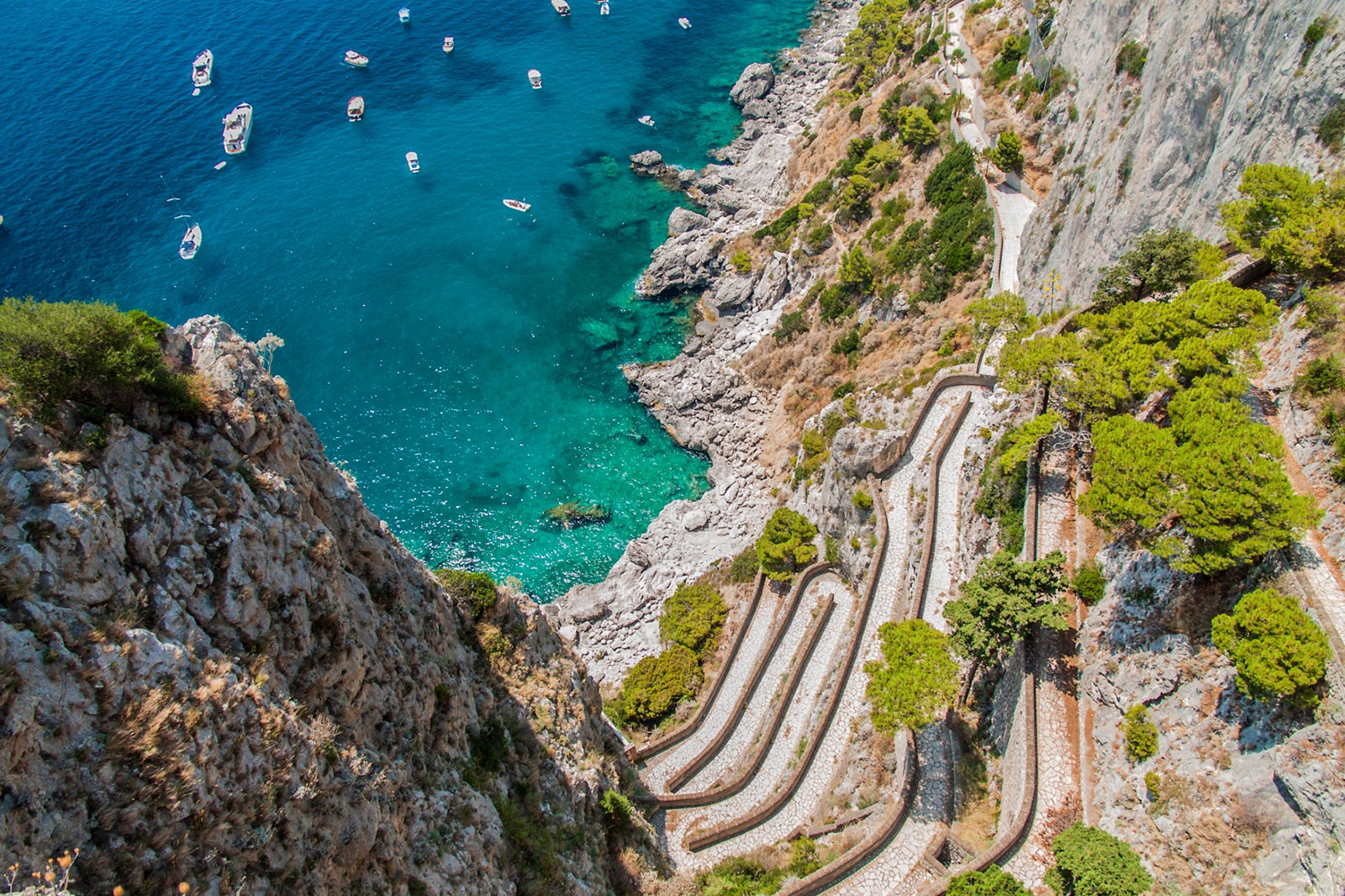 Admire Via Krupp
The windiest path in Italy
Via Krupp is a windy path that was carved out of the cliff to provide a passage between Marina Piccola and the Grand Hotel Quisisana. Even though the historic Capri landmark was sadly closed to the public for fear of falling rocks, the fascinating engineering feat is worth seeing, nonetheless. A series of impressive switchbacks allow an elevation gain of around 100 metres in a tiny space.
A German industrialist named Friedrich Alfred Krupp ordered the construction of the twisty path to facilitate access to his hotel. Later, Krupp was seen using it to sneak off to the Grotta di Fra Felice to indulge in sinful affairs with local youth, which led him to be promptly expelled from the country.
Location: Via Krupp, 80076 Capri, Metropolitan City of Naples, Italy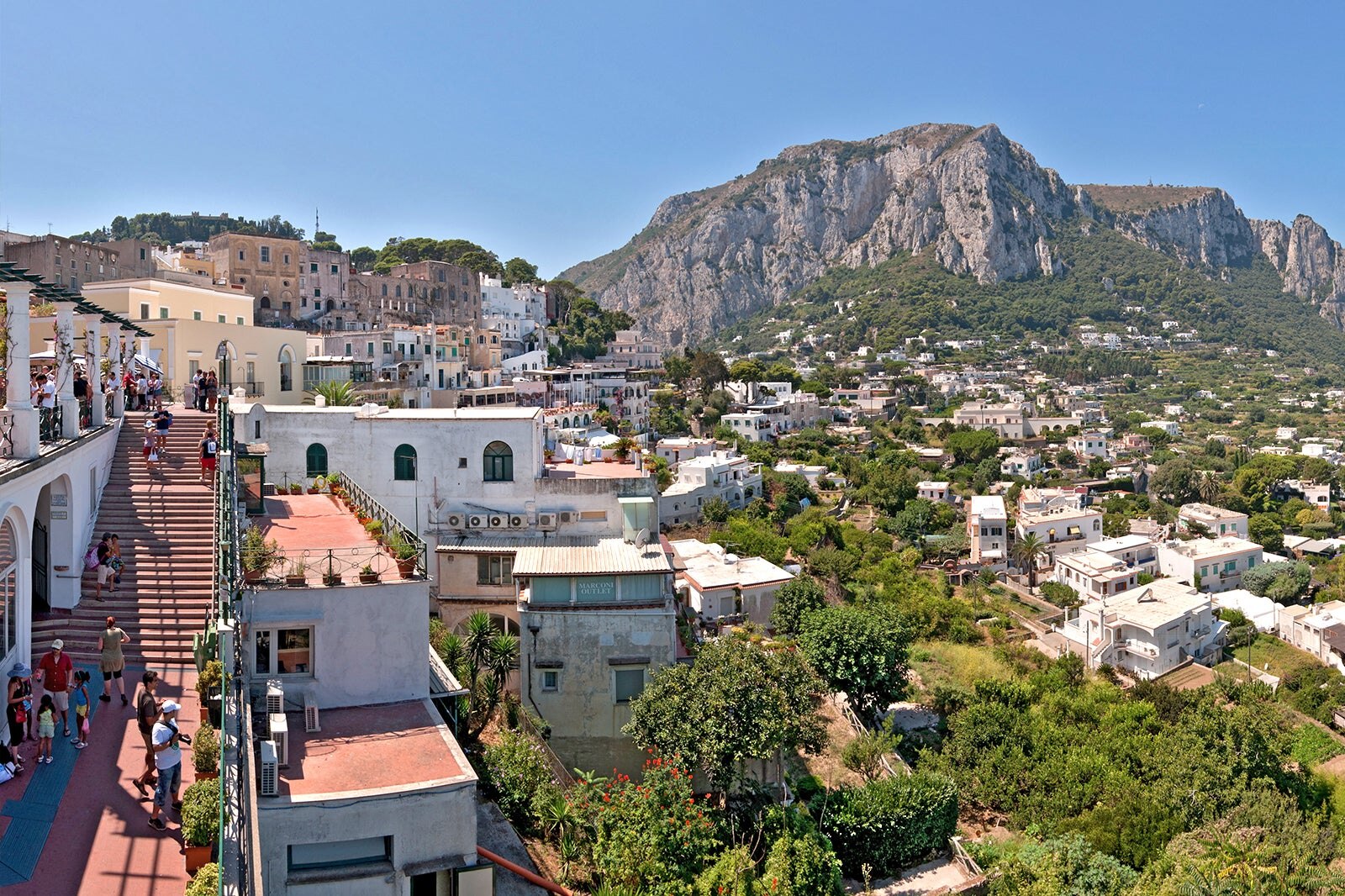 Check out the prime real estate of Belvedere Tragara
See the island's most magnificent homes
Few Italian streets are as opulent as the jasmine-scented Via Tragara, even though the country has its fair share of lavish private residences. Starting just past the glitzy designer boutiques of Via Camerelle, this meandering pedestrian path showcases the island's most elegant abodes. Beautifully tendered gardens and stately historic villas line the route, while bougainvillaea-clad brick walls encircle grand 5-star hotels. On the other side are uninterrupted views of the glistening Tyrrhenian Sea, whose crystal clear waters add immeasurable value to the ritzy real estate.
A stroll along Via Tragara is one of the top vantage points to admire the Faraglioni, as well as Capri's other stunning coastal attractions.
Location: Via Tragara, 80073 Capri, Metropolitan City of Naples, Italy
photo by Paolo Costa Baldi (CC BY 3.0) modified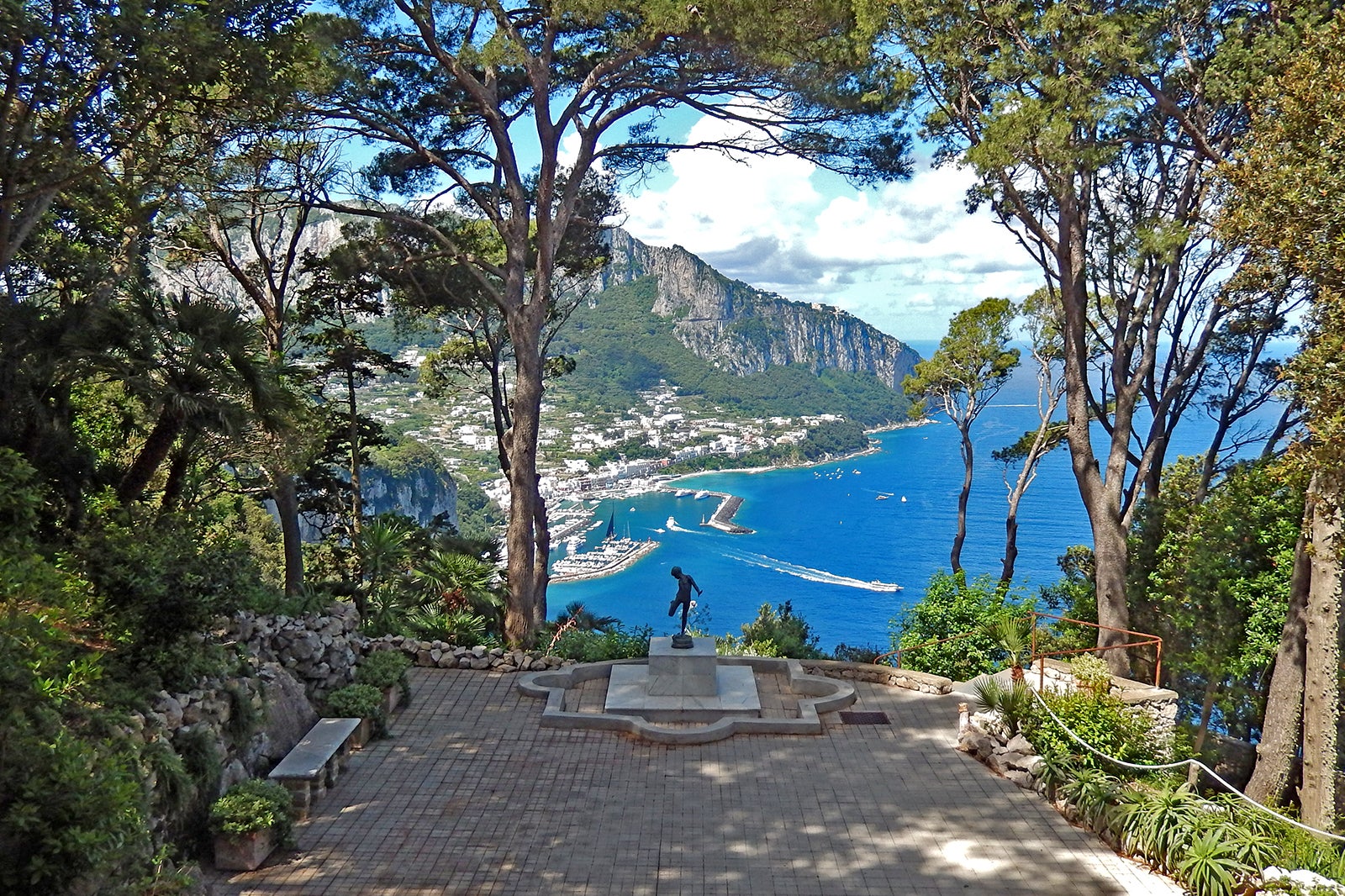 Get your history fix at Villa Lysis
The most splendid villa of them all
Villa Lysis is a lavish 20th-century villa that hosted intellectuals such as writers, poets, and artists who once came to engage in philosophical banter. These days, it's a beloved exhibition hall and tourist attraction for its leafy gardens and magnificent structural design. A unique mix of Art Nouveau, Neoclassic, Greek, and Viennese architecture comprise the construction, in which floral motifs and ornate stucco provide a delicate touch. Like most of the grand edifices of Capri, a gorgeous ocean backdrop completes the scene.
Most travellers combine Lysis with a trip to the nearby ruins of a Roman palace called Villa Jovis.
Location: Via Lo Capo, 12, 80076 Capri NA, Italy
Phone: Thursday to Tuesday from 10am to 6pm
photo by Gerd Fahrenhorst (CC BY 4.0) modified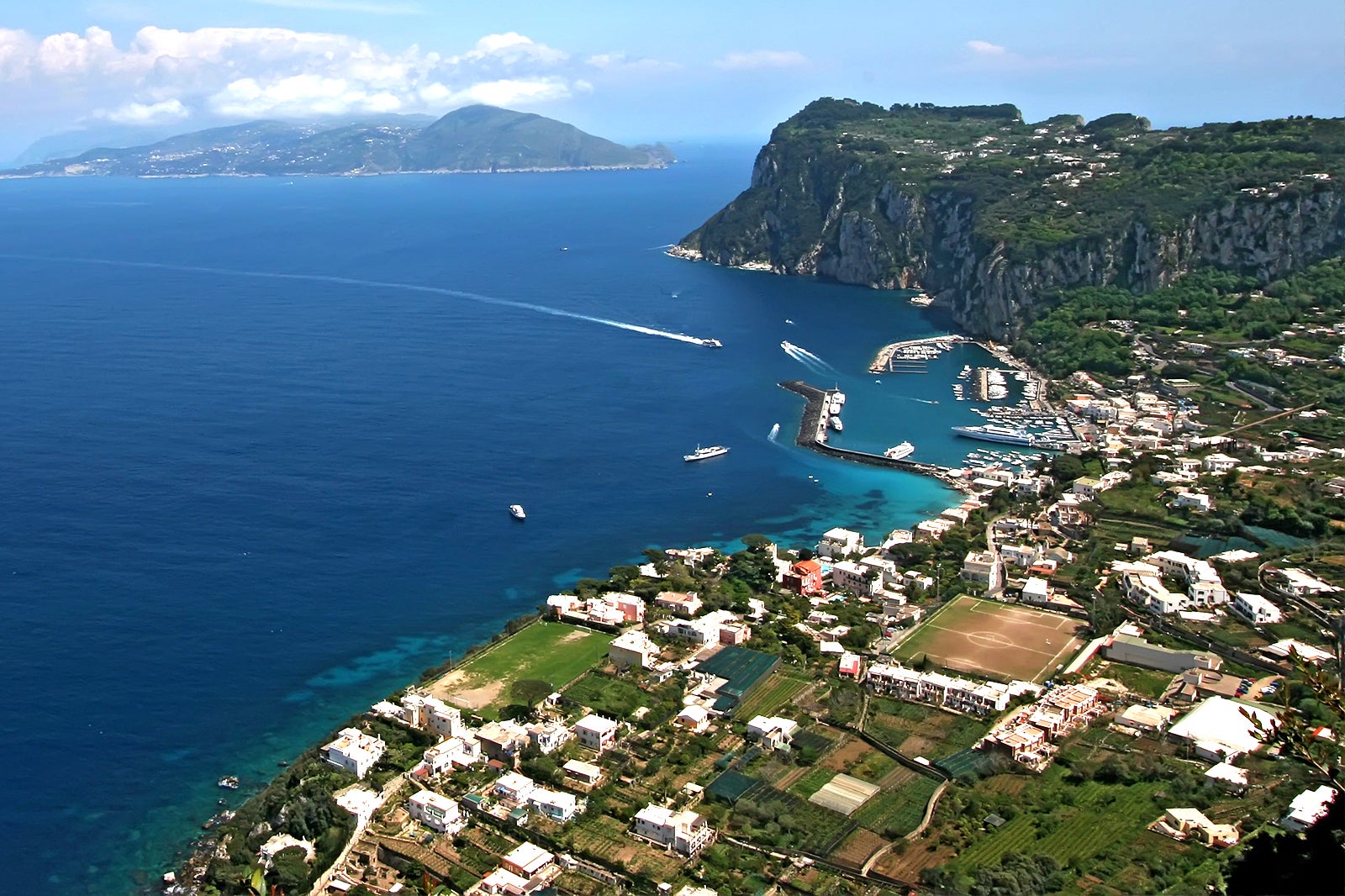 Stroll around Anacapri
An off-the-beaten-track Italian village
As Capri's second settlement, Anacapri offers stressed-out travellers some much-needed respite from the tourist throngs of Capri town. Few visitors make it to this laidback little village, a fact which blesses Anacapri with a more authentic Italian feel. Although it doesn't offer the same glamour and celebrity allure, the family-run restaurants and cafes of its quaint little plazas are perfect for whiling away an afternoon.
An array of cute little handicraft and artisanal stores can also be found scattered around town should you fancy picking up a souvenir or 2.
Anacapri is a 15-minute bus ride from Capri town via a hair-raising mountain road.
Shoppers
Photo
Food
Adventure