10 Best Things to Do for Couples in Florence
Florence's Most Romantic Places
Florence is one of the most beautiful major Italian cities that the River Arno runs through. It's among the go-to places for couples and honeymooners looking for a charming Tuscan escape. An attractive mix of picturesque stone bridges connect both halves of the city. Palatial landmarks and old museums grace street corners, some of which are home to great Italian Renaissance masterpieces.
You can enjoy dreamy walks all around Florence, with romantic moments that aren't hard to find along the way. A glass of Chianti in a piazza, dramatic sunsets over the Arno, and passionate paintings and frescoes – Florence wears its heart on its sleeve. Create your own memorable moments in the city with these best things to do for couples in Florence.
1
Tour Florence by horse-drawn carriage
See the charming city on a fiaccherai
Florence's historical centre is compact enough that couples can leisurely sightsee around it on foot. However, you can make your adventures in Florence more memorable by taking a fiaccherai. It's a traditional Florentine horse and carriage that dates back centuries, way before modern means of public transport were introduced.
There are a few remaining fiaccherai around, most of which depart daily from Piazza del Duomo and Piazza Signoria. On such unique tours, not only do you get to feel like royalty, you also traverse hidden laneways inaccessible by modern transport and enjoy Florence from a different angle.
photo by Ray in Manila (CC BY 2.0) modified
2
Take in the skyline from Piazzale Michelangelo
Admire Florence's fantastic cityscape from across the Arno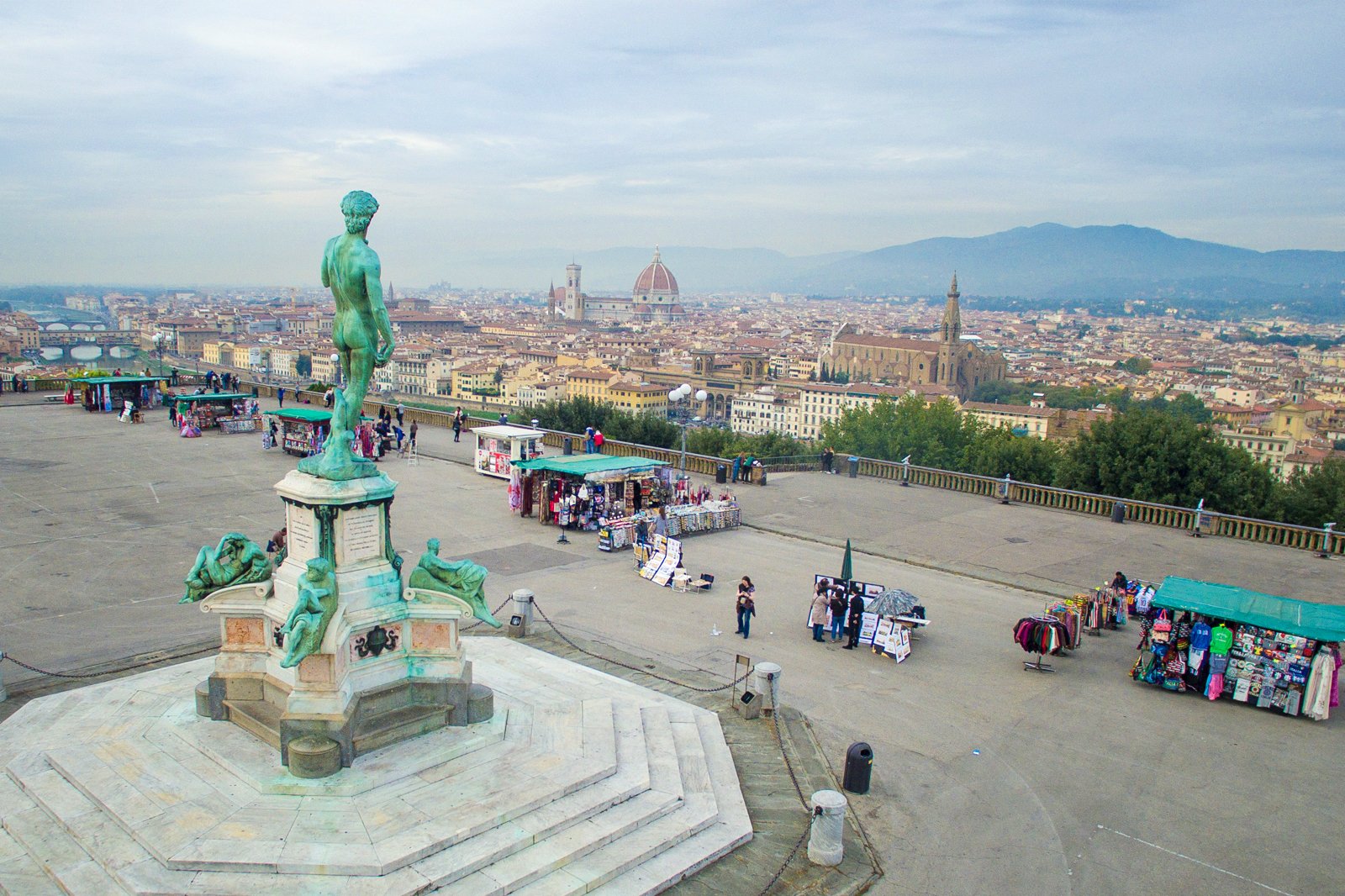 The hilltop Piazzale Michelangelo offers Florence's most breathtaking skyline. You can reach the piazza by climbing up the flight of stairs from Piazza Giuseppe Poggi, known as Poggi's Ramp.
A full-sized bronze replica of Michelangelo's David stands in the middle of the square, enjoying the view across the Arno and over the city. You can find mini market stalls around the piazza, as well as a beautiful rose garden where you can have a moment to yourselves while sharing the view.
Location: Viale Michelangiolo, Florence, Italy
Open: Daily from 9.30 am to 1 pm and from 3 pm to 7 pm (Sundays only from 3 pm to 7 pm)
See nearby properties
3
Toast over the Arno aboard a traditional boat
Pass under ancient Florentine bridges in a renaioli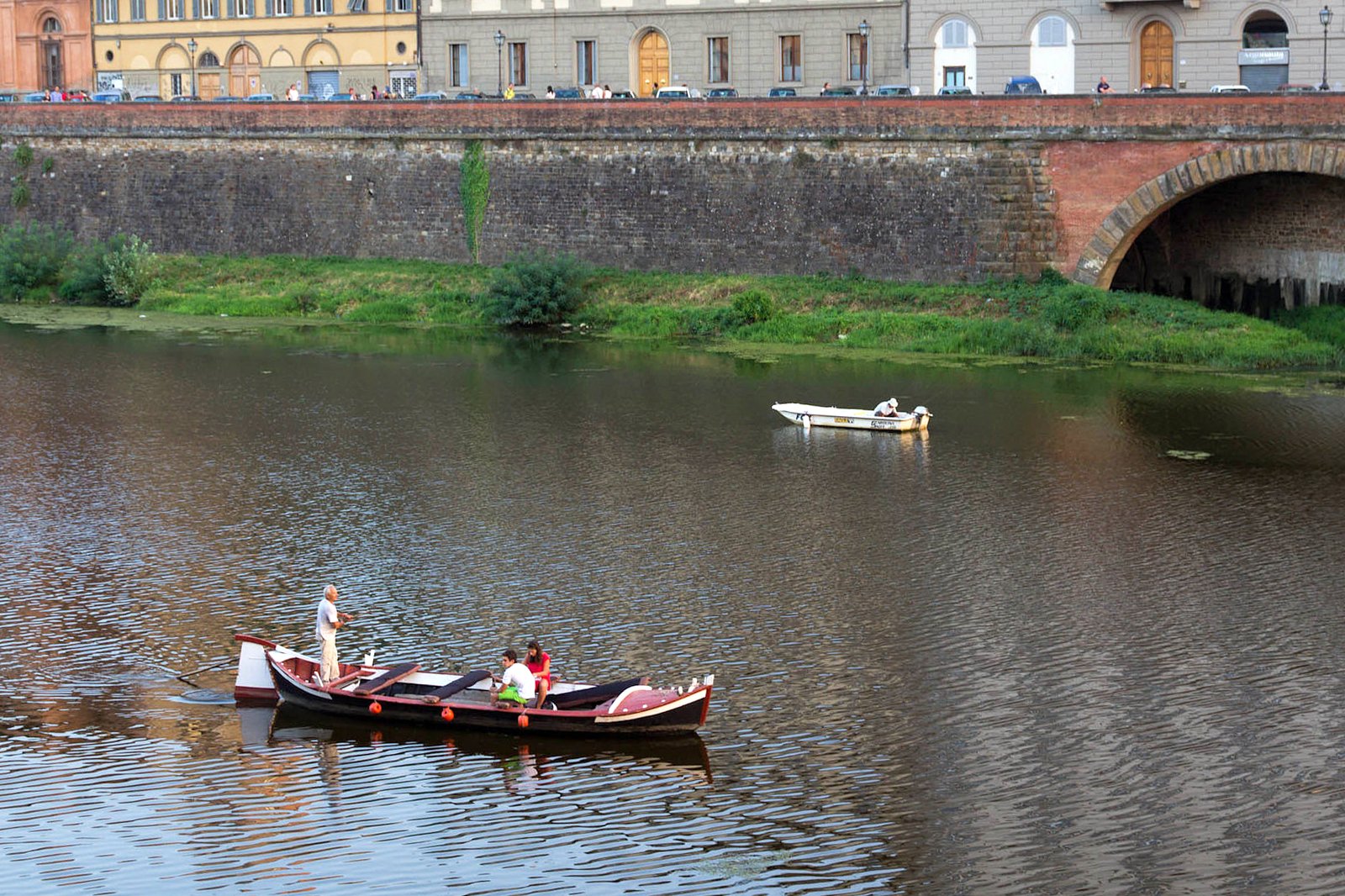 To enjoy beautiful Florentine scenery, you'll often need to get to the heart of the city. The Arno cuts right through the middle of Florence, which makes a river cruise aboard a renaioli a great way to see the sights. These traditional, flat-bottomed boats have cruised the calm river's waters for centuries.
Nowadays, the boats let you take in the beauty of Florence from a unique angle as you cruise past ancient stone bridges such as the Ponte Santa Trinità and Ponte Vecchio. Cruising the Arno is usually best between May and September, when departures are frequent and the weather's most pleasant.
photo by Martin Kramer (CC BY-SA 2.0) modified
4
Stroll through Boboli Gardens
A dreamy walk past Renaissance sculptures and fountains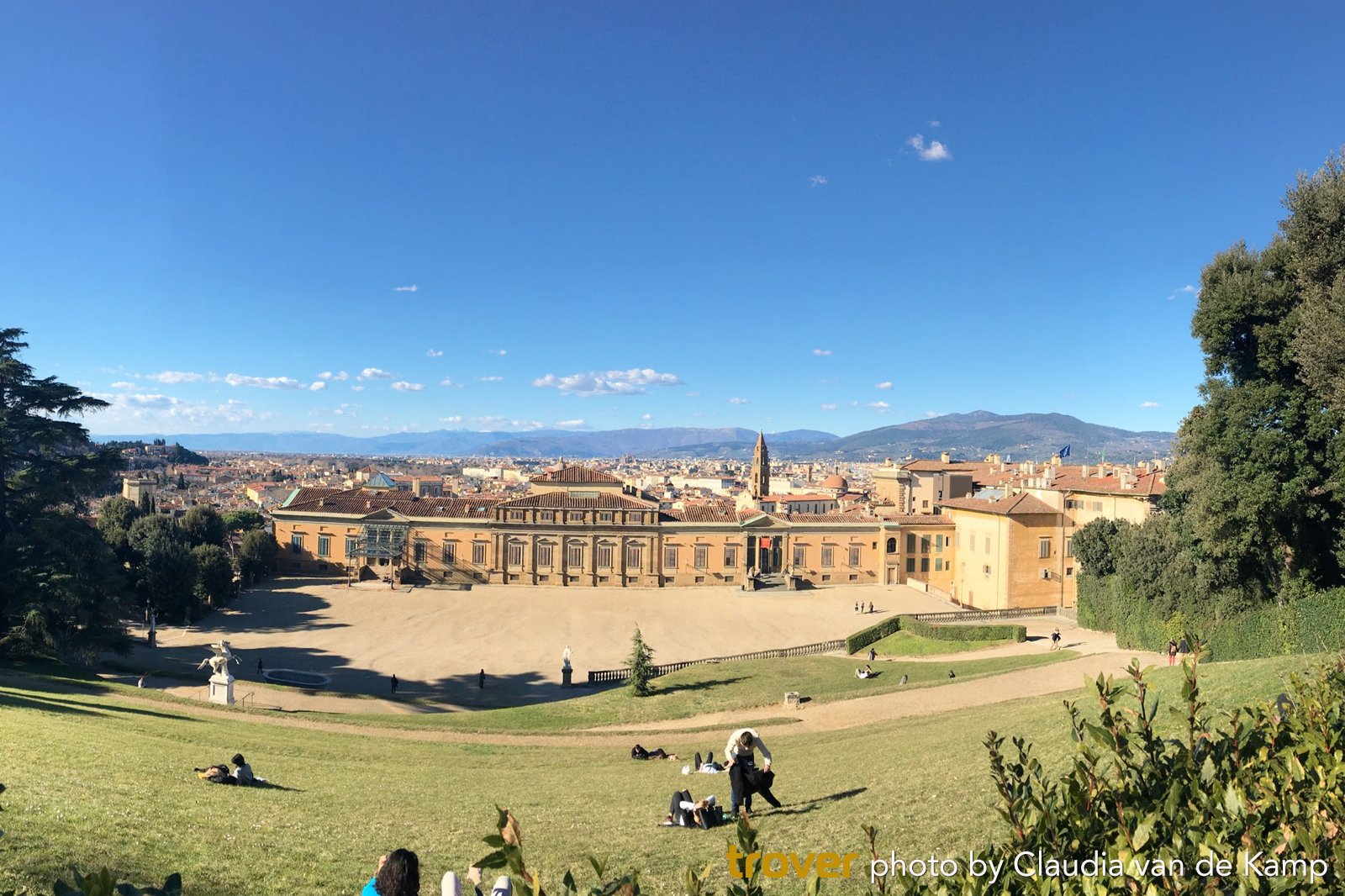 The Boboli Gardens offer you tranquil and romantic walks through well-manicured grounds, which are adorned with numerous Renaissance sculptures and fountains. You can also discover some of the most splendid Florentine skylines up tree-lined pathways to the garden's hillside.
Deep within, you may stumble upon magnificent artworks, such as the Fountain of Neptune, which was sculpted by 16th-century Italian bronze sculptor Stoldo Lorenzi. The gardens are an unmissable highlight on visits to the magnificent Palazzo Pitti palace houses. Tickets are around €10 per person, but usually free every first Sunday.
Location: Piazza dei Pitti, Florence, Italy
Open: Daily from 8.15 am to 6.30 pm
Phone: +39 055 265 1838
See nearby properties
5
Go for a couples' massage
Relax at Montecatini Terme Spa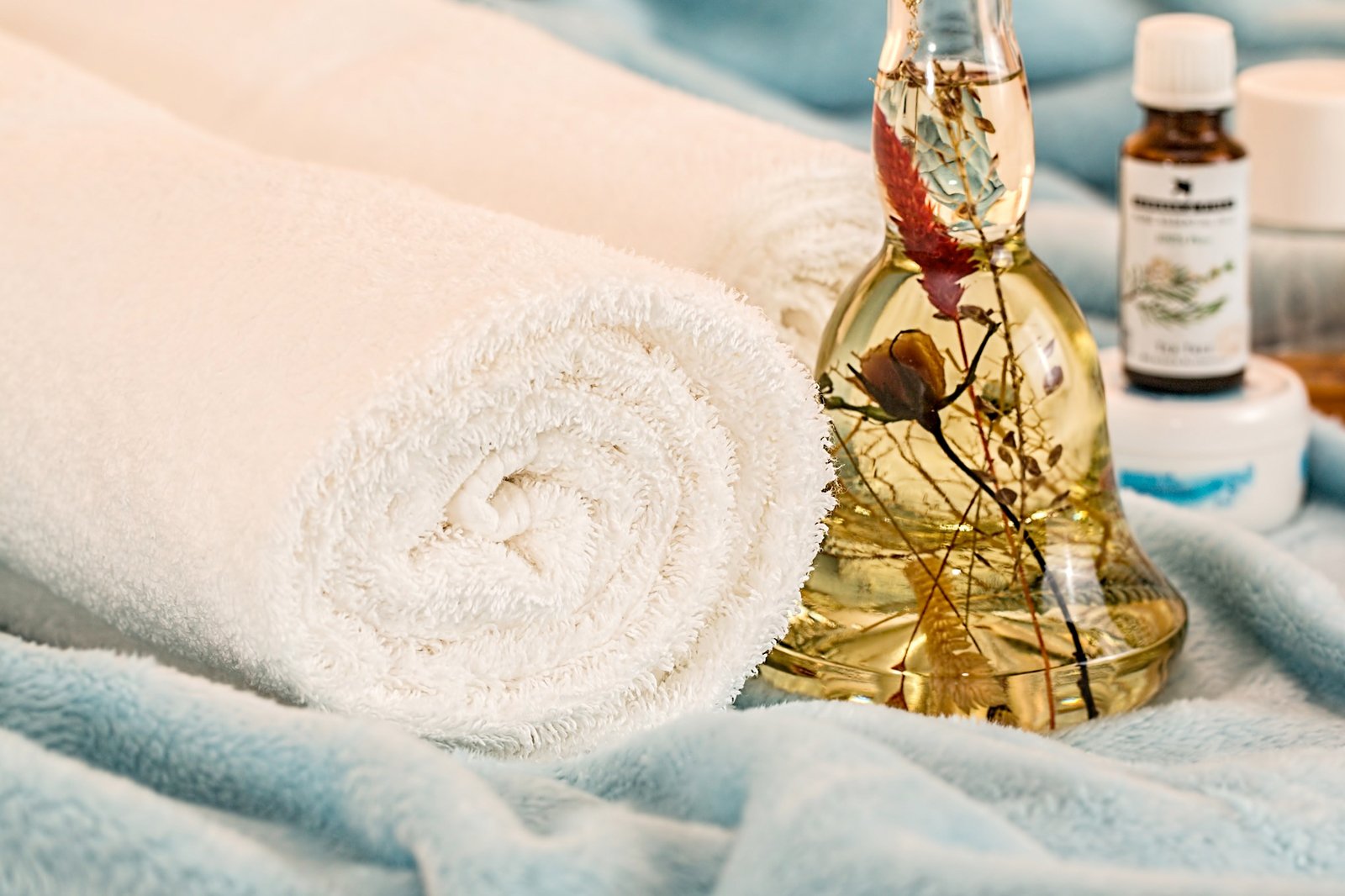 Romantic couples can truly indulge themselves at the natural thermal spring spa in the peaceful town of Montecatini, which sits roughly halfway between Florence and Pisa. Montecatini Terme is set in a magnificent park, around an hour's drive west from downtown Florence. It's worth the trip out of town for the classical Tuscan spa experience.
You can treat yourselves to full-body mud baths, facials, a soothing Turkish bath-style massage, or a soak in the mineral-rich thermal waters of the elegant century-old pools in the Romanesque villa.
Location: Viale Giuseppe Verdi, 41, 51016 Montecatini Terme PT, Italy
Open: Monday–Friday from 8 am to 1 pm and from 3 pm to 6 pm, Saturdays from 9 am to 1 pm (closed in Sundays)
Phone: +39 0572 7781
See nearby properties
6
Taste chocolates at Fiera del Cioccolato
Explore sinful flavours through a festival of artisanal chocolates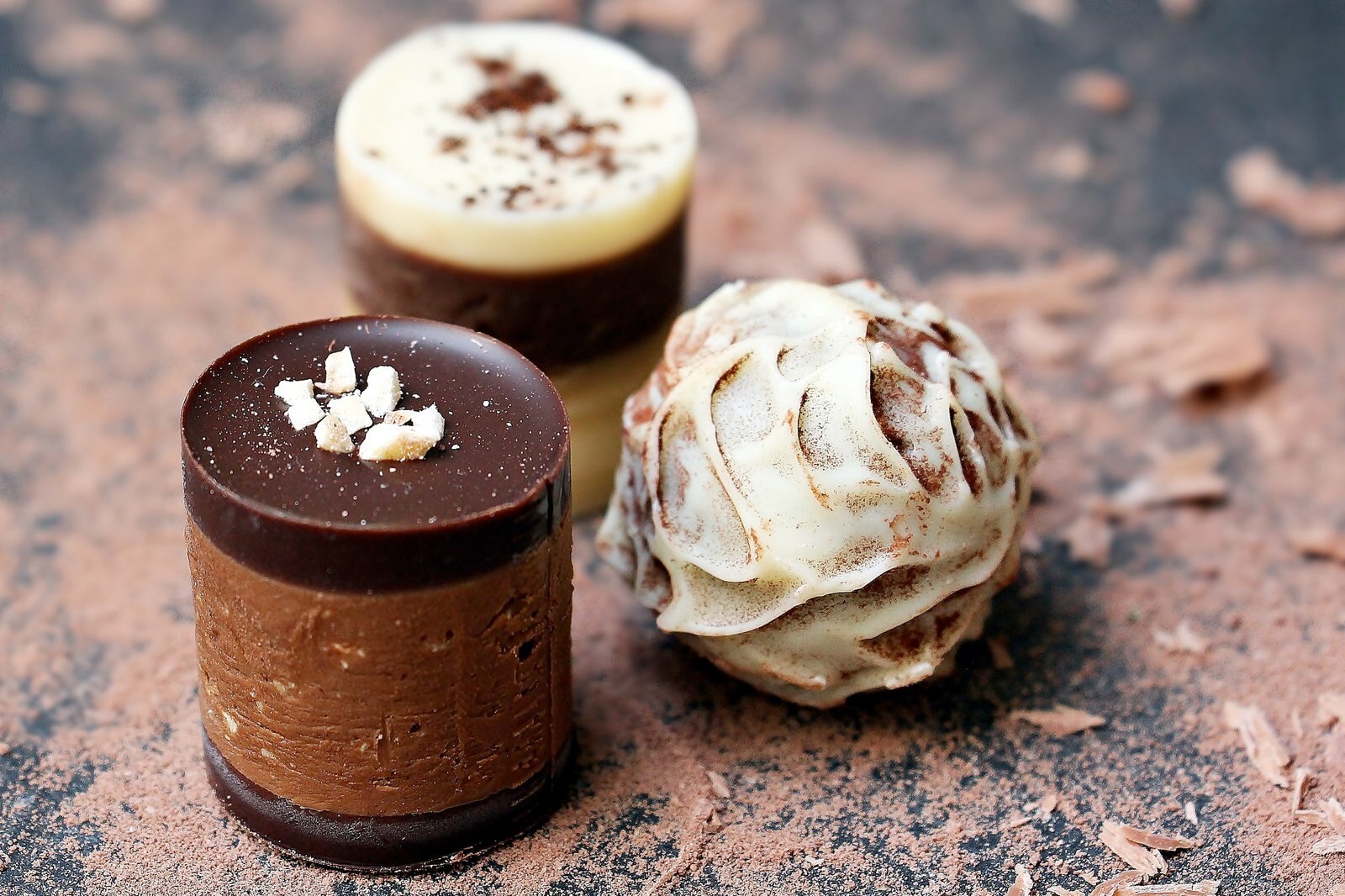 If you're a chocolate-loving couple, your Valentine's Day escape to Florence would most likely coincide with Florence's special annual celebration of artisanal chocolates – Fiera del Cioccolato. This unique festival usually runs for 10 days between January and March (the exact dates vary from year to year).
The main showcase usually takes place in Piazza della Santissima Annunziata, where numerous exhibitors from all over Europe, as well as local Florentine confectioners, present their best sinful treats. Products range from cakes and artisanal confectionaries to chocolate-based beverages.
7
Share a bottle of Chianti at Gustavino
It's among Florence's institutions for dining and wine-tasting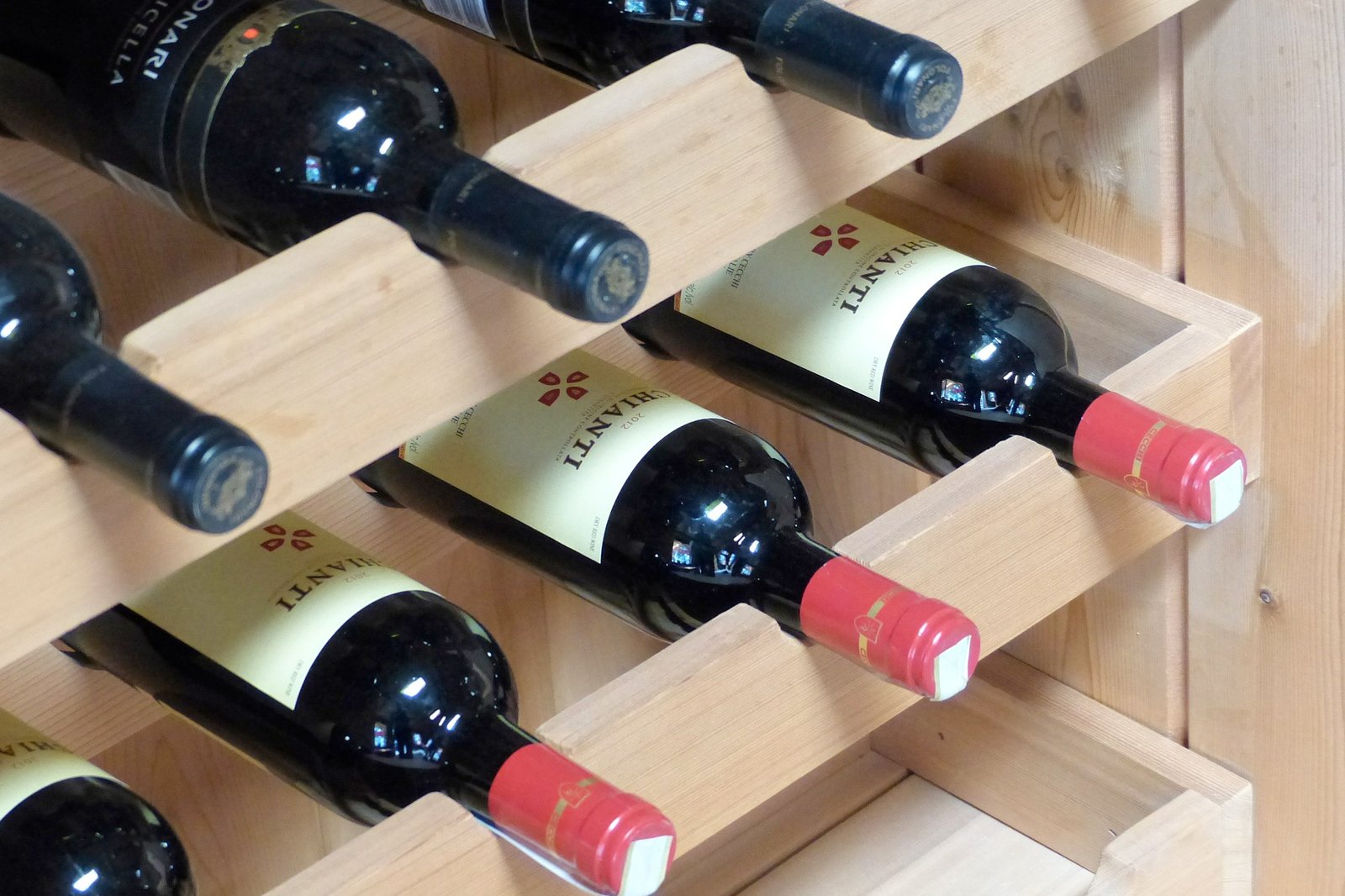 Gustavino is a casual ristorante, pizzeria, and enoteca in downtown Florence, where you can savour a great selection of traditional Tuscan dishes together with fine Tuscan wines. Full-bodied tipples such as Chianti and Brunello work well for a romantic toast in the city.
Gustavino has 2 venues: one is Gustavino Duomo Firenze on Via dei Servi and the other is a main enoteca just north of Piazza della Signoria. With over 800 wines to choose from, it's a great spot for wine-tastings.
Location: Via della Condotta 37R, Florence
Open: Daily from 11 am to 11 pm
Phone: +39 055 239 9806
8
Watch the sunset from Ponte Santa Trinita
A viewpoint for admiring Florence's scenic stone bridge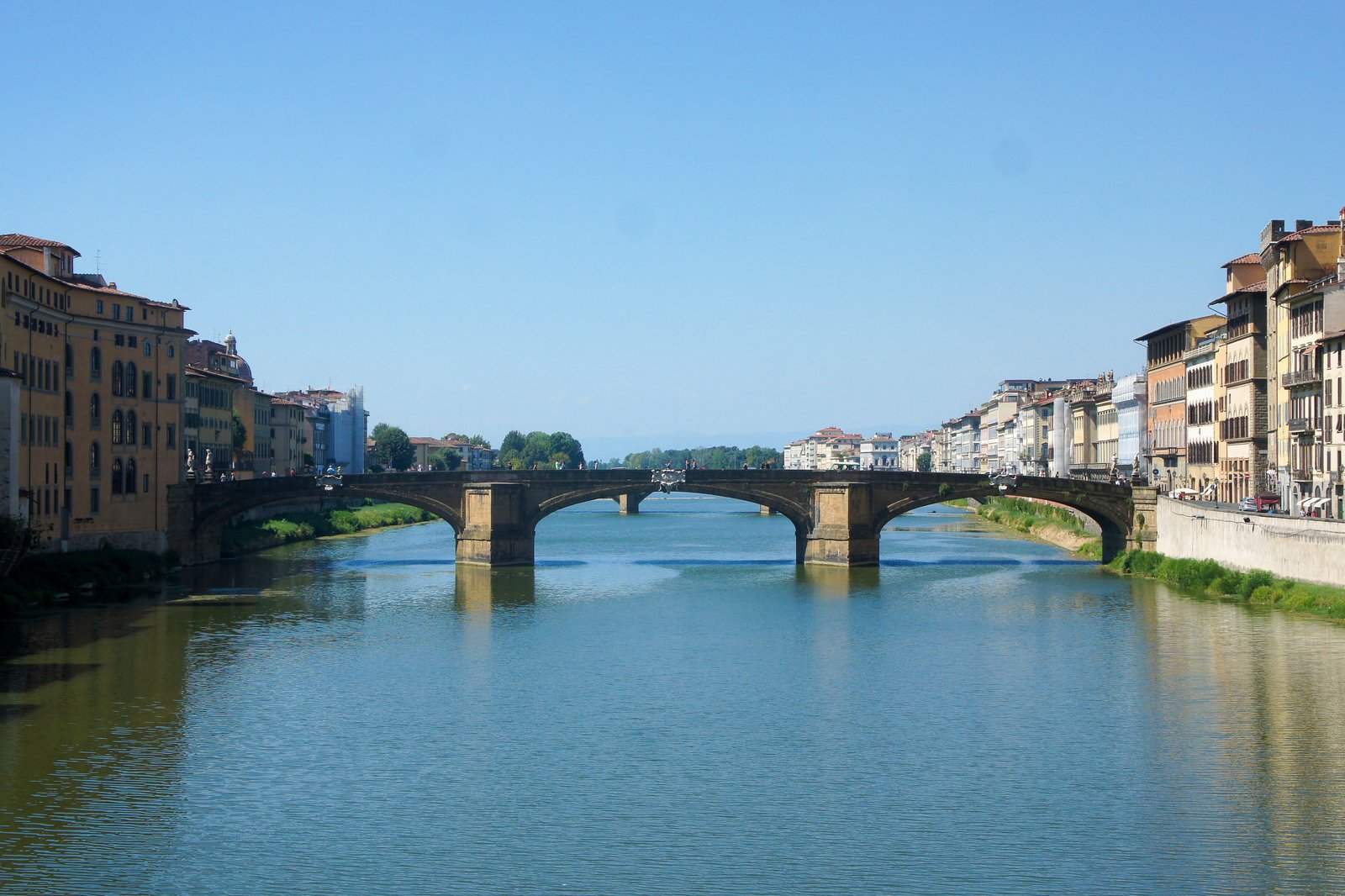 Ponte Santa Trinita (St Trinity Bridge) is one of the beautiful old stone bridges that cross over the River Arno in Florence. Beautiful statues stand on both sides and there are 2 other stone bridges – namely Ponte Alla Carraia and the more famous Ponte Vecchio – around it.
Santa Trinita is particularly popular for scenic walks and, being the middle of the 3 beautiful crossings, it serves as a great viewpoint for capturing the riverscape, as well as for taking in the dramatic sunset over Florence. Aside from being a photogenic spot, it's useful for getting around the city, linking the historic part of Florence with the Oltrarno quarter.
Location: Ponte Santa Trinita, 50100 Firenze FI, Italy
photo by Jonathan Nakandala (CC BY 2.0) modified
9
Enjoy intimate dining in Piazza Santa Croce
Dine with views to one of Florence's most beautiful basilicas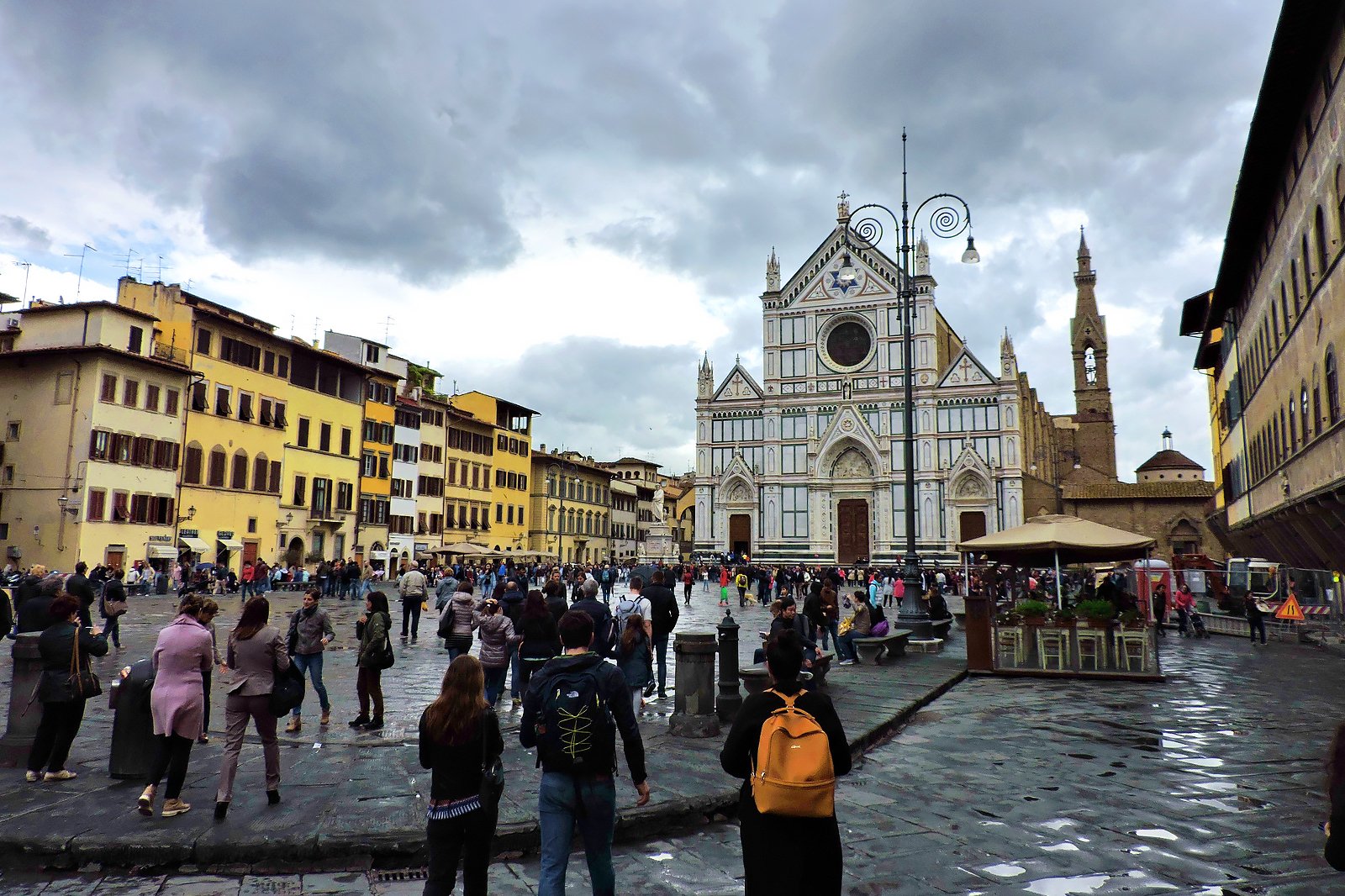 Piazza Santa Croce is one of the main squares of Florence, which the majestic Neo-Gothic Franciscan church of the same name looms over. After you've seen the church's Giotto frescoes, or visited the tombs of Michelangelo and Galileo inside, you should look around for a romantic spot to dine with the magnificent landmark in view.
Most restaurants here offer idyllic settings. The Il Francescano is a great choice for couples, with rustic décor in softly lit interiors, overlooking the marble façade of the Santa Croce basilica. Rustic Tuscan dishes such as Fiorentina steak or the heart-warming white bean soup, ribollita, are worth trying.
Location: Piazza di Santa Croce, 16, 50122 Firenze FI, Italy
See nearby properties
photo by Dimitris Kamaras (CC BY 2.0) modified
10
Enjoy classical serenades at Teatro Goldoni
A romantic 19th-century theatre in Florence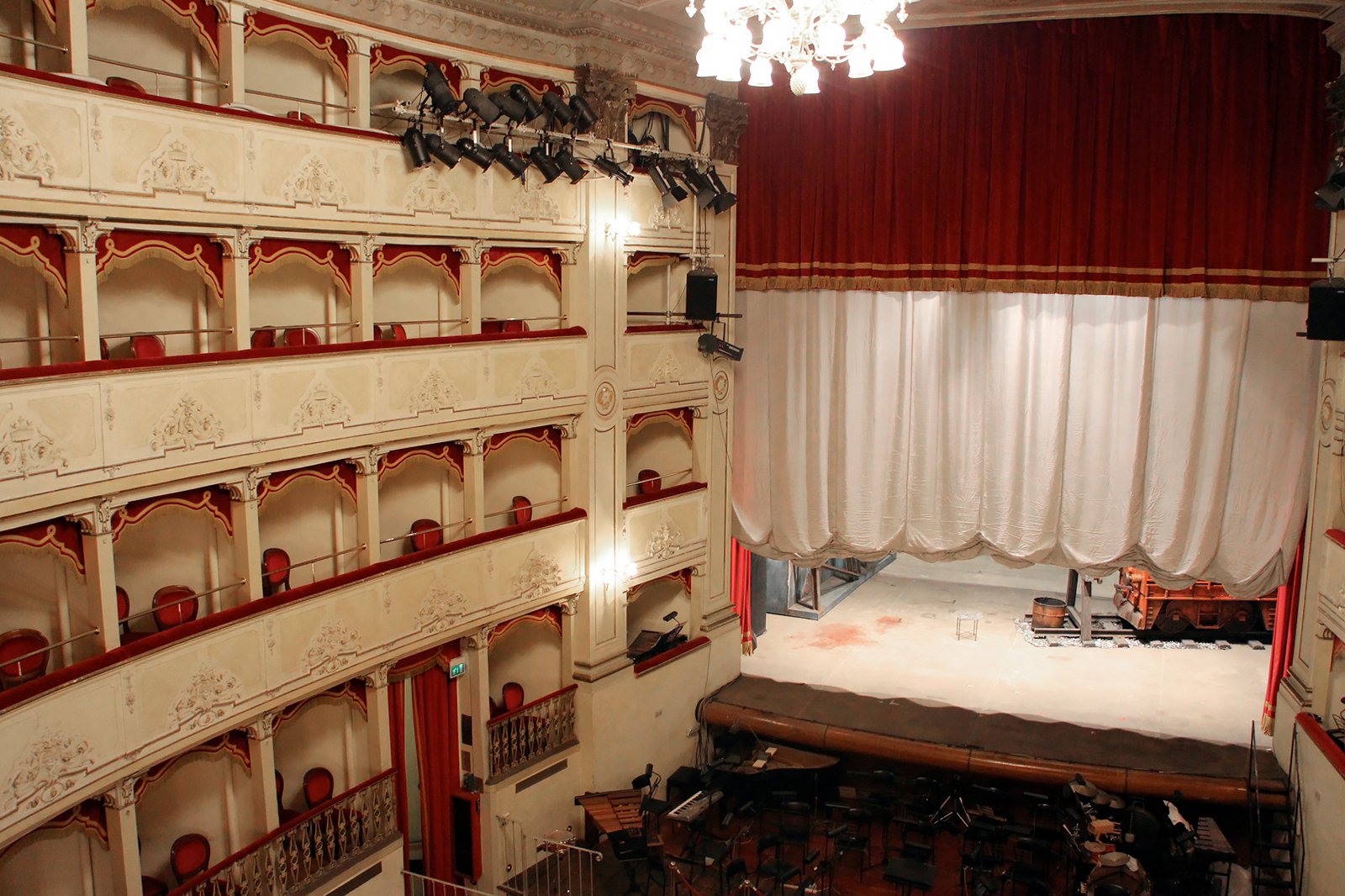 Intimate theatres in Florence provide the perfect setting for an evening out with your loved one. One of the great spots in the Oltrarno quarter for catching enchanting chamber music is Teatro Goldini, near Pitti Palace. The theatre was built over a former monastery and was named in honour of the late Italian playwright Carlo Goldoni.
You can expect to see a variety of shows performed here, ranging from operas and classical orchestras to Russian ballets and modern dances performed by some of the top Italian dance companies.
Location: Via Santa Maria, 15, 50100 Firenze FI, Italy
Open: Showtimes vary, generally from 8 pm onwards
Phone: +39 055 233 5518