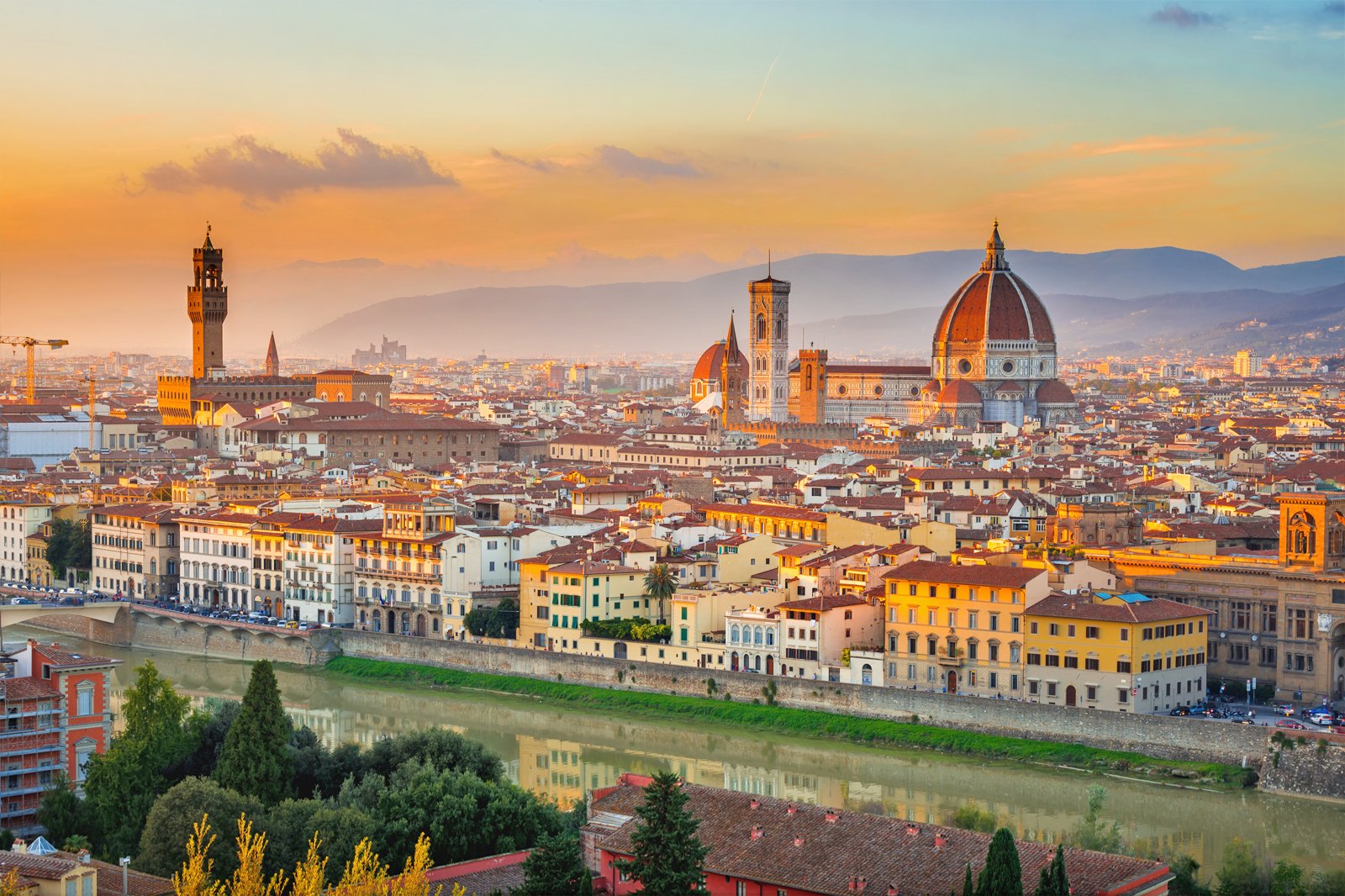 Florence
What you need to know before you go
Florence offers an irresistible trip back in time to the glory days of the Renaissance. The stunningly preserved historic centre is a UNESCO World Heritage Site, its skyline dominated by the terracotta dome and soaring Gothic bell tower of Florence Cathedral. Museums like the Uffizi Gallery are studded with priceless masterpieces by local legends like Michelangelo and Leonardo da Vinci.
Meanwhile, the city's cobbled plazas are lined with cosy cafes and boutiques selling chic local fashion and artisan goods. Naturally, it's also a gourmand's paradise, with rustic restaurants serving succulent Florentine steaks, fresh pappardelle swimming in wild boar ragu and other mouth-watering local dishes.
What to see & do in Florence
Featured stories & fun stuff
Florence brims with majestic cathedrals, fortified palaces, and historical art galleries – some of which are home to important Renaissance masterpieces. You can cross picturesque stone bridges over the Arno and explore public spaces and piazzas that are adorned with magnificent marble sculptures. Florentine flea markets are colourful, lively and are great go-to places in the city for sampling fresh, farmers' produce. Start planning your adventures to the capital of... Read more
Where & what to eat in Florence
10 Must-Try Restaurants in Florence

This guide takes you to the best restaurants in Florence, all of which specialise in authentic cuisine that's made up of regional ingredients, such as cold cuts, cheeses, meats, vegetables and wine. A skilful combination of fresh produce and simple steps are enough to create unforgettable flavours. Ossobuco (veal shanks), bistecca alla fiorentina (grilled steak), tagliata (sliced steak), and pici...
Where to shop & what to buy in Florence
4 Places for Shopping on a Budget in Florence

Hey ladies! You're in Florence you need something cute to wear and the clothes you packed along just aren't cutting it. Working as an au pair on a fixed income, I shopped around but always ended up at the same 5 places when I wanted to buy something new without much cash to buy it with.
Florence Travel Essentials

Our Florence Travel Essentials lays out the essential information you need to help planning your trip to one of the most popular destinations in Italy. No matter how frequently you travel, some questions will always need answers: What's the weather like? How can I get from the airport to my hotel? What currency and type of plug do I need...
Back to top