Verona Travel Essentials
Useful Information to Help You Start Your Trip to Verona
Our Verona Travel Essentials lays out the essential information you need to help planning your trip to one of the most popular destinations in Italy. No matter how frequently you travel, some questions will always need answers: What's the weather like? How can I get from the airport to my hotel? What currency and type of plug do I need? We have all these answers plus other basic info about the best time to go, getting there, getting around, and a few useful travel tips.
It's all compiled in this Verona Travel Essentials. After reading this short and easy-to-read guide, you will be a little more prepared to start your trip in Verona.
1
Best time to travel to Verona (weather-wise)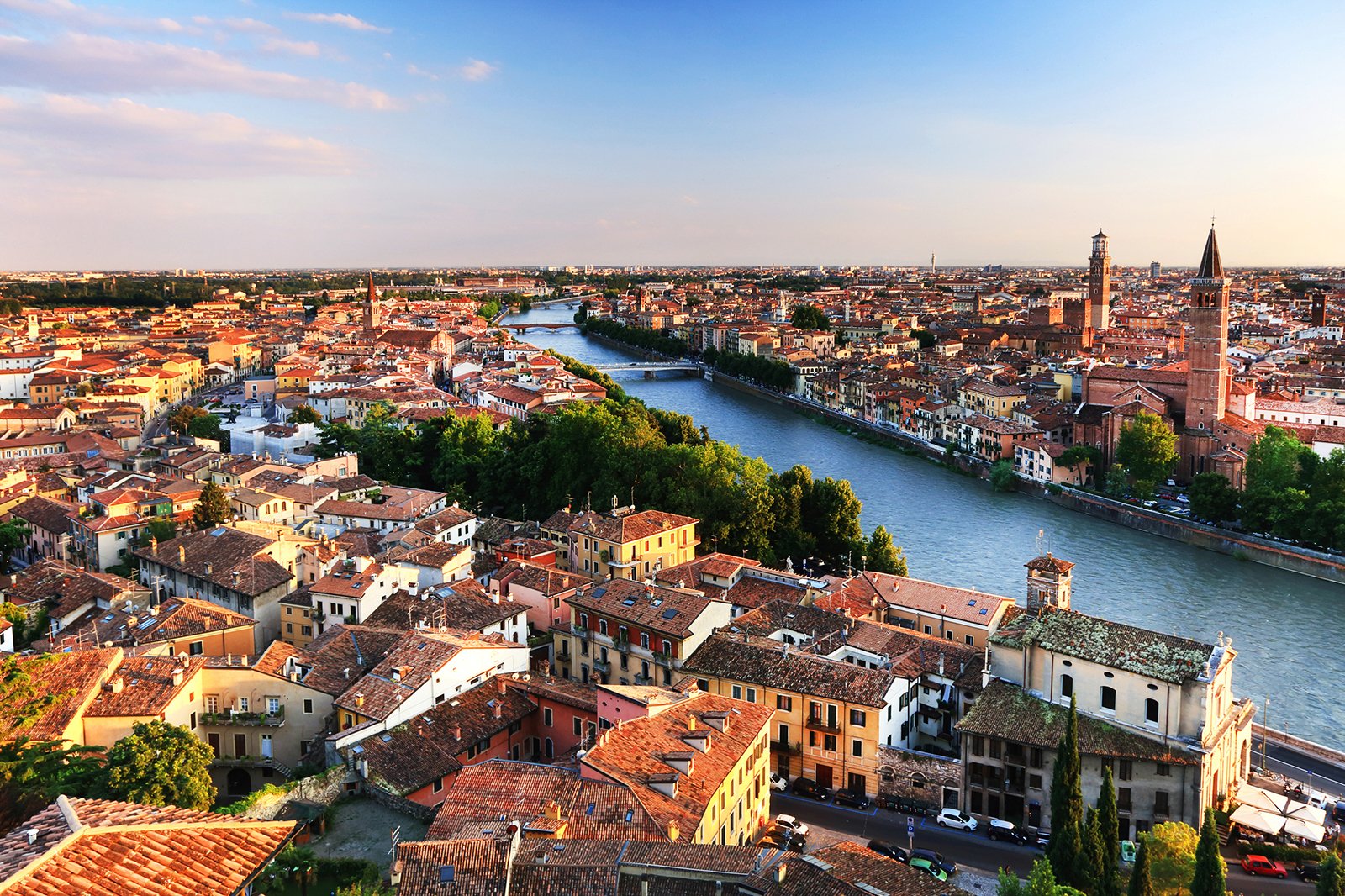 Verona has a humid subtropical climate, with average temperatures ranging from 3°C in winter to 24°C in summer.
Rain is evenly distributed throughout the year, with an average of 7 rainy days per month.
The warmest time of the year is between May and September.
June–August is the most popular time to visit Verona, but it's peak season, so hotel and flight prices rise accordingly.
Late April–May and September–early October are great times to visit Verona. The weather and temperatures are fine, you'll avoid the summer crowds, and hotel and flight prices are more affordable.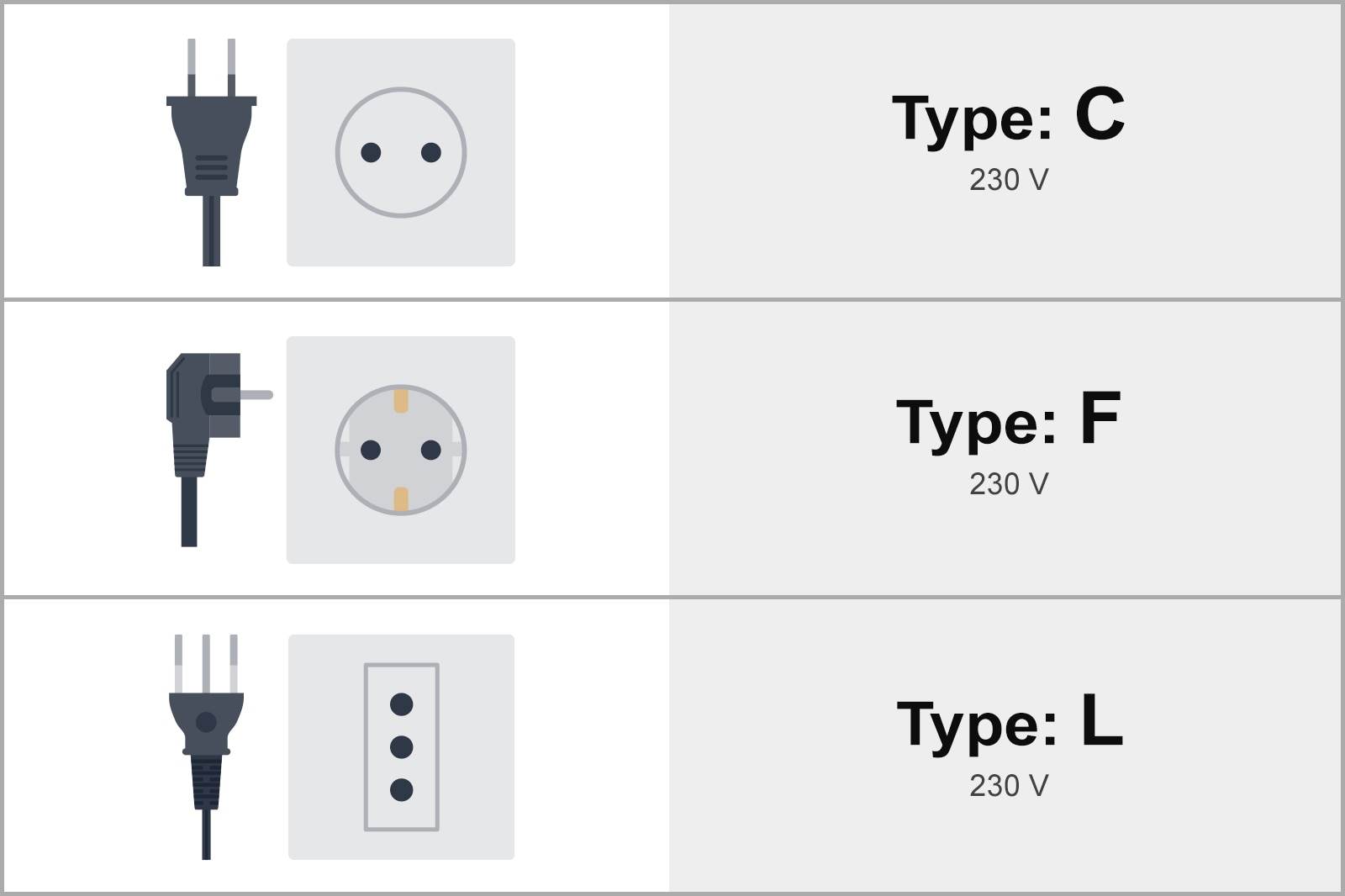 Languages: Primary: Italian
Plug types: C, F and L
Electricity: 230 V
Currency: Euro (€)
International dialling codes: +39 45
Emergency telephone number: 112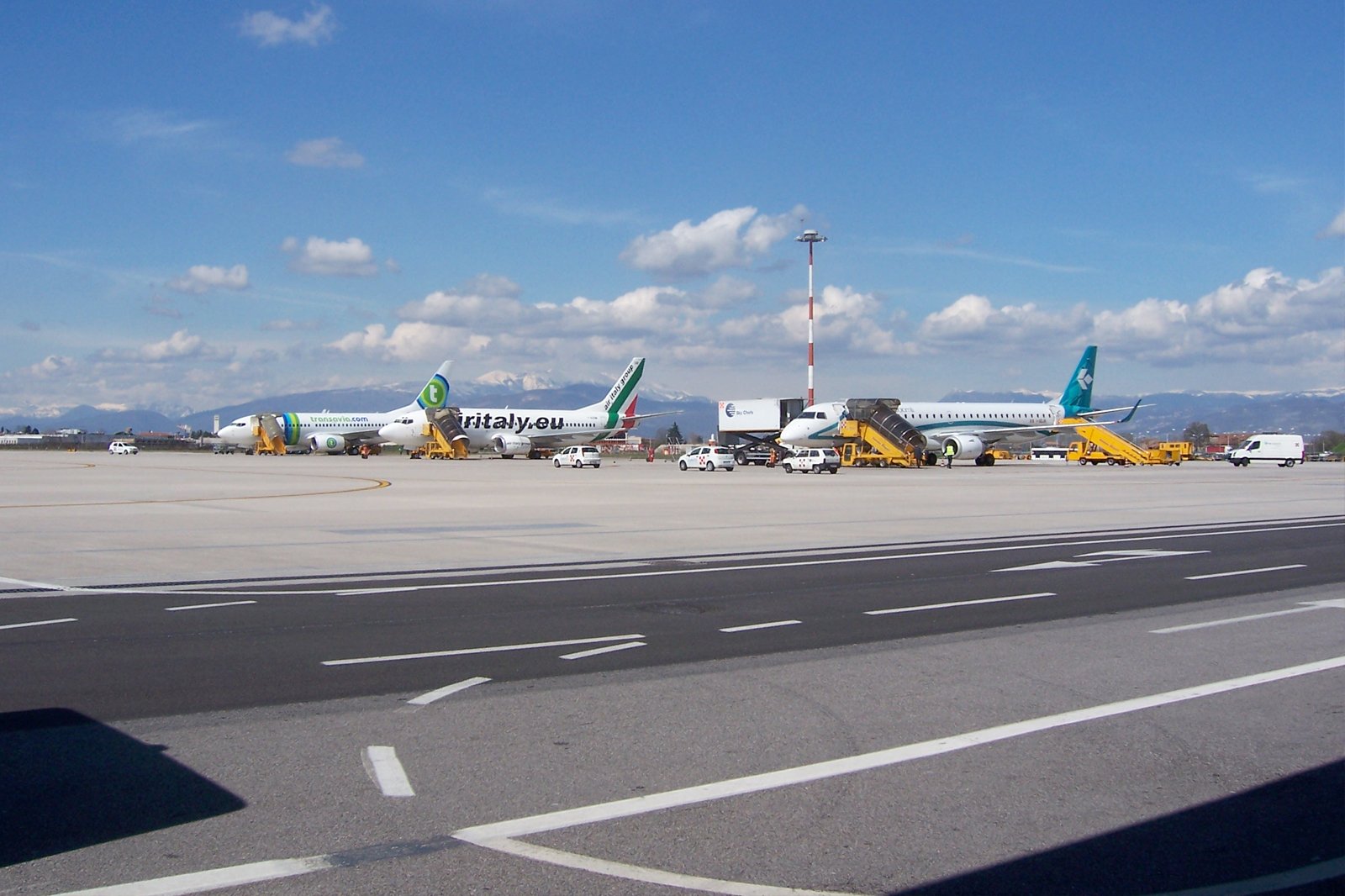 Verona Villafranca Airport
Also known as Valerio Catullo Airport, Verona Villafranca Airport sits 9 km southwest of Verona city centre. Verona Airport has 2 passenger terminals, served by 1 runway. The terminals are home to a good choice of dining and shopping options as well as facilities like free Wi-Fi, banking and currency exchange services. There are several transfer options to reach downtown Verona:
A taxicab takes around 15–20 minutes and costs roughly €25–35. Taxi ranks can be found outside the Arrivals hall.
The Aerobus takes around 15–20 minutes and costs €6. The bus stop is right outside the Arrivals hall. It's the cheapest way to get to downtown Verona. The bus's last stop is at Verona Porta Nuova railway station. Note that the ticket is valid for 75 minutes, so you have plenty of time to catch a bus to your hotel from the train station.
Car rental agencies can be found within the terminal.

If you come to Verona by train
Verona Porta Nuova is the main railway station in Verona. Located 1.5 km southwest of the city centre, it's served by high-speed trains from most Italian cities, and even has international connections with Germany, Switzerland and Austria. Verona Porta Nuova is home to newsagents, shops and dining options. From here, you can get to your hotel by taxi, bus or rental car.
photo by mef.ellingen (CC BY-SA 3.0) modified
4
Getting around Verona
Travel tips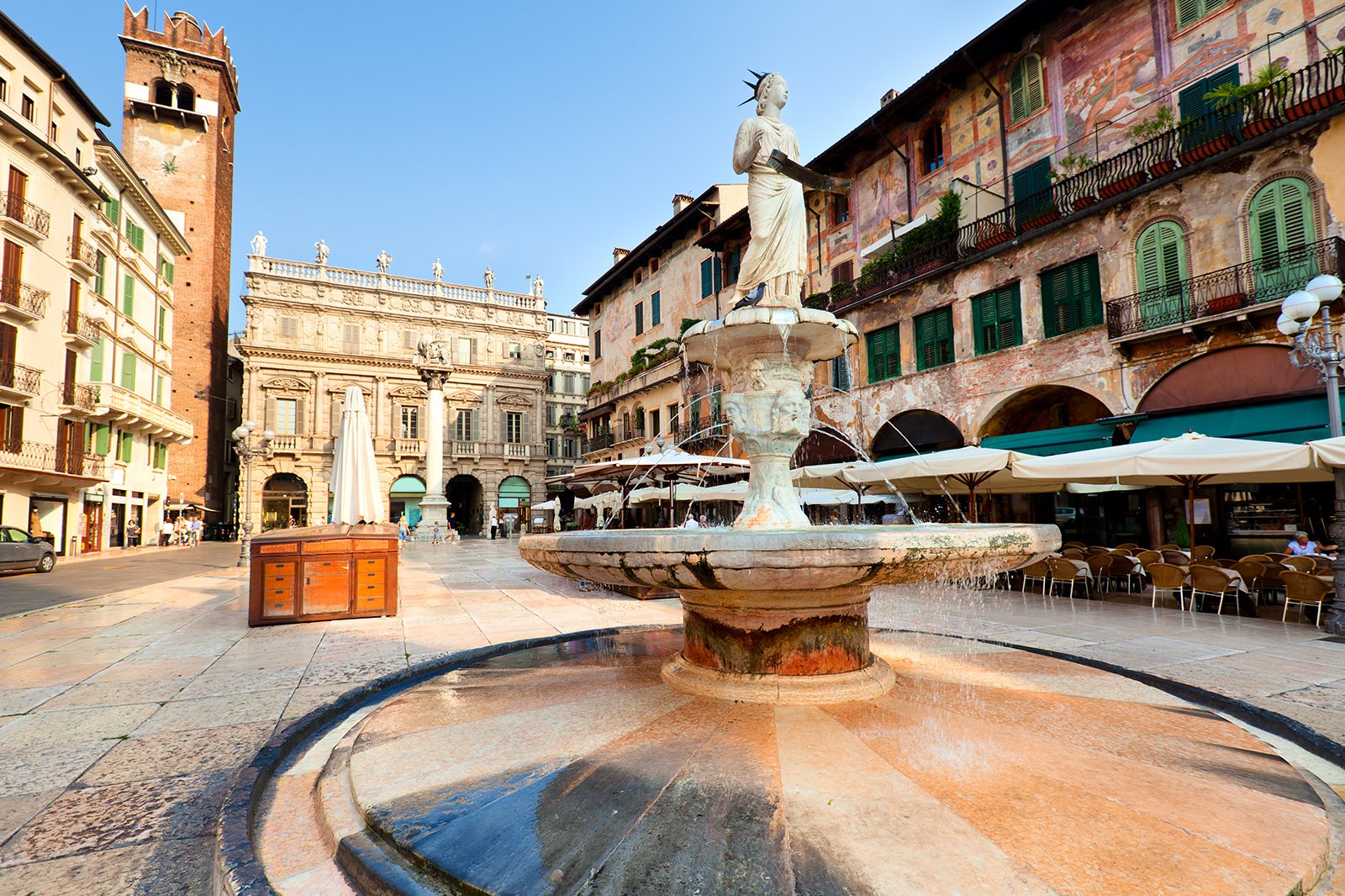 Covering roughly 3 sq km, Verona city centre – the Old Town – is compact enough to be explored on foot. You'll find many landmarks and attractions within walking distance of each other, such as Verona Arena, Piazzale Castel San Pietro, and Castelvecchio Bridge, among others. The city centre is also home to a great choice of dining, shopping and nightlife entertainment options. For longer journeys, Verona features a good choice of public and private transport services.
5
ATV – Public bus networks
ATV – Azienda Trasporti Verona Sri – is in charge of public transport in Verona. It operates bus lines that cover the entire city and neighbouring towns.
A single ticket costs €1.30 when purchased before getting on board. It's valid for 90 minutes within the city.
A ticket purchased on board a bus costs €2 and is valid for only a 1-way trip, without transfers.
A 1-day ticket costs €4. It's valid for 24 hours within the city. A day ticket must be stamped each time you get on a bus.
Controls are frequent, so do not forget to stamp your ticket.
Tickets can be purchased at ATV offices and at selected newsagents and convenience stores.
You can download the Verona Bus app to help plan your journeys through the city.
photo by Chris Sampson (CC BY 2.0) modified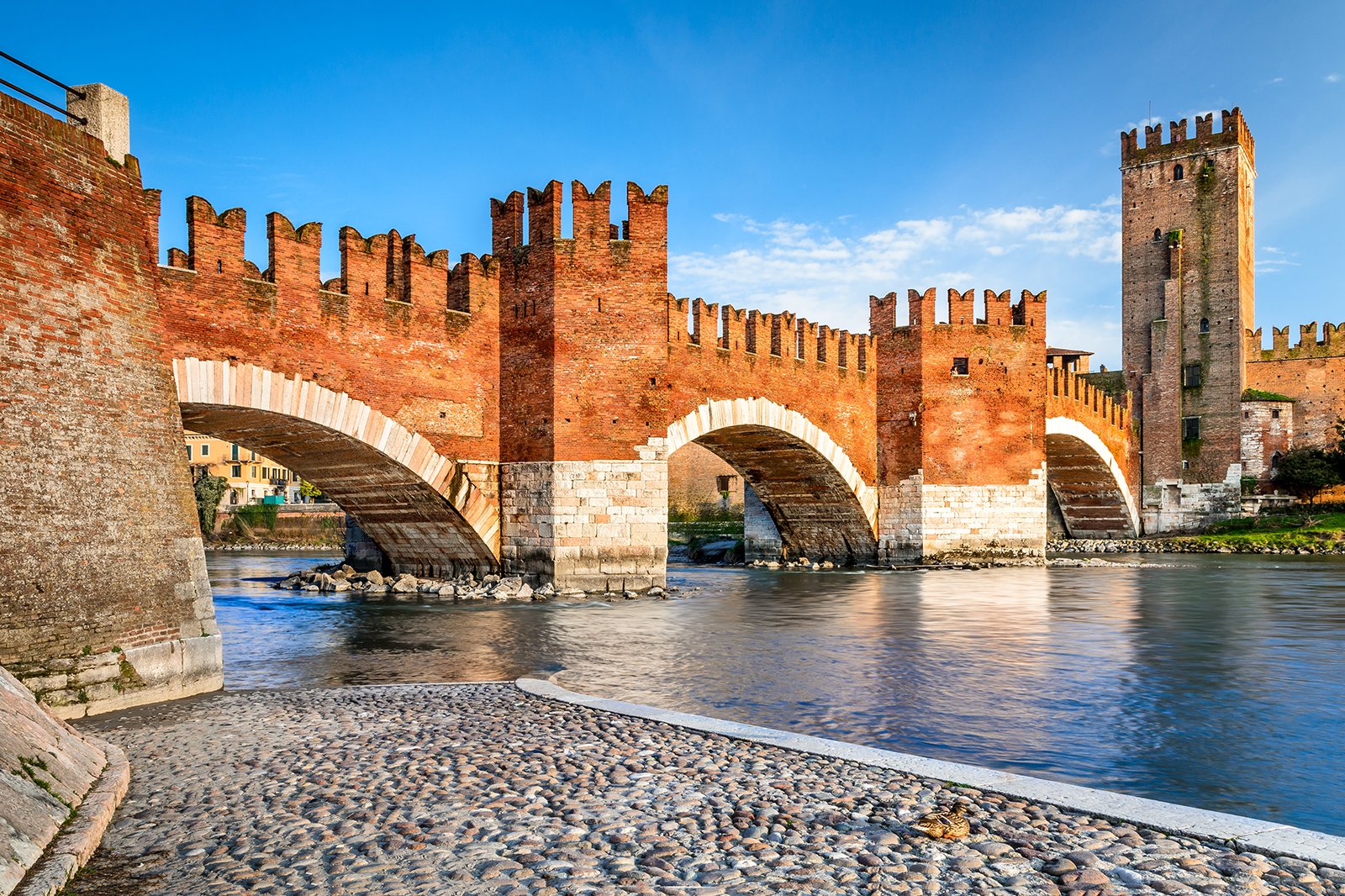 Purchasing a Verona Card is a good move if you plan to visit the city's main places of interest. Valid for 24 or 48 hours, it gives you free or discounted entry to many attractions and museums, as well as unlimited use of ATV bus networks. Prices start from €18 for a 24-hour Verona Card. It can be purchased online, at tourism information offices and in many museums, churches and convenience stores.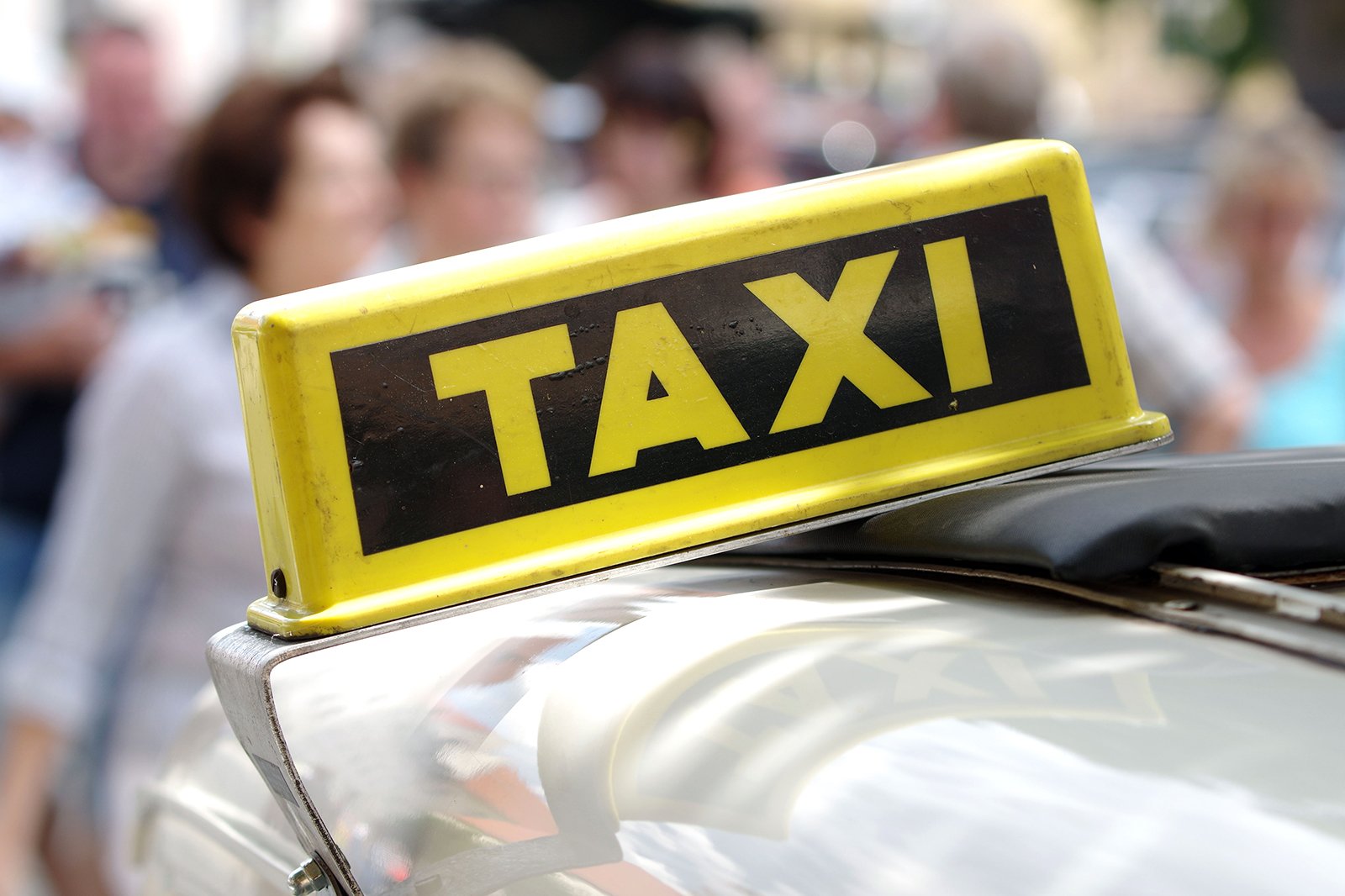 Taxis cannot be hailed on the street in Verona. There are cab stands throughout the city centre, generally outside hotels and near the main attractions.
The usual flag-drop fare is €3.73, then it's €1.46 per kilometre. Rates are higher at night – from 10pm to 6am – and on weekends.
You can directly call popular companies such as Unione Radiotaxi Verona (045 532 666) or Taxi e Auto Blu (045 858 1403), just to name a couple.
Taxis usually accept the payment of the fare by credit card, but it's better to ask the driver before you get in.
If you don't speak Italian, have your address written down ready to show the driver.
Just in case, double-check that the driver starts the meter.
It's not common to give a tip to taxi drivers in Italy, but you can round up the bill if you're happy with the service.
8
Cycle around Verona with Verona Bike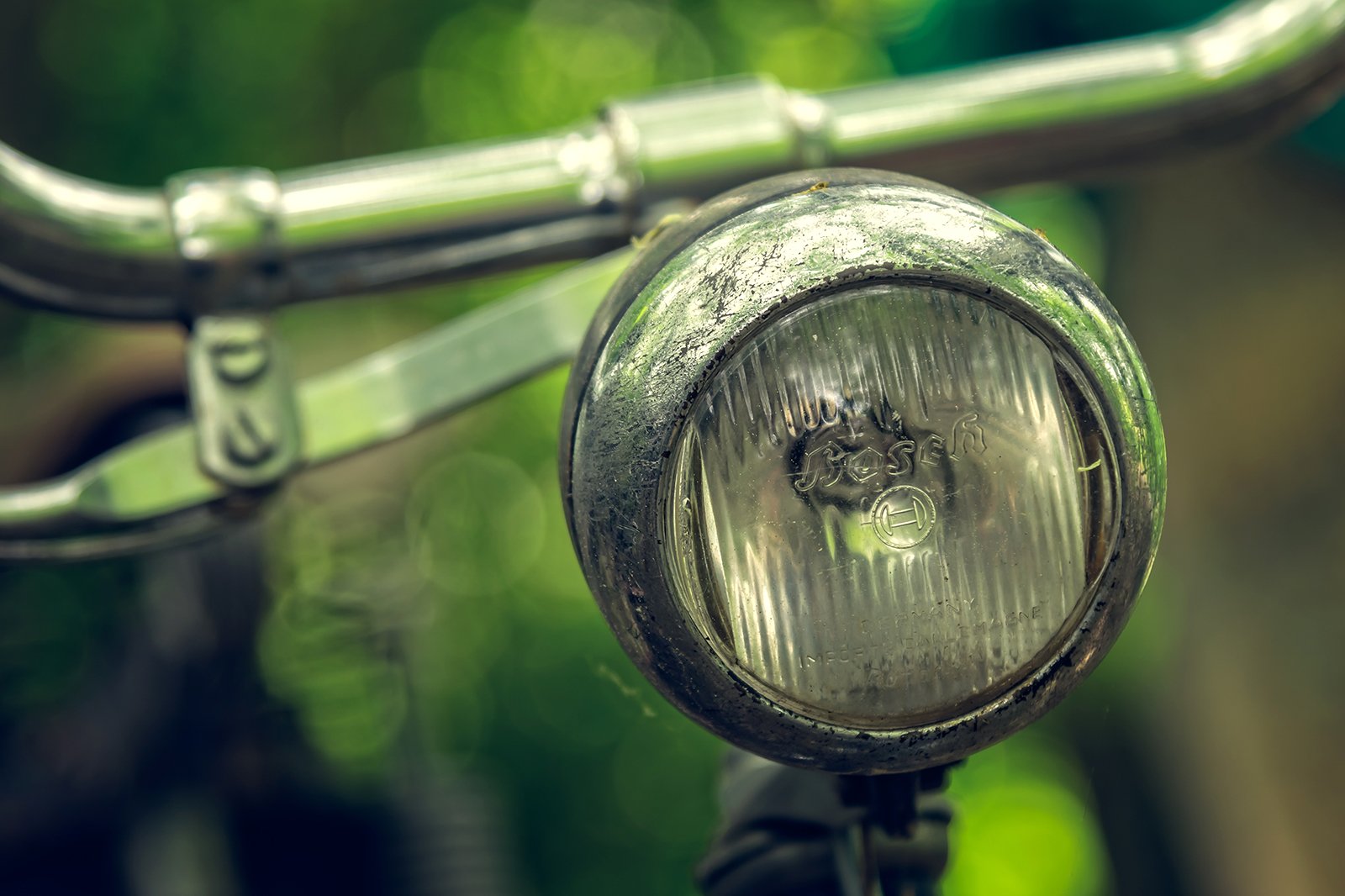 Verona is a very bike-friendly city. It hosts many cycling routes within and around the city centre. There's a bike-sharing scheme named Verona Bike available, which is operated by the municipality. You just need to register in their website, and there you go. A daily subscription costs €2. The first 30-minute ride is free, then it costs €0.50 for each following 30 minutes of use.
9
Annual events in Verona to look out for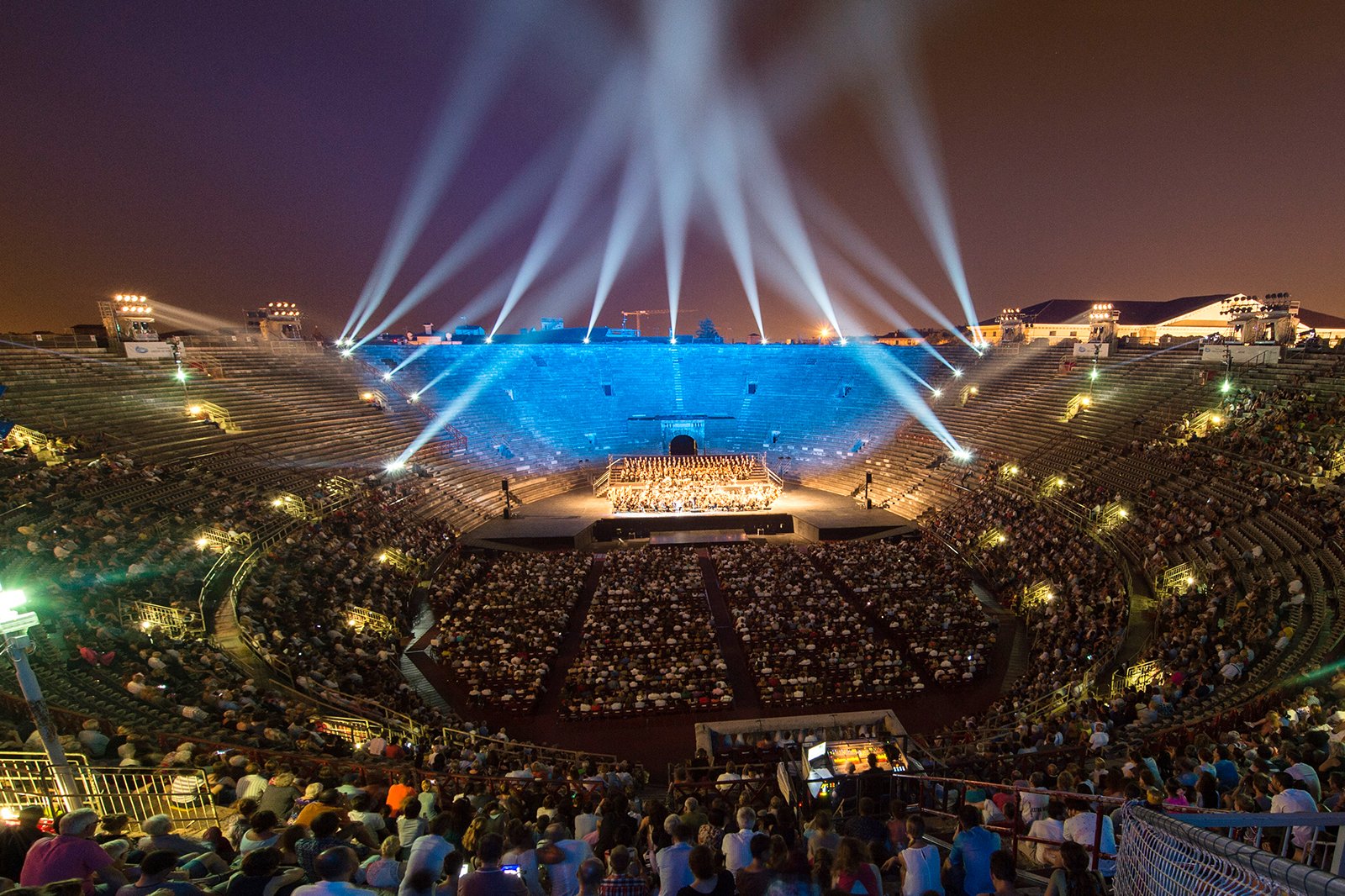 Vinitaly
What: Vinitaly is one of the largest wine fairs in the country. Hundreds of producers showcase their products. Expect wine sampling and seminars. You need to be at least 18 years old to get into this event.
When: April
Where: Veronafiere

Verona Opera Festival
What: The Verona Opera Festival is a 2-month event that allows you to see over 50 performances in the stunning setting of the Roman Arena.
When: June–August
Where: Roman Arena

Tocati – The International Festival of Street Games
What: Tocati means 'it's your turn' in Italian. The International Festival of Street Games is a festive event which gives you the opportunity to learn and rediscover simple games that can be played anywhere with little equipment.
When: September
Where: Verona Old Town
Back to top