Riga Travel Essentials
Useful Information to Help You Start Your Trip to Riga
Our Riga Travel Essentials lays out the essential information you need to help planning your trip to the capital city of Latvia. No matter how frequently you travel, some questions will always need answers: What's the weather like? How can I get from the airport to my hotel? What currency and type of plug do I need? We have all these answers plus other basic info about the best time to go, getting there, getting around, and a few useful travel tips.
It's all compiled in this Riga Travel Essentials. After reading this short and easy-to-read guide, you will be a little more prepared to start your trip in Riga.
1
Best time to travel to Riga (weather-wise)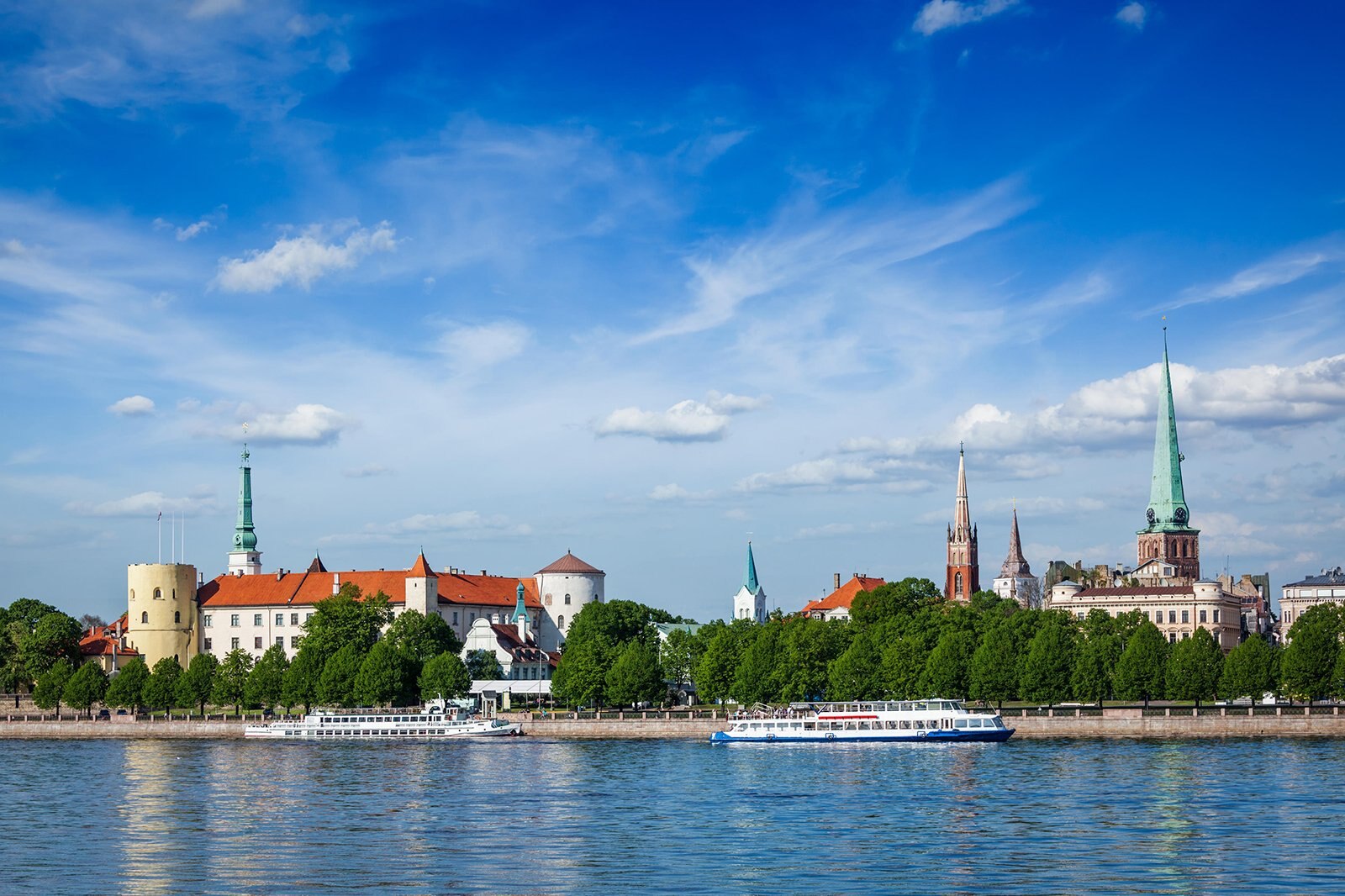 Riga has a humid continental climate, with average temperatures ranging from -5°C in winter to 17°C in summer.
The rainiest time of the year is between October and March, with an average of 19 rainy days per month. Even during the warmest time of the year, in June–August, you can expect a dozen rainy days per month.
Snowfall can be expected between November and March.
July–August is the most popular time to visit Riga, but it's the peak season, so hotel and flight prices rise accordingly.
May–June and September–October are also great times to visit Riga. The weather and temperatures are decent, you'll avoid the summer crowds, and hotel and flight prices are lower.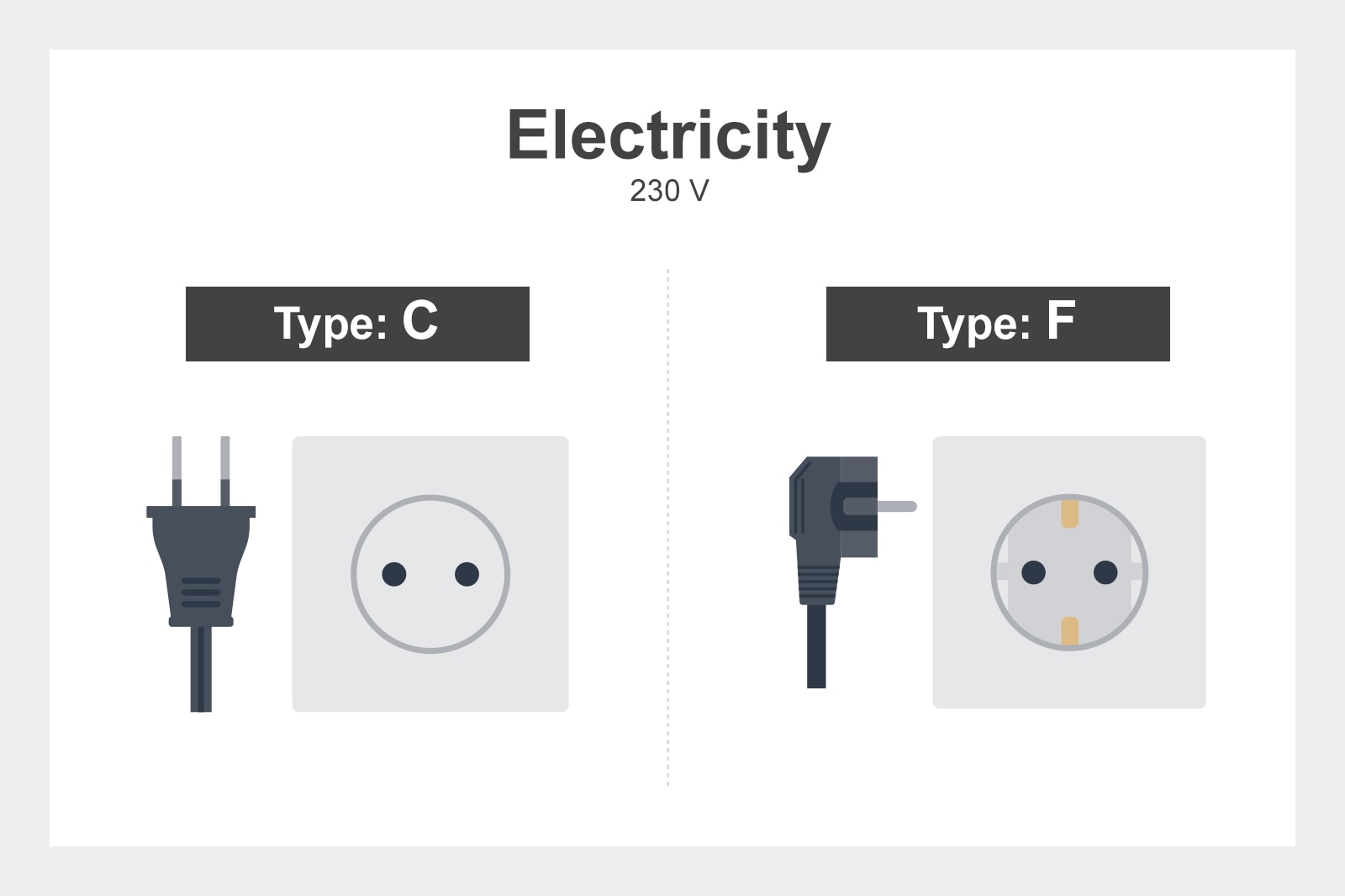 Languages: Primary: Latvian; Secondary: Russian; English is fairly widely spoken in the tourism industry
Plug types: C and F
Electricity: 230 V
Currency: Euro (€)
International dialling codes: +371 34
Emergency telephone number: 112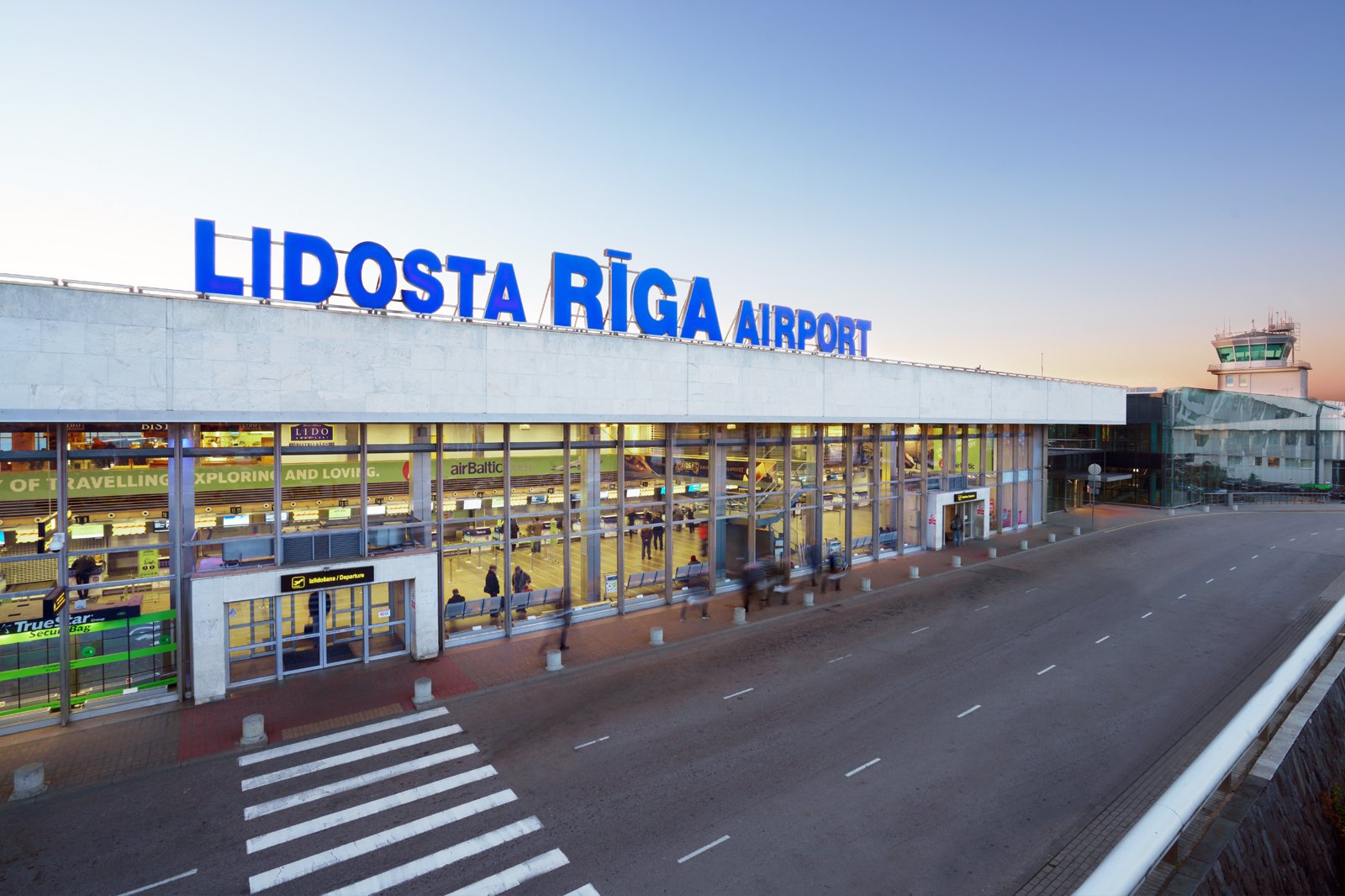 Riga International Airport
Riga International Airport is one of the busiest airports in Latvia and one of the largest airports in the Baltic states. It sits 8 km east-southeast of Riga city centre and has no less than 3 passenger terminals, all served by just 1 runway. The terminals are home to a decent choice of dining and shopping options, as well as facilities including free Wi-Fi, banking and currency exchange services. There are several transfer options to help you reach Downtown Riga:
A taxicab takes around 15–20 minutes and usually costs €15–20. Taxi ranks can be found right outside the Arrivals hall.
You can also use the Taxify app to get transferred from Riga Airport.
Bus line 22 or minibus line 322 take 20–25 minutes. It costs roughly €2 for the bus and €5 for the minibus. There are ticket vending machines at the bus stops outside each terminal. Cheap and fairly fast, it's a convenient way to get to central Riga if you're on a budget.
Car rental agencies can be found in each terminal.
photo by Avio2016 (CC BY-SA 4.0) modified
4
Getting around Riga
Travel tips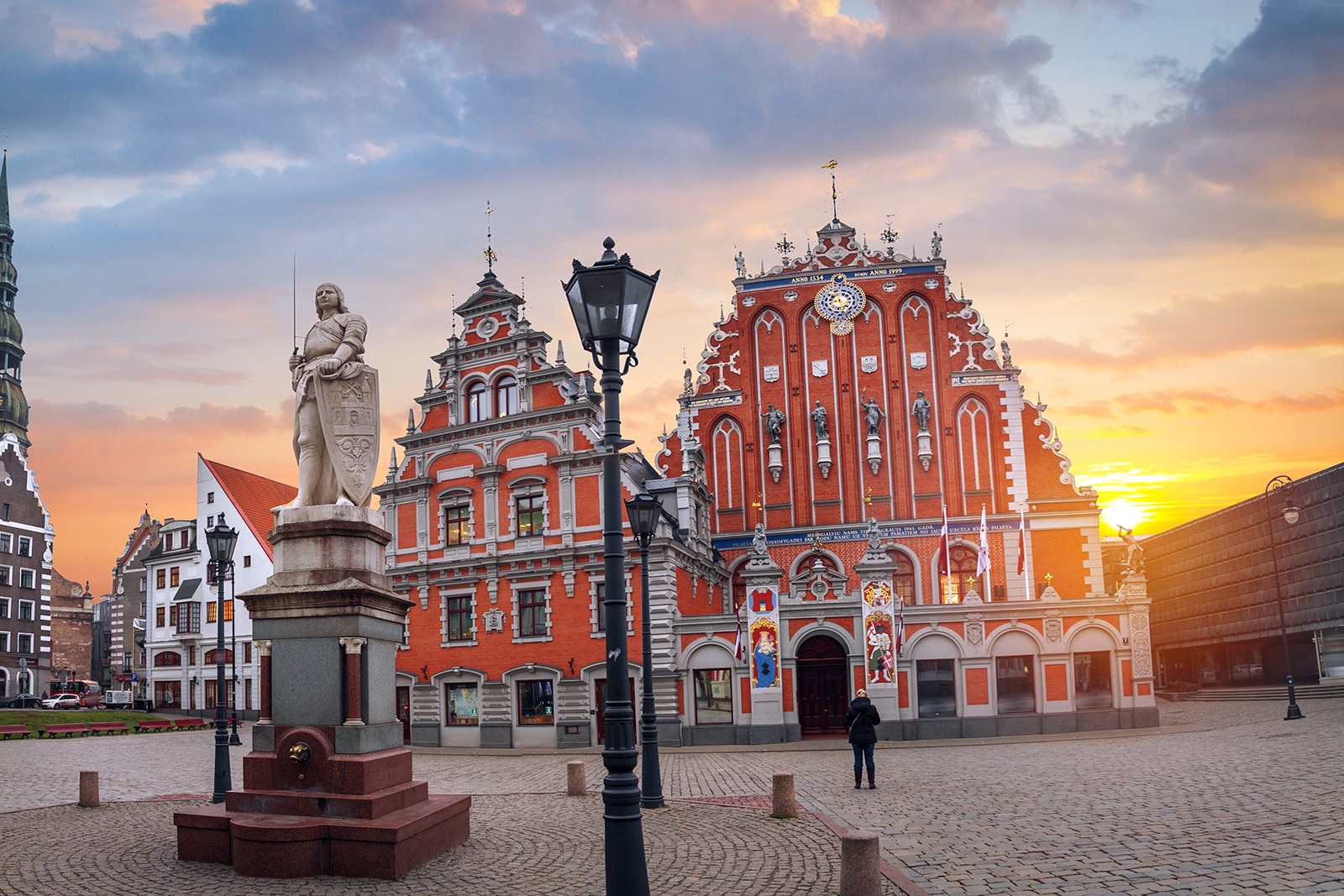 Covering less than 2 sq km, Riga city centre – the Old Town – is compact enough to be explored on foot. You'll find many landmarks and attractions within walking distance of each other, such as the Jugenda Stila Nami, Alberta Street, and the Latvian National Opera, just to name a few. The city centre also hosts a great choice of dining, shopping and nightlife entertainment options. For longer journeys, Riga has a good choice of public and private transport services.
5
Rīgas Satiksme – public transport networks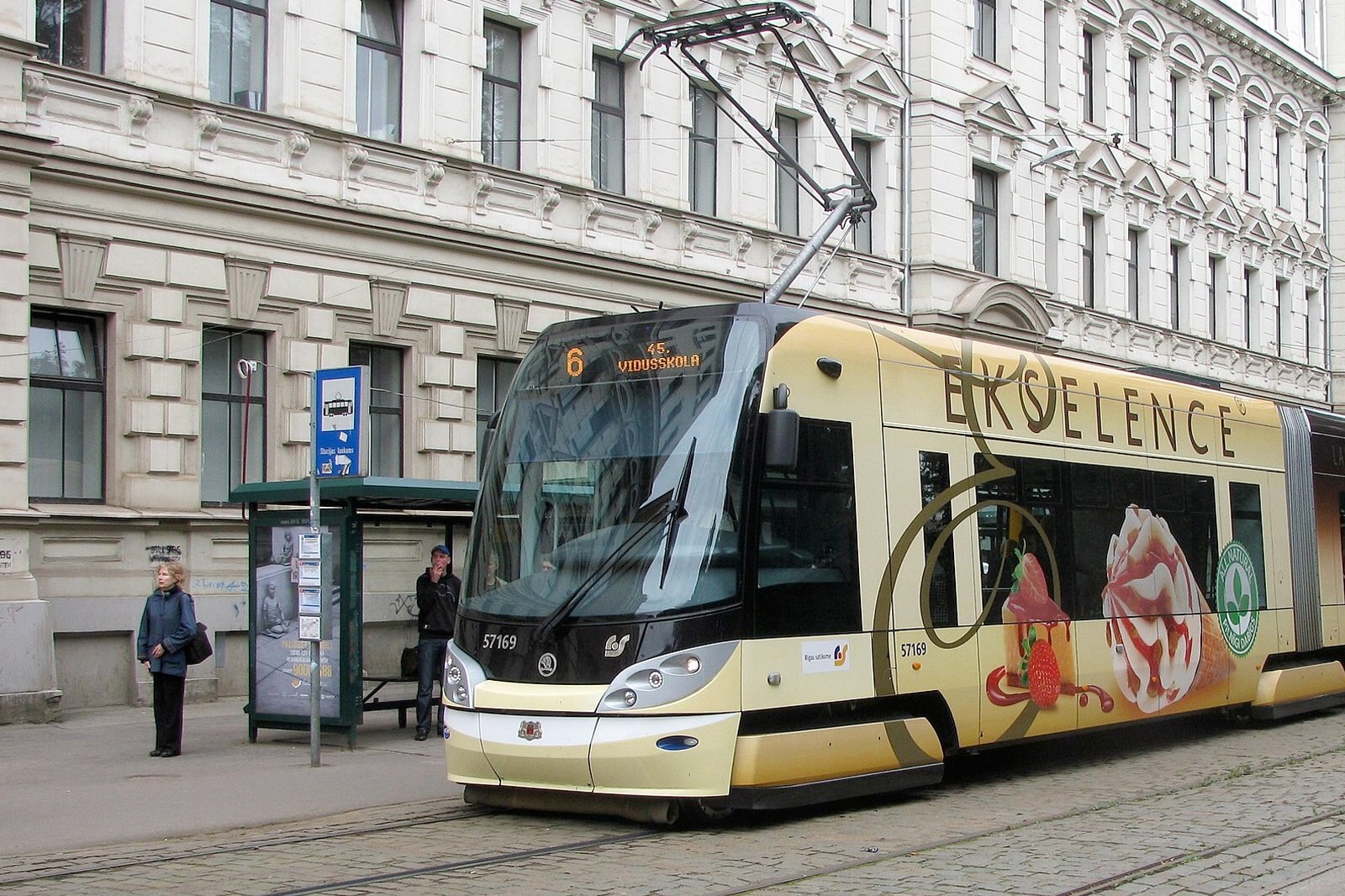 Run by the municipality, Rīgas Satiksme is in charge of public transport in the capital city of Latvia. It operates bus, trolleybus, and tram networks that efficiently cover the entire city. All of them use an integrated ticketing system.
Get a rechargeable ticket. The 2 most popular types available are the non-personalised and the yellow e-tickets. The former is a plastic card and the latter a simpler cardboard ticket with an electronic strip. They cost less than €3 and make transportation around the city easy.
The price of a single ride is €2, while a 1-day ticket costs €5.
Cards and tickets can be purchased at vending machines in tram and bus stations and in various designated stores across the city.
photo by Jindřich Běťák (CC BY-SA 3.0) modified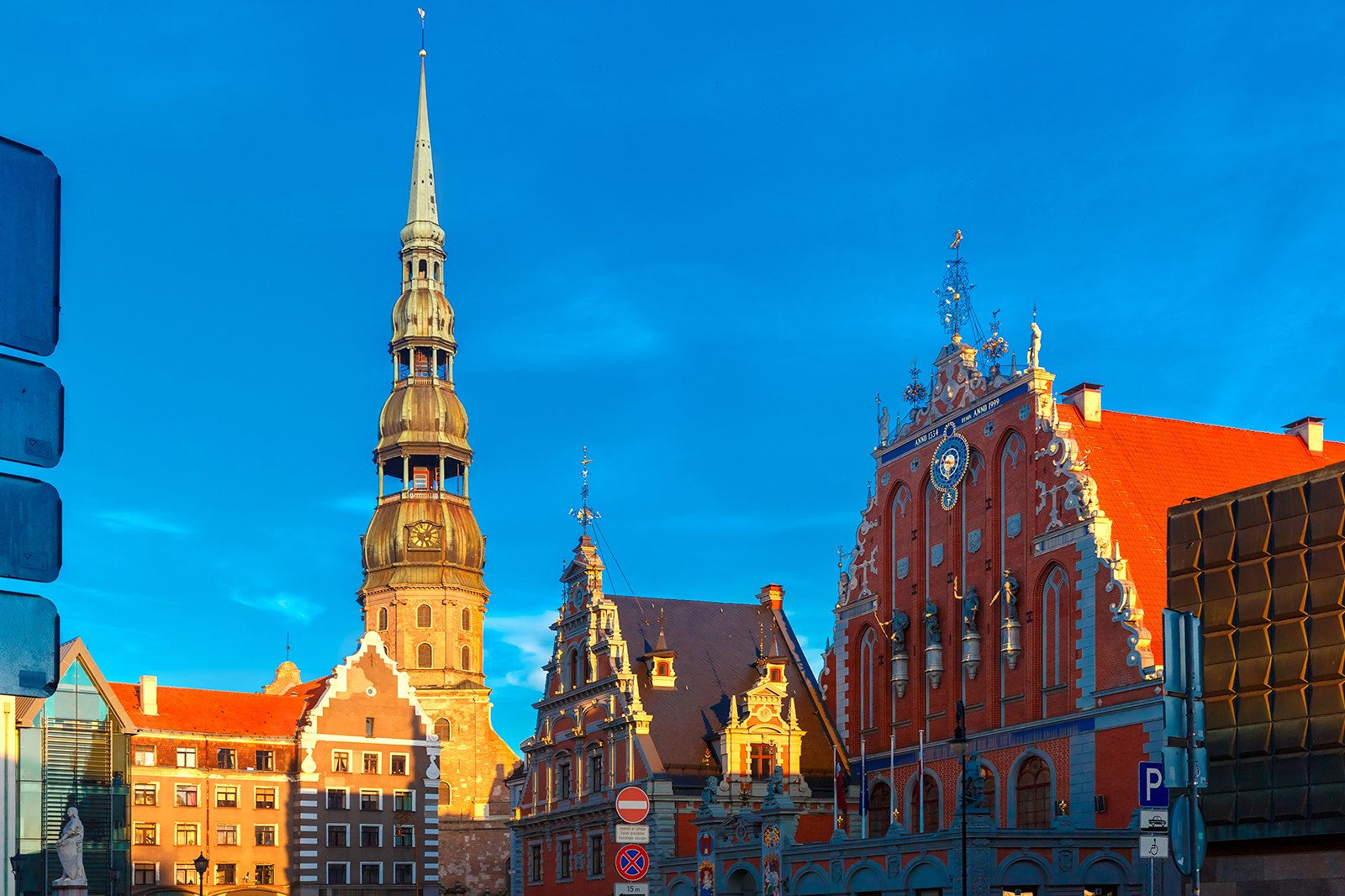 Purchasing a Riga Pass is a good move if you plan to visit the city's main places of interest during a short stay in the capital city of Latvia. Valid for 24, 48 or 72 hours, it gives you unlimited use of public transport plus a free hop-on hop-off bus tour, a free guided tour of the Old Town, and free entry or discounts at over 20 participating shops, restaurants and museums. Prices start from €25 for a 24-hour pass. They can be purchased at the Riga Tourist Information Centre in the Town Hall Square in Riga Old Town.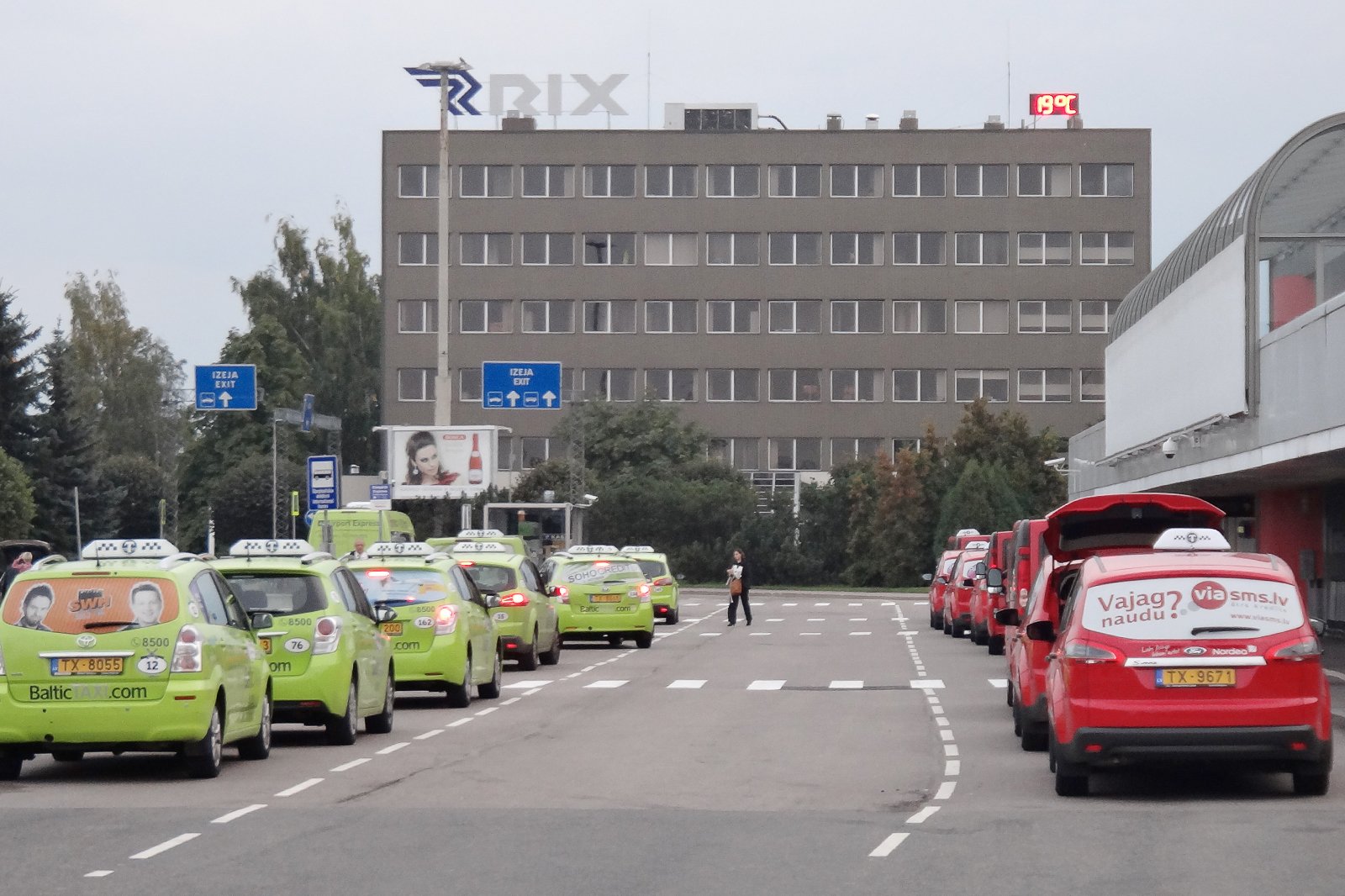 Taxis can be hailed on the street in Riga and there are plenty of cab stands in the city centre, generally outside hotels and near the main attractions. It's best to use only licenced taxis, which can be recognised by their yellow plate. It's maybe stating the obvious, but always check that the meter is on.
You can directly call popular companies such as Baltic Taxi (20 008 500), Red Cab (60 008 383) or Avoiss Taxi (25 544 555), just to name a few.
Each taxi company has different prices in Riga. The flag-drop charge ranges between €1 and €2, then it's between €0.30 and €0.70 per kilometre.
Taxis usually accept the payment of the fare by credit card, but it's better to ask the driver before you get in.
It's common to give a 10-15% tip to the taxi driver.
8
Cycle around Riga with Sixt Rent a Bike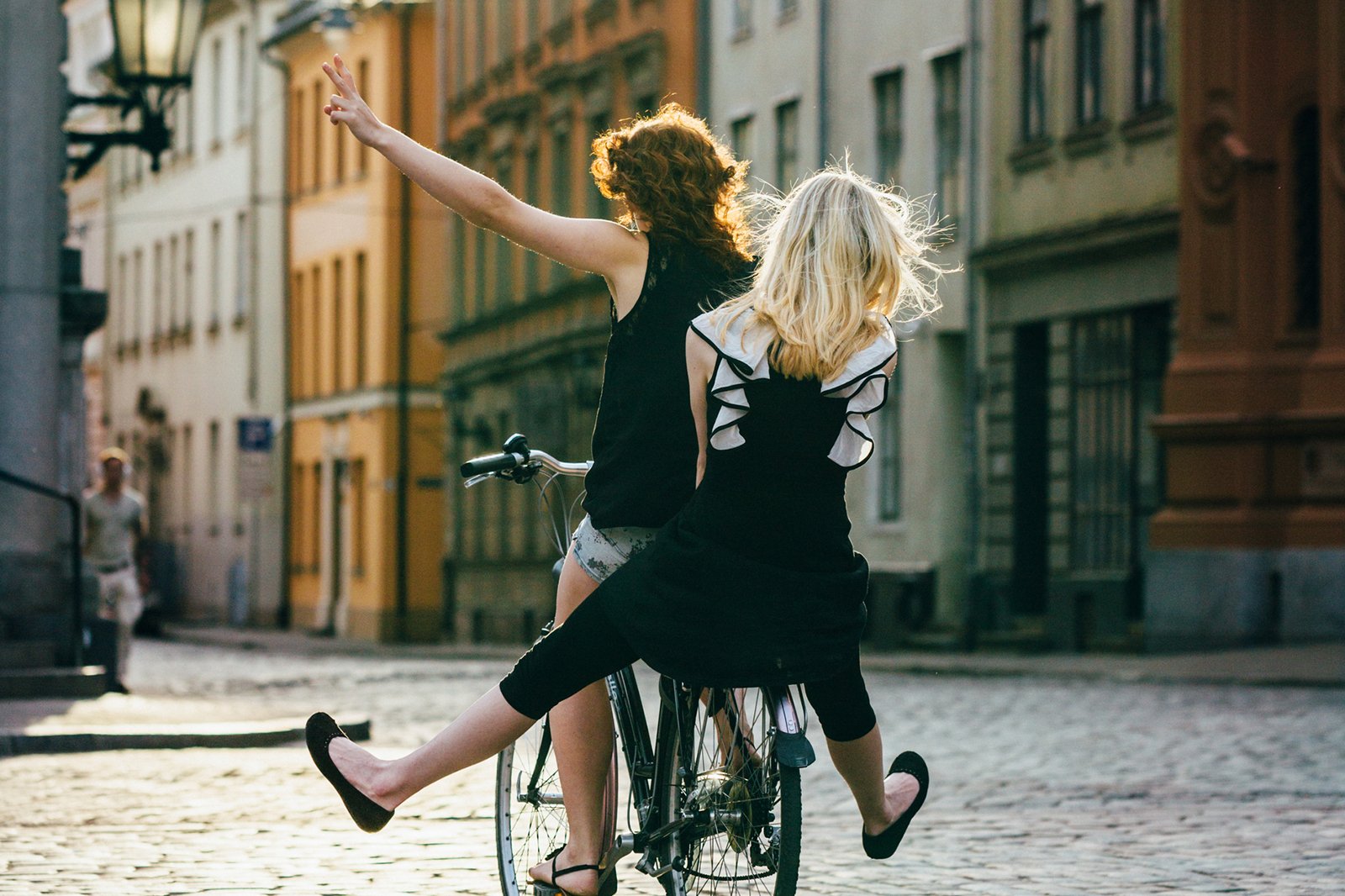 Riga has a bike sharing scheme run by Sixt Rent a Bike. It has about a dozen docking stations across the city. You just need to download the Nextbike app onto your smartphone and register an account. After that, you can use a bike for 30 minutes for free. If you go over 30 minutes, it's 99¢ for every additional 30 minutes. You save some money if you rent a bike for 24 hours, which costs just €9.99.
9
Annual events in Riga to look out for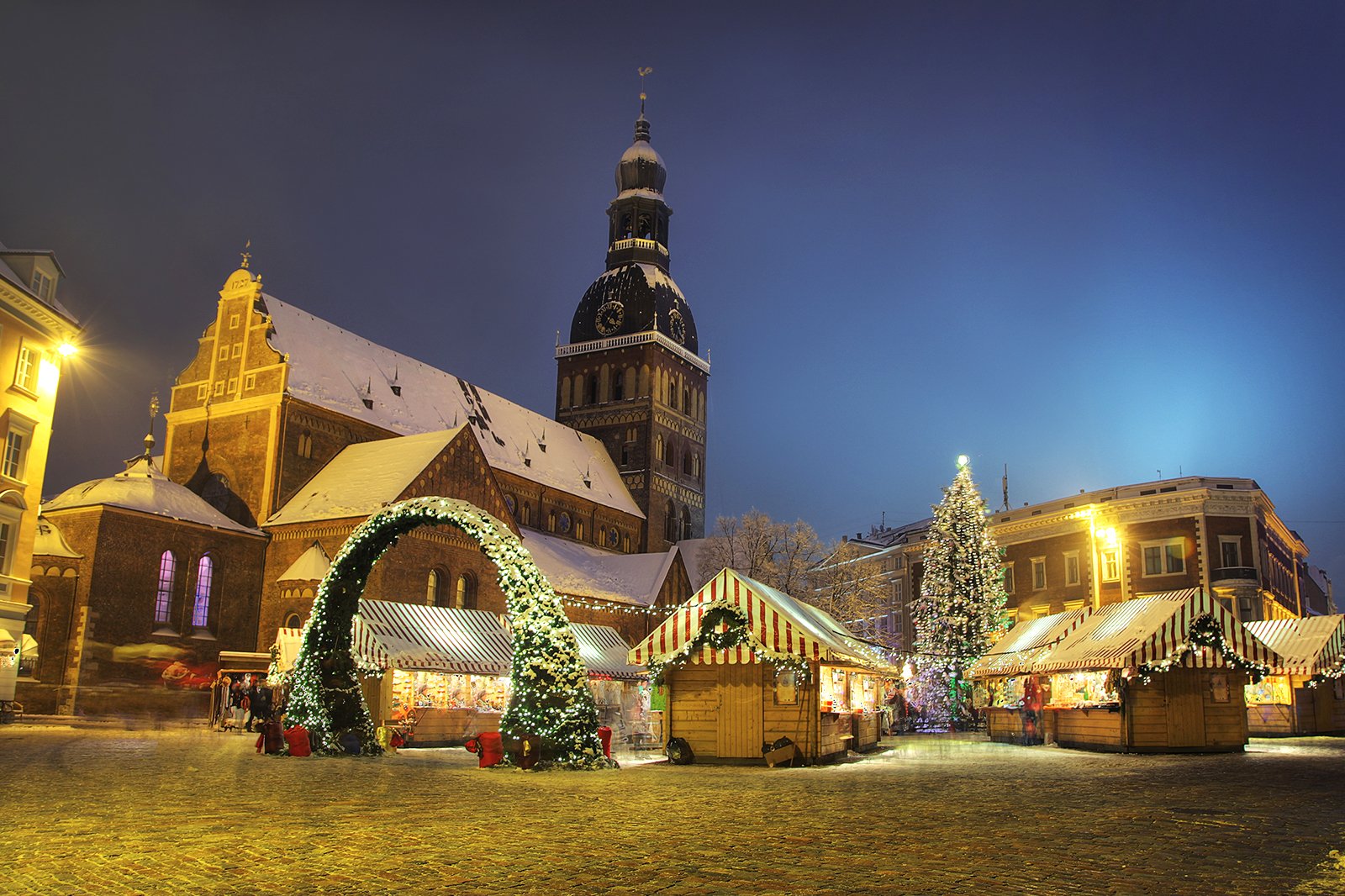 Medieval Day at Cēsis Castle
What: Step back into the Middle Ages at this popular event featuring demonstrations of combat, craftmanship, medieval food and music.
When: August
Where: Cēsis Castle


Song and Dance Festival
What: Held once every five years since 1873, the Song and Dance Festival showcases Latvian choral music and folk dance. Expect a busy cultural event with local costumes and plenty of local food.
When: Summer every five years
Where: Mezaparks


Christmas markets
What: Christmas markets are a very long tradition in Riga. Held in the main squares of the Old Town, they bring gingerbread and mulled wine, beautifully illuminated stalls and plenty of gifts for sale.
When: December–January
Where: Doma laukums, Līvu laukums and Esplenāde Park
Back to top