10 Best Beach Towns in Montenegro
The Most Charming Places on the Adriatic Sea
The coast of Montenegro is lined with blissful beach towns, each offering its own unique charms. Choices range from the tourist metropolis of Budva, with its beating beach heart, to the more remote sands of Pržno, where you'll find it difficult not to be drawn in by its rustic romance.
While all of these beach towns have sun and sea views in common, but you'll find unique pockets of paradise and contrasts between rugged mountain tops and sparkling seafronts. Some may offer a more eye-catching sunset, some might be greener than others, and some may have more history steeped within their walls, but each town tells its own offbeat beachside tale.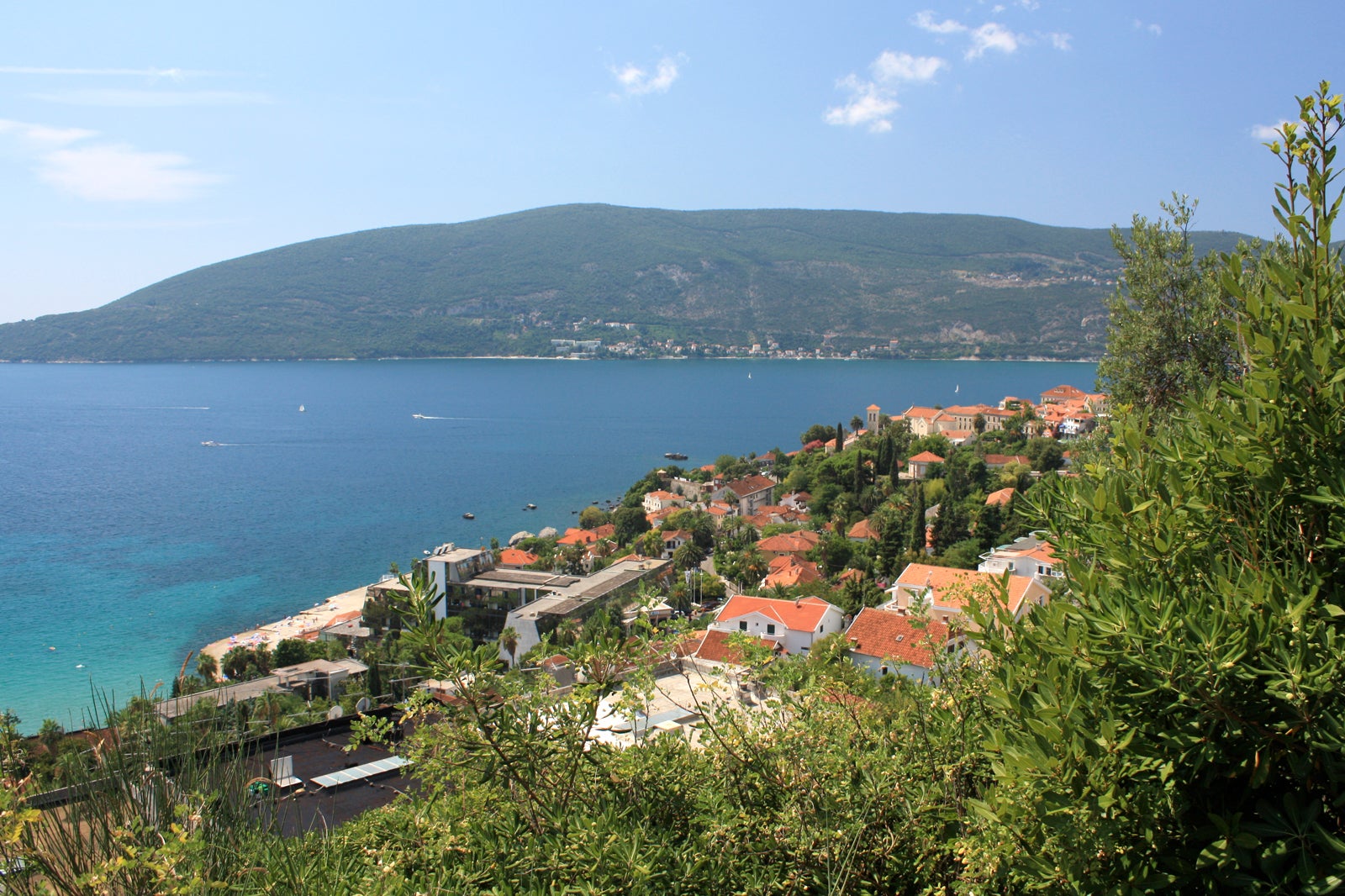 Herceg-Novi
Nestled between Mount Orjen and Luštica Peninsula
With mountains on one side and the stunning Luštica Peninsula on the other, Herceg-Novi is a charming coastal town situated at the foot of Mount Orjen. When summer is in full swing, the town welcomes hordes of tourists to the hotels and resorts framing its waterfront, but it's also a peaceful place to visit outside of the peak period.
For those wanting to wet their toes, a spot of snorkelling is delightful, as is jet skiing and flyboarding for the true thrill-seekers. When you're done exploring the seas, the afternoons can be spent taking shade under pomegranate trees, enjoying a chilled glass of fizz, or getting lost in the winding streets of the old town.
photo by Mercy (CC BY-SA 3.0) modified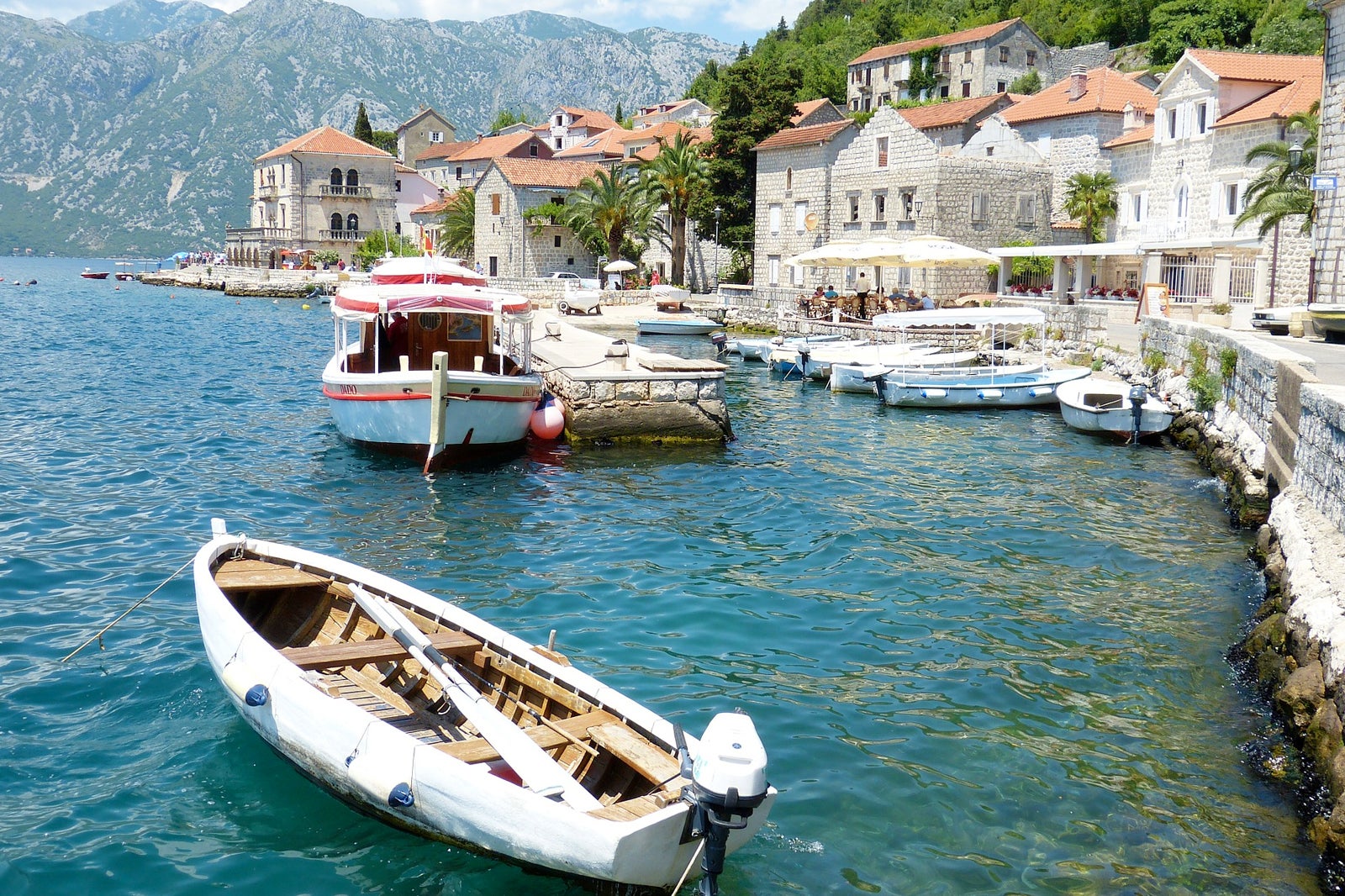 Kotor
A secluded beach town in the Gulf of Kotor
The triangle-shaped town of Kotor offers panoramic views of red-topped roofs with mountains descending into the sea. Imagine intimate beaches dotting the boka (meaning 'the bay'), from the healing sands of Bigova to the unspoilt nature of Trsteno.
The beaches are truly blissful but there's more to uncover in the old town. From 15th century churches and palaces to winding alleyways, crumbling archways and wooden doors with dozens of cats dozing at their brightly coloured feet, you'll soon fall in love with this fairy-tale land. Take a walking tour to see the main historical sites such as Sveti Tripun Cathedral and Sveti Nikola Church. As night falls, absorb the beats of live music coming from hotspots like Letrika and the Bokun Wine Bar.
History
Photo
Nightlife
Budget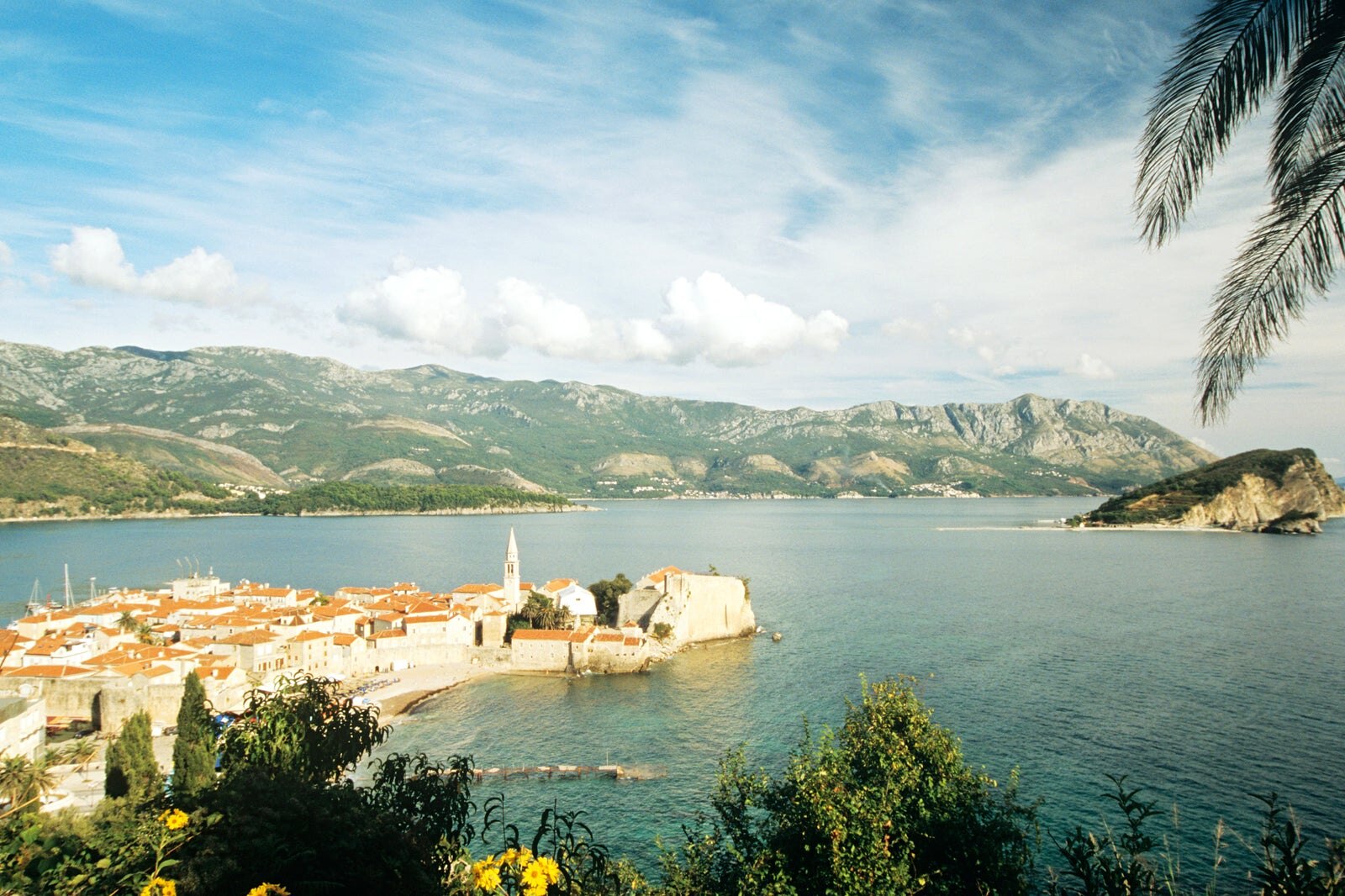 Budva
One of the most historical cities on the Adriatic coast
Budva is the place to be if you're seeking a sleepy beach town by day and a bustling party scene by night. Along with Becici, it's considered its best beach by far. Cosy with crystal clear waters, it welcomes paddlers and peaceful coastal walkers. If you stroll to the end of the Budva marina, you'll find Pizana – a 100-metre pebble beach for those wishing to cool off after an afternoon exploring the town.
As one of the most historical cities on the Adriatic coast, wherever you wander to in the old town, you'll discover a different route, but each one will be littered with quirky boutiques and intimate eateries serving up fresh fish and tasty pizzas. Head to Budva Juice Bar for scrumptious smoothies and cafés cum cocktail bars, Hacienda and Casper Bar for cocktails and jazz sounds.
Shoppers
History
Food
Nightlife
Budget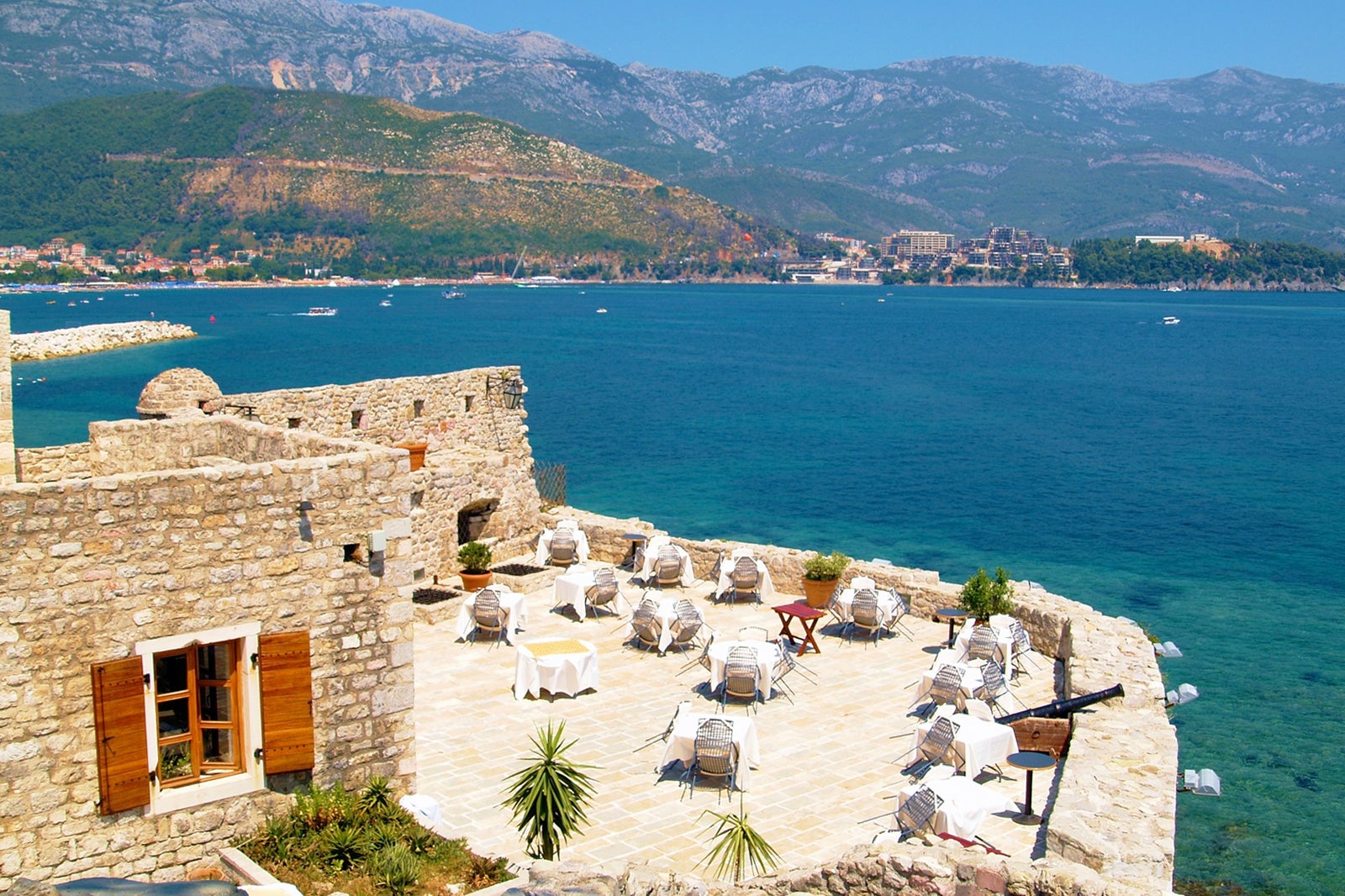 Bar
A laidback seaport in southern Montenegro
Bar may not have the same bustling beach reputation as some of Montenegro's other coastal towns, but it's one of the cleanest around and a great spot for a lazy day. Its main city beach can become crowded in the midday heat but once the sun starts to set, you'll find a chilled atmosphere. Set up your sun lounger in nearby Šušanj or Sutomore for a less crowded change of scenery.
Sitting at the foot of Mount Rumija, just a few miles from Bar, is the old fortress town of Stari Bar. With a sleepy atmosphere, there are cafés dotted all over where you can grab a coffee and enjoy the small-town charm. Make sure to check out the Stara Maslina olive tree. It's rumoured to be more than 2,000 years old.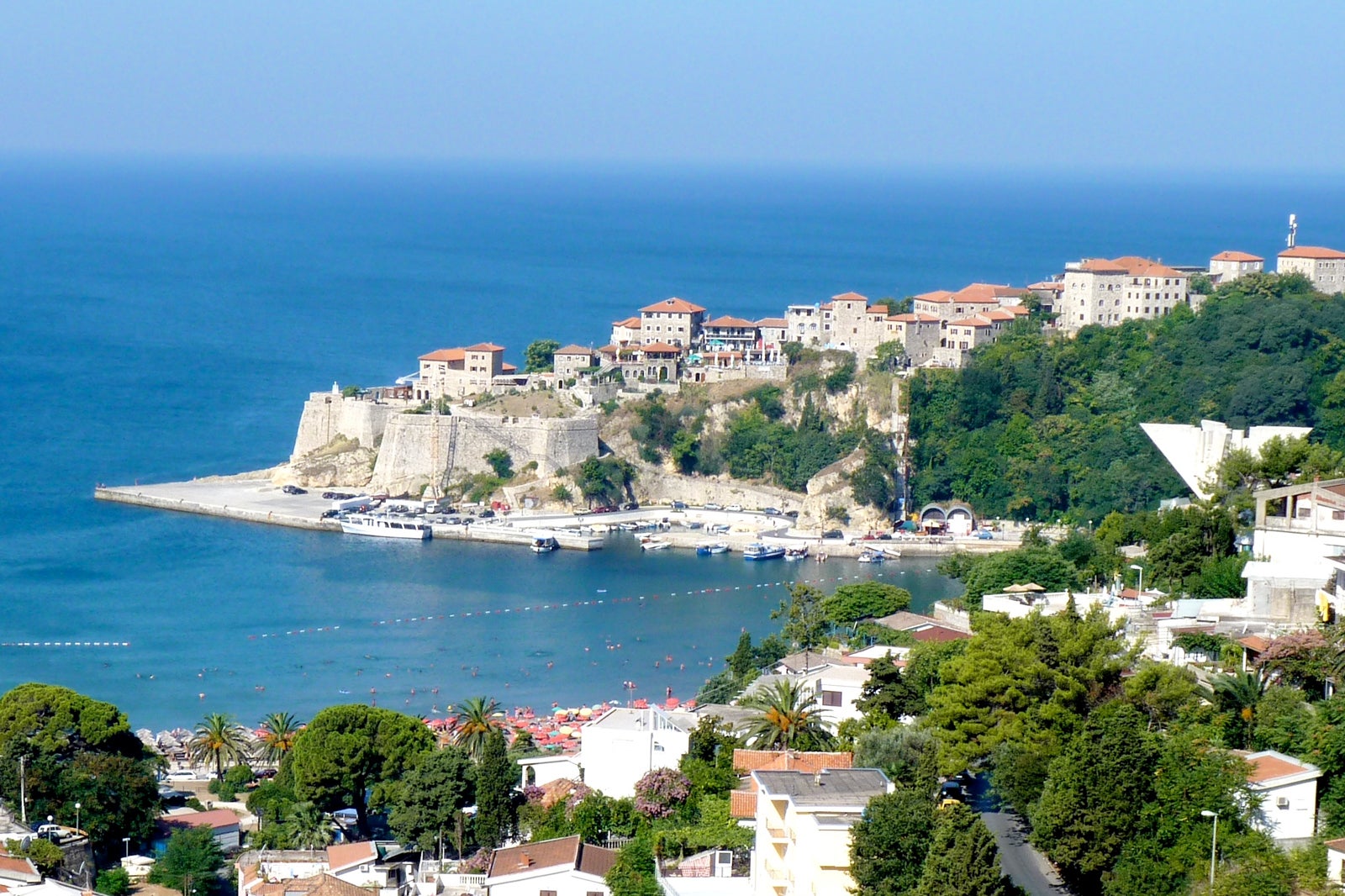 Ulcinj
A coastal town with various beaches
As the southernmost city on Montenegro's coast, Ulcinj feels like something out of a storybook. Set alongside a forested bay, there are beaches for all types of explorers. Want something rocky? Sandy? A bit of both? Ulcinj has them all. And better still, most are accessible by foot. From the main city beach of Mala Plaža to the charm of Little Beach, there's plenty to sink your toes into.
Once the sun starts to set, head to the old town for a glimpse into more simple times and fresh fish dishes. Head to The Fisherman Hari to enjoy a tasty catch of the day. For a truly memorable experience, dine al fresco and catch a stunning sunset as it sinks into the coastline.
photo by Dudva (CC BY-SA 3.0) modified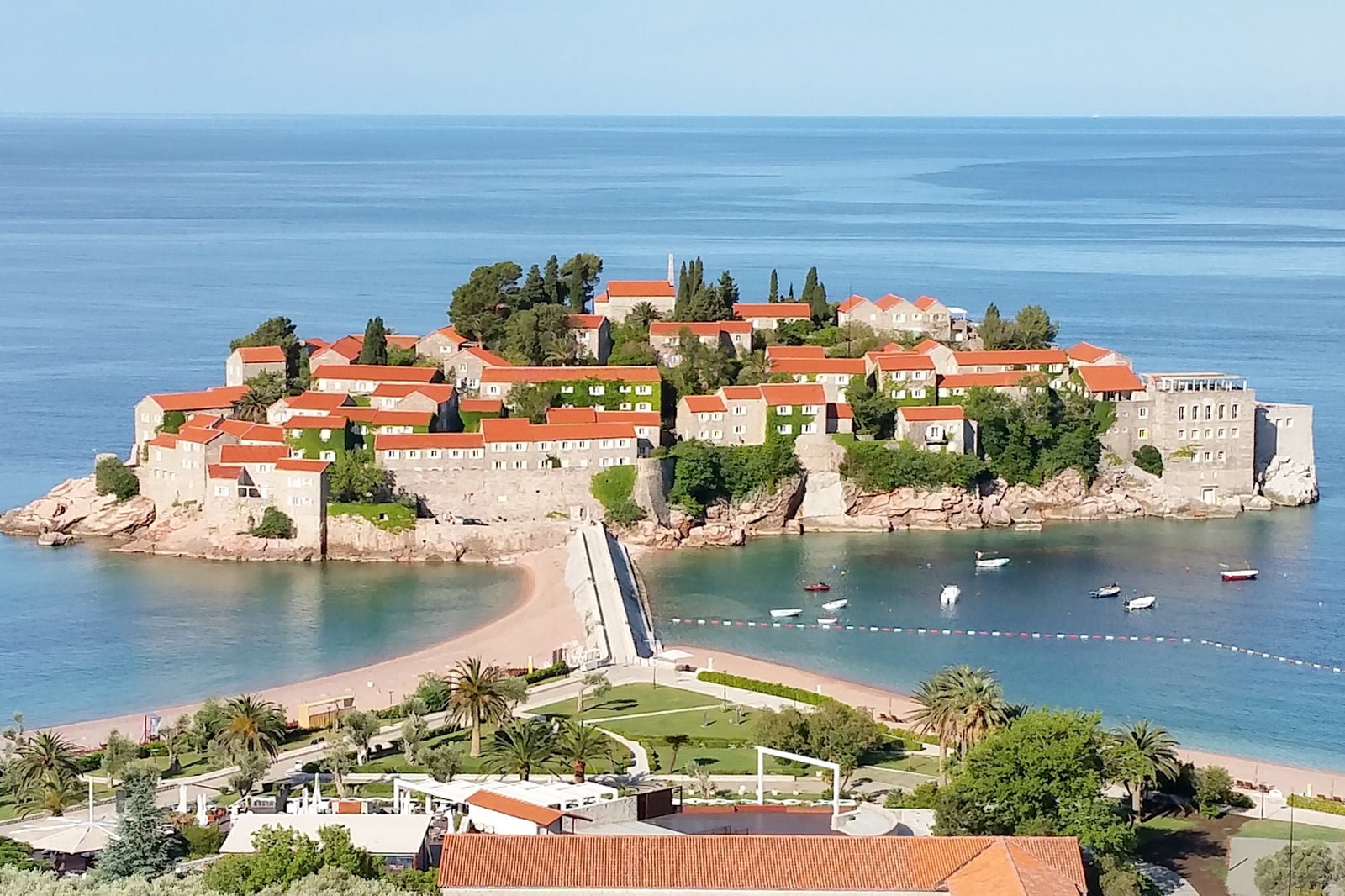 Sveti Stefan
Once a fishing village, now an exclusive small islet with VIP access
Sveti Stefan is one of Montenegro's most luxurious beach towns. Forming part of the lavish Aman resort, if you want to step foot onto its pristine sands, you'll need to hand over some money, but you can still take a peek for free. You can also head to the nearby north and south beaches, which are free for non-paying sun worshippers.
While you can't technically visit the island, you can still check out a few sites, one of which is Milocer Park. Stuffed full of exotic trees and fragrant olive groves, follow the path past Villa Milocer and King's Beach for stunning views. Budget-friendly? Not so much. Instagrammable? Absolutely. Sveti Stefan has been voted as the most photographed site in all of Montenegro.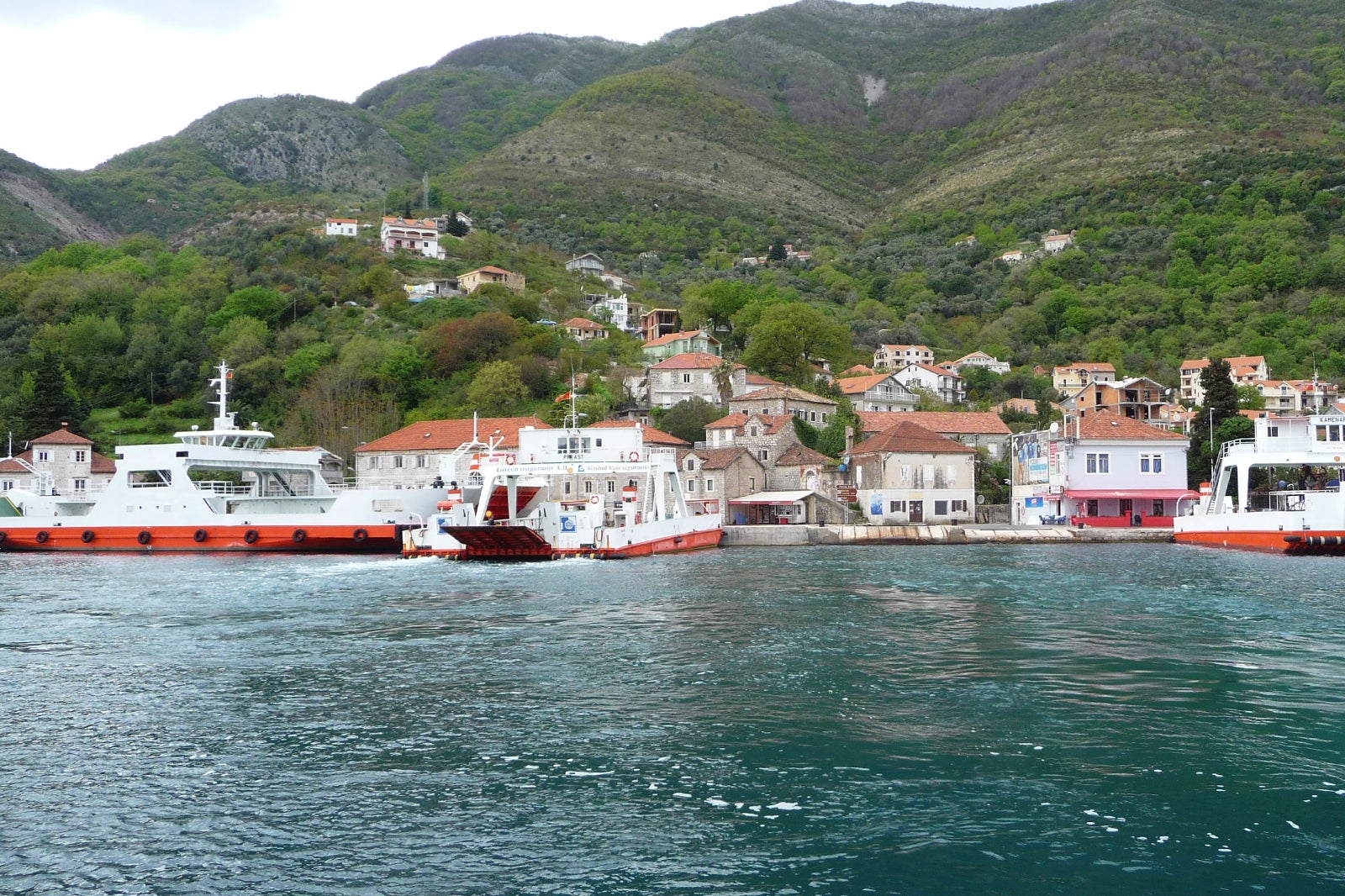 Tivat
A town with 17 beaches lining the Tivat Riviera
Tivat is the place to go if sun-worshipping is at the top of your Montenegro agenda. Known as the sunniest town in the Bay of Kotor for its mild Mediterranean climate and crystal-clear seas, sunny wanders and watersports are high on this town's list of attractions. You can get in some serious underwater exploration on any one of the 17 official beaches sitting on the Tivat Riviera, too.
Tivat may not have the same preserved old town like some of Montenegro's other beachy hubs, but it does provide peaceful spots for relaxation. You could be lapping up the dreamy ice cream flavours at Poslasticarnica Minjon or yacht-watching in Porto Montenegro.
History
Photo
Luxury
Adventure
photo by Matt Zimmerman (CC BY 2.0) modified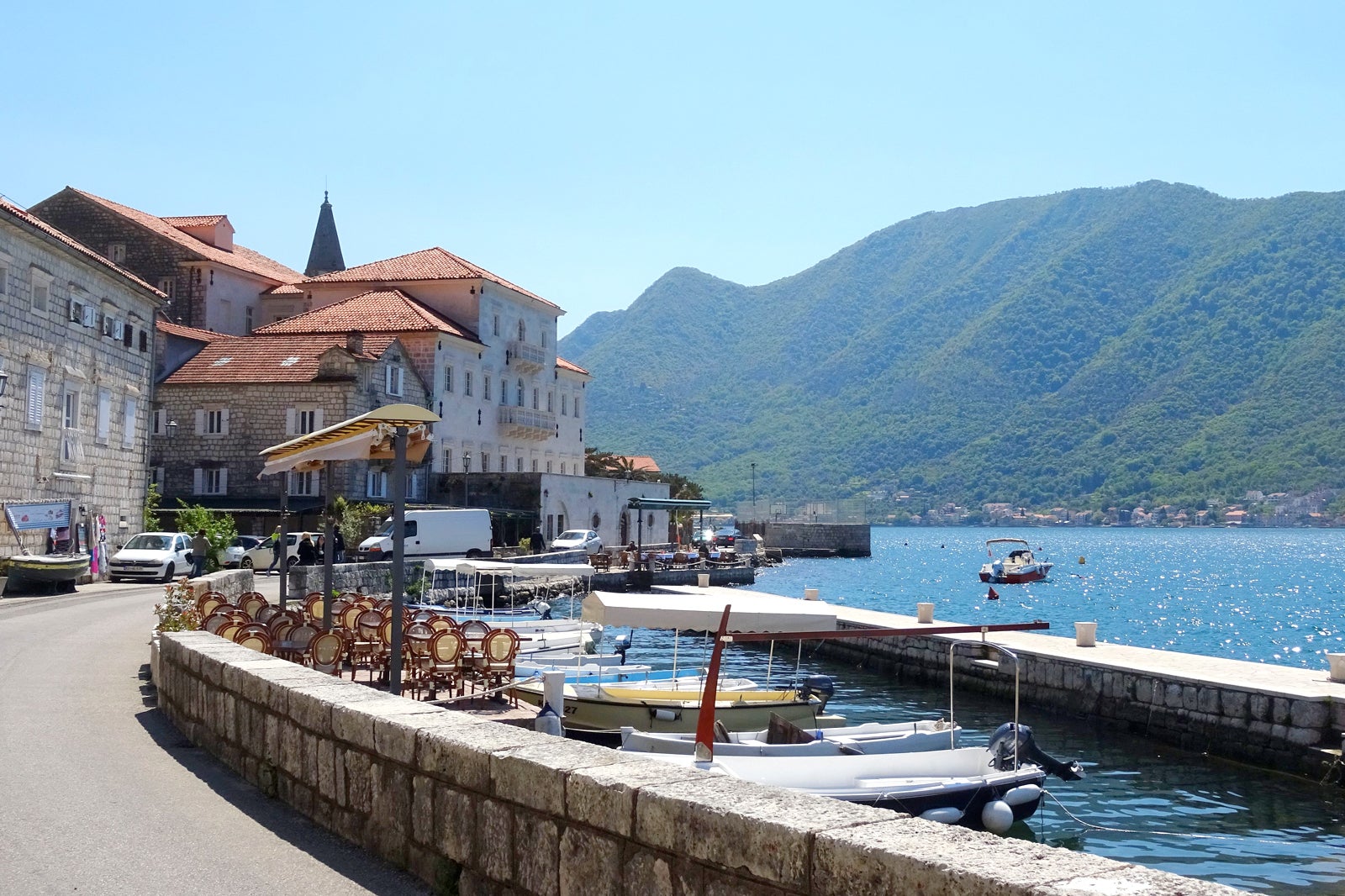 Perast
A UNESCO World Heritage Site in the middle of Kotor Bay
Wedged in the middle of Kotor Bay, Perast is the epitome of a picturesque beach town. As a sparkling sun trap with small boats or barkas sitting in rows along the shoreline, take a wander through the village, following the sounds of music to the towns western edge. You'll end up at Pirates Beach Bar, with a DJ area and affordable drinks. Spending hazy days surrounded by shaded black mountains is the order of the day in Perast.
As a UNESCO World Heritage site, the tiny town is brimming with romantic ruins, impressive palaces and cobblestone churches. It's also known for its 2 island churches – 1 natural, and the other? A manmade island called Lady of the Rocks. It was 600 years in the making, and the best way to visit is with a scenic boat tour across the shore.
Couples
History
Nightlife
Budget
photo by Paavo01 (CC BY-SA 4.0) modified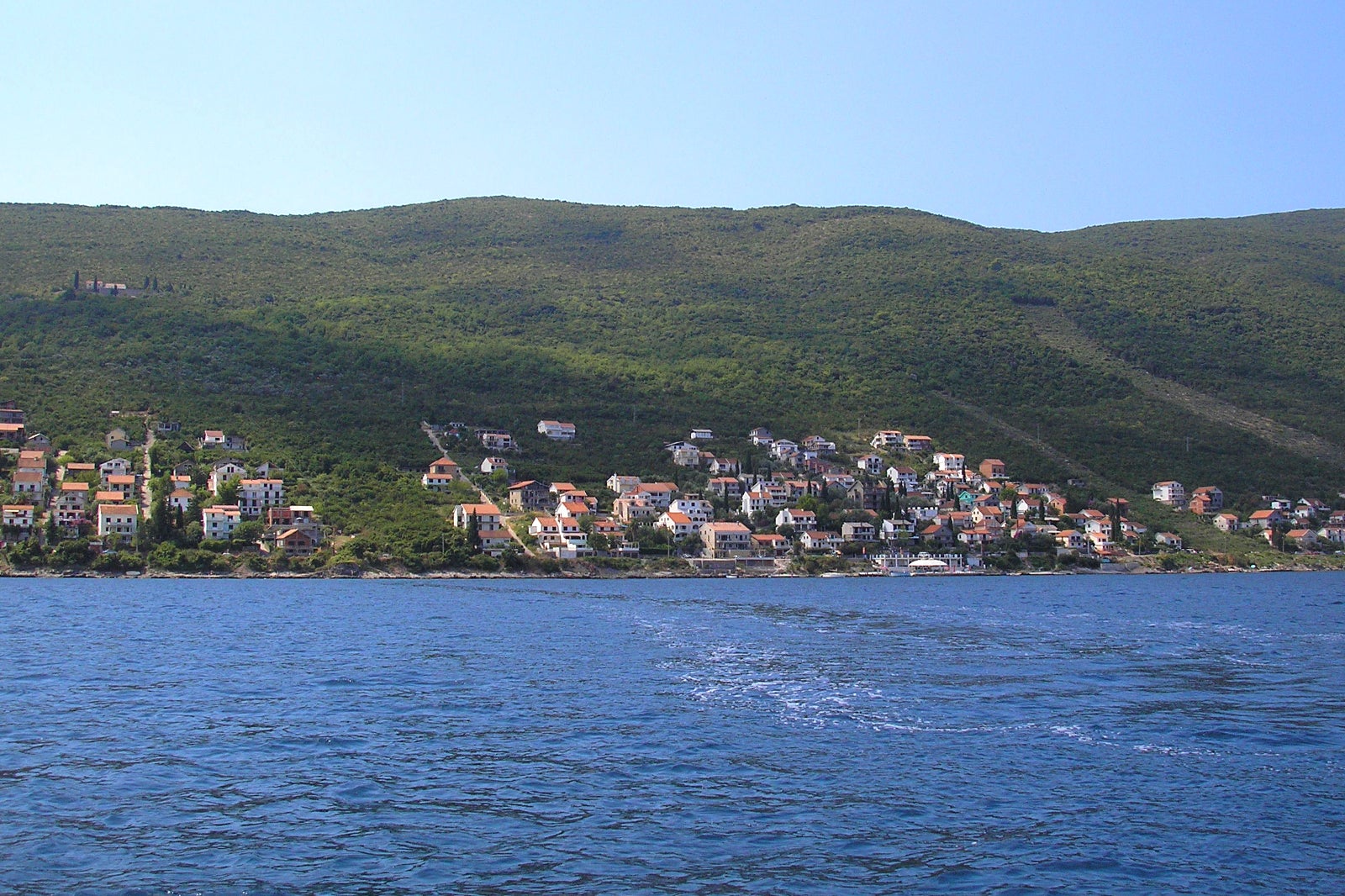 Krašići
A romantic destination in the Tivat municipality
For those seeking a rustic, romantic getaway, Krašići is where it's at. Located on the Luštica peninsula, Krašići Beach offers an understated atmosphere while also being close to Montenegro's other top coastal towns, such as Tivat and Kotor.
Fans of white sandy beaches may be left feeling a little out in the cold, as Krašići is a 1.5-km stretch of concrete-gravel beach with no sand in sight. But when the sun begins to set, this town's eclectic eateries will soon put a spring back in your step. Dine out on simple Italian dishes at beach bar-restaurant Volat 2, and hail a water taxi from Porto to happening hotspot Onna Beach Club for cocktails and clubbing into the early hours.
Couples
Food
Nightlife
Budget
photo by Mladen Savović (CC BY 2.0) modified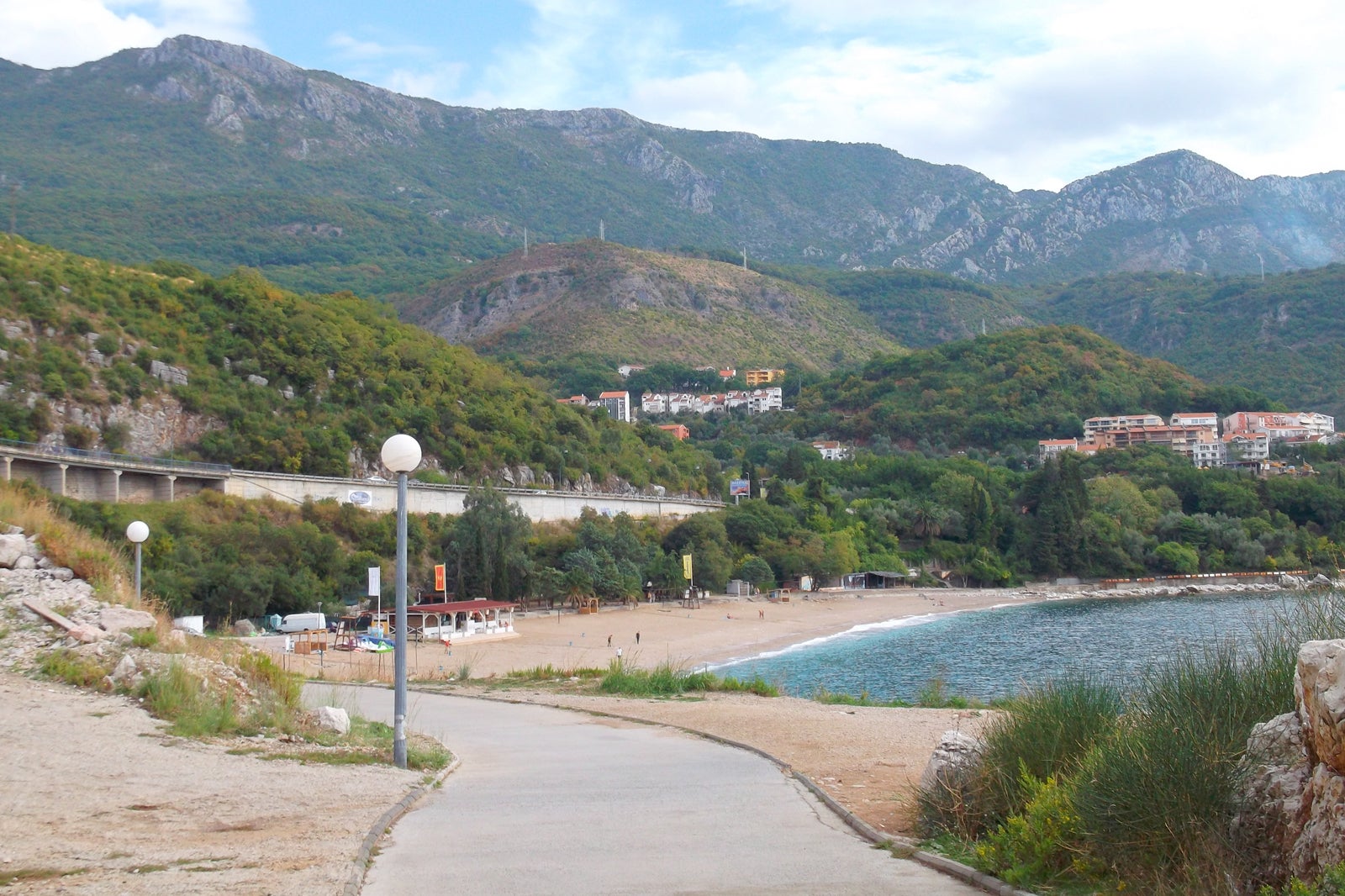 Pržno
A small beach town with red-sand beaches
Welcome to the romantic, red-sand beaches of Pržno – a small beach town with bags of personality. Away from the bustle of Budva, with space to pitch up a sunbed and get into the swing of relaxation, this scenic beach town is loved by locals and provides panoramic views, no matter which spot you choose to sun it up in. With a small stone outcrop just a short swim from the shore, you can find your own slice of beach paradise.
This small fishing town serves up a surprisingly varied range of restaurants, each with their own quaint and quiet atmosphere. But what really sets it apart from Montenegro's other sandy settlements is the walk from Pržno through the woods to Sveti Stefan.
photo by Сергей Наруков (CC BY 3.0) modified