10 Best Festivals in Qatar
Qatar's Best Annual Celebrations
Qatar hosts an exciting range of festivals and events throughout the year. Some festivals reflect the country's rich cultural heritage while others showcase its sleek modernity and international outlook.
There's no shortage of diversity in festive experiences here, from galloping camels to virtuoso celebrity chefs or from the serene sight of dhow vessels lining the seashore to dazzling fireworks shows. Some Qatari events are steeped in sacred beliefs while others celebrate boundary-pushing artists. Mark your calendar and check out some of these great festivals in Qatar on your next visit.
1
Aspire International Kite Festival
Take a wander through the wind garden
The skies over Aspire Park in Doha come alive with colourful kites every March in the city's annual kite festival. Enjoy the spectacle of colourful kites swooping through the air, handled by talented kite flyers from around the world.
Kites crafted in traditional designs are on display while families have a chance to hone their own kite-making skills in daily workshops. More activities during the 3 days of festivities include student competitions, parades and cultural performances.
2
Al-Shahaniya Camel Racing
The ultimate desert sport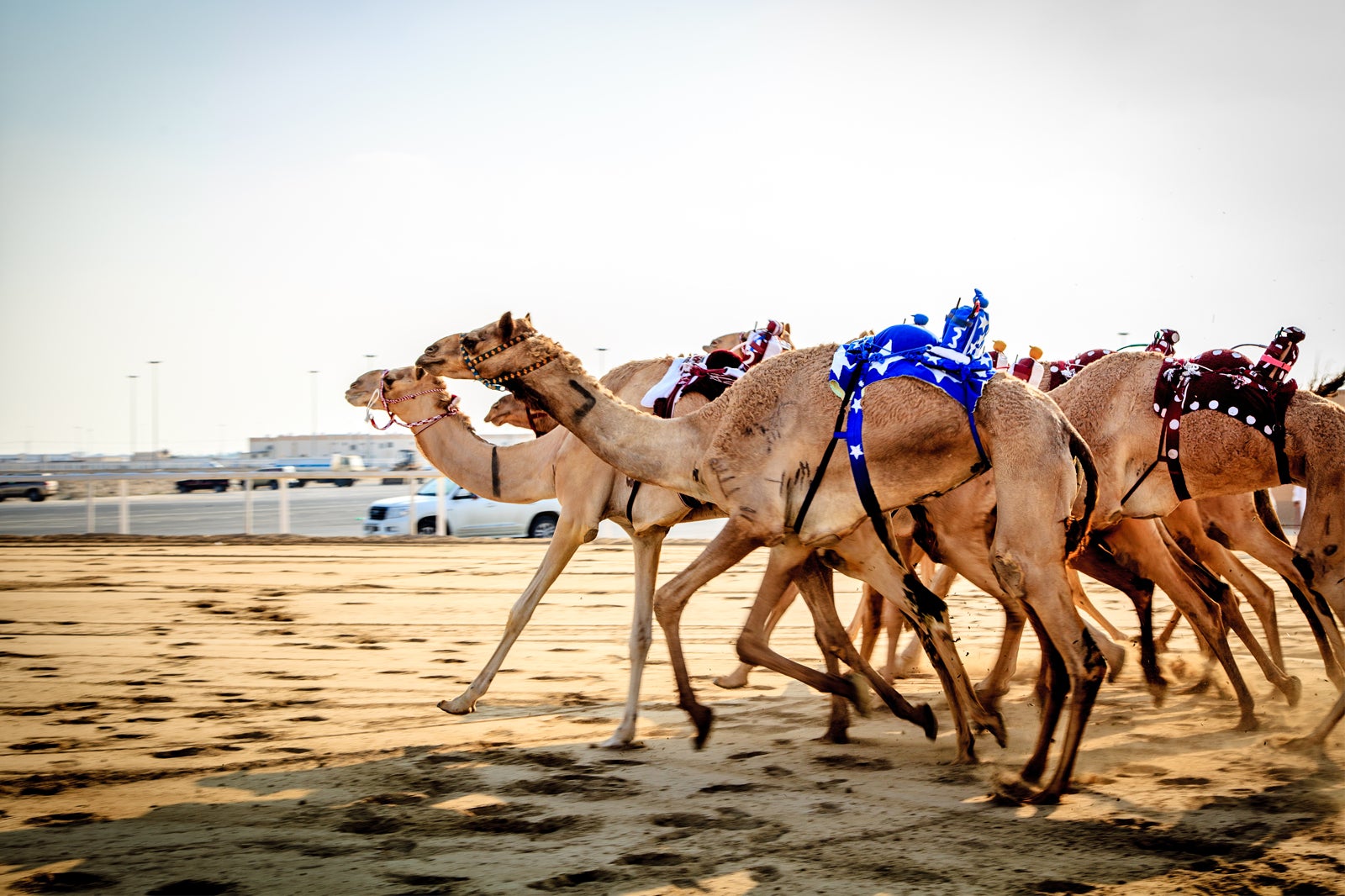 Camel racing in Qatar has developed through the centuries into a fiercely competitive sport with millions of dollars on the line. Remote-controlled 'jockeys' riding the camels show the sport's unique blend of tradition and modern technology.
Weekly races take place every Friday from October through February, with the main competitions in March and April. The winner of HH the Emir's Main Race in April earns national prestige along with the Golden Sword prize. Races are held at Al Shahaniya Camel Racetrack on the Doha-Dukhan highway, about an hour's drive from downtown Doha.
3
Qatar International Art Festival
Eye-catching works of art and chats with the artists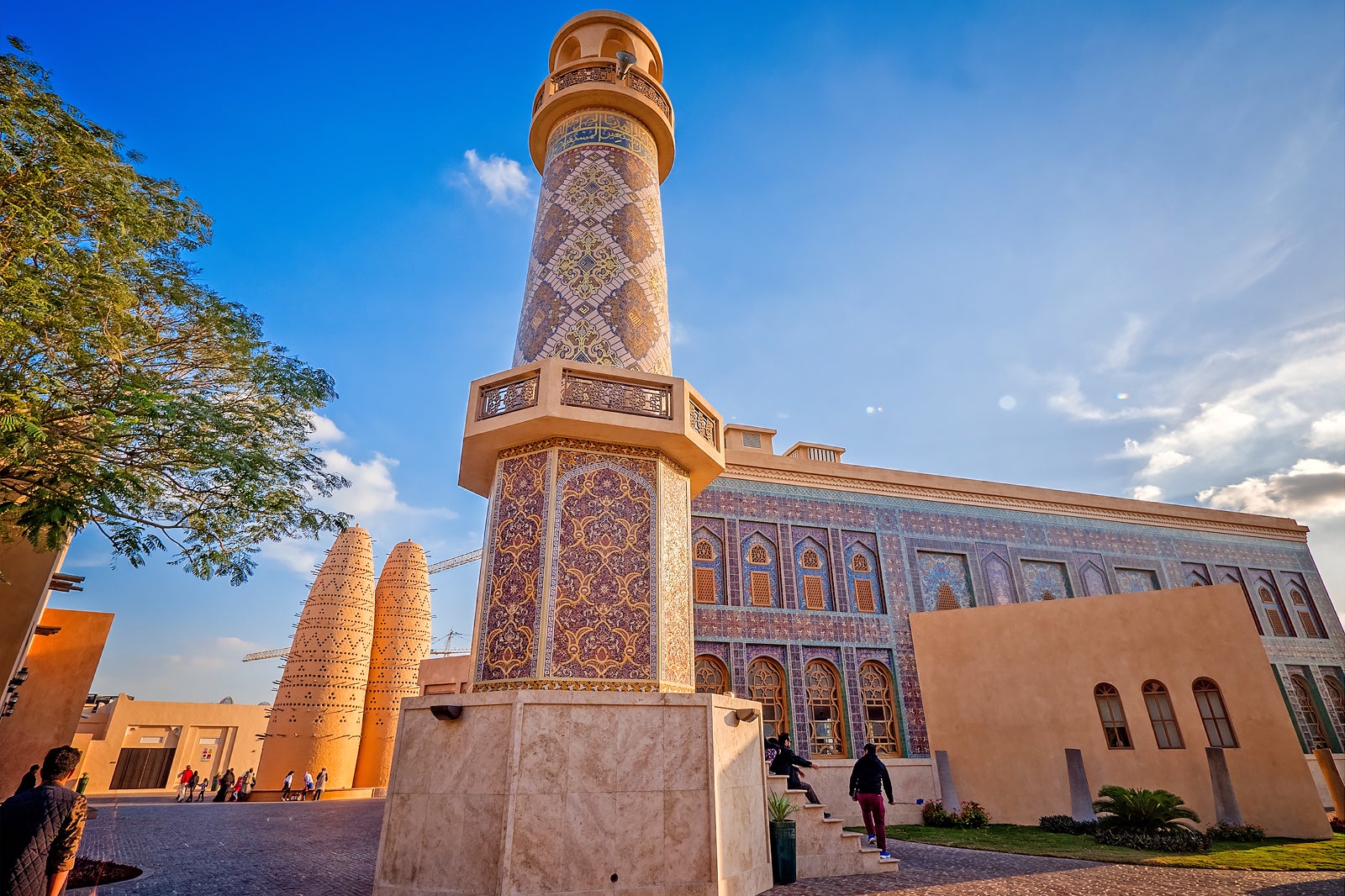 Held over 6 days in late October or early November, the Qatar International Art Festival in Doha offers a showcase and creative exchange for artists from around the world. More than 200 artists take part in the festival, which has live painting displays, workshops, panel discussions and a fashion show as well as an exhibition.
The festival takes place at Katara Cultural Village. Artists who wish to join the event can apply in advance, while the exhibition and live paintings are free for the public.
4
Ajyal Film Festival
Fun for the kids too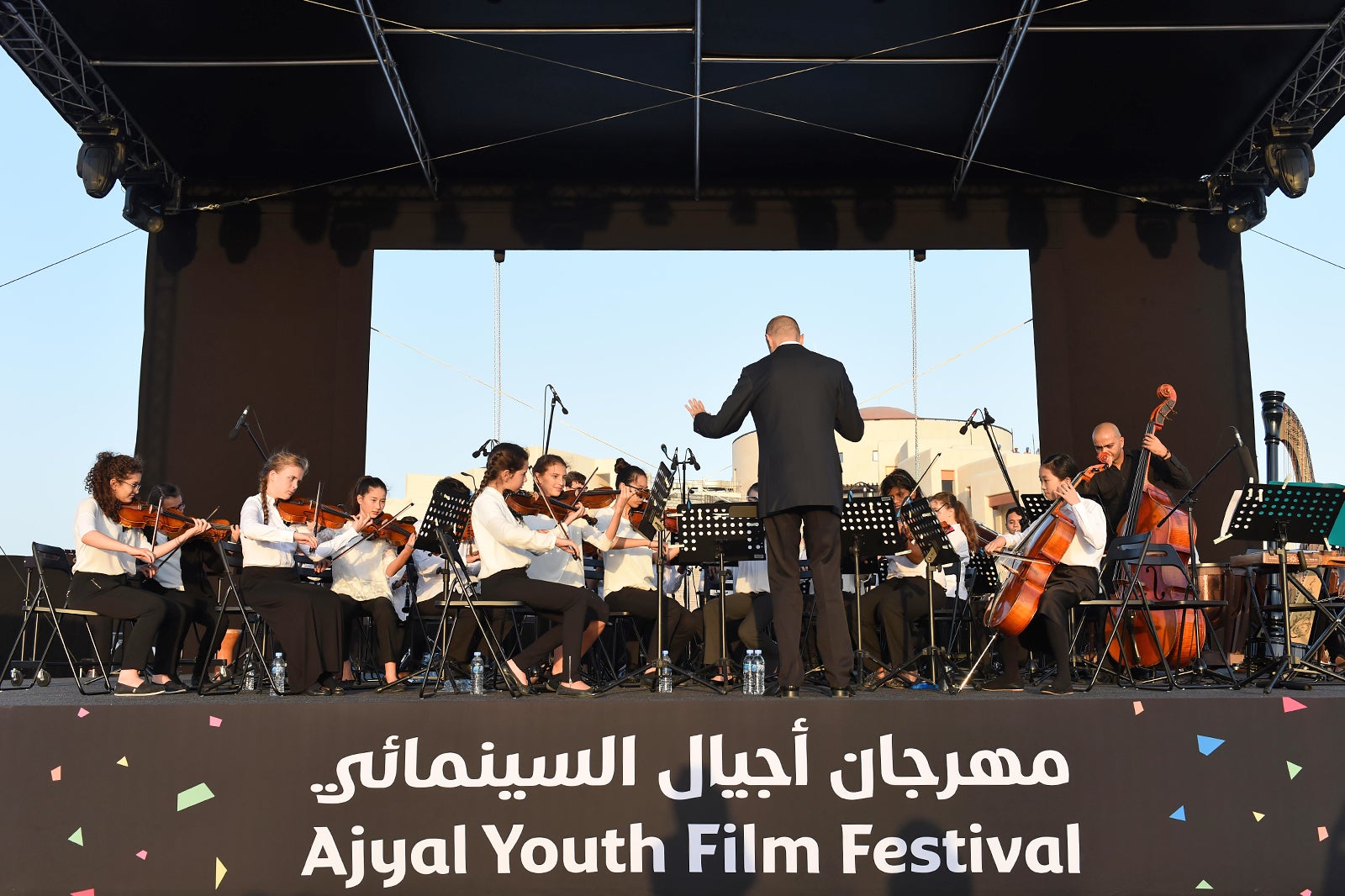 The annual Ajyal Film Festival at the Katara Cultural Village in Doha is a week-long event in late November celebrating the motion arts. Ajyal means 'generations' in Arabic and the festival is designed to appeal to all ages, with not only movie screenings and discussions but also cosplay activities, video game tournaments and modern music performances.
Filmmakers, musicians and artists from around the world join the festival, which is held at Katara Cultural Village in Doha. Entry is free for all activities.
5
Katara Traditional Dhow Festival
Iconic Arabian sailing boats on display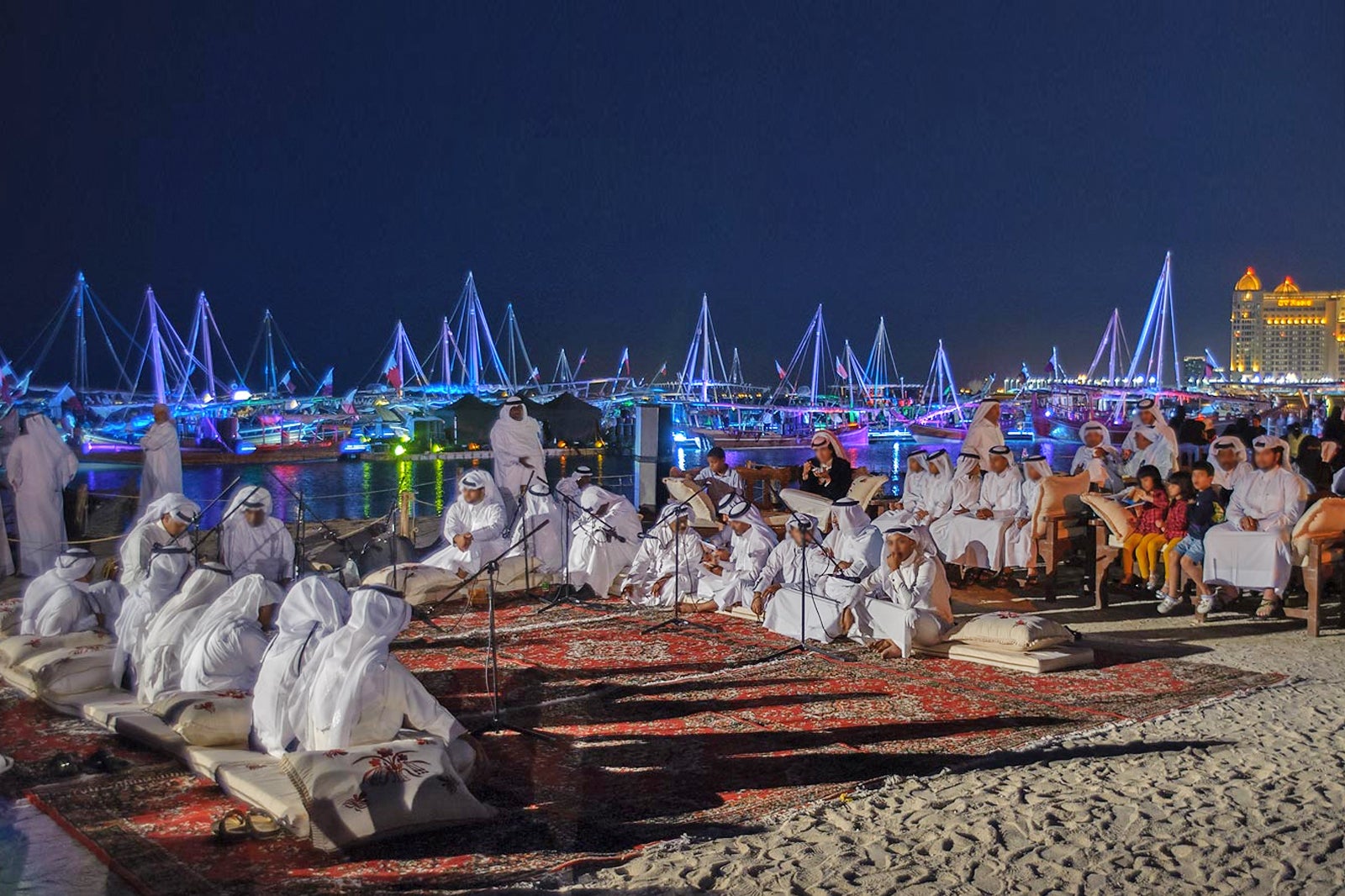 Dhow boats have taken sailors around the Arabian seas and beyond for centuries, and each year Qatar celebrates this magnificent sailing vessel in its Traditional Dhow Festival at Katara Cultural Village in Doha. The festival usually takes place in December.
Some 70 boats of varying sizes and traditional designs are on display, and festival-goers can also enjoy the art exhibitions and a marine-themed firework show. A traditional market on-site has marine products, handicrafts and food for sale. There's also the chance to set sail on a dhow cruise for a small fee, for a scenic 30-minute trip to The Pearl.
photo by Alex Sergeev (CC BY-SA 3.0) modified
6
Doha Cultural Festival
Delve into Qatari customs and history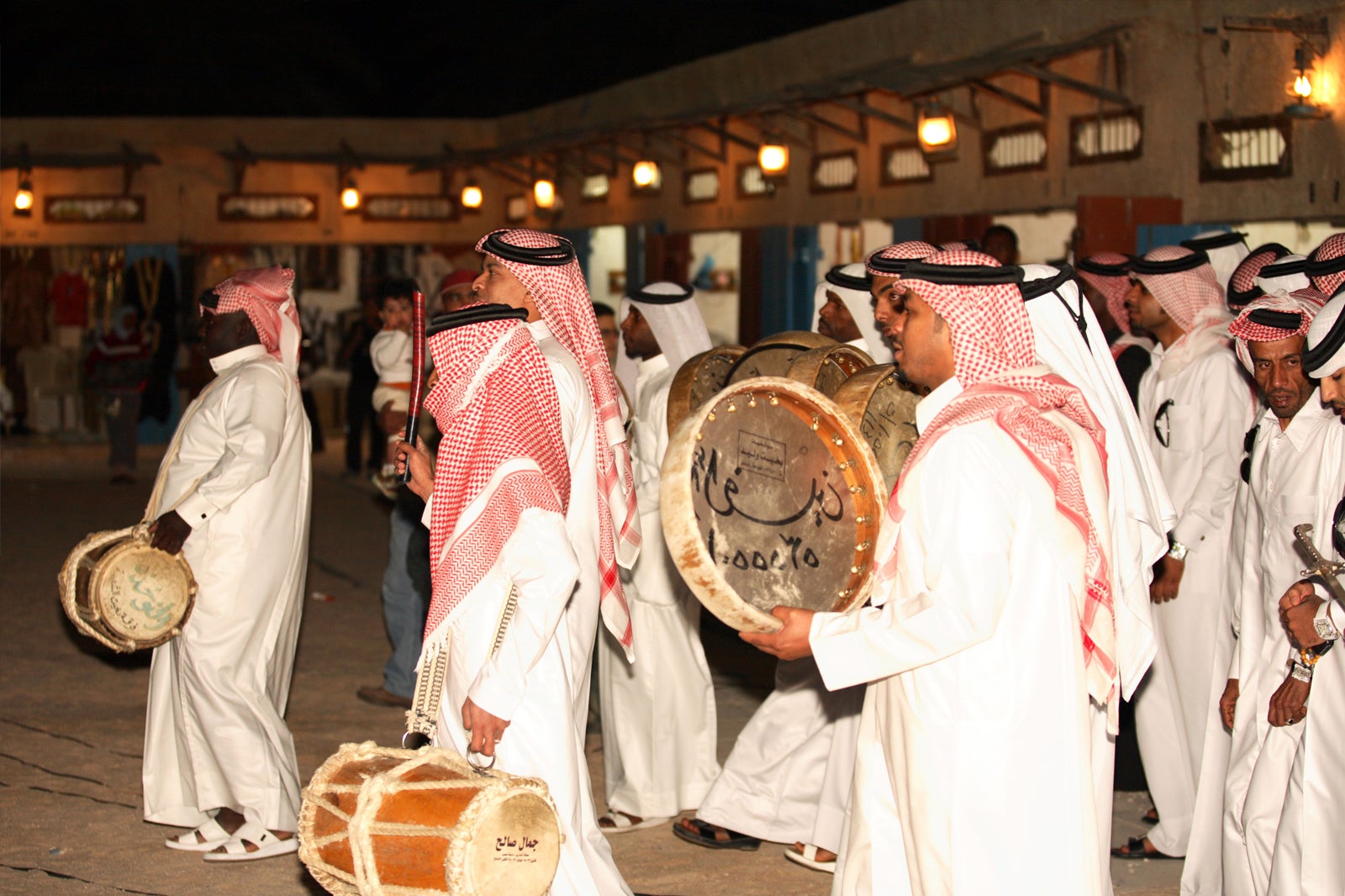 The Doha Cultural Festival is an important event in Qatar which highlights a variety of local traditions and arts. The culture and creativity of the region are expressed through musical performances, dance, photography, art exhibitions and more. Singing and poetry readings are the most popular performances, reflecting the country's rich oral storytelling traditions. Events take place at several venues throughout Doha, with performances planned to appeal to the whole family.
HH Sheikh Hamad bin Khalifa Al Thani, the Prince of Qatar, presides over the event that takes place in February or March each year.
7
Eid al-Fitr
Festive celebrations at the end of Ramadan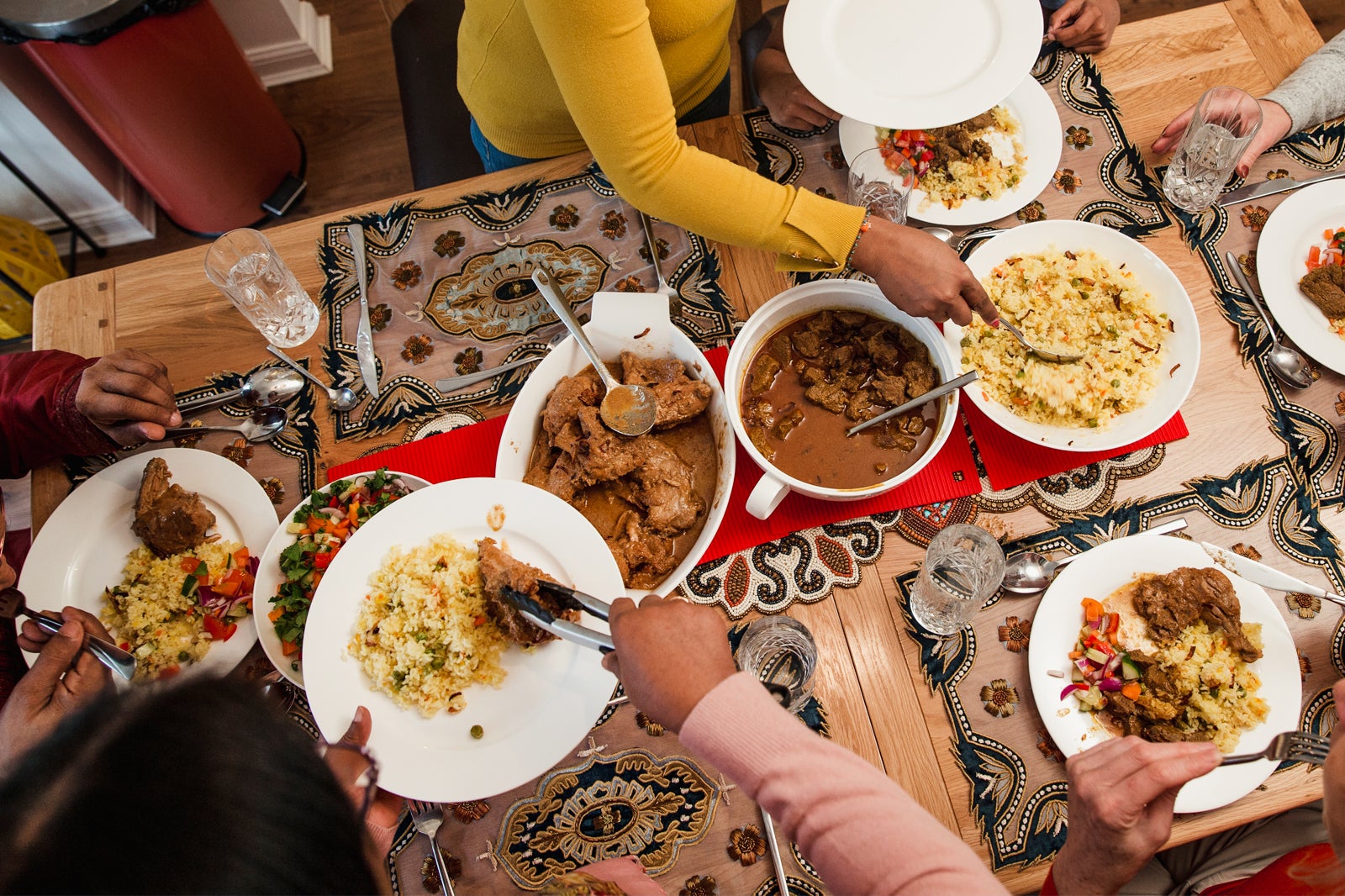 Ramadan is a sacred celebration across Qatar, with 3 days of Eid al-Fitr festivities closing out a month of fasting, prayer and reflection. It's a public holiday in Qatar, giving people the chance to gather and enjoy fast-breaking meals together. Some businesses are closed, but there's a festive atmosphere throughout the country with lights, colourful banners and nightly fireworks shows.
While it's common for families to celebrate in their homes, many local restaurants and hotels celebrate the festival's spirit of generosity by offering discounts and special meals and activities. Falling on the first day of the month of Shawwal in the Islamic calendar, dates of the festival vary.
8
Qatar International Food Festival
Creative cuisines and celebrity chefs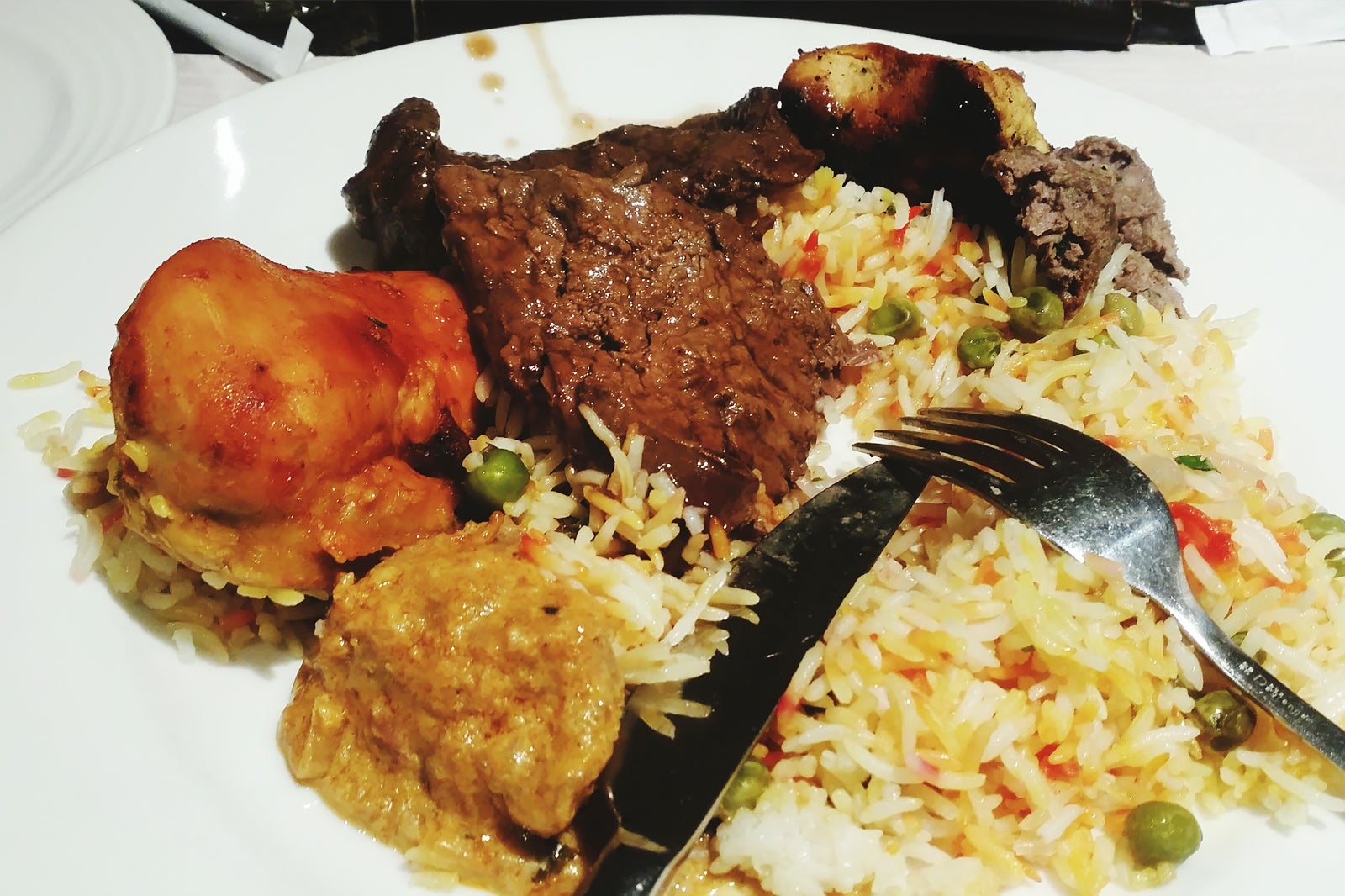 Foodies and hungry visitors will want to visit Qatar in March or April to see and sample some fabulous cuisine by chefs from around the globe at the annual Qatar International Food Festival. Among the events are live cooking shows by acclaimed chefs, healthy food workshops, farmer's markets and farm-to-table experiences. The festival also offers the chance for local chefs and entrepreneurs to showcase their talents.
Each year has a different theme with live performances and entertainment reflecting the theme. The festival has been held at various locations around Qatar including The Pearl and Oxygen Park in Doha.
9
Qatar Marine Festival
From pearl diving to marine-themed plays
Qatar has a strong seafaring heritage, celebrated annually in the Qatar Marine Festival. Events are held at Katara Cultural Village in Doha, with programs that revolve around marine education, culture, environment, entertainment and sport. A highlight at one of its festivals was an elaborate play with more than 300 performers and high-tech staging.
Festival-goers have the chance to learn more about pearl fishing methods, fishing net weaving and dhow-building methods, as well as enjoy food and family-friendly activities like mini-golf and sand art displays. Kids can join workshops in papermaking, painting, ceramics and other arts and crafts.
10
Souq Waqif Spring Festival
Some added magic to the market
Families
History
Photo
Budget
Qatar's famous market – Souq Waqif – gets even more lively during its annual spring festival, which runs for 15 days from late December to early January. Even more food carts and vendor stalls are packed into the market, while the kids are kept entertained with pony rides and carnival rides in Al Ahmed Square.
It's not just about shopping here, since there are plenty of sports activities to enjoy including volleyball games and kayaking. Visitors also have the chance to catch circus shows, acrobatic performances, magic shows and art exhibitions.