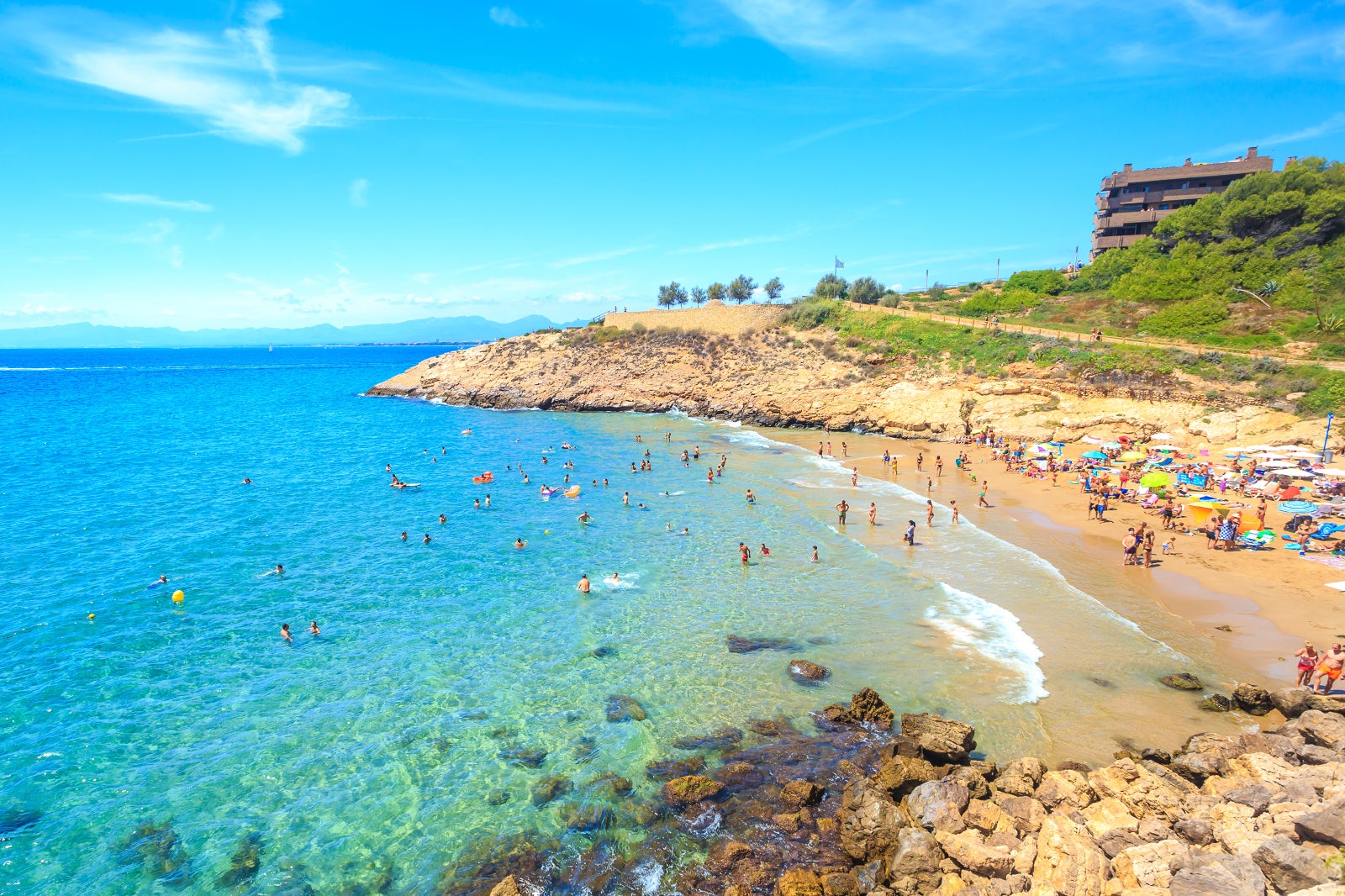 10 Best Things to Do in Salou
What is Salou Most Famous For?
Salou is set on the beautiful Costa Daurada, known for its calm turquoise waters and long golden beaches. A lively town that's all about relaxation and fun, families often come here for its wealth of kid-friendly attractions, while the young and cosmopolitan crowds gravitate towards its energetic nightlife. There's also no shortage of entertainment, thanks to the town's many water sports, art galleries and historic monuments.
Facing out across the Mediterranean, Salou is known for its beautiful sunset views. Beachgoers will be delighted at the range of options, from bustling seaside strips to hidden coves, while amusement park enthusiasts are spoilt for choice. And no matter what kind of holiday you're planning, you'll appreciate Salou's sunny Mediterranean climate.
What are the best things to do in Salou?
1
Font Lluminosa
A striking display in the centre of Salou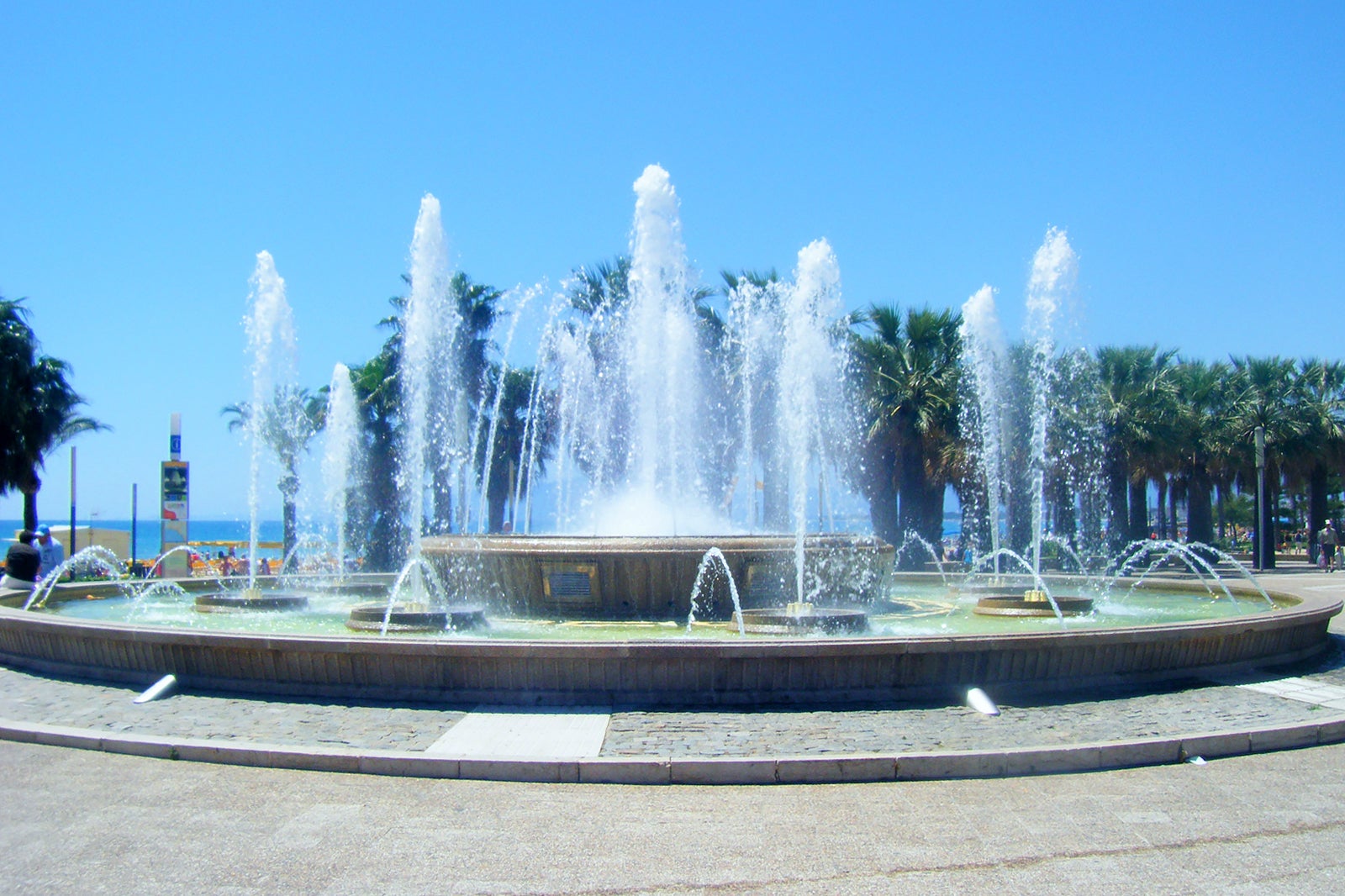 This magnificent fountain lies at one end of the palm-tree-lined promenade of Paseo Jaume I. The water jets shift around to make dozens of different patterns. It looks especially impressive at night when it's lit by dozens of multicoloured lights and accompanied by choreographed music.
The fountain makes for a great photo opportunity to kick off your holiday. There are plenty of cafes and restaurants here where you can grab a drink and sit in the shade of a palm tree while you watch the water change shape. And if your priority is the beach, you are just a few steps away from Llevant Beach, Salou's longest stretch of sand.
Location: Carrer de Carles Buïgas, 1, 43840 Salou, Spain
2
PortAventura Theme Park
Get your adrenaline high at this high-octane theme park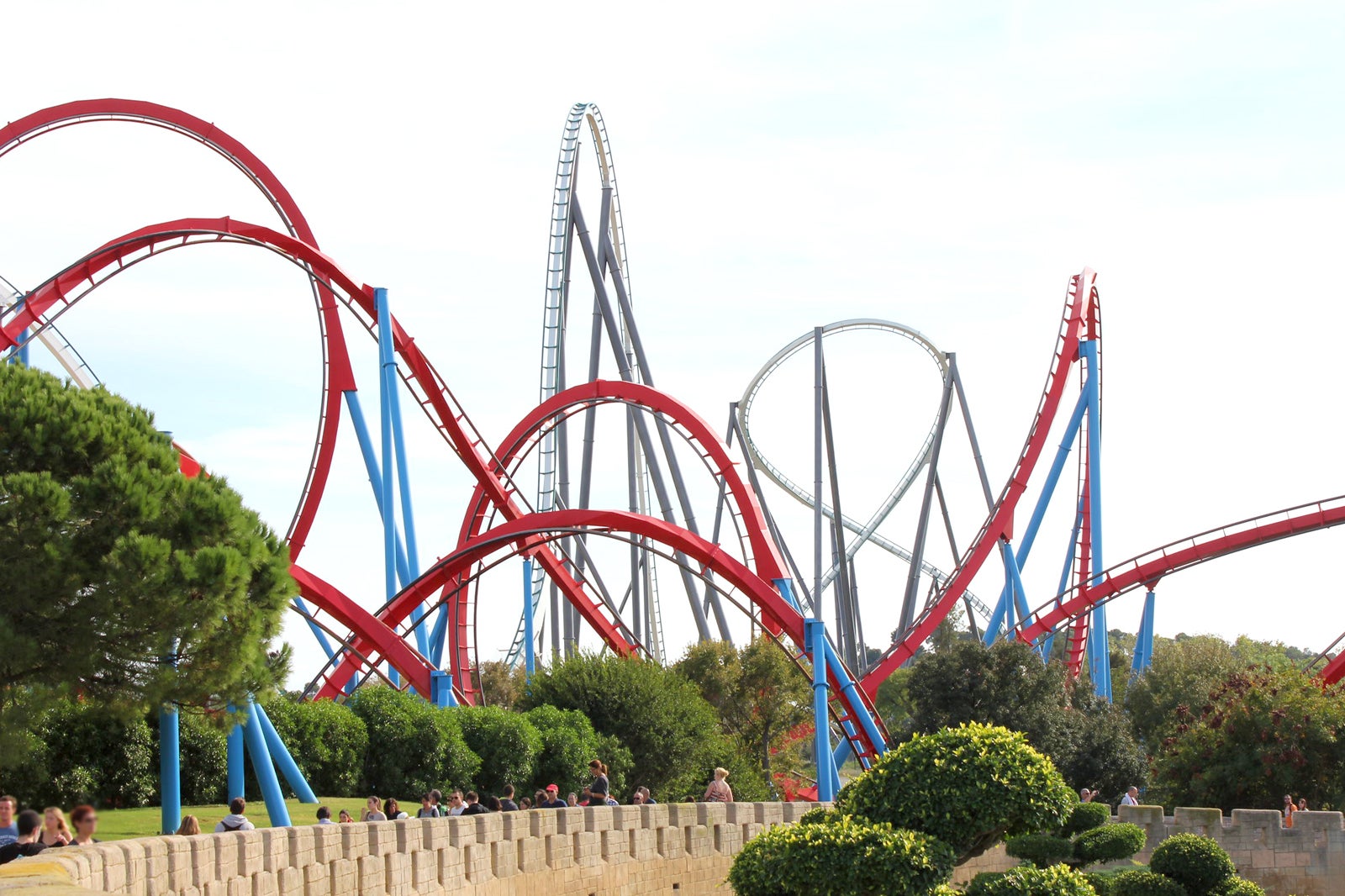 The fun never stops at PortAventura Theme Park, a thrilling amusement park with 6 distinctive areas. The exhilarating Furius Baco is a horizontal catapult that flings you into the air at more than 128 km/h. You can also take a ride through a tropical storm on the Kontiki catamaran or travel up to 110 km/h through 8 enormous loops on the Dragon Khan rollercoaster. For the less adventurous, the park has canoe rides, spinning teacups, and an elaborate maze.
PortAventura Theme Park also has 20 restaurants covering just about every cuisine, from Mexican to Chinese. There are different events every day, such as magic tricks, exotic bird shows, breathtaking acrobatics, and a colourful parade.
Location: Avinguda del Batlle Pere Molas, km 2, 43840 Vila-Seca, Spain
Open: Sunday–Friday from 10 am to 7 pm, Saturday from 10 am to 11 pm
Phone: +34 902 20 22 20
photo by Craig Murphy (CC BY 2.0) modified
3
Torre Vella
An art gallery housed in a 16th-century stone tower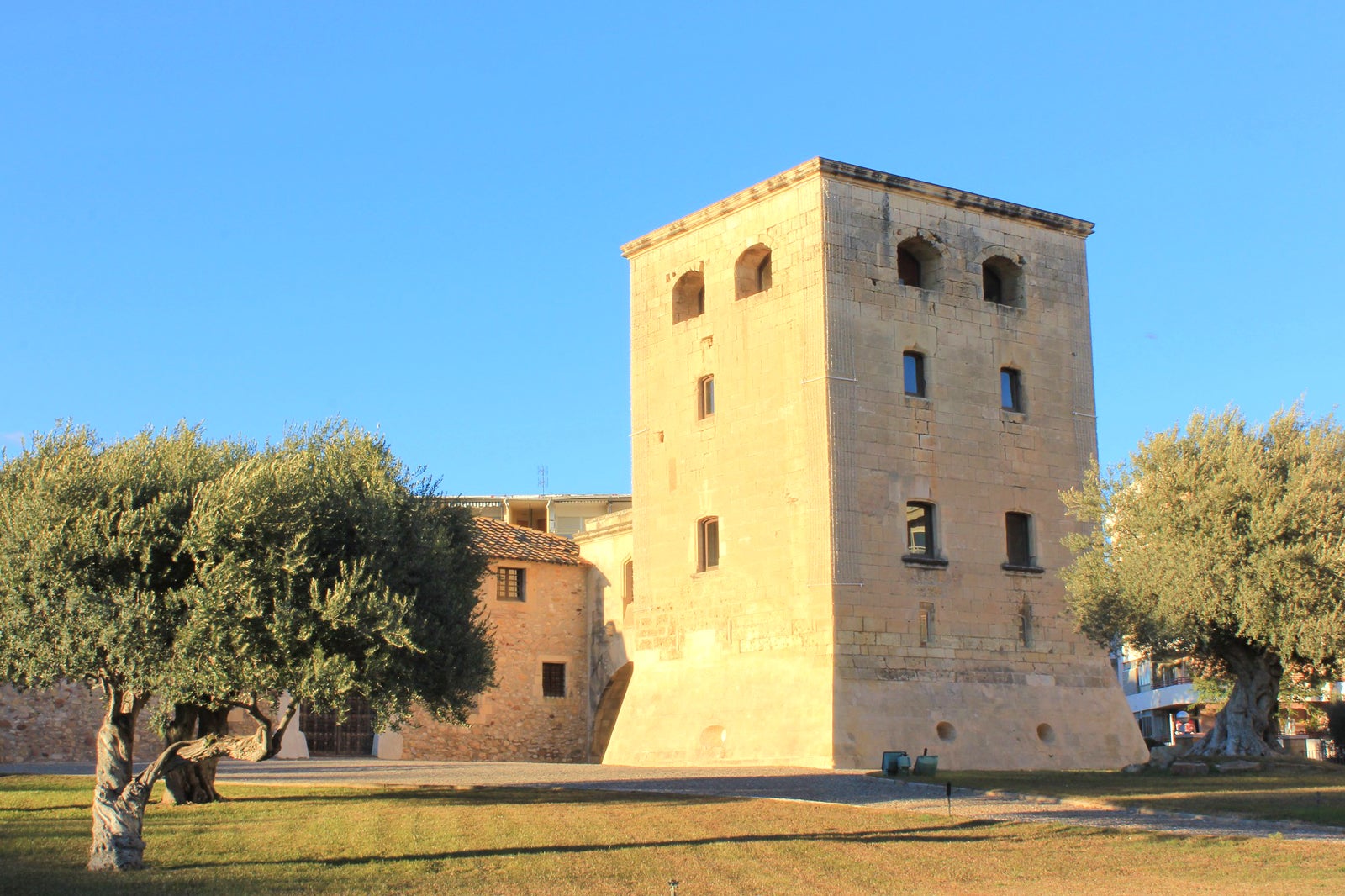 The stone tower of Torre Vella has been protecting Salou from pirates since it was built by Archbishop Pere Cardona in 1530. A Catalan country house was added to the structure during the 18th century, and the heraldic shield of the Archbishop can be seen on the tower's front facade.
These days, Torre Vella houses a cultural centre displaying paintings and artwork by local artists. You can also visit the Contemporary Enamel Museum, which has a collection of enamels from all over the world. There's also a small but lovely garden filled with trees and statues in the compound.
Location: Via Aurèlia, 0, 43840 Salou, Spain
Open: Daily from 6 pm to 8 pm in winter (open until 9 pm in summer)
Phone: +34 977 38 33 23
photo by Ferran Llorens (CC BY-SA 2.0) modified
4
Salou tourist train
See the whole town without tiring out your legs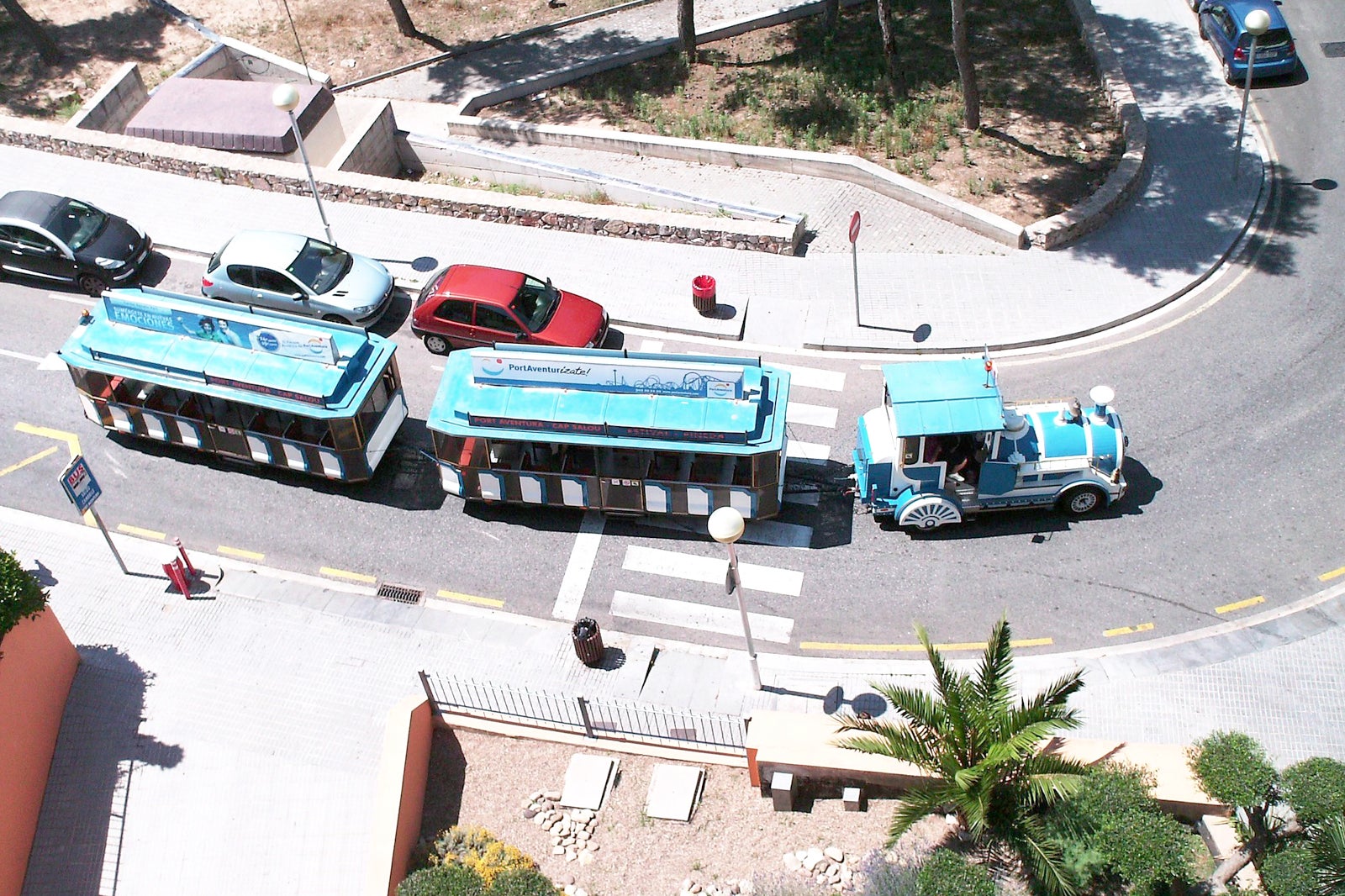 The tourist train of Salou offers 2 different circular journeys around the town. The first route takes you past Salou's major monuments like Santa Maria del Mar Church and the elegant Harbour Master building. Route 2 travels along the coast to Cap Salou, passing numerous coves before ending at Salou lighthouse.
Audio guides are available in English, but you will need to bring your own headphones. The guides explain the history of the area, pointing out interesting architectural details and talking about the local wildlife. Trains start at Masia Catalana, but you can join at any of the designated stops, though note that this isn't a hop-on-hop-off train service.
Location: Carrer de Ramon Llull, 18, 43840 Salou, Spain
Open: Daily from 10 am to 8 pm (trains leave every 40 minutes)
photo by steve p2008 (CC BY 2.0) modified
5
Salou Weekly Market
An eclectic mix of food, clothing and traditional crafts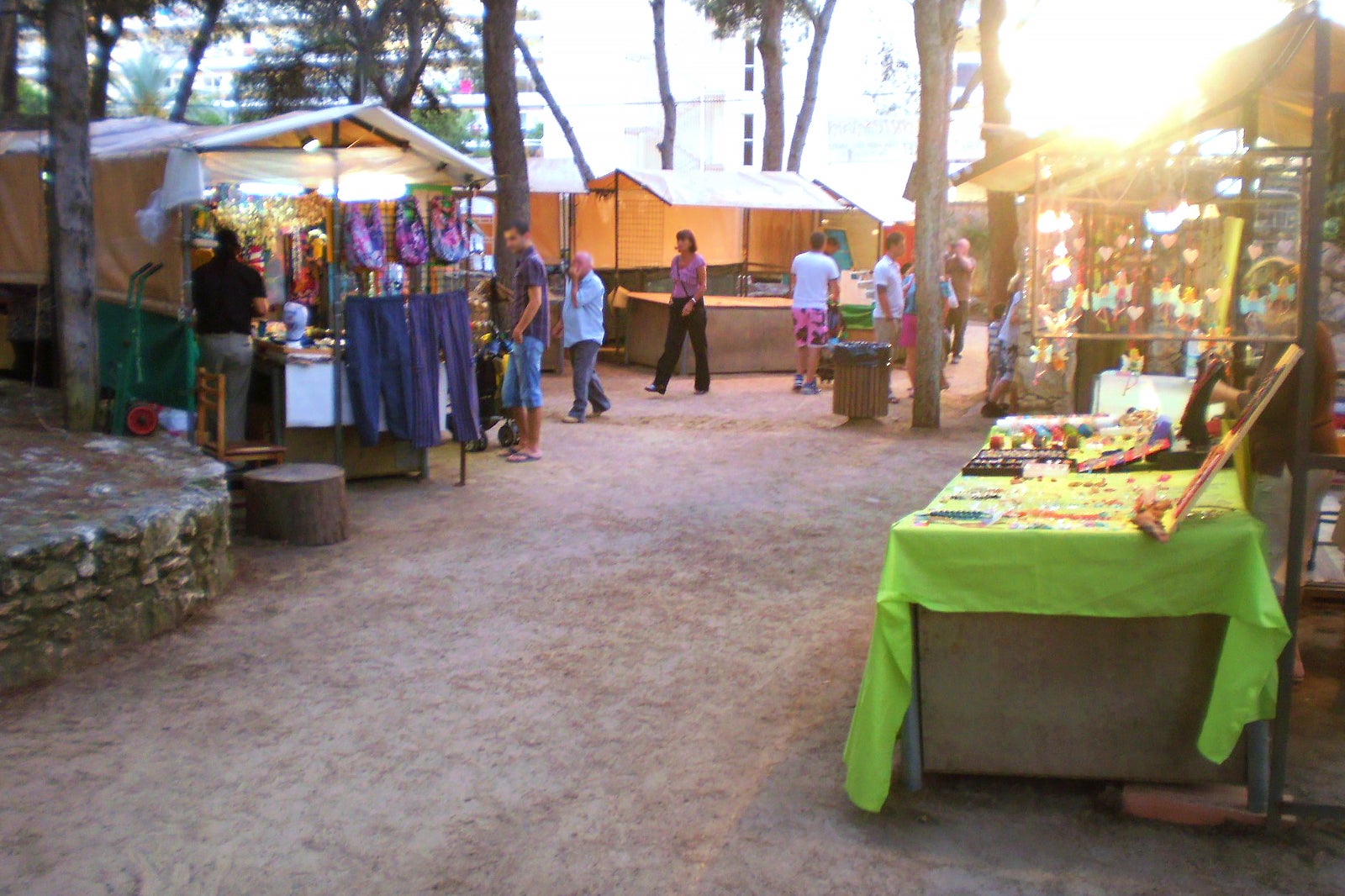 The traditional Salou Market is where local farmers and artisans came every week to sell their produce and crafts. Today, the lively and colourful market has around 100 stalls and sells a wide range of products. A large section is dedicated to fresh fruit and vegetables, handy if you want to try your hand at Spanish cooking.
You can find many stalls selling clothing, leather goods, handicrafts and local products like honey and olive oil, as well as places where you can stop for coffee and snacks. The market is completely outdoors, so don't forget your sunscreen or umbrella.
Location: Passeig del 30 d'Octubre, 7, 43840 Salou, Spain
Open: Monday from 8 am to 2 pm (closed Tuesday–Sunday)
photo by steve p2008 (CC BY 2.0) modified
6
Llevant Beach
Go swimming in the Mediterranean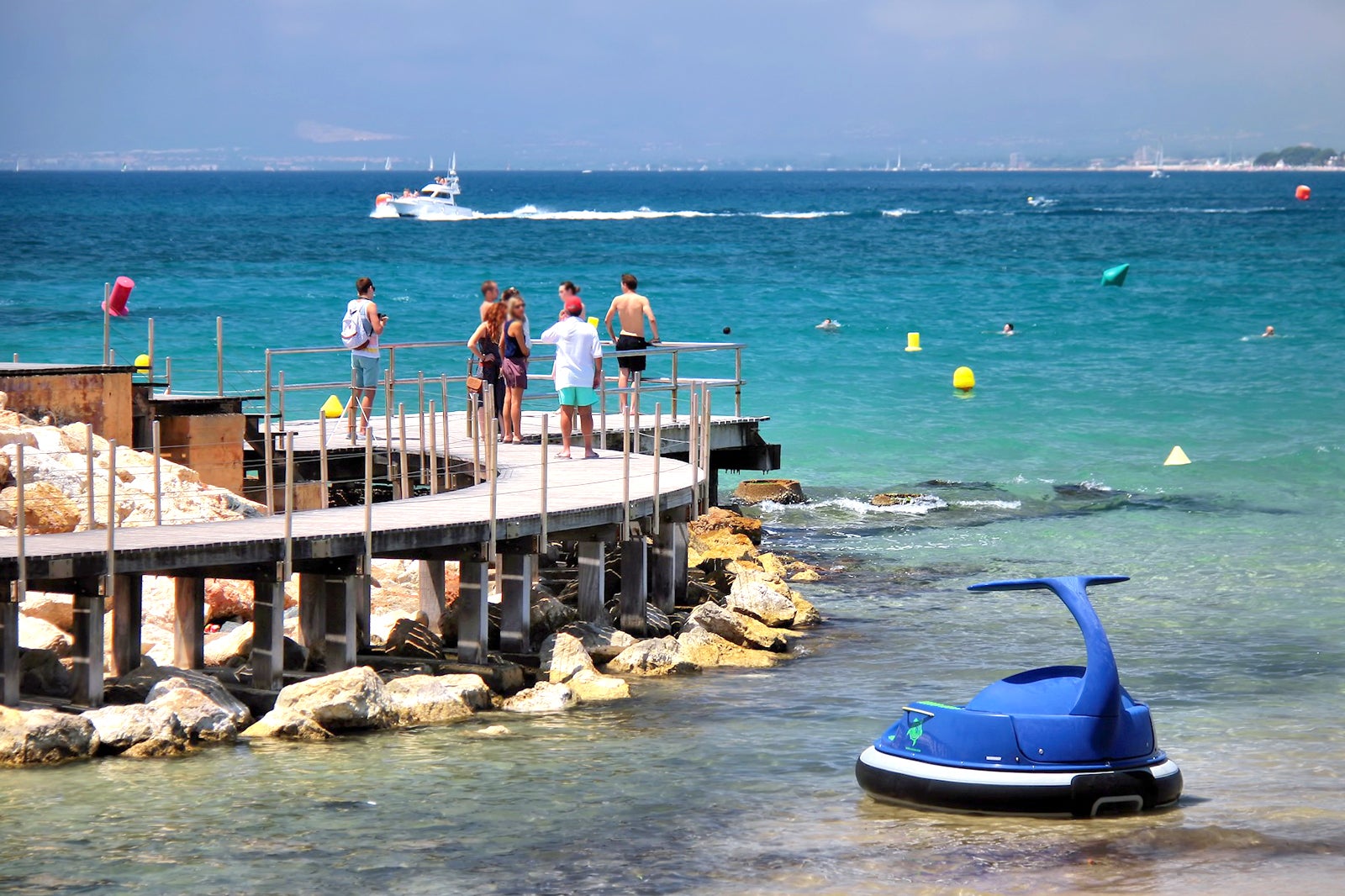 Llevant Beach spans around 1.17 km in length, making it the longest stretch of sand in Salou. Backed by the Jaume I promenade, the water is shallow with small waves, making it excellent for young children. The beach also received a Blue Flag by the EU for its cleanliness.
The beach is fully equipped with toilets and showers, while umbrellas, sun loungers and hammocks are available for rent. The promenade is lined with shops, restaurants and bars, so there's no shortage of entertainment. There's also a playground and plenty of water sports like jet skis and kayaks. Llevant Beach gets crowded during the summer, so get there early and claim your spot.
Location: Passeig de Jaume I, 43840 Salou, Spain
photo by Jorge Franganillo (CC BY 2.0) modified
7
Seafood paella
Eat one of the country's most classic dishes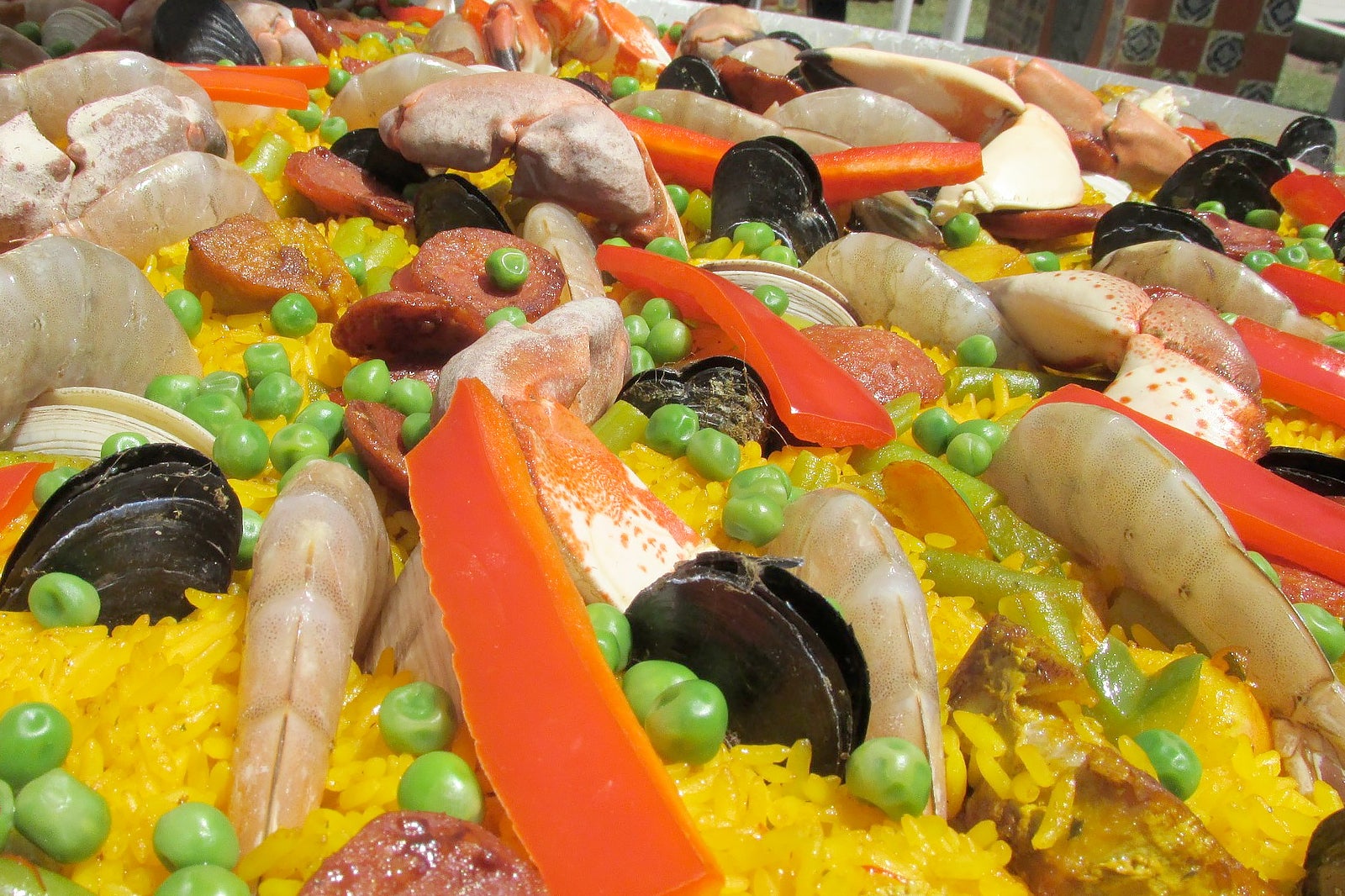 Seafood is a perennial favourite on the Spanish coast, and paella is one of Salou's most popular dishes. It's often one of the main offerings at beachside shacks, where you can dine outside to the sound of the waves. Many Salou restaurants also do an upscale variation of seafood paella.
Restaurante Terramar, located at the port, does a great traditional paella with fresh seafood and lovely sea views from its terrace. If you're looking for a more sophisticated paella, the one served at La Barca is made with black rice and king prawns. If you want to wine and dine in Salou, Los Chicos at the east end of Levant Beach has excellent sangria to complement your paella.
8
Ferrari Land
An amusement park made for petrolheads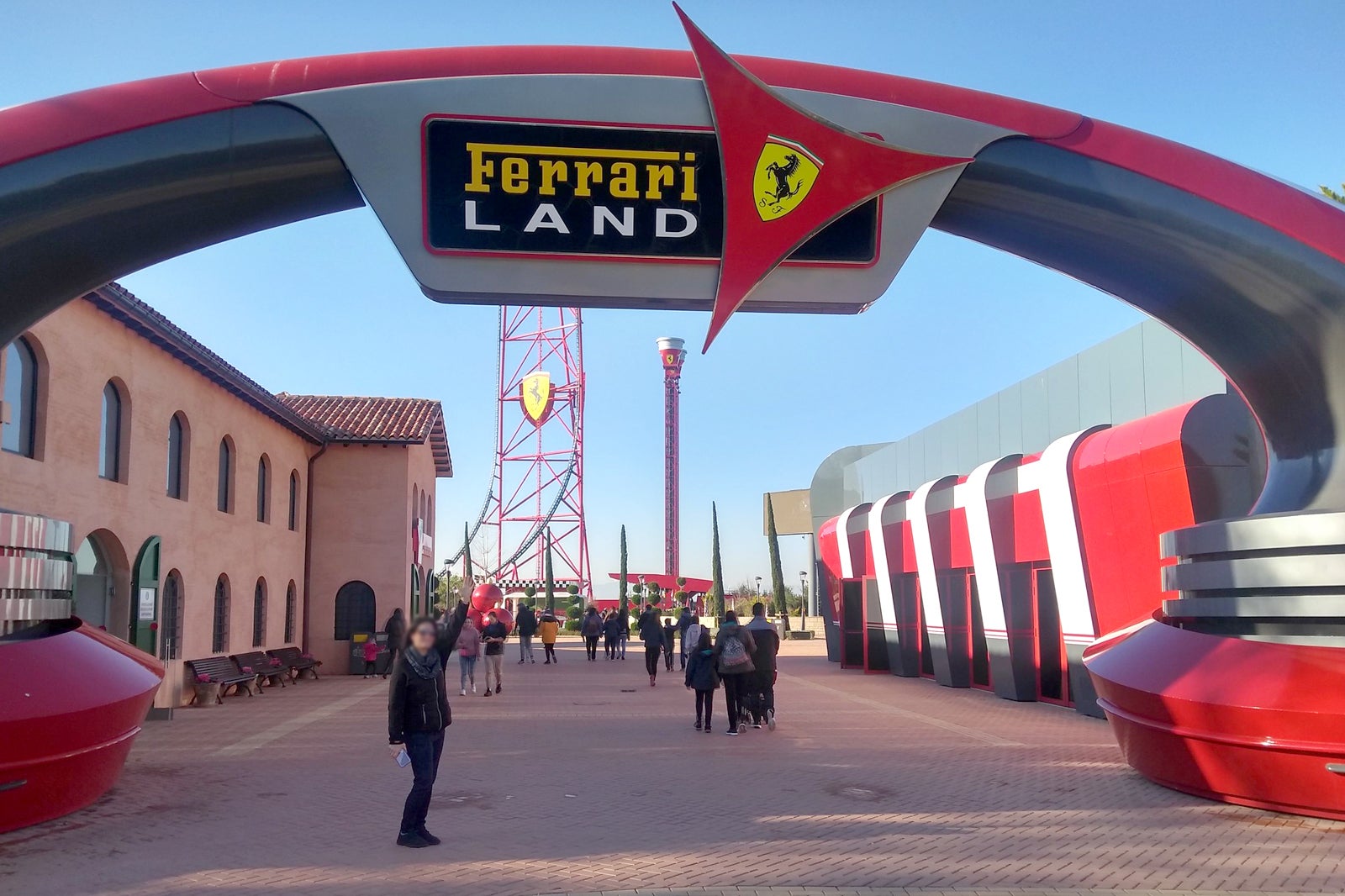 Ferrari Land is a turbo-charged theme park full of high-speed thrills. There are 16 rides within the park – you can freefall over sheer drops or shoot up into the air at 180 km/h. There are also several racetracks where you can compete against your family for the top prize and a virtual-reality replica of the F1 racing experience. The park has 6 racing-themed restaurants, as well as acrobatics shows and daily street carnivals. Take a photo of yourself inside a top-end Ferrari to take home as a souvenir.
Location: Km 2, Avinguda de l'Alcade Pere Molas, 43480 Vila-Seca, Spain
Open: Daily from 10.30 am to 5 pm
Phone: +34 902 20 22 20
photo by Martin Lewison (CC BY 2.0) modified
9
Llenguadets Beach
The best place to get away from the crowds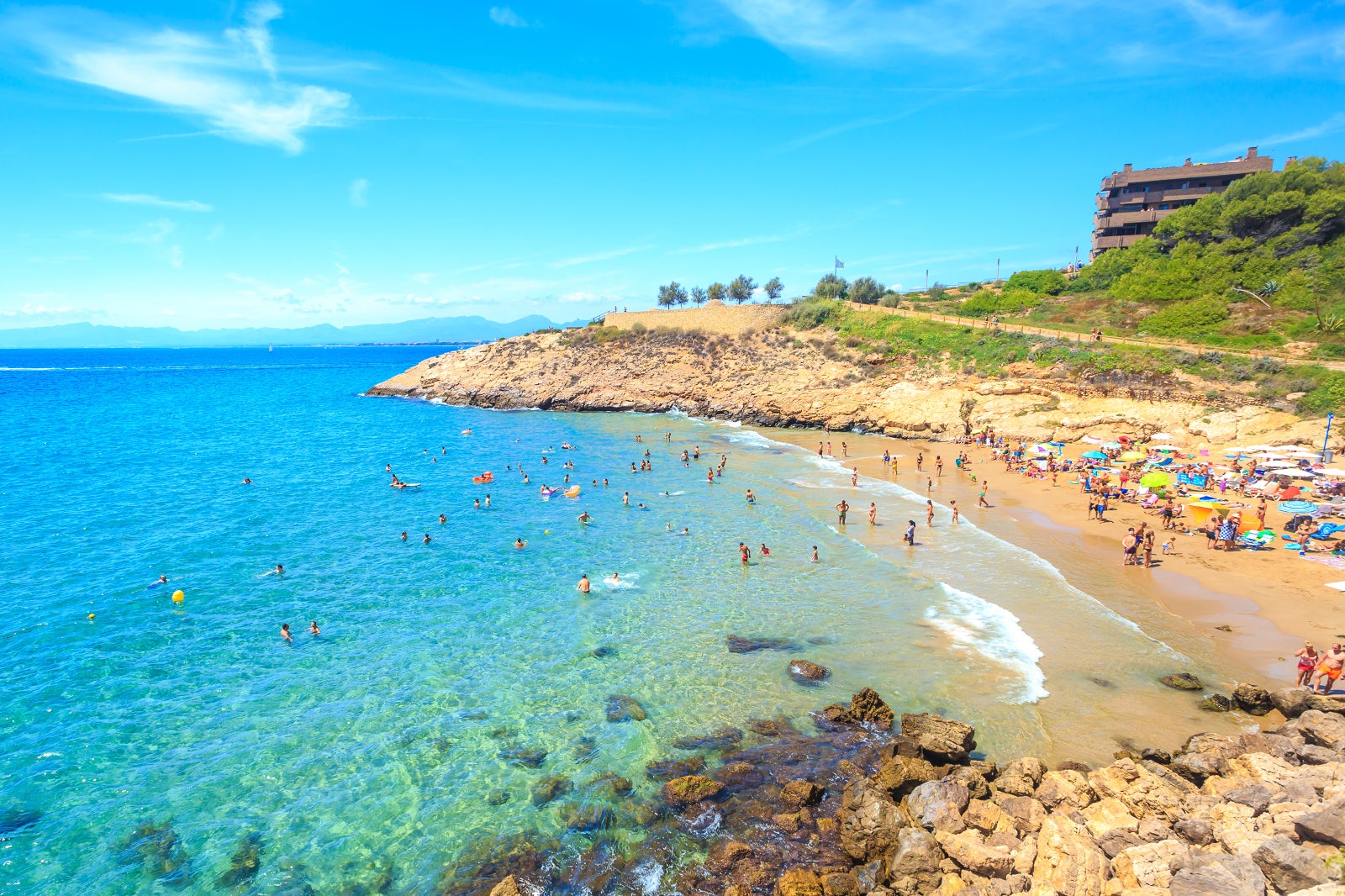 If your idea of the perfect beach has fewer bars and more peace and tranquillity, head for Llenguadets Beach. This quiet cove lies within a 20-minute walk from the central Salou. You can make your way there along a coastal path and then down a short set of steps – your reward is soft, white sand and crystal blue waters.
There are only 1 beach bar and 1 hammock rental, but otherwise, the beach is quite bare and peaceful. Like the rest of the beaches in Salou, the water is shallow and easy to swim in. Stick around until evening and you'll see why the beach is known for having the best sunset views in Salou.
Location: Carrer de Brussel·les, 64D, 43840 Salou, Spain
10
Carles Buïgas
Dance the night away on Salou's party street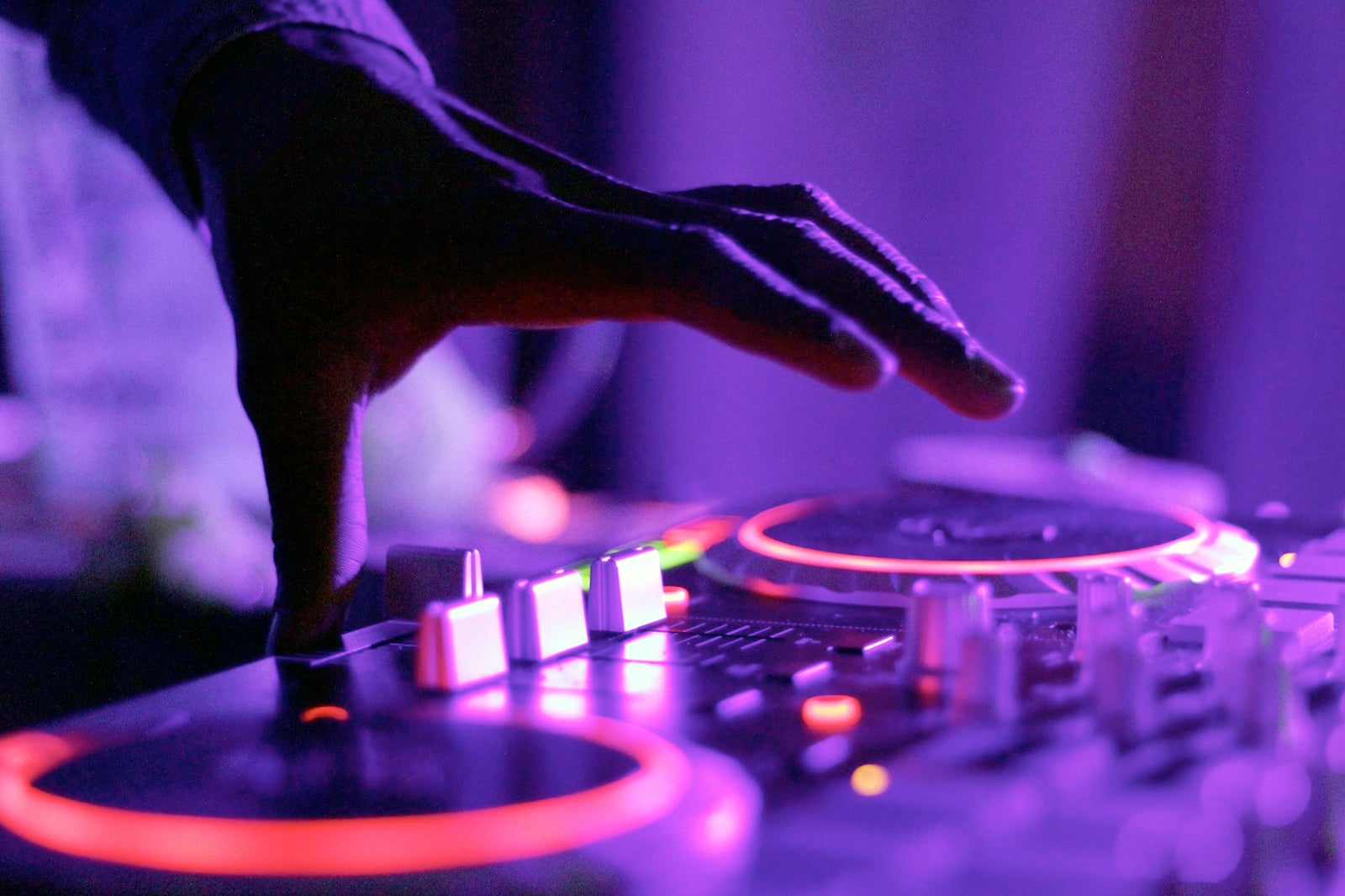 The highest concentration of bars and clubs in Salou are along Carles Buïgas, a lively street where nightlife kicks off mid-evening and goes on until dawn. The area has a fairly cosmopolitan atmosphere, with plenty of establishments aimed at international visitors.
Kiss is a prominent hip-hop club with thumping beats and tons of atmosphere. Other popular spots include Danny Boy, an Irish pub with great live music, and sports bar The Red Lion, which has tons of bar games to keep you entertained. If you want to unwind with a cocktail and stunning sunset view, head for the terrace at Koko Beach Club.
Location: Carrer de Carles Buïgas, 43840 Salou, Spain
Back to top