10 Best Things to Do in Palma de Mallorca
What is Palma de Mallorca Most Famous For?
Palma de Mallorca is a major holiday destination that has a rich cultural heritage inherited from the communities of Romans, Moors and Catholics who lived here successively since 123 BC. From its massive cathedral to its soft sand beaches to its delicious food specialities, there's no wonder why Palma is so popular today.
The capital – and only – city of the Balearic Islands, Palma is settled in a large bay on the southwest coast of Mallorca, the largest island of the group. Featuring agreeable temperatures from April to October, it offers a close hideaway from Europe.
What are the best things to do in Palma de Mallorca?
1
Start the day at Mayor Plaza
Shop and dine in the heart of Palma's Old Town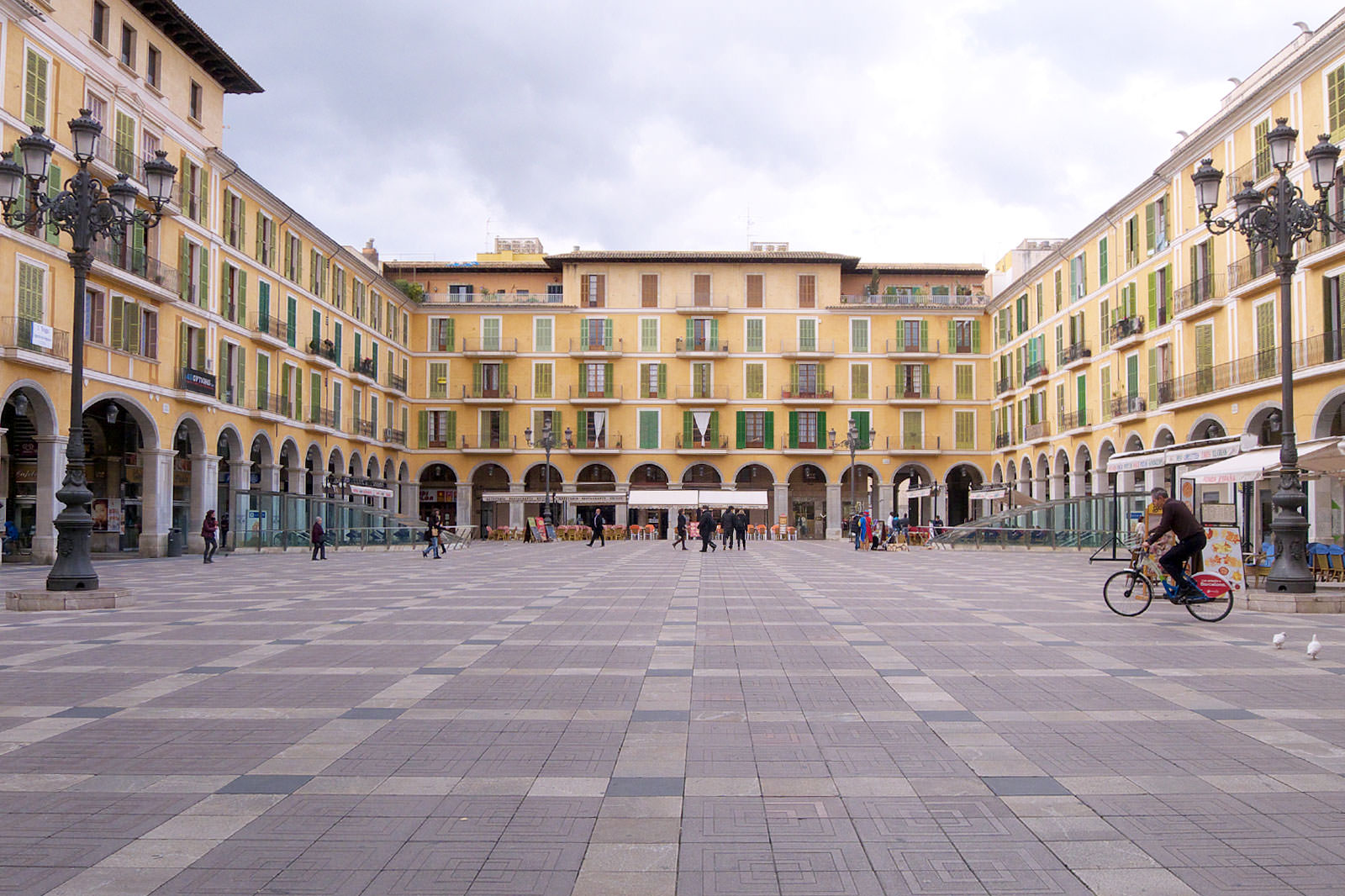 The centrally located Mayor Plaza is Palma's main social and cultural hub. Established at the end of the 19th century, this 3,000 sq m rectangular open space is surrounded by 4- and 5-storey buildings. Filled with bars, restaurants, shops and street artists, it's the perfect place to start the exploration of El Casco Antiguo, the Old Town of Palma de Mallorca. Mayor Plaza is also famous for the craft market it hosts all year round.
Location: In the centre of Palma's Old Town
photo by José Luis Filpo Cabana (CC BY 3.0) modified
2
Explore Palma's Old Town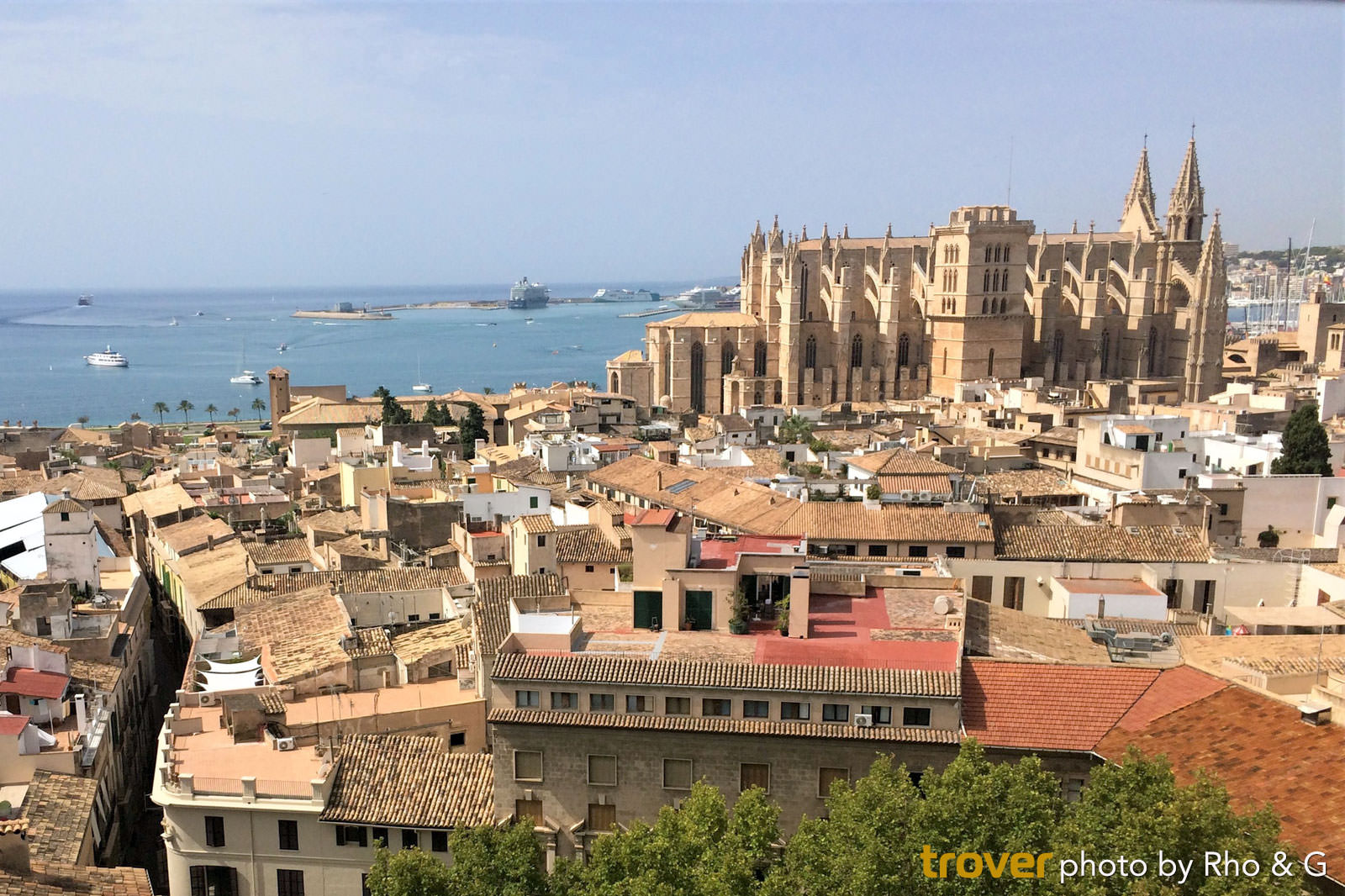 Palma's Old Town is a very pleasant and compact area to stroll around. It hosts a lively scene of quaint cafés and restaurants, as well as art galleries and boutiques. The Old Town's cobblestoned alleyways take you around the many historical landmarks left by the Romans, Moors and Christians, who successively occupied Mallorca. These include the Royal Palace of Almudaina, La Seu Cathedral, and La Lonja (the maritime trade exchange building).
Location: Northeast of the Port of Palma
3
Must-see: Bellver Castle
Visit a rare circular castle and enjoy a great view of Palma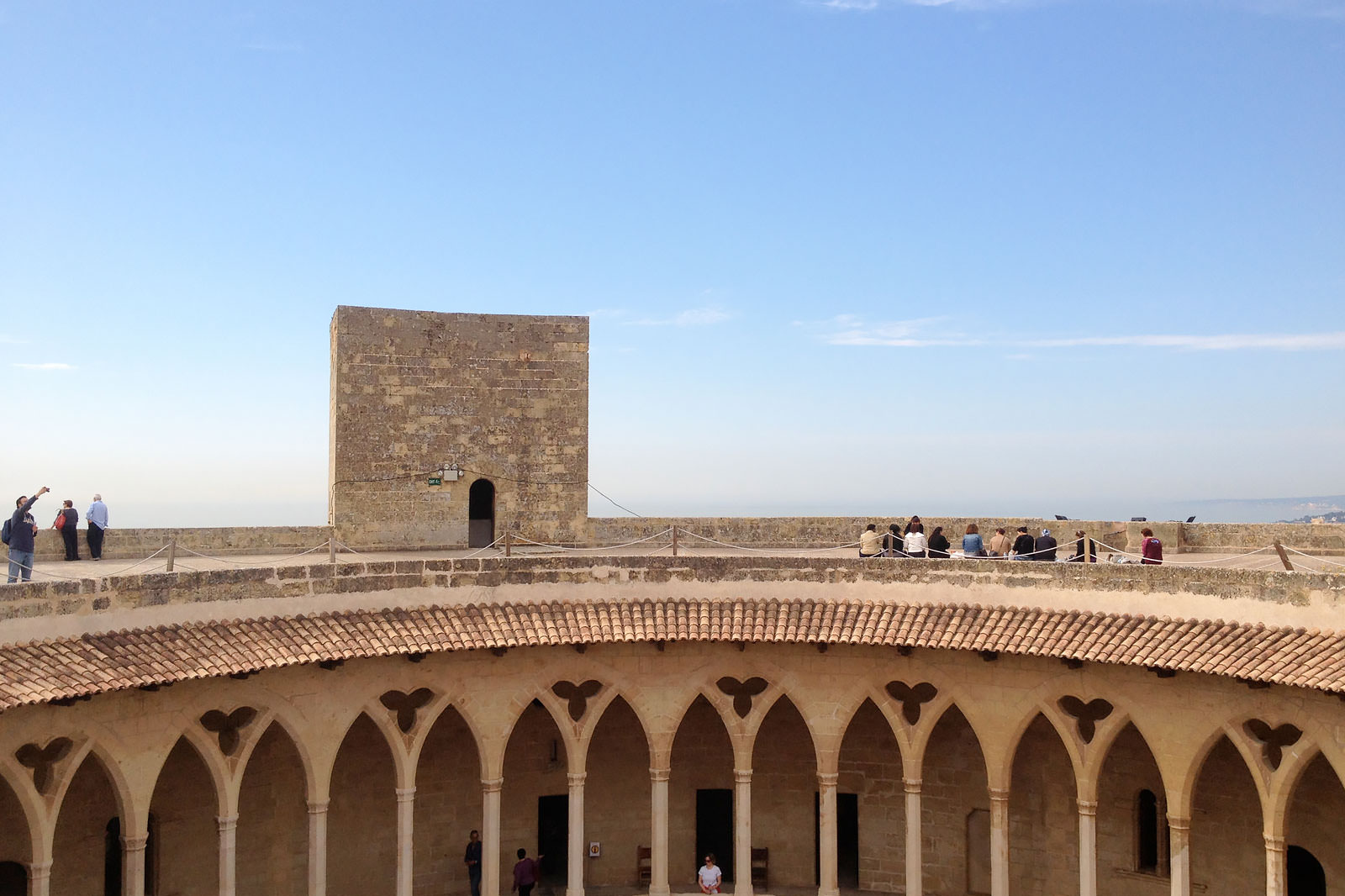 Built early 14th century at the top of a hill covered with pine trees, Bellver Castle is one of the few circular Gothic-style castles erected in Europe. Its elevated position offers splendid views of the port and the city. Bellver castle hosts the city history museum and can be visited for a modest entrance fee – take the audio guide to get detailed info during your visit. The ticket desk is in a cool café.
Location: At the top of a forested hill, 3 km west of the Old Town
Open: Tuesday – Sunday from 10 am to 6 pm, closed on Mondays
photo by Qwertz1894 (CC BY-SA 3.0) modified
4
Get a Tan at Palma City Beach
Go to the closest beach to the city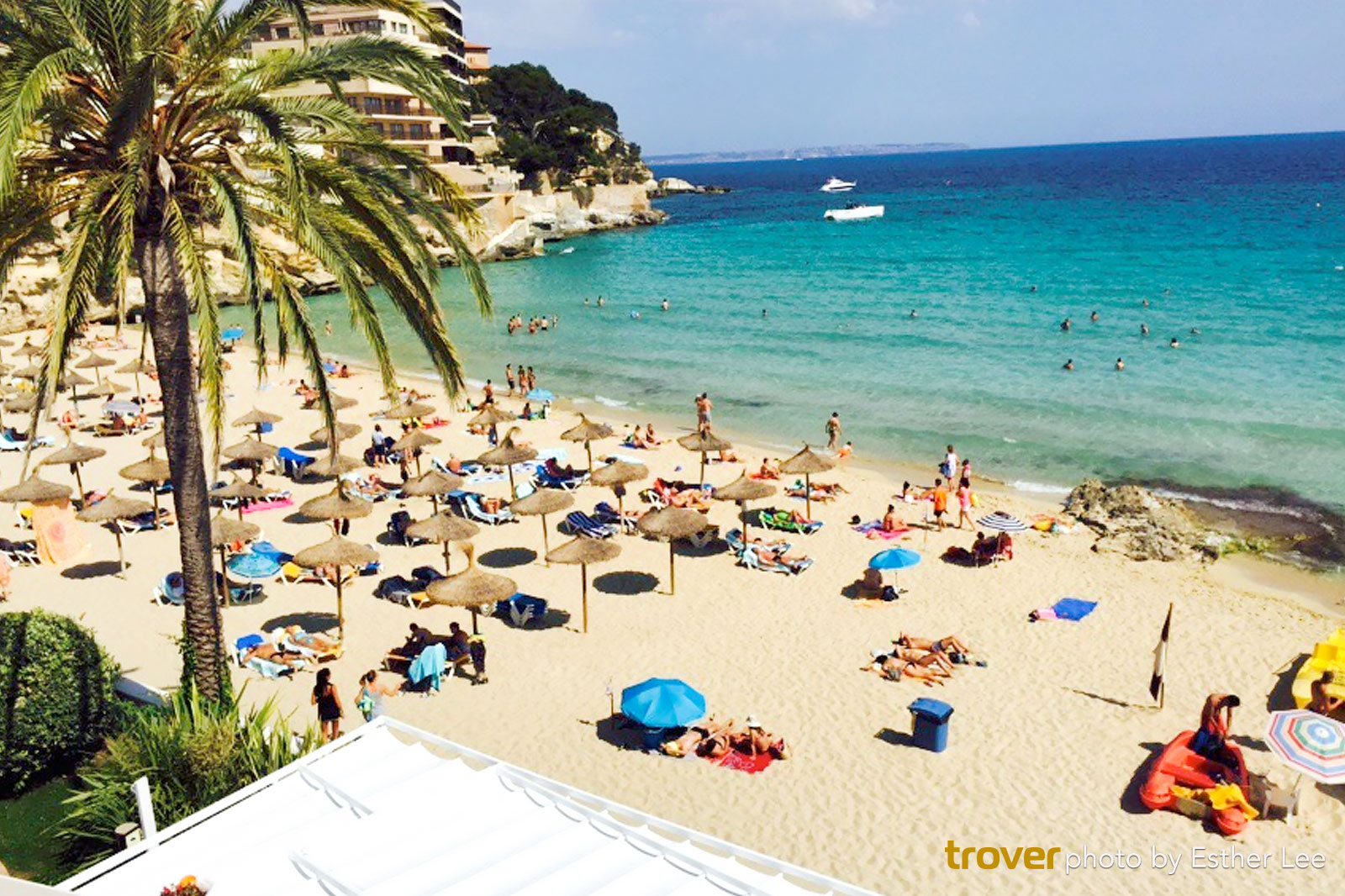 Locally known as Playa C'an Pere Antoni, Palma City Beach is the closest strip of sand to the Old Town. Stretching on almost 800 metres, it features a restaurant at each end, and it's equipped with sun loungers and straw umbrellas as well as toilets, showers and a lifeguard tower. Offering stunning views of the cathedral 900 metres away, the excellent location of Palma City Beach makes it a pretty busy spot during summer.
Location: At the southeastern corner of Palma's Old Town
5
Sample Balearic Cuisine at Mercat de Santa Catalina
Lunch like a local at this popular market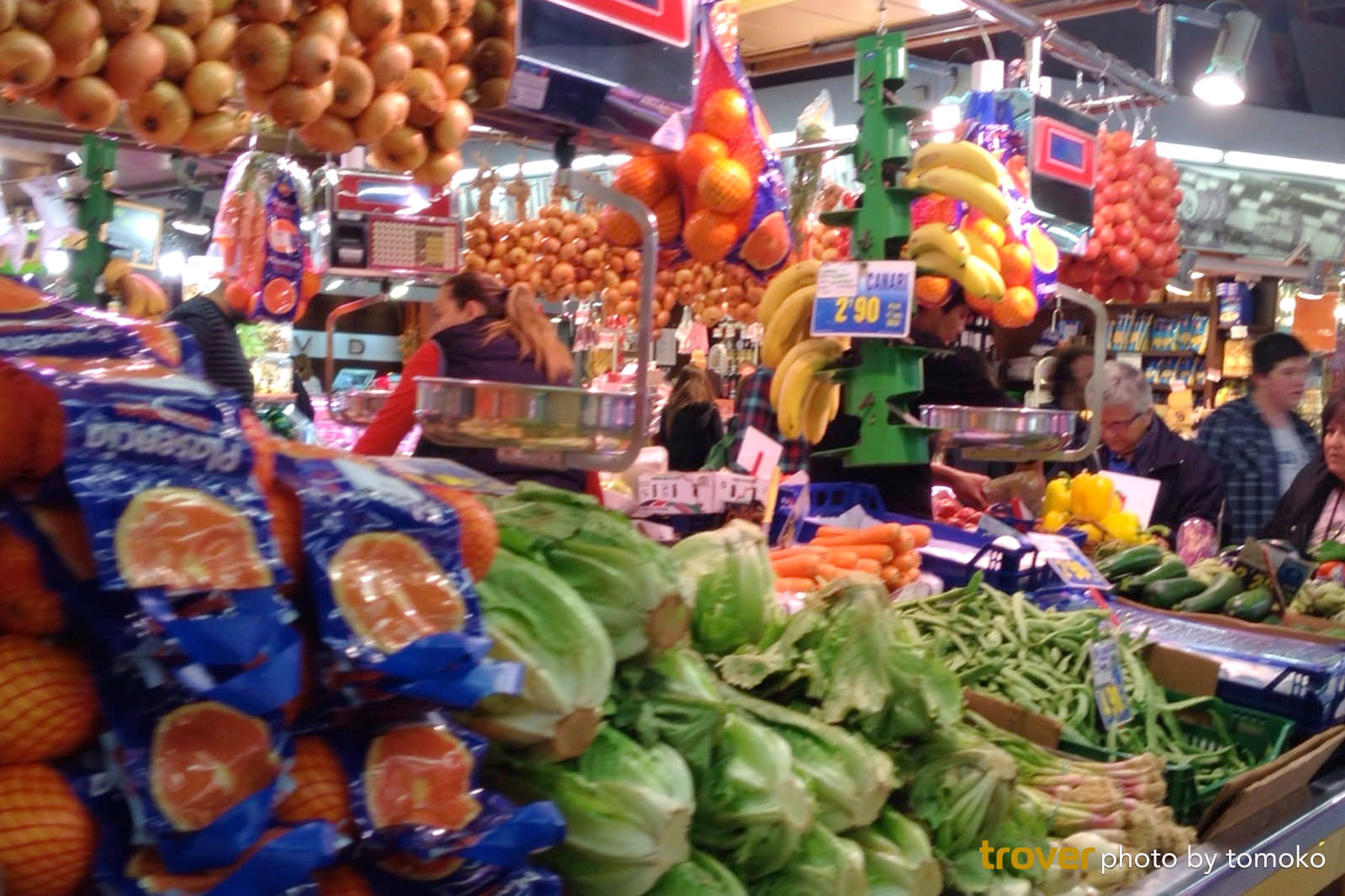 Mercat de Santa Catalina is the place you should go to experience a genuine local feel in Palma de Mallorca. Sit down at the table of one of the many stalls at hand, grab a cerveza (beer), a few plates of tapas, and watch the world go by. Besides the fresh products available here, you'll find a few stalls selling Balearic specialities such as arros brut (rice dish with vegetables and meat), bunyols (local doughnut) and pa amb oli (bread, olive oil and tomato).
Location: 250 metres north of the Port of Palma, just west of the Old Town
Open: Monday – Saturday from 7 am to 5 pm, closed on Sundays
6
Shop on Passeig del Born
Take a stroll along this lively commercial street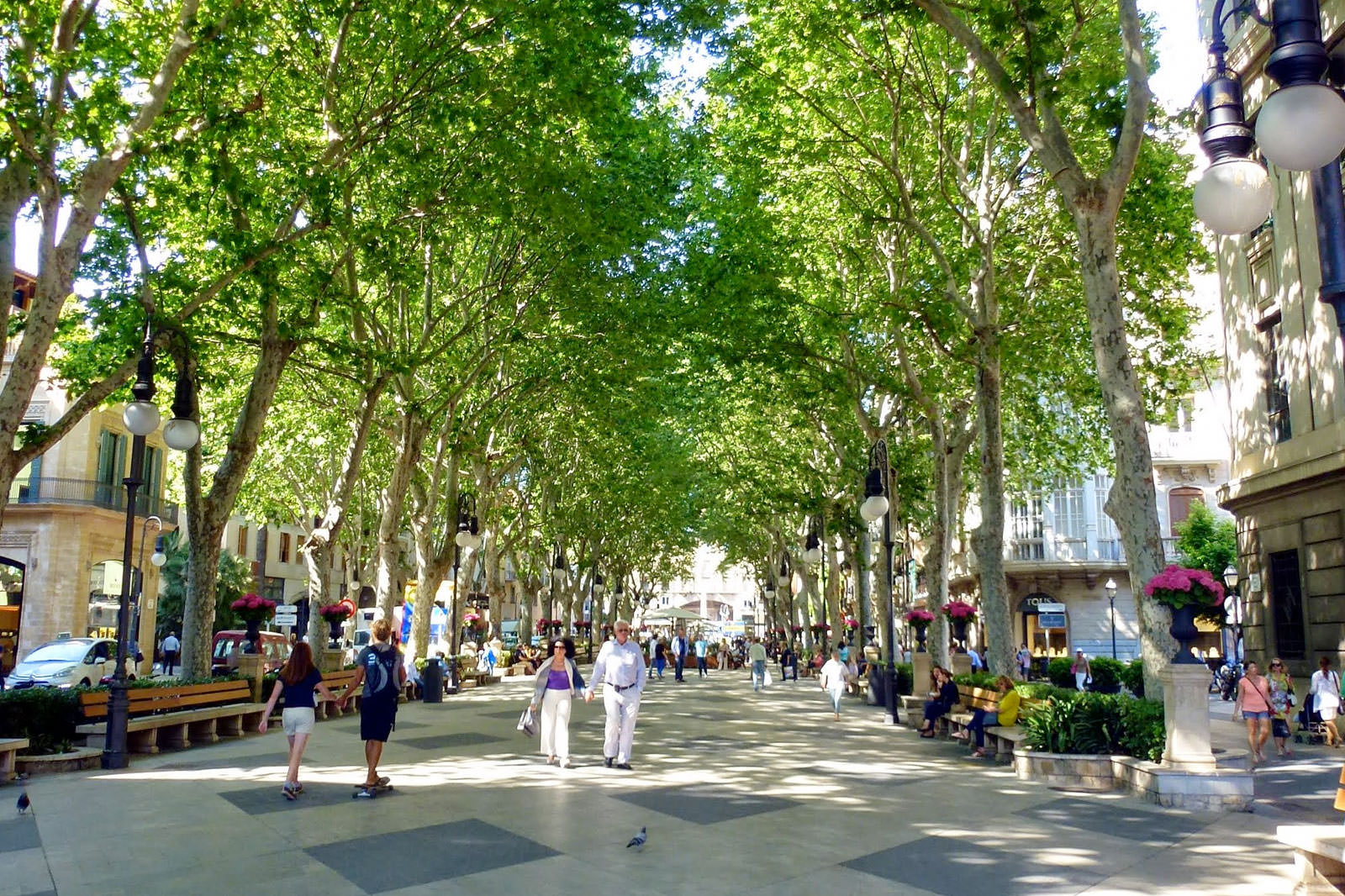 This 200-metre-long tree-lined avenue is the perfect place for a stroll under refreshing shade. The centre of the street is pedestrianised and has a few benches. Filled with cool bars and restaurants that set up their terraces under the trees, Passeig del Born is the main commercial street in Palma. It's lined with shops and boutiques including a non-exhaustive list of international brands such as H&M, Zara, and MaxMara.
photo by Николай Максимович (CC BY 3.0) modified
7
Visit Palma's La Seu Cathedral
Must-see landmark in Palma de Mallorca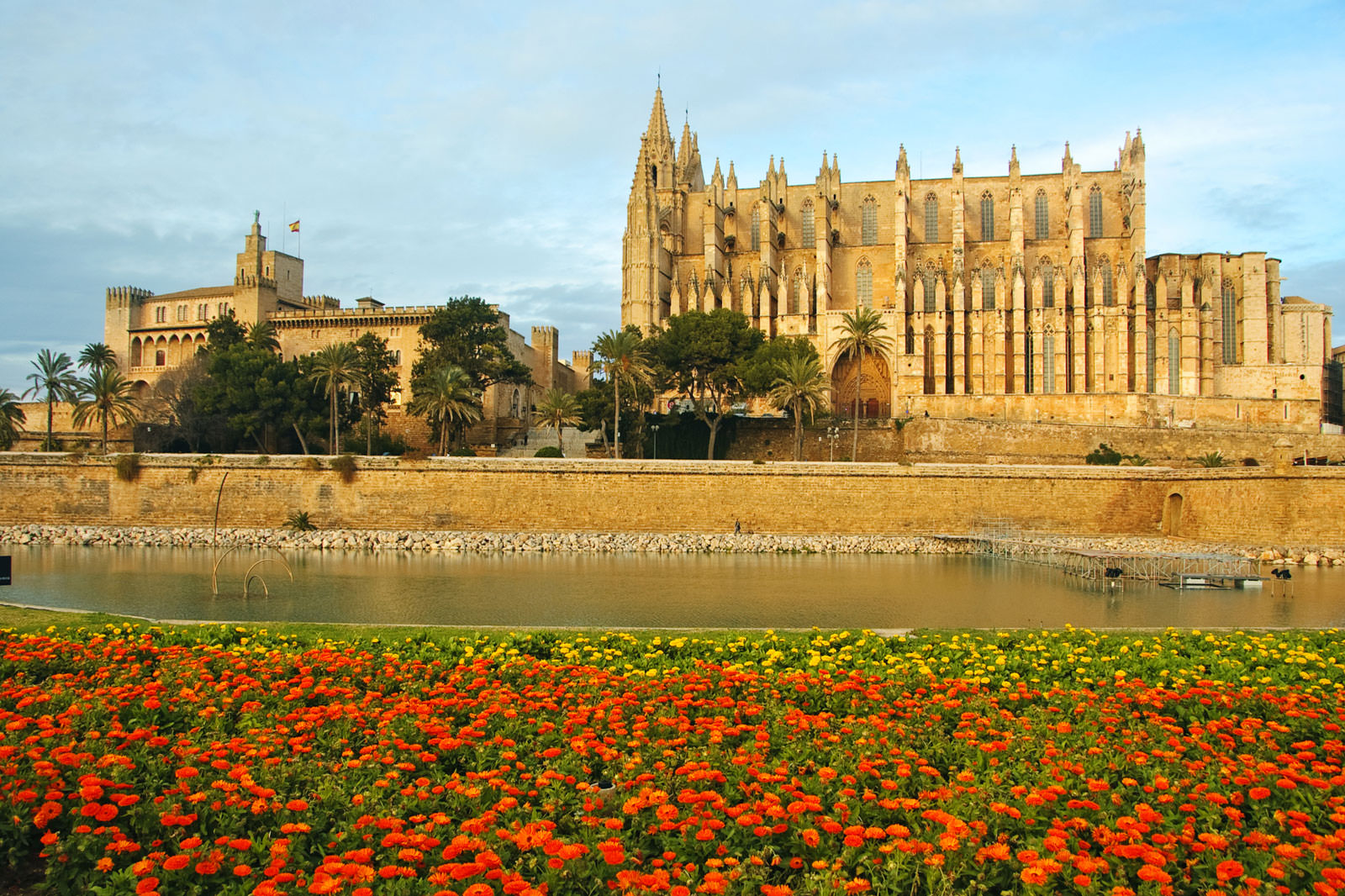 Locally called La Seu, the Cathedral of Santa Maria of Palma sits in the south of the Old Town, a stroll away from the port. It's built in golden sandstone and is designed in a stunning Catalan Gothic style with a Northern European twist. From its tall nave of 44 metres to its 12-metre large rose window, most people are in awe of this monumental religious edifice. Don't miss the modern ornaments and décor respectively added by Antoni Gaudí and Miquel Barcelo.
Location: In the southern part of the Old Town, just north to the Port of Palma
8
Stroll on Palma's seafront promenade
Walk or cycle along the sea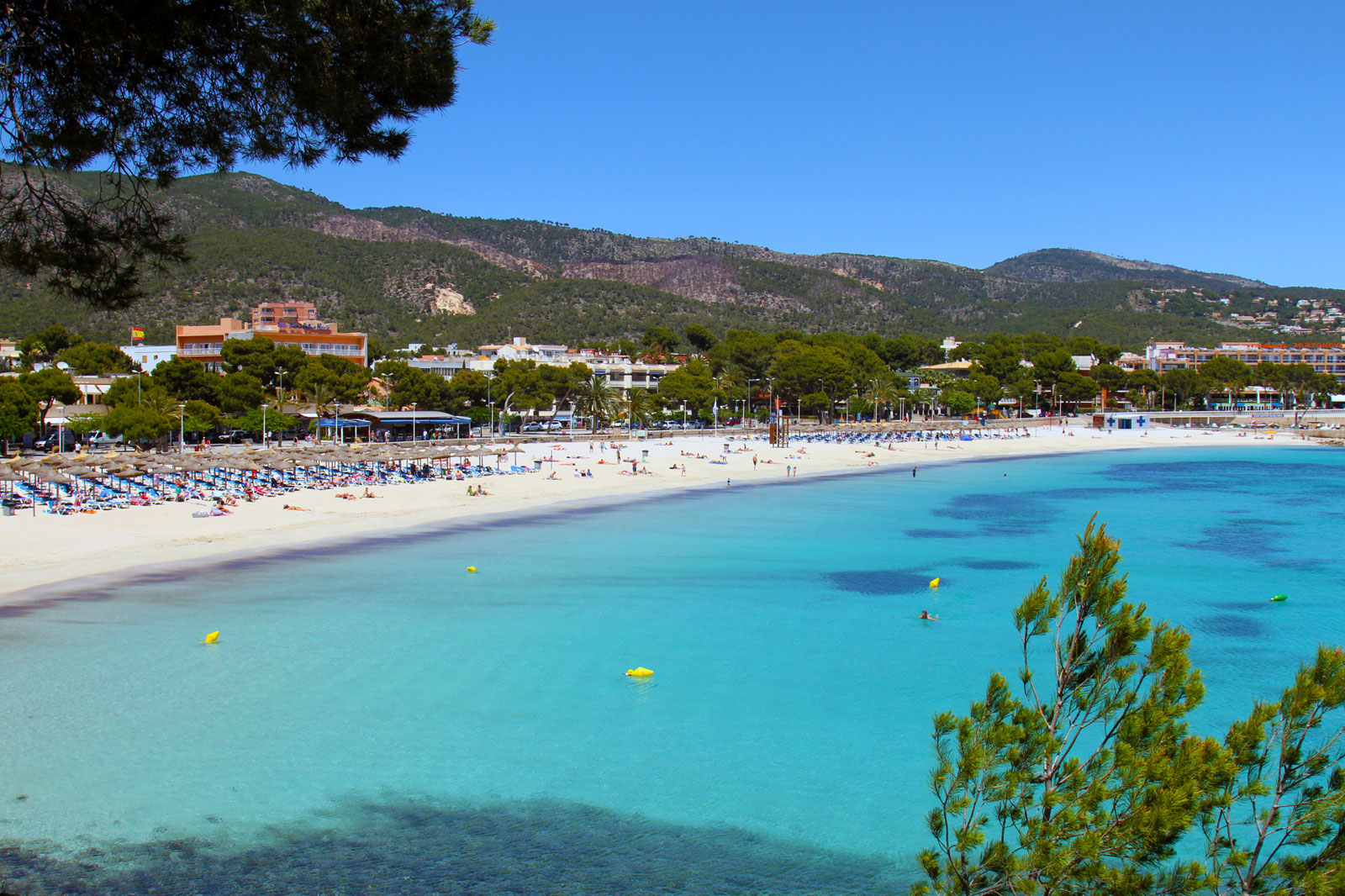 Known as the Paseo Marítimo in Spanish or Passeig Marítim in Catalan, Palma's seafront promenade runs for 3 km along Avenida Gabriel Roca. Shared between walkers and cyclists, the best times to enjoy a stroll are early morning and late afternoon. Passing right next to the heart of the city, you'll find many pause opportunities during your walk. Bars, restaurants and shops are plentiful along the way.
Location: Between the Port of Palma and the Ferry Terminal on Palma's seafront
9
Dine at San Juan Mercado Gastronomico
Sample a wide range of dishes at this great food court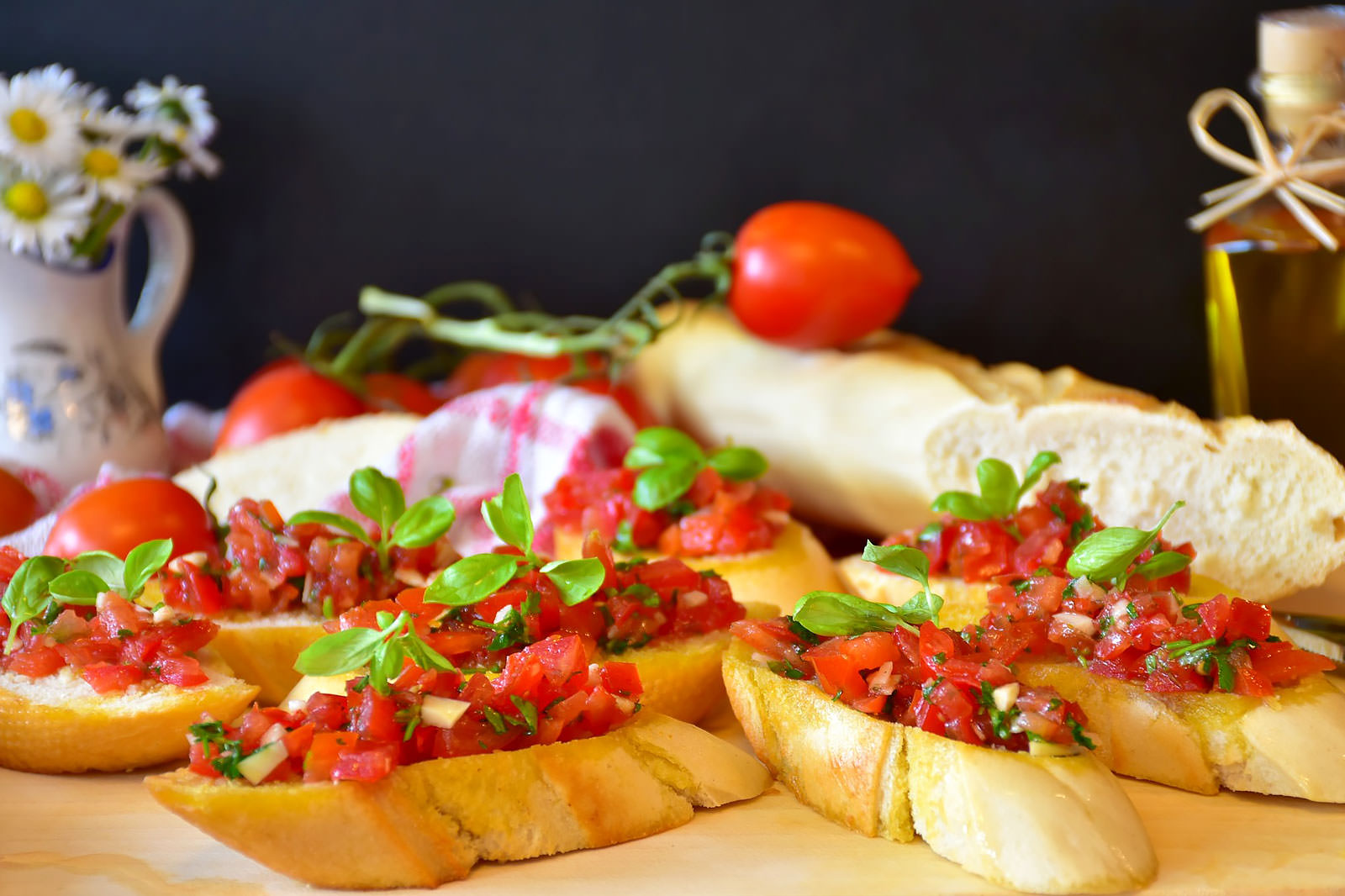 San Juan Mercado Gastronomico is a large food court located 1 km north of Palma's Old Town. Featuring around 20 food outlets, you'll find here a broad range of types of cuisine from Spanish tapas to Italian pasta to Balearic specialities. The fact it's mostly frequented by locals is usually a good sign as for the quality of the dishes served. With live music played in the evening, the atmosphere of the place is convivial. Prices are a bit steep for a food court but offer value for money.
Location: 1 km north of the Old Town on Carrer de l'Emperadriu Eugènia
Open: Thursday – Saturday from 12.30 pm to 2 am; Sunday – Wednesday from 12.30 pm to 12 am
10
End the day lounging at Santa Catalina
Skip from bar to bar and enjoy the warm evening breeze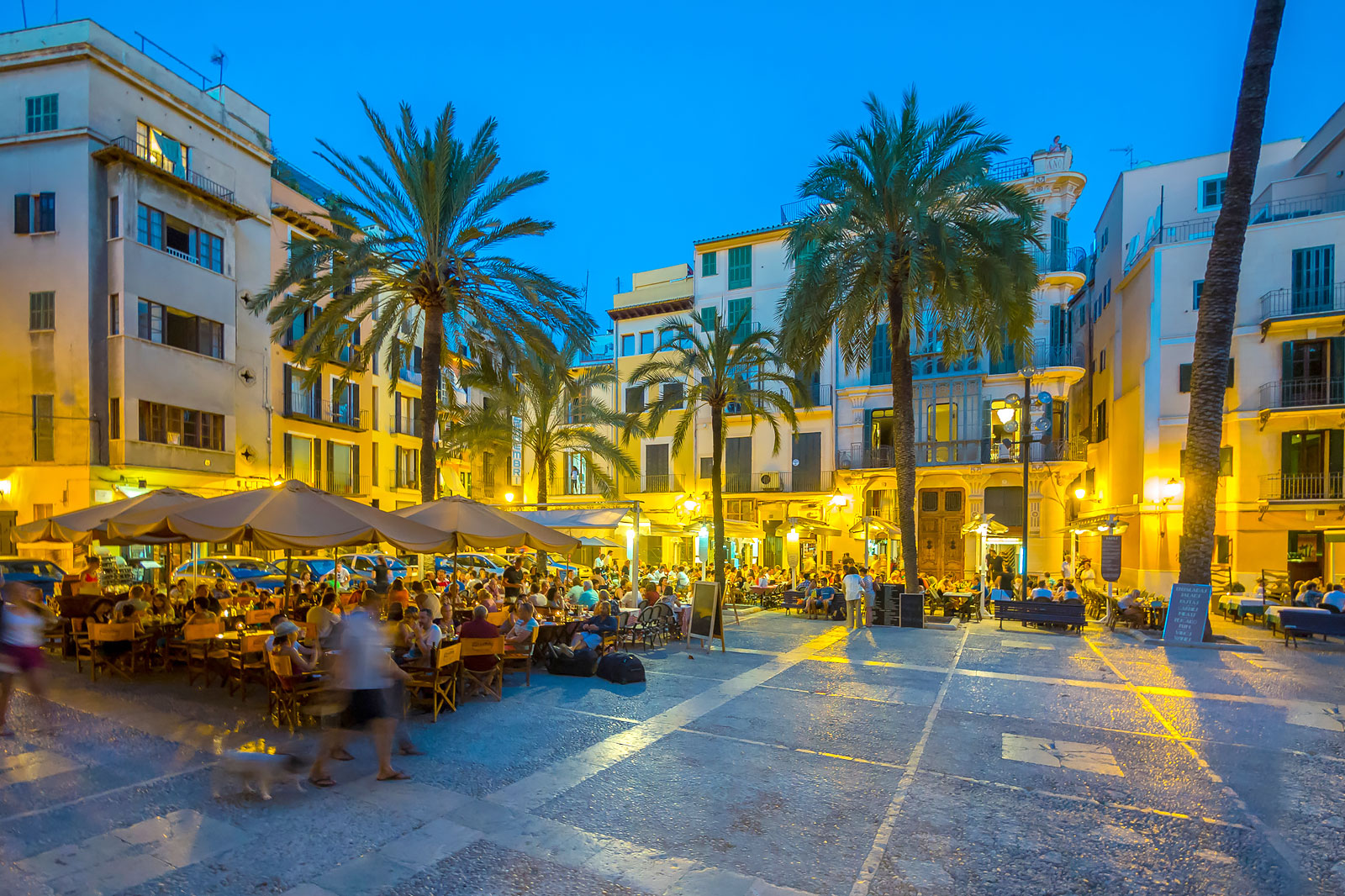 Santa Catalina neighbourhood is located just west of the Old Town from which it's separated by the Parc de la Feixina. This area hosts a lively nightlife scene. We've selected 3 recommended venues for you to enjoy an entertaining night in Palma de Mallorca. Located on Carrer de Pou, Wine Industry is a cosy wine bar with nice selection of tapas. Further south, on Carrer de Sant Magí, you'll find Chakra, a glitzy and warm cocktail bar. On the same street, you can also head to LAB Cocktail Bar Food & Bartending Solutions. It's praised as much for its mixed drinks as it is for its friendly ambience.
Location: Just west of the Old Town