10 Best Places Locals Love to Go in Kaohsiung
Locals' Guide to Must-Visit Sites in Kaohsiung
Kaohsiung, formerly known as Takao, is a prosperous port city and a modern international metropolis with fully-fledged infrastructure and numerous scenic spots. Kaohsiung has a beautiful harbour scene. Sizihwan Bay is a place to have fun in the water and enjoy the sunset. Kaohsiung Port Warehouse No. 2 (KW2), which is located beside the port, shows Kaohsiung's great cultural achievements. The Pier-2 Art Center displays contemporary masterpieces. Overlooking the Sizihwan Bay, the former British Consulate at Takao is a place to marvel at historical sites.
Kaohsiung has beautiful forests. You can climb Shoushan to get a closer look at the Formosan rock macaques or walk on the skywalk in Siaogangshan Skywalk Park. In winter, Bao Lai Hot Spring is the best place to warm you up. When night falls, you can buy a ticket to WeiWuYing National Kaohsiung Center for the Arts to enjoy a high standard of performing arts, or enjoy the cuisine of various countries at Reifeng Night Market. Before going to bed, you can stroll along the Love River and say good night to the splendid city of Kaohsiung.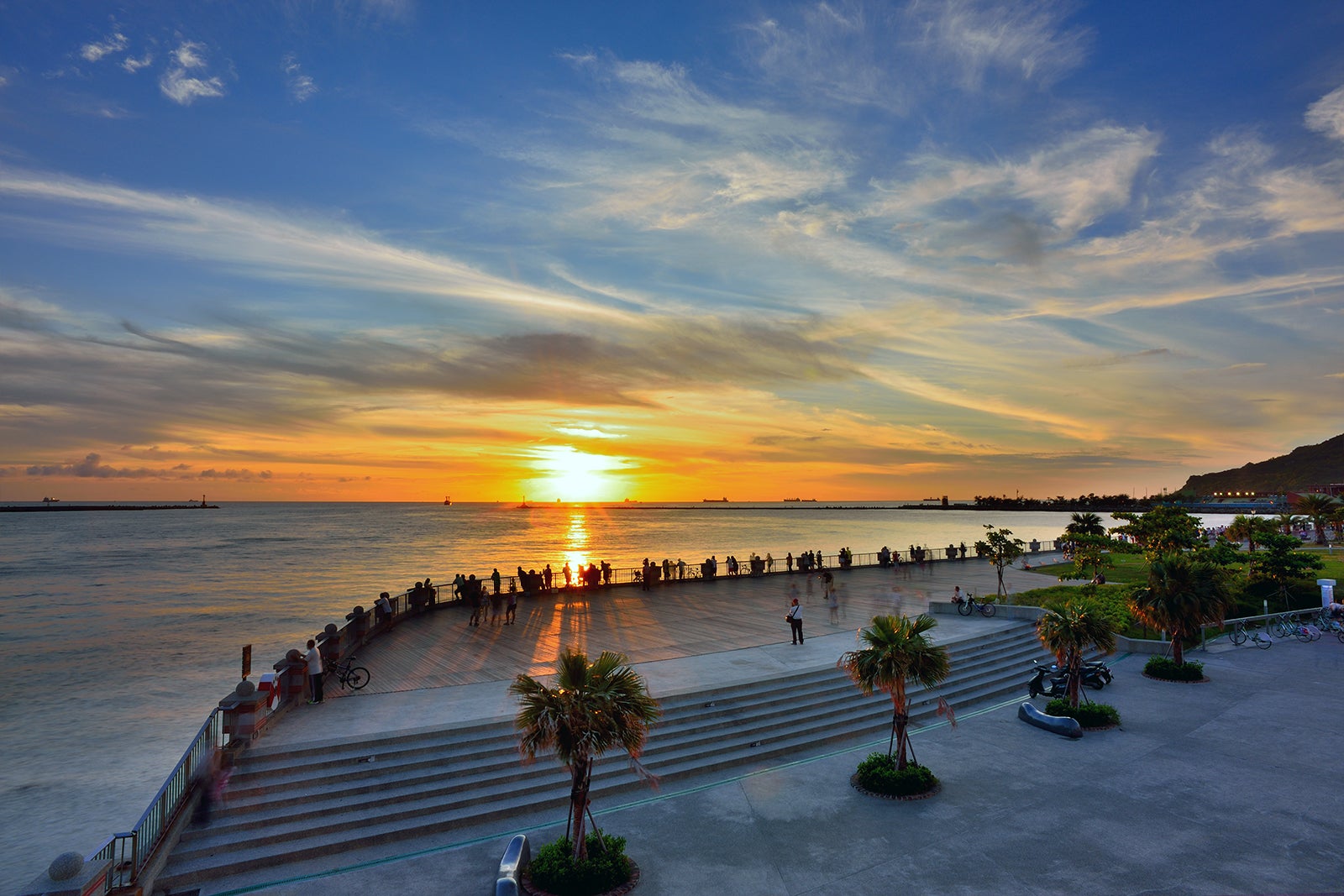 Sizihwan Bay is adjacent to National Sun Yat-Sen University in Kaohsiung, which is a seaport city with many popular coastal attractions. Sizihwan Bay is a romantic bathing beach and a superb place to enjoy the sunset. There are beautiful natural beaches and reefs along the coast. It is a natural bay suitable for swimming and sunbathing. At every sunset, there will be a large number of people in Sizihwan Bay, including students of National Sun Yat-Sen University who have just finished class, tourists from all over the world visiting for the sunset, and many photographers setting up camera tripods on the seaside. Everyone is looking to the sea.
The sunset and the rosy clouds change colours constantly, the sun shining golden light onto the sea as it sets slowly below the horizon, accompanied by the exclamations of the crowd. Sizihwan Bay is a romantic resort that is perfect for a lovers' rendezvous. You can see many couples holding hands and playing in the water, immersed in their romantic world against the beautiful scenery.
Location: Lianhai Road, Gushan District, Kaohsiung City, Taiwan 804
photo by muchruso (CC BY-SA 2.0) modified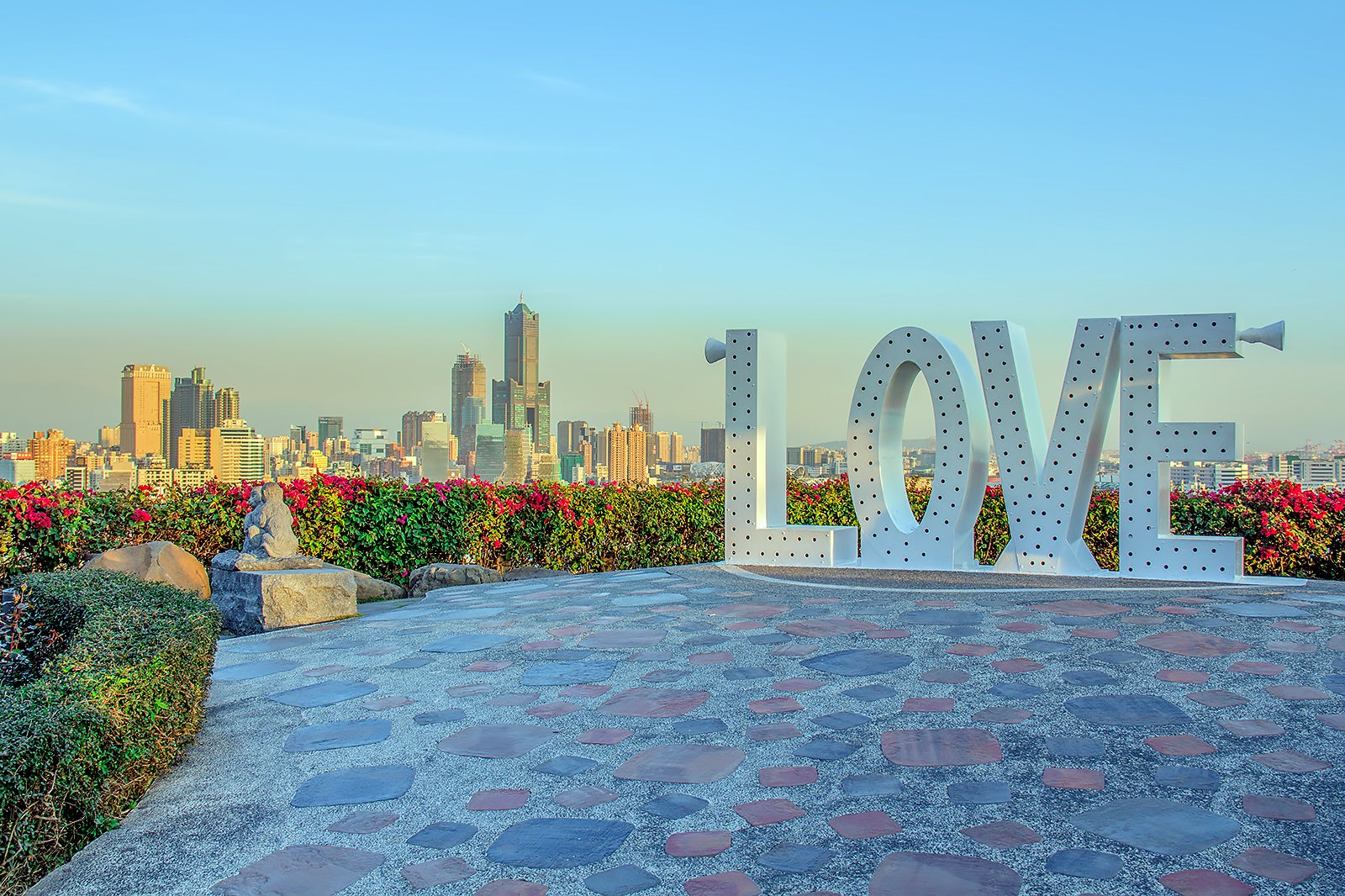 Shoushan, formerly known as Takao mountain and Qilin mountain, is located in the southwest of Kaohsiung City. It is a coral reef with a beautiful natural landscape. There is a scenic platform at the top of the mountain, with an excellent view, from where visitors can see the outline of Kaohsiung City and the harbour clearly. Shoushan is famous for its unique landform. There are limestone caves, emerald forests and lush tropical vegetation. In addition to the natural landscape, the unique animals in Shoushan are even more attractive. There are a large number of wild Taiwanese macaques, playing and living in groups on the mountain, which are not afraid of tourists at all. Many climb up Shoushan only to enjoy the lovely appearance of the macaques from up close.
Shoushan Lovers' Viewing Platform is set on the top of Shoushan. It features a large sculpture in the shape of the word "LOVE", which attracts many couples who come to visit and take photos. At night, tourists standing on Shoushan Lovers' Viewing Platform can enjoy a panoramic night view of Kaohsiung. The bustling city and myriad of lights make for an unforgettably stunning spectacle.
Location: No. 301 Wanshou Road, Gushan District, Kaohsiung City, Taiwan 804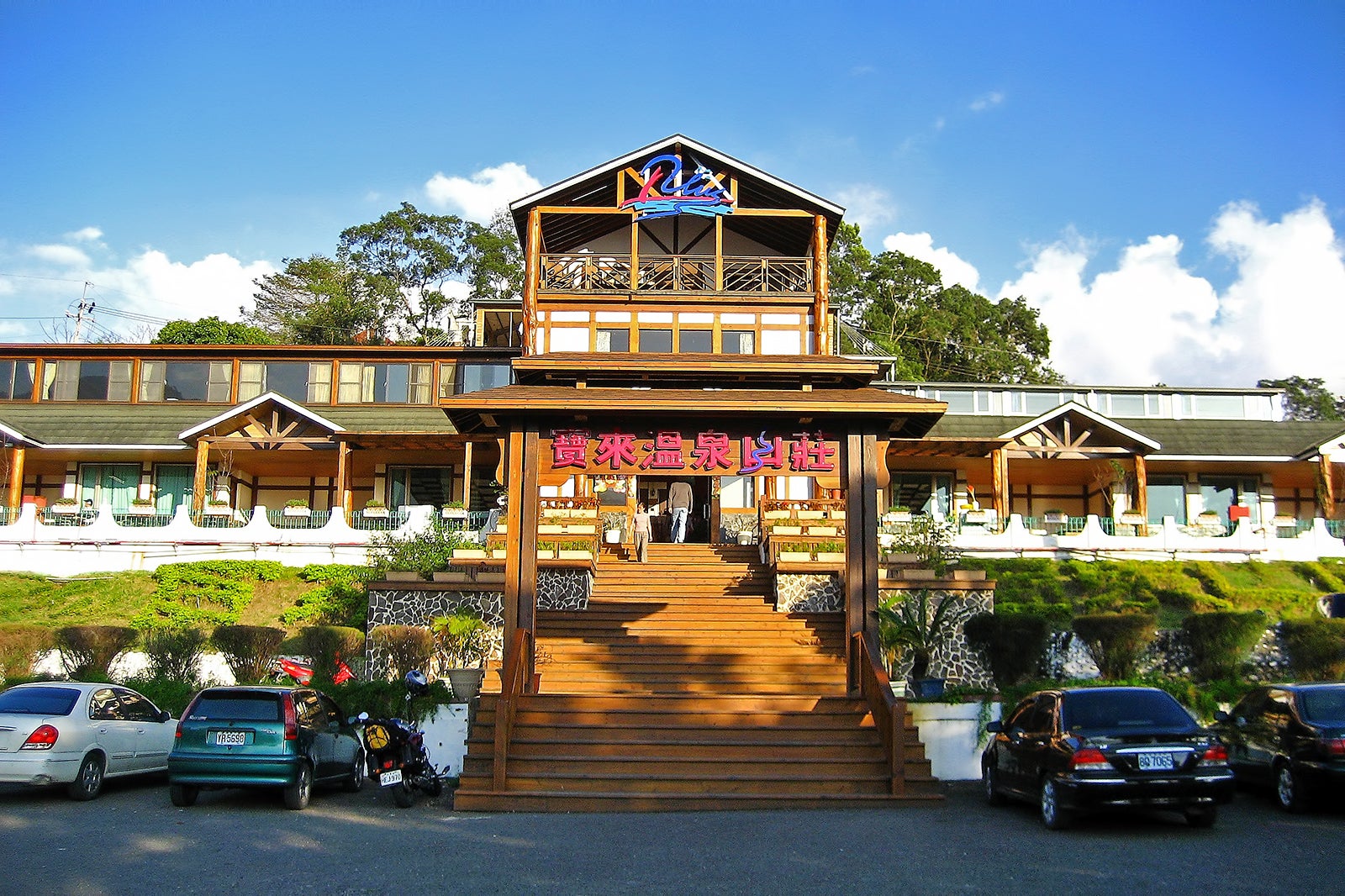 Bao Lai Hot Spring is located in Liugui District, Kaohsiung City. The water in this natural spring has a temperature of between 54℃ and 60℃ and is clear, colourless and odourless. It's not only very suitable for bathing but also drinkable, making it a rare water resource. Bao Lai Hot Spring is not far from the downtown area of Kaohsiung. It takes about one hour to drive here, so many Kaohsiung inhabitants love coming here to bathe.
There is Baolai Spring Park, which is equipped with foot-bathing facilities. In winter, you can come here for a dip to quickly warm up your hands and feet. Near to Bao Lai Hot Spring is a well-equipped hot spring resort with a complete set of bathing facilities. Tourists can enjoy a variety of spa facilities in the hotel, soothe their body and mind in the warm spring, and wash away the accumulated pressures and fatigue of daily life.
Location: Baolaili, Liugui District, Kaohsiung City, Taiwan 844
photo by Carrie Kellenberger (CC BY 2.0) modified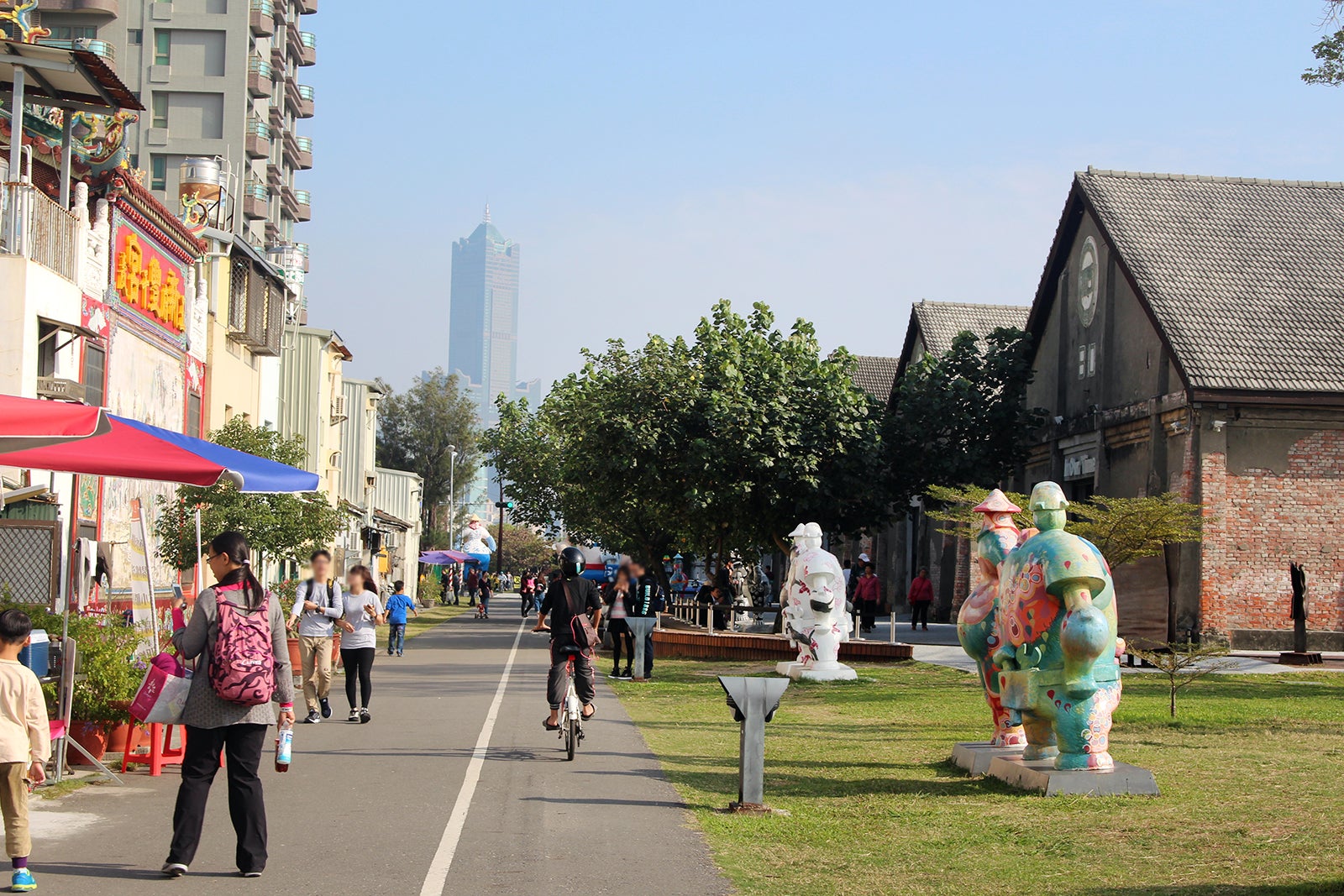 Pier-2 Art Center is a modern art park in Yancheng District, Kaohsiung City, where many artists have kickstarted exciting artistic careers by creating brilliant works. After several years in operation, it has now become an internationally renowned seaport modern art centre. Pier-2 Art Center used to be a warehouse complex of Kaohsiung port. "Pier-2" means docking terminal 2.
Due to the transfer of port business, the buildings on the port side were left idle and abandoned until they were taken over by Kaohsiung Cultural Bureau, which completely transformed them and redesigned the spaces. Contemporary artists were invited to settle in, turning the centre into an artistic landmark of South Taiwan. Travellers visiting Pier-2 Art Center can find many contemporary art installations with unique styles and art galleries, and learn about the history of warehouses in the port area. It is a charming harbour art centre, with each corner full of artistic atmosphere and creative vitality.
Location: No.1, Dayong Road, Yancheng District, Kaohsiung City, Taiwan 803
Open: Monday–Thursday from 10am to 6pm, Friday–Sunday and national holidays from 10am to 8pm
photo by Chi-Hung Lin (CC BY-SA 2.0) modified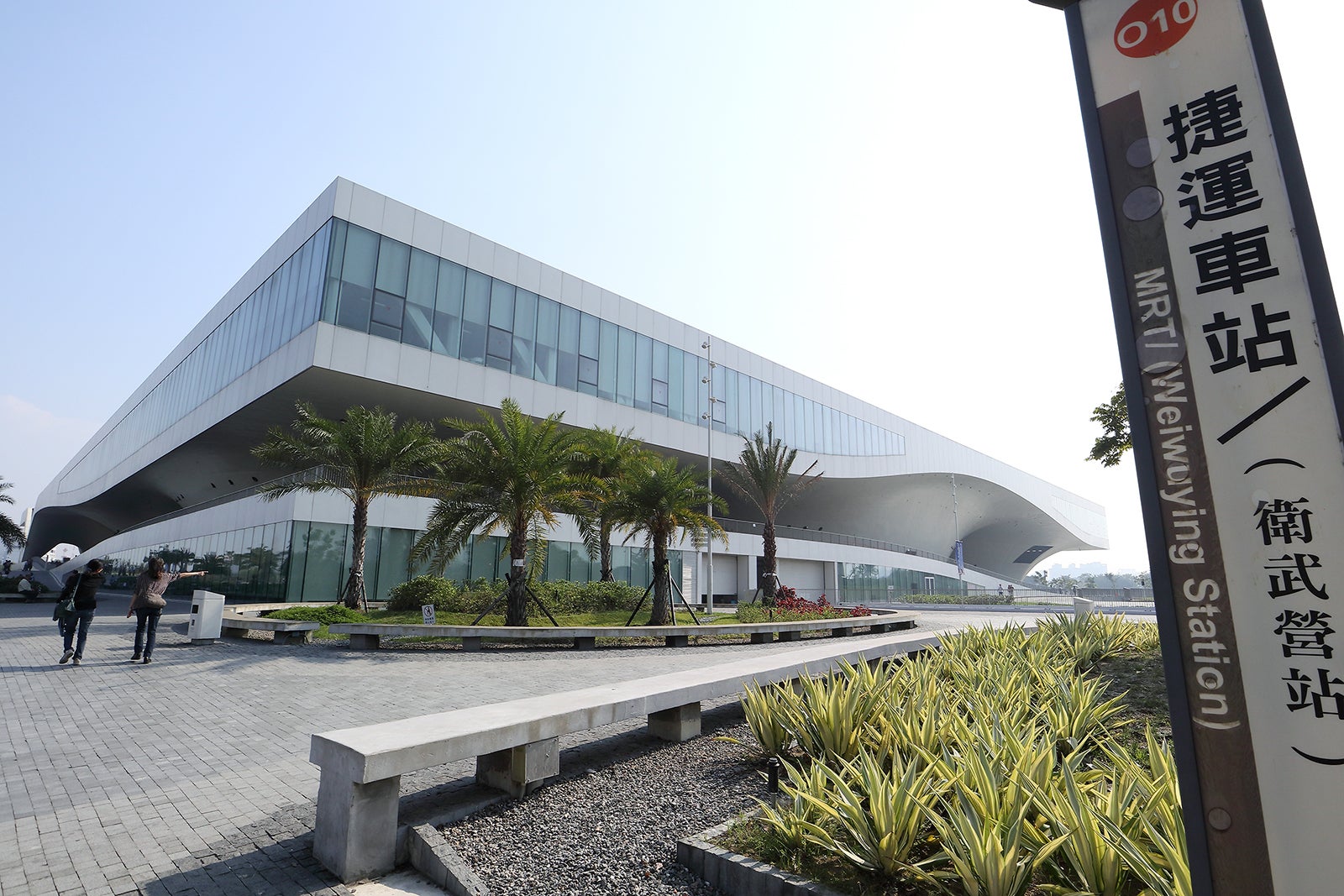 WeiWuYing National Kaohsiung Center for the Arts
WeiWuYing National Kaohsiung Center for the Arts in Fengshan District, Kaohsiung City, was changed from an army recruit training centre into a park and art centre. The large-scale national theatre was designed by master architect Francine Houben, who presented an avant-garde building for the new century with a white wave-shaped roof, and it has had a positive all-round impact on the city since its completion.
Visitors to WeiWuYing National Kaohsiung Center for the Arts can visit the building's spaces and savour every aspect of the architect's design in detail. In addition, before setting out, visitors can check the programme list in advance, buy a ticket and watch a world-class performance in the theatre, leaving behind some unforgettable memories to treasure. Since it opened, WeiWuYing National Kaohsiung Center for the Arts has actively followed international standards and held many international art festivals, successfully gaining a worldwide reputation and becoming one of Taiwan's landmarks for international performing arts.
Location: No. 1 Sanduo 1st Road, Fengshan District, Kaohsiung City, Taiwan 830
Open: Daily from 11am to 9pm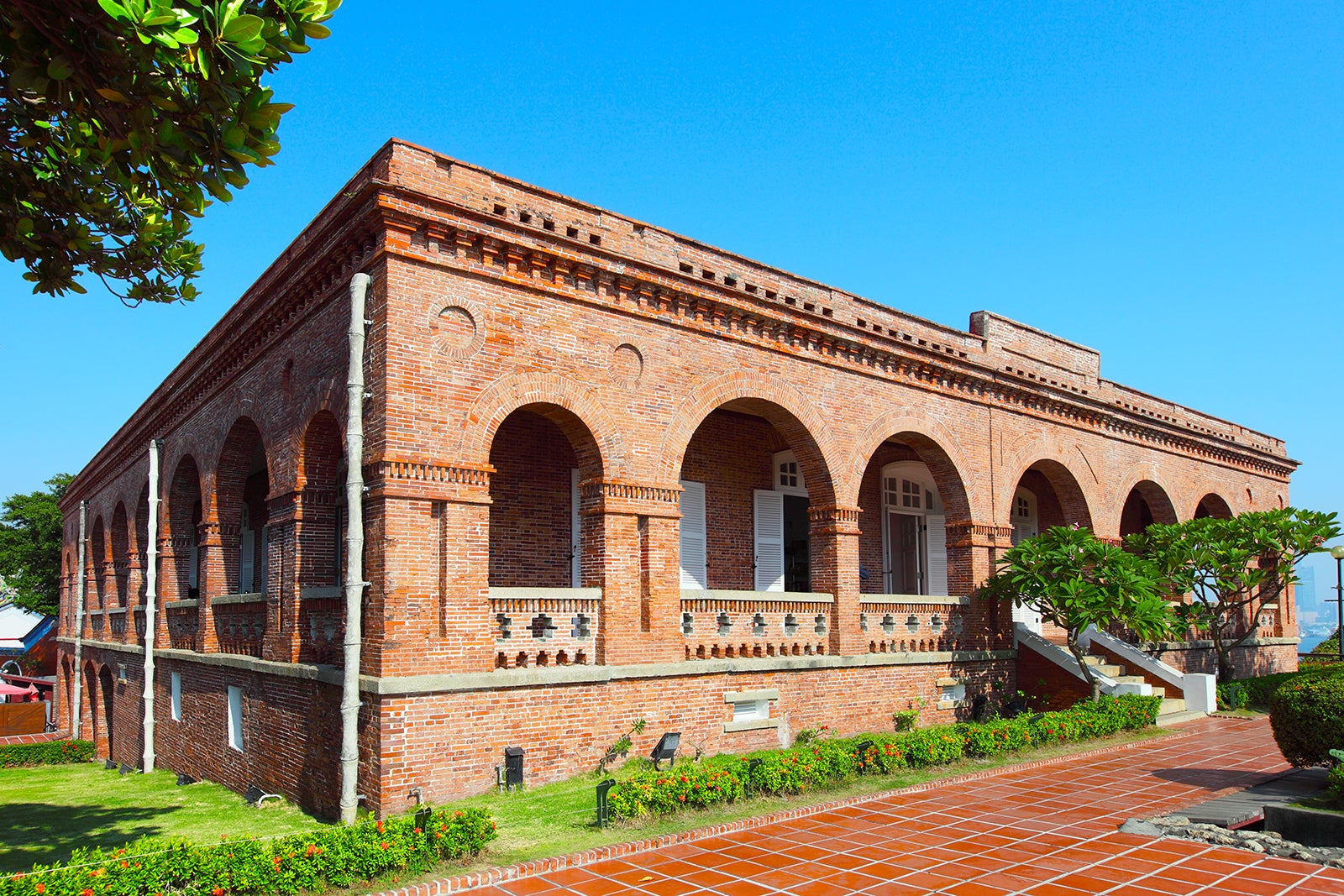 Former British Consulate at Takao
The former British Consulate at Takao is adjacent to Sizihwan Bay. There are 2 old British buildings in this area, which were built in 1879, namely the British Consulate and the residence of Takao established by the British government. Because of its long history and precious value, the site has become a national monument of Taiwan. The former British Consulate at Takao is located on the hill near the wharf, close to the port. The colonial-style building has a unique cloister, column and roof. It was an important architectural feat at that time.
Today, the well-preserved building remains a historical example of colonial architecture in Taiwan. Visitors can view the exhibition in this century-old building when going up the hill to visit the Former British Consulate at Takao. Looking out of the window, with the charming Sizihwan Bay right in front, your mind will be cast back to a bygone era as you imagine the British consular staff who once worked here.
Location: No. 20, Lianhai Road, Gushan District, Kaohsiung City, Taiwan 804
Open: Monday–Friday 9am to 7pm, weekends and national holidays from 9am to 9pm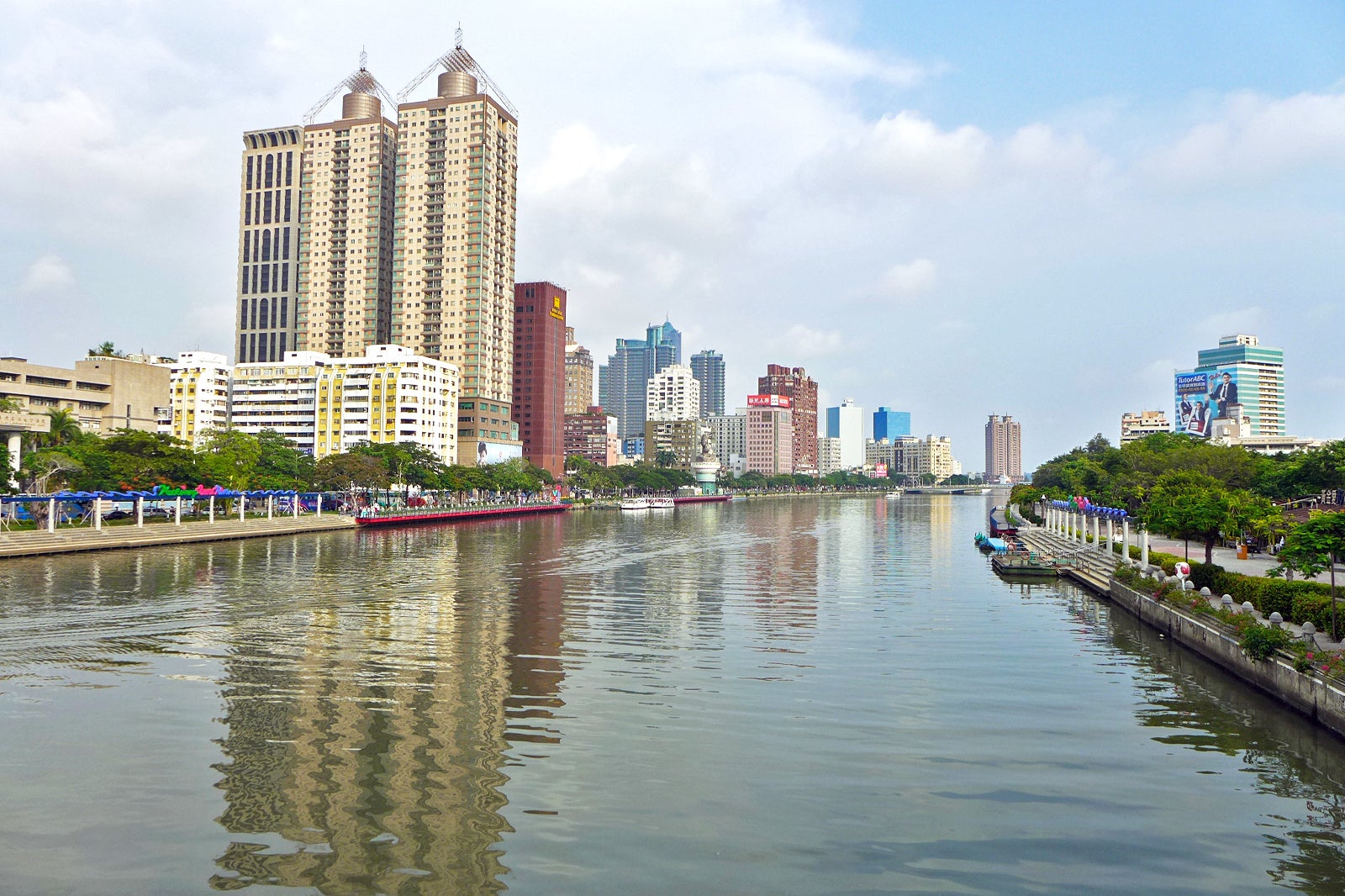 Love River calls the beautiful city of Kaohsiung home. Originating in the Renwu District of Kaohsiung City, Love River flows through the centre of Kaohsiung City with its beautiful coastal scenery and is a famous riverside scenic spot. Love River was once heavily polluted, but after extensive cleaning efforts, it is now the pride of Kaohsiung. Many festival activities are held at Love River, such as lantern displays during the Lantern Festival, fireworks during the Arts Festival, and a dragon boat race during the Dragon Boat Festival.
There's no shortage of entertainment both on and along the river. Love River is very romantic at night. Many visitors come to the banks of the river to enjoy a walk and the night-time views. The Heart of Love River, Ruyi Lake, is a popular night-time scenic spot. There's a bridge spanning the river, with beautiful lights giving off a romantic vibe.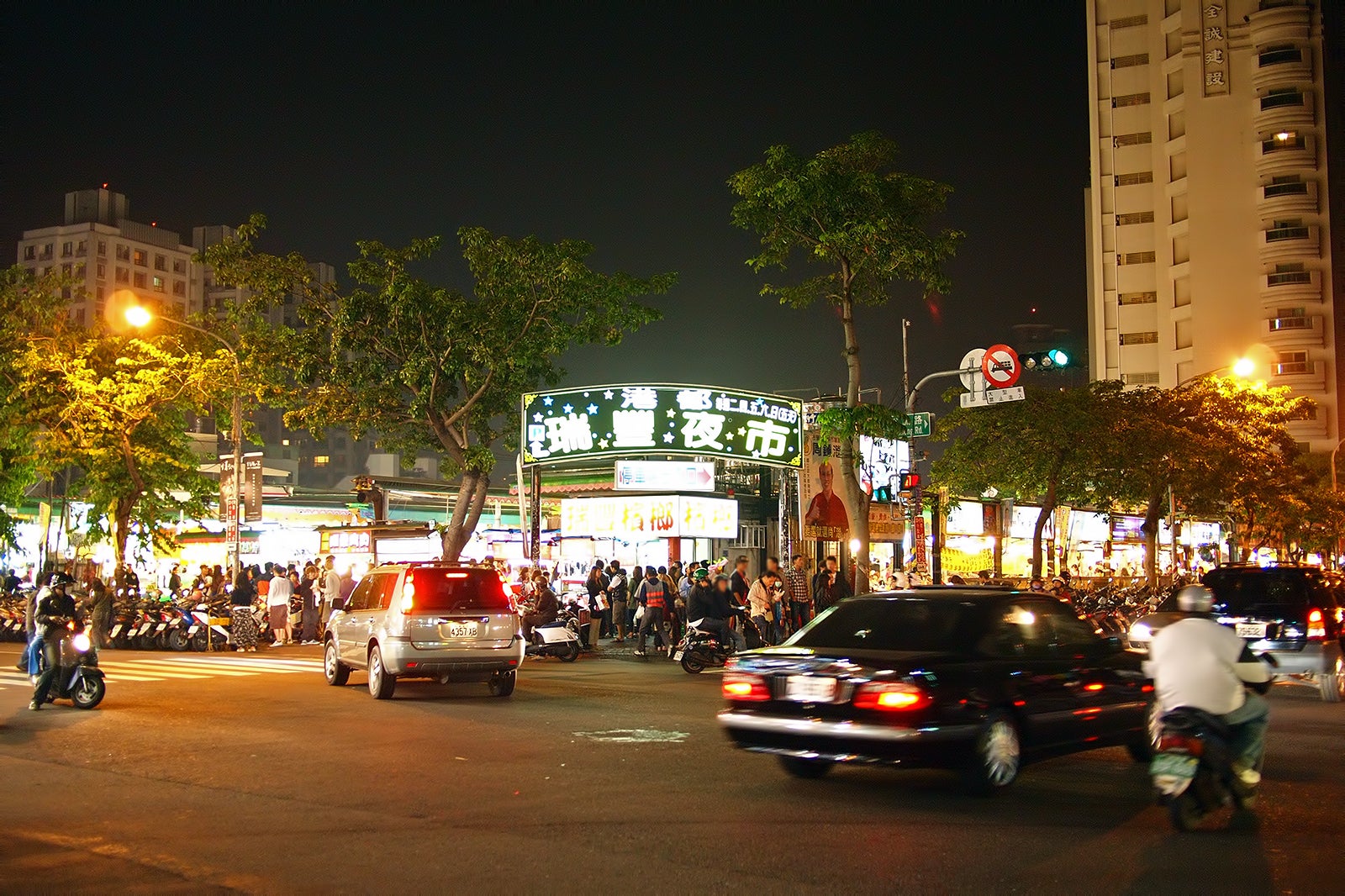 Reifeng Night Market in the Zuoying District is one of the most favourited by locals of Kaohsiung. Reifeng Night Market was originally located in Reifeng Street in the Gushan District of Kaohsiung City, which is how it got its name. Its original name was retained after it moved to Zuoying. Although Reifeng Night Market does not open every day, it's always full of people on the days when it does. It's popular with both locals and visitors alike.
There are many exotic foods to try at Reifeng Night Market. Many foreign vendors come here to sell authentic French crepes, shawarma and German pork knuckle, giving visitors the chance to taste a variety of dishes from different countries. If you're looking for delicious food, there are many stalls to choose from at Reifeng Night Market. It's a good idea to visit on an empty stomach, as you'll want to try as many foods as possible.
Location: Yucheng Road and Nanping Road, Zuoying District, Kaohsiung City, Taiwan 804
Open: Every Tuesday, and Thursday to Sunday from 5pm to midnight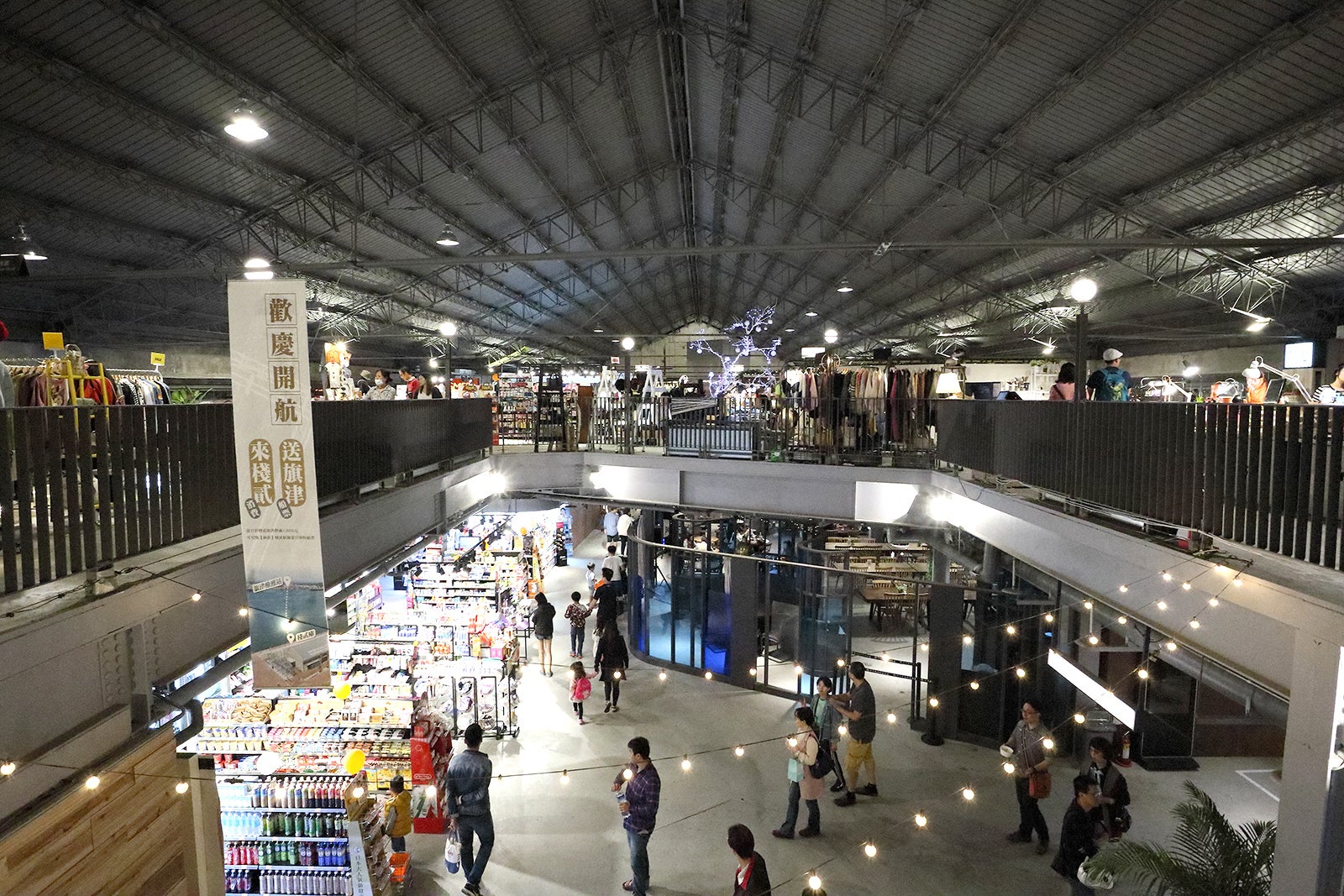 KW2 is a cultural and creative hub in the port of Kaohsiung that has attracted professionals from far and wide seeking to develop brands and make the most of their cultural and creative strengths. It is a place where many young people come to realise their dreams. KW2 is located at No. 2 Wharf in the Port of Kaohsiung. Originally the wharf warehouse, it has been redeveloped by architects and designers, and now provides a creative space covering more than 3,000 square metres. It attracts professionals from all walks of life and has become a new hot spot in Kaohsiung.
KW2 combines cultural creativity, dining and exhibition spaces in an open area where tourists can enjoy the beautiful scenery of the port and visit the local restaurants, exhibitions and shops. Since its transformation, KW2 has become a popular destination for dating, dining and shopping.
Location: No. 17 Penglai Road, Gushan District, Kaohsiung City, Taiwan 804
Open: Sunday–Thursday from 10am to 9pm, Friday–Saturday from 10am to 10pm
Siaogangshan Skywalk Park
Siaogangshan Skywalk Park is located in Siaogangshan, Gangshan District, Kaohsiung City. The park covers an area of 1.8 hectares, with the 88-metre-long skywalk as its centrepiece. Tourists standing on the suspended skywalk can enjoy breathtaking unobstructed views of Kaohsiung City, Agongdian Reservoir and Agongdian Forest Park. The design is based on a musical theme, with the main pylon resembling a violin and the steel cables of the skywalk providing the strings. Visitors step lightly as they cross the skywalk, imagining that they can hear the music of a violin.
The opening times for Siaogangshan Skywalk Park are extended in summer. You can buy night-time tickets to enjoy the beautiful views of Kaohsiung at night. Siaogangshan Skywalk Park is a highly popular and attracts many visitors. You should, therefore, book your tickets in advance.
Location: Siaogangshan Skywalk Park, Gangshan District, Kaohsiung City, Taiwan 820
Open: Tuesday–Sunday from 9am to 6pm (extended to 10pm in summer)