11 Things to Do in Taipei on a Small Budget
Holidays in Taipei Don't Have to Be Expensive
There are many things to do in Taipei on a small budget, so you don't need to worry about money when travelling around the Taiwanese city. Admiring the flowers on Yangming Mountain, having a picnic at Daan Park, taking photos of Taipei 101 from Xiangshan Deck, touring the centuries-old temples in Taipei, or visiting the various museums are all free.
Other wallet-friendly activities include enjoying Beitou hot spring foot-soaking pools, exploring Bopiliao Street, and playing and relaxing at Dajia Riverside Park. For art and literature lovers, Taipei also has a large number of free exhibitions. Taipei is a city where you can enjoy an action-packed and unforgettable stay without breaking the bank.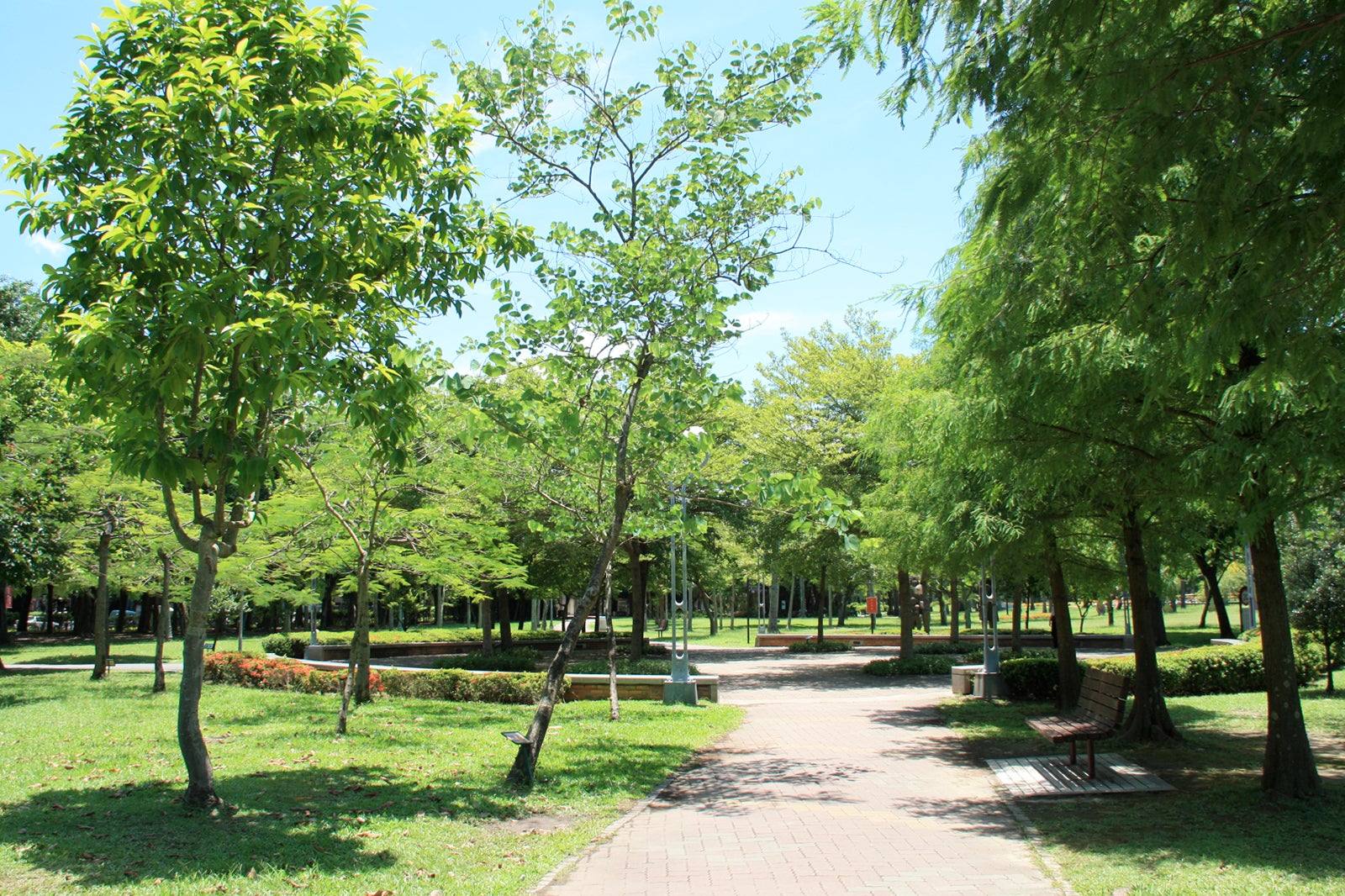 Daan Forest Park lies in the heart of Da'an District in Taipei. It covers an area of about 26 hectares and is often referred to as "the lungs of the city". Apart from being popular as a sports and recreation facility for the citizens in Taipei, it's also an excellent place for tourists to relax and unwind. Take the metro to Daan Park Station and you'll see Daan Forest Park right in front of you when you come outside.
Lavish in its vegetation and greenery, the park provides benches, jogging tracks and a concert stage. It's open 24 hours a day and entry is free. Bring some snacks and a picnic blanket and spend a leisurely afternoon here without spending a single penny. The park occasionally hosts music performances or concerts. Even if you haven't got a ticket, you can simply lie back on the grass with your friends and enjoy the music away from the crowds at the concert venue.
Location: No. 1, Section 2, Xinsheng South Road, Da'an District, Taipei, Taiwan 10657
Open: 24/7
photo by Lord Koxinga (CC BY-SA 3.0) modified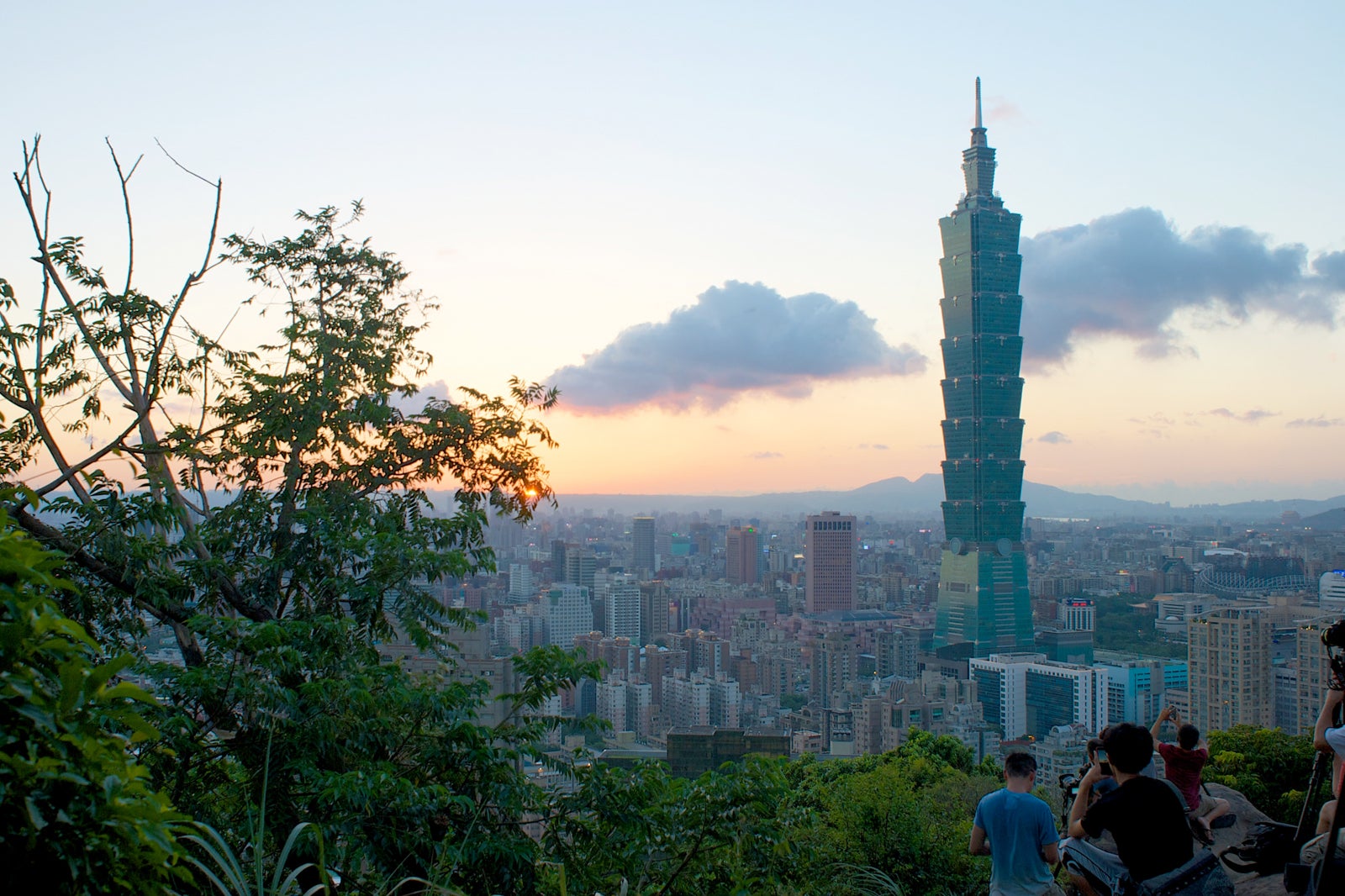 Xiangshan Deck in Xinyi District allows you to have amazing photos as a keepsake from your trip to Taipei without needing to hire a professional photographer or pay for a ticket to any popular attractions. At the observation deck there, you can take the most incredible photos featuring the landmark Taipei 101 building. You don't even need to climb to the top of Xiangshan Mountain. There's a viewing platform about halfway up, where you get an unobstructed view of Taipei 101 and can have fun taking photos of the building from all kinds of angles. If you're a fan of quirky photos, now is your chance to get a shot of yourself swallowing or pinching Taipei 101 and create a memorable photo album of your travels at no cost whatsoever.
Location: Alley 342, Lane 150, Section 5, Xinyi Road, Xinyi District, Taipei, Taiwan 11059
Open: 24/7
photo by Jared Adler (CC BY 3.0) modified
3
Free hot springs in Beitou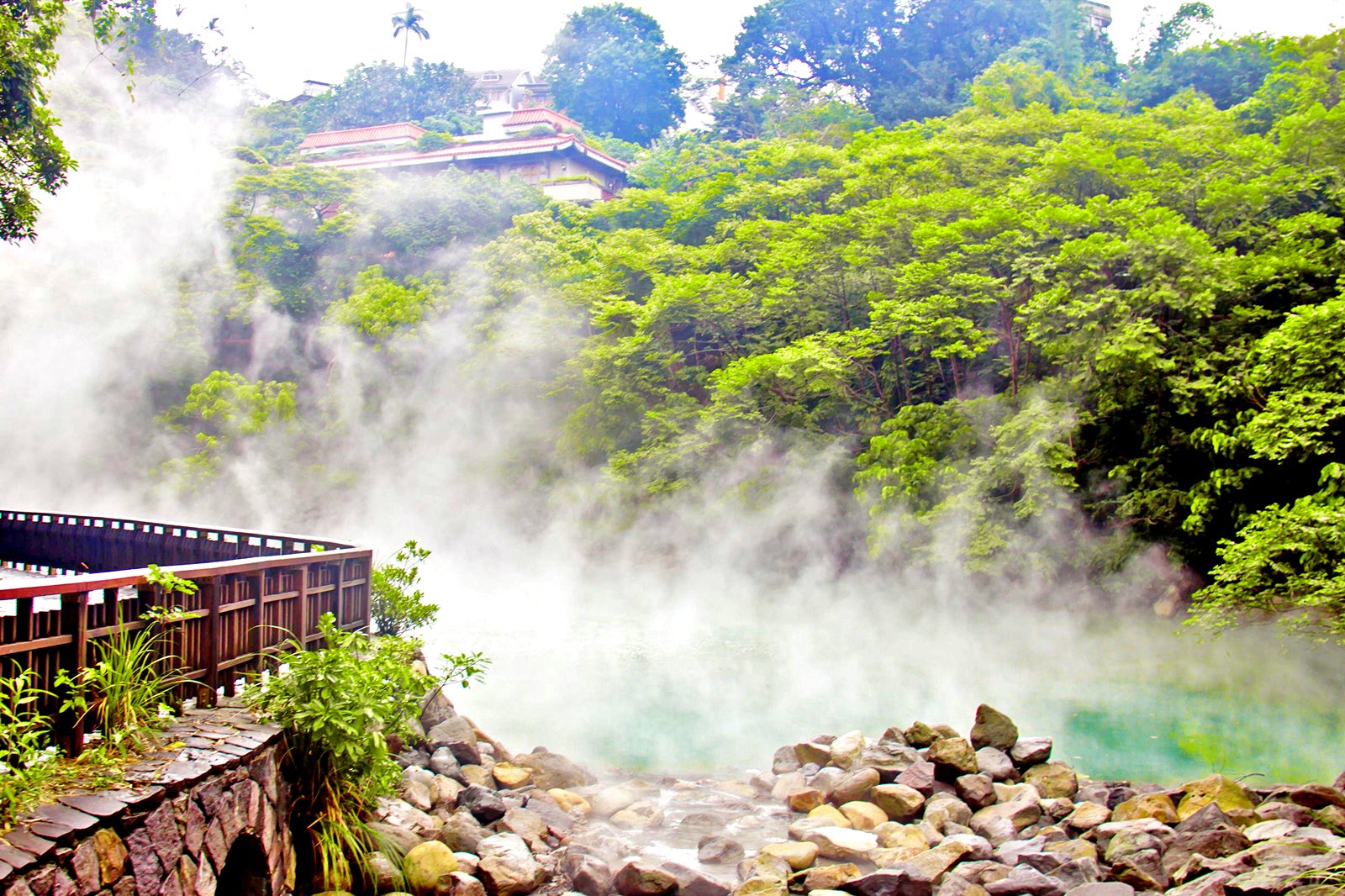 The Beitou area of Taipei is home to hot spring resorts and hotels as well as a number of free hot springs. Quanyuan Park near MRT Xinbeitou Station is a great choice for visitors with a limited budget. There are free public hot spring foot-soaking pools, giving you an opportunity to experience Beitou's famous hot springs without spending a single penny. The park has set up water pumps for tourists to wash their feet before entering the pool. Shelters and lockers have also been set up within the foot-soaking pool area to shield you from rain and to store your belongings.
Similar to the acidic sulphur hot springs in Beitou Thermal Valley, the hot spring water here can boost your metabolism and release tension when you dip your feet in the water. Quanyuan Park is near the Old Hot Spring Street. After a foot bath, you can take a stroll along the Beitou Creek and visit famous spots such as Beitou Park and Beitou Hot Spring Museum.
Location: No. 155, Zhuhai Road, Beitou District, Taipei, Taiwan 11254
Open: Tuesday–Sunday from 8 am to 6 pm (closed on Mondays)
4
A tour of historical sites in Taipei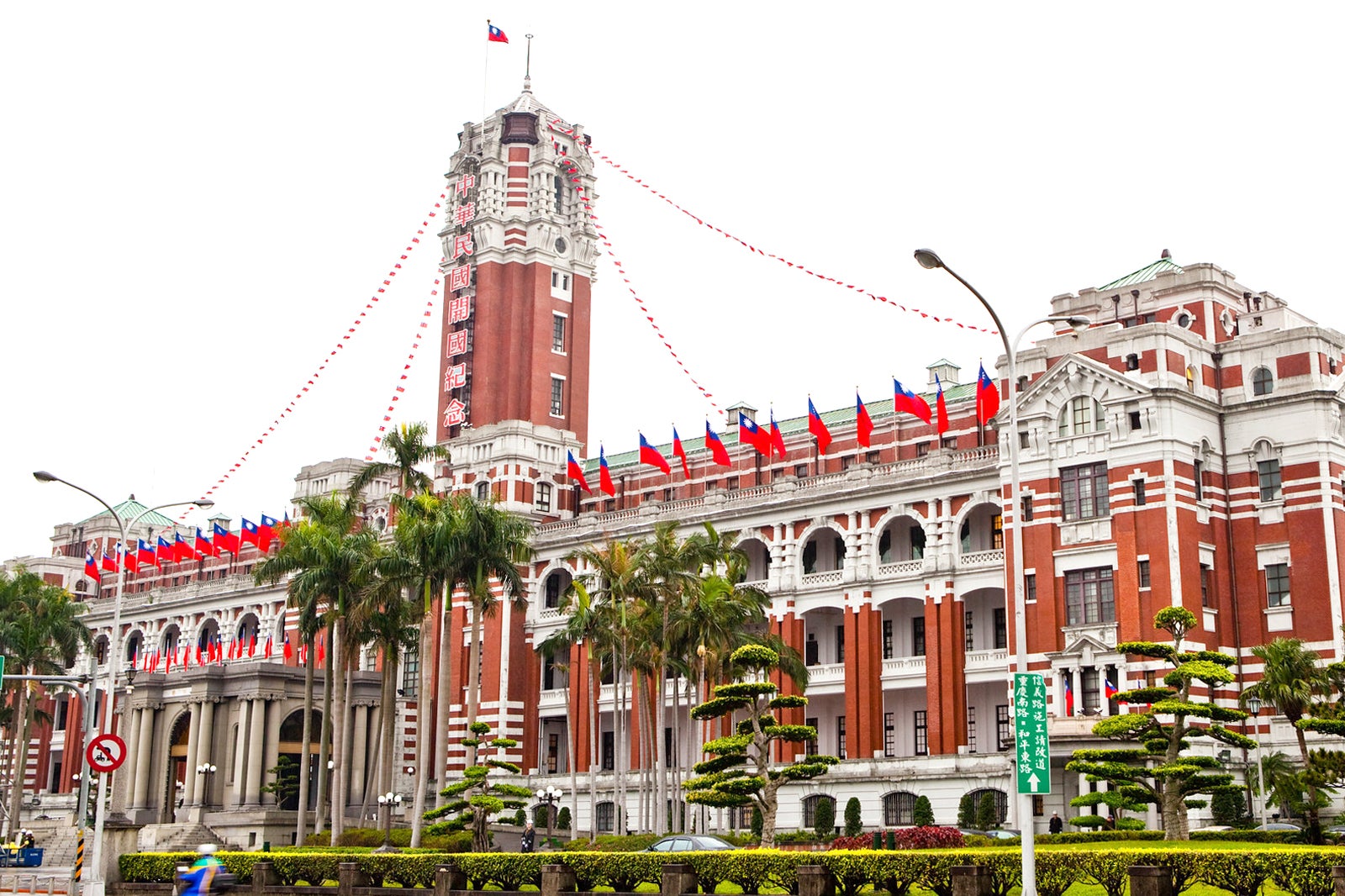 Taipei city centre is home to numerous monuments and historic buildings that not only record the history of the city but also carry the memories of its people generation after generation. A tour of the historic sites in Taipei won't cost you a thing as many of them are free to visit and provide guided tours for you to learn more about the local history and culture.
The most symbolic national monument is the Presidential Office Building, formerly known as the Office of the Governor-General. Designed by Tatsuno Kingo and built in 1919, this building is widely acclaimed for its domes, towers and red and white façade. The building is regularly open for free public visits and provides guided tours to give visitors a glimpse into the centre of Taiwan's politics. Apart from the Presidential Office Building, there are also old houses and other historic buildings worth visiting, such as Qingtian 76 – an old house located in the Qingtian Street – and the Taipei Futai Street Mansion in Zhongzheng District.
photo by LH Wong (CC BY-SA 2.0) modified
5
A tour of centuries-old temples in Taipei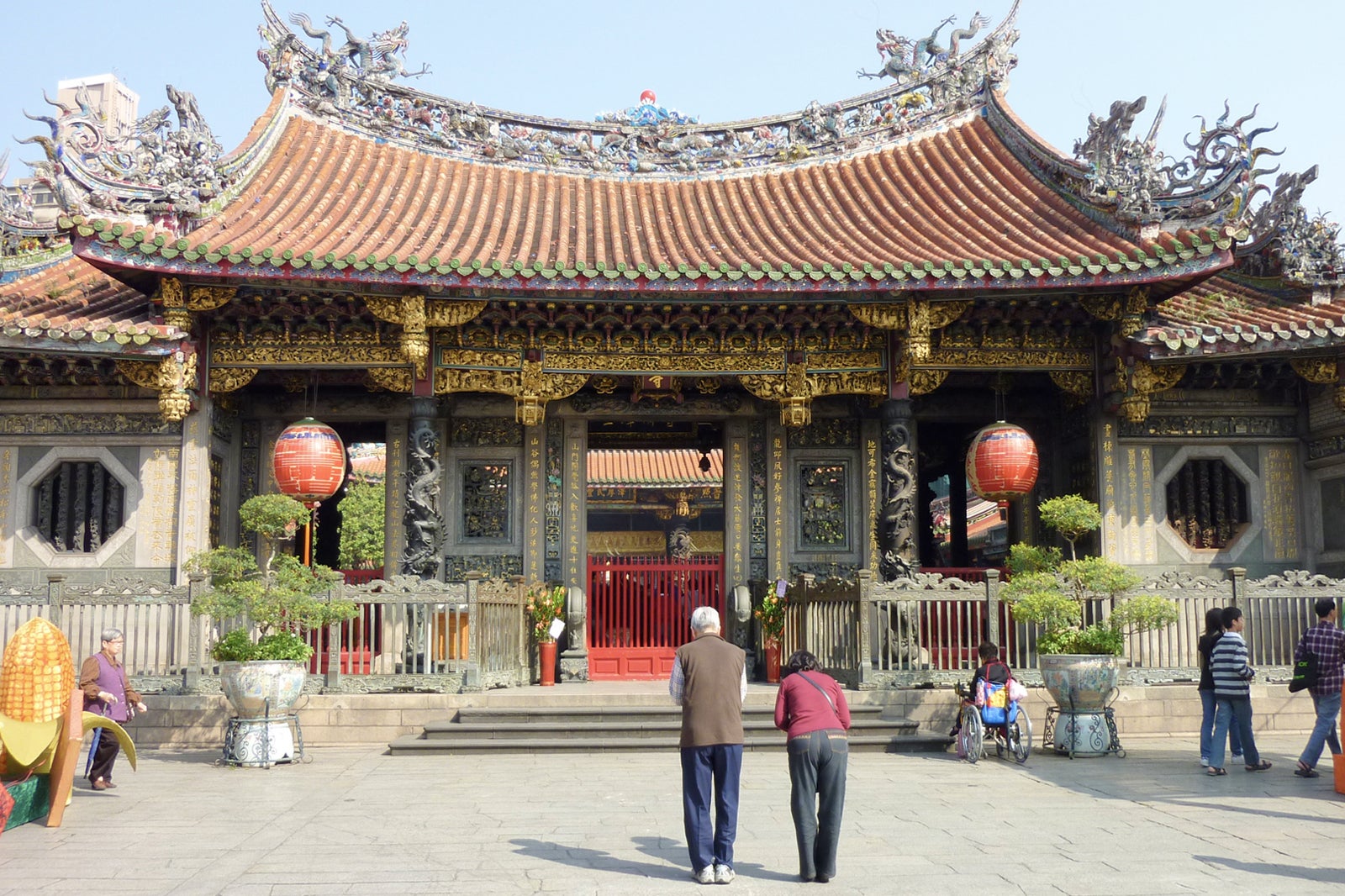 Besides department stores and modern high-rise buildings, Taipei also charms visitors with its many historic temples. Some have stood for more than 100 years, dating back to the 18th century, and are important centres of folk religion. Located in Datong District, Dalongdong Baoan Temple was given a name that signifies "protecting those of Tong'an" – the immigrants who built this temple in dedication to the Baosheng Emperor, a Chinese god of medicine.
Lungshan Temple is located in Wanhua District and has been listed as a Class 2 National Monument. It's a temple dedicated to Guanyin (the bodhisattva). Also located in Wanhua District, Qingshui Temple has been listed as a Class 3 National Monument. It's also known as the Divine Progenitors Temple and is dedicated to Qingshui Zushi, a Buddhist monk whose nose is said to fall as a sign of warning whenever a disaster nears the town. These 3 ancient temples are open for free public visits.
photo by Bernard Gagnon (CC BY-SA 3.0) modified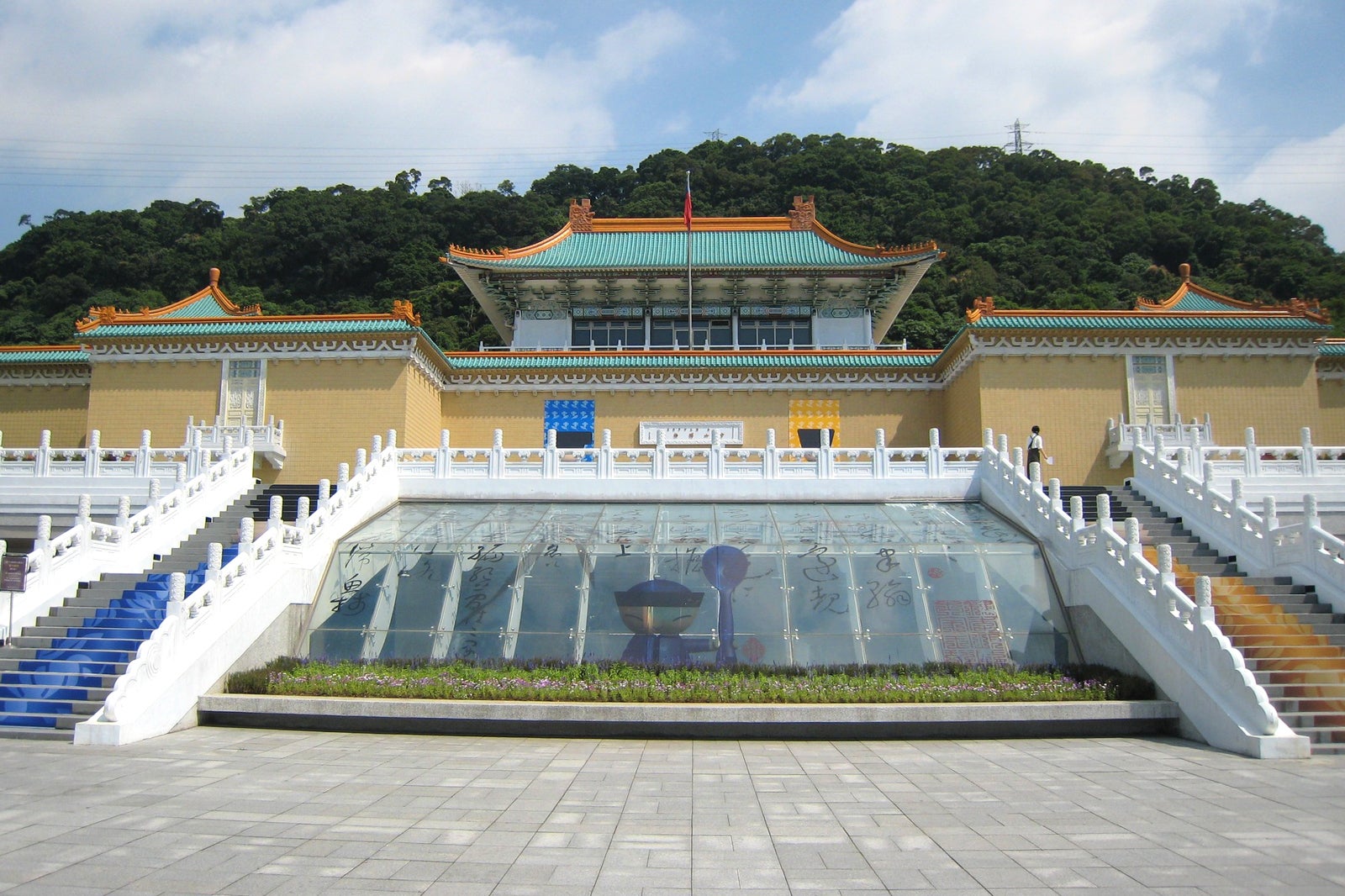 Rich in culture, Taipei is a city of diversity and fun that has plenty of museums, many of which are free to visit. You can enjoy a fulfilling day without spending a thing, browsing the museums' vast collections. If you're interested in historical houses, you should check out museum207, which is a monument in itself. First built in 1962, this old house has been listed as a historical building because of its architectural and historical preservation value. It hosts various themed exhibitions and arts and cultural activities, which offer visitors a chance to learn more about local history and heritage.
A dive into the Discovery Center of Taipei will bring you closer to understanding Taipei. Located at Taipei City Hall, the Discovery Center of Taipei was formerly the Taipei City Archives and has recorded the course of development of Taipei. If you're looking for a themed museum, the CPC Petroleum Discovery Museum in Xinyi District is a great choice for an informative and worthwhile tour. The museum describes the widespread use of oil in our world through interactive scenarios, as well as the evolution of oil extraction technology and its many innovations.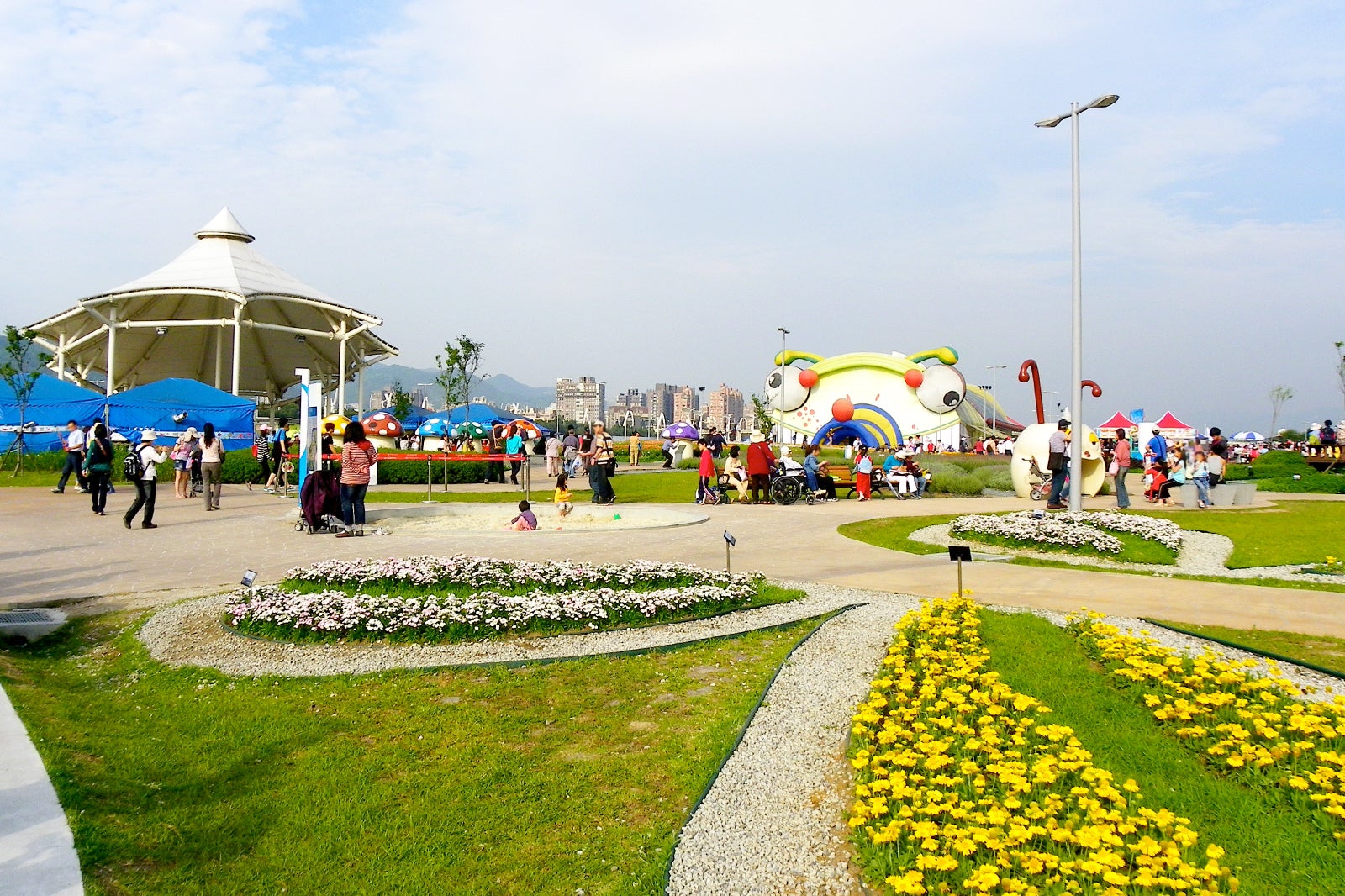 Located in Zhongshan District, Dajia Riverside Park is a large expanse of lush grassland along the Keelung River. There are grounds and facilities for a wide variety of sports such as basketball, badminton, tennis and cricket, as well as several miles of bicycle lanes. It's a great place for people to exercise, relax and unwind. Apart from the sports facilities, there's also a large fountain measuring 125 metres in diameter, which performs a water show on the hour. The height of the water column can reach up to 75 metres, creating an eye-catching spectacle for visitors.
For travellers with limited budgets who would like to make a one-day or half-day visit, Dajia Riverside Park is an excellent choice. Whether you're there for a spot of relaxing sightseeing, sports, a leisurely cycle or a lazy picnic, you'll have a great time without having to spend much money.
photo by 玄史生 (CC BY-SA 3.0) modified
8
Free art and cultural exhibitions in Taipei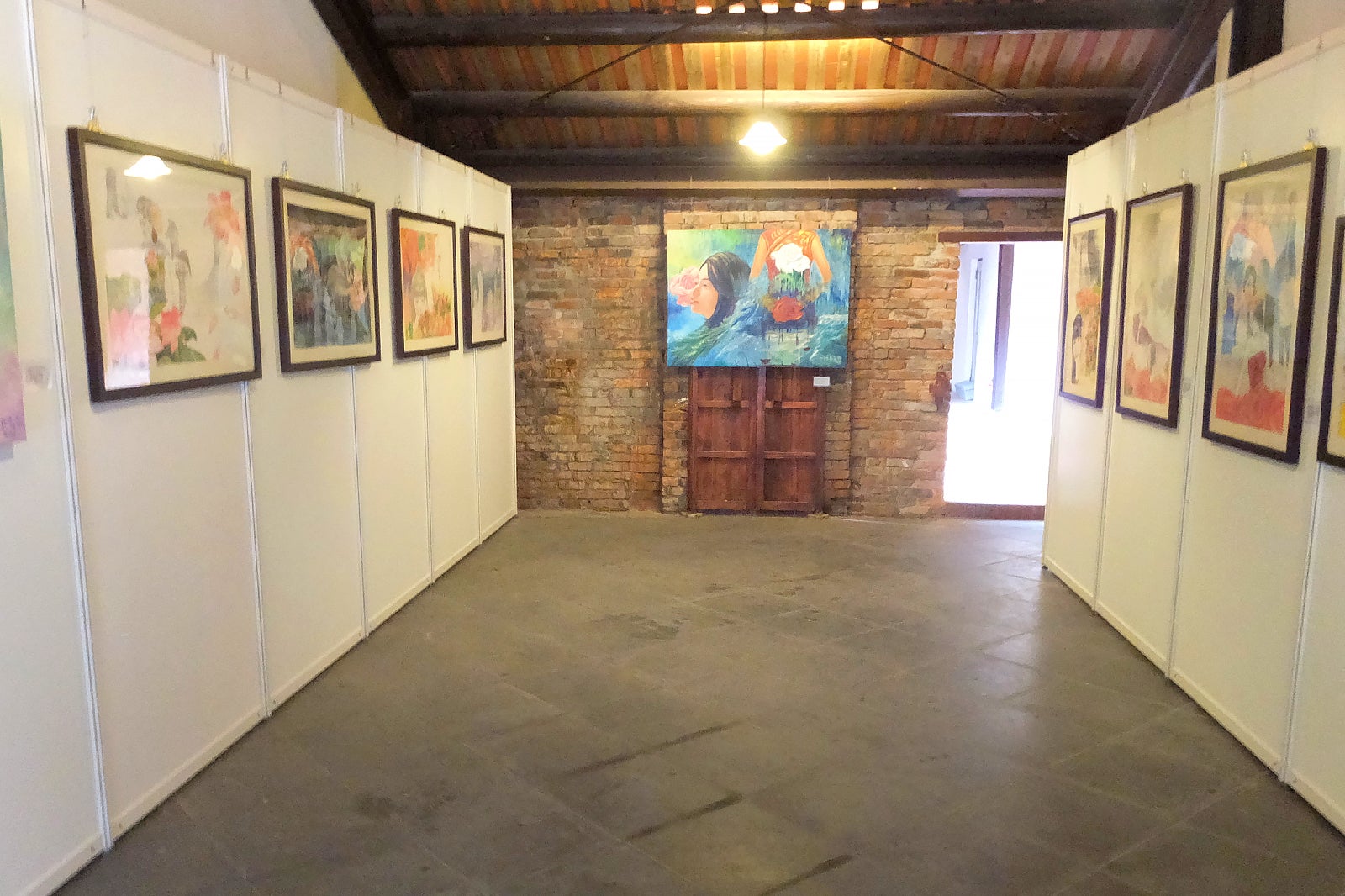 If you're into art and culture, there are plenty of local exhibitions and works created by local artists in Taipei to explore. There's always a huge range of wonderful solo, themed, temporary and permanent art exhibitions. Taipei's thriving art and culture scene is visible everywhere you look, and adds to the city's unique charm.
Many exhibitions are free of charge and last between a month and a year. In Taipei, you can find all kinds of exhibitions: solo, painting, video and sculpture. And with so many free exhibitions to choose from, you may need to stay a bit longer to see them all. So, gather information about the exhibitions, select those you'd like to see and embark on an exciting all-day art and cultural tour of Taipei.
photo by lienyuan lee (CC BY 3.0) modified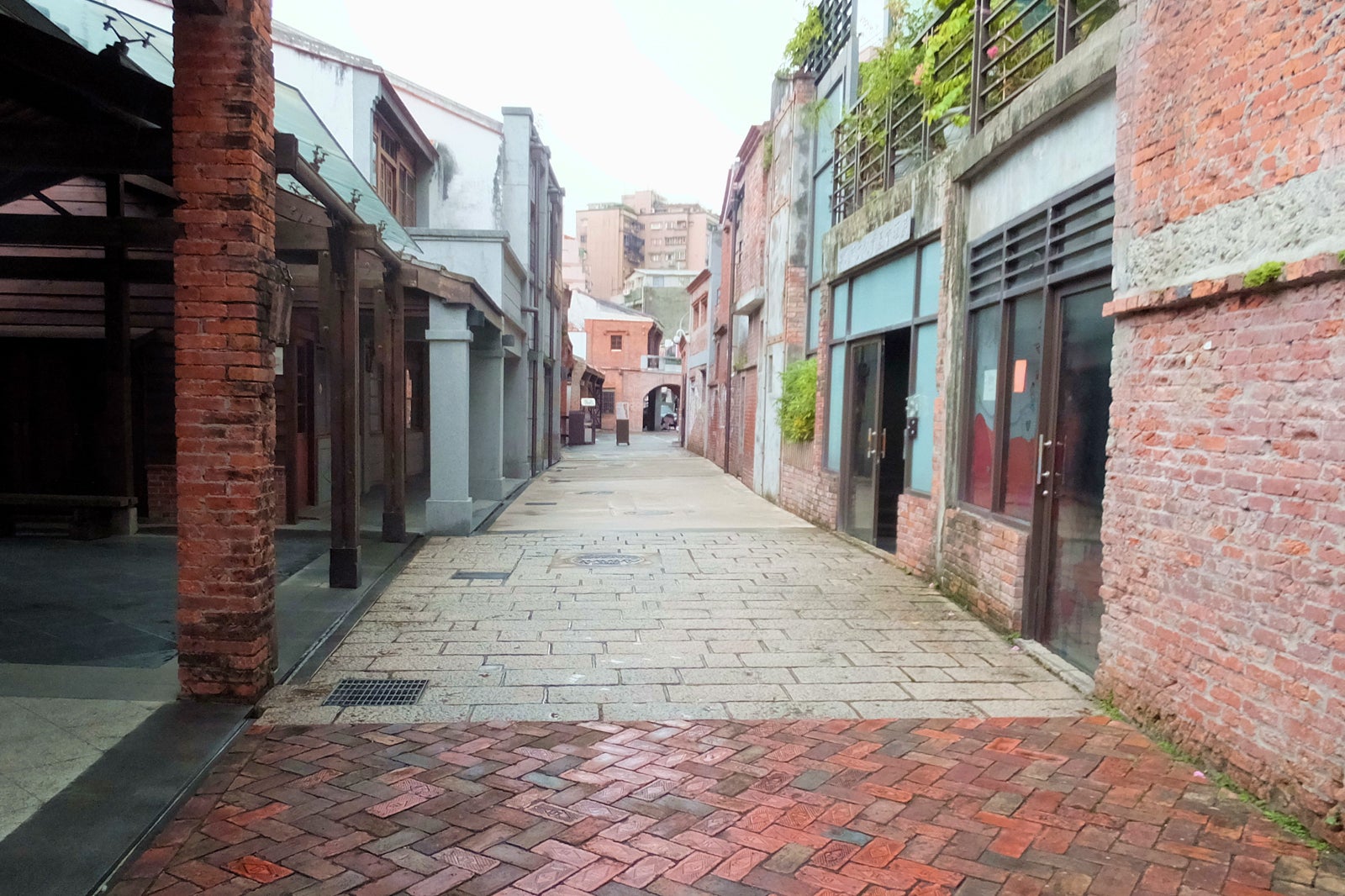 Located in Wanhua District, Bopiliao Historic Block is one of the few remaining streets from the Qing Dynasty in Taipei. The block includes the Taipei Municipal Lao-Song Elementary School, Kunming Street, Guangzhou Street and Kangding Road. It has a history stretching back more than 200 years and has been listed as a historic building in Taipei. Bopiliao used to be a bustling business district with numerous foreign-style houses. It has preserved the traditional Qing Dynasty-period architecture, which features red-brick walls and vaulted arcades.
Some of the most famous traditional buildings include the residence of Chang-Tai-yan, a master of Chinese traditional culture, Song Xiexing Rice Store and Xiuying Teashop. Some of the neighbourhoods that were in decline experienced a revival thanks to the film Monga, which attracted many fans to make pilgrimages here. It's now one of the most popular tourist spots in Taipei. The block is free to visit. You can check out the filming locations and allow the beauty of the architecture to transport you back in time, to imagine what life would have been like during the glorious heyday of the Qing Dynasty.
Location: Lane 173, Kangding Road, Wanhua District, Taipei, Taiwan 10852
Open: Tuesday–Sunday from 9 am to 5 pm (closed on Mondays)
photo by lienyuan lee (CC BY 3.0) modified
10
Yangmingshan National Park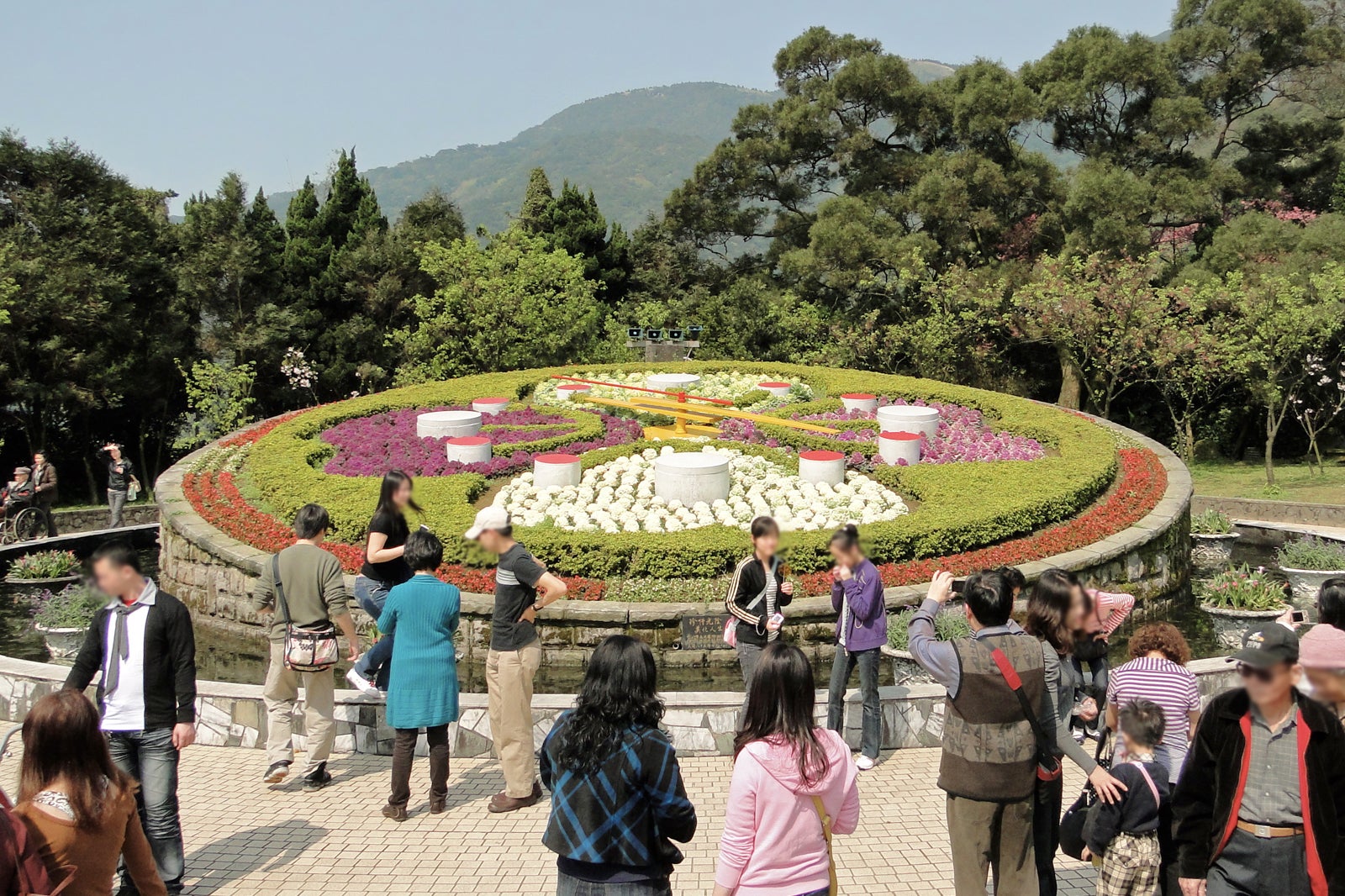 A visit to Yangmingshan National Park, where the distinctive features of each season are at their most striking, is an experience not to be missed. Entry is free, and you can roam the entire park at your leisure. For just a small fare, you can hop on a bus that will take you on a tour around the park. Being the third-largest National Park in Taiwan, Yangmingshan National Park boasts numerous recreational areas and a wide variety of flora all over the mountain.
Every spring, huge numbers of tourists come here to admire the beautiful blossoms, making it one of the most popular destinations during the flower season in Taipei. When flower season arrives, you can see colourful and delicate camellia, Taiwan cherry, Japanese cherry and azalea blossoming everywhere. Rows of cherry blossoms cover the mountain in ribbons of rich crimson, attracting swarms of photographers who come to capture the most breathtaking pictures.
Location: No. 1-20, Zhuzihu Road, Shilin District, Taipei, Taiwan 11292
photo by Bernard Gagnon (CC BY-SA 3.0) modified
Hiking in Taipei is a popular and surprisingly easy activity to enjoy. With plenty of clearly-marked paths, many of them within easy reach of the city's public transport, you can enjoy the rugged wilderness of Taiwan and excellent views of the skyline without lengthy travel times or the need for specialised equipment and training.

Being right on the Tropic of Cancer, Taiwan's climate is pretty humid, which can make conditions uncomfortable. Most hikers choose to visit in the cold but dry winters, meaning that they have a better chance of finishing their walk without being soaked in either monsoon rains or sweat. On the downside, the tropical valleys with their exotic flora and fauna are significantly less attractive and lively in the winter months.
Read more
Back to top