10 Best Places Locals Love to Go in Yilan
Locals' Guide to Must-Visit Sites in Yilan
Yilan in the northeast of Taiwan, formerly known as Kamalan, is a popular destination with beautiful scenery. There are no skyscrapers here, only endless fields. During holidays, many Taipei inhabitants drive through Hsuehshan Tunnel to Yilan to spend time in Suao Cold Springs Park and Jiaoxi Hot Spring Park, hoping to forget the clamour of the metropolis. Yilan is bestowed with valuable natural beauty well suited for sightseeing.
Yilan's national forest recreation areas, culture gardens and gorgeous bays and tidal parks all have unique natural landscapes, displaying different fascinating beauty throughout the 4 seasons. Travellers with children can visit Yilan Riverside Park and Luodong Sports Park to enjoy the cool waters. Yilan also has a profound cultural heritage. The world-renowned Langyang Museum and National Center for Traditional Arts are 2 splendid cultural attractions, with the latter undertaking an important commitment to cultivating traditional art talents. Yilan is full of surprises, waiting for you to discover.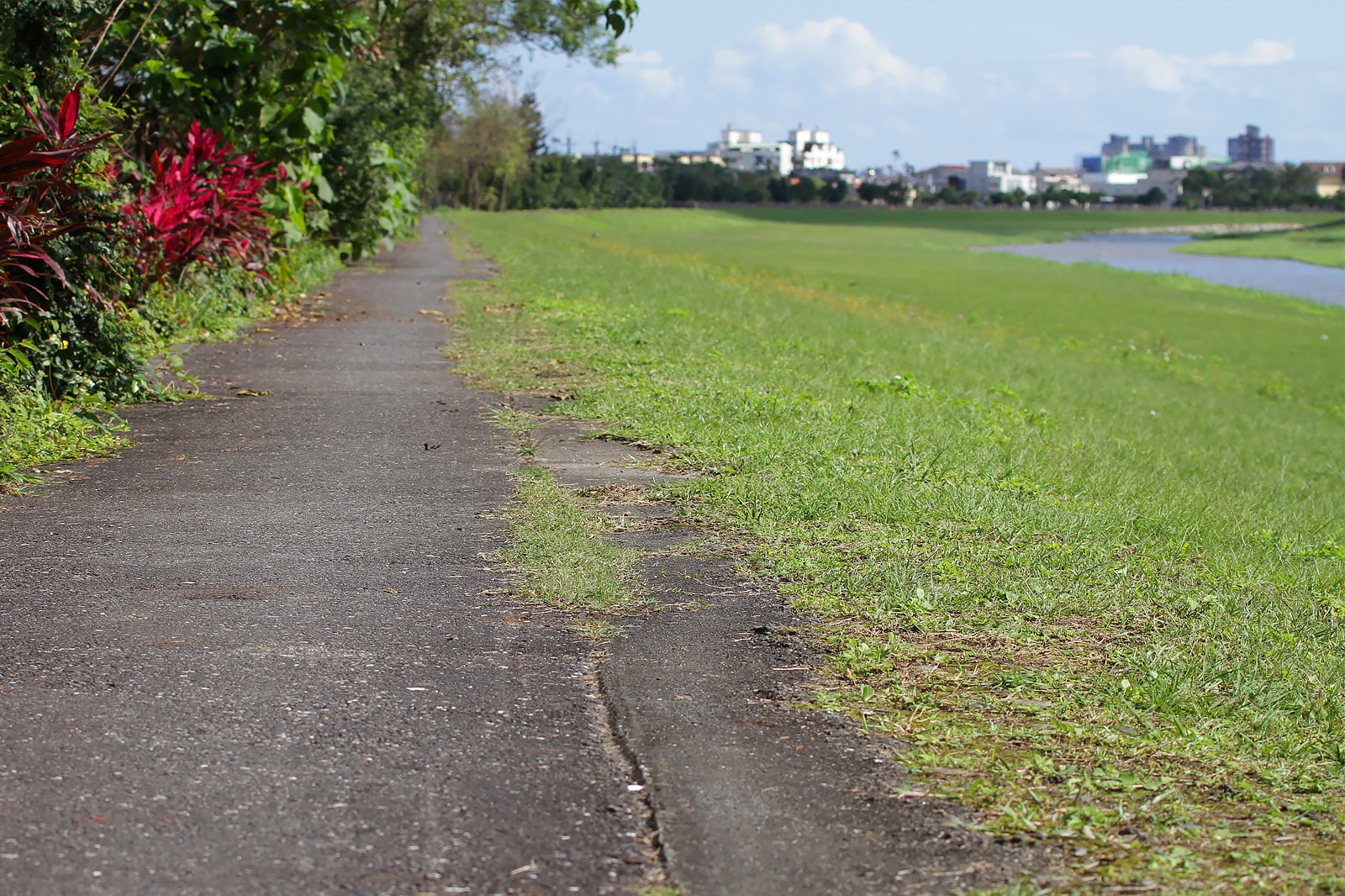 Yilan Riverside Park, an important sport and recreation facility for the people of Yilan, was developed on the banks of Yilan River. The park has a basketball court, baseball field, track and field facility and a large area of green space. The old poem Green Grass at Riverside perfectly describes the beautiful scenery of Yilan Riverside Park.
Visitors can take a walk or jog along the riverside, enjoying the beautiful river scenery along the way. There is a well-planned cycle path running for 15 km along the banks of the Yilan River. Enjoy the charming scenery and the beautiful colours of the water as you ride your bike along the path. Whether you prefer high speed or a more leisurely pace, you will fall in love with the scenery along the Yilan River.
Location: Huanhe East Road, Yilan City, Yilan County, Taiwan 260
Jiaoxi Hot Spring Park was established by the Jiaoxi authorities. It features a Japanese-style hot spring pool with natural Jiaoxi hot spring water, which can accommodate up to 200 bathers. Jiaoxi is a town in Yilan with saltwater hot springs. Gushing out from the ground and rich in various natural minerals, the spring water is warm, colourless and odourless, making it ideal for bathing. After treatment, it becomes drinkable mineral water with a high economic value.
Jiaoxi Hot Spring Park offers clean facilities and a comfortable environment where the whole family can relax and enjoy the pleasure of bathing. The hot springs of Jiaoxi have a beautifying effect on the skin, which has helped it earn its nickname, 'beauty spring'. Bathing here leaves the skin feeling smooth and soft. Jiaoxi Hot Spring Park has an open-air pool for foot bathing as well. After a busy day, you can come here to use the foot pools, which have an immediate relaxing and revitalising effect.
Location: No.16, Gongyuan Road, Jiaoxi Township, Yilan County, Taiwan 262
Open: Daily from 9am to 10pm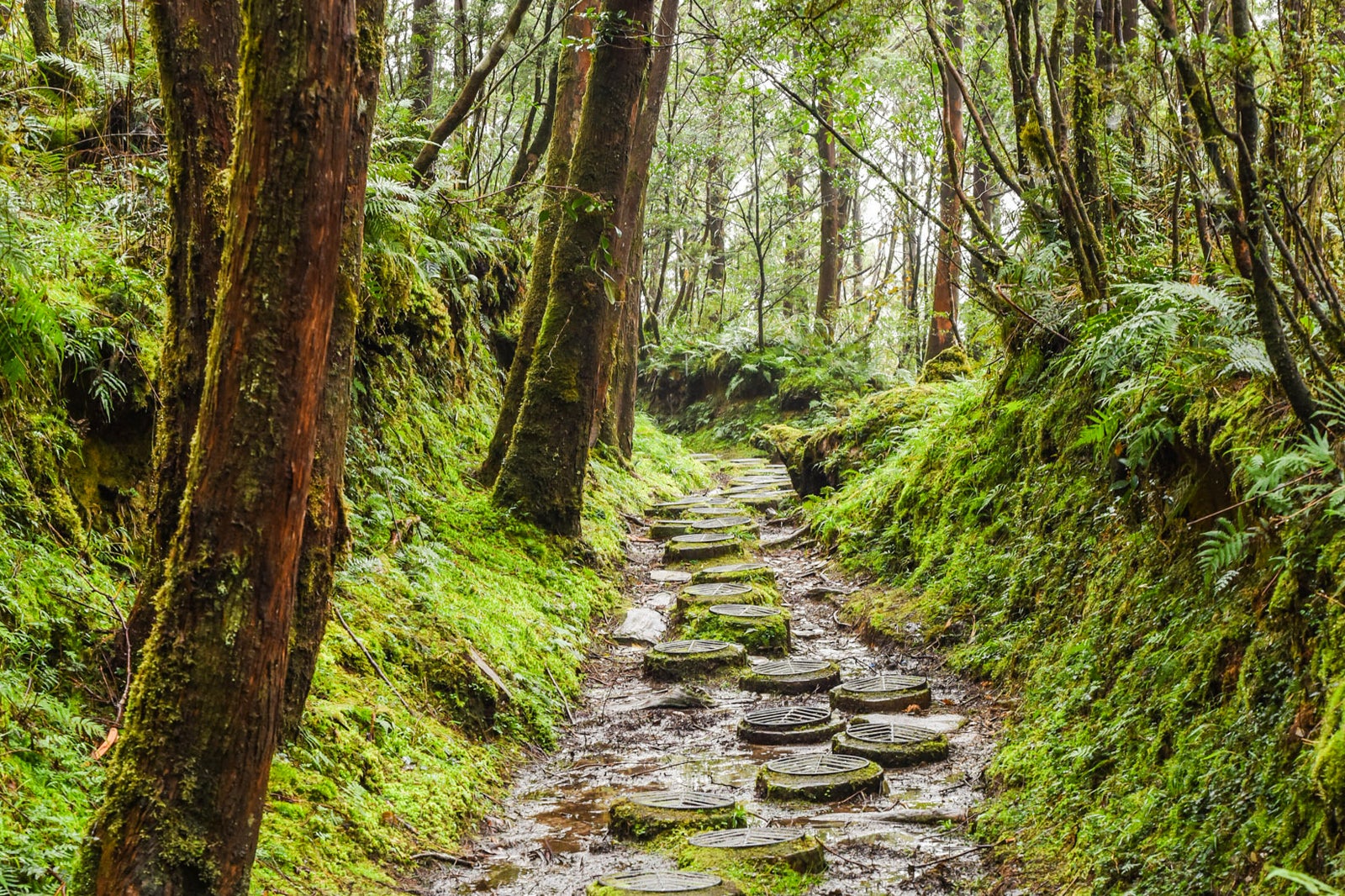 Taipingshan National Forest Recreation Area
Taipingshan is a vast, unspoiled primaeval forest in Yilan with a rich forest landscape. Visitors can enjoy breathtaking views of clouds, waterfalls, lakes and streams here. The forest offers numerous hiking trails and is the perfect place to enjoy the health benefits of being at one with nature. Taipingshan was originally a logging ground. After it was transformed into a forest recreation area, logging was brought to a halt. The authorities and residents worked together to restore the original appearance of the forest so that ancient trees could continue to thrive.
Visitors to Taipingshan National Forest Recreation Area can hike along the natural footpath and visit the fir forest and wetlands. In the misty mountain forest, you feel as if you're walking on the clouds. The Bong Bong Train is a very popular attraction. Originally used to carry wood when the forest was used for timber production, it is now a forest train loved by visitors. Take in the magnificent scenery as you travel between Taipingshan and Maoxing stations, with scenes reminiscent of pictures from a fairy tale book.
Location: 58-1 Taiping lane, Datong Township, Yilan County, Taiwan 267
Open: Monday–Friday from 6am to 8pm, weekends and holidays from 4am to 8pm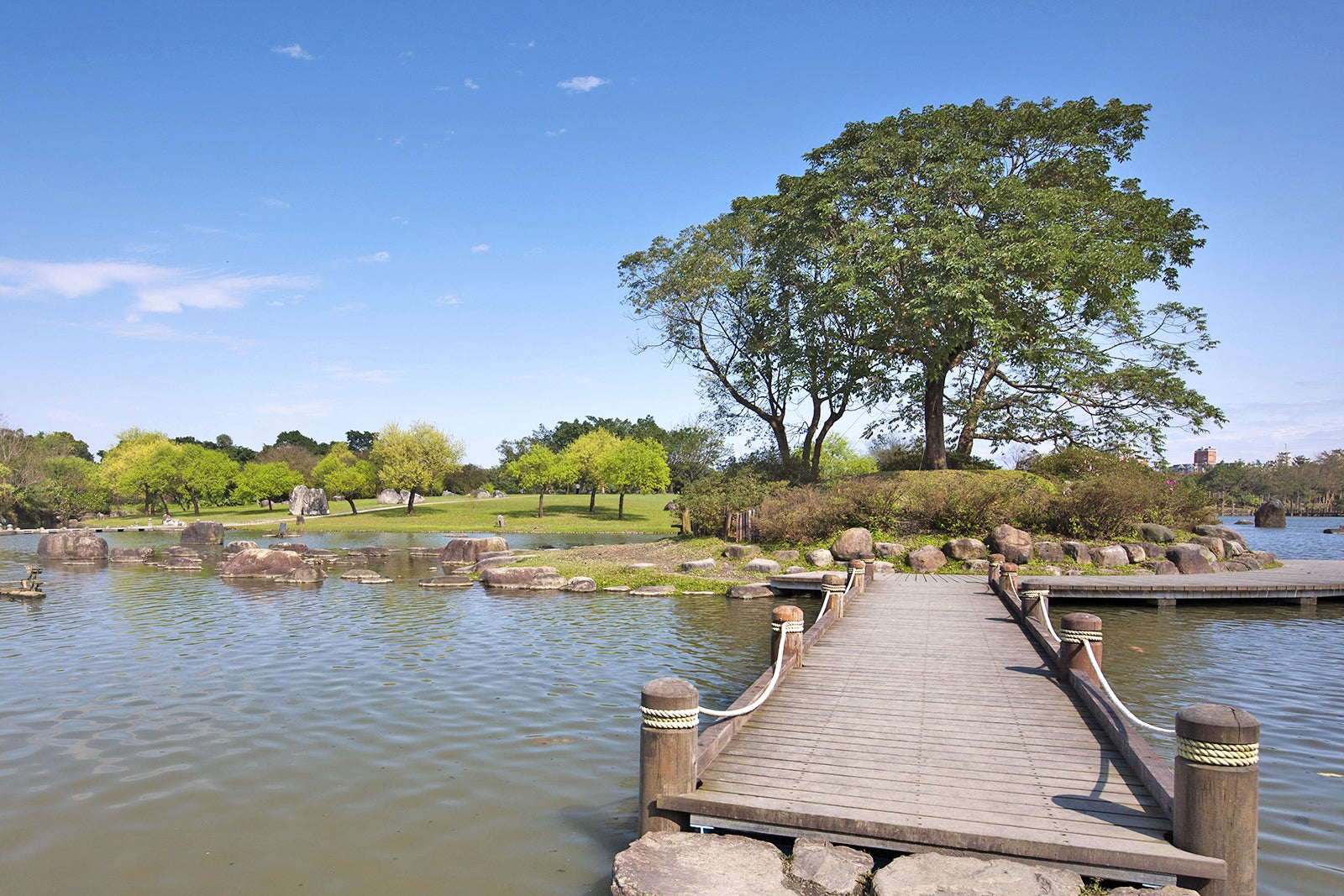 Luodong Sports Park in Luodong Township consists of 4 areas: forest, landscape, waterscape and sports. It features the lush greenery that is typical of the Yilan Plain and is a source of great pride for the people of Yilan. Luodong Sports Park covers an area of 47 hectares. The park's sports facilities include a football field, athletics track, basketball court and tennis court.
Visitors can enjoy playing sports in the park's beautiful natural surroundings. Luodong Sports Park is also an ideal haven for those in search of peace and tranquillity. There are many quiet corners for visitors to relax, stroll among the larch forests, visit the wetlands, take beautiful photos at Hongming Lake and admire the dramatic landscapes of the Yilan Plain.
Location: No. 666, Gongzheng Road, Luodong Township, Yilan County, Taiwan 265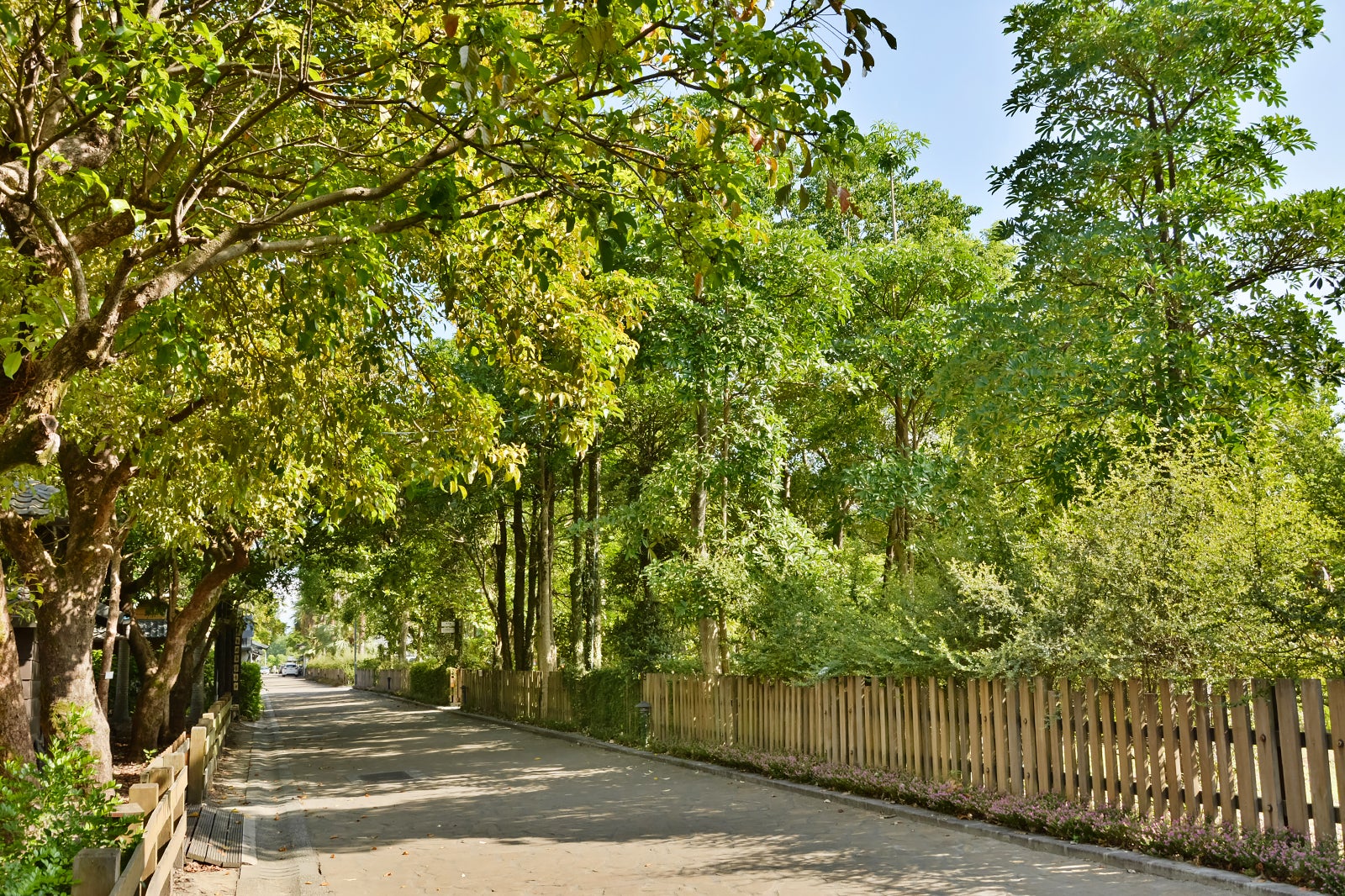 Luodong Forestry Culture Garden
Luodong Forestry Culture Garden is located in Luodong Township and was formerly known as Luodong forest farm. After timber production ceased, it was transformed into a culture park to show visitors the history of forestry in Yilan. After logging stopped, the whole forest was able to breathe again. Instead of being cut down arbitrarily by humans, the trees now grow freely in the mountain forest. The trees of the Forestry Cultural Garden are lush and verdant, and a chorus of thousands of birds singing in unison can be heard.
Visitors to this unique park can see the old logging buildings, artefacts and the steam train that was used to transport timber. Luodong Forestry Culture Garden has a well-planned footpath and a wood plank walking trail around the lake. Time seems to slow down in the mountains. Sitting under the trees, quietly reading a book and gazing at the aquatic plants, your mind will become as clear as the waters of the lake.
Location: No. 118, Zhongzheng North Road, Luodong Township, Yilan County, Taiwan 265
Open: Daily from 6am to 7pm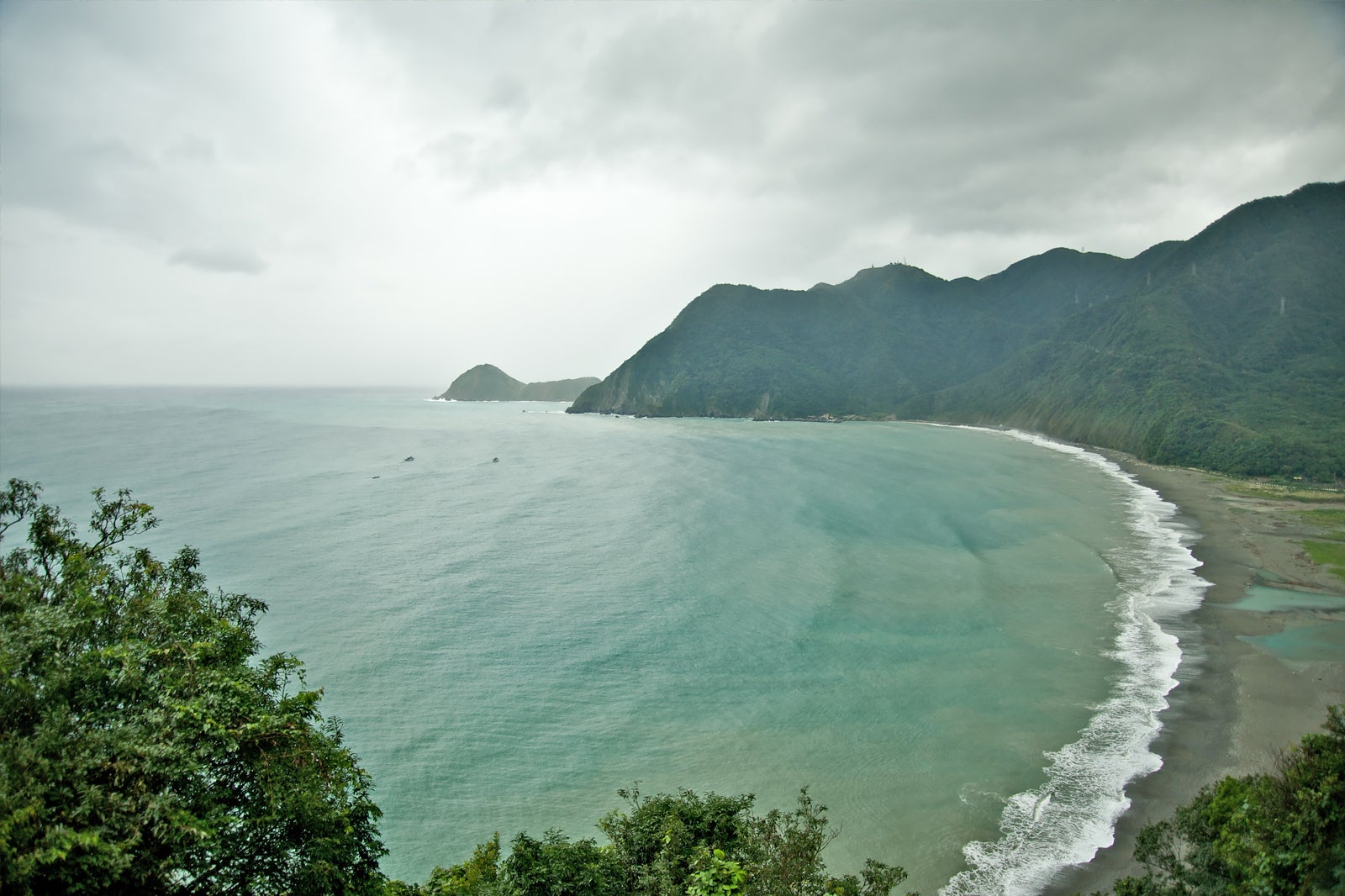 Dongao Bay, located in Suao, is one of Yilan's many dreamlike bays and beaches. The bay is particularly spectacular, with a gravel beach stretching for several kilometres. Visitors walking on this beach can see the distant green mountains. With the sea and blue sky merged into one another, it's a breathtaking scene.
At the southernmost end of Dongao Bay is a small fishing port with the lovely name of Fenniaolin Fish Harbour. It is called Fenniaolin, meaning 'wild pigeon forest', as there were many wild pigeons here in the past. Due to its remote geographical location, Fenniaolin doesn't see many crowds. It is a secret coastal place in Yilan and is very quiet outside of holiday periods, so visitors can watch and listen to the sea quietly without being any disturbance.
Location: Suao Township, Yilan County, Taiwan 270
photo by Fred Hsu (CC BY-SA 3.0) modified
National Center for Traditional Arts
The National Center for Traditional Arts in Wujie Township, Yilan County is affiliated with the Ministry of Culture and is an important institution for the preservation of traditional arts in Taiwan. It is conceived as an experience park, where visitors can enjoy quintessentially traditional Taiwanese arts. The buildings in the National Center for Traditional Arts exude an antique charm.
There are 3 halls, streets and buildings of traditional arts, which are known as the "Three Halls, Three Streets and Three Buildings", reflecting the magnificent grandeur and fine structure of Taiwan's traditional buildings. The National Center for Traditional Arts is suitable for the whole family to visit, offering traditional life markets and live performances by opera singers. The lively gongs and drums give you a feeling of walking into beautiful old Taiwan and returning to the glorious era of Taiwan's traditional arts.
Location: No. 201, Section 2, Wubin Road, Wujie Township, Yilan County, Taiwan 26841
Open: Daily from 9am to 6pm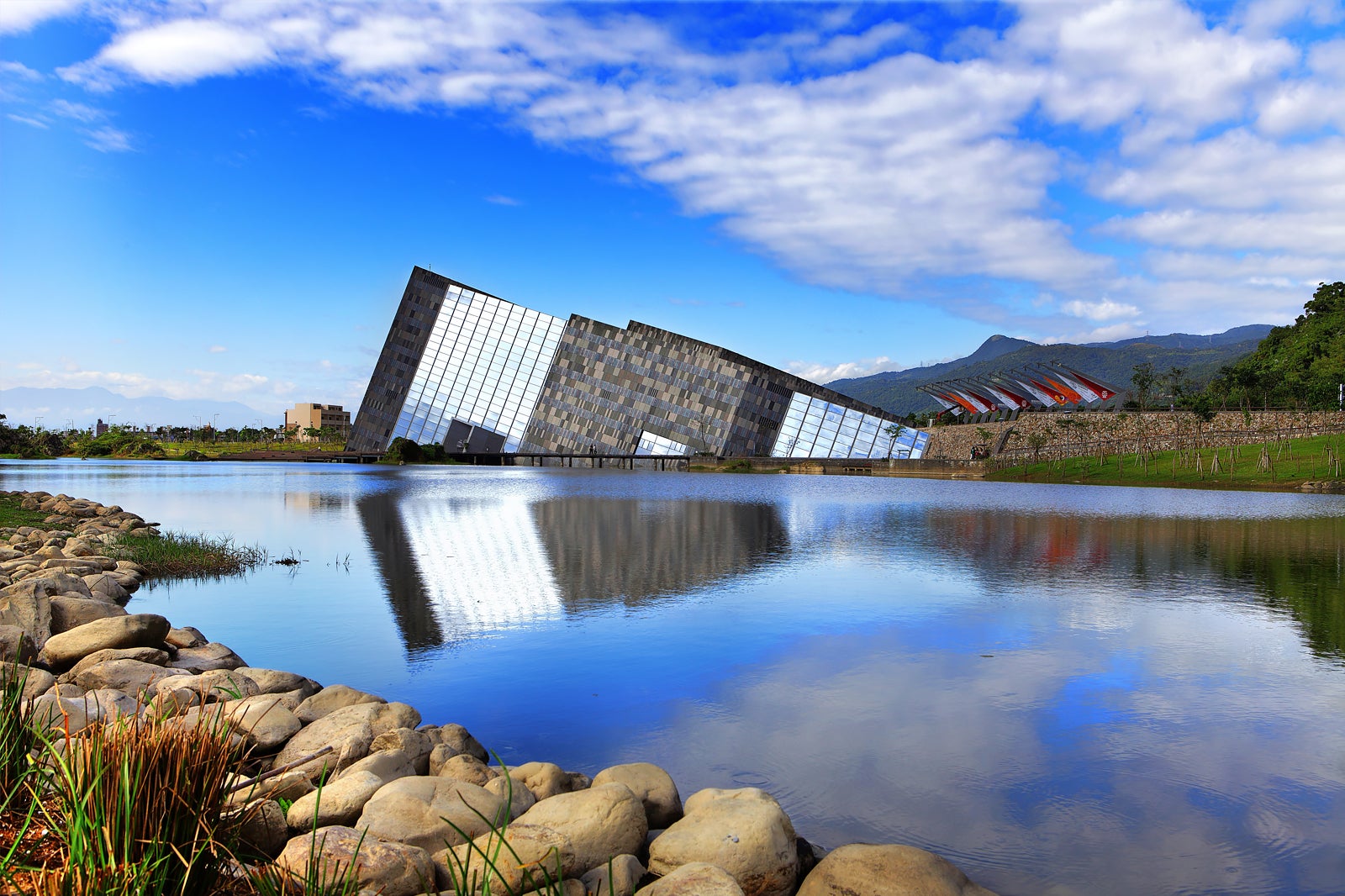 Langyang Museum is a famous landmark in Yilan. The whole building was designed by Kris Yao, a famous master architect, who drew inspiration from the characteristic cuesta along the Beiguan coast of Toucheng township. The exterior of the building has a sloping wall that is integrated with the surrounding landscape. Since the building was completed it has won numerous awards and is a representative modern building in Yilan.
The beautiful sight of Langyang Museum reflected on the water's surface is amazing, and the reflection changes with the light and shadow. It is a place that professional photographers will not want to miss. Inside the museum, which aims to collect and display the local culture of Yilan, there are interactive permanent exhibitions, enabling visitors in the vivid exhibition area to immerse themselves in the landscape of Yilan and gain a deep understanding of the long history of coexistence between Yilan's inhabitants and nature.
Location: No. 750, Section 3, Qingyun Road, Toucheng Township, Yilan County, Taiwan 261
Open: Thursday–Tuesday from 9am to 5pm (closed on Wednesdays)
photo by Jerry Lai (CC BY-SA 2.0) modified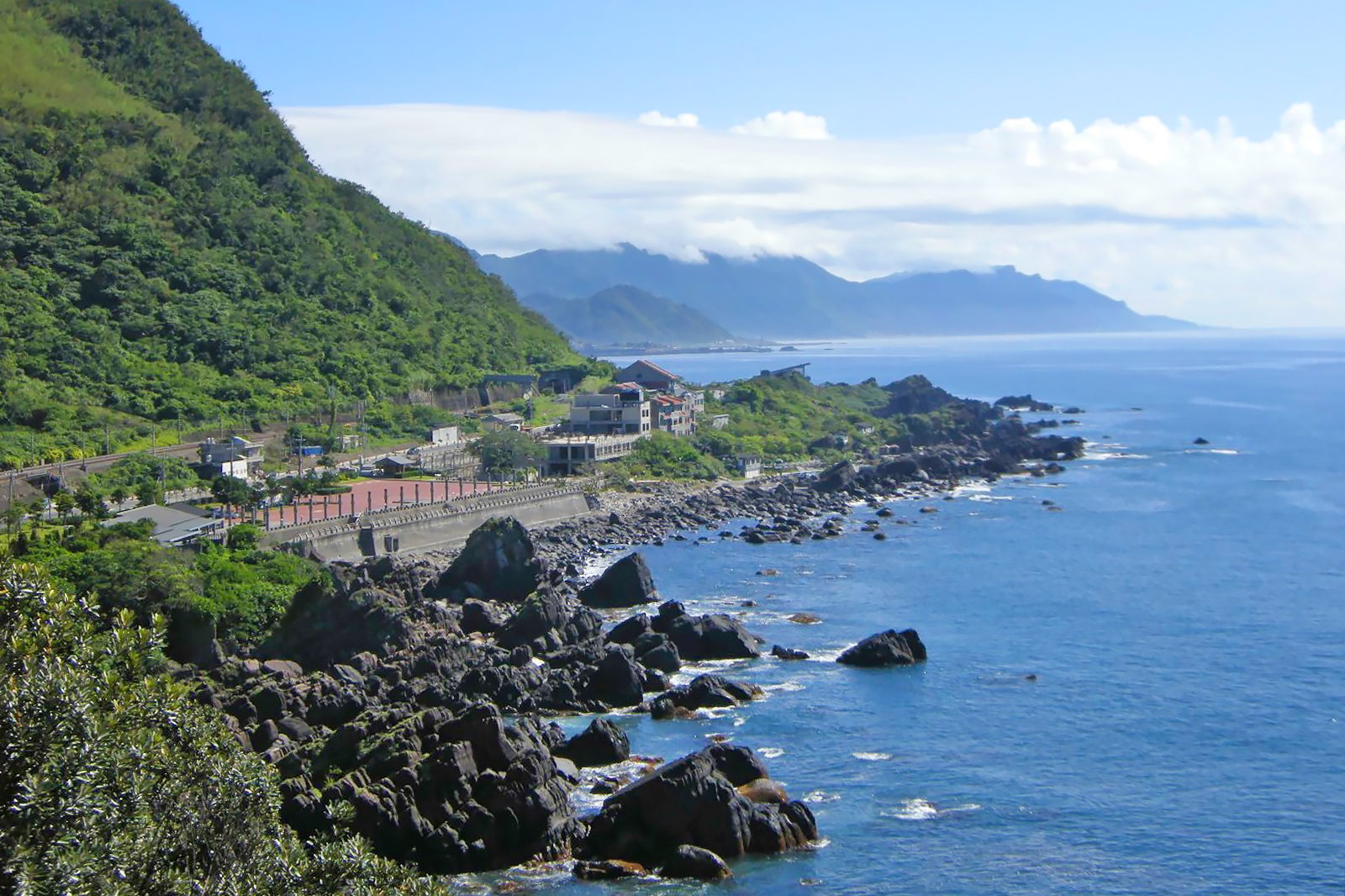 Beiguan Tidal Park used to be a defensive pass in the Qing Dynasty, and 2 ancient cannons still stand here. Now it is a well-known coastal park popular with tourists due to its special terrain. Beiguan Tidal Park is a natural geological classroom, home to special landforms such as tofu rock, cuestas and small capes. With strange rocks everywhere, the park boasts a precious natural coastal landscape. There are coastal walks, steps and sea view pavilions.
Looking out to the sea, you can see Kueishan Island in the distance. Majestic waves constantly beat the rocks on the bank, causing excited exclamations among the tourists. Hence, Beiguan Tidal Park is named one of the "Eight Spectacles of Langyang". Here is a perfect spot to watch the sunrise. Standing on the pavilion, you can appreciate the breathtaking beauty of the sun rising over the radiant, golden sea.
Location: No. 10, Section 4, Binhai Road, Toucheng Township, Yilan County, Taiwan 261
photo by Shou-Hui Wang (CC BY-SA 2.0) modified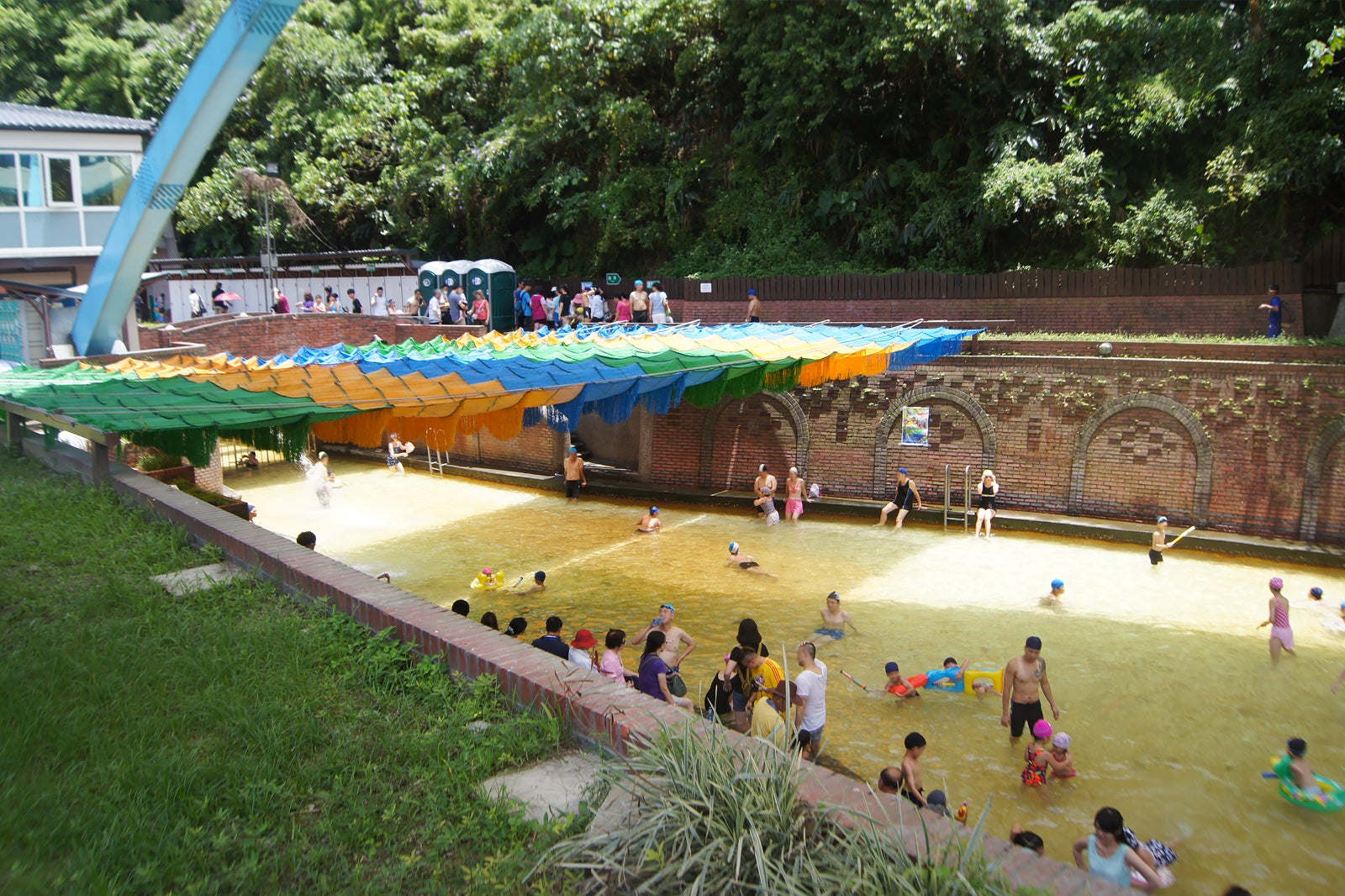 Suao Cold Springs Park in Yilan is a calcium bicarbonate spring, with water that is only 22℃, rich in carbon dioxide and drinkable. In the midsummer, you can cool down by having a dip that will make your skin soft and supple. Suao Cold Springs Park offers a cold spring experience area and a foot-bathing pool that are open all day without charge, making it a perfect place for budget travellers.
Visitors can happily take off their shoes and socks, dip their tired feet into the cold water, and close their eyes to enjoy the cool natural spring. Ramune is made from natural springs and is a popular drink in Suao. You can buy a can of ramune and drink it while bathing so that you can enjoy the precious natural cold springs both inside and outside.
Location: 6-4 Lengquan Road, Suao Township, Yilan County, Taiwan 270
photo by Kamakura (CC BY-SA 4.0) modified