Koh Bon is a small island lying some 2 km off the beach of Rawai on the southeastern coast of Phuket. Covered with lush vegetation, this rocky islet, dotted with tiny sand coves, offers 2 main landing spots to its visitors: Bon Island Restaurant is ideally located between 2 small beaches at the northwestern tip of the island while Long Beach is a semi-private 300-metre-long strip of white sand situated on the northeastern coast of Koh Bon.
The easiest way to get to Koh Bon is to hire a long-tail boat at Rawai's jetty or along Rawai Beach, which costs about 1,000 to 1,200 baht for a 2-way trip that should take no more than 15 minutes each way (depending on the weather and sea conditions). The long-tail boat's captain will drop you at Bon Island Restaurant and will let you know the time at which he will come to pick you up.
Koh Bon - one of the highlights of 13 Best Kept Secrets in Phuket and 9 Most Romantic Photo Spots in Phuket (Read all about Phuket Province here)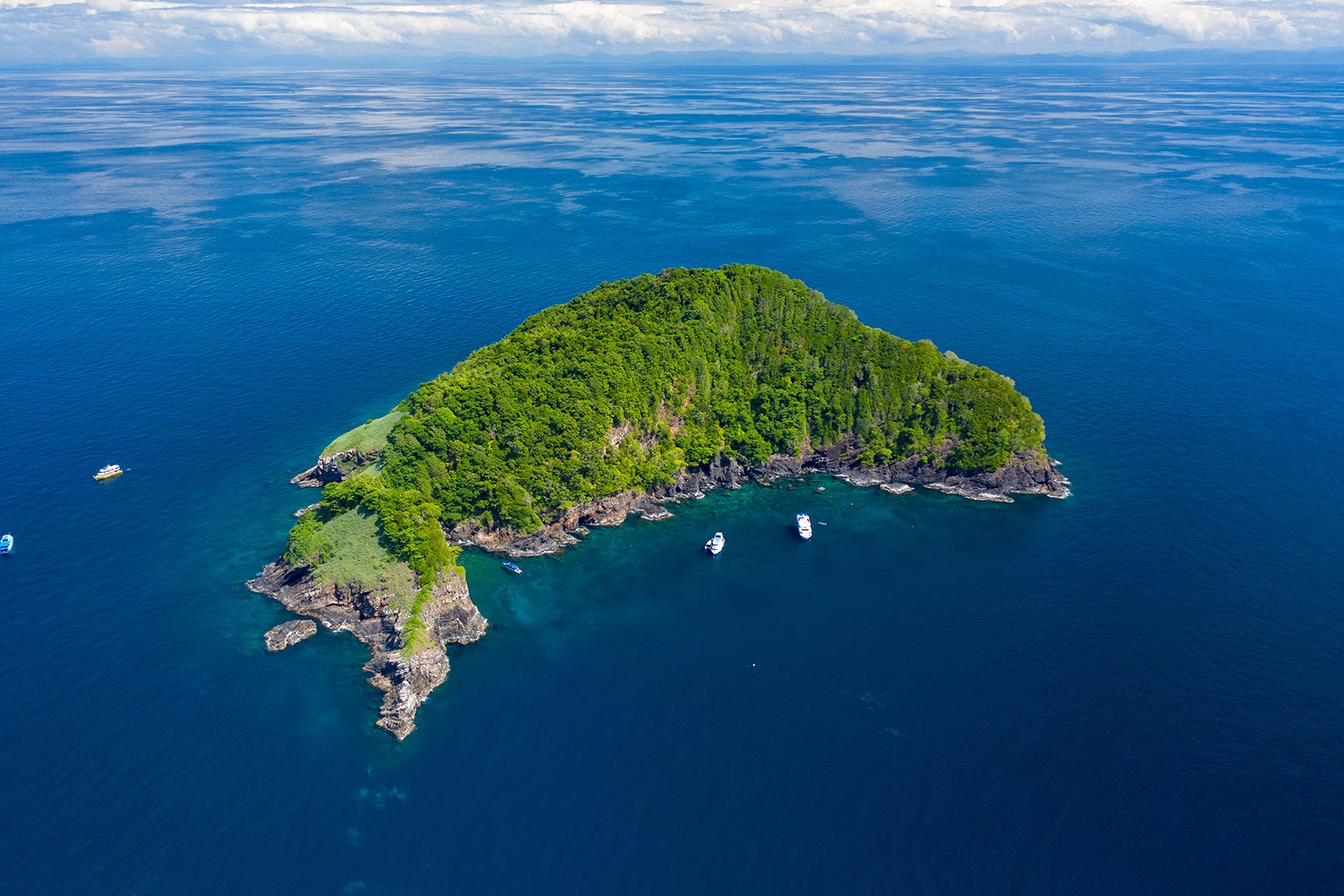 Bon Island Restaurant
Run by a long-established British expat named Dawn, Bon Island Restaurant is a stunning exotic getaway from the hustle and bustle of Phuket's west coast. Featuring a large open-sided dining area, a few bamboo-and-thatch salas and many beach chairs between Pandanus pines and coconut trees, Bon Island Restaurant can comfortably accommodate up to 150 guests on its 3,500-square-metre plot of land. It's normally open every day, all year round, from 10am to 5pm. Only bad weather can force the restaurant to stay closed.
Bon Island Restaurant serves all the classics of Thai cuisine, from tom yum goong (spicy soup with prawns) at about 280 baht to fried or steamed fish with either garlic pepper, tamarind sauce or curry powder at 370 baht. There's also a choice of international favourites (available in high season, from November to April only) such as sandwiches, chicken with French fries, and more. The restaurant also has a few cocktails such as Mai Tai and Pina Colada.
Koh Bon's highlights
About 1.2 km at its longest and 500 metres at its widest, Koh Bon is a rather small piece of land, yet it hosts a great variety of wildlife. Apart from hermit crabs and other crustaceans, the island is home to many monitor lizards, local birds, and insects. This wildlife, plus all the marine life that abounds off its coasts (especially in the island's south-west, which is a good snorkelling spot) make Bon Island a great and easily accessible getaway from Phuket.
Koh Bon
Location: Koh Bon, Rawai, Muang, Phuket 83100, Thailand
Back to top