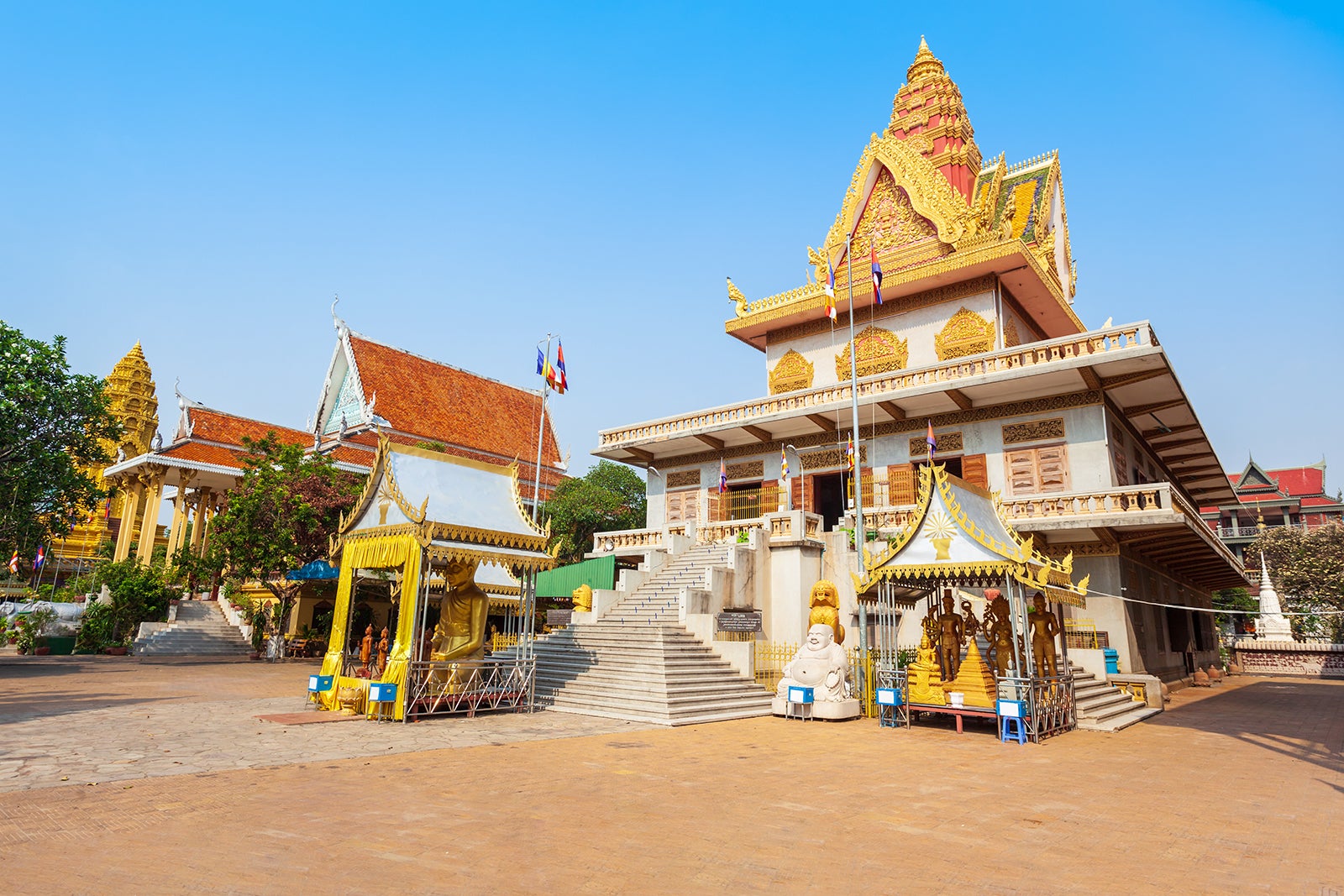 A visit to Wat Ounalom in Phnom Penh gives you an insight into the spiritual teachings, philosophies and history of Buddhism. Perhaps the most prominent and oldest of 5 pagodas in Cambodia. Wat Ounalom is the centre of Cambodian Buddhism and serves as the abode of the Patriarch of the Mahanikai School of Buddhism.
As the name indicates, King Ponhea Yat – meaning 'Eyebrow Temple' – was built in 1443 to enshrine an ounalom (eyebrow hair) of Buddha, and the shrine was once home to more than 500 monks as well as the Buddhist Institute's library that held in its collection over 30,000 titles. The Khmer Rouge (1975 –1979) caused serious sabotage to the temple's valuable cultural artefacts and book collection. The regime also resulted in the deaths of many monks.
Wat Ounalom in Phnom Penh - one of the highlights of 18 Best Things to Do in Phnom Penh (Read all about Phnom Penh here)
Buddha's eyebrow hair miraculously survived and is still the temple's focal point. Wat Ounalom also provisionally housed the Buddhist Institute before its relocation to a larger area on the Sihanouk Boulevard in 1999.
Wat Ounalom has around 44 buildings. The main temple, which dates back to 1952, is a modern recreation of the original 15th-century shrine. It's spread over 3 levels and displays a collection of paintings and cultural relics about the life of Buddha.
Behind the main temple, you can visit Chetdai, an Angkorian-era stupa preserving Buddha's eyebrow hair. It's also popular for its 4 bronze statues of Buddha in a sitting posture. Each faces a cardinal direction – north, east, south, and west. The walls that bound this ancient stupa have several figures of Hindu gods – the most significant being the image of Lord Vishnu, a Garuda mythical bird, and Lord Yama on his buffalo.
Another highlight at Wat Ounalom is the image of Samdech Huot Tat, the 4th Buddhist patriarch who was executed during the Pol Pot era. It's placed at the main temple's northeast corner. The monastery of the Supreme Patriarch north of the main temple.
You can find Wat Ounalom on the Tonle Sap riverfront. It's also close to the Royal Palace in Phnom Penh. Entry to the temple is free.
Wat Ounalom in Phnom Penh
Location: 172 Ly Yoat Lay Street, Phnom Penh, Cambodia
Open: Daily from 6am to 6pm
Phone: +855 12 890 010
Back to top