Banff Travel Essentials
Useful Information to Help You Start Your Trip to Banff
Our Banff Travel Essentials lays out the essential information you need to help planning your trip to one of the most popular destinations in Canada. No matter how frequently you travel, some questions will always need answers: What's the weather like? How can I get from the airport to my hotel? What currency and type of plug do I need? We have all these answers plus other basic info about the best time to go, getting there, getting around, and a few useful travel tips.
It's all compiled in this Banff Travel Essentials. After reading this short and easy-to-read guide, you will be a little more prepared to start your trip in Banff, Alberta.
1
When is the best time to travel to Banff?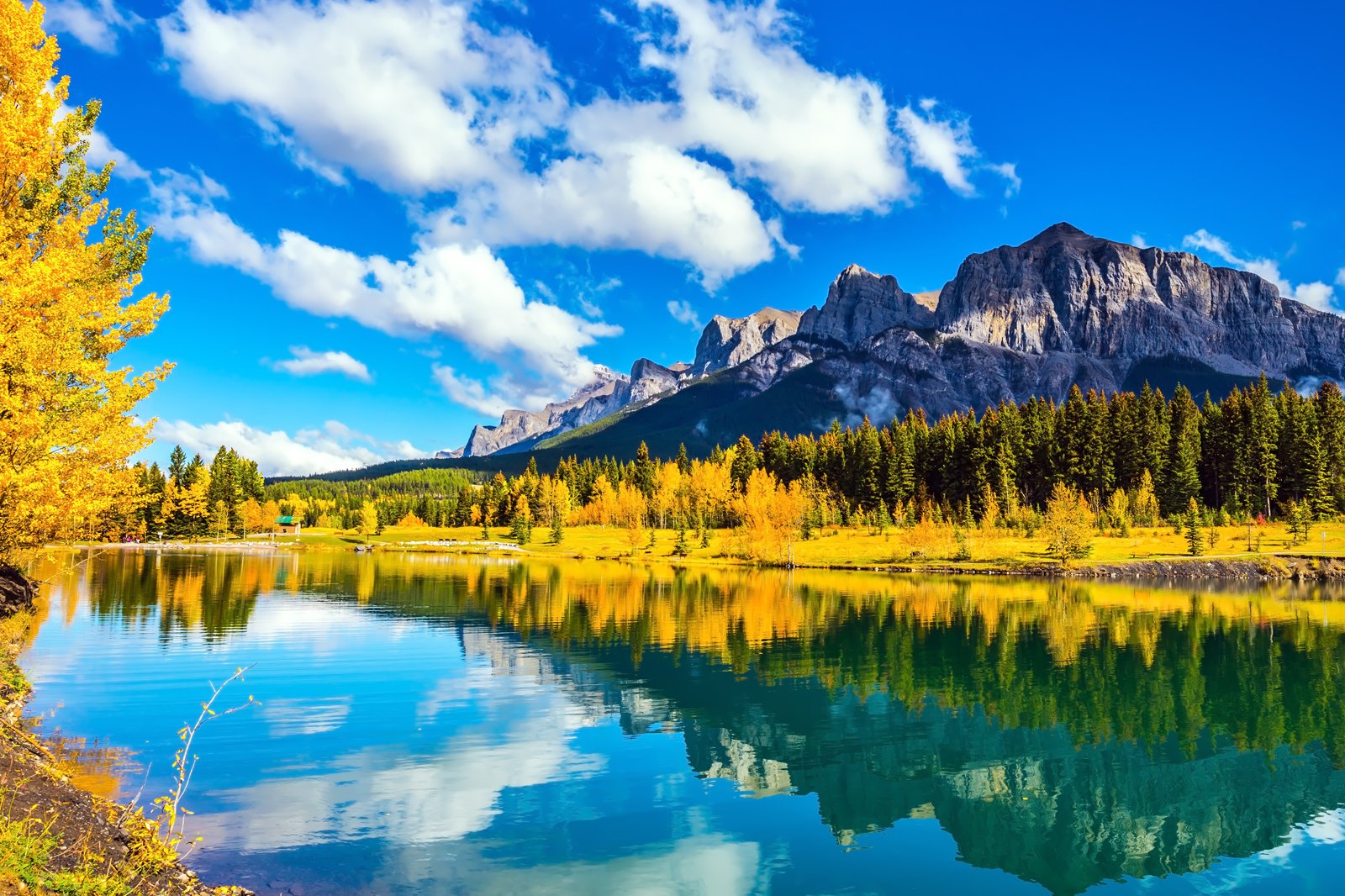 Banff has a humid continental climate, with average temperatures ranging from -9ºC in winter to 15ºC in summer.
The rainiest time of the year is between May and August, with an average of 14 rainy days per month.
Snowfall can be expected between September and May.
June-August and December-March are the best time to visit Banff, yet these periods are peak tourist seasons, with hotel prices rising accordingly.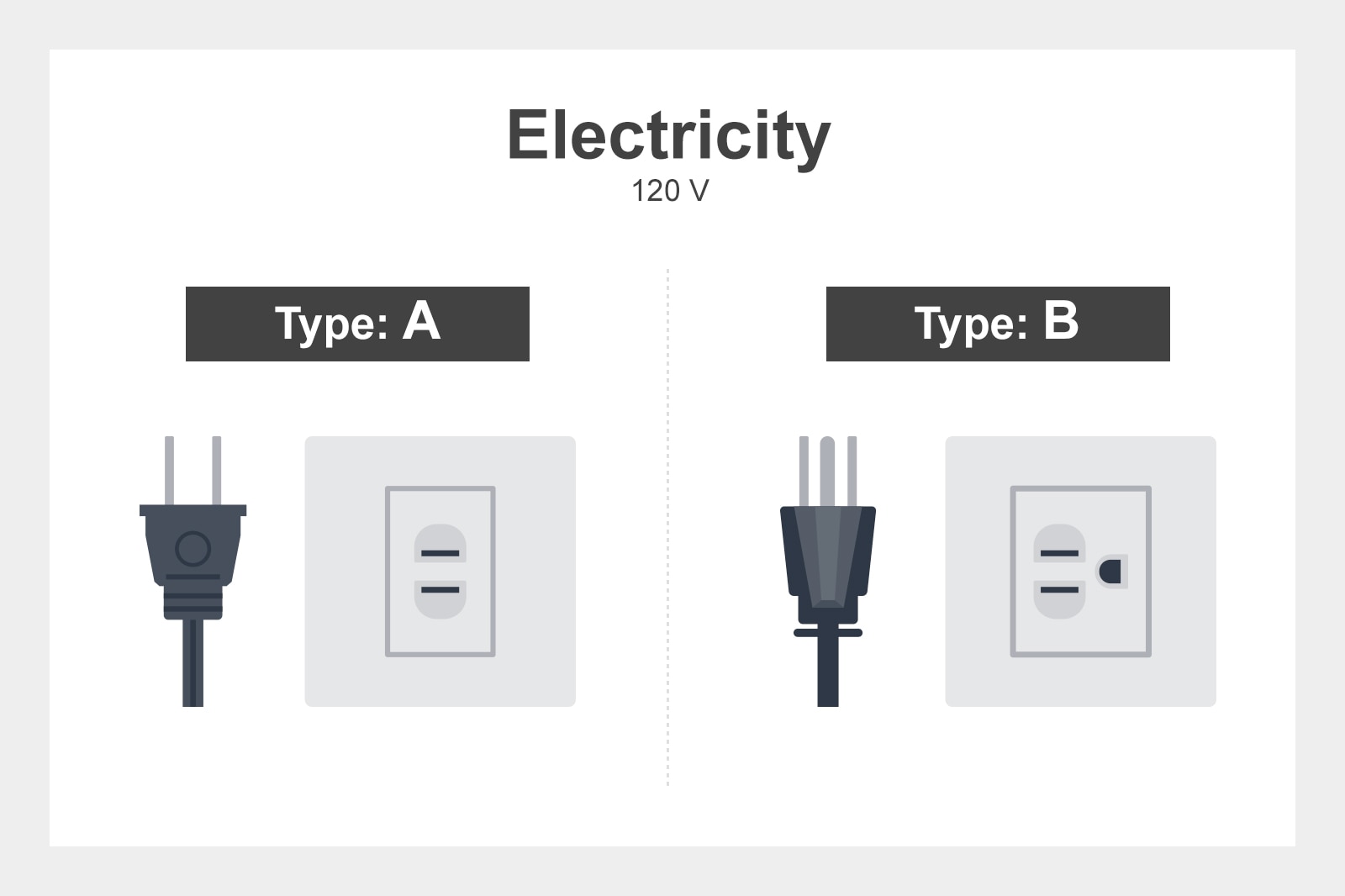 Languages: Primary: English; Secondary: French
Plug types: A and B
Electricity: 120 V
Currency: Canadian Dollar (C$)
International dialling codes: +1 403
Emergency telephone number: 911
3
How to get to my hotel in Banff?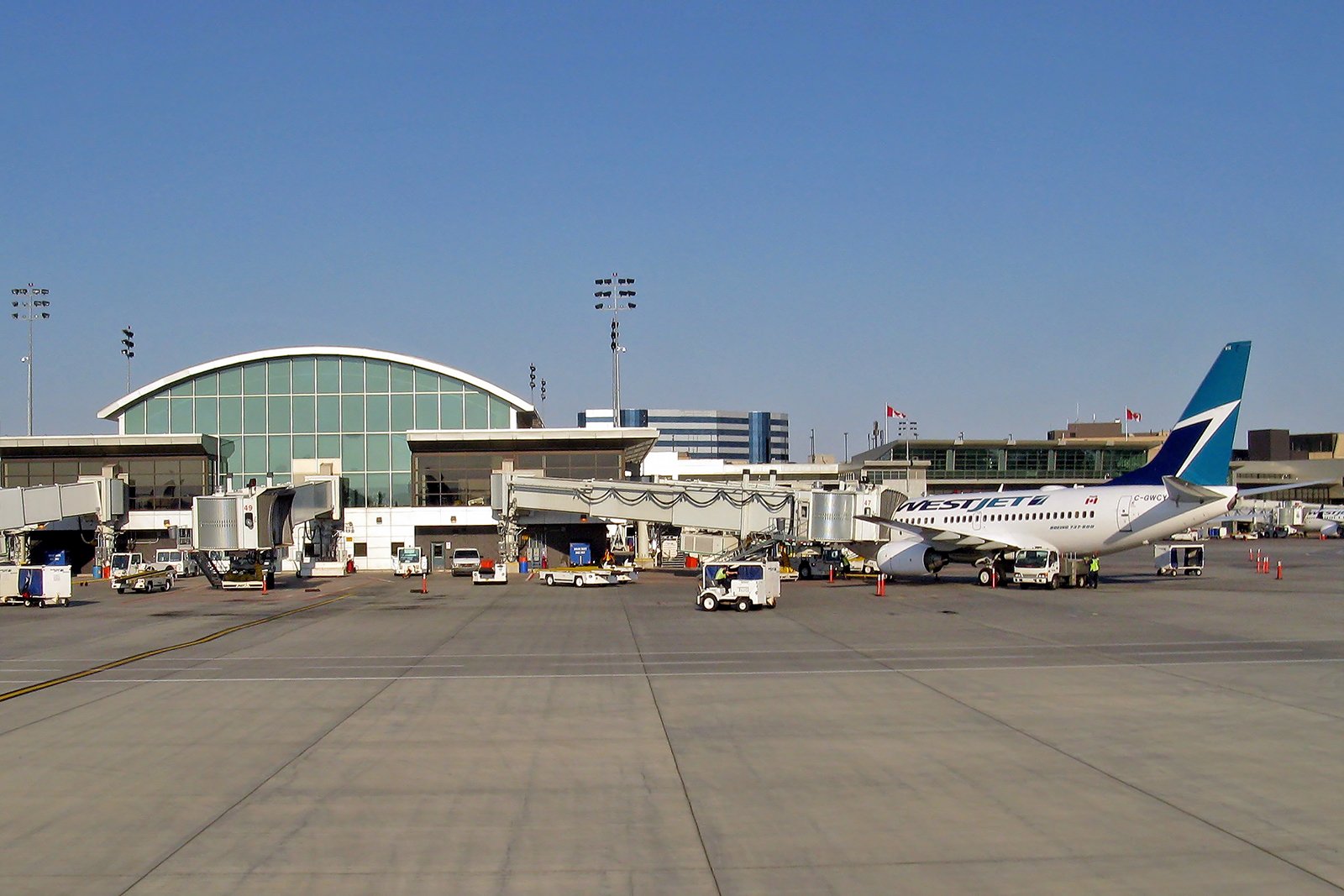 Calgary International Airport
Calgary International Airport is the primary airport serving Banff. One of the busiest airports in Alberta, it sits 110 km east of Banff city centre. It features 2 passenger terminals and 4 runways. Here, you'll find a great range of dining and shopping options as well as facilities including banking and currency exchange services. There are several transfer options to reach Banff:
A taxicab takes around 1.5 hour. The taxi ranks can be respectively found doors 1 and 6 outside of Domestic terminal and doors 16 and 17 outside of International Terminal.
You can also use Uber and Tappcar in Calgary Airport. The pick-up areas are at Doors 1, 12, and 17. The journey is slightly cheaper than with a standard taxi.
You can reach the Downtown Greyhound Station via the Calgary Transit bus route 300 BRT Airport/City Centre. It takes around 30-40 minutes (the ticket gives you full-day access to buses and CTrains in Calgary). From there, take a Greyhound bus to Banff. The journey takes around 2 hours. It's the cheapest way to get to Banff from Calgary.
Shared shuttle buses take around 2 hours. The pick-up area is between Doors 4 and 5.
Car rental agencies can be found opposite the Departures Level of the Domestic Terminal.
If you come by train to Banff
You can get to Banff by train from Vancouver. Banff Station is served by Rocky Mountaineer and also serves as Greyhound bus terminal. It's listed as a heritage railway station. From here, you can get to your hotel by taxi, bus or on foot (Banff is a small town).
photo by Paul Hamilton (CC BY-SA 2.0) modified
4
How to get around Banff?
Travel tips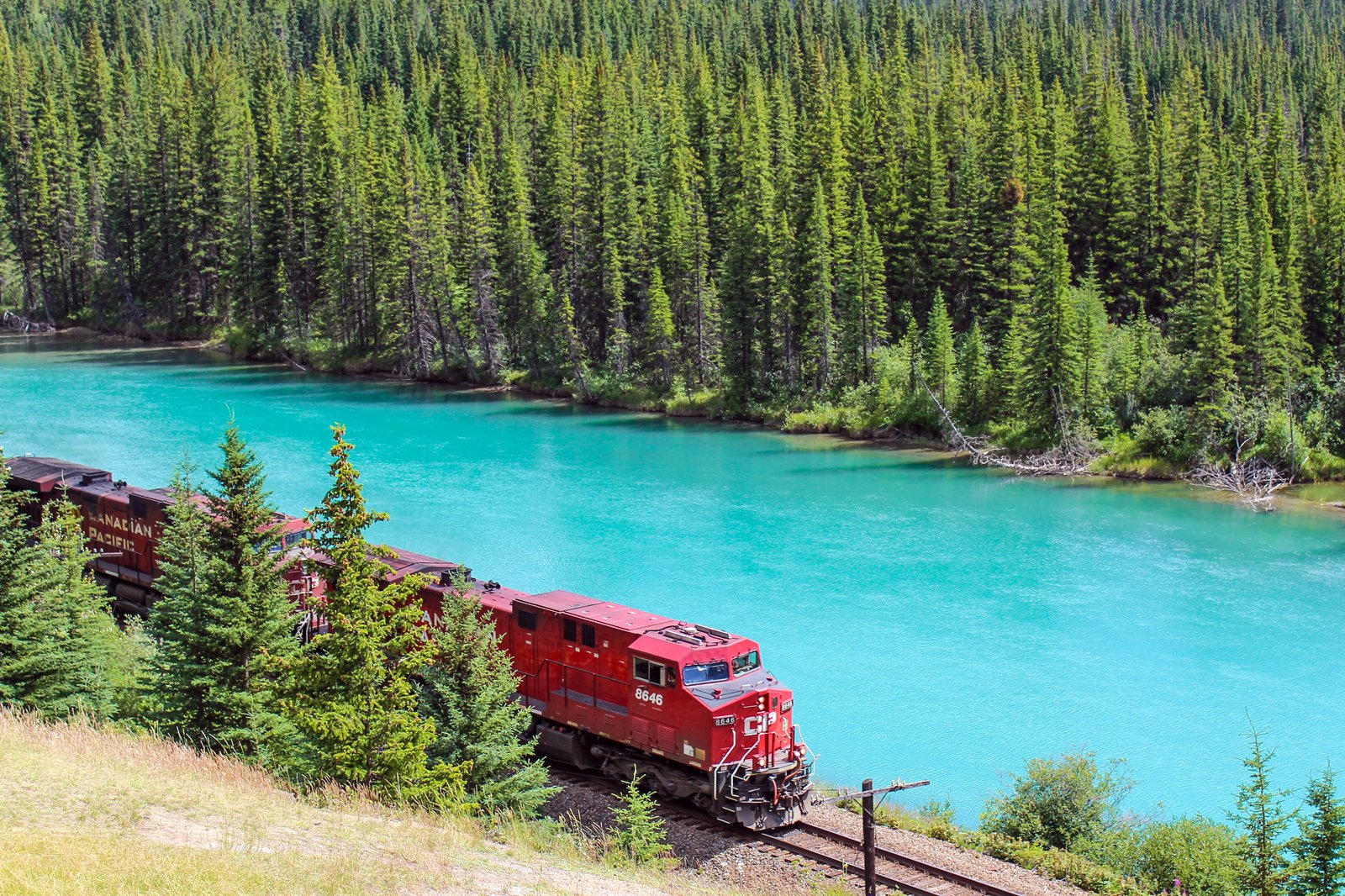 Banff is compact enough to be explored on foot. Settled on the north bank of the Bow River, Banff resort town is wrapped around Tunnel Mountain, at an altitude of 1,400 metres. It covers roughly a 3-sq km area. The city centre hosts a great choice of dining, shopping and nightlife entertainment options, but most of the attractions are out of town. For longer journeys, a good choice of public and private transport services is at hand.
5
Banff public transport networks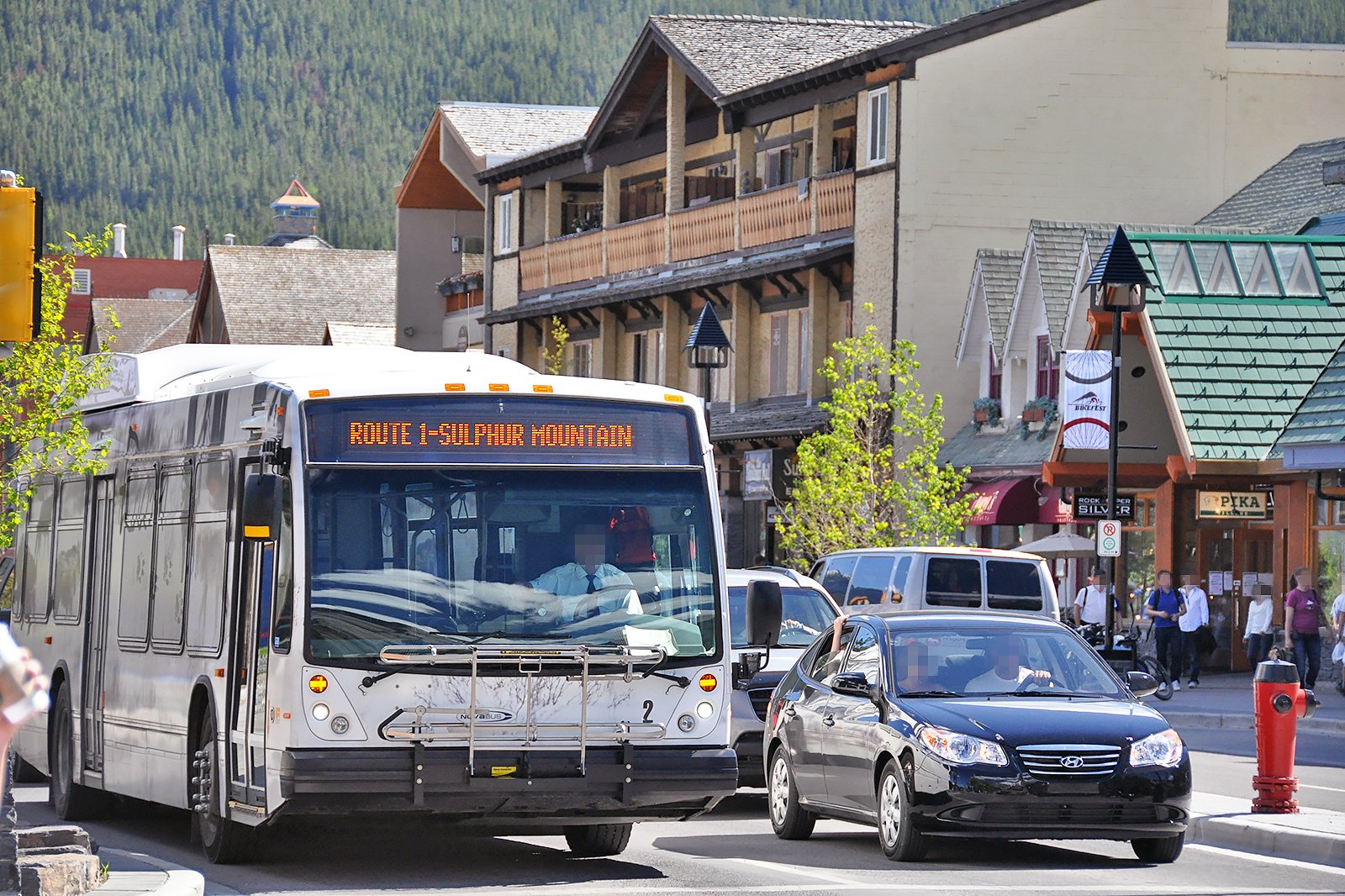 Roam is in charge of public transport in Banff. It operates 6 bus lines that cover most of the out-of-town attractions including Lake Minnewanka and Sulphur Mountain.
Single local fares and 1-day local and regional passes are available.
Tickets and passes can be purchased on the bus and at the Bow Valley Regional Transit Services Commission on Beaver Street.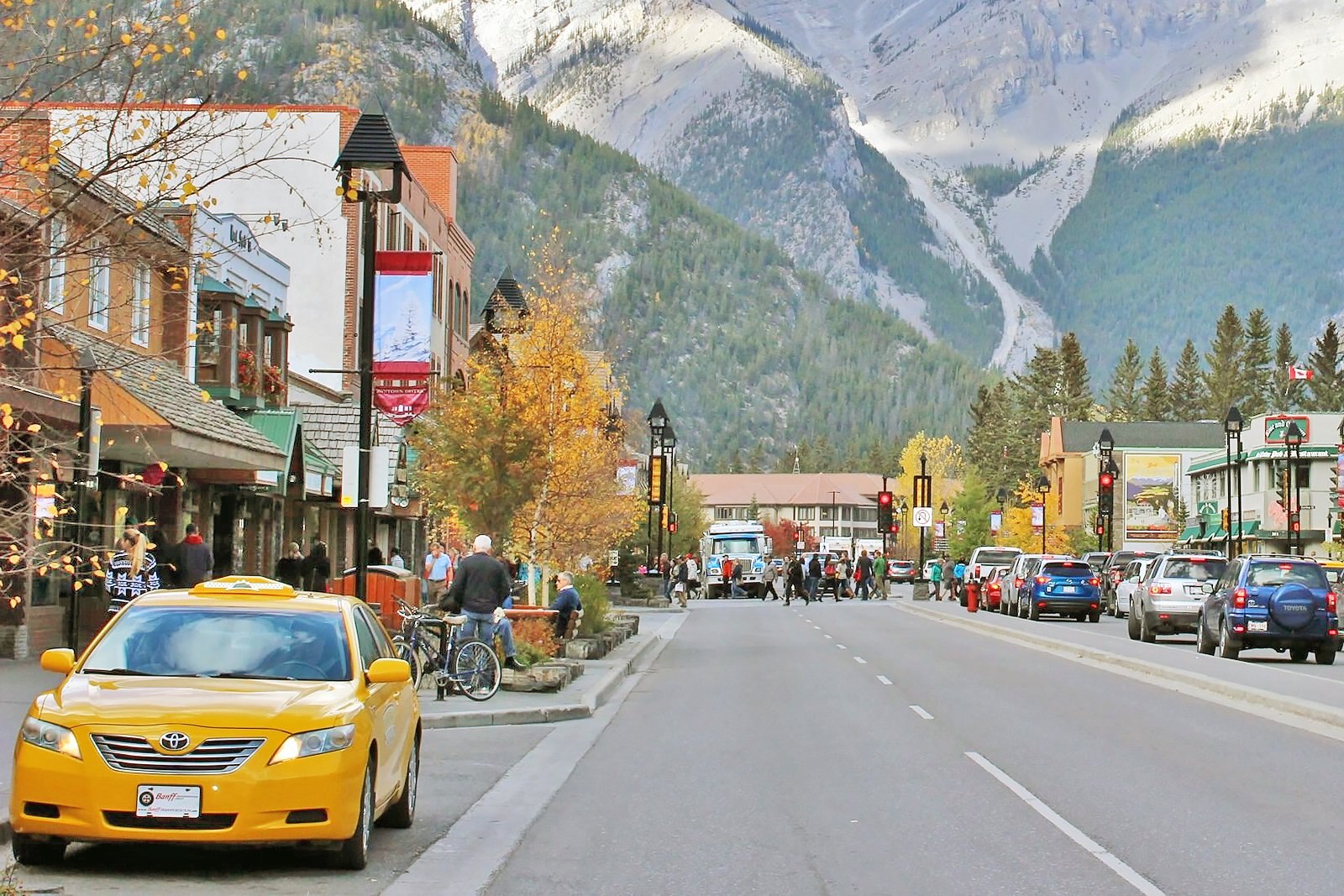 Taxis can be hailed down on the street in Banff.
You can find cab stands outside hotels and near the main attractions.
You can also directly call one of the few companies available including Taxi Taxi (403-762-0000) or Banff Transportation Group Ltd. (403-762-8400).
Most taxis accept the payment of the fare by credit card, but it's better to ask the driver before you get in.
It's common to give a 10-20% tip to the taxi driver.
7
What are the main annual events in Banff?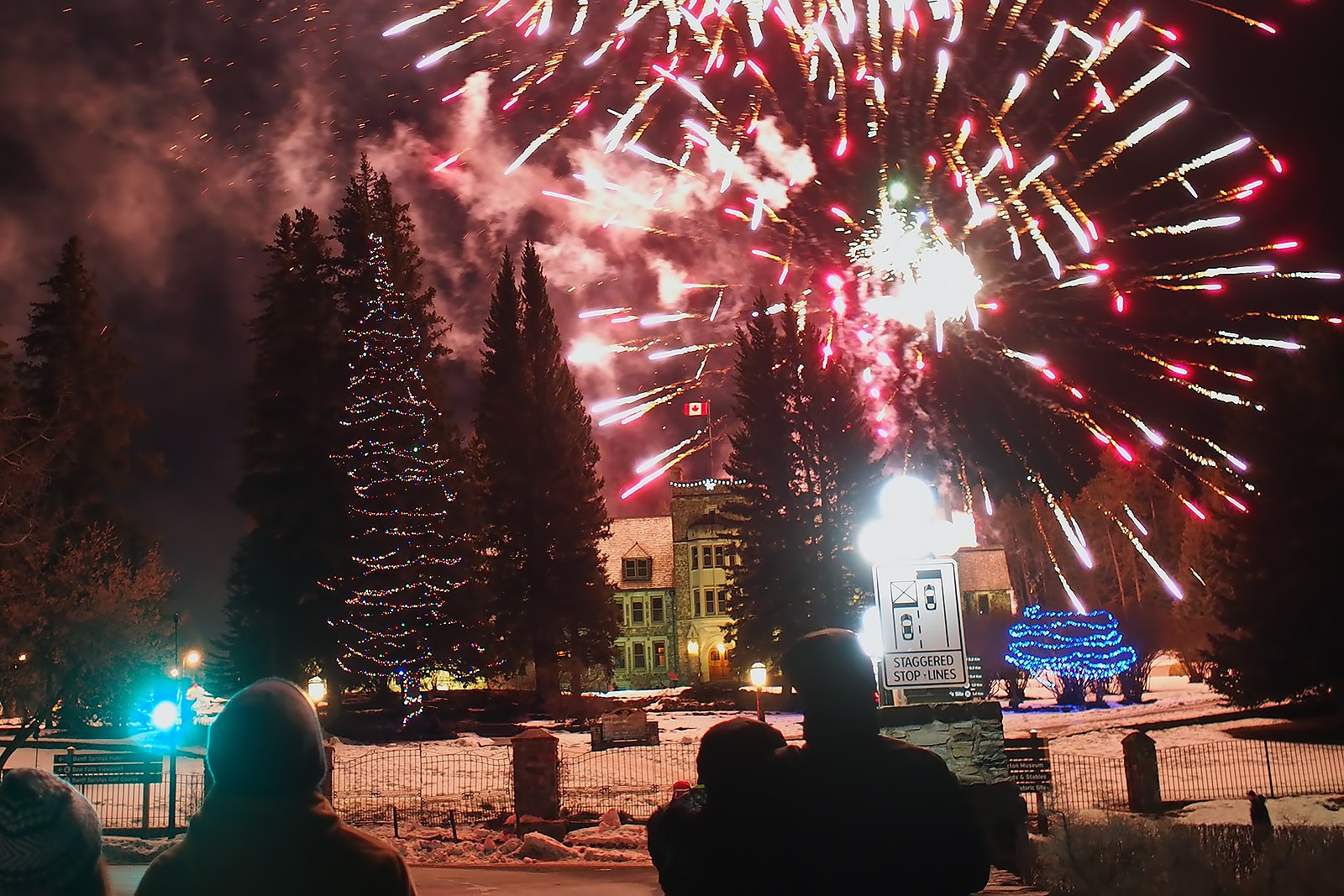 Summer Events at the Banff Centre
What: The Banff Centre for Arts and Creativity runs music and theatre performances as well as art and cultural exhibitions all through the summer.
When: From June to September
Where: Banff Centre for Arts and Creativity
Banff Centre Mountain Film and Book Festival
What: One of the main adventure filmmaking celebrations in the world, the Banff Centre Mountain Film and Book Festival showcases the work of Canadian and international filmmakers, photographers, authors and adventurers.
When: October
Where: Banff Centre for Arts and Creativity
Banff Craft Beer Festival
What: This 1-night festival gives you the opportunity to sample local craft beers and taste delicious dishes prepared by local restaurants in a convivial atmosphere. Discussions with brew masters and chefs from the neighbourhood give you interesting info about the daily local life in the mountains of Alberta.
When: November
Where: Cave and Basin National Historic Site
photo by Wilson Hui (CC BY 2.0) modified
Back to top