14 Most Instagrammable Places in Dubrovnik
Photos of Dubrovnik You Can Brag to Your Friends About
The most Instagrammable places in Dubrovnik are often those that movie and TV producers also took a shine to as many have featured on the big and small screens. Most famously, a lot of Game of Thrones scenes were filmed in and around the city, particularly those set in King's Landing and Qarth.
Even if you're not a fan of the TV show, visiting this historic Croatian resort is a playground for photographers and selfie fanatics. The Old City, especially, will certainly jazz up your Instagram feed with its well-preserved landmarks, charming alleys and defensive walls.
1
Dubrovnik Old City
Historic charm and Game of Thrones settings on every corner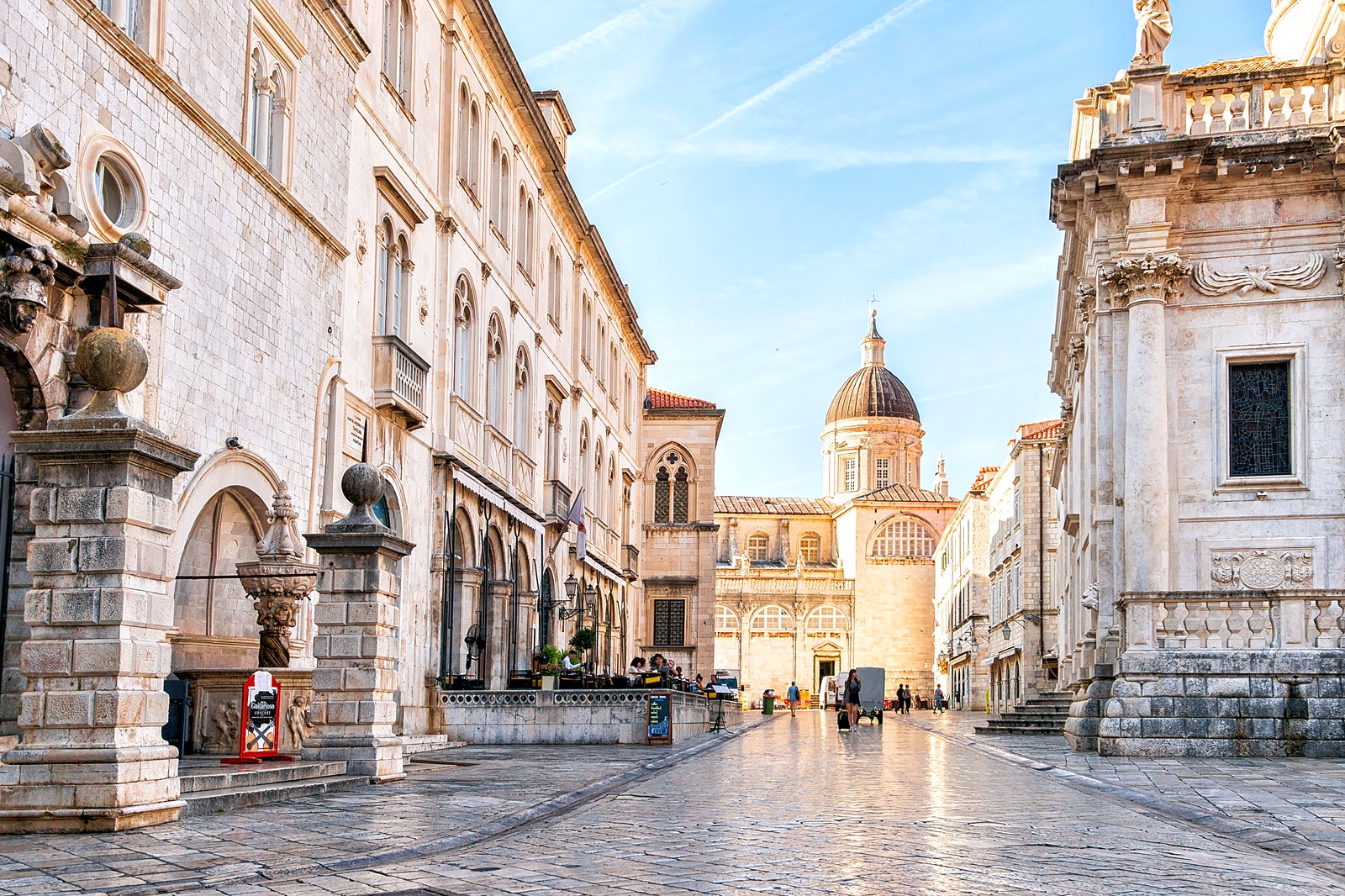 Couples
Photo
Budget
History
Dubrovnik's Old City is a UNESCO World Heritage site dating from around the 13th century. Virtually every street offers opportunities for outstanding travel photos, from major landmarks like the 2 Onofrio's Fountains and the tower of the Franciscan Monastery to the many quaint side streets and alleys.
While we'd certainly recommend wandering around the Old City at your own leisure to find a unique shot, a popular go-to is Ulica Od Puča. The narrow-stepped alley, with old lanterns hanging from time-worn walls, also has some first-class coffee and ice cream shops. If you want some more grown-up refreshments, the Malvasija Wine Bar off Dropčeva ulica street has an equally charming setting.
2
Minčeta Tower
Enjoy the view over the Old City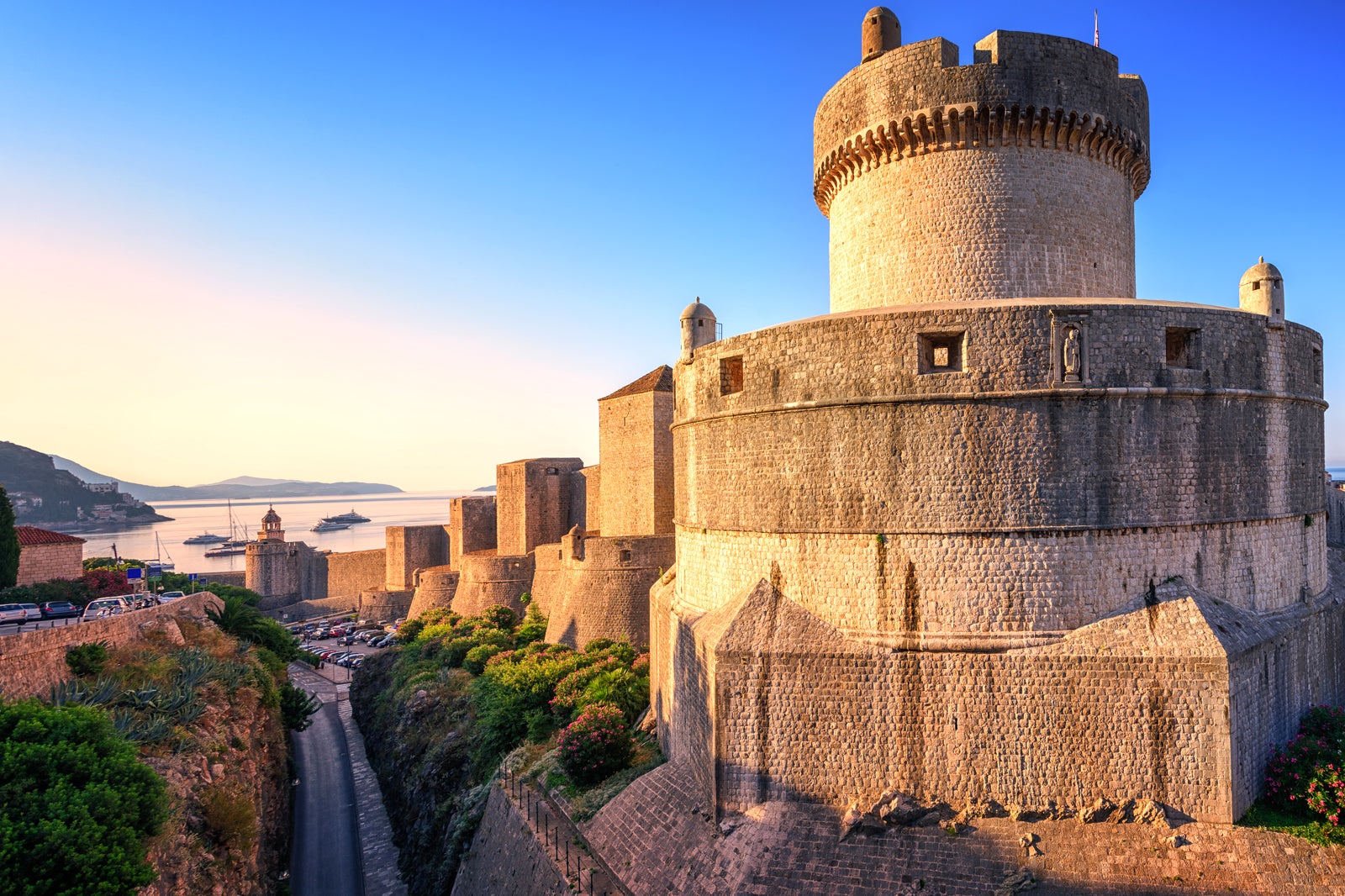 Minčeta Fortress, originally built in 1319, is the largest of Dubrovnik's protecting towers. Located on the north side of the Old City, you can access the tower while walking along the ancient city walls. Dominating the city's landscape, the magnificent historic stronghold is the highest point in Dubrovnik and is, therefore, an excellent spot to grab your camera and capture your own memories of your visit while overlooking the sights below.
The view from Minčeta Fortress is just as impressive as the view of it. While looking out across the sea of red-tiled roofs, be sure to take a look down, too. Nearby Minčeta Fortress is one of Dubrovnik's more unusual and iconic sights – a rooftop basketball court.
Location: Minčeta Fortress, Ul. Ispod Minčete 9, 20000, Dubrovnik, Croatia
Open: Daily from 10 am to 7 pm
Phone: +385 (0)20 638 800
3
St. Lawrence Fortress
Known as "Dubrovnik's Gibraltar", and you can see why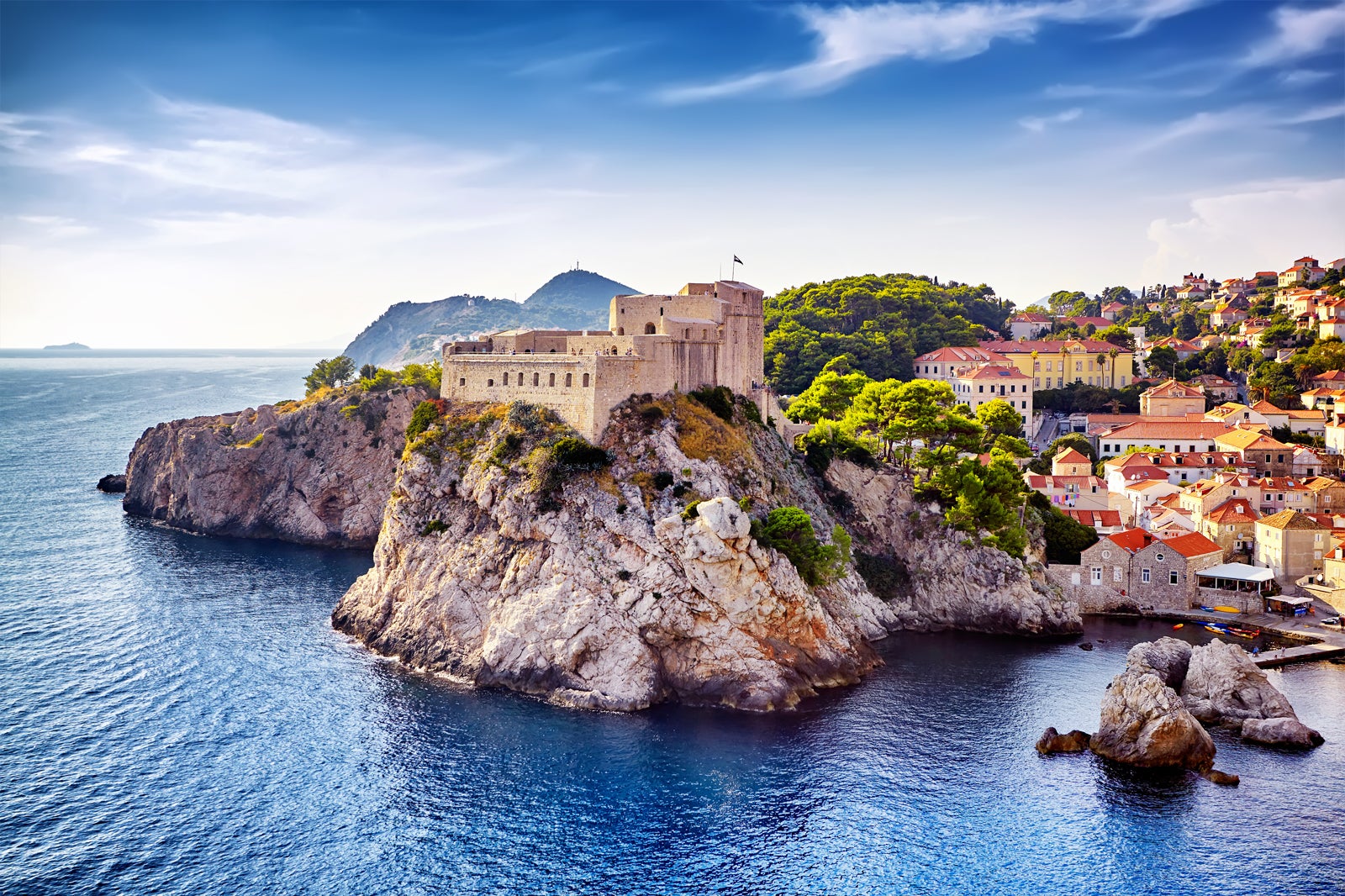 St. Lawrence Fortress (Fort Lovrijenac) stands on a 37-metre-tall rock just west of the Old City, protecting the West Harbour. It was built in the 11th century and, even though the legend says it was built by the people of Dubrovnik in just 3 months, it was certainly built to last. The outer walls are 12 metres thick in some places!
As it's still in first-class condition, St. Lawrence Fortress is now a theatre and, with a little CGI wizardry, played the part of the Red Keep in Game of Thrones. Its mighty walls make for fantastic photographs, whether you're taking shots of "Dubrovnik's Gibraltar" or shooting pictures across the Old City from the battlements. Note that, while it's not technically part of the Dubrovnik City Walls, your ticket for the walls will also get you into the fort.
Location: Ul. od Tabakarije 29, 20000, Dubrovnik, Croatia
Open: Daily from 8 am to 7 pm
4
Lokrum Island
A beautiful nature reserve just a short boat ride away
If you're a fan of Game of Thrones, you'll certainly enjoy a day trip to Lokrum Island. Just 600 metres off the coast, the 1.6-km-long island is almost entirely covered by forest, except for some very important sites. The Benedictine Monastery here, aside from being beautiful and historical, played various parts of Qarth in Game of Thrones. There's also a restaurant, a museum and a replica of the Iron Throne inside.
Other interesting and Instagram-worthy sights on Lokrum Island include The Gardens of Maximilian and the 19th-century Fort Royal, the ruins of a former quarantine zone and a very beautiful botanical garden.
5
Ploče Gate
The quietest of Dubrovnik's old entrances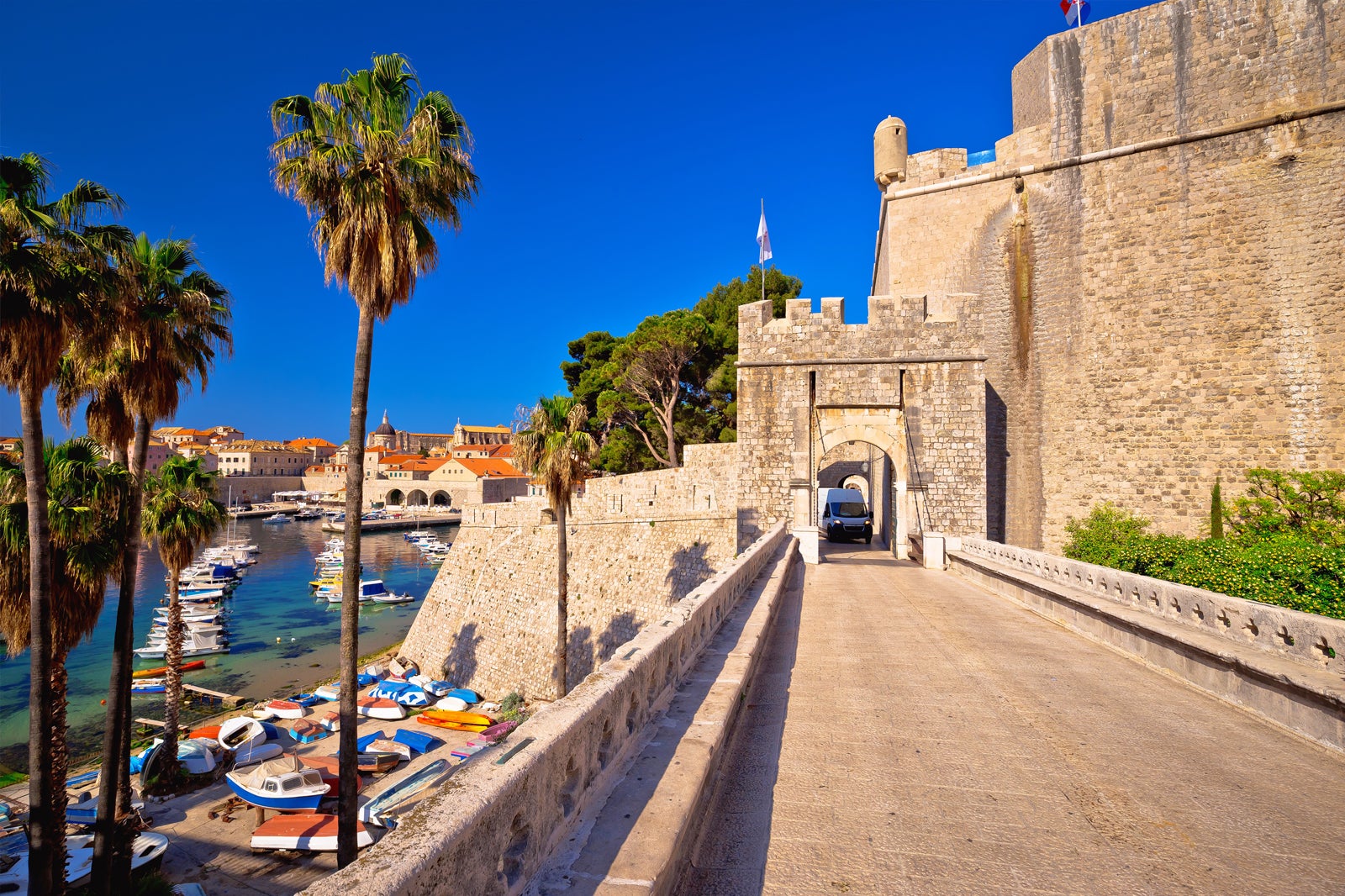 Of the 3 historic gates into Dubrovnik's Old City, Ploče Gate (Vrata od Ploča) is arguably the most striking yet remains the least popular. A big part of the reason for this is that the more famous Pile Gate in the west is right next to a bus stop, while Buža Gate in the north is next to a big carpark. The eastern entrance to the city takes more work to get to, but it means you'll have fewer people blocking your shot.
Built at the end of the 14th century, Ploče Gate naturally has no shortage of historical appeal. The entrance is flanked by the imposing Revelin Fortress (now a nightclub) and there's a statue of Sveti Vlaho, the patron saint of the city, above the entrance. The view of the harbour is perfectly framed by the old defensive structures.
Location: Ul. Vrata od Ploča, 20000, Dubrovnik, Croatia
Phone: +385 (0)20 638 800
6
Café Buza
Outstanding views outside the Old City Walls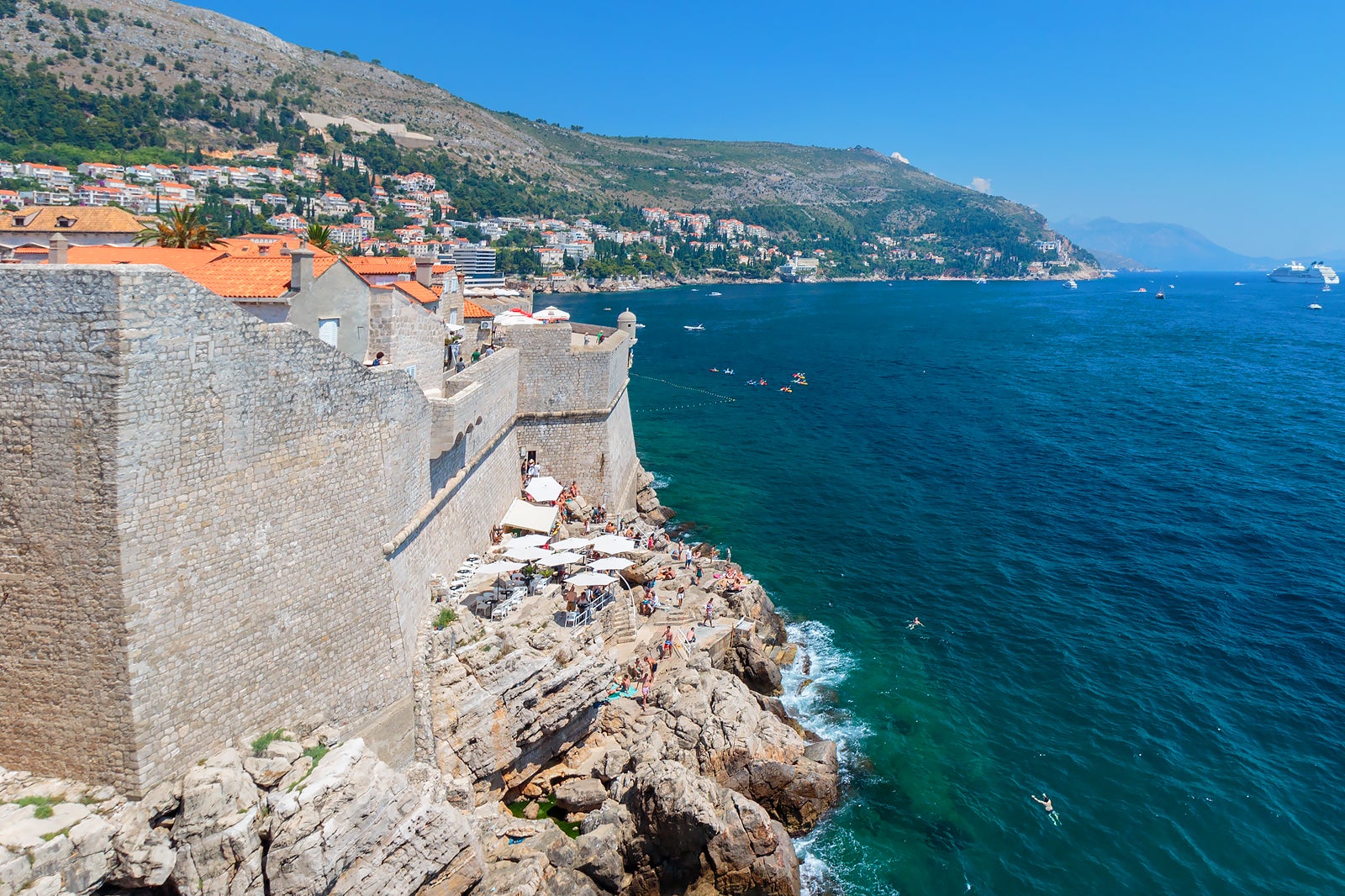 Café Buza is a pleasant little bar and eatery in a unique location in Dubrovnik. If you read that it's outside the Old City Walls, you might think that it's in the extensive newer part of the city. You'd be wrong – it's precariously perched on the rocks between the walls and the sea. This remarkable setting might mean that it's a little tricky to find. However, it also gives tremendous views across the Adriatic and Lokrum Island.
Sadly, Café Buza has been a victim of its own success. While it's rightly considered a must-visit venue, prices are higher than the average by quite a considerable margin, so don't expect to be rubbing elbows with the locals at this café.
Location: Crijevićeva ul. 9, 20000, Dubrovnik, Croatia
Phone: +385 (0)20 323 406
7
Dubrovnik Old City Walls
Great views all around the city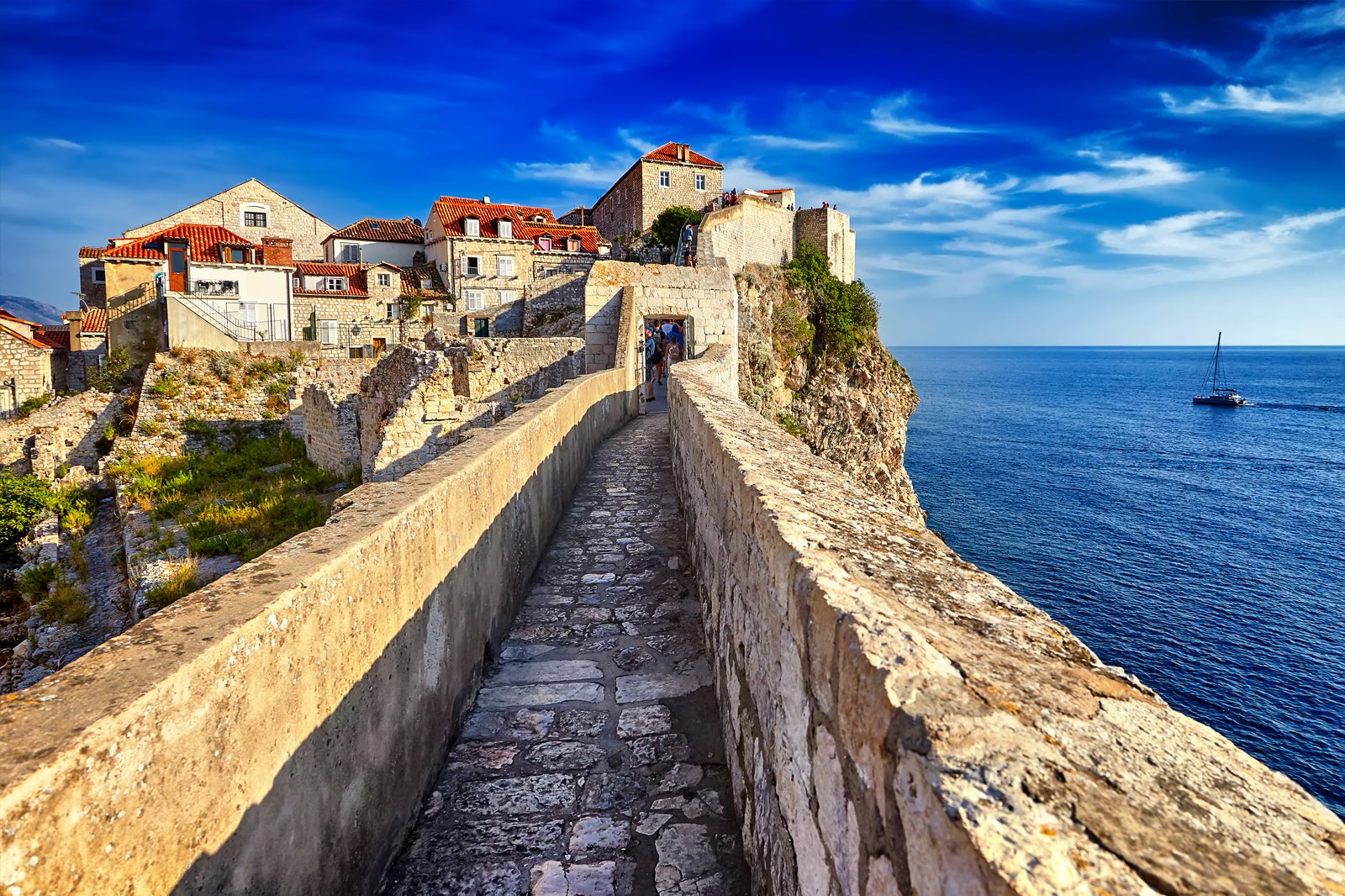 The Dubrovnik Old City Walls are perhaps the most iconic sight you think of when looking up images of Dubrovnik online. As you walk around them, you'll be treated to spectacular views of the glistening Adriatic Sea as well as the charming Old City and its bright terracotta rooftops.
Once you've got your tickets, there are 3 points where you can join the anticlockwise route. Pile Gate is often the busiest, so aim to join at Ploče Gate or the Maritime Museum instead. Linking together the city's many medieval towers and forts, the walls are 6 metres thick in places and up to 25 metres tall. Make sure you have plenty of water on you, as it can get a little strenuous and very hot at times.
Location: Walls of Dubrovnik, Poljana Paška Miličevića, 20000, Dubrovnik, Croatia
Open: April–October: daily from 8 am (closing times vary). November–March: daily from 10 am to 3 pm
Phone: +385 (0)20 638 800
8
Rector's Palace and Luza Square
A hub of history in Dubrovnik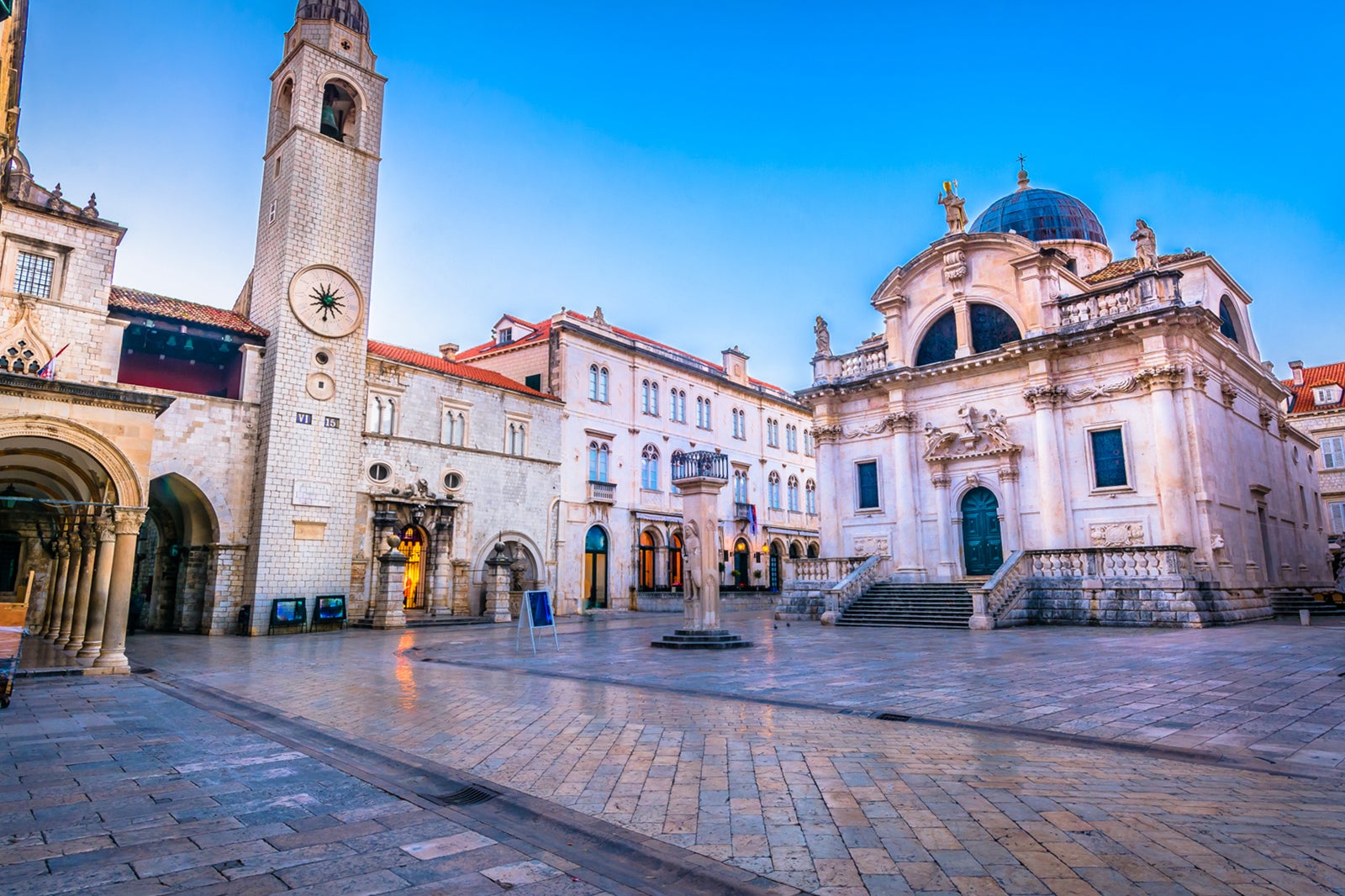 The Rector's Palace in Luza Square will appeal to architects as much as it will Game of Thrones fans. First built in the 14th century, its design incorporates Gothic, Baroque and Renaissance elements. As a result, there are lots of fascinating little details to discover while you explore it. The palace plays the part of the Spice King's Mansion in Qarth in the TV show.
While the Rector's Palace often dominates the limelight, the rest of Luza Square is very much worth exploring and photographing. You can visit Sponza Palace and the Dubrovnik Clock Tower at one end, Dubrovnik Cathedral at the other, and the Church of St. Blaise in the middle.
Location: Ul. Pred Dvorom 3, 20000, Dubrovnik, Croatia
Open: Daily from 9 am to 6 pm
Phone: +385 (0)20 321 422
9
Dubrovnik Old Port
A peaceful view in the heart of the bustling city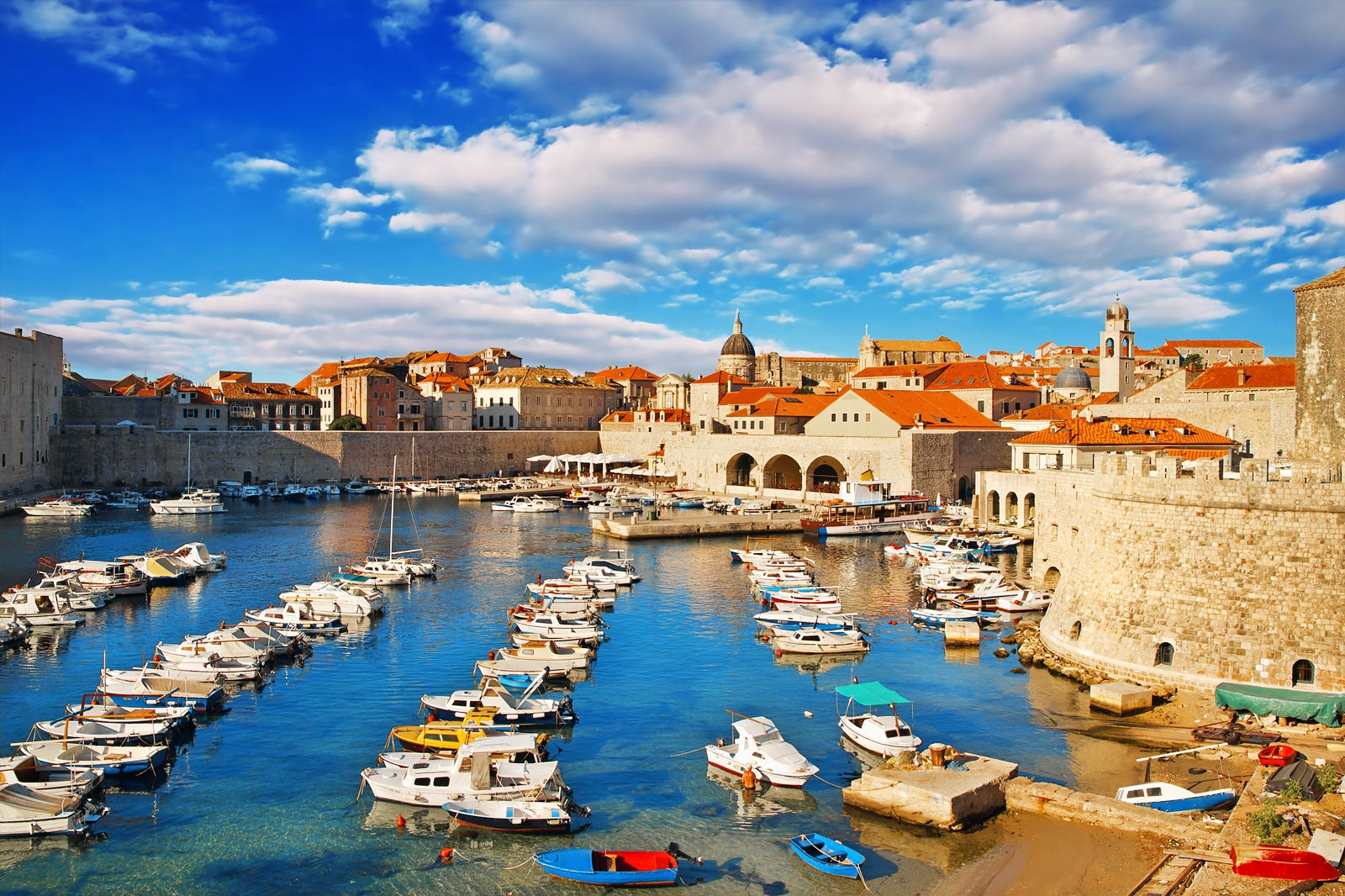 Dubrovnik's Old Port is a beautiful little alcove formed by the (almost) straight sides of the city's defences. Packed with small yachts and with a couple of restaurants around it, the port has an undeniable historical charm.
Guarding the entrance is the imposing Fort St. Ivana (sometimes called St. John's Fortress). The thick walls and tiny windows might make it look like a prison, but it actually contains a maritime museum and an aquarium. Follow the waterside footpath past the fort and you'll get to the Porporela – a cute but solid little pier with a lighthouse at the end.
Location: Ul. kneza Damjana Jude 2, 20000, Dubrovnik, Croatia
10
Jesuit Staircase to St. Ignatius Church
"Shame! Shame! Shame!"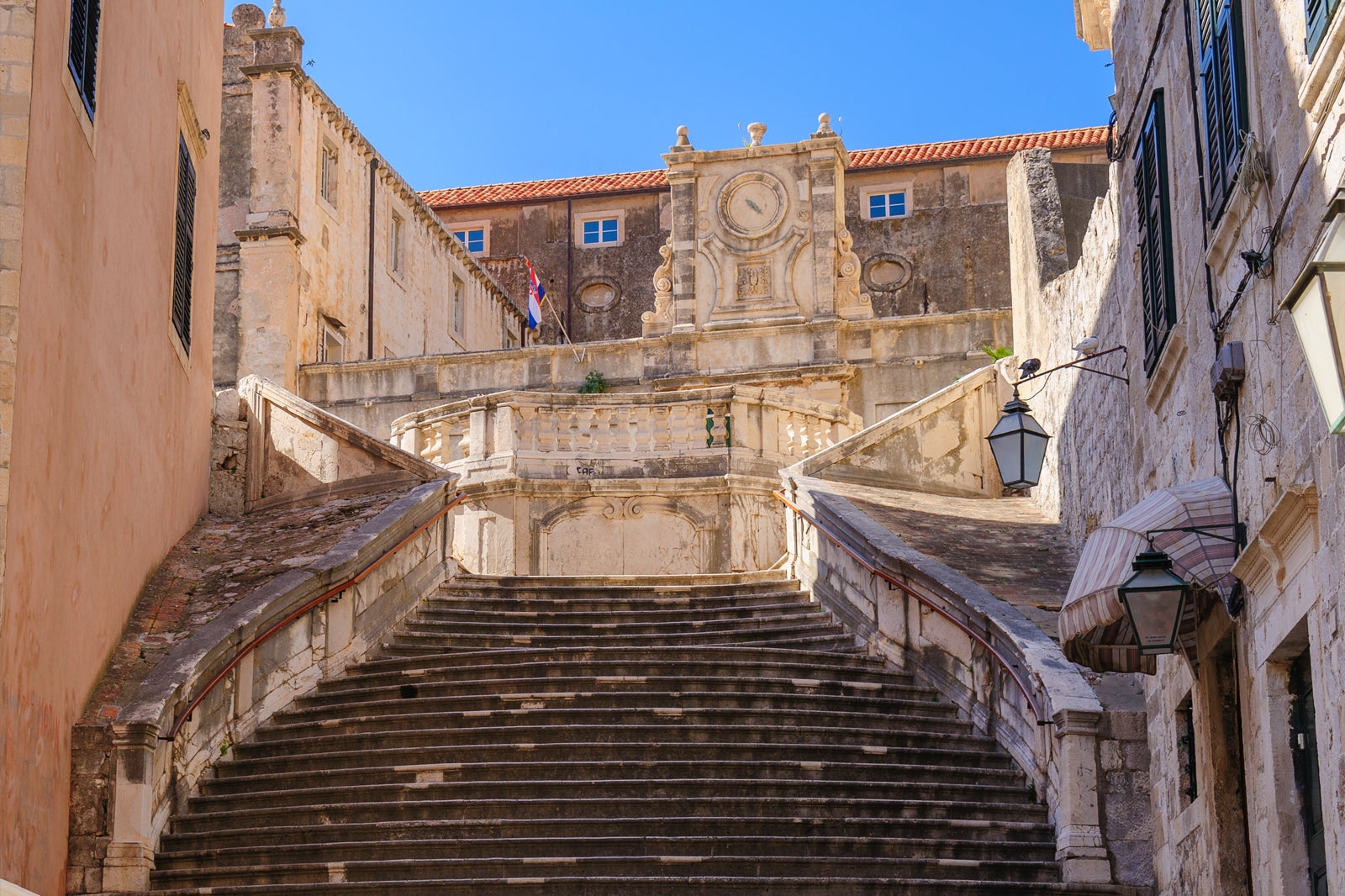 The Jesuit Staircase will be very familiar to anyone who watched Game of Thrones but remains just as Instagram-worthy to those who didn't. In the TV show, it marks the beginning of Cersei Lannister's walk of shame (we don't recommend trying to recreate it).
In the real world, the Baroque stairs were modelled after the Spanish Steps in Rome and climb from Gundulić Square up to St. Ignatius Church. Completed in 1725, the church is just as striking and Instagrammable. There are beautiful frescoes inside and Dubrovnik's oldest bell in the belfry, which dates back to 1355.
Location: Ul. Josipa Jurja Strossmayera 2, 20000, Dubrovnik, Croatia
11
Cable car to Mount Srd
The view from the top is stunning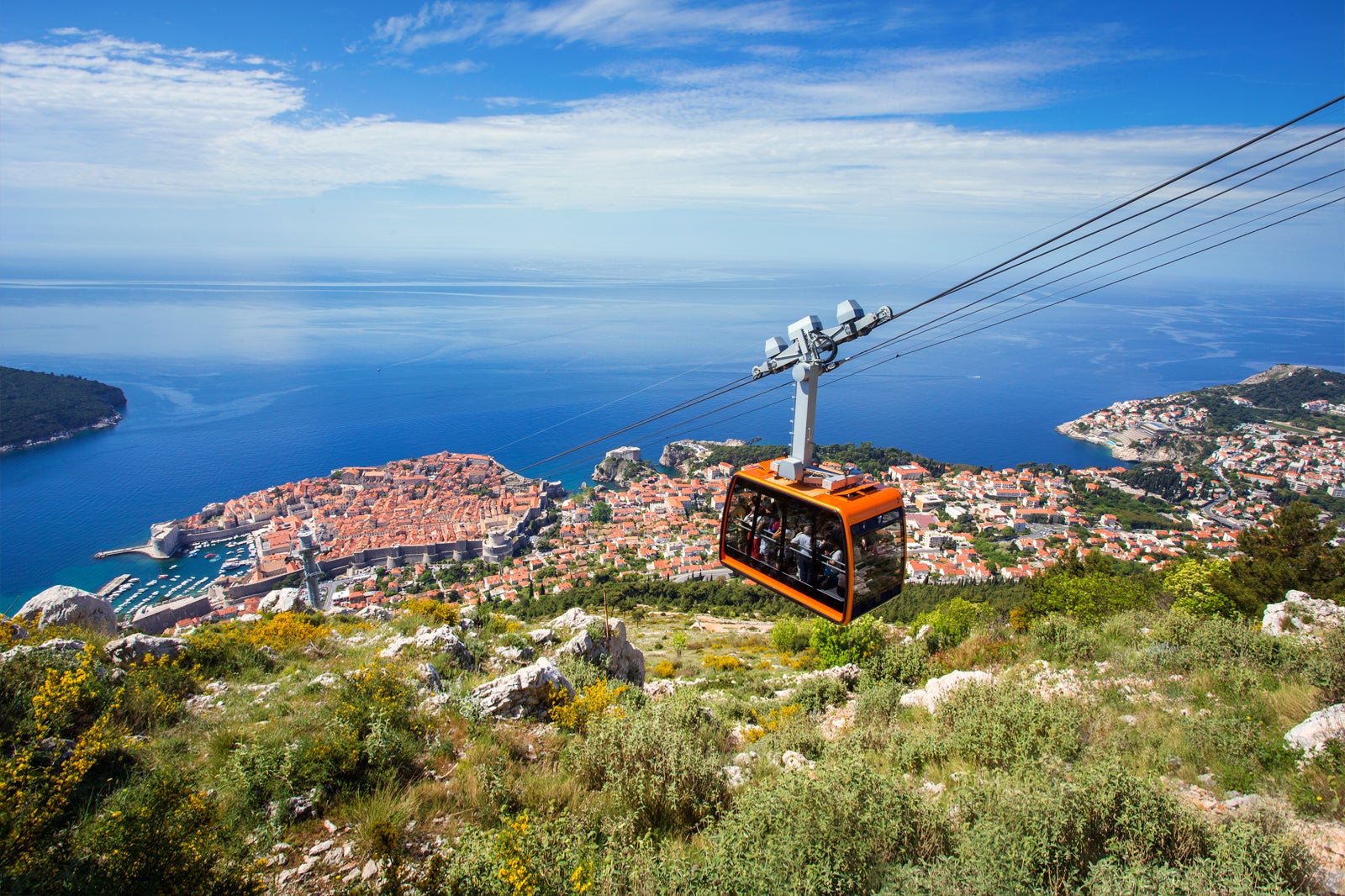 Head just outside the Old Town and hop on the Dubrovnik Cable Car for an incredible ride to the peak of the city. It's quite unusual for somewhere so ancient to have such a modern way to see the sights, but it's excellent for those whose legs aren't quite up for the steep climbs.
Enjoy 360° views on the 4-minute journey to the top of Mount Srđ, then take your time soaking up the sights of the Old Town and beyond from up high. There are more than just magnificent views at the top – you can find a souvenir shop and a restaurant boasting exceptional views, too.
Location: Dubrovnik Cable Car, Ulica kralja Petra Krešimira IV, 20000, Dubrovnik, Croatia
Open: Daily from 9 am (closing times vary by season)
Phone: +385 (0)20 325 393
12
Dominican Monastery
More than just a staircase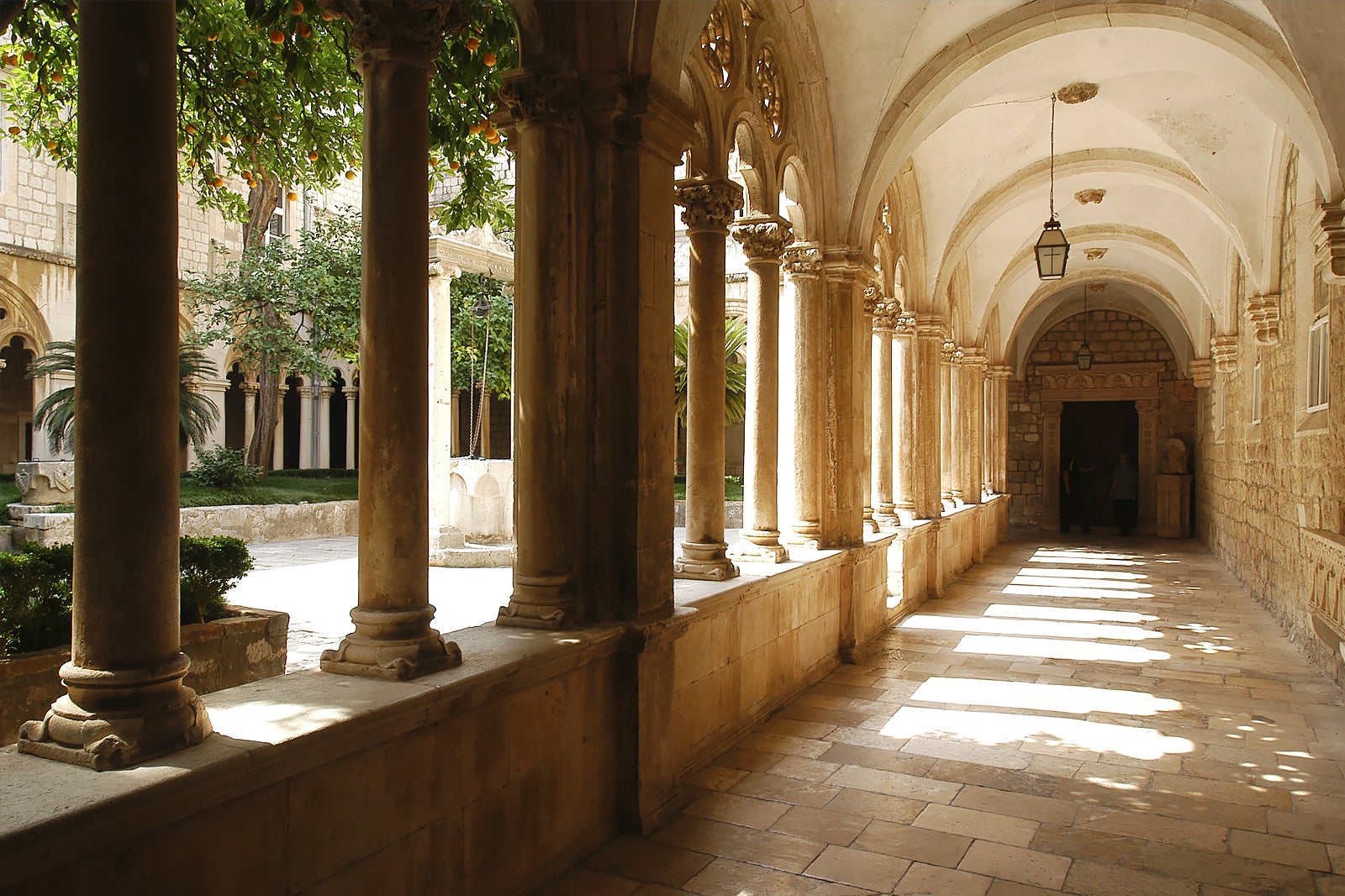 Founded in 1225, the Dominican Monastery dominates the northeast corner of Dubrovnik's Old City. One particular set of stairs on the outside was used as a filming spot for Game of Thrones and, as a result, is routinely swamped by selfie-takers, but the rest of the sprawling complex is just as Insta-worthy.
The cloisters and courtyard in the middle of the Gothic-style monastery are simply beautiful and offer a bit of peace, quiet and shade on a hot day. There's also a museum containing an impressive collection of art and artefacts, including outstanding paintings from the 15th and 16th centuries.
Location: Ul. Svetog Dominika 4, 20000, Dubrovnik, Croatia
Phone: +385 (0)20 322 200
13
Dubrovnik West Harbour
The safest port in Dubrovnik
Dubrovnik's West Harbour is a lot better known as a Game of Thrones filming location than it is as a place to moor a boat. With 2 huge rocks that make getting into the secluded bay quite challenging, most captains prefer the larger Old Port. Instead, this harbour is mostly used as a departure point for sea kayaking tours.
The 2 forts by the harbour's entrance – St. Lawrence Fort and Bokar Fort – make it both strikingly beautiful and extremely safe from invaders. The West Harbour played the part of Blackwater Bay on TV, and the weird little doors in the rock under St. Lawrence Fort are particularly Insta-worthy.
Location: Ul. Skalini dr. Marka Foteza 2, 20000, Dubrovnik, Croatia
14
Banje Beach
Dubrovnik's best beach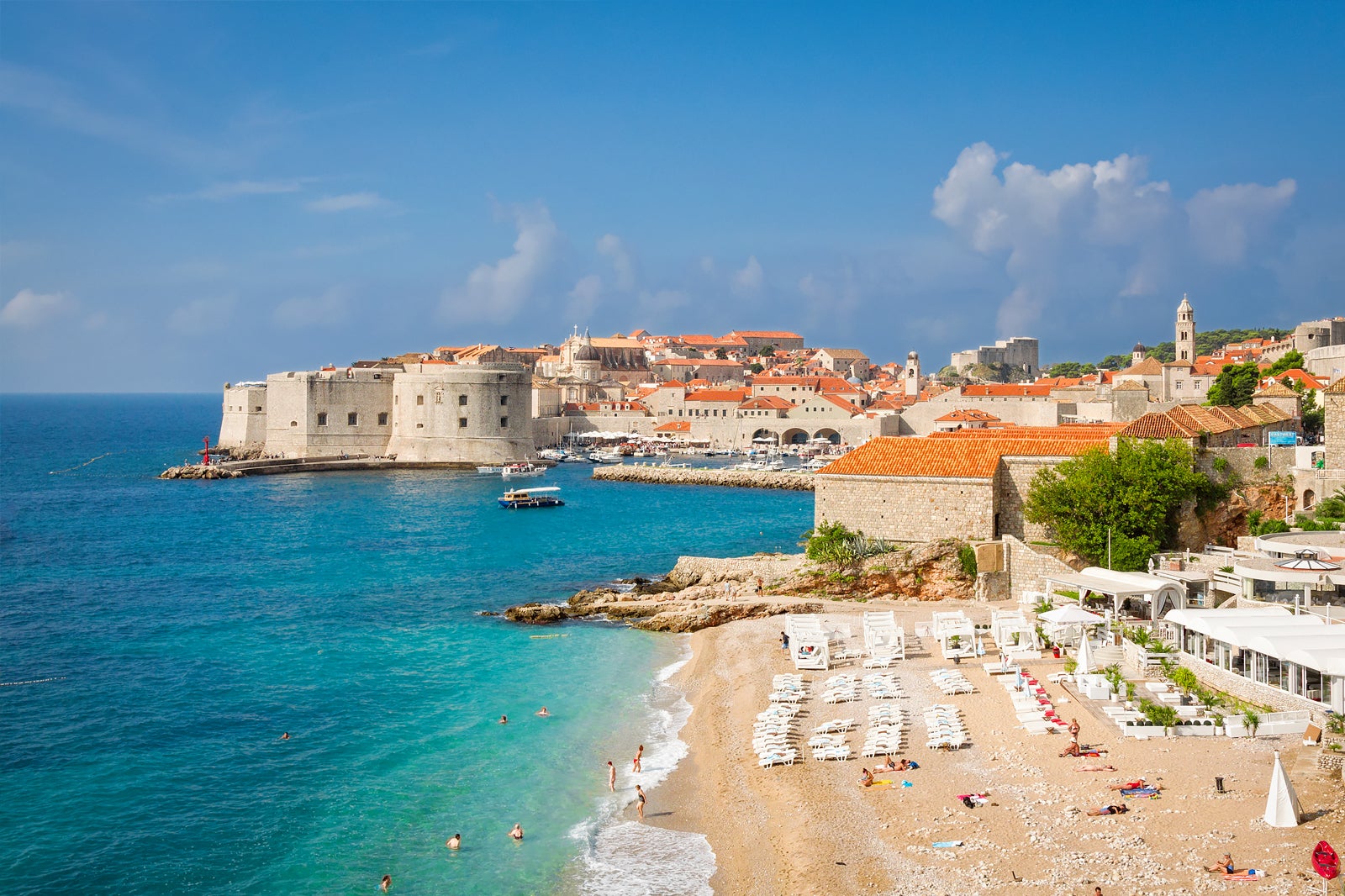 Couples
Photo
Food
Nightlife
Budget
Banje Beach is Dubrovnik's most popular and arguably most beautiful beach. Just east of the Old City, you get a good view of Lokrum Island straight out to sea from the pebbly sand, with the Old Port off to your right.
The beach is dominated by the Banje Beach Restaurant and Nightclub, which serves great Mediterranean seafood dishes in a very romantic setting. The restaurant also has a selection of sun loungers for rent, but you get them for free if you order drinks.
Location: Ul. Frana Supila 10/B, 20000, Dubrovnik, Croatia
Why book with Hotels.com?