11 Best Things to Do in Frankfurt
What is Frankfurt Most Famous For?
Frankfurt is Germany's financial hub, featuring international offices, towering skyscrapers, and a multicultural population. History buffs can marvel at 15th-century buildings and sculptures, while fans of classic literature can retrace the footsteps of renowned German writer, Johann Wolfgang Goethe. Some of Europe's largest museums are found in Frankfurt, one of which displays Germany's first UNESCO World Heritage site.
Whether you're a foodie who wants to bite down on your very first currywurst or a film enthusiast looking to know more about the history of film, we've listed down some of the best things to do in Frankfurt, Germany.
What are the best things to do in Frankfurt?
1
St. Bartholomew's Cathedral
Climb 324 steps up the church tower for panoramic city views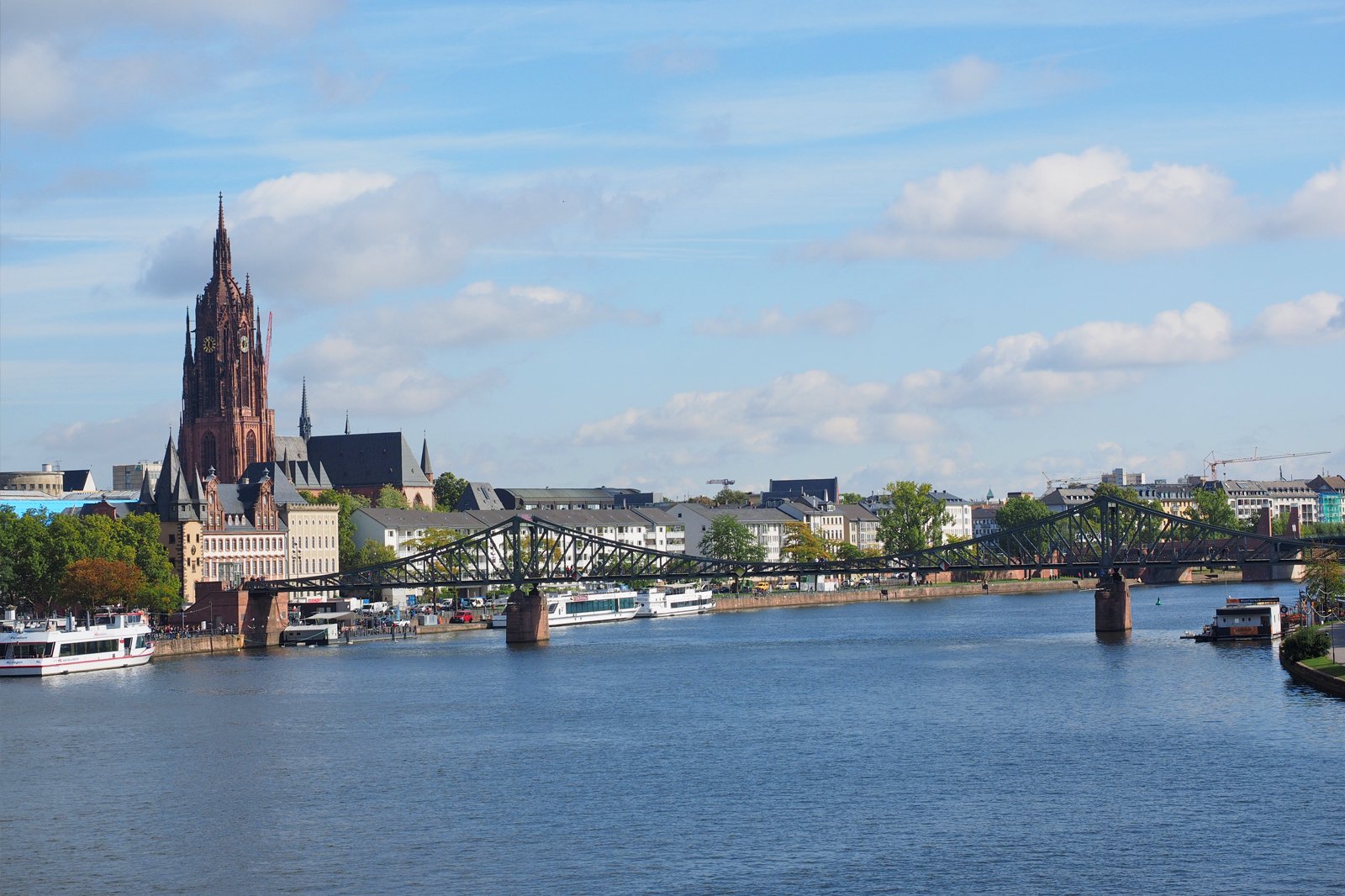 St Bartholomew's Cathedral is a Gothic-style stone church that was built between the 13th and 15th centuries. It's home to a number of impressive relics and sculptures, including St. Bartholomew's skullcap, a 16th century statue of the Crucifixion by Hans Backoffen, and a gravestone of King Günther von Schwarzburg. The cathedral is also known for its 95-metre-tall tower. You can climb over 300 steps to the top to see Frankfurt from an impressive height. Note that to enter the tower you are charged a fee of around €3 and it's only open between April and October.
Location: Domplatz 1, 60311 Frankfurt am Main, Germany
Phone: +49 (0)69/297032 -0
2
Goethe House
See the early life of German's beloved author at his personal residence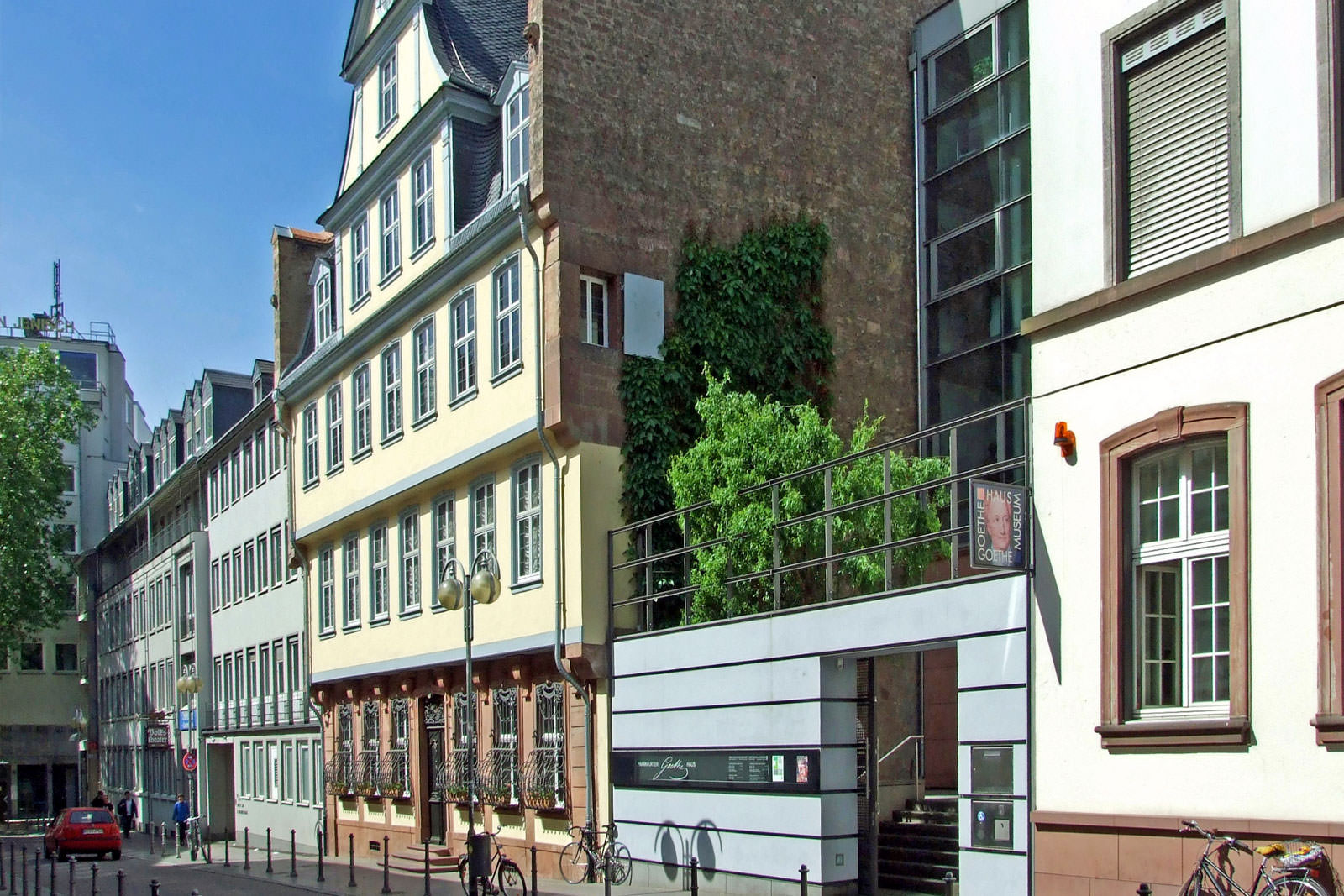 The Goethe House is the restored home of renowned German poet and author Johann Wolfgang Goethe. The 17th century building is divided into 4 floors, each of which are decorated with many original artefacts, furniture and family portraits collected during his early years. The writer's studio is located on the 1st floor, where Goethe wrote his best-selling novel, The Sorrows of Young Werther. There's also an onsite museum that features 14 rooms displaying busts and paintings dating back to the 18th and 19th centuries.
Location: Großer Hirschgraben 23-25, 60311 Frankfurt, Germany
Open: Monday–Saturday from 10 am to 6 pm, Sunday from 10 am to 5.30 pm
Phone: +49 (0)69/138800
photo by Dontworry (CC BY-SA 3.0) modified
3
Römerberg Square
Strike a pose in front of the 16th-century Fountain of Justice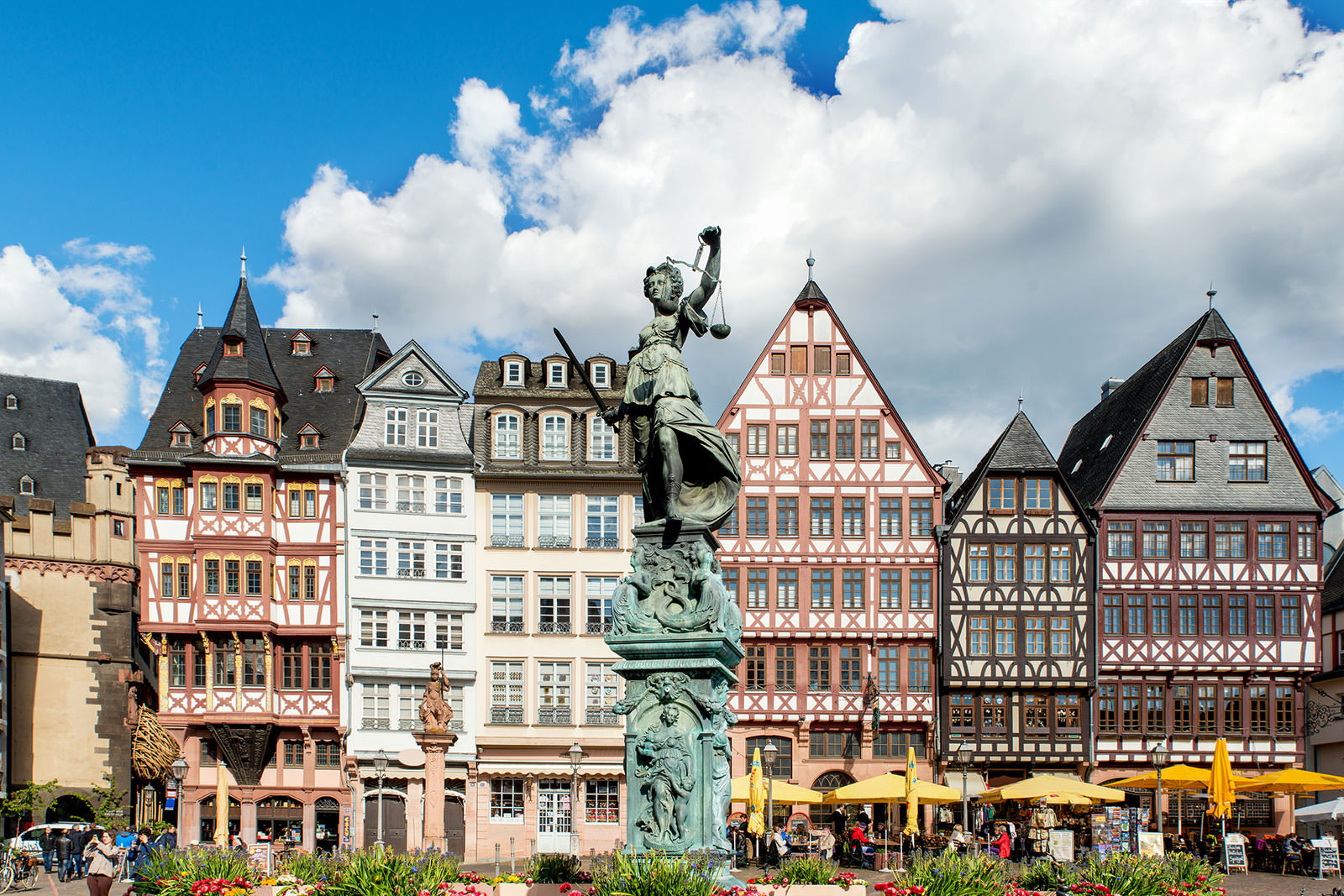 The Römerberg is a large, open square in Frankfurt's Old Town, featuring picturesque buildings and statues dating back to the 15th century. This pedestrian-friendly space is such a pretty and interesting space, you can spend hours exploring and photographing its many attractions. On the eastern side of the Römerberg is Ostzeile, a row of 11 faithfully reconstructed buildings that were destroyed back in 1944. Another popular landmark is the Gerechtigkeitsbrunnen (Fountain of Justice), which was built in 1543. It's set in the middle of the square and depicts goddess Justitia holding the scales of justice.
Location: Römerberg 27, 60311 Frankfurt am Main, Germany
4
Senckenberg Natural History Museum
See life-sized replicas of dinosaurs at one of Europe's largest museums
The Senckenberg Natural History Museum is where you can find the largest exhibition of dinosaur fossils and replicas in Europe. Located within Senckenberg Gardens, the 3-storey museum was founded in 1821 and has since become one of Frankfurt's most visited museums, especially for families with young kids. One of its most impressive exhibits is the Messel Pit fossil site, which is the first UNESCO World Heritage Site in Germany. Here, you can see well-preserved fossils of horses, turtles, and frogs that are over 50 million years old. Audio guides in German and English are available for a few euros if you want to learn more about the exhibits.
Location: Senckenberganlage 25, 60325 Frankfurt am Main, Germany
Open: Monday–Tuesday and Thursday–Friday from 9 am to 5 pm, Wednesday from 9 am to 8 pm, Saturday–Sunday from 9 am to 6 pm
Phone: +49 (0)69/7542-0
5
Berger Straße
Explore an Authentic Frankfurt Street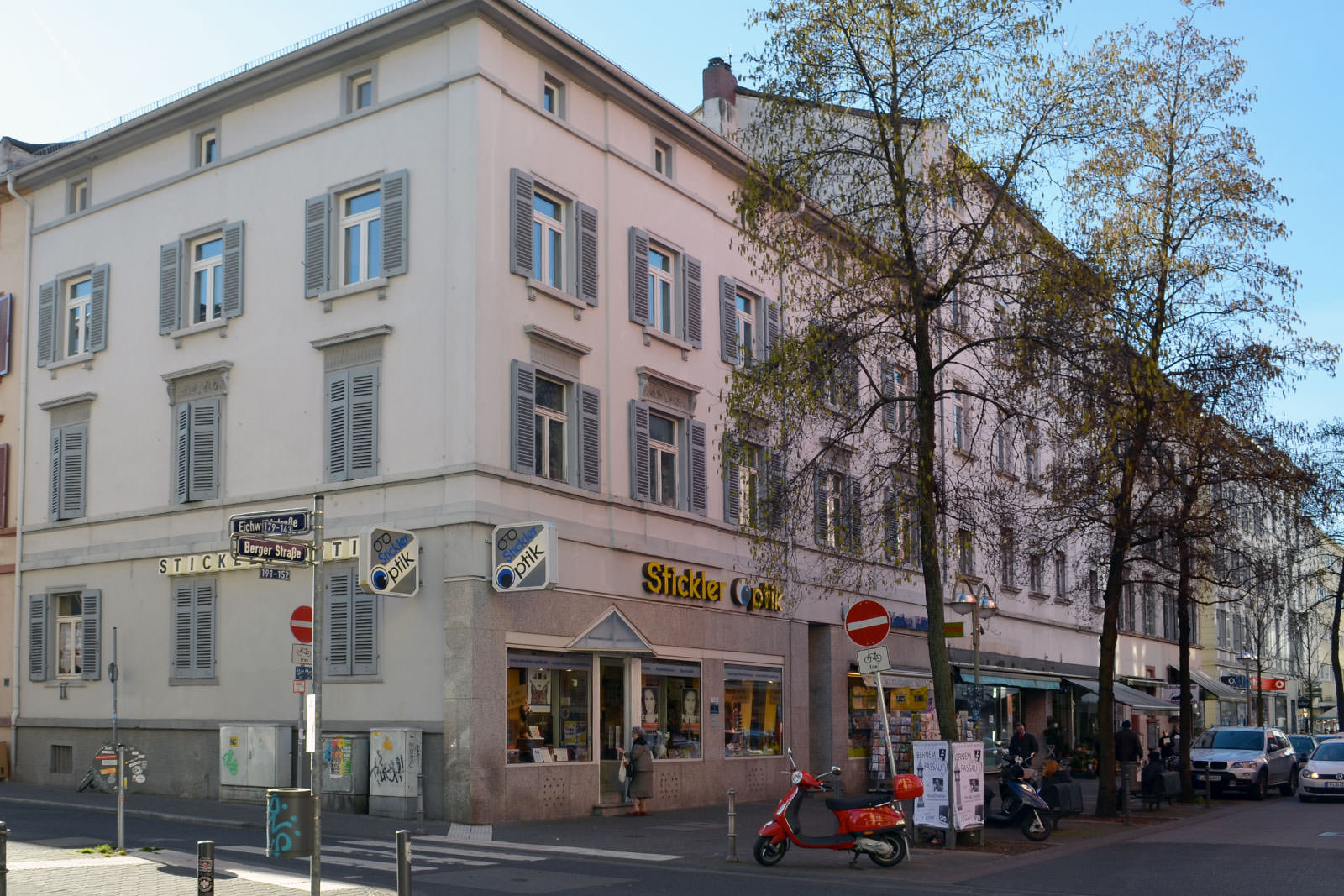 Berger Street (Berger Straße) stretches for 3 km, from Bethmannpark out to Bornheim. Lower Berger Street – around Merianplatz metro station – is one of Frankfurt's best spots for independent boutique shopping. You'll find unique homeware, factory outlet stores, 2nd-hand shops, and an authentic local vibe.
There are plenty of bars, restaurant and coffee shops running the entire length of Berger Straße, but if you're looking for a night out, head the area around Höhenstraße metro station. On Saturdays, don't miss the Farmers' Market next to Bornheim Mitte station. This is also where you'll find larger department stores.
Location: Schaumainkai 41, D- 60596 Frankfurt am Main, Germany
Open: Tuesday–Sunday from 10 am to 6 pm, Wednesday from 10 am to 8 pm (closed on Mondays)
6
Kleinmarkthalle
Discover local specialities at one of Frankfurt's oldest markets
Kleinmarkthalle is an indoor marketplace, where you can shop for fresh produce and experience the local lifestyle. Set along Hasengasse Street in central Frankfurt, it houses over 60 stalls selling local specialities such as sausages, cheese, and fresh produce. You can also find exotic food items imported from Europe and Asia. The ground floor houses a spacious dining section, where you can find food vendors selling grilled seafood, made-to-order sandwiches, bratwursts, and currywursts. Carry cash with you as most vendors don't accept credit card payments.
Location: Hasengasse 7, 60311 Frankfurt am Main, Germany
Open: Monday–Saturday from 8 am to 6 pm (closed on Sunday)
Phone: +49 (0)69/21233696
7
Palm Garden
Enjoy spectacular parades and fireworks at its annual Rose and Light Festival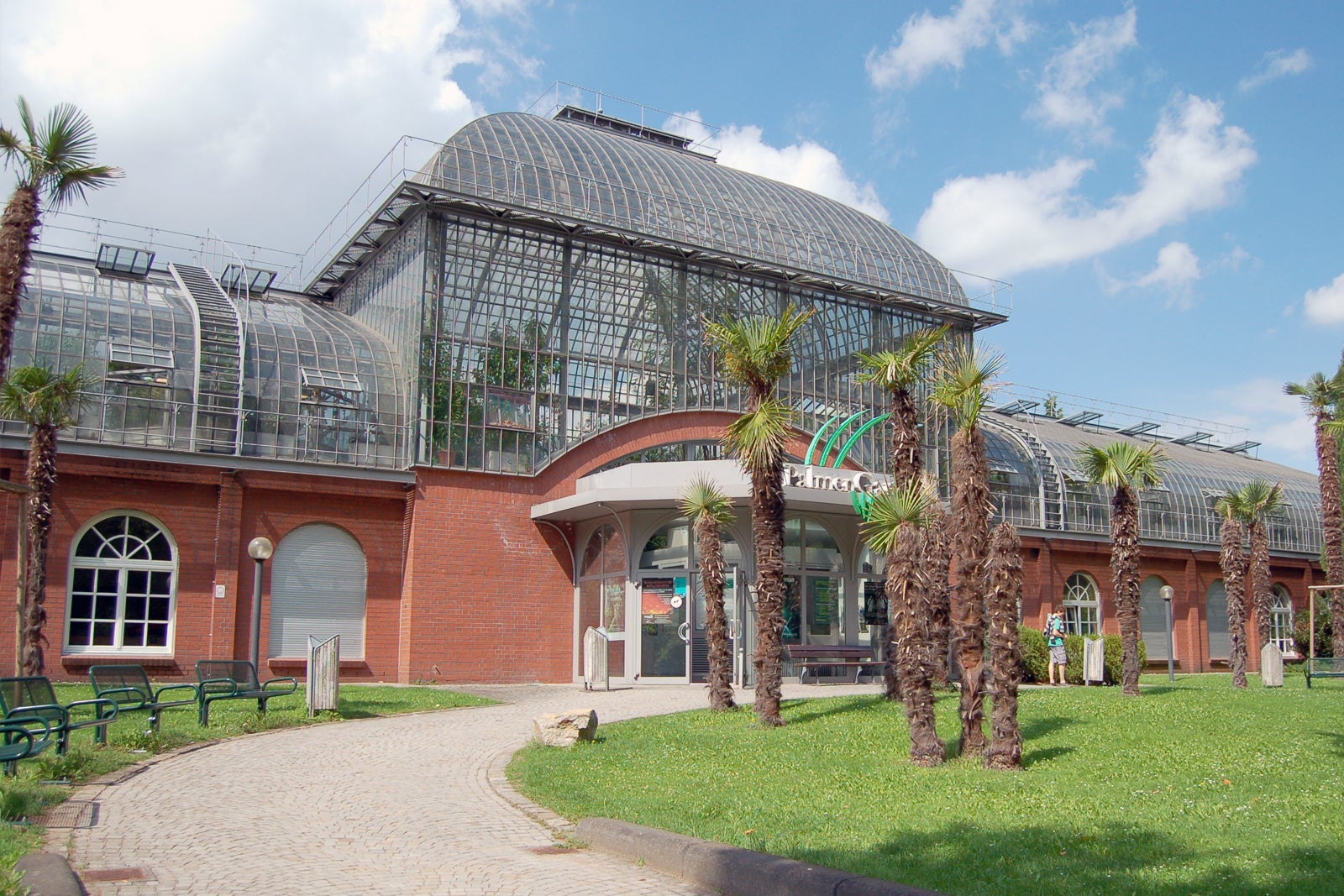 Palm Garden (Palmengarten) is a massive botanic landscape in central Frankfurt, spanning 54 acres of winding paths, greenhouses, playgrounds, and colourful gardens. The park also hosts educational talks, exhibitions, and festivals throughout the year. Its most popular event is the Rose and Light Festival, which has been held every June since 1931. On this day, the garden is illuminated with tea lights, candles and lanterns. Visitors can also enjoy live music and dance performances, plus an impressive fireworks display at the end of the night.
Location: Siesmayerstraße 61, 60323 Frankfurt am Main, Germany
Open: Daily from 9 am to 6 pm
Phone: +49 (0)69/21236689
photo by Anna16 (CC BY-SA 3.0) modified
8
Städel Art Museum
Join a guided tour of the museum to learn about the history of European art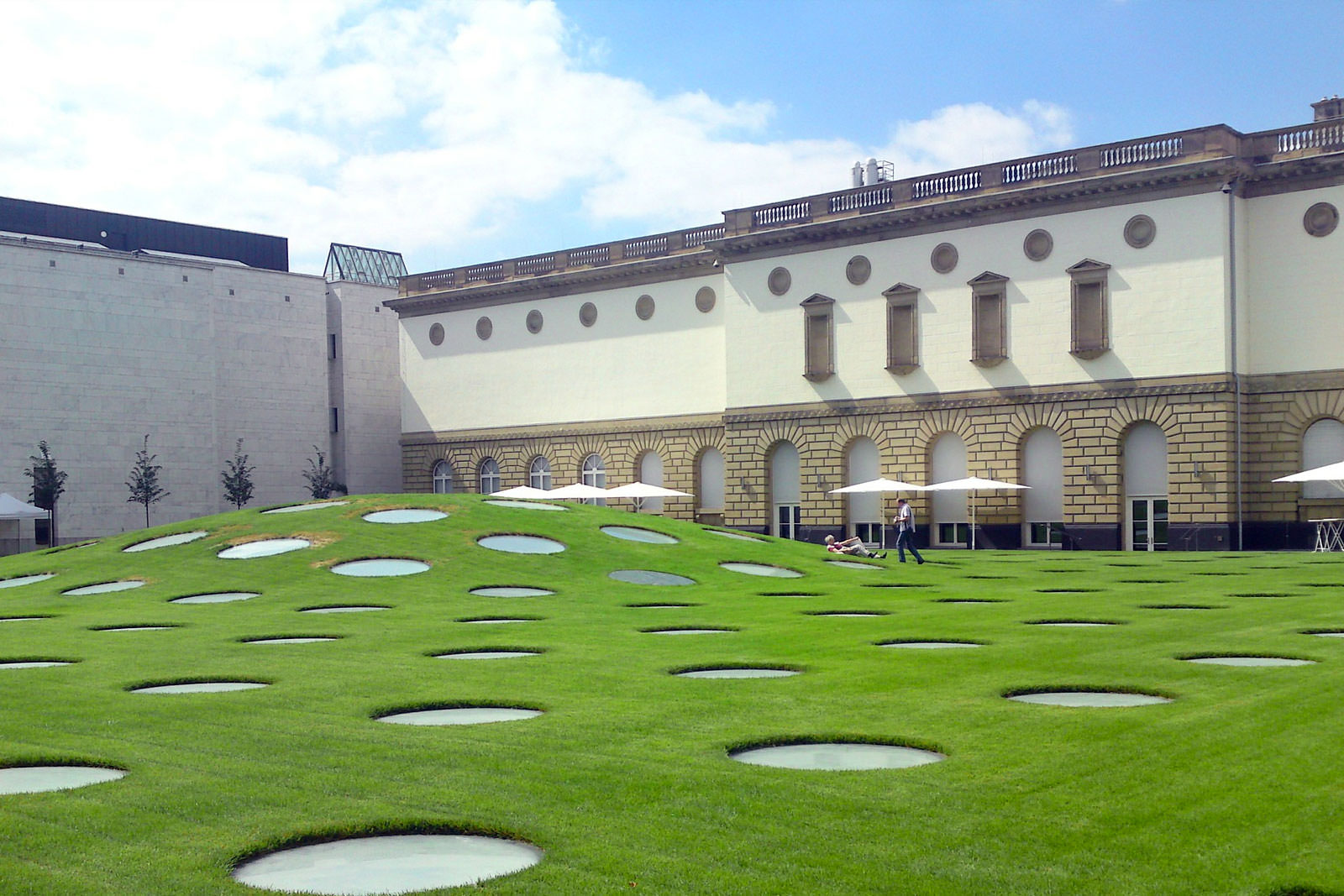 The Städel Art Museum boasts an impressive collection of paintings, drawings, and sculptures dating back to the early 14th century, as well as contemporary artwork and photographs. It was founded in 1815 by the banker and businessman Johann Friedrich Städel, and has since become one of the world's top-ranking museums. Celebrating over 700 years of European art, you'll find 3,100 paintings, some of which were by renowned artists such as Rembrandt, Vermeer, Monet, Picasso, and Goya. Audio guides in English and German are available at the museum's cashier desk, and you can also arrange for a guided tour if you want to learn more about the museum's impressive history.
Location: Schaumainkai 63, 60596 Frankfurt am Main, Germany
Open: Tuesday–Wednesday and Saturday–Sunday from 10 am to 6 pm, Thursday–Friday from 10 am to 9 pm (closed on Monday)
Phone: +49 (0)69/605098200
9
Frankfurt Main Tower
Enjoy expansive city views from the Observation Deck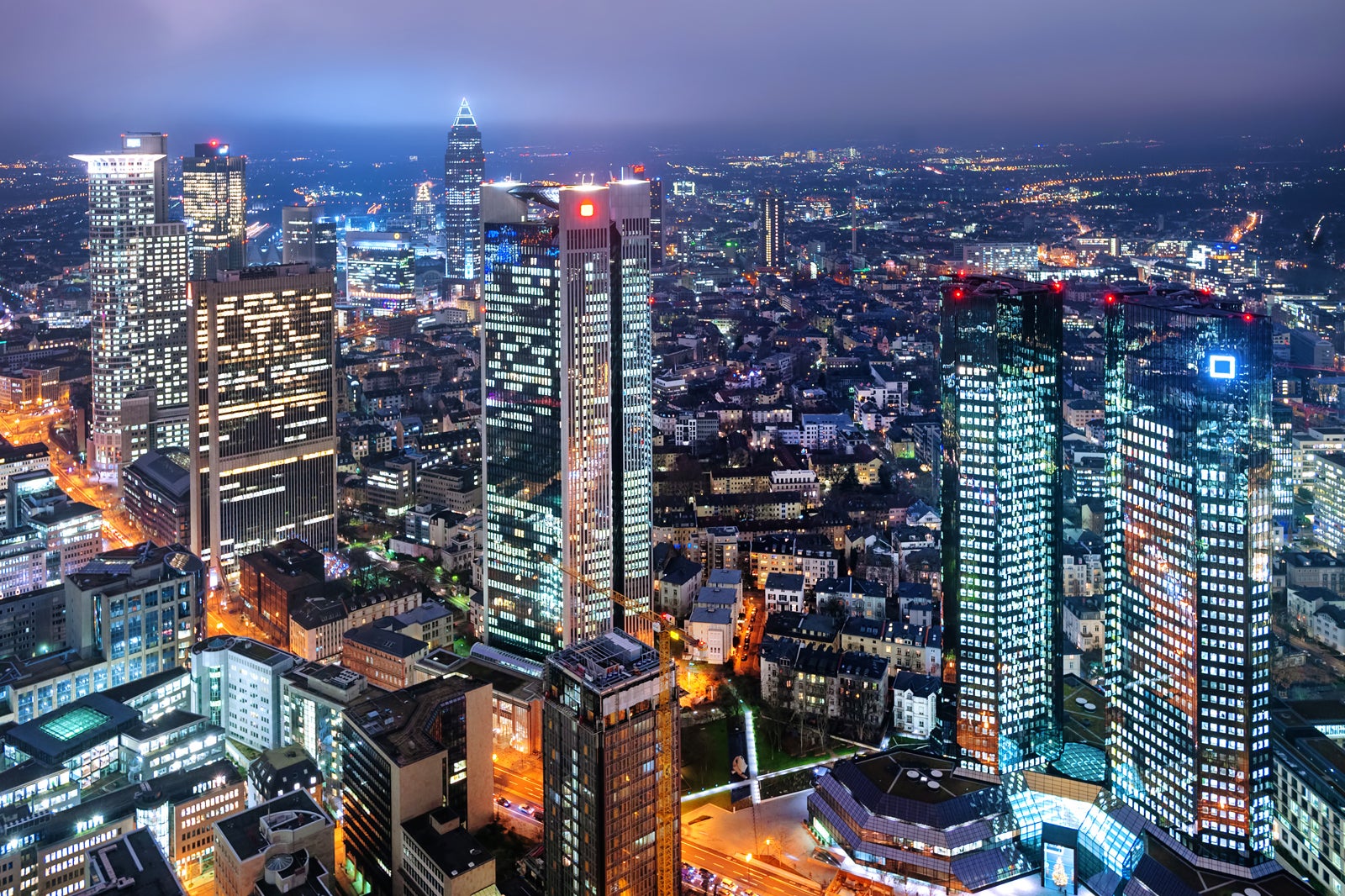 The Frankfurt Main Tower is a 56-storey skyscraper with an open-air observation deck, where you can see the entire city of Frankfurt. This modern structure was completed in 1999, and currently houses a number of offices and businesses. It's also a prominent tourist attraction thanks to the observation deck on the highest floor. If the observation deck is closed (usually due to bad weather), head to the 53rd floor to enjoy a satisfying view of the city during a meal at the luxurious Main Tower Restaurant.
Location: Neue Mainzer Str. 52-58, 60311 Frankfurt am Main, Germany
Open: Summer: Sunday–Thursday from 10 am to 9 pm, Friday - Saturday from 10 am to 11 pm. Winter: Sunday–Thursday from 10 am to 7 pm, Friday– Saturday from 10 am to 9 pm
Phone: +49 (0)69/36504878
10
Alt-Sachsenhausen
Order an apfelwein, Frankfurt's quintessential cider, during your pub crawl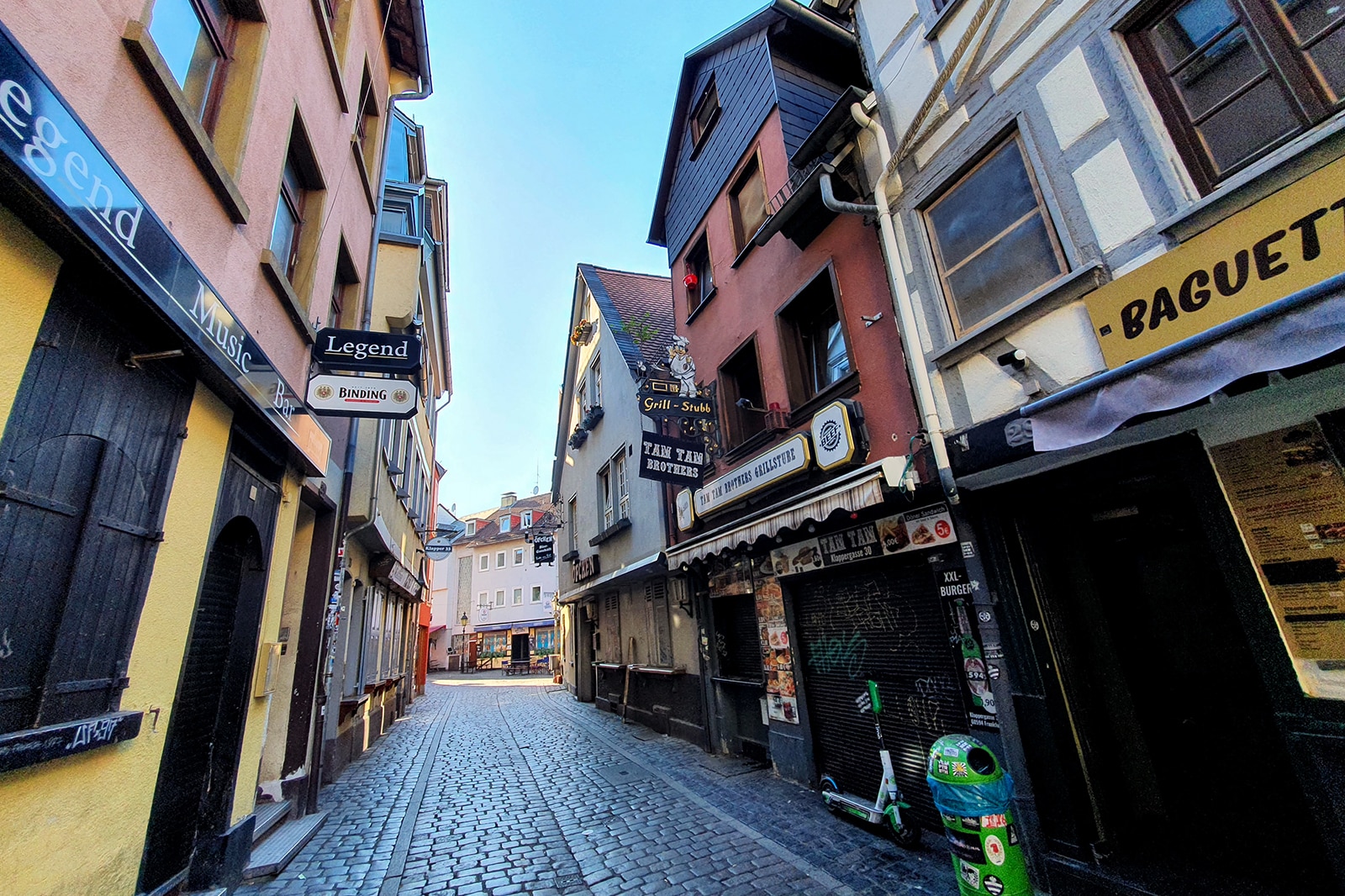 A pub crawl is ideal for experiencing Frankfurt's vibrant nightlife. Beer may be a staple in Germany's drinking culture, but don't miss out on apfelwein, which is fermented apple juice with an alcohol content of 4% to 7%. For a more local experience, we love exploring Schweizer Straße in Old Sachsenhausen. This tree-line commercial street houses plenty of pubs and taverns that brew their own apfelwein, but beers and wines are on their drinks list as well. You get to meet like-minded travellers during the pub crawl, with a local guide taking you to some of the city's most popular nightlife spots all night long… or until no one can walk in a straight line.
Location: Sachsenhausen 65934 Frankfurt am Main, Germany
11
Currywurst
Fill your belly with Germany's favourite snack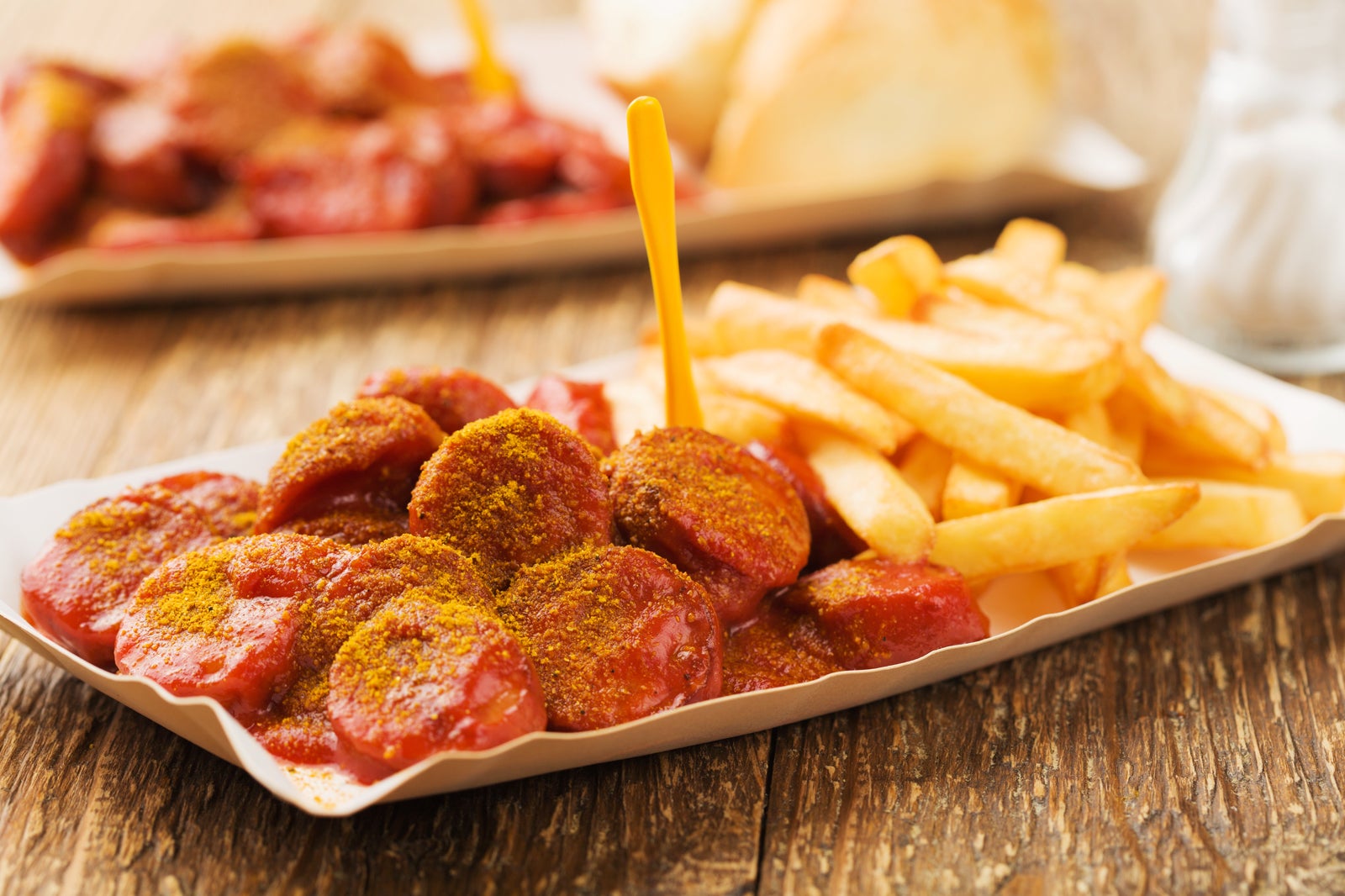 Currywurst is a popular German fast food consisting of grilled and sliced pork sausage topped with a ketchup and curry powder. You can get your hands on freshly prepared currywurst just about anywhere in Frankfurt, from markets and food trucks, local taverns to five-star restaurants. Best Worscht in Town is a popular restaurant in the Grueneburgweg neighbourhood. There are 7 levels of spiciness, ranging from A (lowest) to F (highest).
Location: Grueneburgweg 37, 60322 Frankfurt, Germany
Open: Daily from 9.30 am until late
Phone: +49 (0)69/17517318
Back to top