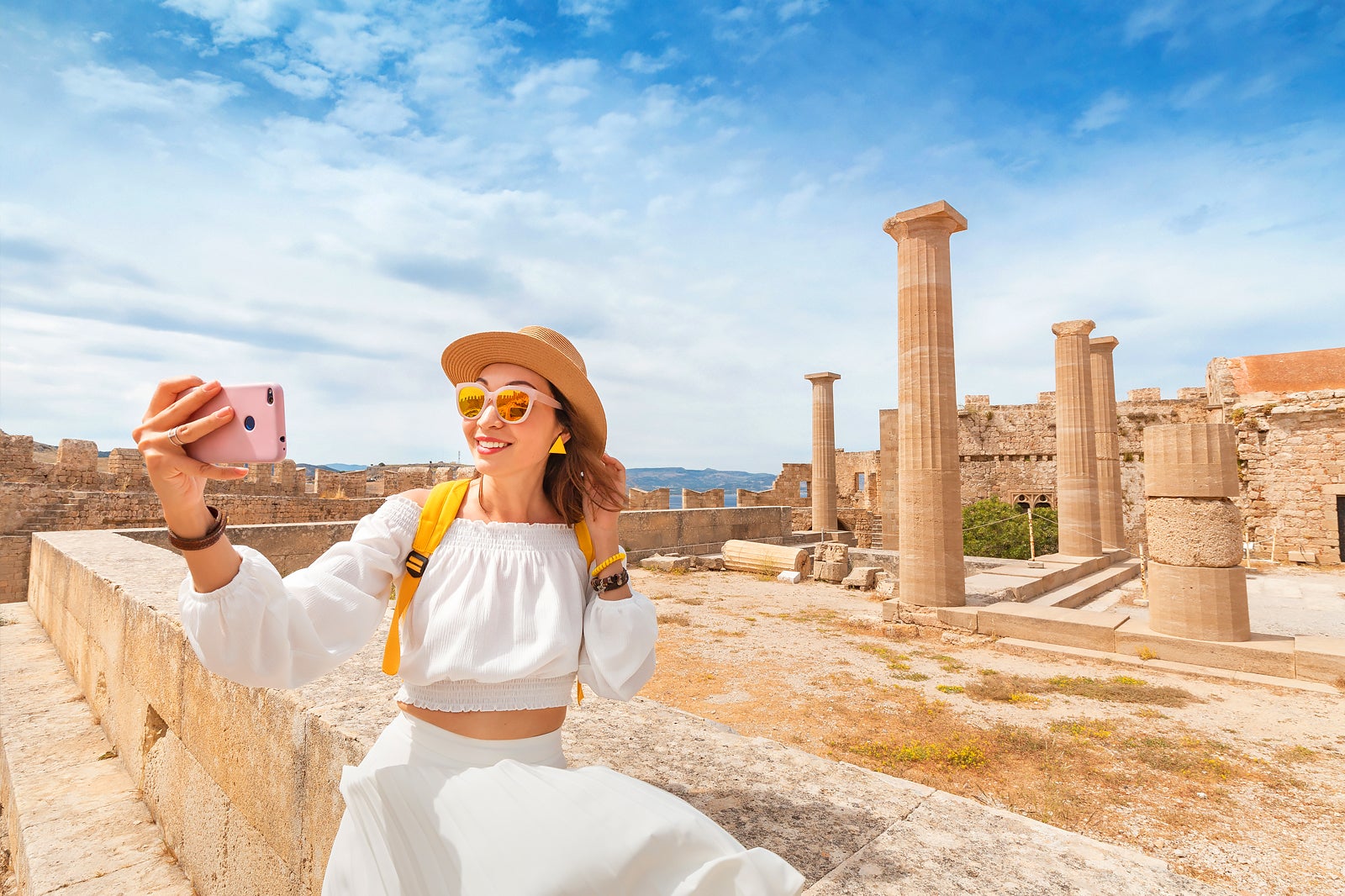 10 Things to Do in Rhodes on a Small Budget
What Are the Cheap Things to Do in Rhodes?
Cheap things to do in Rhodes allow you to enjoy this island paradise on the Aegean sea without depleting your funds, from ancient ruins to fairy-tale valleys. You can see vast scenic landscapes filled with thousands of colourful butterflies, walk the cobbled streets of a medieval city and explore archaeological digs from the ancient days of the Minoan civilisation. You will have the opportunity to see the seat of a knightly order and explore ancient castles.
You can spend time in serene urban parks or shop at farmers' markets or arts and crafts displays with local handicrafts and souvenirs. Of course, you can also relax on endless stretches of soft sand or in the clear surf. Explore some budget-friendly ways to enjoy Rhodes.
1
Lindos Acropolis
Visit one of the most important ancient Greek sites
Couples
Families
Budget
History
The Lindos Acropolis offers a chance to explore the ancient ruins of a citadel atop a steep cliff, with a donkey ride to the top of the footpath. It was an important site of the Classical Greek empire and is one of the most fascinating historical sites on Rhodes and across the Docadense Islands. Parts of the site were built over 2,500 years ago. The ruins are strikingly well preserved and draw visitors from all over the world.
The Acropolis showcases architecture from many different historical eras. A few more important locales include the Temple of Athena Lindia, the former Sanctuary, a partial stoa that once stood 87 metres tall with dozens of columns.
Location: Acropolis of Lindos, Lindos 851 07, Greece
Open: Daily from 8 am to 7.30 pm
2
Rhodes beaches
Relax with soft sand and deep blue waters
Couples
Families
Budget
Adventure
Rhodes beaches are a primary draw for visitors from around the world, providing the chance to relax on near-endless stretches of soft sand and in the warm turquoise waters. Few things are as enjoyable and budget-friendly as spending the day with sand, sun and surf. Whether you're looking to enjoy some water sports, build a sandcastle, go swimming or just lie out and catch some rays, these beaches offer the iconic Greek experience right on the shores of the Aegean Sea.
Some popular beaches include Kiotaru, Pimmyri and Gennadi. For surfers or those who enjoy watching surfers, Parasonisi has great waves. Many trendy beaches are in southern Rhodes, but great options can be found all along the coast.
3
Kritinia Castle
Walk the ramparts of a 15th-century castle
Couples
Families
Budget
History
Kritinia Castle dates to the 15th century and overlooks the glistening blue sea along the island's western coast, with fantastic vistas and historic architecture. It's situated on a high hill with olive groves and evergreens. Famous historical builder Giorgio Orsini designed the castle. Its original purpose was to protect the island inhabitants from invasion by the Ottoman empire.
Visitors can look down on the white village of Kritinia and even grab a bite in one of the traditional tavernas serving unique seafood delicacies like Shrimp Saganaki. Not only will you find glorious architecture and delicious food here, but you will have outstanding opportunities to experience authentic local culture.
Location: Epar.Od. Ialisou-Katavias 15, Siana 851 08, Greece
Open: 24/7
4
Palace of the Grand Master of the Knights of Rhodes
Learn the history of the Knightly Order of St John
Couples
Families
Budget
History
The Palace of the Grand Master of the Knights of Rhodes is a highlight of the medieval Rhodes Town, offering the chance to walk through a living museum full of history. Inside you'll see hundreds of artefacts and items dating back centuries that relay the history of the Order of St John. Outside, the bridge and castle entry are impressive unto themselves. After exploring the castle, you can walk along the scenic Street of the Knights that leads to and from the museum and city.
Both the museum and street are strikingly well-preserved, and 7 inns along the road are hundreds of years old and still functional, representing the countries whose members were part of the Knightly Order.
Location: Ippoton, Rodos 851 00, Greece
Phone: +30 2241 365270
5
Butterflies Valley
Get lost in a fairy-tale world of colour
Butterflies Valley allows you the chance to get lost in a fairy-tale world of colour and wonder as thousands of butterflies flit around you. The butterflies come here at the end of their life cycle, drawn by the Oriental Sweetgum trees and the humid sea air. The valley includes a small onsite museum with exhibits about the life cycle of butterflies, as well as a butterfly hatchery.
It's free to visit, but often, people complement their visit with other activities. Among the most popular are wine tastings at local wineries, boat trips to the unspoiled island of Halki or a visit to the hot springs at Kallithea.
Location: Rhodes 851 06, Greece
Open: Daily from 8 am to 6 pm
Phone: +30 2241 082822
6
Medieval City of Rhodes
Explore hundreds of years of living history
Couples
Families
Budget
History
The Medieval City of Rhodes is the historic Old Town quarter of Rhodes Town, still a living, breathing city and a UNESCO World Heritage Site. As you walk the streets, this city becomes a juxtaposition of modernity and a living museum. It takes you into the distant past with buildings that are hundreds of years old and exhibit influences from Turkish, Italian and Byzantine cultures and architecture.
Here, you can explore stunning ruins and shops offering handmade gifts, souvenirs, arts and crafts from local vendors. Sit-down cafes allow for people watching, while takeaway street food lets you enjoy the best of local cuisine.
7
Castle of Monolithos
Enjoy stunning coastal views from the ruins
Couples
Families
Budget
History
The Castle of Monolithos provides the chance to sit on a cliffside in 15th-century ruins offering breathtaking Aegean sea views complemented by a charming arch and small church. The panoramic views are among the most stunning in the entire region, and many visitors ascend this viewpoint just for the scenery.
You can fill your social media feed with photos, whether it's of the archway, the historic country church or the vast Aegean stretching to the horizon with a rocky coast below. When you finish here, the castle is only a 10-minute drive to a relaxing beach where you can enjoy the sun, surf and sand, all at no cost.
Location: Epar.Od. Monolinthou-Frourio Monolinthou 89, Monolithos 851 08, Greece
Open: 24/7
8
Rodini Park
Walk an ancient landscaped urban park
Rodini Park is an urban park with elegant green space and the chance to see one of the earliest landscaped parks in existence. This park was created in the ancient days of Greece and enjoyed by the Romans, medieval settlers, and now modern-day visitors. Onsite, you can see a portion of a remaining Roman aqueduct. It's all arranged around a natural stream and features peacocks that run wild in the park.
The park offers shaded paths, walking bridges, and a cool breeze in forested surroundings. You can even see a tomb here that dates to the Hellenic period called the Tomb of the Ptolemies.
Location: Lindou, Rodos 851 00, Greece
Open: 24/7
Phone: +30 2241 361200
9
Archaeological Museum of Rhodes
See world history through the eyes of Rhodes
Couples
Families
Budget
History
The Archaeological Museum of Rhodes is housed in a castle-like building showcasing ancient artwork collected from all over the island. This well-preserved and intricately organised collection offers thousands of artefacts, tools and works of art. It showcases evidence of everyday life on the island for thousands of years, dating back to the pre-Greek era in the lost cultures of prehistoric days.
As you explore the artefacts, you'll learn all about the ancient world's history through this isle's eyes. When you have finished exploring, you'll have the chance to take refuge from the heat in a well-tended garden with walking paths shaded by trees.
Location: Akti Sachtouri 8, Rodos 851 00, Greece
Open: Daily from 8 am to 8 pm
10
Laiki Market
Explore a traditional Greek farmers' market
Couples
Families
Budget
Shoppers
Food
The Laiki Market is a traditional people's street market held every Wednesday and Saturday and offers fruits, veggies, spices, ingredients and prepared foods, all fresh from the farm. It's in the heart of the Rhodes city centre in the north of the island. You can walk by dozens of stalls, enjoying every kind of Greek food imaginable, all while soaking up local culture and colour. This spot is just as popular with locals as visitors, and many residents come to do their weekly grocery shopping.
If you want to create some authentic Greek dishes, many vendors will be happy to help. Of course, you can also just enjoy window shopping. The sights and smells are free.
Location: Rhodes 851 00, Greece
Open: Monday–Friday from 7 am to 6 pm (closed Saturday–Sunday)
Back to top