5 Best Beaches in El Nido
Discover the Most Popular El Nido Beaches
The best beaches in El Nido described below are the prime reasons why this northern tip of Palawan Island has become one of the most sought-after holiday destinations in the Philippines. Many El Nido beaches are the ultimate tourist magnet – think white, powdery sand, turquoise waters, and coconut trees.
The most popular El Nido beaches on our list are all within a short distance from the El Nido Town proper. Some can be reached on a motorbike while others require a boat ride to get to. Check them out, and get ready for a bit of beach hunting once you're in El Nido.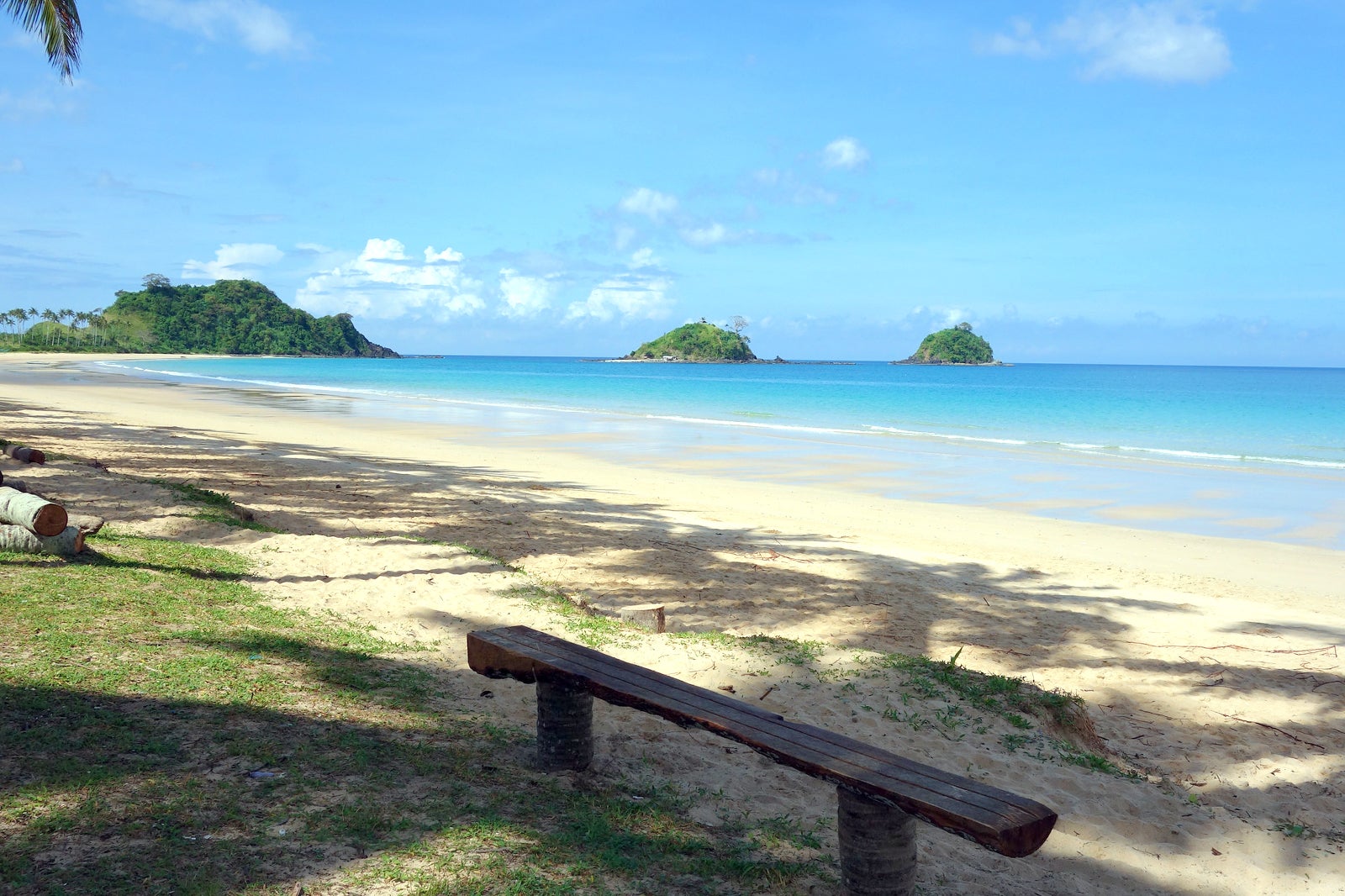 Nacpan and Calitang – El Nido's Twin Beaches
Nacpan and Calitang are adjacent strips of white sand about 20 km north of El Nido Town proper, beyond El Nido Airport. Known as El Nido's Twin Beaches, they're often part of inland day trips. You can get there by renting a motorbike or by hiring a tricycle (but that usually works out more expensive).
Separated by a small cape that features a viewpoint, Nacpan and Calitang are respectively 500 metres and 3 km long. A few bars and restaurants, as well as some accommodation options are available along the beaches, offering a place far from the crowds for a relaxing day.
Location: El Nido, Palawan, Philippines
photo by Allan Ascaño (CC BY 2.0) modified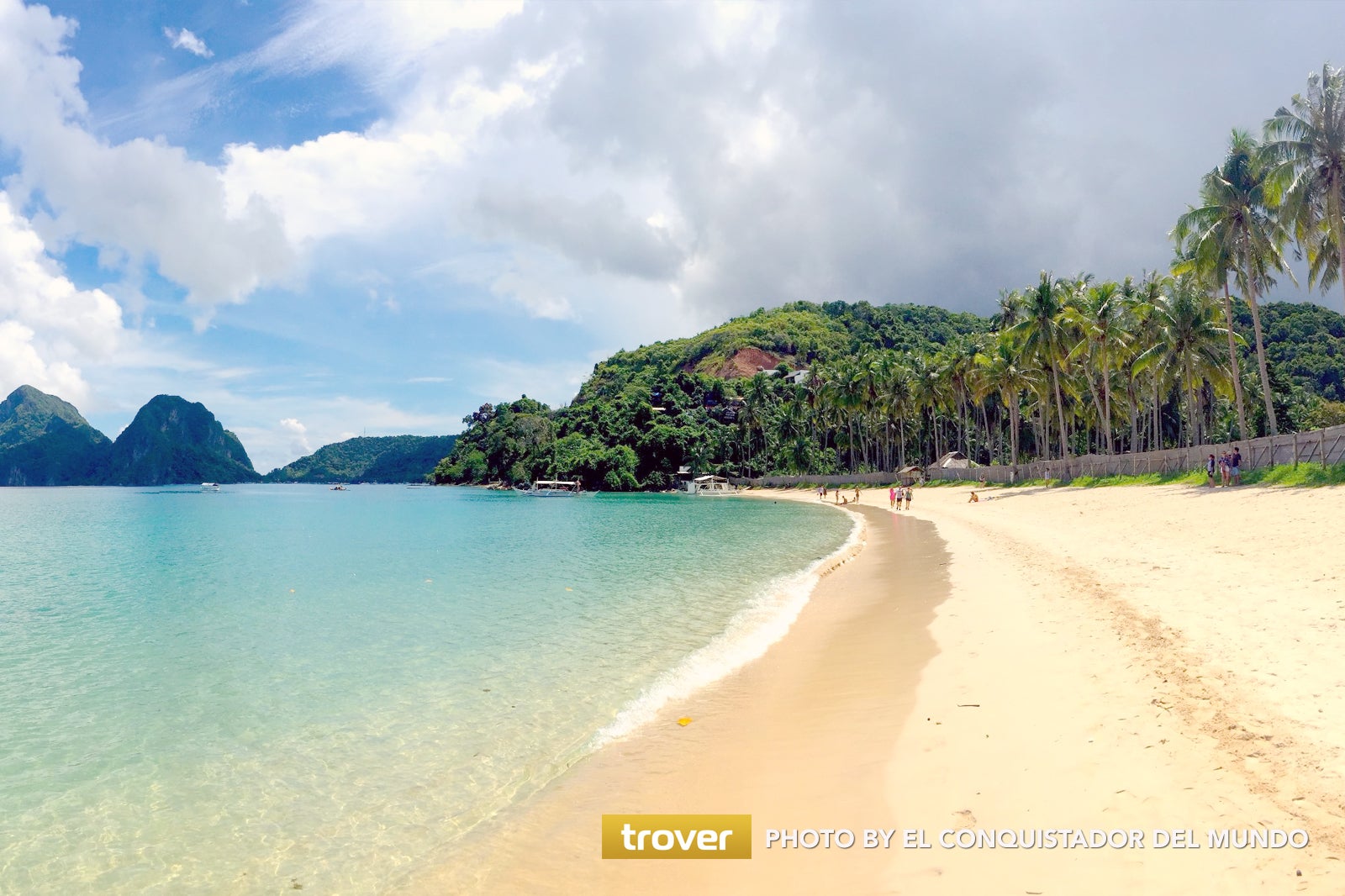 Marimegmeg Beach offers a picturesque seaside location 5 km south of El Nido Town, One of the most stunning sundowner spots in El Nido, you can spend the day lazing here under the cooling shade provided by the coconut trees, or at one of the quaint bars settled all along the beach.
At night, you can party and dance on the beach, which turns into an outdoor disco, with tunes provided by live DJs. Marimegmeg is a swimmable beach, and sea kayaks as well as snorkelling equipment can be rented on site.
Location: Marimegmeg Beach, El Nido, Philippines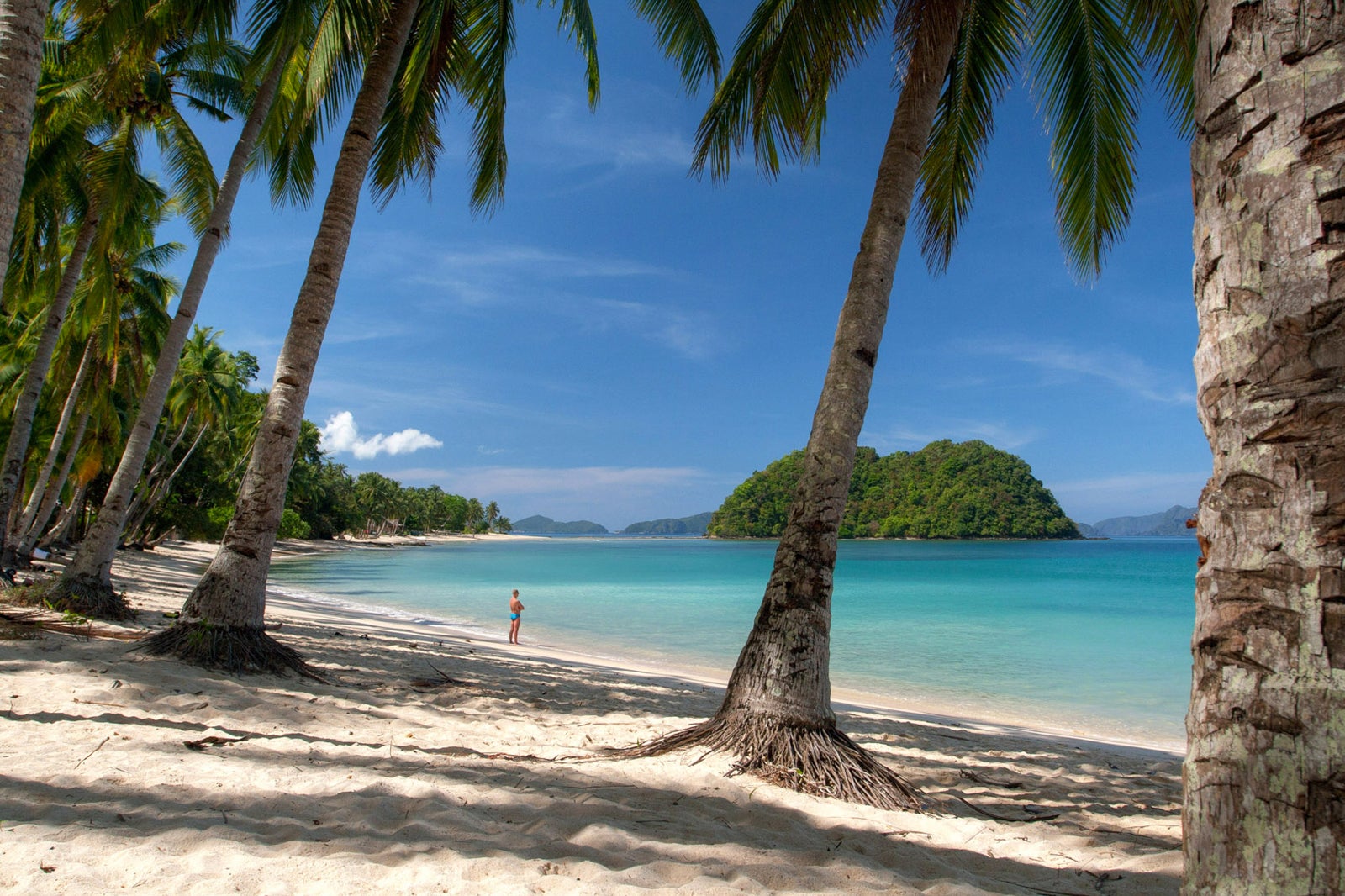 Las Cabanas Beach is in fact a continuation of Marimegmeg Beach, and the 2 beaches share many of the same activities, cool beach venues to dine and drink, and the superb sunsets that silhouette the many islands and islets that lie off the shore.
Opposite southern end of Las Cabanas Beach, you'll find Depeldet Island, which has a marine sanctuary. There's only 100 metres that separate the island from the beach, and you can get there on foot at low tide or by kayak at high tide.
Location: Taytay, El Nido National Hwy, El Nido, Palawan, Philippines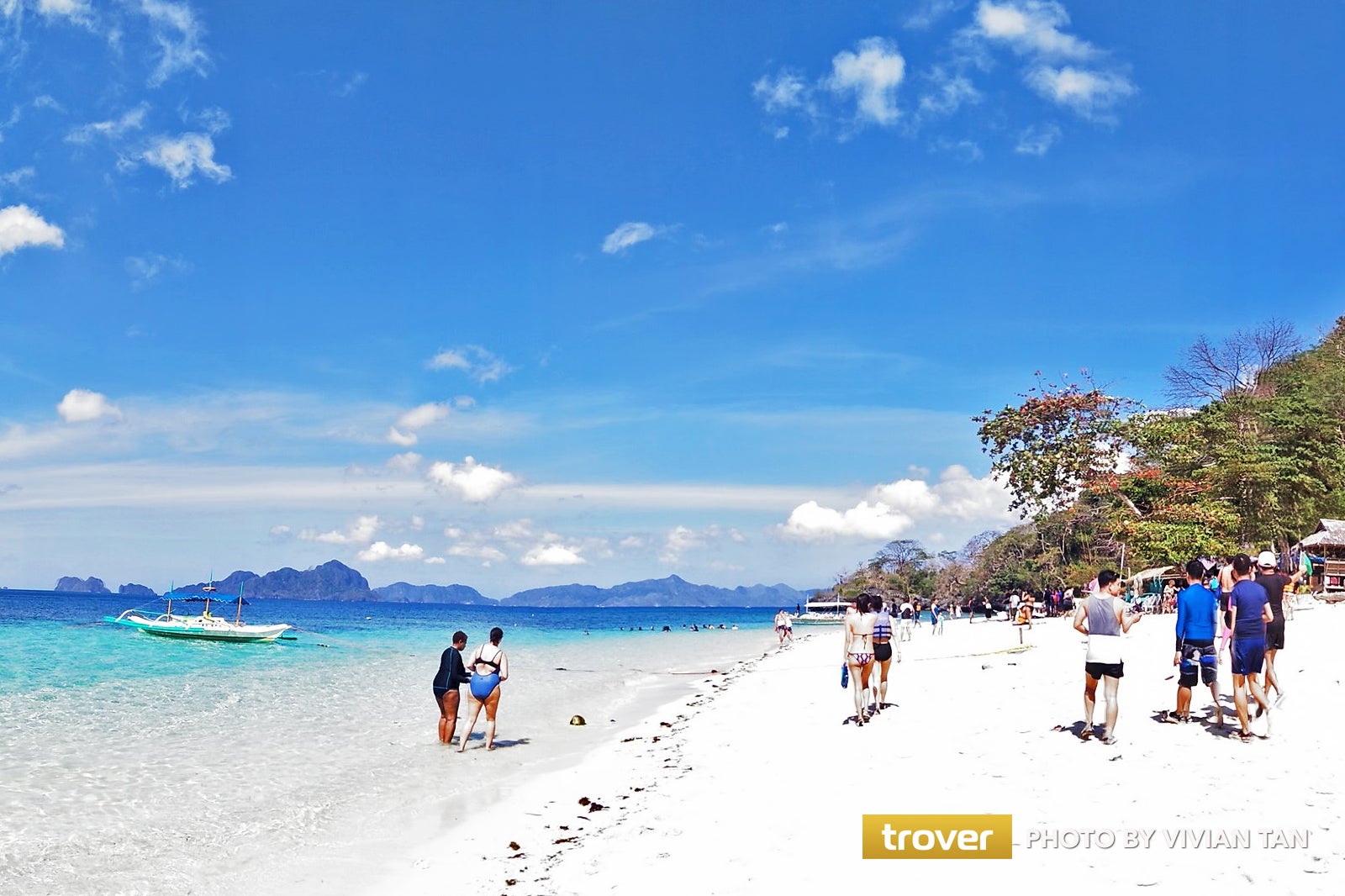 Seven Commandos Beach is a 320-metre-long strip of sand with all the facilities required to comfortably spend a great day with your toes in the sand. Located west of Papaya Beach, no one can clearly explain where the name Seven Commando Beach comes from. The only logical explanation is that it originates from World War II, but whether the namesake commandos were Japanese, American or any other nationality (or if there was even a commando raid in the area at all) is unknown.
Location: El Nido, Palawan, Philippines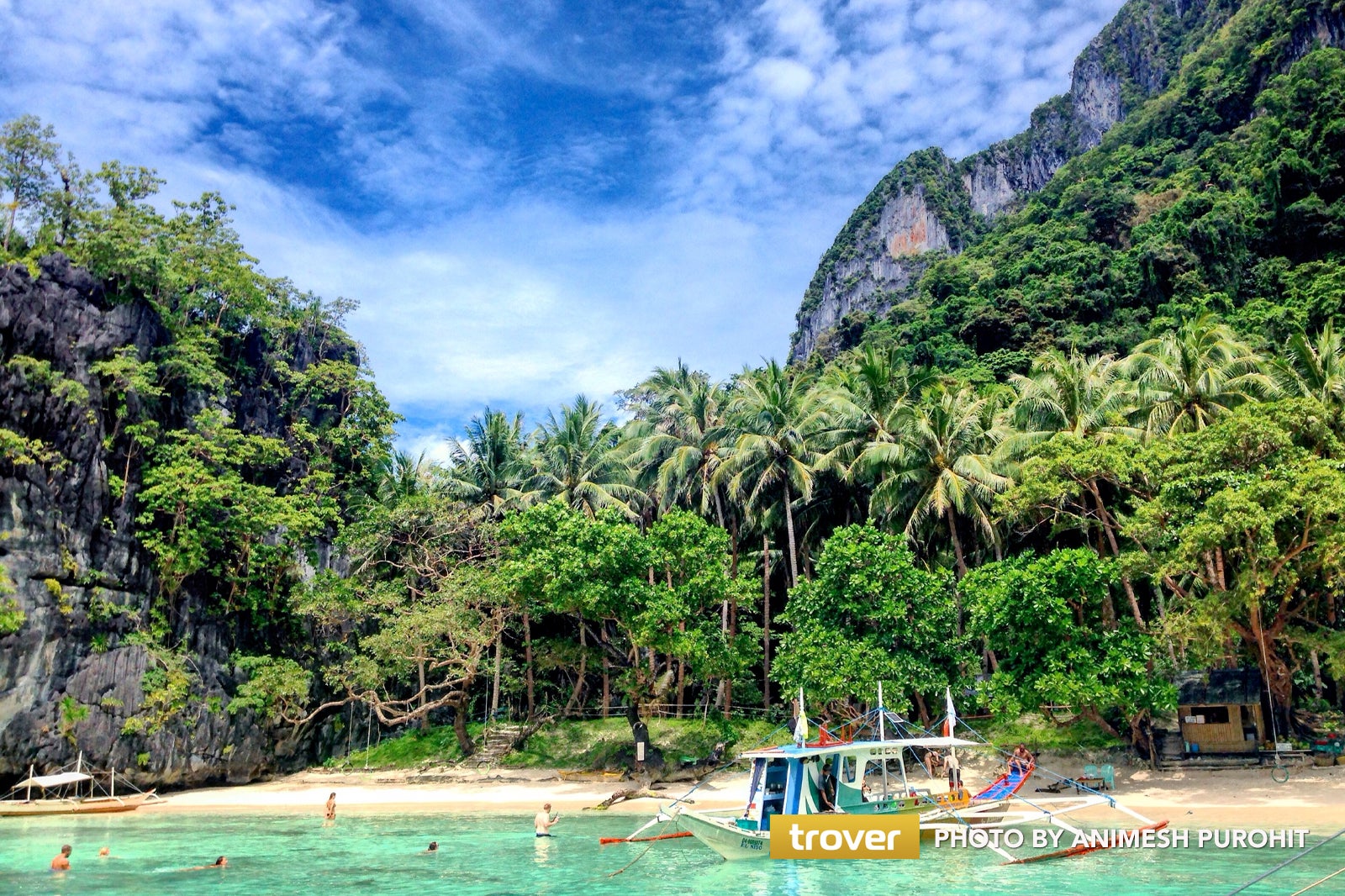 Papaya Beach is a 250-metre-long beach located 1 km southeast of El Nido Town proper. This private beach has soft white sand, a serene atmosphere, and offers a nice snorkelling experience. The reef lies a very short distance from the shore, making it suitable even for young children.
You'll find here a beach bar selling fresh drinks and snacks, including the halo halo – ice mixed with various ingredients such as coconut, mango, red bean, fruit flavoured jelly, and more – that gives the beach its second name. Papaya Beach can only be reached by boat or kayak.
Location: Papaya Beach, El Nido, Palawan, Philippines