10 Best Things to Do in Asturias
What is Asturias Most Famous For?
The best things to do in Asturias range from marvellous beaches, which rival any found in southern Spain, to beautiful mountains. Your escape to this beautiful region in northwest Spain also treats you to incredible cities as well as vibrant culture, great food and drink, and, of course, a fantastic atmosphere that has lingered for centuries.
We've compiled all the great things that Asturias is famous for, taking into consideration the variety of options available to you as a visitor. Read on to discover the magical and hidden corners that make Asturias a genuine cultural centre as well as a destination filled with such picture-postcard views.
What are the best things to do in Asturias?
1
Silencio Beach
Discover a rugged and hidden beach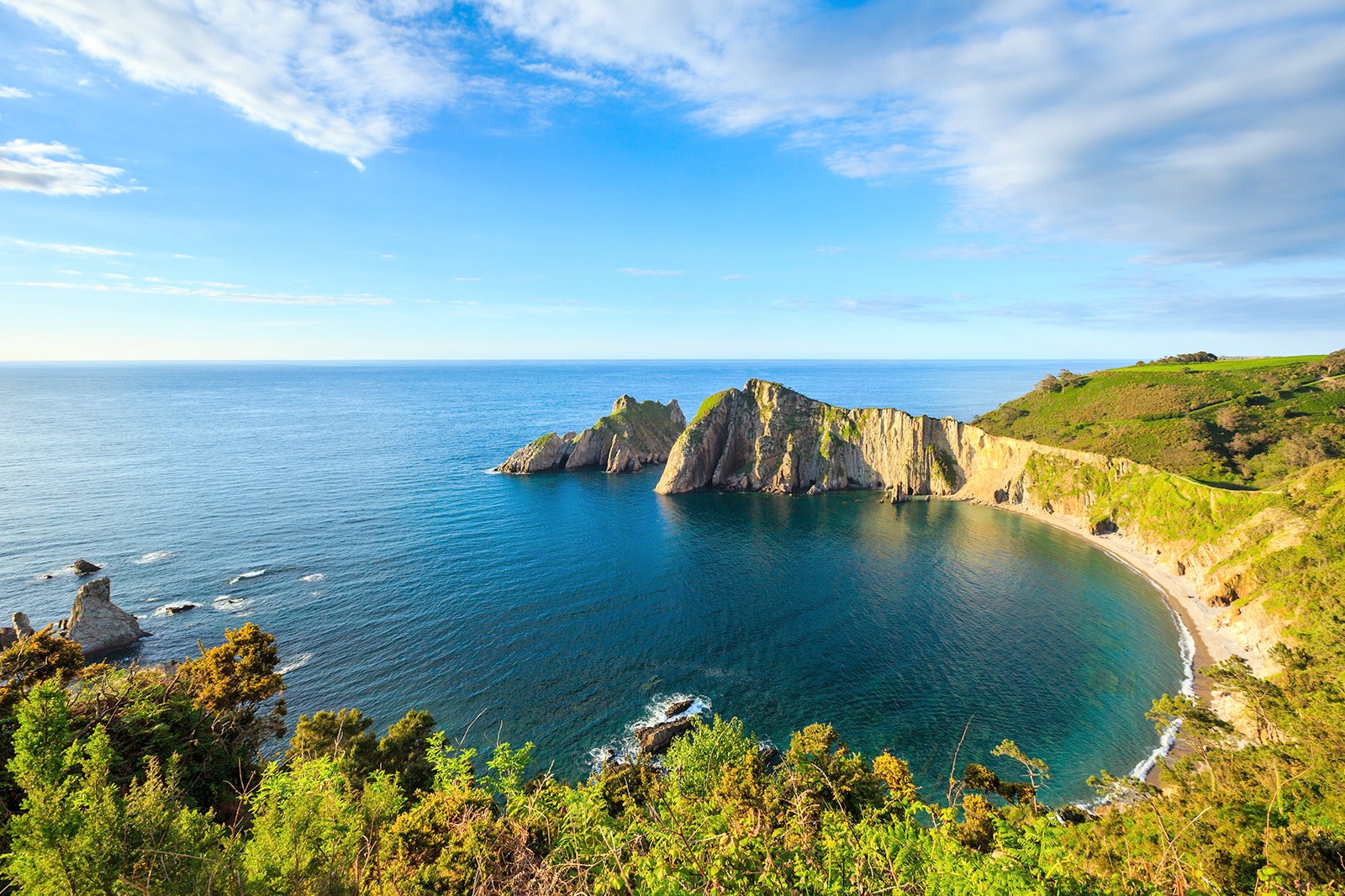 Silencio Beach or Playa del Silencio is one of the most beautiful beaches in Asturias with turquoise waters bordering its shoreline with small and smooth white pebbles. Rocky cliffs add to the rugged feature of the crescent beach and it offers an incredible sense of peace to those strolling along the water's edge.
Although access to the beach requires a bit of effort, it's all worth it as you'll be rewarded with fabulous untamed seascapes and landscapes. There are no supporting facilities around so you might want to pack a light picnic for your day out among the pristine nature of Playa del Silencio.
Location: N-632, 33157 Castañeras, Asturias, Asturias, Spain
2
Cementerio de Luarca
A hilltop cemetery offering incredible views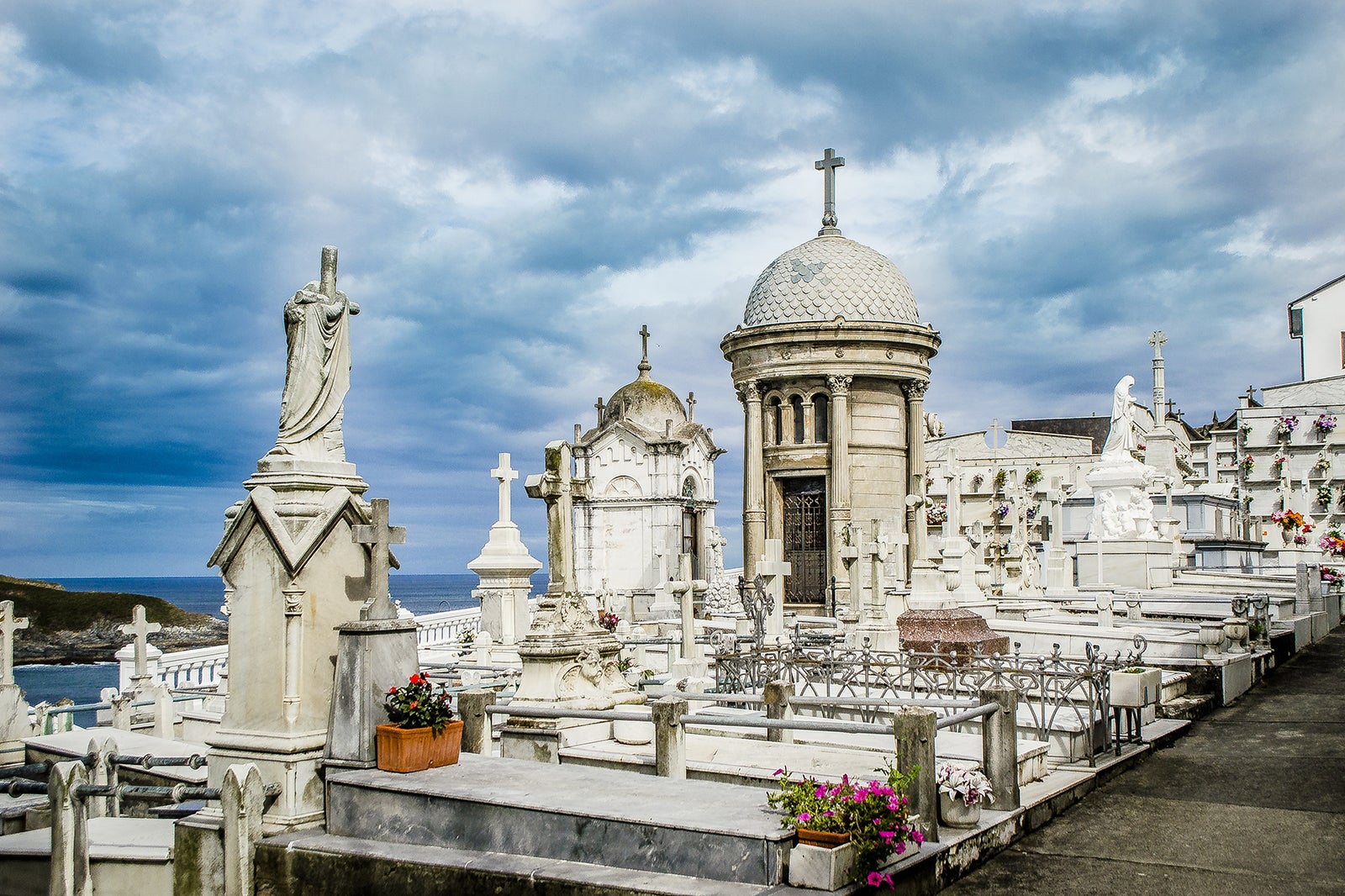 Unusual
History
Photo
Budget
Cementerio de Luarca is a beautifully laid out graveyard in Asturias from where you can also take in breathtaking ocean views over the bay of Luarca. The monumental necropolis is set on a hill in the village of Luarca which gives it its vantage point qualities.
After visiting and taking a stroll past the oldest graves that date back to 1813, you should also visit the Luarca lighthouse nearby. Views from both the cemetery and the lighthouse are superb. Luarca itself is a charming village and a great place to try traditional Asturian cuisine as well as for having a glass or 2 of the local cider.
Location: VA-1, 11, 33700 Luarca, Asturias, Spain
Open: Friday–Wednesday from 9 am to 7 pm (closed on Thursdays)
3
Gulpiyuri Beach
Discover a hidden beach behind a hillside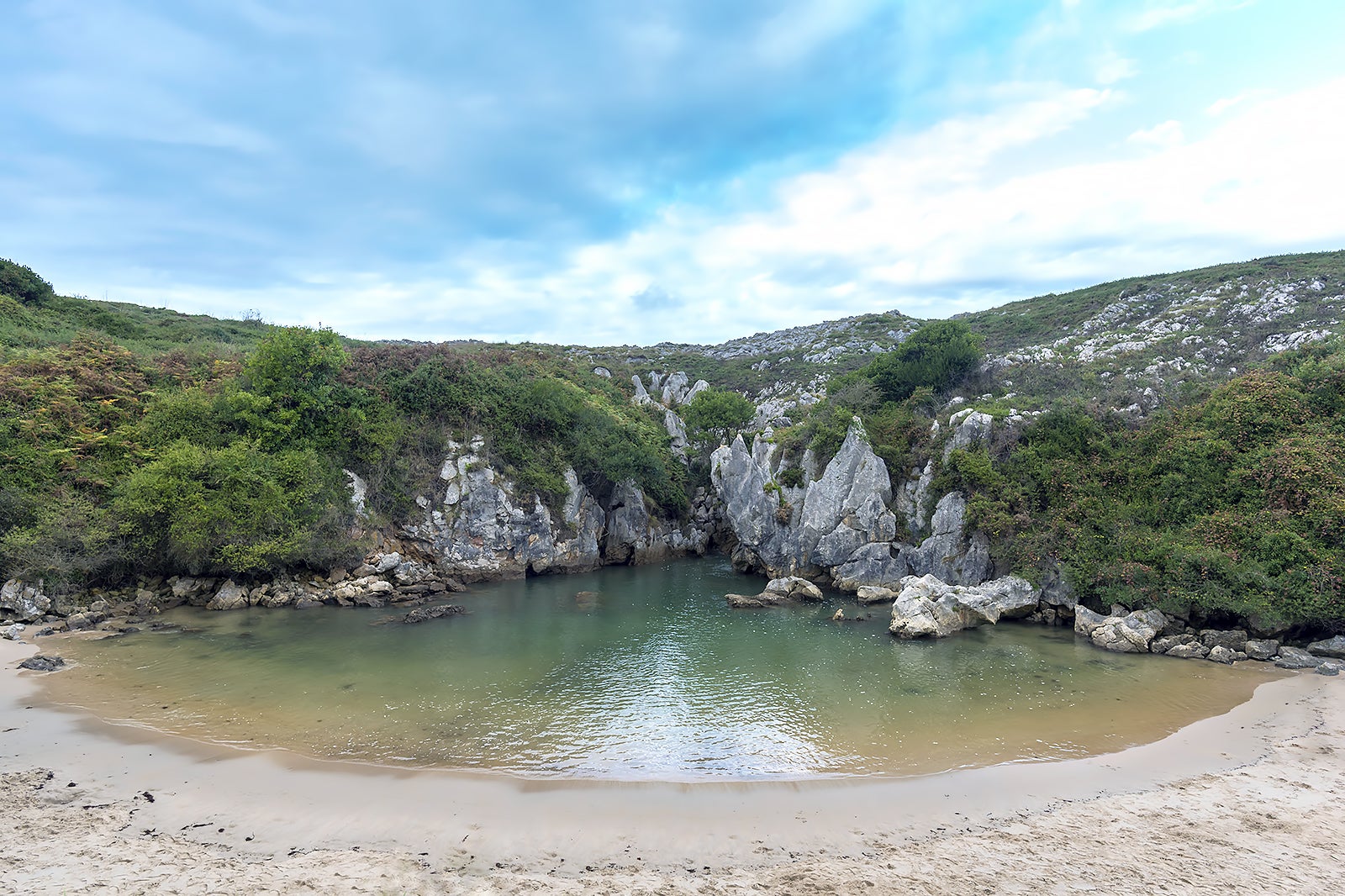 Gulpiyuri or Playa de Gulpiyuri is a tiny beach that's also very well hidden behind a hillside in Asturias. The beach lies between the villages of Llanes and Ribadesella, both of which are popular among in-the-know visitors to Asturias. Finding the beach isn't easy, as it's a sinkhole beach that's set beneath rocky hills.
Its name means 'circle of water' in the local tongue – seeing pictures of the beach you'll easily understand why. The only problem is that during low tide, the sea disappears. This is because seawater reaches the beach through a gap between 2 rocks that separates the beach from the open sea. It's always best to check out the tide times before your visit.
Location: 33594 Llanes, Asturias, Spain
4
Bufones de Pria
Look out for the geyser-like spectacles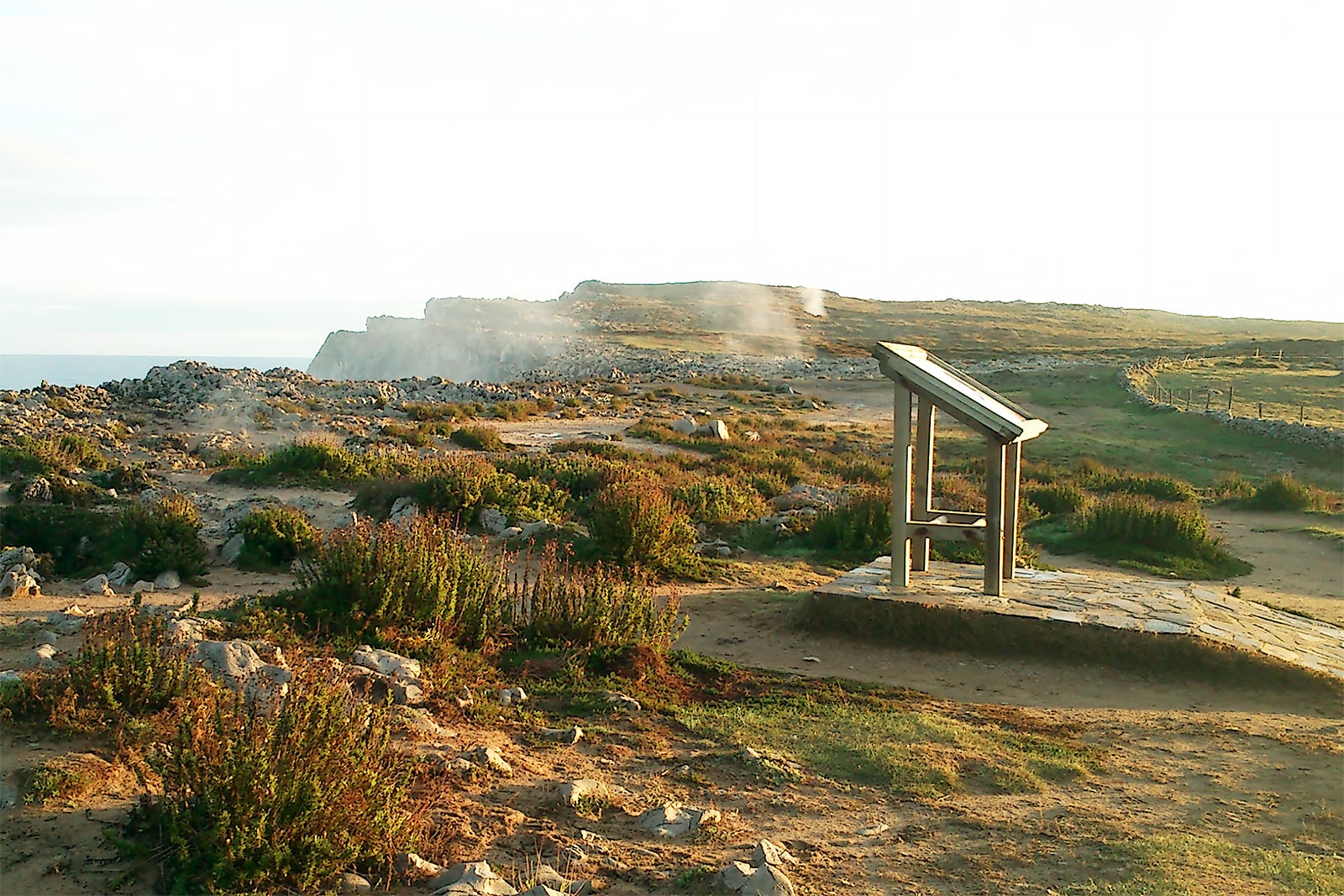 Bufones de Pia is a coastal site in Asturias where you can take in spectacular geyser-like water features formed by waves crashing through the cracks in the limestone cliffs. When the waves surge, air and water are forced out at great pressure, forming the not-to-be-missed natural spectacle.
However, you need to take extra caution where you stand, as you don't want to be right on top of one when a water jet forms. One other good reason to come here is for the scenic hike along the top of the jagged cliffs.
Location: Playa de Guadamía, 33591, Asturias, Spain
photo by Ivilarmi (CC BY-SA 3.0) modified
5
La Cuevona
A village you reach through a cave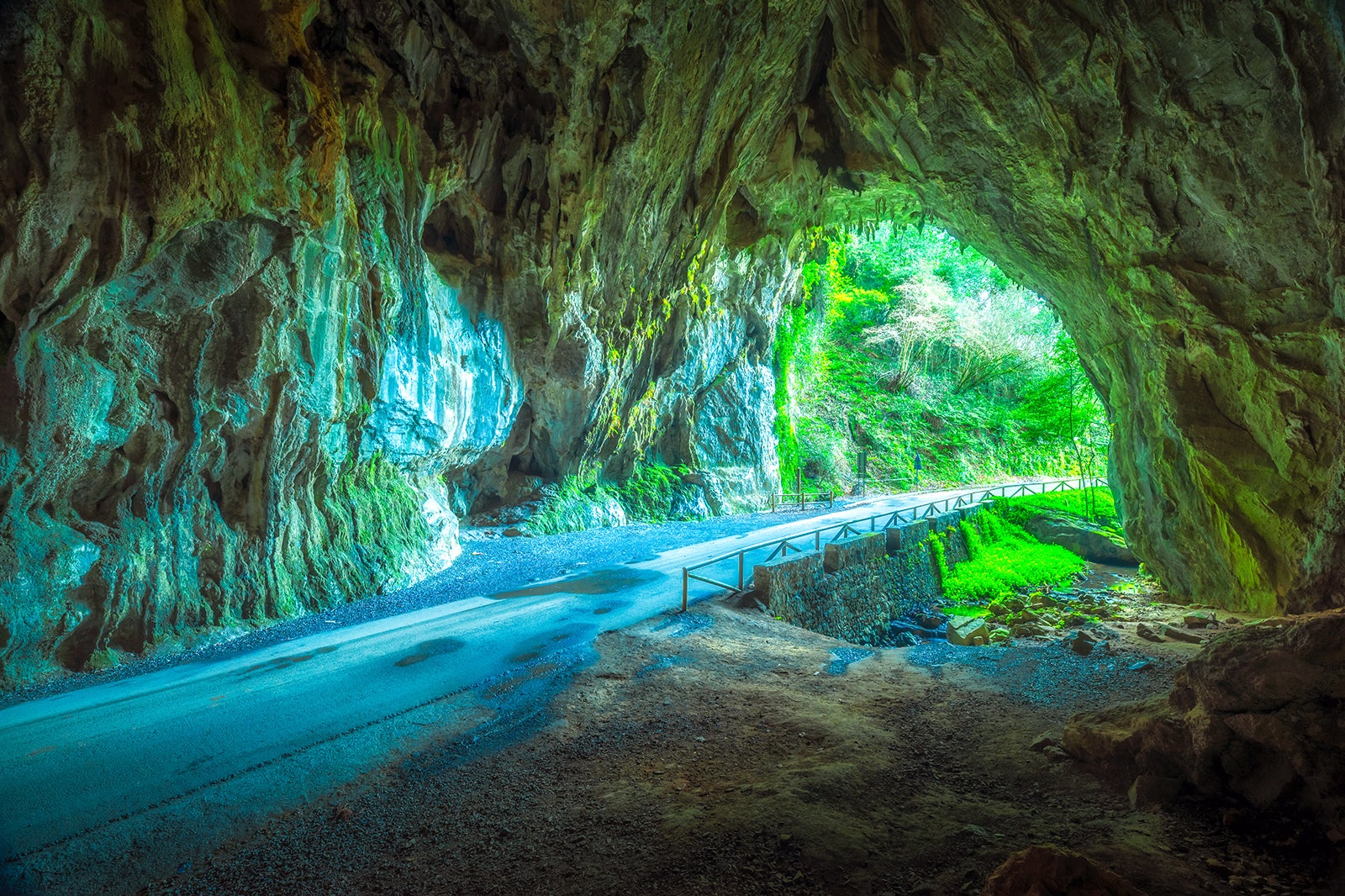 La Cuevona is a cave that leads you to Cuevas del Agua, a village in the municipality of Ribadesella. It seems incredible that in order to get to a village you have to go through a cave, but it's true and indeed makes up a large part of the charm of the place.
The cave enables both pedestrians and vehicles to go through it, which itself is a natural wonder that spectacularly features stalactites, stalagmites, columns, flowstones. Once you reach the village, look out for a collection of hórreos, traditional granaries that are typical of Asturia.
Location: Cuevas del agua, 25, 33569, Asturias, Spain
6
Alto de L'Angliru
A mountain pass in the heart of the Sierra del Aramo range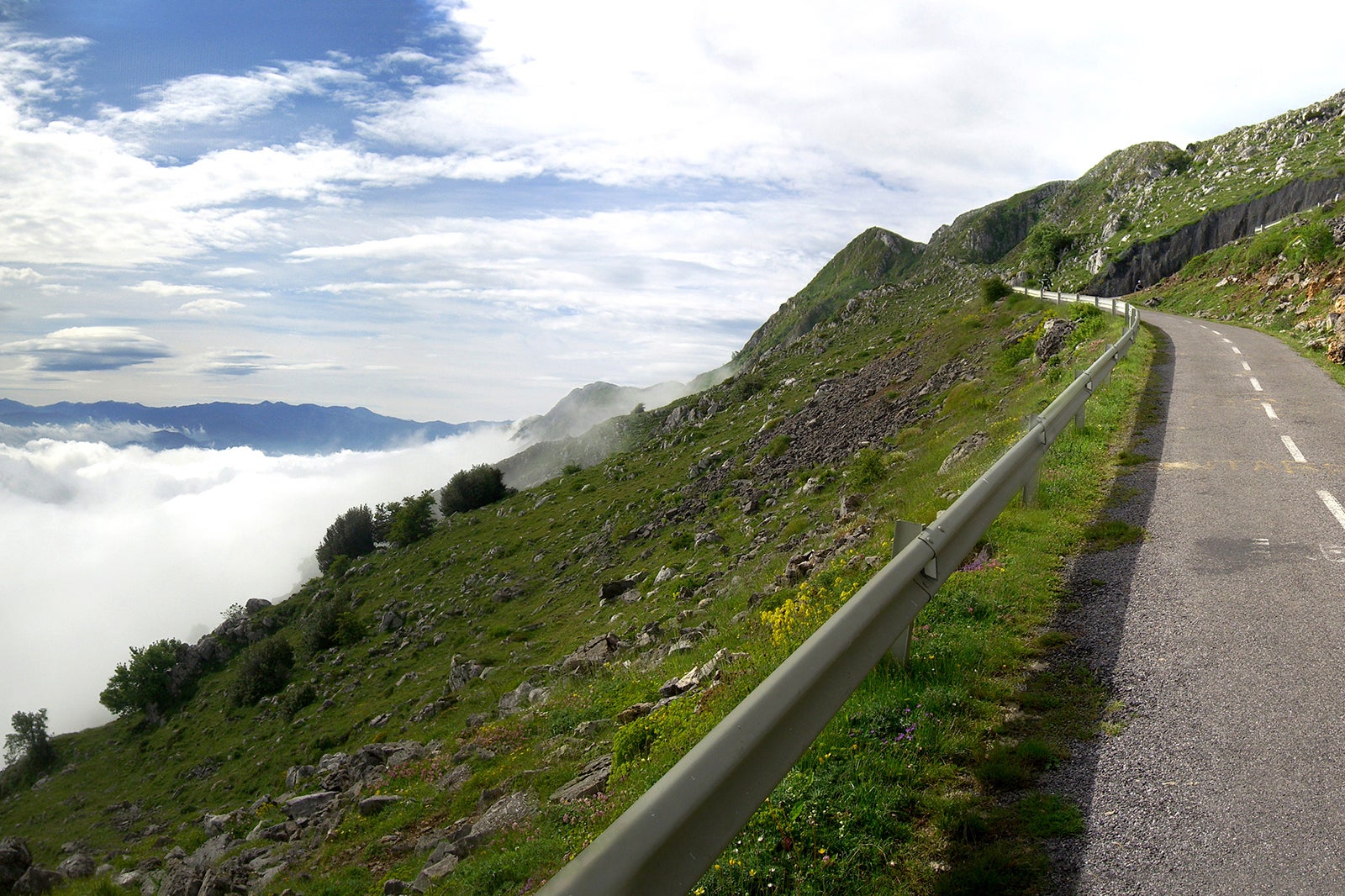 The Angliru Mountain Pass or Alto de L'Angliru is one of the stunning countryside routes that runs through the Sierra del Aramo range range in the Cantabrian Mountains of Asturias. Among the other routes traversing the mountains of Asturias is the Cares Trail in the Picos de Europa. Nevertheless, Alto de L'Angliru stands out as among the most scenic.
The Angliru Mountain Pass is especially recommended for cyclists, though you should be aware that the climbs can be quite demanding. The peak is at 1,573 metres above sea level and offers some of the finest views in the area.
photo by Mikel Ortega (CC BY-SA 2.0) modified
7
Oscar Niemeyer International Cultural Centre
Architecture and modernity in the centre of Avilés
The Oscar Niemeyer International Cultural Centre or Centro Niemeyer is one of the most interesting cultural attractions in the Asturian region. The centre was designed by the namesake Brazilian architect, and music, cinema, theatre, dance and exhibitions make up the list of comprehensive cultural programmes at the centre for all ages.
Asturias has attractions for all tastes, with this centre being one of the best in terms of art and architecture. The building, which in itself is very impressive, hosts a wide range of exhibitions. Check the programmes beforehand and choose those that interest you most.
Location: Av. del Zinc, 33490 Avilés, Asturias, Spain
Open: Tuesday–Sunday from 10.30 am to 2.30 pm and 3.30 pm to 7.30 pm, Monday from 10 am to 2.30 pm and 3.30 pm to 8.30 pm
Phone: +34 984 83 50 31
photo by Aliance (CC BY-SA 3.0) modified
8
Espinaredo
One of the villages with the most hórreos in Asturias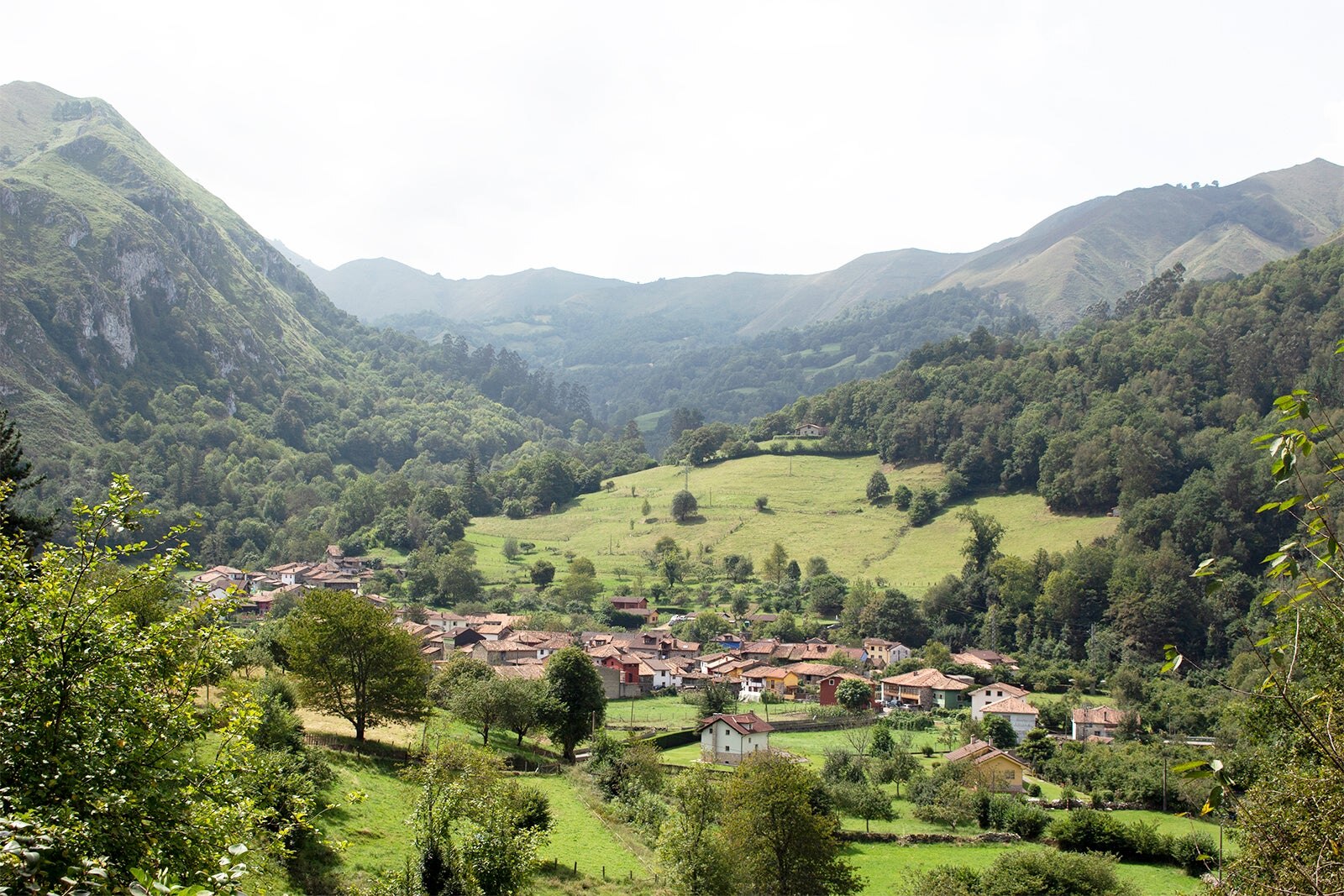 Espinaredo, or Espinaréu in the local tongue, is a village in the Piloña municipality of Asturias that's known for its abundance of hórreos or traditional granaries. These heritage structures are typical of the Iberian peninsula and were used to store grain, harvested crops, and meat from the annual hunt.
Espinaredo's hórreos, in particular, are special, as they're well conserved with their distinctively carved decorations to keep and protect their stored items. Their tall structure, held up by a number of beams, resembles a safe and dry place in which to keep the variety of produce.
Location: Espinaredo, 33537, Asturias, Spain
photo by Carmenmoran (CC BY 4.0) modified
9
Santa Maria del Naranco
Admire pre-Romanesque art and architecture outside Oviedo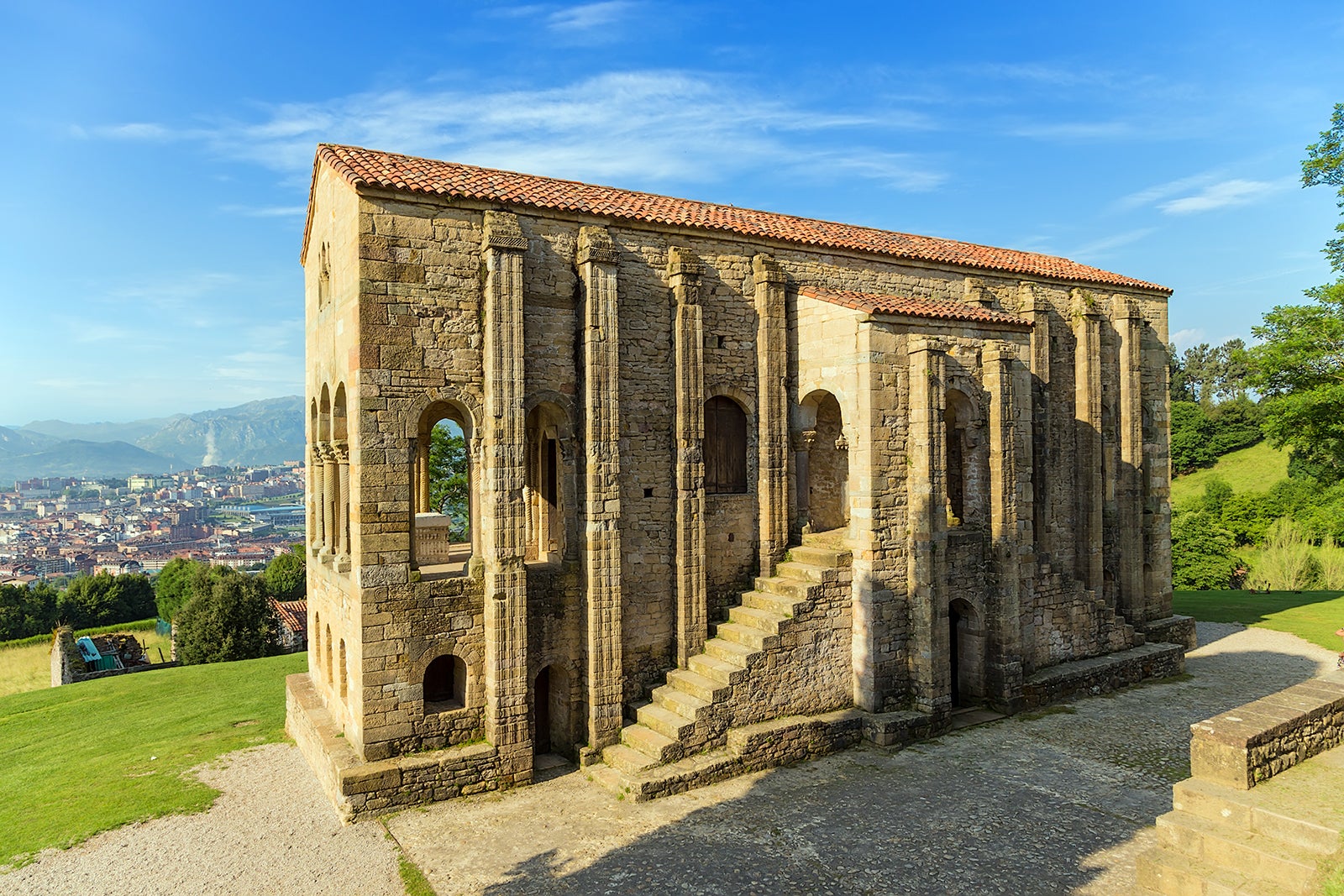 Iglesia Santa María del Naranco or the church of St Mary at Mount Naranco is a pre-Romanesque church that lies 3 km from the centre of Oviedo in northern Spain. The church was originally designed to be the palatial residence of King Ramiro I of Asturias, but was later turned into a church and became an icon for pre-Romanesque art and styling in the Iberian Peninsula.
Many visitors from Oviedo regularly head to Mount Naranco to take in the fine views of the city. A handy tip is to visit in the evening as Naranco takes on very special colours before the stars dot the sky.
Location: Monte Naranco, 33012 Oviedo, Asturias, Spain
Open: Tuesday–Saturday from 10 am to 2.30 pm, Sunday and Monday from 10 am to 12.30 pm
Phone: +34 638 26 01 63
10
Cabo Vidio
Find unforgettable views over the Atlantic Ocean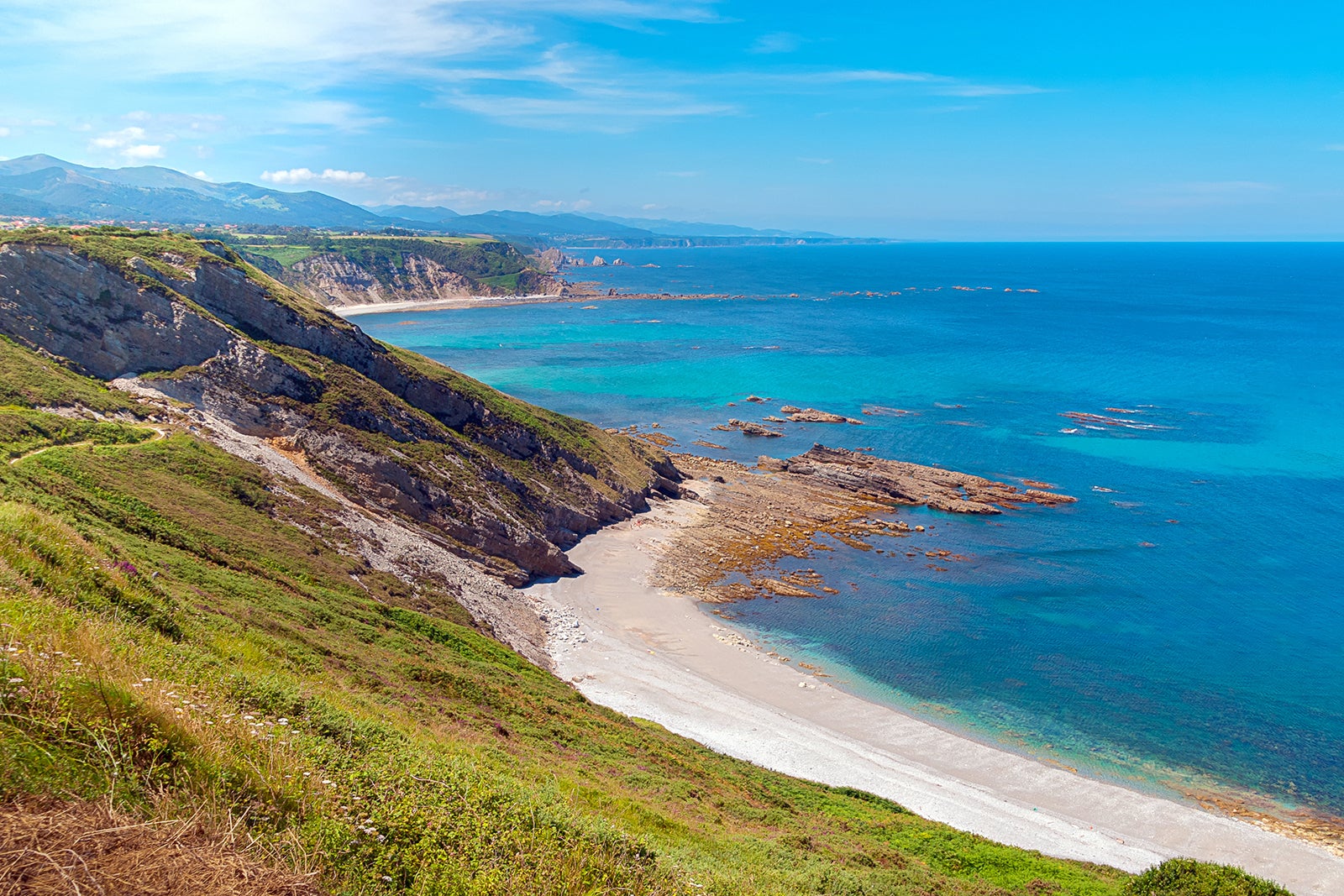 Cabo Vidio is a peninsular area and a perfect spot in Asturias where you can stop and take in the magnificent views of the Cantabrian Sea and breathe in the fresh ocean air. Cabo Vidio is very close to the busy, picturesque village of Cudillero.
You can go for a walk in the area and visit the lighthouse if you have more time and fancy a bit of slow travel. As a bonus, we recommend you follow the Turismo de Asturias Instagram account, which regularly posts wonderful photos of the area as well as other great local recommendations.
Location: Lugar Riego Abajo, 33156 Oviñana, Asturias, Spain
Why book with Hotels.com?