23 Best Things to Do in Koh Phangan
What is Koh Phangan Most Famous For?
The best things to do in Koh Phangan will keep you busy during your holiday on this charming, barely developed island that lies some 12 km north of Koh Samui. The 125-sq-km island has all the assets of a tropical paradise: white powdery sand beaches lapped by turquoise waters and fringed by coconut tree groves, hilly hinterland covered with lush vegetation, and small villages which have had to adapt to the growth of visitors.
Most of Koh Phangan's attractions and activities are closely related to nature. From beaches to waterfalls to viewpoints, Koh Phangan offers a great holiday destination for those with a penchant for exploration. The expansion of tourism also brought some new opportunities for fun activities and adventures on the island.
What are the best things to do in Koh Phangan?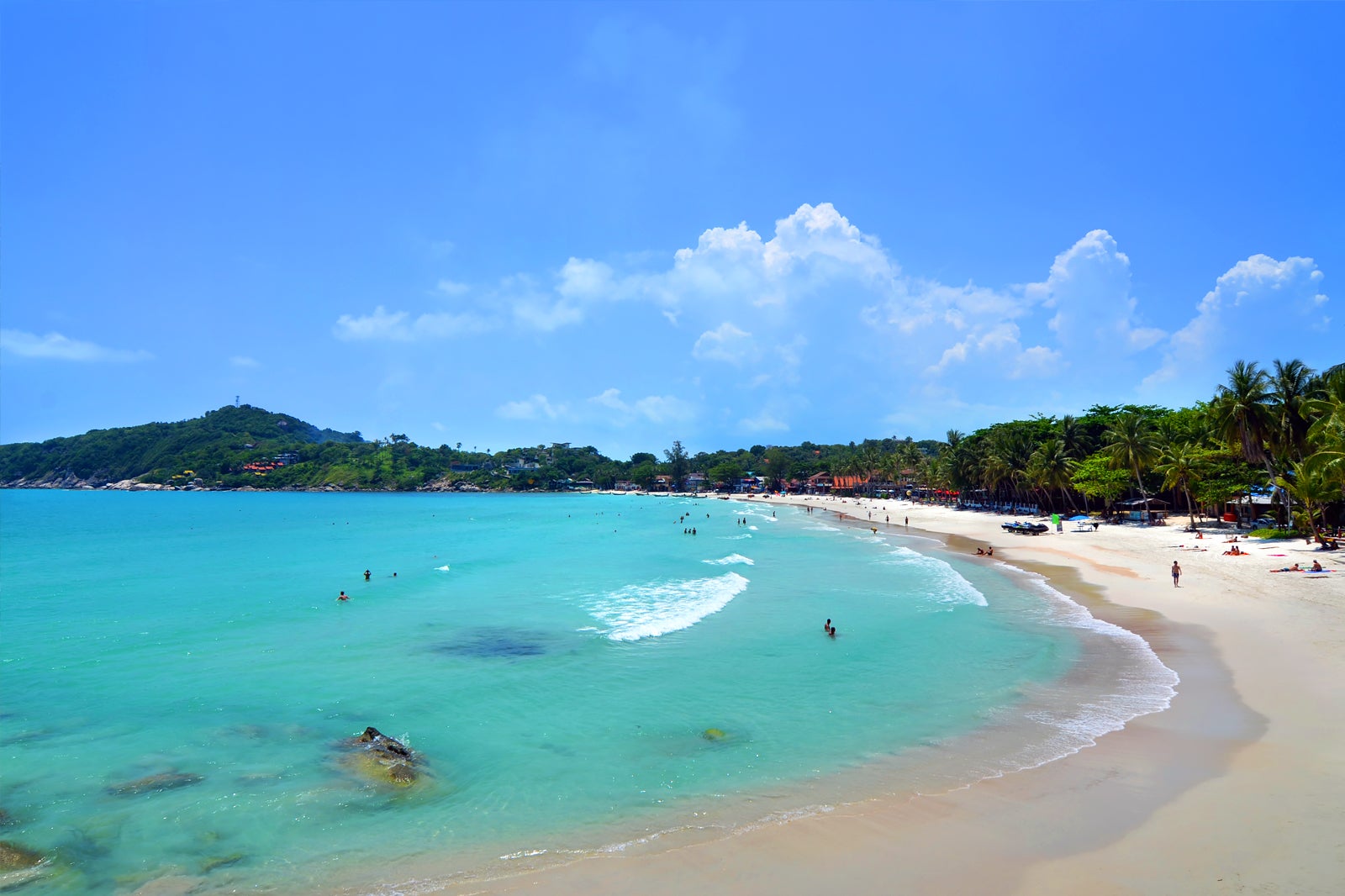 While Haad Rin is not the capital town of Koh Phangan, it certainly is the busiest destination on the island. This is, for the most part, thanks to full moon parties that attract plenty of young people and backpackers every month.
To keep those crowds entertained in between binge drinking sessions, Haad Rin offers a good choice of activities such as beach football, beach volleyball, and bikini contests, as well as a good list of water sports like jet-skiing and sea kayaking.
Location: Baan Tai, Koh Phangan, Surat Thani 84280, Thailand
2
Koh Phangan beach-hopping
Beach-hopping is a must-do if you stay on Koh Phangan. With a circumference of about 40 km, the rather small island has around 30 beaches of various lengths and features. It's fairly cheap to rent a motorbike, which makes it easy for you to explore all these pristine stretches of sand.
Some of the tiniest ones cannot be easily reached by road, one of which is Haad Nam Tok (Waterfall Beach). In this case, you may want to hire a long-tail boat for the day. Cruise along the beautiful Koh Phangan shore to discover these hidden slices of paradise.
3
Snorkeling around Koh Phangan
The waters around Koh Phangan have great snorkelling and scuba diving sites. Less reputed than Koh Tao, which is regarded as the mecca of underwater activities in the Gulf of Thailand, Koh Phangan features all that's necessary to explore the underwater world.
You can enjoy snorkelling at almost any beach along the west and north coasts. You can also arrange for beach diving, but the dive centres based on Koh Phangan usually go further out at sea, in the direction of Koh Tao (some 35 km away). Sail Rock, one of the most beautiful dive sites in the vicinity, is 15 km north of Koh Phangan.
4
Diving around Koh Phangan
Koh Phangan is ideally situated for diving forays into the Gulf of Thailand. The reefs from Chaloklum and down the northwest coast are in good condition. It's even possible to dive directly off the beach.
At 15–40 metres below sea level, Sail Rock features a dense variety of sea life. One of the best diving sites in the Gulf of Thailand, it's only 1 hour away from Koh Phangan. Around Koh Tao, you'll find lots of turtles, leopard sharks and unicorn fish – to put it briefly, Koh Phangan is a diver's paradise.
5
Waterfalls in Koh Phangan
Koh Phangan has several waterfalls to discover, with the most notable ones easy to find. Than Sadet Waterfall is off the road to the Thong Nai Pan beaches, and Paradise Waterfall is just off the road to Chaloklum Bay. There's Than Prawet Waterfall, which is also near the Thong Nai Pan beaches. Last but not least, there's Than Praphet, which leads directly in the sea at Waterfall Beach on the southeast coast of the island.
If you are ready for challenging hikes, a visit to any of these waterfalls will surely be a rewarding experience. Just note that it's often best to see them right after the high season when the weather starts to get better.
6
Yoga centres in Koh Phangan
Yoga centres and retreats are particularly trendy in Koh Phangan. Originating in India, Yoga blends physical and spiritual exercises close to meditation, which are believed to have a positive impact on both mind and body.
Koh Phangan hosts a good choice of Yoga centres such as Orion Healing Centre in Sri Thanu, Agama Yoga Retreat also in Sri Thanu, and Pure Flow Yoga near Haad Yuan. You can book single sessions or stay at a yoga retreat during your holiday.
Khao Ra or Ra Mountain towers over Koh Phangan and affords scenic views of the Andaman Sea. There's a central 'road' running over the island's crest from Ban Tai to Thong Nai Pan Beach, on the island's northeastern side.
The only trouble is it's not finished, heavily rutted and unlit in places. In any case, it's best to take an appropriate offroad vehicle such as a dirtbike, 4x4, or taxi. Do not attempt to drive a typical car up Khao Ra, especially in the rain!
Location: Koh Phangan, Surat Thani 84280, Thailand
Koh Phangan is rich with mountainous landscapes that present visitors with a great choice of stunning viewpoints. The highest spot is Khao Ra, a 627-metre-tall mountain in the north-central part of the island. The best way to get to the summit is to hire a guide at the base of the trail. It doesn't cost much, considering that the trek can get arduous.
Besides Khao Ra, there are good viewpoints all around the island in Haad Yao, Haad Rin, between Haad Maehaad and Chaloklum Bay, just to name a few. Some Koh Phangan viewpoints are simply on the roadside, while others require a bit of an effort to reach.
Kayaking in Koh Phangan is a great way to explore the island's beautiful coastline. Most major beaches have kayaks for rent, though the best locations are on the calmer west coast. Generally, any beach is great if the sea is not so choppy.
We advise against kayaking alone near sunset. Take note that going with a current means fighting it all the way back. Before heading out, wear sunscreen and clothes that protect you from the sun, and bring plenty of water. You can purchase waterproof camera bags in Thong Sala and Haad Rin.
10
Trekking in Koh Phangan
Trekking in Koh Phangan is a great way to see the island's wild side. The island is pretty much perfect for hiking, bushwhacking, and even camping. The eastern coast is the best place for this adventurous activity. You can also trek in the central, mountainous part of the island – specifically Khao Ra, which stands at 630 metres and overlooks Chaloklum and Thong Nai Pan.
The actual route is not too demanding but easy to lose. For this reason, it's best to hire a guide. You can hire one at the Phaeng Waterfall National Park.
Wake Up! Wakeboarding is a surf camp for wake riders in Koh Phangan. It's located near Chaloklum Beach and conducts its activities near the Chalokum Pier. The only professional wakeboarding outfit in the Gulf of Thailand, it features English-speaking coaches, a full gamut of boards and equipment, and a friendly bunch of people.
Location: Chaloklum, Koh Phangan, Surat Thani 84280, Thailand
Open: Daily from 9 am to 6 pm
Phone: +66 (0)87 283 6755
12
Thai cooking classes in Koh Phangan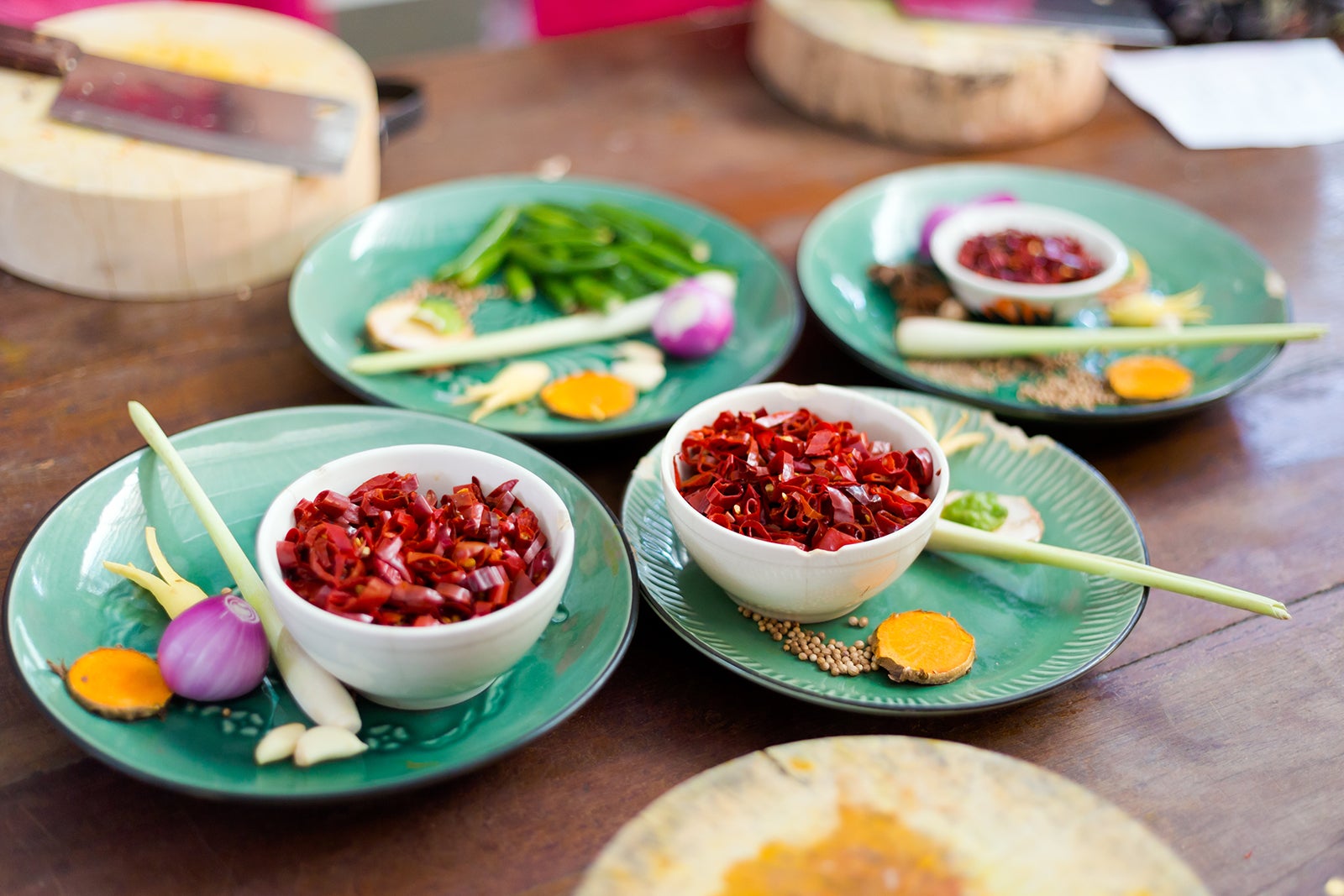 Thai cuisine is renowned all around the world, and a great 'souvenir' you could bring back home after your holiday is the ability to cook delicious Thai dishes. You'll be able to impress your friends and family with your new culinary skills.
Koh Phangan has a good choice of cooking schools at which you can learn the basics of Thai cuisine. Schools such as C&M Culture Centre in Sri Thanu, The Phangan Cooking Class, and My Wok and Me in Thong Sala will give you all the tips and tricks to become a Thai chef.
13
Ang Thong National Marine Park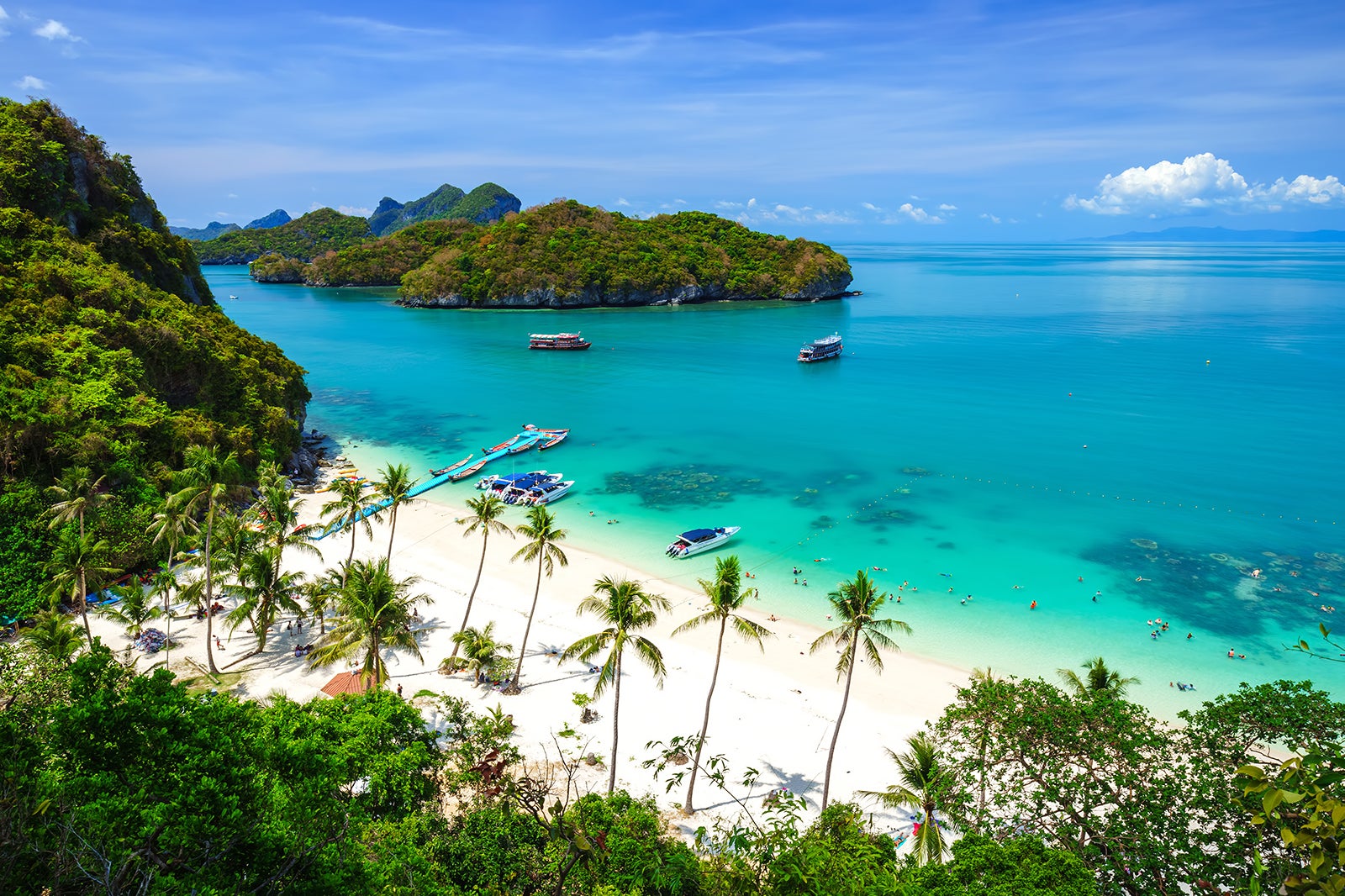 There are regular boat trips from Koh Phangan to the Ang Thong National Marine Park. The island has a hollowed-out interior that's home to several exotic species of fish. You can explore the surrounding waters by kayak.
The climb to the top of Ang Thong's ridge affords spectacular views of the interior lake and some of the 42 surrounding islands. Getting to the Ang Thong National Marine Park takes less time compared to Koh Tao and Koh Nang Yuan.
Yang Na Yai Tree is a massive rubber forest tree in Koh Phangan, which many locals claim to be the 'tallest tree in Thailand'. The tree is from the Dipterocapus Alatus resin tree family and stands by the side of the road nearby Wat Pho.
The tree has an impressive girth of some 14 metres. It's definitely a good photo opportunity and a great thing to stumble upon while exploring the island. A smaller but no less impressive neighbour is diagonally opposite this impressive natural landmark.
Location: Baan Tai, Koh Phangan, Surat Thani 84280, Thailand
15
First Bow & Arrow Club Koh Phangan
The First Bow & Arrow Club is indeed what its name suggests – the first archery clubhouse in Koh Phangan. The club is outdoors and offers instruction and membership. There are several combinations and setups, along with a bar/bistro for after-sports relaxation.
The club's grounds are professionally kept, prices are very reasonable, and the bows and arrows in its collection are of top quality. There's ample shade to protect you from the heat of the day. Cold drinks are available to help you refresh after each round.
Location: Chaloklum, Koh Phangan, Surat Thani 84280, Thailand
Open: Daily from 10 am to 5.30 pm
Phone: +66 (0)81 274 0173
16
Muay Thai in Koh Phangan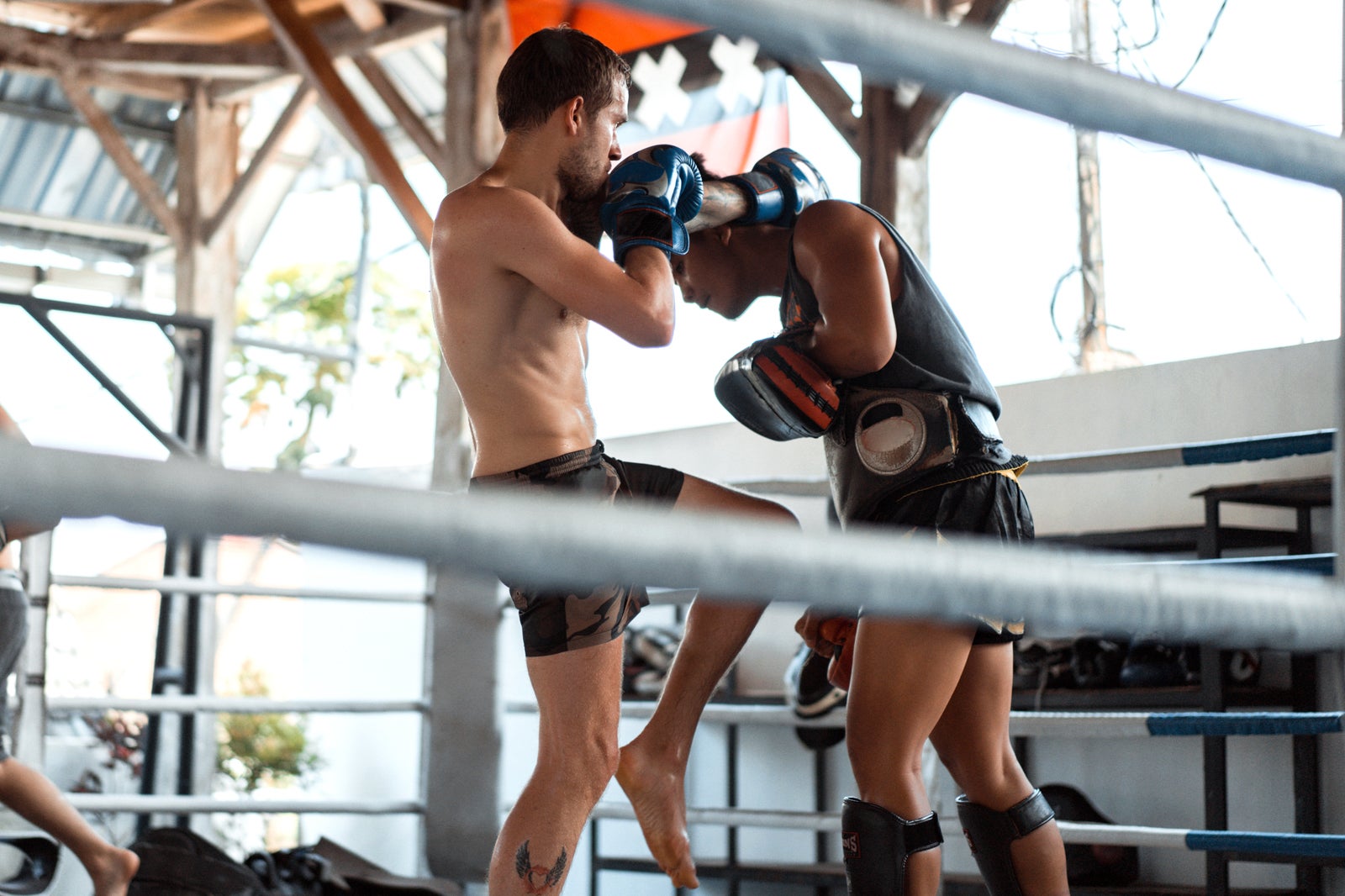 Muay Thai is an entertaining after-dinner activity on Koh Phangan. Regular competitions of Thailand's national sport don't always take place in the same location on the island. Rather, locations are chosen by drawing lots.
You can head to the nearest boxing stadium to know where and when the next fight will take place. Both Haad Rin and Thong Sala have impressive Muay Thai setups. You can also learn this sport at numerous camps on the island.
Phaeng Waterfall is one of the largest waterfalls on Koh Phangan, It's easily accessible and really only worth visiting after steady rainfall during the monsoon season. Phaeng Waterfall belongs to Thon Sadet, also known as the Koh Phangan National Park.
Phaeng Waterfall's cascade comprises 2 levels, with many trails leading to various viewpoints in the mountain. Guides for hire are available at the Phaeng Waterfall National Park.
The Kuan Yin Temple stands on a road heading north from Thong Sala to Chaloklum. It's made up of 7 different buildings – each attractive and with extensive views of the countryside and nearby Chaloklum Bay. There's an impressive 'dragon drum', several vividly coloured pagodas, a large golden Buddha image, and wind chimes throughout the complex.
The grounds are dotted with frangipani and bougainvillaea, while several golden warriors guard the inside entrance. The Kuan Yin Temple was originally meant to be a lighthouse to aid fishermen, but donations were so generous that a combination of lighthouse and temple was erected.
Location: Chaloklum, Koh Phangan, Surat Thani 84280, Thailand
Wat Pho is a popular temple on Koh Phangan. It retains its tranquillity even when relatively crowded during religious celebrations. The extensive grounds host several rudimentary buildings, as well as a large lily pond.
This temple has an inexpensive herbal sauna and massage centre, attracting many health enthusiasts. Those who have visited Wat Pho claim it's one of the best massage destinations on Koh Phangan.
Location: Baan Tai, Koh Phangan, Surat Thani 84280, Thailand
Phone: +66 (0)80 699 9738
photo by Леонид Каратасков (CC BY-SA 3.0) modified
Wat Phu Kao Noi ('temple of the small mountain' in Thai) is the oldest temple in Koh Phangan. Many meditation retreats take place here, making it one of the island's most tranquil locations.
Visitors are requested to maintain a respectful silence when meditations are held at Wat Phu Khao Noi. Posing with any of the Buddha images is prohibited. Dress respectfully when visiting the temple.
Location: Koh Phangan, Surat Thani 84280, Thailand
Phone: +66 (0)77 238 276
21
Thong Sala Night Market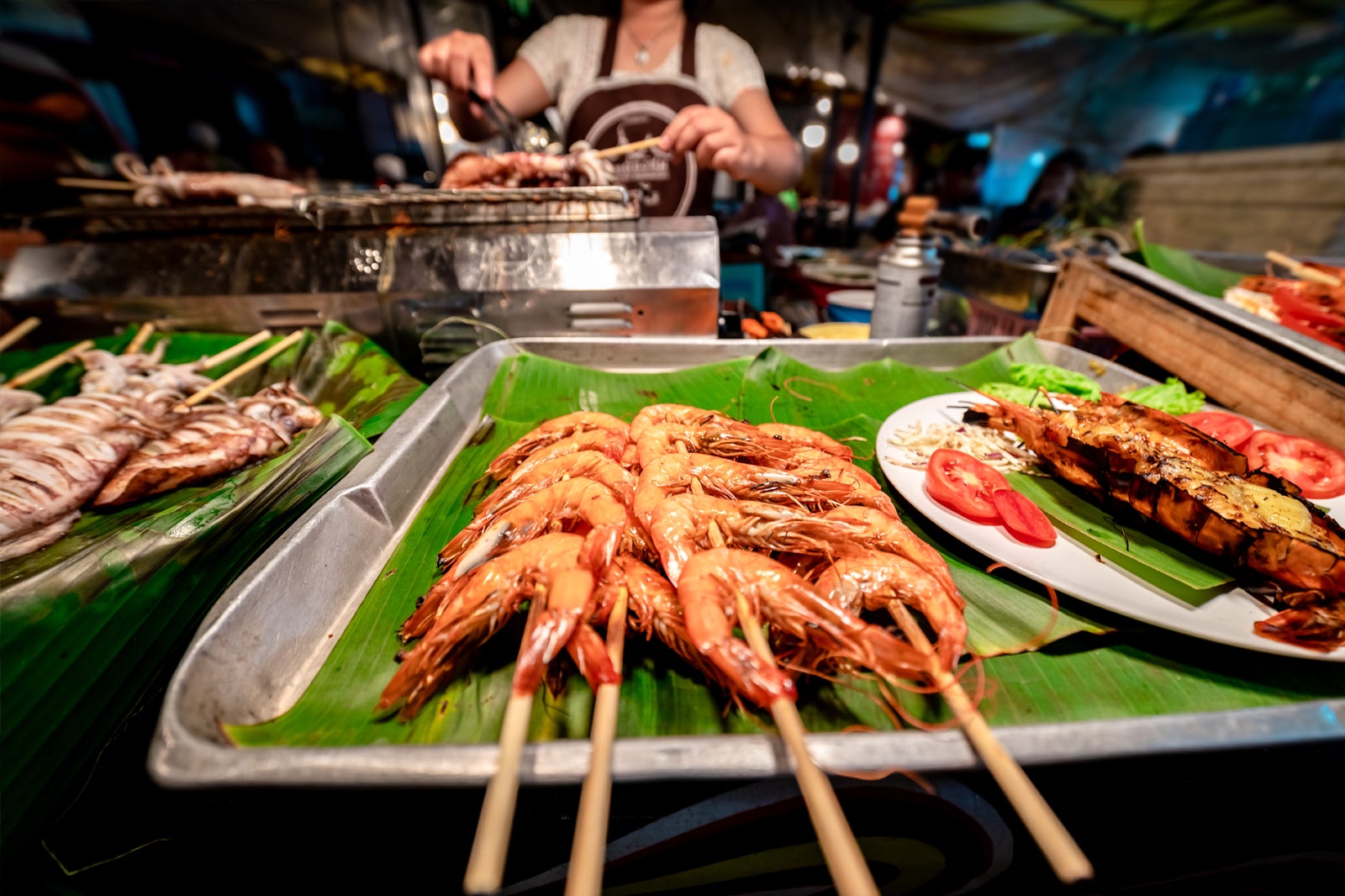 The Thong Sala Night Market, locally called Panthip Market, is busy food market in Koh Phangan. It takes place every evening in the island's capital town and main shopping hub. Here, you'll find a vast assortment of street food sold at attractive prices.
The market is a great place to enjoy dishes from around the world, including Thai rice dishes, noodles, grilled fish and meat, pizzas, and sushi. Panthip Market is open every day from 4 pm until late
Location: Moo 1, Thong Sala, Koh Phangan, Surat Thani 84320, Thailand
Open: Daily from 4 pm until late
22
Koh Phangan full moon parties
Koh Phangan is famous as an island destination for parties themed around the moon phases. Full moon, half-moon, and black moon parties take place on the east side of Haad Rin Beach, Koh Phangan's southernmost beach. Partygoers rave it up from dusk till dawn with their toes in the sand.
Half- and black moon parties are of slightly lower prominence compared to the iconic full-moon party in Koh Phangan. Both of them are held around Baan Tai Beach, just north of Haad Rin.
The Challenge Phangan is a waterpark at Sweet Water Lake, between Sri Thanu and Chao Phao bays on the west coast of Koh Phangan. It offers a fun and exhilarating water obstacle course that you need to complete in the shortest time possible.
This challenging course features rolling barrels, monkey bars, rope swing, stepping stones, a climbing mountain, balance beams, and swinging shapes. In between the fun races, you can enjoy drinks and snacks at the onsite bar/restaurant. All participants under 18 must wear a lifejacket, and children under 10 must be accompanied by an adult at all times in the water.
Location: 90/22 Baan Tai, Koh Phangan, Surat Thani 84280, Thailand
Open: Daily from 10 am to 6 pm
Phone: +66 (0)63 101 2390
Back to top