Koh Phangan Full Moon Party is world-famous and its ancestral home is the crescent cove of Haad Rin Beach on the southernmost tip of Phangan Island in Thailand. More than 12 powerful sound systems turn the 800-metre beach into a most lively open-air nightclub once a month, with a festival-like atmosphere, great music and plenty of booze. This one-of-a-kind event is routinely listed on bucket lists as one of the essential Thailand experiences that you have to see and experience once in a lifetime.
As many as 30,000 partygoers gather on the famous strip of sand to party in the glow of Earth's nearest celestial neighbour, well into dawn. Due to the cost of cleaning up after such carnage, the local community implemented an entry fee to access the beach on the night of Koh Phangan Full Moon Party.
Full Moon Party in Koh Phangan - one of the highlights of 10 Best Things to Do After Dinner in Koh Phangan (Read all about Koh Samui here)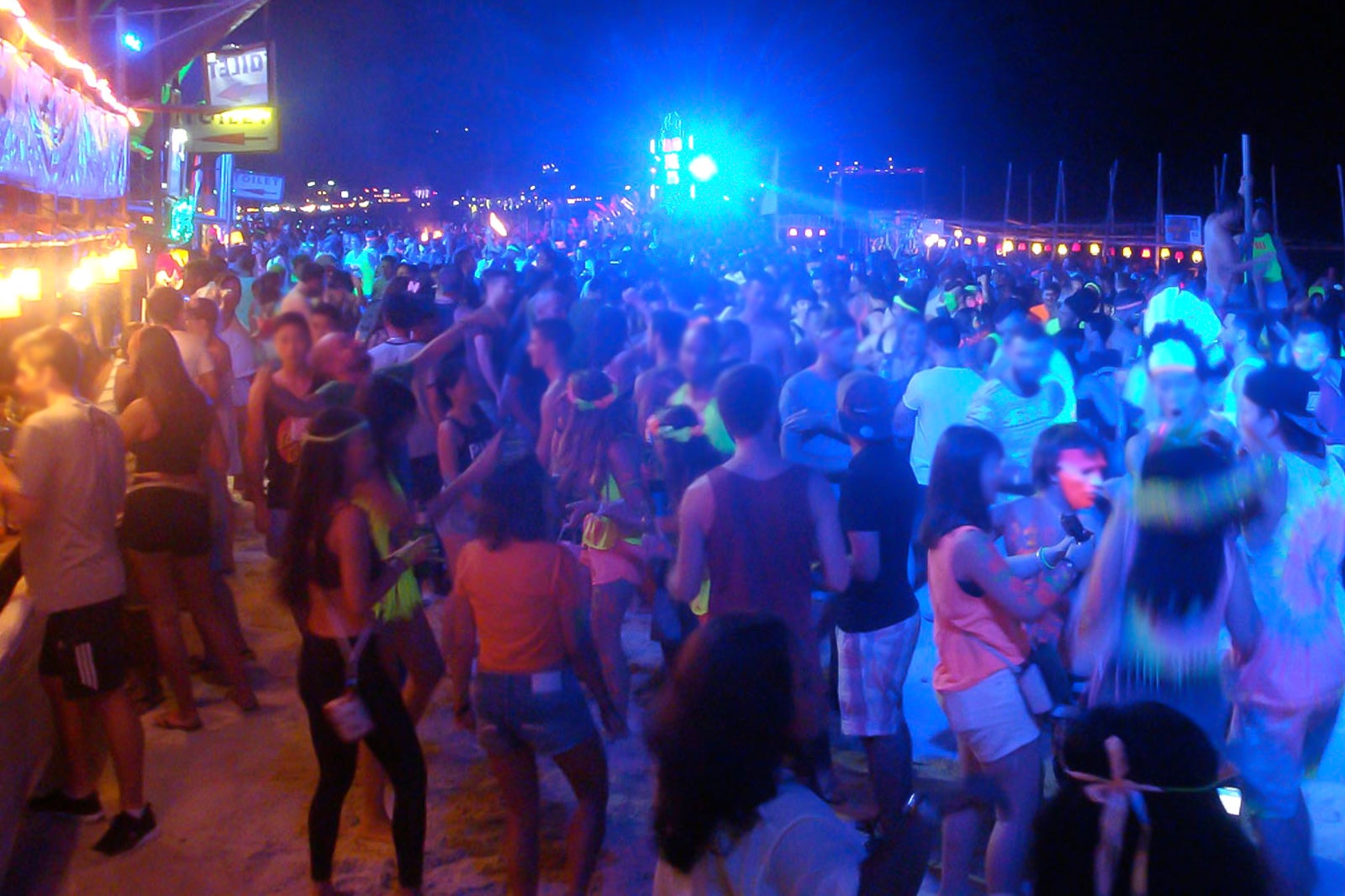 Koh Phangan Full Moon Party highlights
Local and international DJs man the many bars and stages set up on the shoreline, playing anything from dubstep to drum and bass, house to hip-hop, techno to trance and reggae to rock and pop classics. Generally speaking, the beach bars standing on the side of the beach closest to Haad Rin Town play party pop (this is also where you'll find the huge flaming swing that anyone is welcome to try) and, as you walk down the beach, the music becomes heavier with more underground dance tracks and heavier bass.
It has become a tradition to paint yourself up in neon bodypaint and there are plenty of UV strip lights around making bodies sparkle and glow through the night.
The beverage of choice is, of course, the 'bucket'. This consists of a bottle of hard liquor (usually either whiskey, vodka or local sugarcane rum like Sangsom or Hong Thong), a bottle of Red Bull and some ice, occasionally also including mixers to water it down a little. Intended for sharing, the colourful plastic buckets usually have half a dozen straws sticking out of them for you and your friends to enjoy together. They're available almost everywhere.
Koh Phangan Full Moon Party kicks off quite early in the evening, but it is highly recommended to arrive a bit late – about 10pm at the earliest – if you want to have any hope of making it through to the morning. This is when most people will start turning up and the party will really get into high gear with fire shows, glow sticks and glow-in-the-dark bodypaint.
If you need a break from the intense partying, just head to the restaurants in Haad Rin a block back from the beach. There are even designated areas where those who have passed out drunk are gathered together and watched over by police for their own safety and security.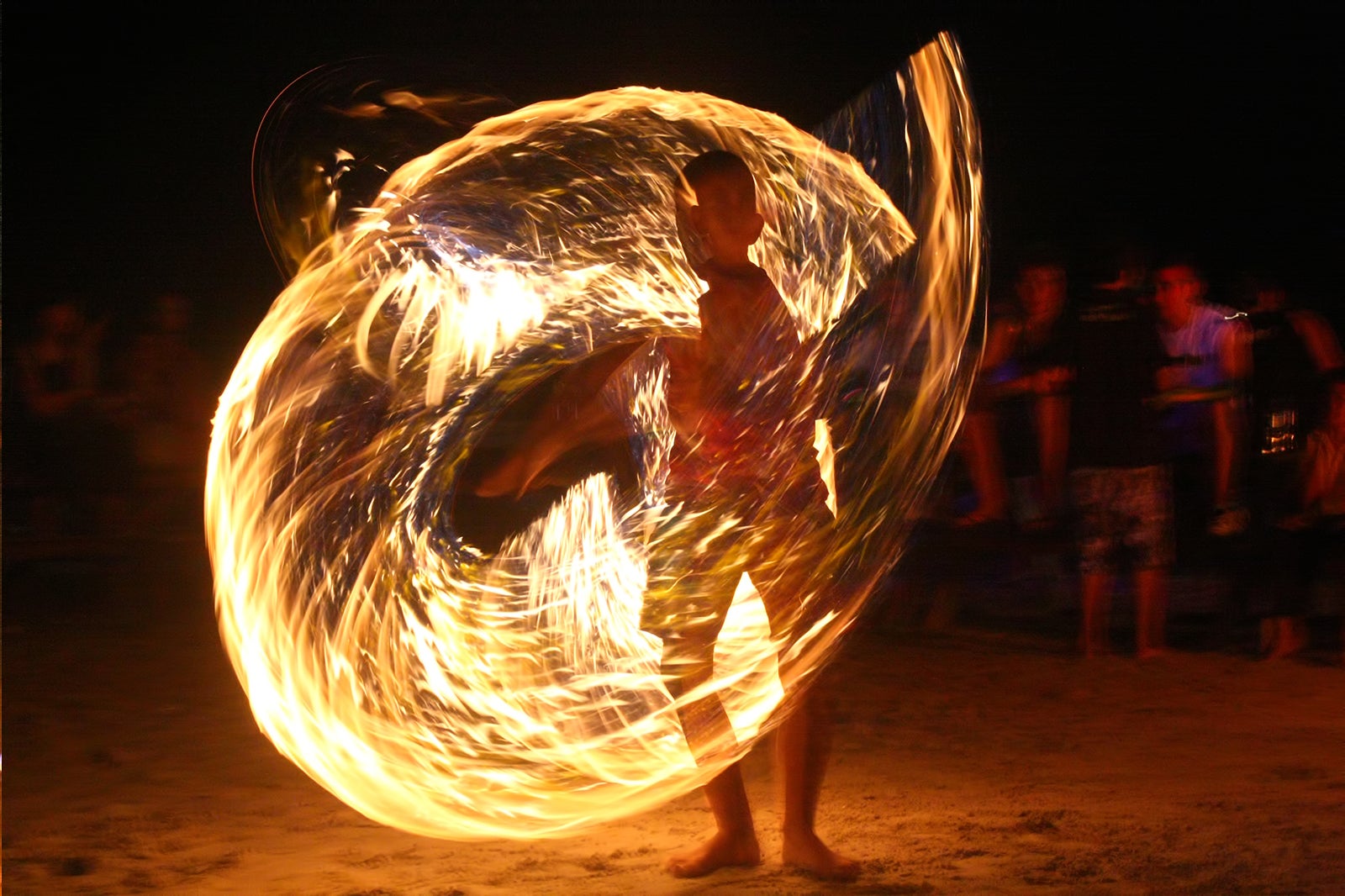 What you should know about the Full Moon Party in Koh Phangan
If you are planning to enjoy a Full Moon Party on Koh Phangan, there are certain preparations you should arrange ahead of time. Most of them are pretty obvious:
Accommodation
Book a hotel as close to Haad Rin as possible to make it easier for you to get home afterwards. It is possible to stay elsewhere on the island and even on Koh Samui, but closer is always better. Note that the best/closest hotels start getting booked to capacity about a week before the party, so it's best to prepare well in advance.
Details of your accommodation
Taxis to more remote hotels on Koh Phangan operate throughout the night and boats are available to take you to Koh Samui if you choose to stay there. Even so, trying to explain where you're staying to the driver when you've had a few too many buckets of booze can be a challenge. Snag a few business cards at the front desk of your hotel to make life a lot easier.
A COPY of your passport
You are legally obliged to carry ID with you in Thailand, but you should definitely not take your actual passport to a Full Moon Party. Leave that locked in your room and just take a photocopy of it.
Friends
Aside from the fact that it's more fun to party with company, it's helpful to have people you trust around you so that you can look out for each other.
Flip-flops
It doesn't take too long for the soft sand of Haad Rin to become littered with broken plastic and glass, both of which can make a mess of unprotected feet. Make sure your footwear is cheap and easily replaceable, though, so that losing it is not a big problem.
Condoms
There's a lot of booze and a lot of people partying. Stuff happens – it's generally best to be prepared for it.
Water
The more hydrated you are, the longer you'll be able to party and the less painful the hangover will be. It is highly advisable to drink plenty of water before and during the Full Moon Party – perhaps even a small bottle of the stuff between each booze bucket.
Money
With the likelihood of getting black-out drunk quite high and pickpockets known to work the crowd, you should carry as little of value on you as possible. You will naturally need some cash to buy drinks, though, with about 3,000 baht being more than adequate, even if you are a big drinker. Make sure it is in small denominations and that you have enough set aside for the taxi back to your hotel.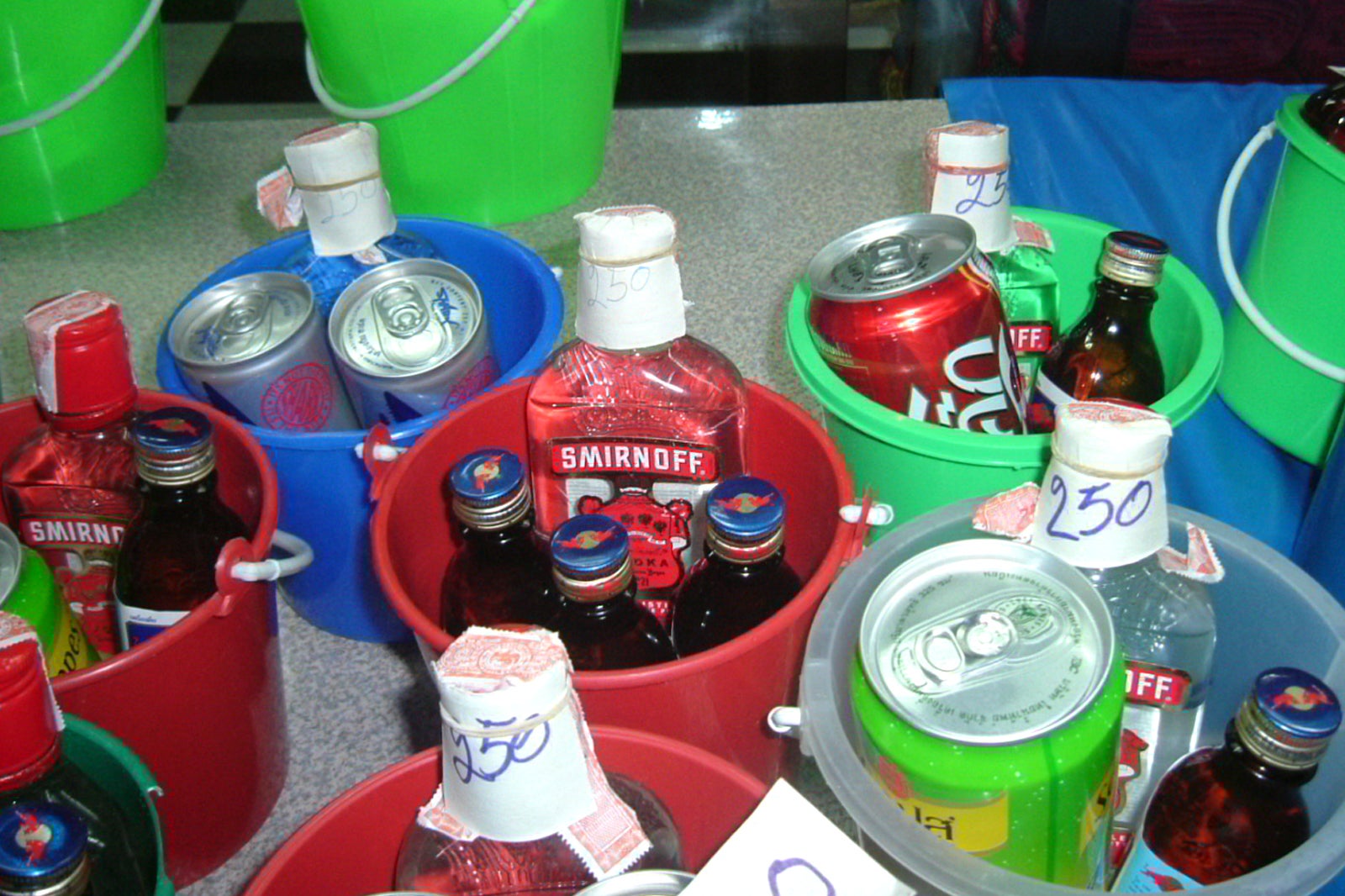 Please note...
Most people who go to a Full Moon Party on Koh Phangan have a great and entirely safe time, particularly if they take appropriate precautions. Generally speaking, behaving with the same caution you would exercise if you were going for a night out in your own home town should be enough, though there are a few additional hazards to be aware of.
With such alcohol-fuelled pandemonium, there are bound to be accidents. Health & Safety precautions are almost non-existent at Full Moon Parties, but there are first aid stations along the beach and several pharmacies in town.
Police search incoming traffic for illegal drugs. Several Hawaiian-shirted police officers wander through the crowd looking for drug offenders, so do not be foolish and ask for trouble. Buckets are powerful enough.
Speedboats ferrying revellers over from Koh Samui can be dangerously overcrowded, so make sure to wear a lifejacket. For preference, stay in a hotel on Koh Phangan.
Do not take valuables along, if it can be helped. If you absolutely have to, then carry them in tight-fitting clothing as pickpockets are not unknown at these events.
It gets hot surprisingly quickly after sunrise, so be prepared with sun lotion and protective clothing.
It is extremely inadvisable to accept any food, drink or other ingestible items offered to you by a stranger.
If the full moon happens to coincide with a Buddhist holy day, the party will be postponed, usually only by one day. All such holy days are completely dry, with no alcohol sales anywhere in the country.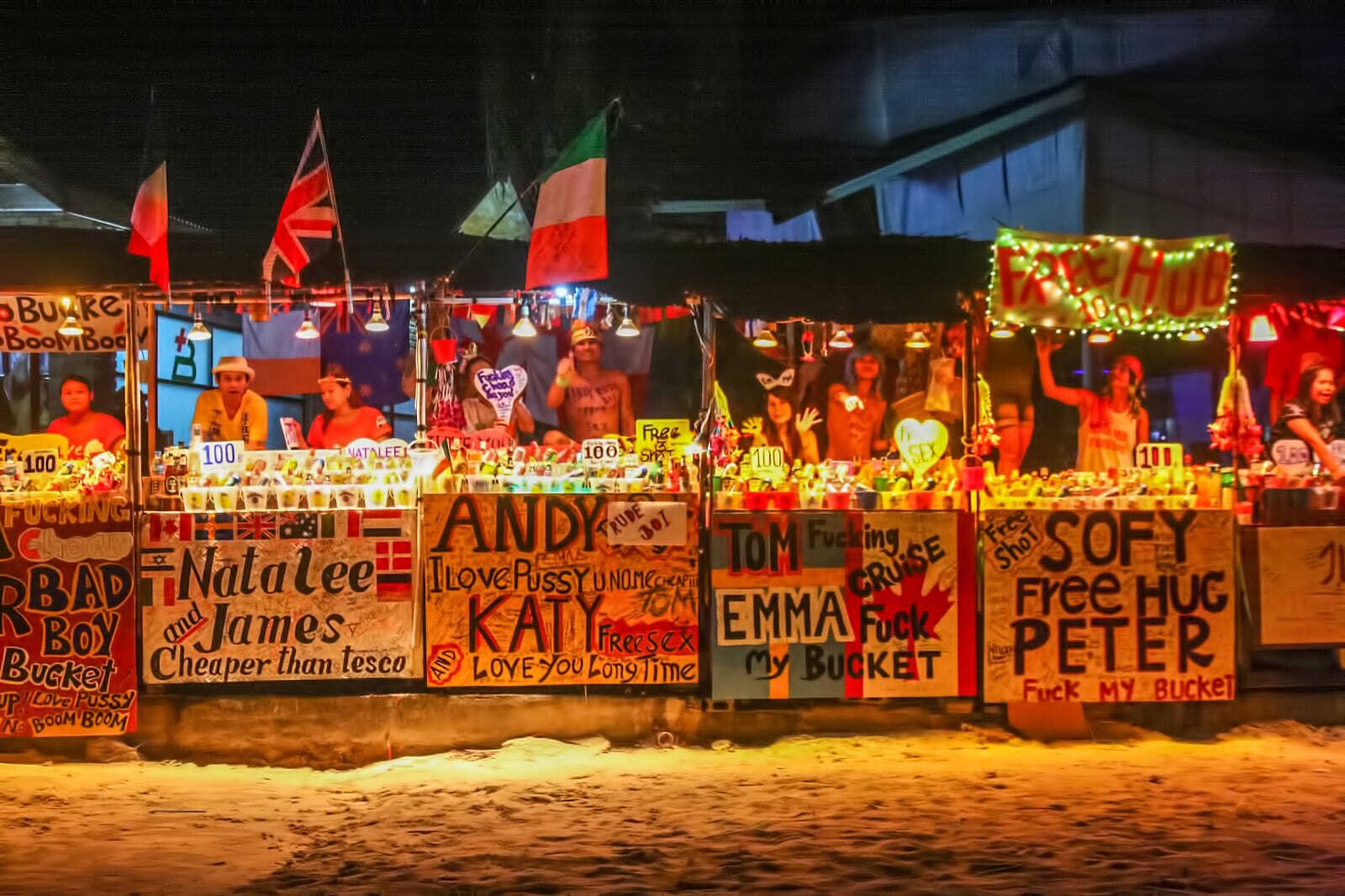 Full Moon Party in Koh Phangan
Location: Haad Rin Beach, Ban Tai, Koh Phangan, Surat Thani 84280, Thailand
Back to top