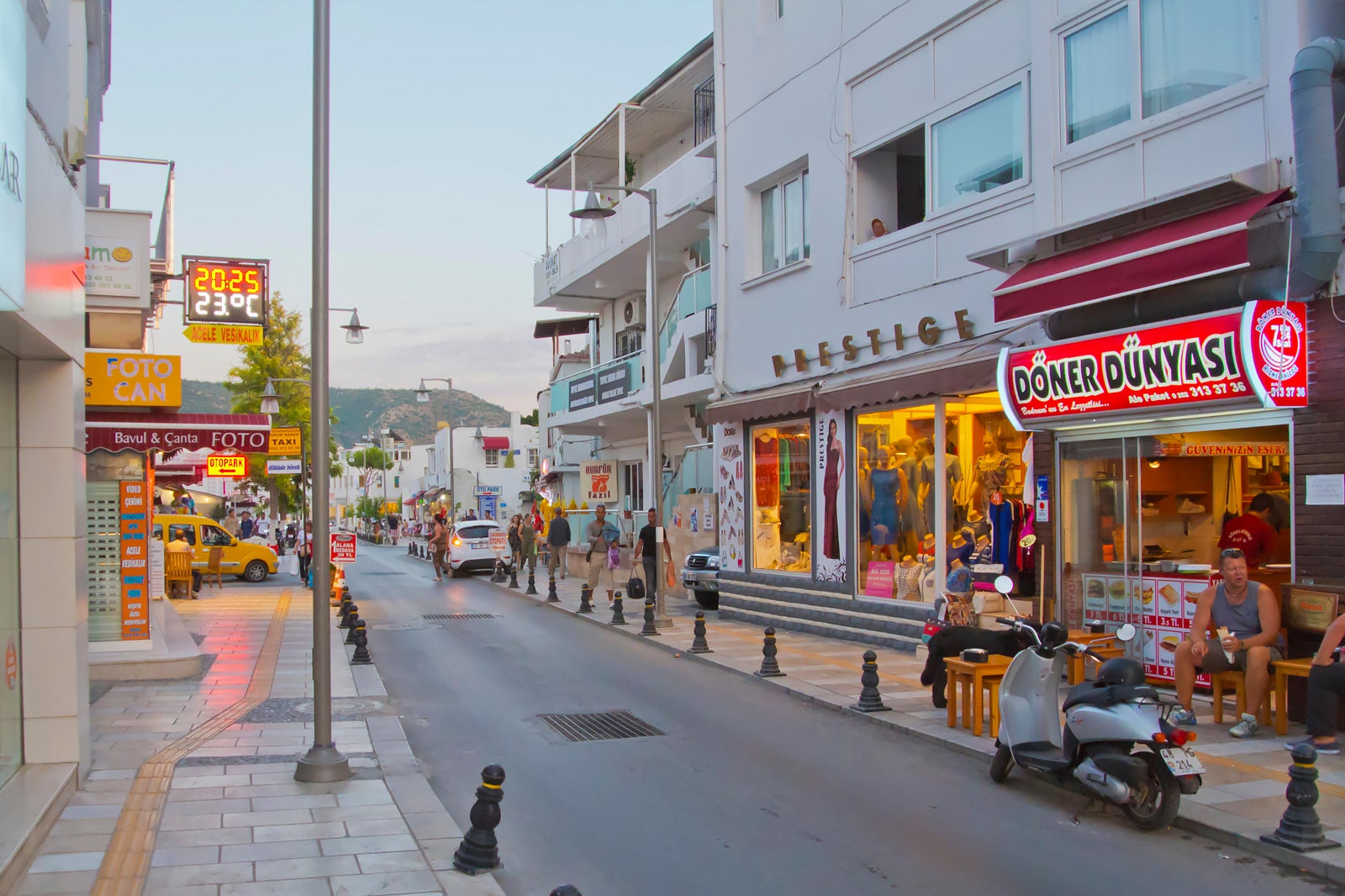 9 Best Shopping Experiences in Bodrum
Where to Shop in Bodrum… and What to Buy
Bodrum's shopping scene is unexpectedly diverse. On each day of the week, there's bound to be a weekly market operating in different towns and villages around the peninsula. Not only do the markets provide locally sourced fresh produce for Bodrum residents, but they're also a cultural experience for holidaymakers. For a respite from the blazing outdoor heat, seek shelter in the air-conditioned shopping centres with international shopping and dining options under 1 roof.
On a slow stroll through the narrow backstreets of Bodrum Town Centre, you'll inevitably be lured in by the beckoning of quirky boutiques, quaint bookstores, and leather shops. With late closing hours, you can take your time in the stores to look for one-of-a-kind souvenirs to remember Bodrum by.
1
Bodrum city centre
Look out for Turkish carpets or kilims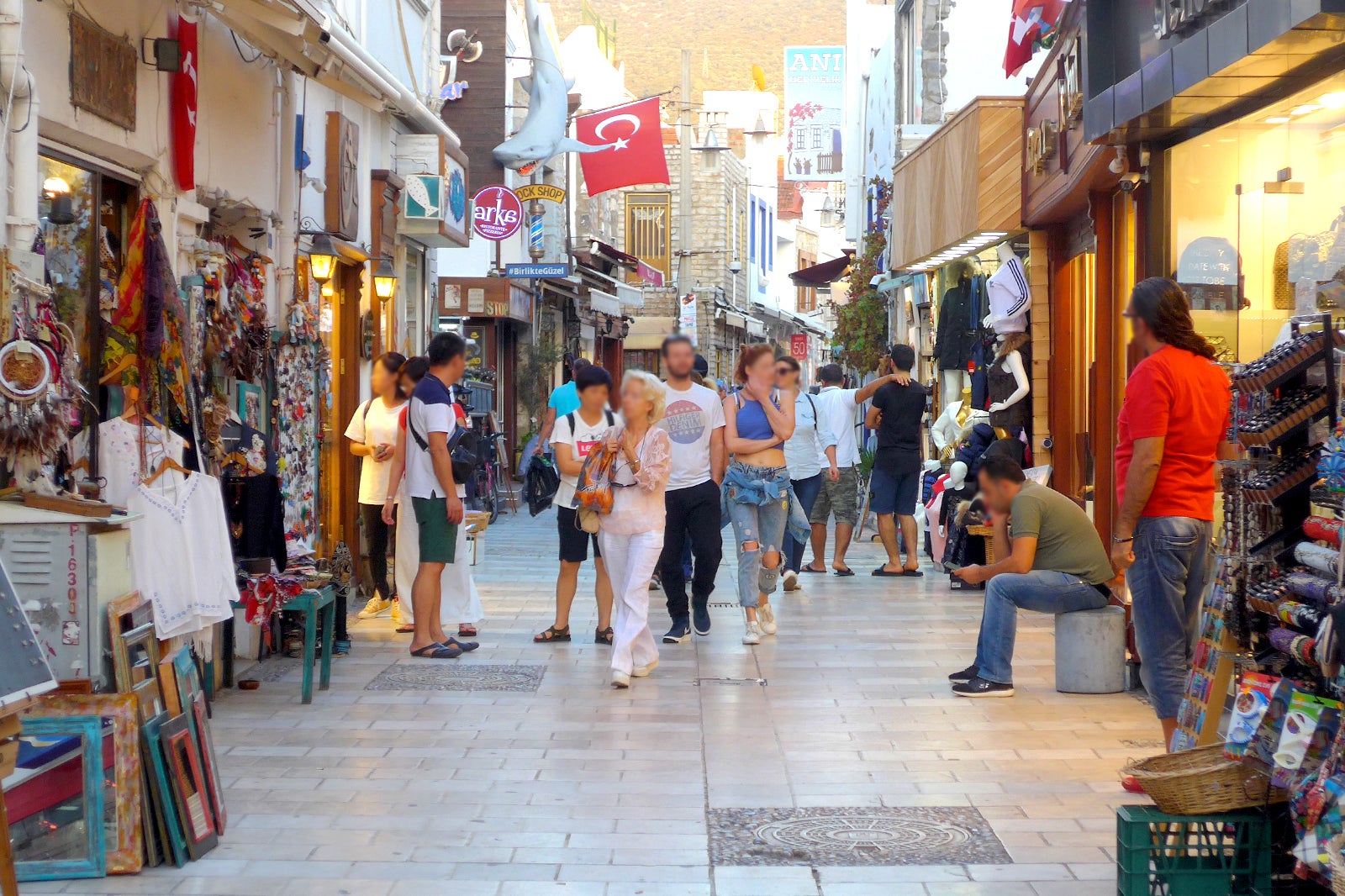 Shopping is a real pleasure in Bodrum, with its many shops lined in the narrow streets between whitewash buildings. Leather goods of all kinds, natural sponges and the local blue glass beads are among the bargains to be found in the shops of the city centre.
Leather, carpet, jewellery, copper and souvenir shops are lined on both sides of main streets like Cumhuriyet and it's often hard to resist the urge to walk in and start bargaining with the shopkeeper as you sip on the drink that's offered to you as you enter. Look out for unique double-knotted Turkish carpets or kilims, steeped in the history and tradition of Turkey. These carpets symbolise many different faces of Turkish culture.
Location: Cumhuryeti Cd., 48420 Bodrum, Muğla, Turkey
photo by Mickapr (CC BY-SA 4.0) modified
2
Bodrum bazaars
Bargain hard for fashion items and souvenirs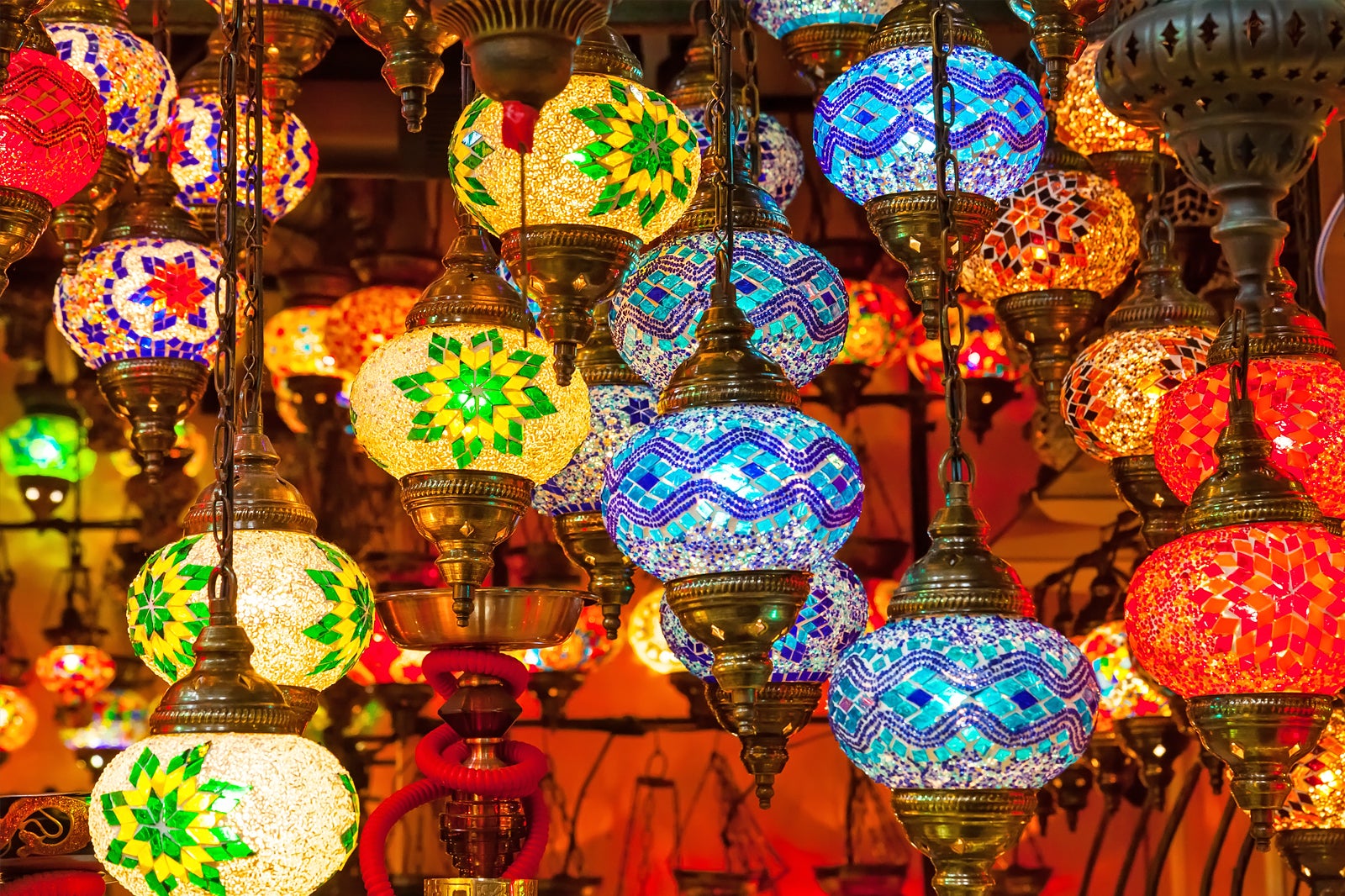 Bodrum bazaars are among the top spots in the city for budget travellers to get their retail fix. It takes place at a different part of Bodrum City on each day of the week, so it's a good idea to check with a local beforehand. You'll find all sorts of goodies within this haphazard ensemble of frantic shops and stalls, from artisanal souvenirs to knock-off fashion, and everything in between.
Of course, you'll need to bargain hard to snag a deal as the vendors expect a stiff negotiation to accompany every sale. But with a little patience and perseverance – and don't forget to crack a smile – you'll find the wares here to have the best value in the city. So give Bodrum's designer boutiques and upmarket malls a miss and check out its bustling bazaar instead.
3
Ortakent Farmers' Market
Shop for locally sourced fresh produce in this sheltered market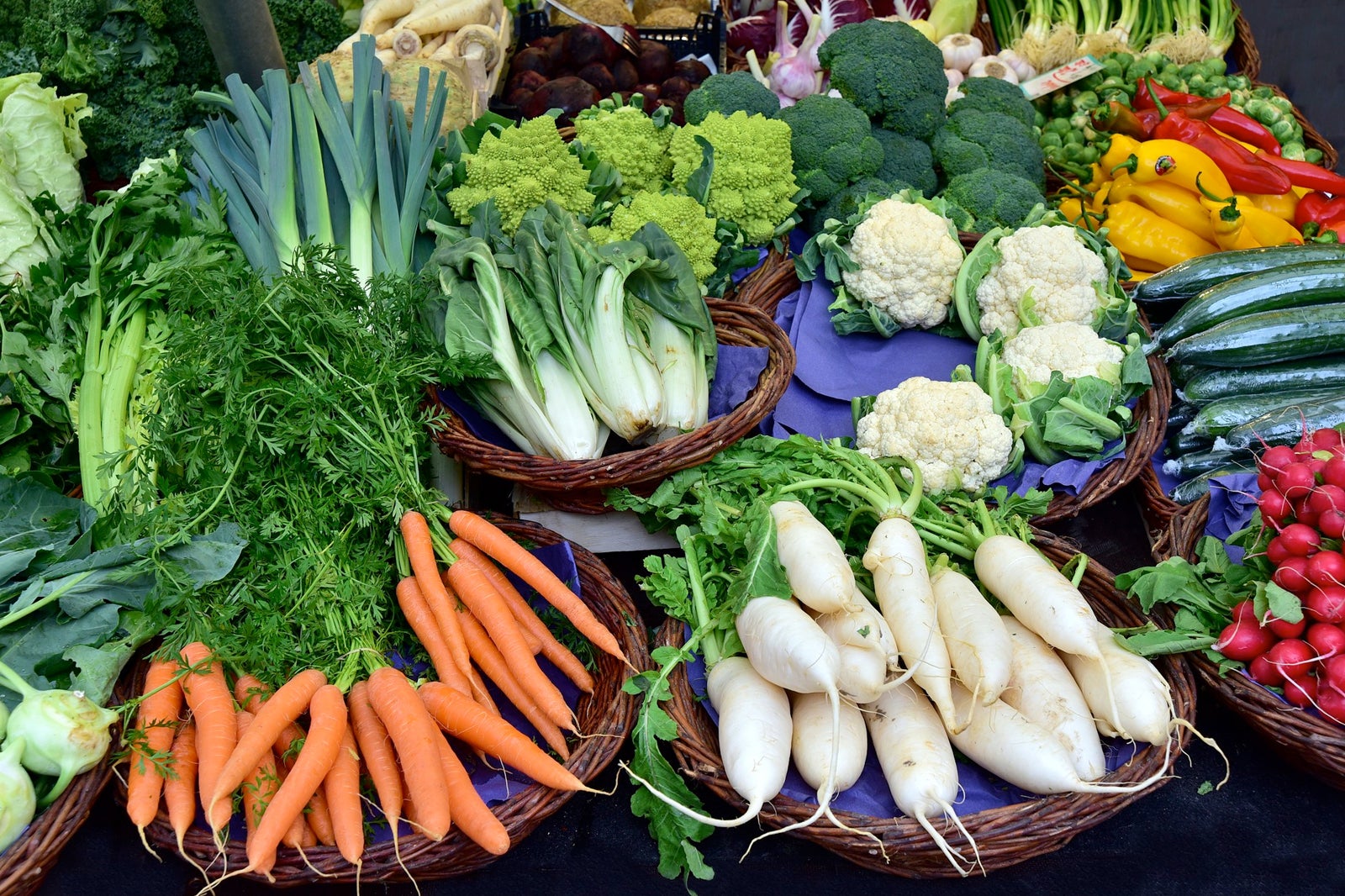 Head to Ortakent Farmers' Market (Ortakent Pazari) in Bodrum for dried goods and seasonal fresh local produce. Here, you can find meat, cheese, fruits, nuts, milk and honey from local villagers as well as various spices that make for wonderful souvenirs.
After working up an appetite from walking around the spacious indoor market, you can enjoy piping-hot flatbreads like lahmacun, a flat piece of dough topped with minced meat, herbs and vegetables from one of the baked goods stalls. There's also a cafeteria where you can have your morning coffee and breakfast.
Location: Ortakentyahşi, Müskebi Cd., 48420 Bodrum, Muğla, Turkey
Open: Wednesdays from 8 am to 6 pm
4
Yalikavak Market
Pick up some snacks for a picnic on the beach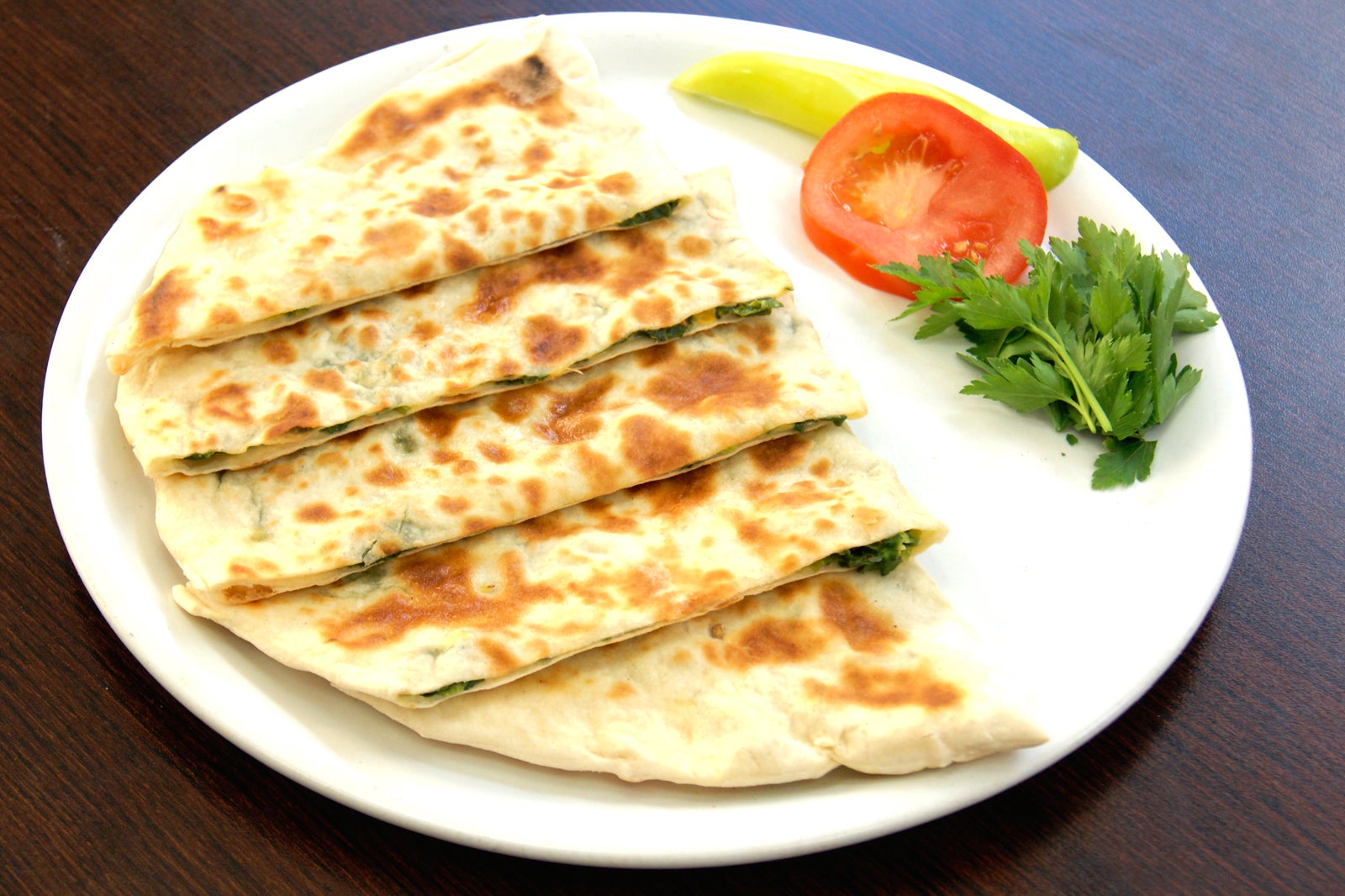 The open-air Yalikavak Market is a great place to drop by before heading to one of Yalikavak's beaches, especially for some fresh produce to enjoy by the sea. Besides the fruit and veggie stalls, you can sample the wares of the cheese vendors as you walk around.
Don't miss Orman Zeytincilik, a vendor that sells a variety of olives stuffed with lemon rind, orange, almonds, garlic and more. There are also nuts, seeds, and dried fruits that are perfect for picnics, as well as stalls serving fresh bread and desserts. Don't forget to try the gözleme, a traditional savoury Turkish flatbread filled with various toppings and sealed. Like shopping at most markets, haggling is a must in order to avoid paying tourist prices.
Location: Yalıkavak, Şeyhül İslam Ömer Lütfi Cd. No:17, 48990 Bodrum/Muğla, Turkey
Open: Tuesdays from 8 am to 8 pm
5
Oasis Mall
For all your modern shopping needs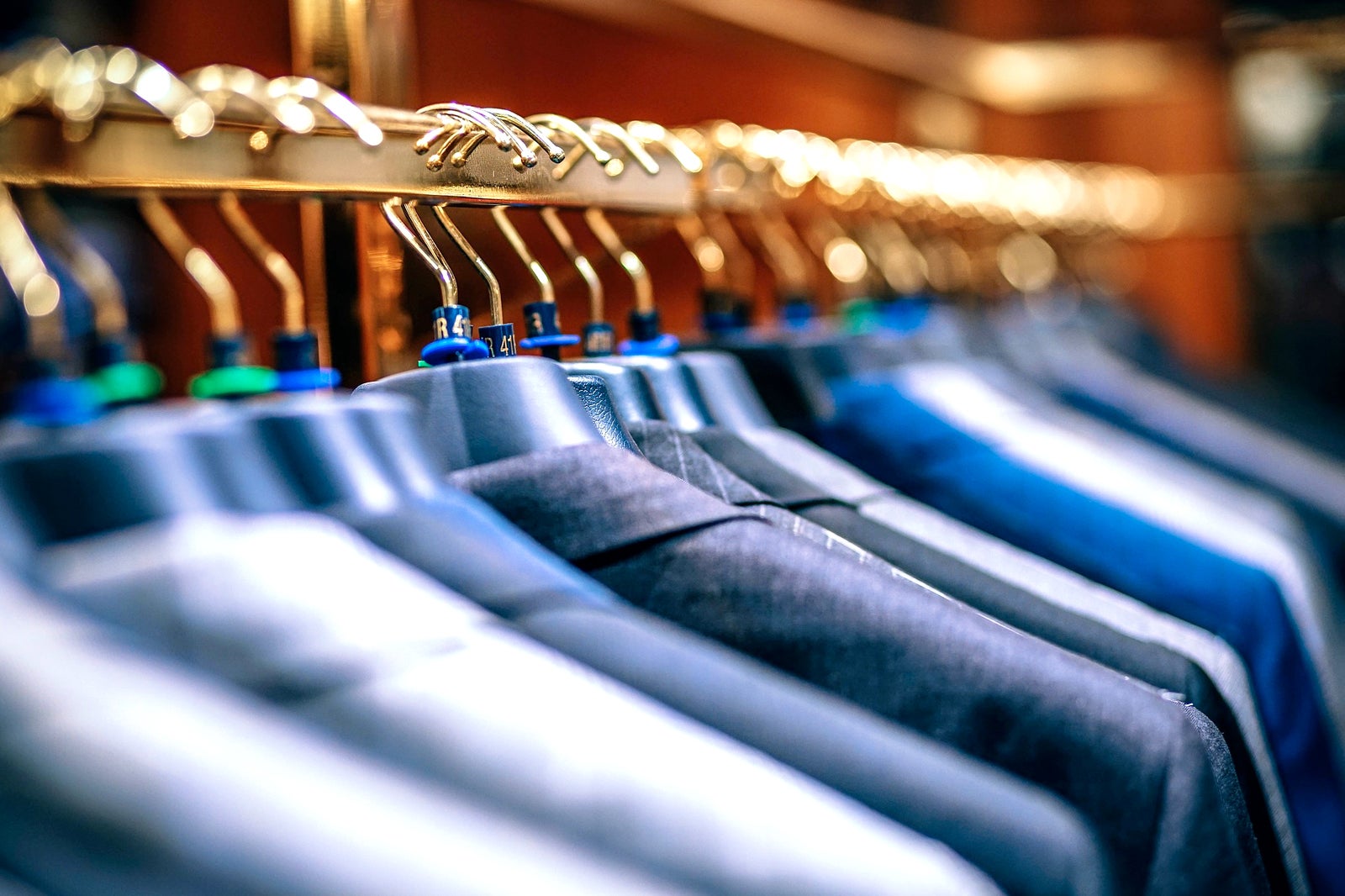 Oasis Shopping and Cultural Centre, or simply Oasis Mall, is on the main Bodrum–Gumbet Road, right at the crossroads. The Oasis is the middle-ground between the designer goods available at the Marina and the often fake items you find offered at the open-air markets.
The modern shopping centre has a selection of over 200 shops spread over 2 floors, as well as cafés, restaurants and a cinema. While it's feasible to walk to Oasis from Bodrum's town centre, there's a big hill along the way so it's not advised. Instead, you can catch a dolmus that'll take you there in no time.
Location: Gumbet Mahalessi, 48400 Bodrum, Muğla, Turkey
Open: Daily from 10 am to 11 pm
Phone: +90 (0)252 317 0002
6
Turgutreis Market
Among the largest on the Bodrum peninsula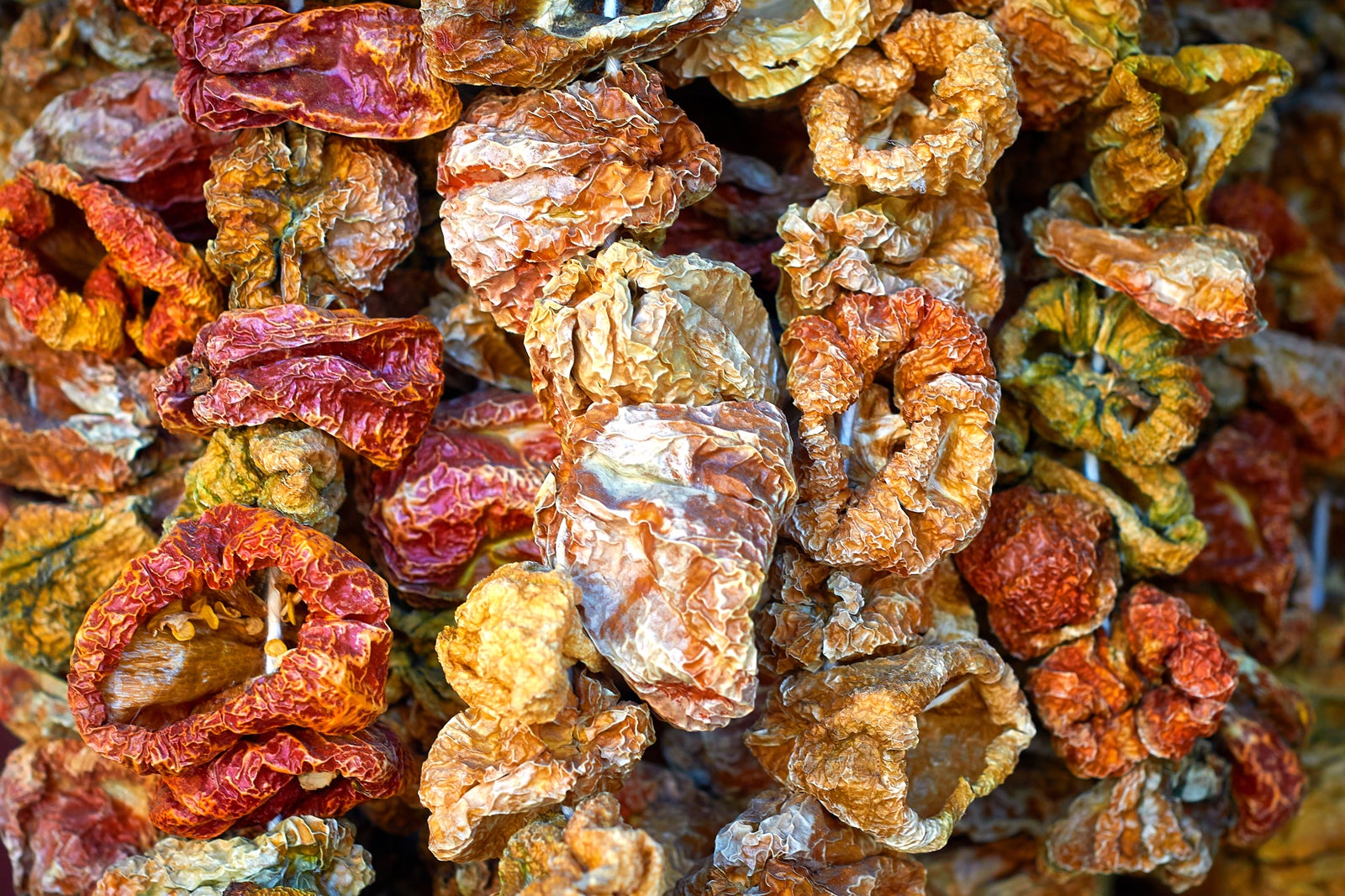 Turgutreis offers sun and sea, but it's also a go-to for shopping as it hosts one of the largest markets on the Bodrum peninsula. The open-air market offers a full range of fruit and vegetables, cheese, olives and ingredients to make traditional mezes, as well as areas devoted to clothing and textiles.
The streets near Turgutreis marina are packed with neat-looking stalls displaying handmade jewellery, pottery and paintings. A relaxing day out this is not, but it's an adventure full of local flavour. When shopping at the open-air markets of Bodrum, expect to pay half to a third of the initial asking price. When haggling, start low and let the seller coax you up to what is a realistic and reasonable price.
Location: Turgutreis, 48960 Bodrum, Muğla, Turkey
7
Midtown Shopping Center
A one-stop shopping centre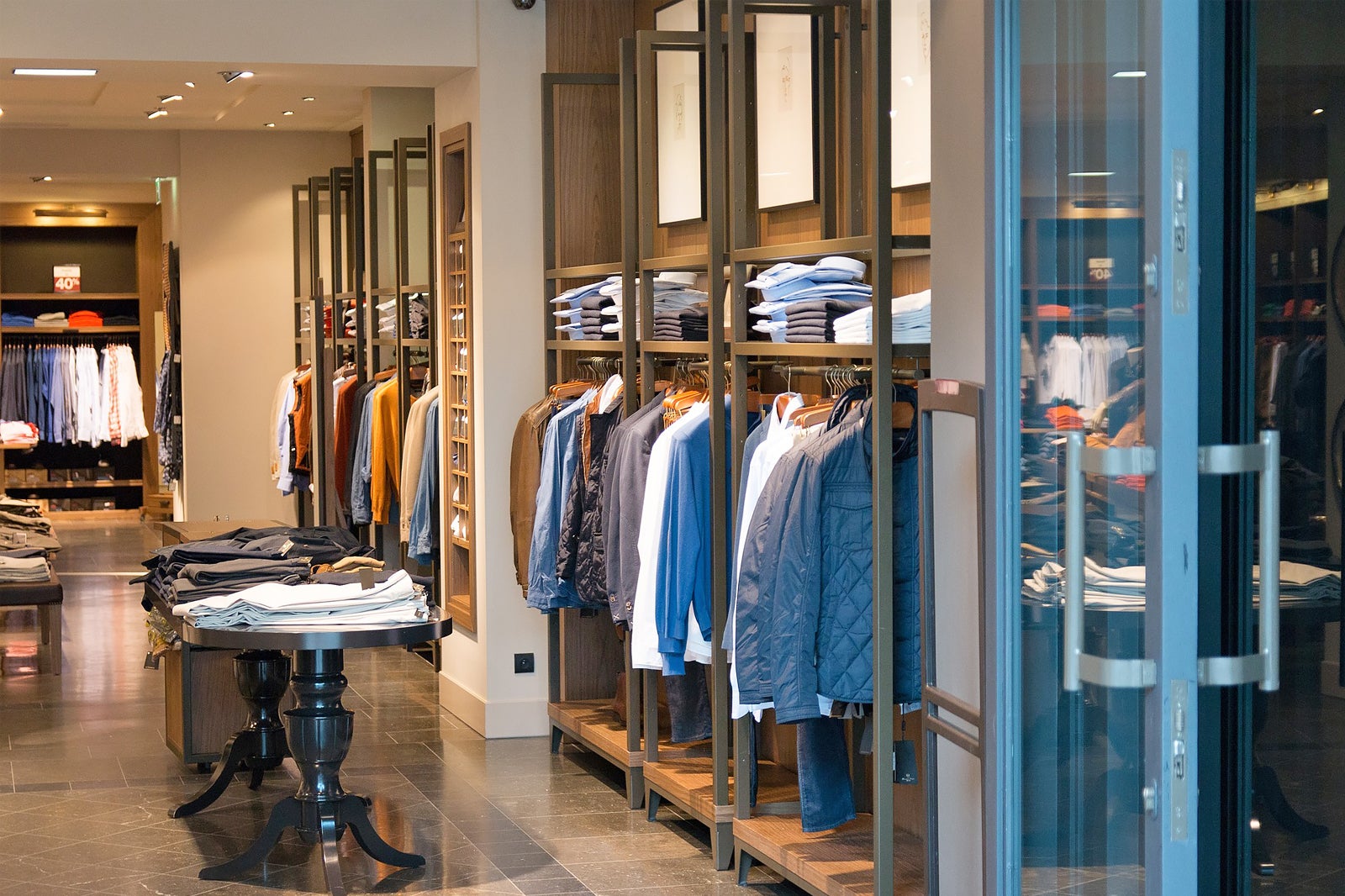 Midtown Shopping Centre in the Ortakentyahşi district is where you can cool off in air-conditioned comfort. The expansive 2-storey mall consists of a huge variety of shops that cater to everyone. Forgot your swimsuit? You can purchase one here before heading to the beach. In Midtown, you'll find international retailers like H&M, Mango, and Decathlon, opticians, drugstores as well as a huge Carrefour supermarket.
If you're hungry, grab a bite at the food court with fast-food chains and kiosks serving local and international cuisine. You can also kill time by catching the latest blockbusters in the cinema or let your kids loose in the children's play area.
Location: Ortakentyahşi, Cumhuriyet Cd. No.6, 48420 Bodrum, Muğla, Turkey
Open: Daily from 10 am to 10 pm
Phone: +90 (0)252 307 0000
8
Ocean Jewellery
A family-run jeweller that specialises in custom-made jewellery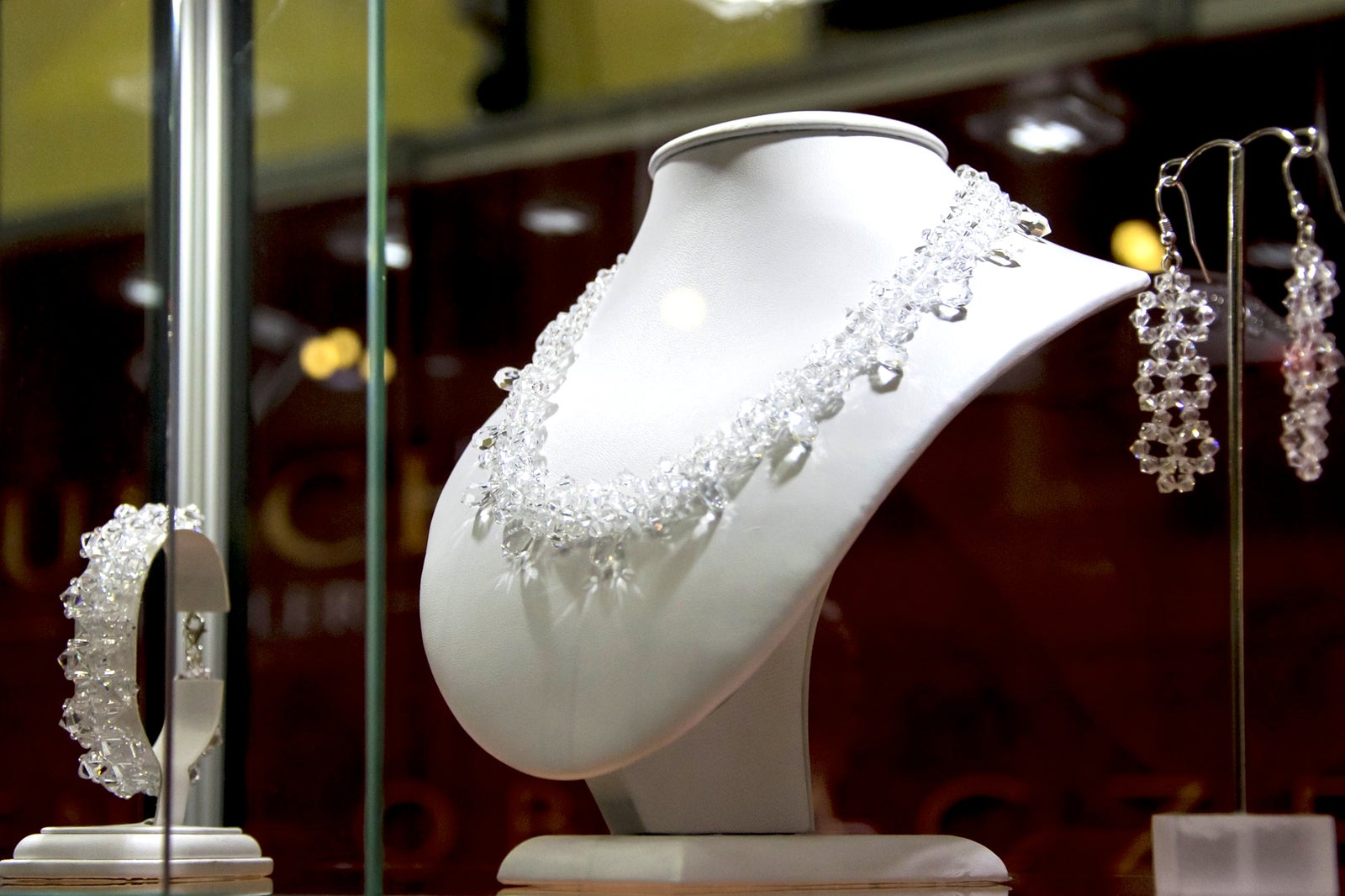 Ocean Jewellery in Bodrum is where you should go, whether you're looking for new bespoke jewellery or a redesign of an old treasure. The friendly staff and attentive customer service have kept customers coming back over the years.
The jeweller stocks a selection of earrings, necklaces and rings at various price levels, but if you want something truly unique, you can get a custom piece made according to your vision, budget and timeframe. Ocean's team will talk you through the entire process, from ideation to end result, with step-by-step videos of the jewellery being made along the way so you can be sure that you'll get exactly what you asked for.
Location: Gümbet, Adnan Menderes Cd. 20/A, 48400 Bodrum, Muğla, Turkey
Open: Daily from 10 am to 12 am
Phone: +90 (0)554 146 22 50
9
Moden Leather Shop
Stylish leather jackets to keep you warm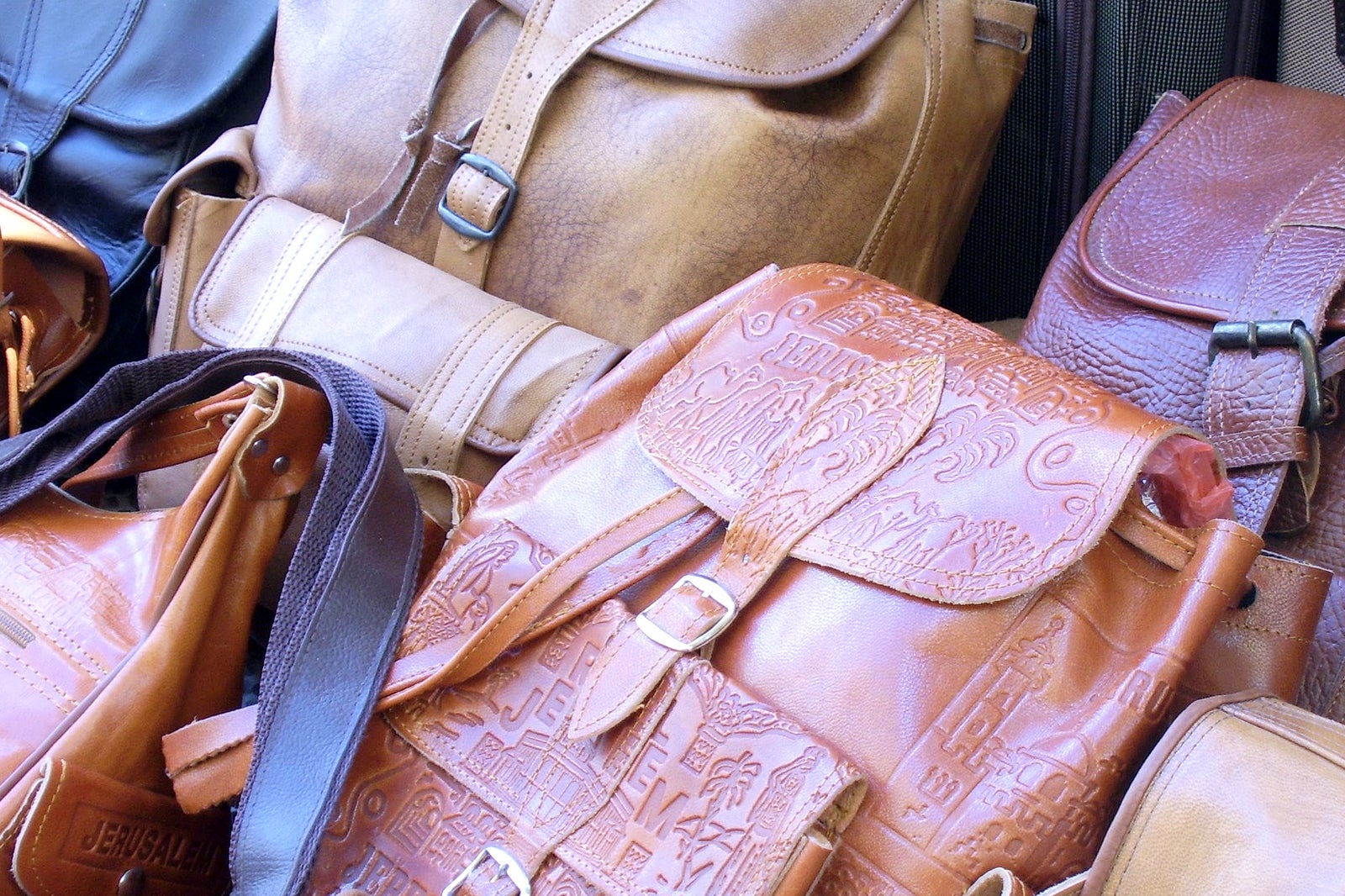 Moden Leather Shop is one of the notable speciality shops in Bodrum. There's no need for a leather jacket on your summer holiday in Bodrum, but if you're looking for a warm winter jacket for the next winter season, you'll probably find it here.
A 12-minute stroll from the Bodrum city centre, this shop stocks a wide range of leather jackets in different designs and colours like red, yellow, brown and blue. There are edgy leather biker jackets, shearling leather hoodies, leather bomber jackets and even fur puffer jackets. The top quality of the leather and fair prices attract both locals and tourists, so drop by if you find yourself needing durable new outerwear.
Location: Çarşı, Cumhuriyet Cd. No.75, 48400 Bodrum, Muğla, Turkey
Open: Daily from 9 am to 12.30 am
Phone: +90 (0)536 834 56 96
Back to top