9 Best Things to Do in Belek
What is Belek Most Famous For?
The best things to do in Belek let you take in the luxurious Mediterranean vibes of the Turkish Riviera. The whole length of the township's Blue Flag beach is lined with golf clubs and 5-star resorts offering inclusive experiences. There are also many interesting things to see in Belek, including full-fledged waterparks, spring-water spas with balneotherapy, and hot nightlife spots.
Not far from the coast are magnificent ancient sites where you can catch a glimpse of Belek's rich past – some amphitheatres even host spectacular live shows. Prefer the great outdoors? Take a scenic hour-long drive up north from Belek's town and golf courses to explore a dramatic pine-forested canyon and engage in some thrilling fun.
What are the best things to do in Belek?
1
Belek beaches
Among the finest strips on the Turkish coast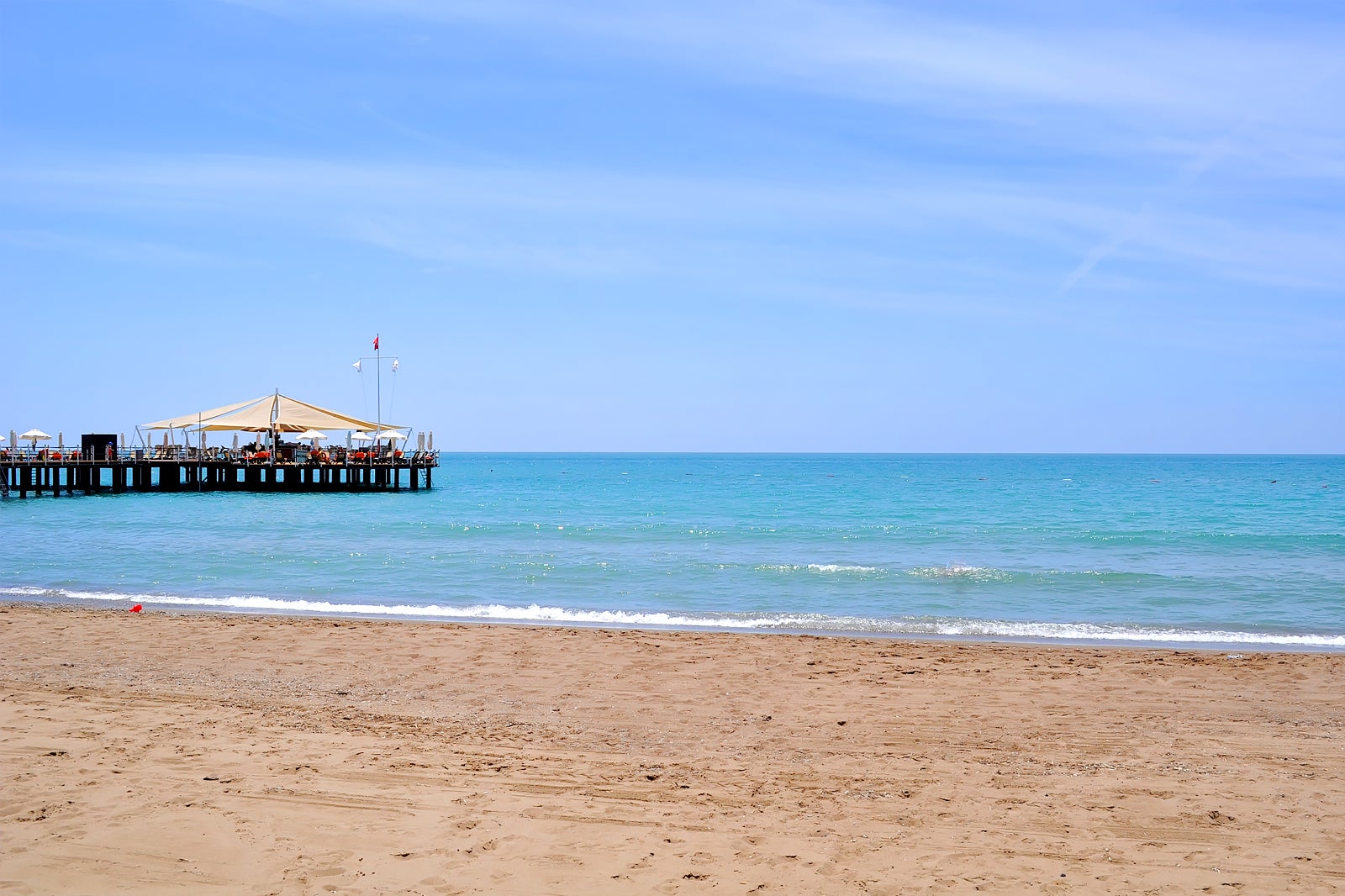 Belek's beaches have just about everything you could ask for on a Mediterranean escape on the southern Turkish coast. The Blue Flag-awarded Belek public beach stretches over 200 metres of golden sand and is very accessible from the main road. Kadriye Beach, around 20 minutes' drive west is a heavily developed coast that's shared by Belek's luxury resort.
Just east of the Kopru River's mouth, Bogazkent Beach has a stunning dune landscape and wide sand. Further east, you'll find the resort beach of Kumkoy, which is mostly exclusive and dotted with sun loungers, a restaurant and luxurious facilities. You can also find small rustic beach houses built and owned by local villagers.
2
Aspendos Theatre
Explore magnificent ancient ruins
Aspendos Antik Tiyatrosu (Aspendos Theatre) is one of the many magnificent archaeological sites you can visit near Belek. The Greek and Roman ruins were originally missing many karst stones. They were later restored as part of a project, having been carefully sourced from various quarries. The result is an impressively preserved ancient theatre that often hosts opera and ballet performances.
After admiring Aspendos Theatre's superb layout, check out the remains of the antique basilica, as well as its expansive agora (public space), grottoes, and parts of an extensive Roman aqueduct that is said to span over 12 km – it also includes the 13th-century Eurymedon Bridge, which straddles Köprüçay River.
Location: Sarıabalı, Aspendos Yolu, 07500 Serik, Antalya, Turkey
Open: Daily from 8am to 7pm
Phone: +90 (0)242 238 5688
3
Tee off at Belek's golf clubs
Over a dozen great courses to choose from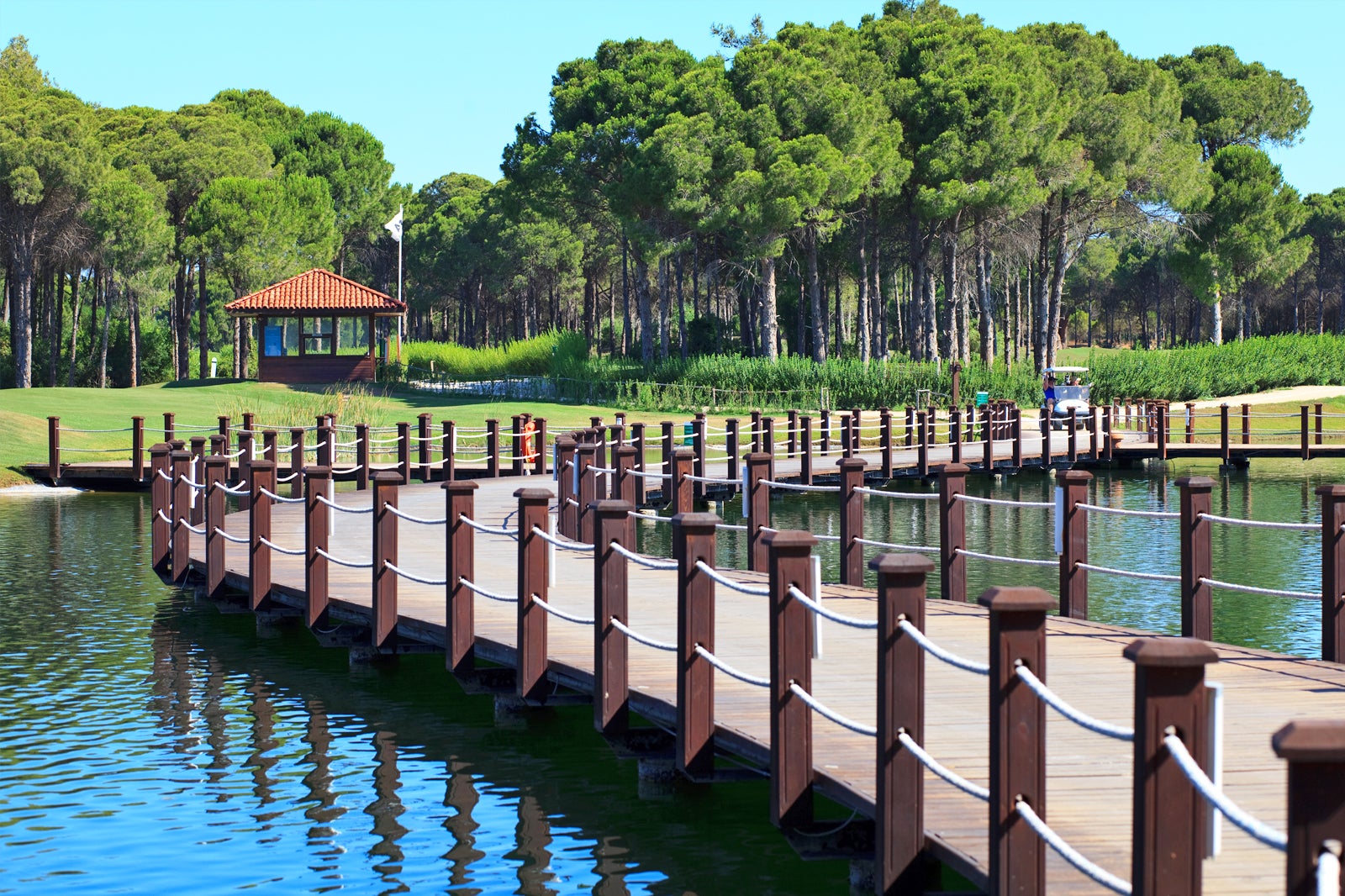 Belek, as one of the most well-developed beach resorts in Antalya, features quite a compact collection of luxurious golf courses with manicured greens parallel the 5-star hotels and beautiful coast. Here's to name a few of the many remarkable and closely-knit golf courses in Belek – there are well over a dozen.
Located at the eastern end of Belek, the par-72 Montgomerie Golf Complex has 8 lakes and a parkland forest within its 104-hectare compound. Carya Golf Club lets you enjoy a round of nighttime golf thanks to its fully lit course, while Sueno Golf Club offers dunes and pines courses that vary in length of play and challenges. Other courses that offer challenging tee-offs include the Nick Faldo-designed Cornelia Golf Course as well as Kaya Palazzo Golf Club with its fast greens and tight fairways.
4
Koprulu Canyon
For thrilling outdoor adventures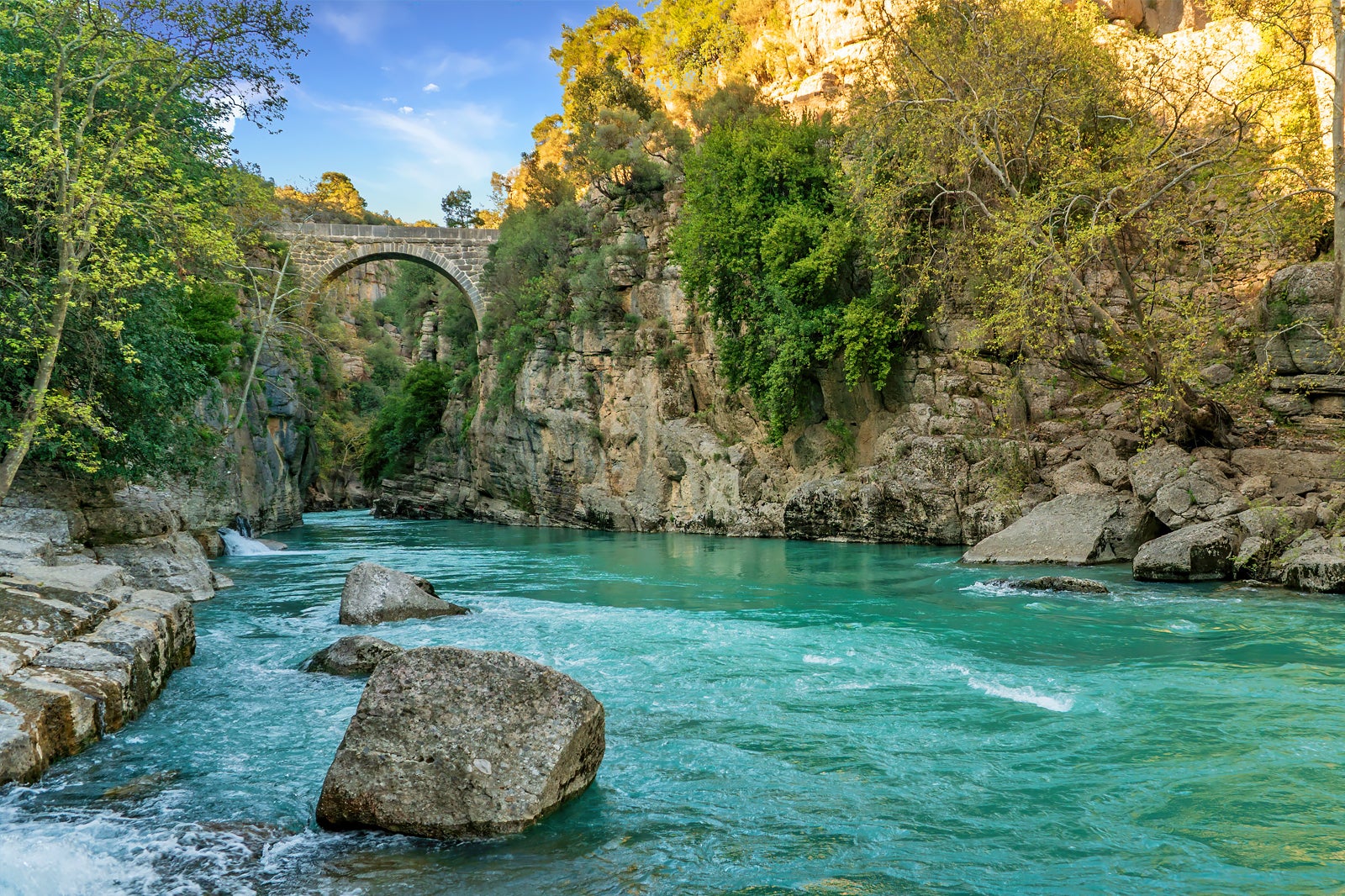 Families
Photo
Adventure
Group
Koprulu Canyon offers plenty of adventure in the great Turkish outdoors. You can go for its most popular activity – white-water rafting in the national park along Köprü River, passing magnificent greenery of the cypress-forested crags and under the ancient Oluk Bridge.
There are plenty of challenges that most family members can take on at Koprulu Canyon, including ziplining and canyoning, though rafting remains the main attraction. You'll come across a series of narrow courses featuring a mix of otherworldly geological formations as well as ancient ruins – all along a course that spans around 25 km. Most rafting adventures start from the town of Kasimlar to the village of Degirmenozu. Koprulu Canyon is an hour's drive north of Belek.
Location: Bozyaka, 07550 Manavgat, Antalya, Turkey
5
LC Waikiki Belek
A shopping hub for fashion and souvenirs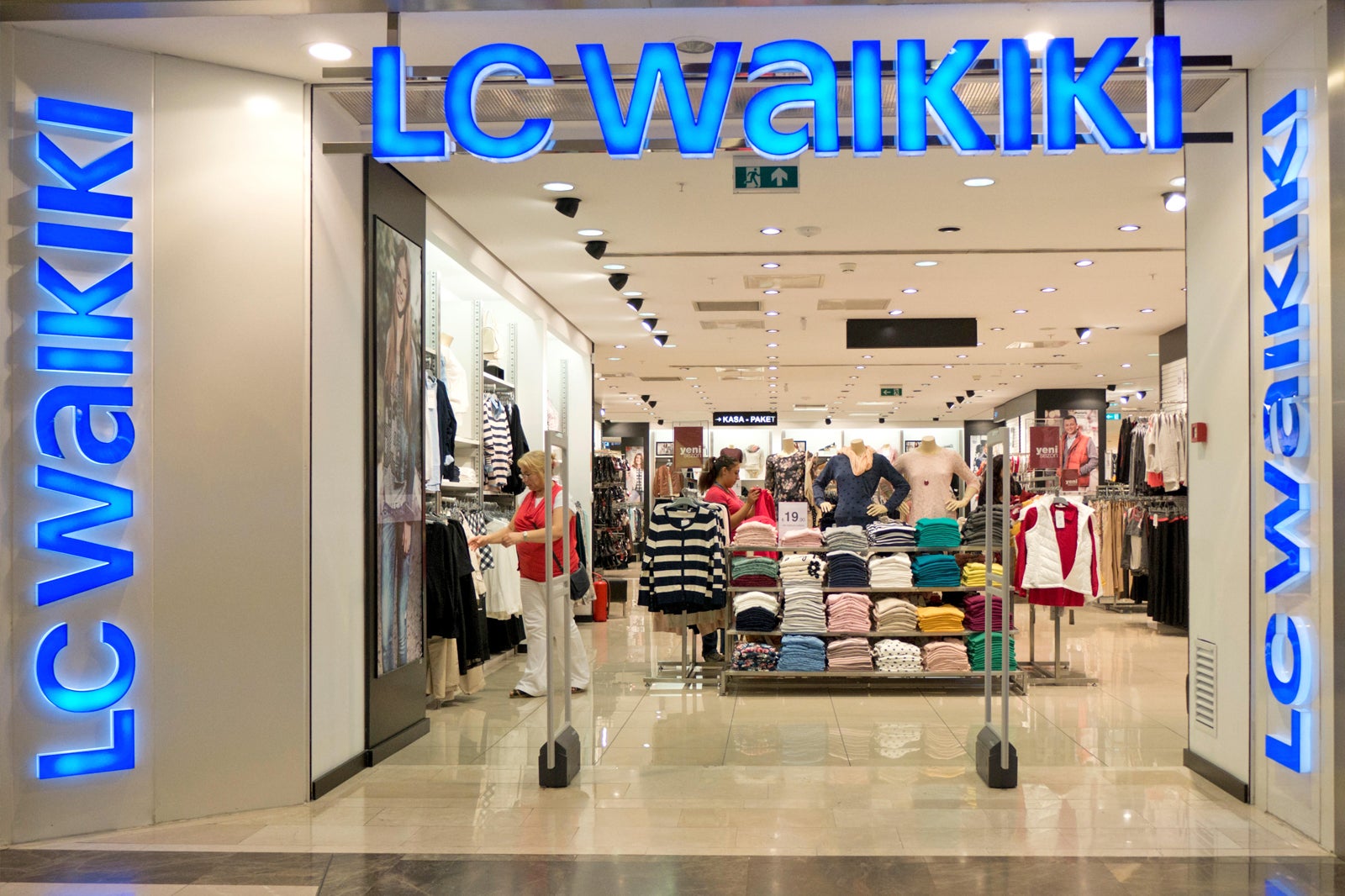 LC Waikiki Belek is a popular shopping destination for good quality and reasonably priced fashion and souvenirs in Belek. If you get past the usually crowded and chaotic scene, there's more than often a good bargain hiding in plain sight.
The wide variety of clothes on offer often calls for several hours of browsing, but there are also toys, accessories and luggage items you might've never thought you needed. The shop is air-conditioned with ample fitting rooms for your convenience. On top of the already reasonable prices, LC Waikiki regularly throws in discounts of up to 60% on select items.
Location: Belek, Atatürk Cd. No.3, 07500 Serik, Antalya, Turkey
Open: Daily from 10am to 9pm
Phone: +90 (0)242 715 1460
6
Eat Turkish seafood
Try the flavours from the Turkish Riviera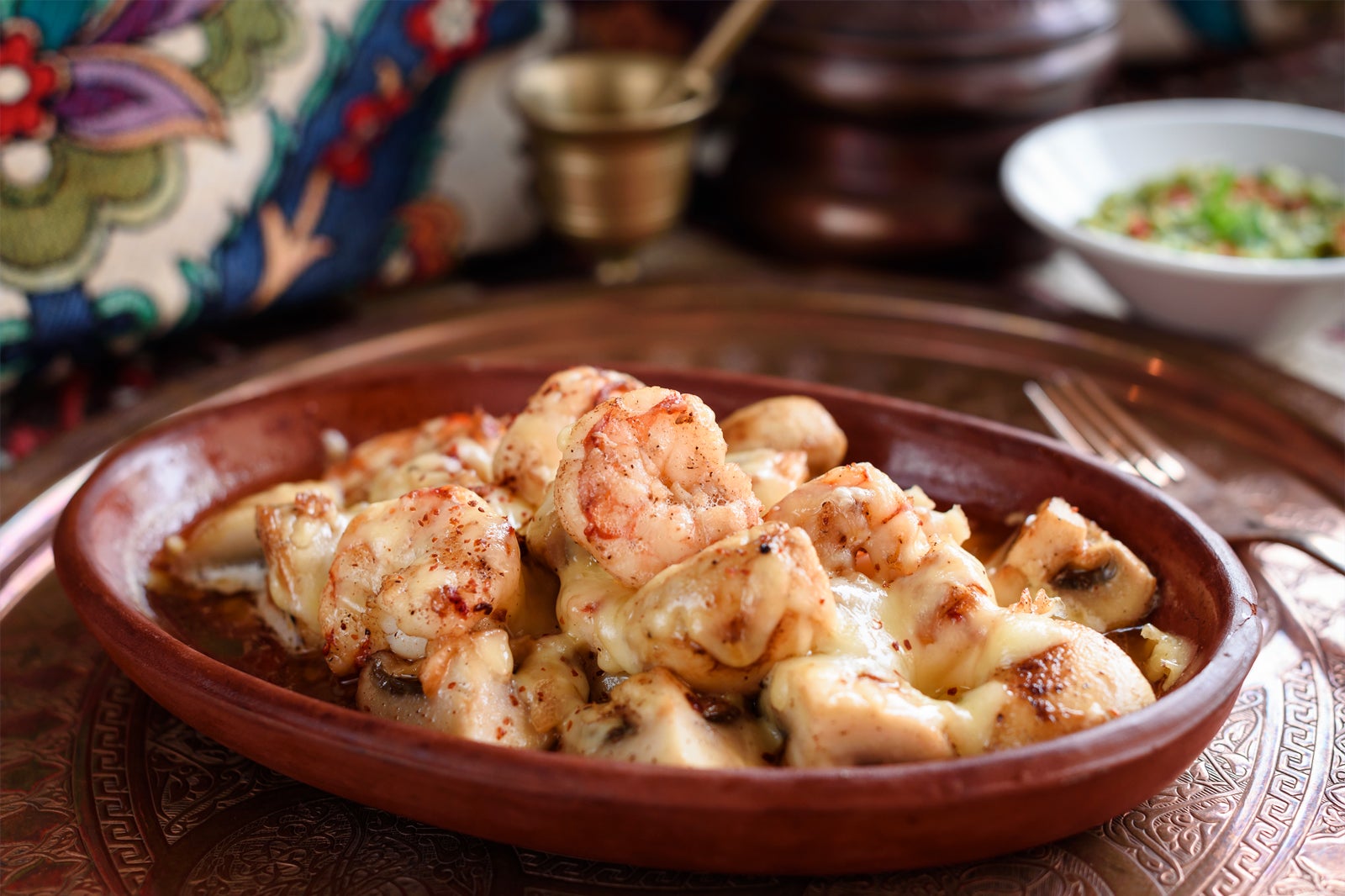 Turkish cuisine, especially in Belek, is predominantly Mediterranean, which means seafood lovers are in for a treat during their holiday. One of the most popular restaurants in Belek, Café Istanbul throws in live music or karaoke (Mondays and Thursdays) as you enjoy its specialities – prawn cocktails and juicy fillet steaks.
Head down to Belek Balik Evi, right beside the LC Waikiki shopping centre, where you can choose from the day's catch such as crab, shrimp, octopus and calamari. Enjoy your cooked selections at a table set up in their large garden. A block northwest is Belek Deniz Restaurant, which is popular among families with kids. Order the seafood platter for a feast of king crab, sea trout, freshwater fish, chicken and roasted bakra (lamb).
7
Go bar-hopping in Belek town
Belek's coolest spots to drink and mingle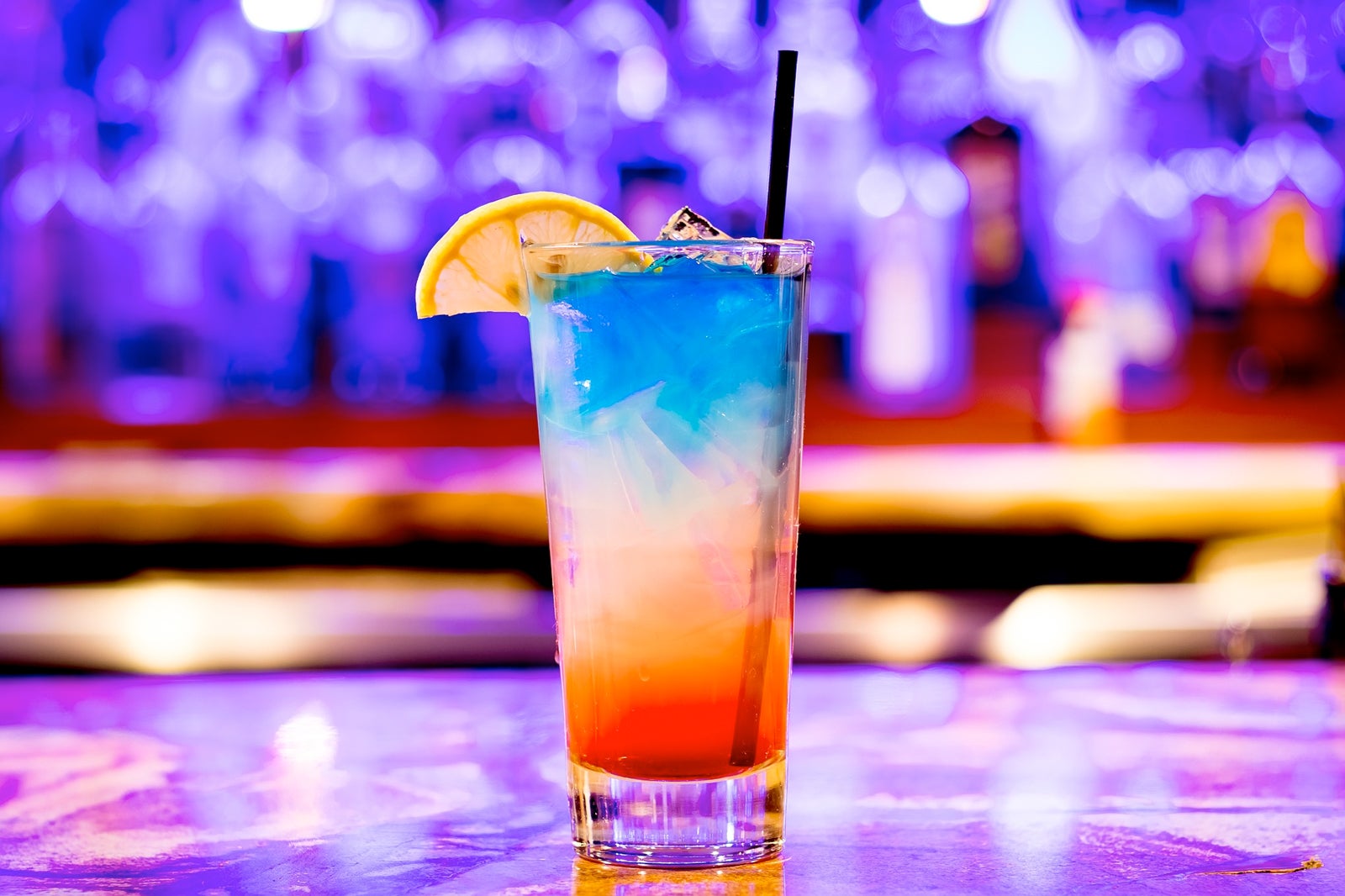 You can enjoy your bar-hopping adventure in Belek town by starting at Mambo Lounge, located on the Karakoyunlular Caddesi main street. While this restaurant is a popular spot for good food during the day, it gets very busy with locals and tourists enjoying cold beers and frozen cocktails after sunset.
Red Castle Belek is a lounge and bistro offering a great selection of steaks and cocktails as well as fruity hookahs. For some fun, Gardners English Bar has a games room with pool tables and dartboards – locals who frequent this bar are quite friendly, making it quite easy to make a new friend over a pint or two.
8
Belek hammams
Have a memorable Turkish spa experience
Belek Osmanli Hamam is a notable venue for those looking for an authentic Turkish spa experience in Belek. A typical 90-minute treatment package includes the Turkish bath which incorporates a foaming body scrub, skincare and body massage. You also get a choice of teas, including fruity apple tea. They can also arrange for hotel pickups for added convenience.
Another worthy mention is Hamam on the Beach on Boğazkent Beach. Within its striking all-white façade, you can enjoy special packages such as a VIP Package that includes a 20-minute sauna, a 40-minute Turkish bath experience, and an hour-long body massage to leave your body feeling refreshed and relaxed.
Location: Belek Mahallesi, Acısu Caddesi No.37, 07506 Belek Belediyesi, Serik, Antalya, Turkey
Open: Daily from 9am to 7pm
Phone: +90 (0)545 378 7036
9
Gloria Aspendos Arena
Watch the Fire of Anatolia show
Gloria Aspendos Arena is a magnificent open theatre that hosts modern live performances and concerts. It's a great spot to consider adding to your Belek travel itinerary. The Anadolu Atesi (Fire of Anatolia) dance group is a regular showrunner at the arena, offering an eponymous live show that finely mixes Anatolia's rich cultural history and top-quality artistic performances. The Fire of Anatolia show usually runs between April and November.
The arena holds up to 5,000 audiences. The stage itself, which reflects Anatolian history and architecture, measures 1,300 square metres. Gloria Aspendos Arena also has a large parking lot and facilities such as exhibits, restrooms and sections selling food and beverages.
Location: Belkıs, Aspendos Yolu, 07503 Serik, Antalya, Turkey
Phone: +90 (0)242 324 7577
Back to top