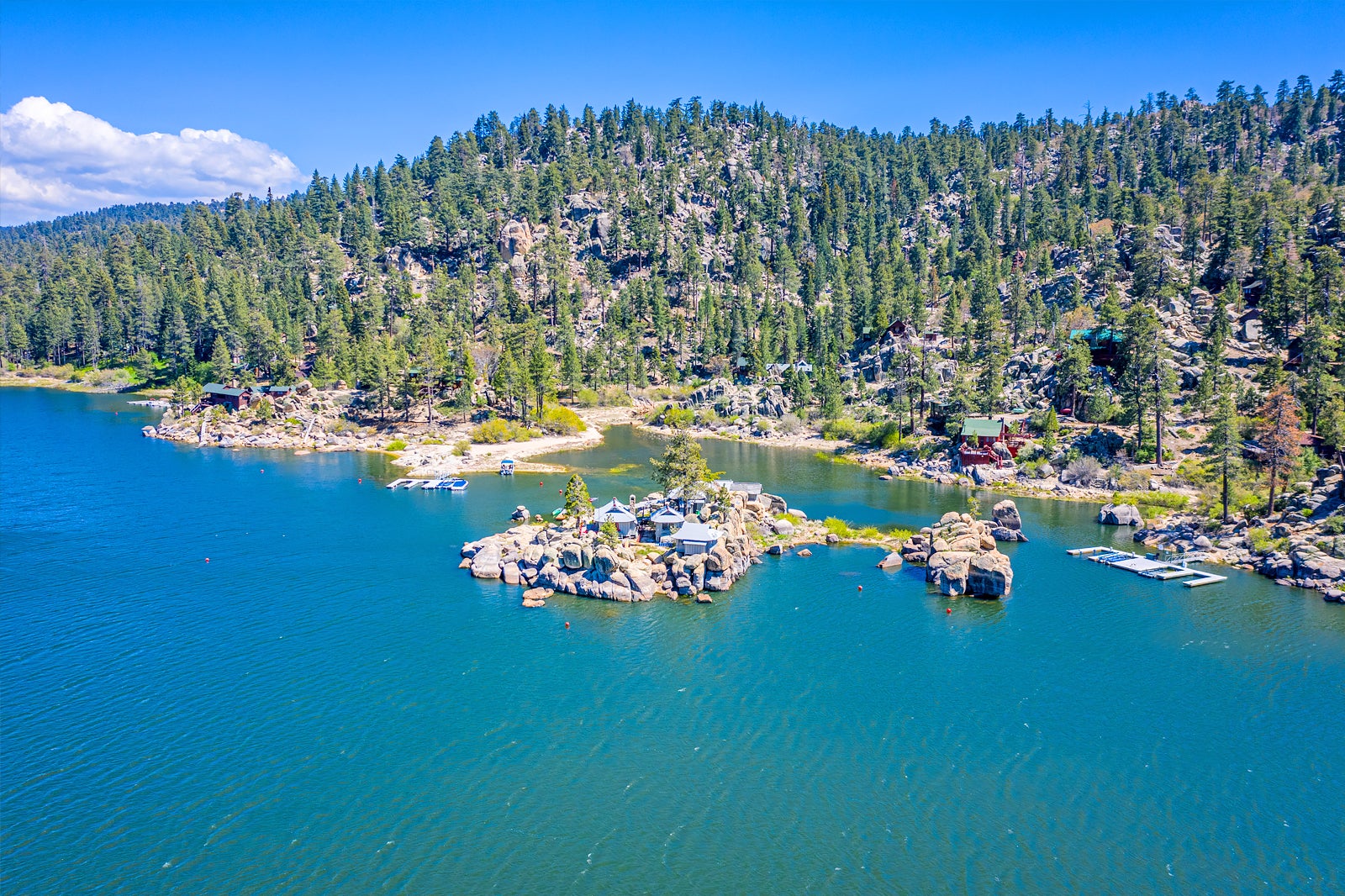 10 Best Things To Do in Big Bear Lake
What is Big Bear Lake Most Famous For?
Big Bear Lake is Southern California's premier 4-season destination. The city offers majestic natural beauty, abundant outdoor recreation, and a laidback vibe. The region combines epic mountain scenery with 22 miles of shoreline. It's just 2 hours from Los Angeles and Palm Springs.
Summer activities take place on the lake, with water sports in abundance for adrenaline junkies. Hikers flock to the popular Castle Rock Trail overlook, while picnickers enjoy calm afternoons at the lakeside Boulder Bay Park. Come winter, the snow-covered mountains evolve into a prime ski destination, where you can tackle the slopes at 2 world-class resorts. Whatever your speed, Big Bear Lake has it in spades..
What are the best things to do in Big Bear Lake?
1
Water sports on Big Bear Lake
Adrenaline-fuelled recreation on California's premier lake destination
Big Bear Lake has water sports are plentiful in summer. It's where Angelenos escape the oppressive LA heat to. Whether you're getting together for a big family reunion, or simply want to decompress for a low-key weekend, the lake is an excellent choice.
Hop on a kayak and paddle along the lake's half-mile width or rent a pontoon to anchor up and catch the sun's rays. For adrenaline junkies, renting a jet ski is the way to go. Those looking for something more relaxing can try fishing – catfish, trout, and bass are native to the lake. Head to Big Bear Marina to find most water sport rentals.
2
Skiing at Big Bear Lake
World-class slopes on the San Bernardino Mountains
Big Bear Lake is Southern California's go-to winter destination, with over 100 ft on annual snowfall gracing the slopes. Home to 2 exemplary ski resorts and over 1,000 acres of skiable acreage, Big Bear Lake offers options for skiers of all skill levels.
California's most complete ski resort, Snow Summit has a healthy balance of beginner slopes and black diamond runs connected via an extensive lift system. Spend a couple of days at the ski school if you just started skiing. Or, head straight up to tackle 'The Wall', the signature blue run down the mountain. Between November and early May, snowboarders can head to Bear Mountain to enjoy irregular terrain and fresh powder. Try to visit during the week for the best ski ticket deals.
3
Castle Rock Trail
Big Bear Lake's signature hiking trail
The Castle Rock Trail in San Bernardino National Forest is a must-visit if you only have time for 1 hike in Big Bear Lake. The 2.4-mile moderate trail is just off Big Bear Boulevard with 500 ft of elevation gain along the rocky terrain, towards the Castle Rock outcrop.
You get an opportunity to see pine trees, white firs, and magnificent cedars along the route. Jaw-dropping panoramic views of the lake and snow-capped San Bernardino Mountains reward your efforts. Hiking is free, but parking at the trailhead does require an Adventure Pass – available at the visitor centre in town.
Location: Big Bear Blvd, Big Bear Lake, CA 92315, USA
Open: 24/7
Phone: +1 909-382-2790
4
Boulder Bay Park
Picnic on the banks of Big Bear Lake
Couples
Families
Photo
Budget
Boulder Bay Park is a scenic picnic spot in Big Bear Lake, offering a peaceful ambience and lush greenery. The park gets its name from the massive boulders jutting out of the bay, which gives you fun obstacles to canoe or kayak around.
Situated 2 miles east of Big Bear Dam, the park is a local favourite for leisure fishing off the docks – just make sure to buy a license first. Visit during the summer months to catch live music performances at the park's amphitheatre-style bandstand.
Location: 39148 CA-18, Big Bear Lake, CA 92315, USA
Open: Monday–Saturday from 9 am to 6 pm, Sunday from 9 am to 5 pm
Phone: +1 909-866-5831
5
Big Bear Alpine Zoo
See the native wildlife of the San Bernardino Mountain
Big Bear Alpine Zoo, right next to Bear Mountain Ski Resort, is one of only 2 alpine zoos in the entire country. Home to endangered native animals like the bald eagle, arctic fox, and snow leopard, you are sure to walk away with invaluable knowledge about mountain wildlife.
The zoo doubles as a rehabilitation centre, providing injured or orphaned animals with a place to heal. 90% of all animals brought in are eventually set for release back into the wild. The daily 'Animal of the Day' presentation is an excellent choice for kids to learn about the origin, diet, and fun info about a specific animal.
Location: 747 Clubview Drive, Big Bear Lake, CA 92314, USA
Open: Daily from 10 am to 5 pm
Phone: +1 909-878-5200
6
Alpine Slide at Magic Mountain
California's only authentic bobsled experience
Alpine Slide at Magic Mountain lets you experience the adrenaline rush of an Olympian manoeuvring high-banked turns and long straightaways on a bobsled. Start with a scenic chairlift ride to the top of the hill before challenging your nerves with the high-speed ride down either one of 2 cement tracks.
The Alpine Slide at Magic Mountain is only minutes away from Big Bear Marina. Make sure to visit during summer to take advantage of the onsite 18-hole mini-golf and double waterslide.
Location: 800 Wildrose Ln, Big Bear Lake, CA 92315, USA
Open: Monday–Friday from 10 am to 4 pm (closed on weekends)
Phone: +1 909-866-4626
photo by Jeremy Thompson (CC BY 2.0) modified
7
Big Bear Valley Historical Museum
A place to learn more about the famed 'Island in the Sky' region
The Big Bear Valley Historical Museum takes you on a thrilling journey of the picturesque mountain valley, nicknamed the 'Island in the Sky'. From the original 'lucky' discovery in 1845 by a group of rough-riding Californian frontiersmen to modern-day development, this free museum offers a fun history lesson in Big Bear Lake.
Artefacts from the early settlers are on display, including antique wagons, a rare stamp mill, and models of native animals like grizzly bears. The museum is 100% funded by donations and gift sales, so give back by spending a few bucks. Pair a trip to Big Bear Valley Historical Museum with a stroll around Big Bear City Park, just across the street.
Location: 800 B Greenway Dr, Big Bear, CA 92314, USA
Phone: +1 909-585-8100
photo by Klaus Nahr (CC BY-SA 2.0) modified
8
Alpine Pedal Path
Biking around Big Bear Lake
Biking along the Alpine Pedal Path is a popular summer activity in Big Bear Lake. The 3.2-mile paved path lining the northern edge of the lake is great for an easy afternoon ride with dramatic mountain scenery on all sides.
Starting at the Stanfield Cut-off, just across the bridge, the Alpine Pedal Path weaves along the shoreline to its terminus at Serrano Campground. Benches line the path so you can relax and soak up the tranquil atmosphere – best enjoyed at sunset. Rent a bike at one of the vendors in town or slow the pace and take your dog for a stroll.
Location: 740 Stanfield Cut-off, Big Bear, CA 92314, USA
Open: Daily from 6 am to 6 pm
Phone: +1 909-382-2790
9
Big Bear Solar Observatory
From where you can see the far reaches of space
Big Bear Solar Observatory (BBSO) is on a tiny island across the lake from town and attracts aspiring astronomists to see the far reaches of space. Due to the usually cloudless Southern California skies and clarity of air, it's one of the best sites for solar observations in the world.
Free public tours are on offer year-round, though summer has more frequent offerings. The guides are truly knowledgeable, so make sure to come prepared with good questions and a thirst for learning. Pair a visit to the BBSO with a ride along the Alpine Pedal Path, as the observatory marks the western end of the trail.
Location: 40386 N Shore Ln, Big Bear, CA 92314, USA
Phone: +1 909-866-5791
10
The Cave Big Bear
Live music at a one-of-a-kind concert venue
The Cave Big Bear is the town's premier nightlife spot, combining an intimate setting and gourmet concessions with world-class live entertainment. Make sure to arrive early and grab front row spots for top acts such as Alien Ant Farm and Colt Ford – you'll be mere inches away from the bands.
The venue has a blend of comfortable seating options and a massive dancefloor for those looking to get their boogie on. You can find an extensive choice of craft beer on tap. For an after-show snack, its next-door neighbour, Rockin' Burritos has you covered.
Location: 40789 Village Dr, Big Bear Lake, CA 92315, USA
Open: Thursday and Sunday from noon to 8 pm, Friday–Saturday from noon to 9 pm
Phone: +1 909-878-0204
Back to top