10 Best Things to Do in Minneapolis
What is Minneapolis Most Famous For?
Some of the best things to do in Minneapolis are centred around its vibrant arts scene. The city has plenty of eye-catching art installations, performing spaces, and museums showcasing local and international talents. Summertime sees some of the biggest live concerts and festivals taking place here, including the Minnesota Fringe Festival and Minnesota State Fair.
Located along the Mississippi River, Minneapolis is home to beautiful urban parks and expansive lakes right in its downtown area. Fans of the outdoors will enjoy miles of trails and waterways, as well as ample opportunities for picnics, sports and scenic photos. Check out our guide to Minneapolis' most popular landmarks and activities below.
What are the best things to do in Minneapolis?
1
Minneapolis Institute of Arts
See 90,000 world-famous artworks for free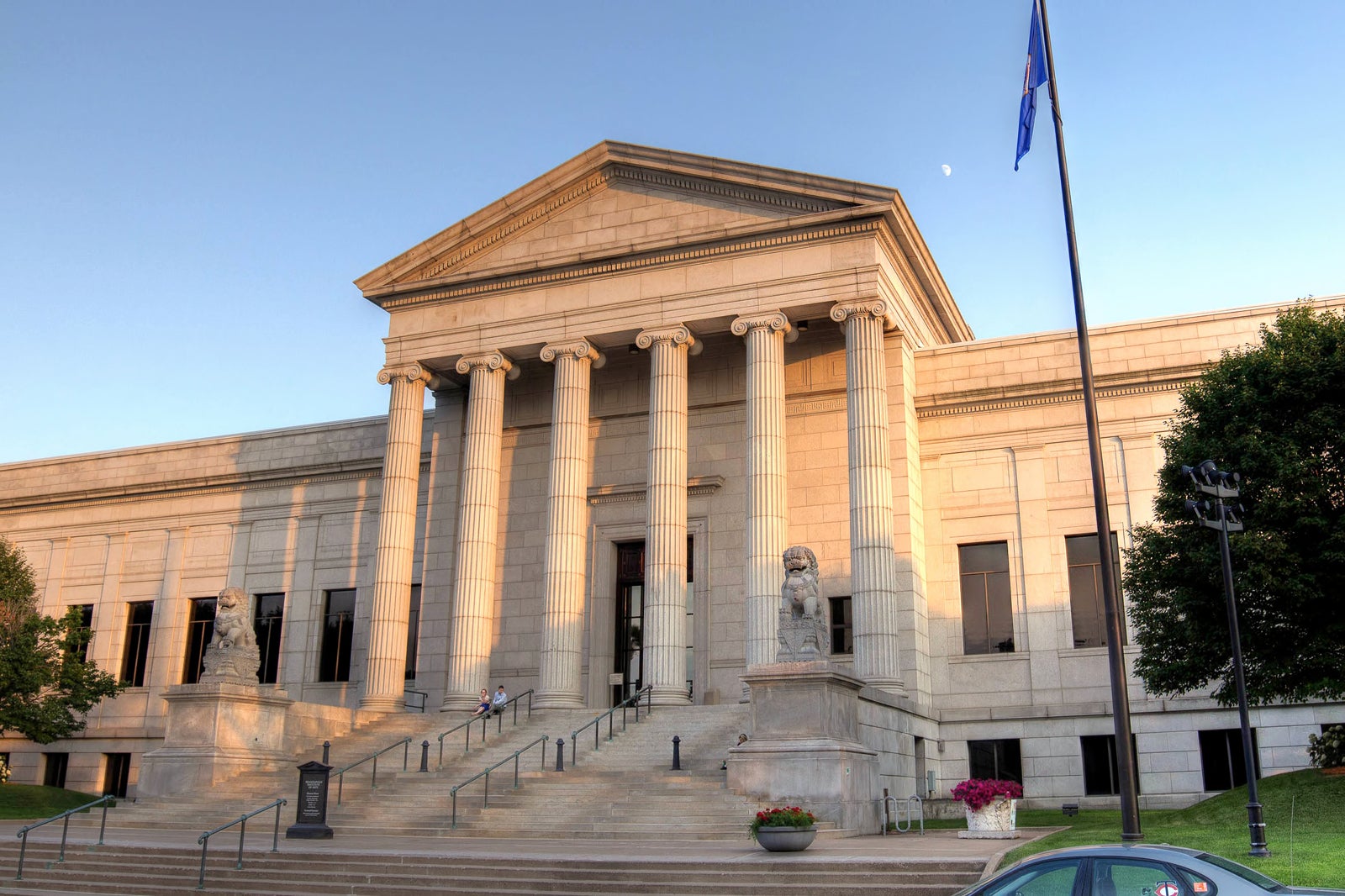 The Minneapolis Institute of Arts (MIA) has a collection of over 90,000 works of art spanning over 5,000 years of history. Its permanent exhibitions are divided into 7 themes – Arts of Africa and the Americas, Contemporary Art, Decorative Arts, Textiles and Sculpture, Asian Art, Paintings, Photography and New Media, and Prints and Drawings.
Admission to the Minneapolis Institute of Arts is free year-round. The museum also organises educational workshops and courses for anyone interested in art. Adults get free access to special exhibitions and social meetups every 3rd Thursday of the month, while families can enjoy hands-on art activities, live music and dance, artist demonstrations, and tours of the museum every 2nd Sunday.
Location: 2400 3rd Ave S, Minneapolis, MN 55404, USA
Phone: +1 612-870-3000
photo by Alvintrusty (CC BY-SA 3.0) modified
2
Frederick R. Weisman Art Museum
An art museum at the University of Minnesota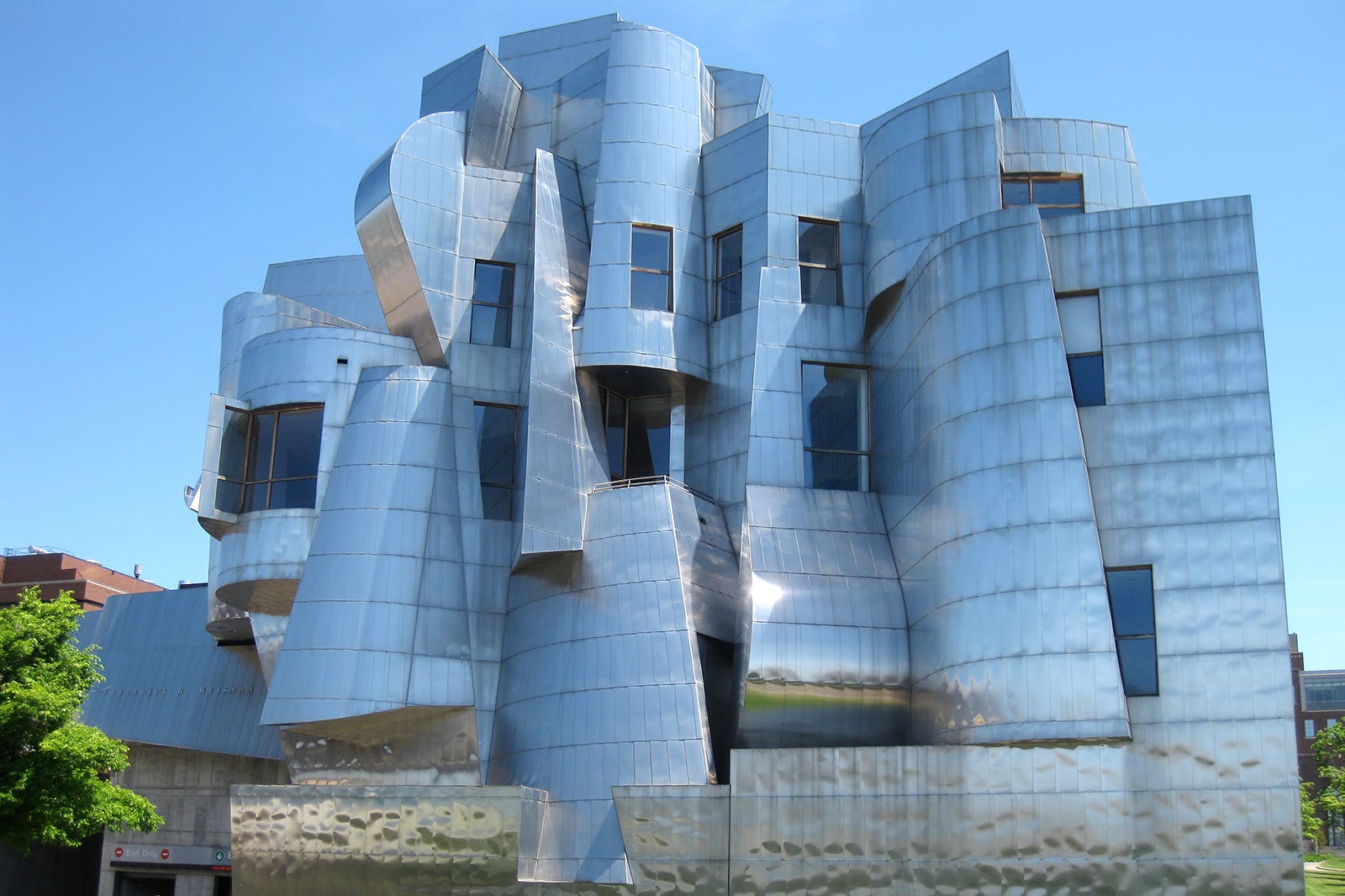 The Frederick R. Weisman Art Museum has a collection of over 25,000 artworks, consisting mostly of Native American pottery, traditional Korean furniture, and American modernism. Thanks to its aim of making the arts accessible to local communities, you can explore the art museum for free.
Located on the University of Minnesota campus, it overlooks the Mississippi River at the eastern end of the Washington Avenue Bridge. The museum even looks like a work of art – it occupies a stainless steel and brick building designed by critically acclaimed architect, Frank Gehry.
Location: University of Minnesota, 333 E River Pkwy, Minneapolis, MN 55455, USA
Open: Tuesday, Thursday and Friday from 10 am to 5 pm, Wednesday from 10 am to 8 pm, Saturday–Sunday from 11 am to 5 pm (closed on Mondays)
Phone: +1 612-625-9494
photo by Richie Diesterheft (CC BY 2.0) modified
3
Minnehaha Regional Park
Enjoy a picnic near the famous Minnehaha Falls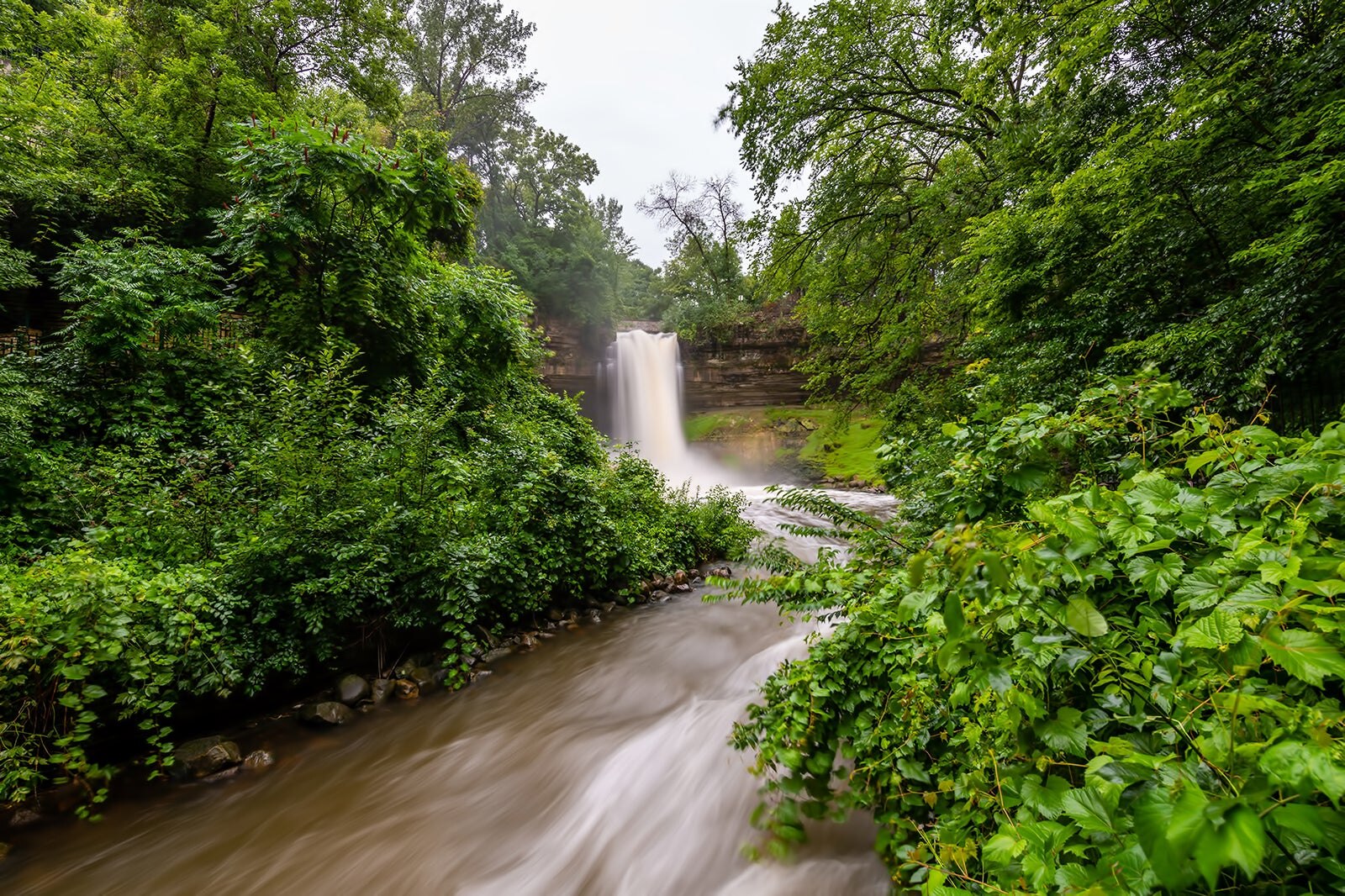 Budget
Couples
Families
Photo
Adventure
The Minnehaha Regional Park offers more than 67 acres of greenery, including limestone bluffs, playgrounds, art installations, gardens, and paved paths. One of its most popular sights is the Minnehaha Falls, which are around 53 ft high. A staircase leads you to the base of the falls, which offers an excellent view of the cascading waters. There are also stone bridges leading to a beach at the confluence of the Minnehaha Creek and the Mississippi River.
The Minnehaha Regional Park also hosts live performances at onsite bandstands, especially in the summer. Families often come to the park for picnics in the garden areas, as well as jogs or bicycle rides along the paths.
Location: 5000 W River Pkwy, Minneapolis, MN 55406, USA
Open: Daily from 6 am to 10 pm
Phone: +1 612-230-6400
4
Minneapolis Chain of Lakes Regional Park
Explore the waterfront trail to 5 lakes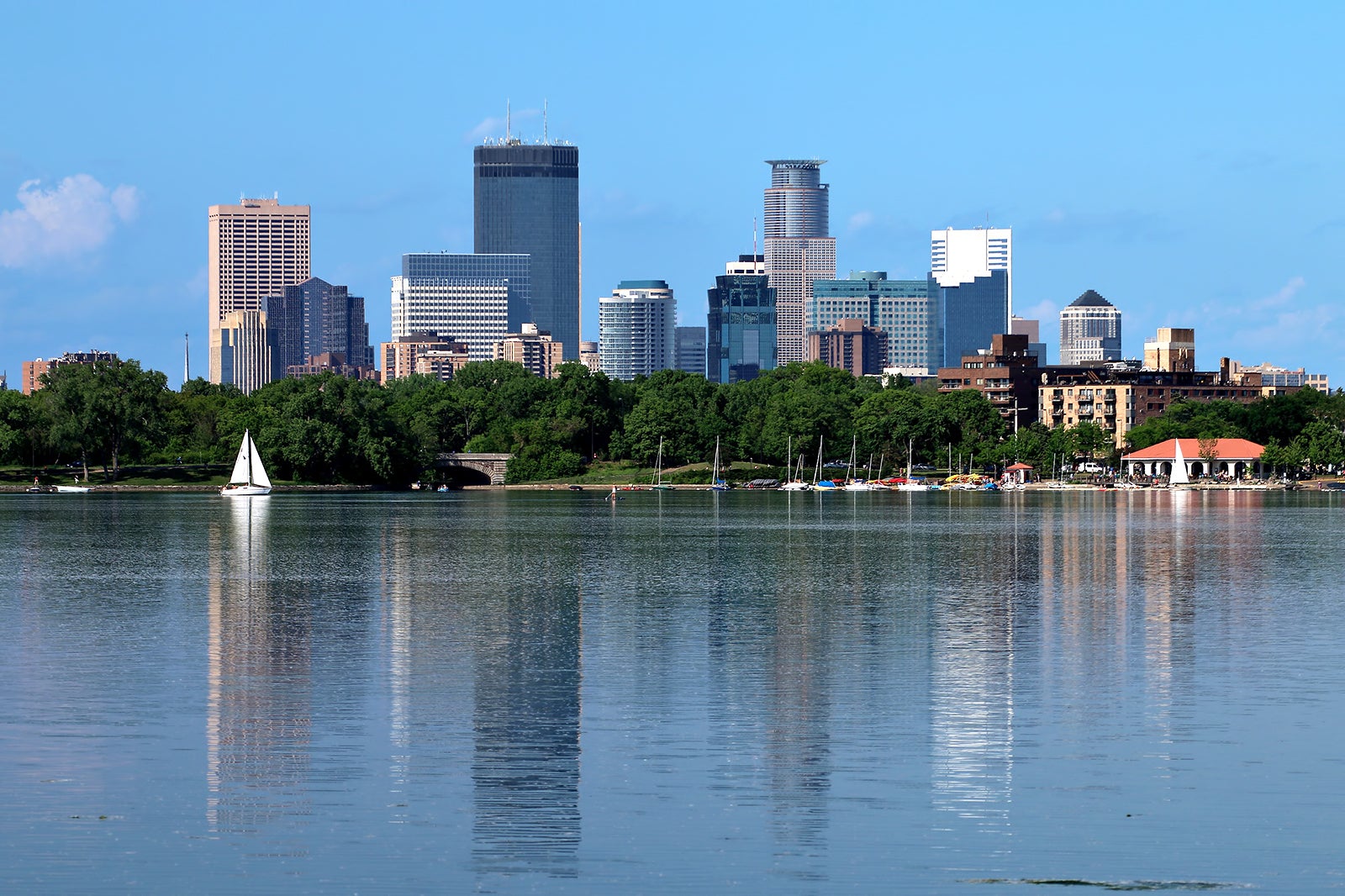 Budget
Couples
Families
Adventure
The Minneapolis Chain of Lakes Regional Park is one of the largest urban parks in Minnesota, with nearly 15 miles of trails connecting the shorelines of 5 lakes. You can enjoy a wide range of outdoor activities around each lake, thanks to facilities like boat rentals, volleyball and tennis courts, a hockey rink, and an archery centre.
You can also walk along the shorelines of Brownie Lake, Cedar Lake, Lake of the Isles, Lake Calhoun and Lake Harriet. The trails finally lead to Lyndale Park, located north of Lake Harriet. Free movie screenings and live music often take place at the Minneapolis Chain of Lakes Regional Park in the summer.
Location: Lake of the Isles, Minneapolis, MN, USA
5
Walker Art Center and Minneapolis Sculpture Garden
Check out unique sculptures by local and international names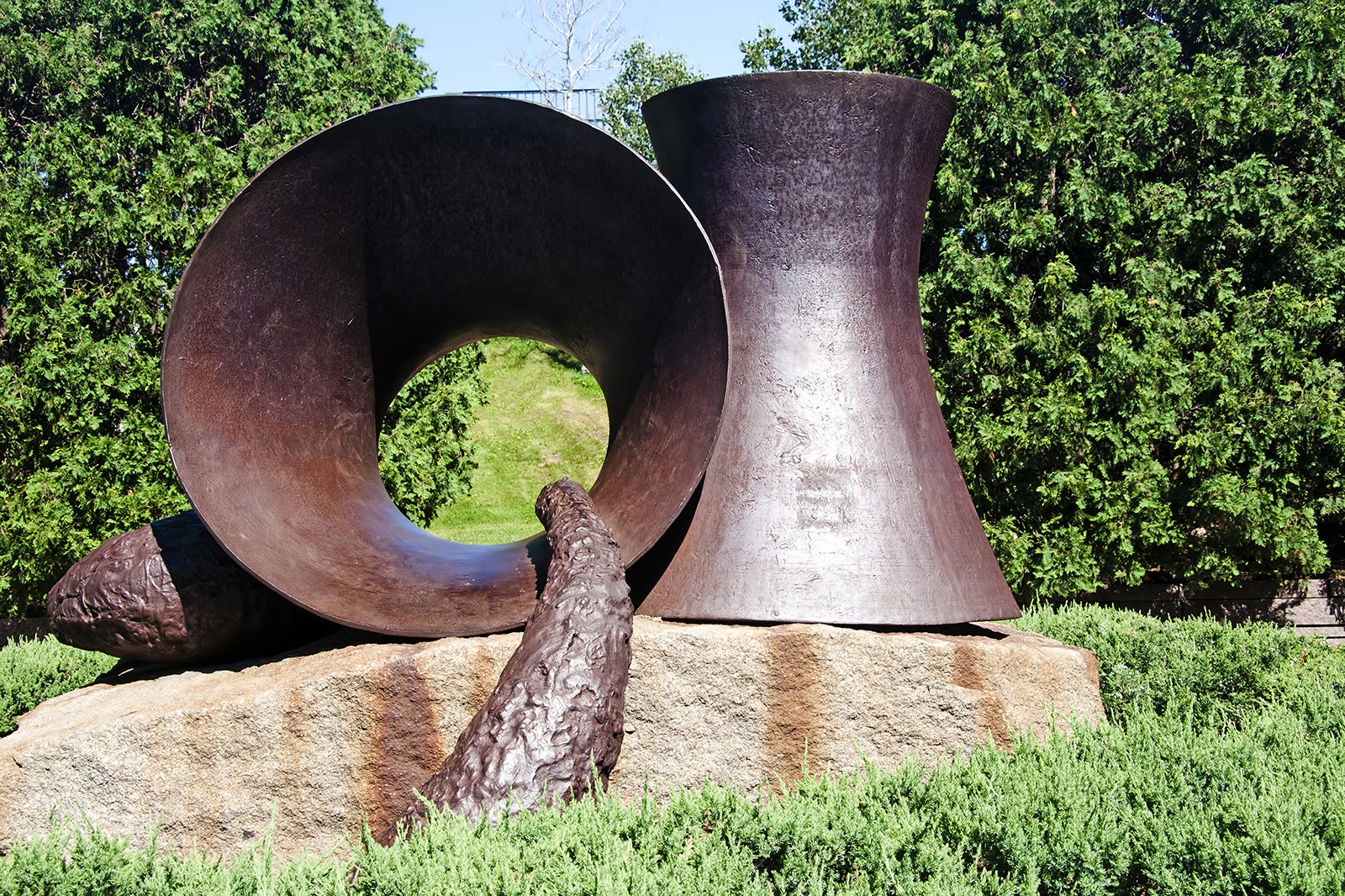 Minneapolis is known for its arts scene, with the Walker Art Center and the Minneapolis Sculpture Garden among its most visited landmarks. Established in the late 1800s, the Walker Art Center has a permanent collection of over 13,000 contemporary artworks, ranging from paintings and photography to books and sculptures.
The Minneapolis Sculpture Garden, founded in the 1980s, is one of the largest urban sculpture parks in the USA. There are 75 art installations throughout the premises but a must-see is the Spoonbridge and Cherry sculpture designed by Claes Oldenburg and Coosje van Bruggen. The park is open year-round, while the Walker Art Center is closed on Mondays.
Location: 725 Vineland Pl, Minneapolis, MN 55403, USA
Open: Tuesday–Wednesday and Sunday from 11 am to 5 pm, Thursdays from 11 am to 9 pm, Friday–Saturday from 11 am to 6 pm (closed on Mondays)
Phone: +1 612-375-7600
6
St. Paul's Grand Avenue
25 blocks of excellent restaurants, shops and bars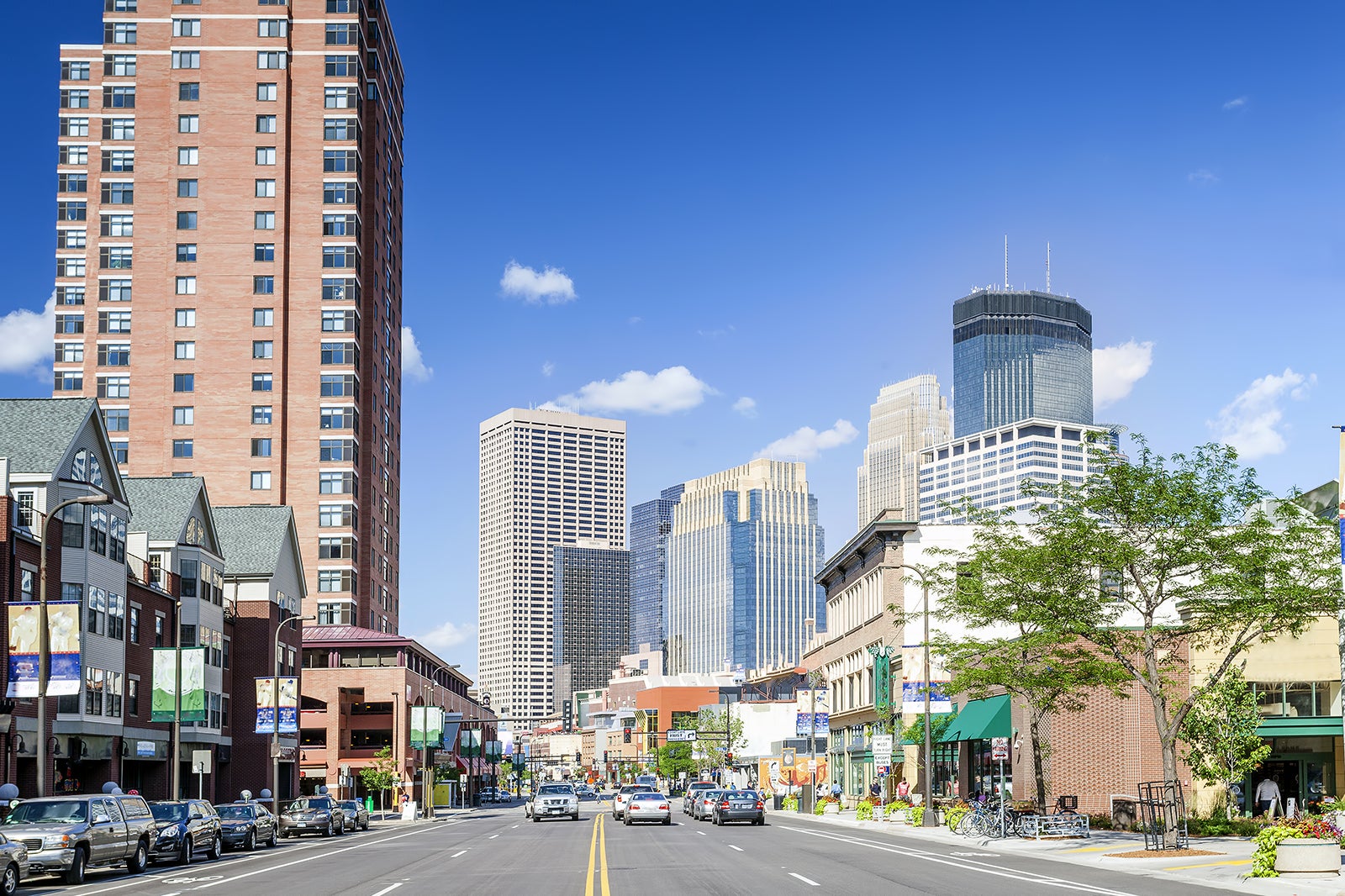 Grand Avenue stretches from downtown St. Paul to the Mississippi River, making it around 25 blocks in length. One of the best shopping destinations in the Twin Cities, you'll find independent stores selling just about everything, from jewellery, fashion, and music to home décor, flowers and artisanal food products.
You can also experience Minnesota's thriving craft brewing scene, especially at Northern Brewer. A Grand Avenue mainstay for over a decade, the store stocks equipment and ingredients for those looking to make their own mead, beer, and wine at home. Of course, you can also sample a variety of craft beers at Grand Avenue's many bars, such as Tavern on Grand and Iron Ranger.
Location: Grand Ave, St Paul, MN 55105, USA
7
Guthrie Theater
End the day with a show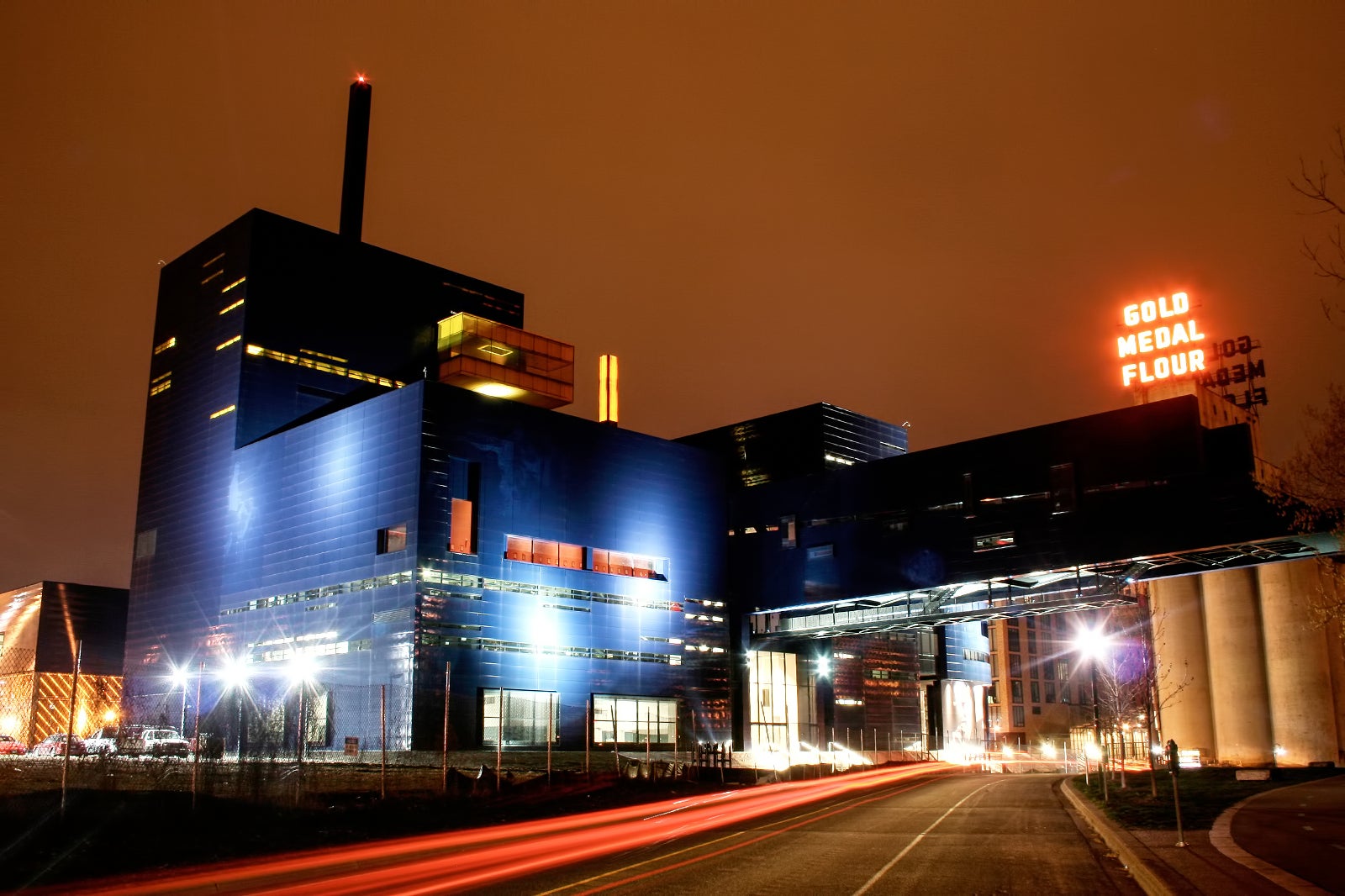 The Guthrie Theater hosts a variety of plays and concerts in its 3 auditoriums, along with workshops and programmes year-round. The theatre was founded in 1963 as a way to showcase local talents and promote Minneapolis' arts scene. Classes and workshops are available if you want to learn a new skill during your holiday. Its theatre-inspired sessions focus on communication skills, playwriting, dance, and voiceovers.
The Guthrie Theater organises guided tours for those looking to learn about its history and theatre scene. Held on Friday and Saturday mornings, the Backstage Tour takes you to facilities such as the thrust and proscenium stages, costume and prop shops, and rehearsal room.
Location: 818 South 2nd St, Minneapolis, MN 55415, USA
Open: Vary by showtimes
Phone: +1 612-377-2224
photo by Tony Webster (CC BY 2.0) modified
8
Midtown Global Market
Experience over 20 cultures in a single venue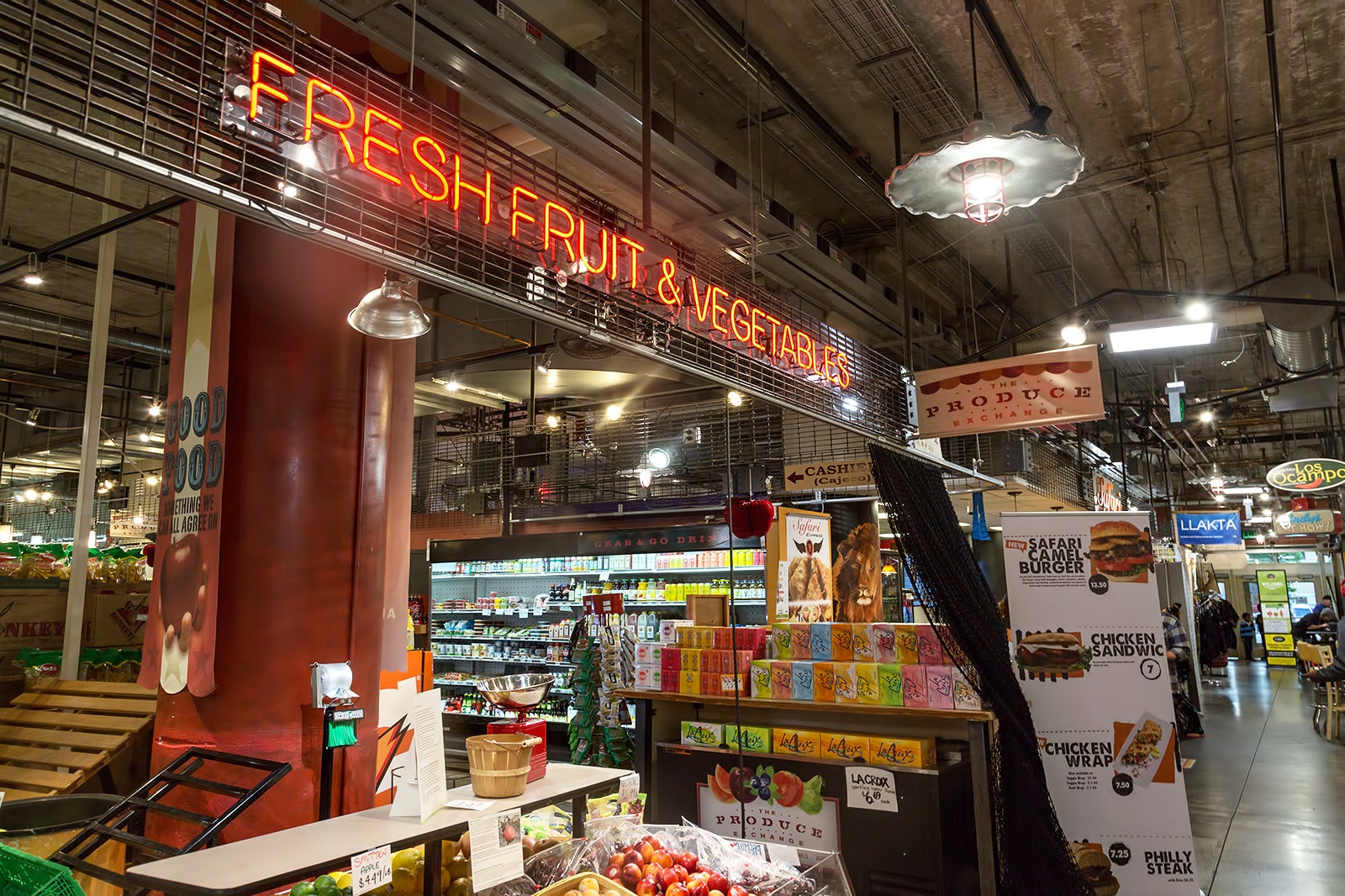 Minneapolis' Midtown Global Market brings together a wide range of food and gifts from various cultures. There are around 18 international restaurants and speciality food vendors where you can enjoy authentic Thai, Moroccan, Japanese and Mediterranean dishes. If you're looking to shop for unique souvenirs, the market has stores selling personalised gifts, crystals, ethnic clothes, and home décor.
The Midtown Global Market also serves as a social gathering place for the city's local organisations. The Backyard Initiative Resource Center often hosts community outreach programmes throughout the week, including yoga, Zumba, and breathwork sessions.
Location: 920 E Lake St, Minneapolis, MN 55407, USA
Open: Monday–Saturday from 10 am to 8 pm, Sundays from 11 am to 6 pm
Phone: +1 612-872-4041
photo by Tony Webster (CC BY-SA 2.0) modified
9
Eat a Juicy Lucy
A cheeseburger with a Minneapolis-style twist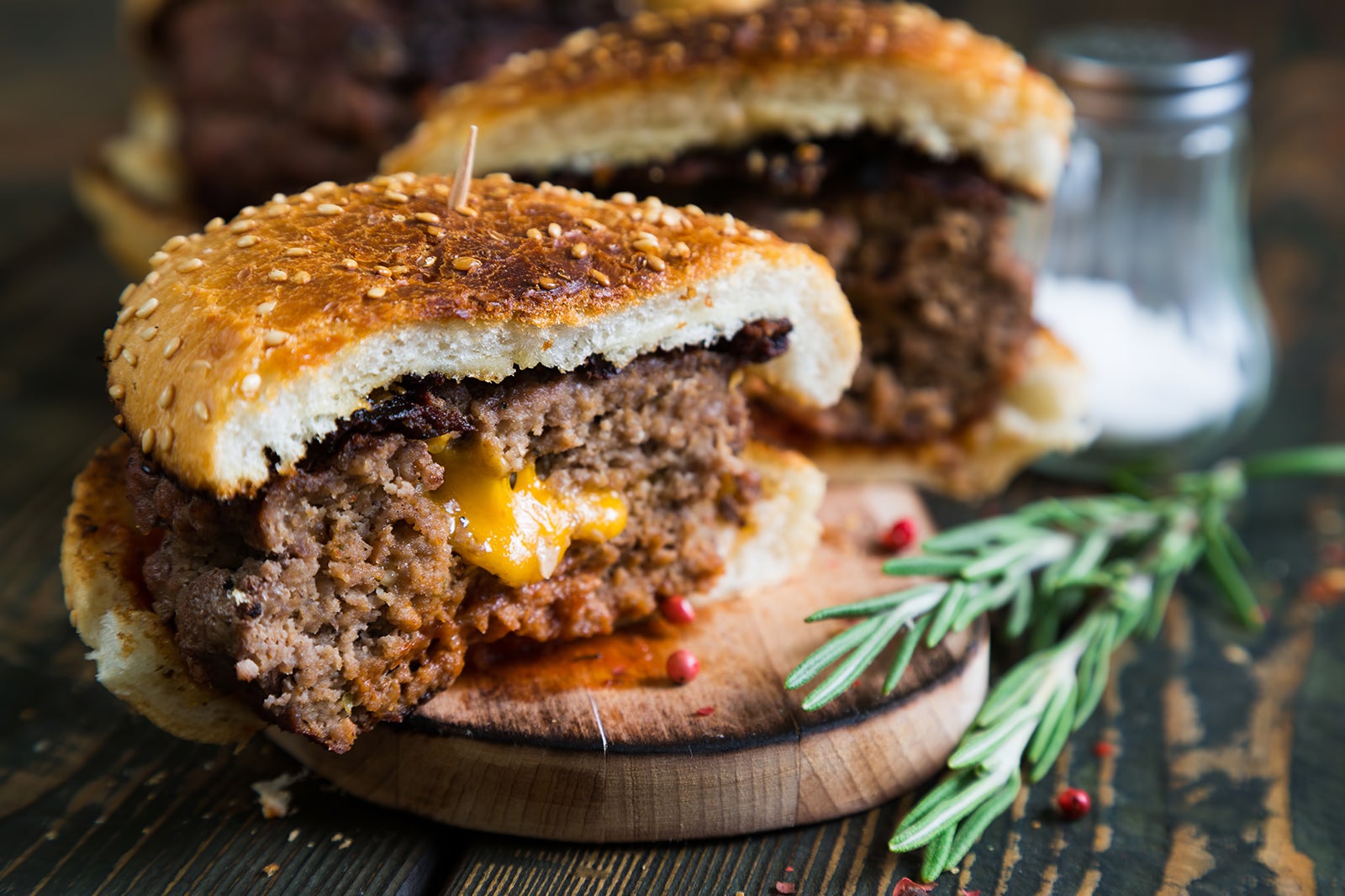 A Juicy Lucy may look like a typical cheeseburger, but it actually has melted cheese spilling from the centre of the patty, instead of on top. Instead of biting straight into it (and risk burning your tongue), eat like a local by first nibbling an edge off, which allows the cheese to cool down.
The 5-8 Club and Matt's Bar claim to have invented the Juicy Lucy burger, so it's a good idea to pay a visit to both. Otherwise, there are plenty of restaurants in Minneapolis serving this well-loved comfort food.
10
First Avenue
Catch live music by emerging musicians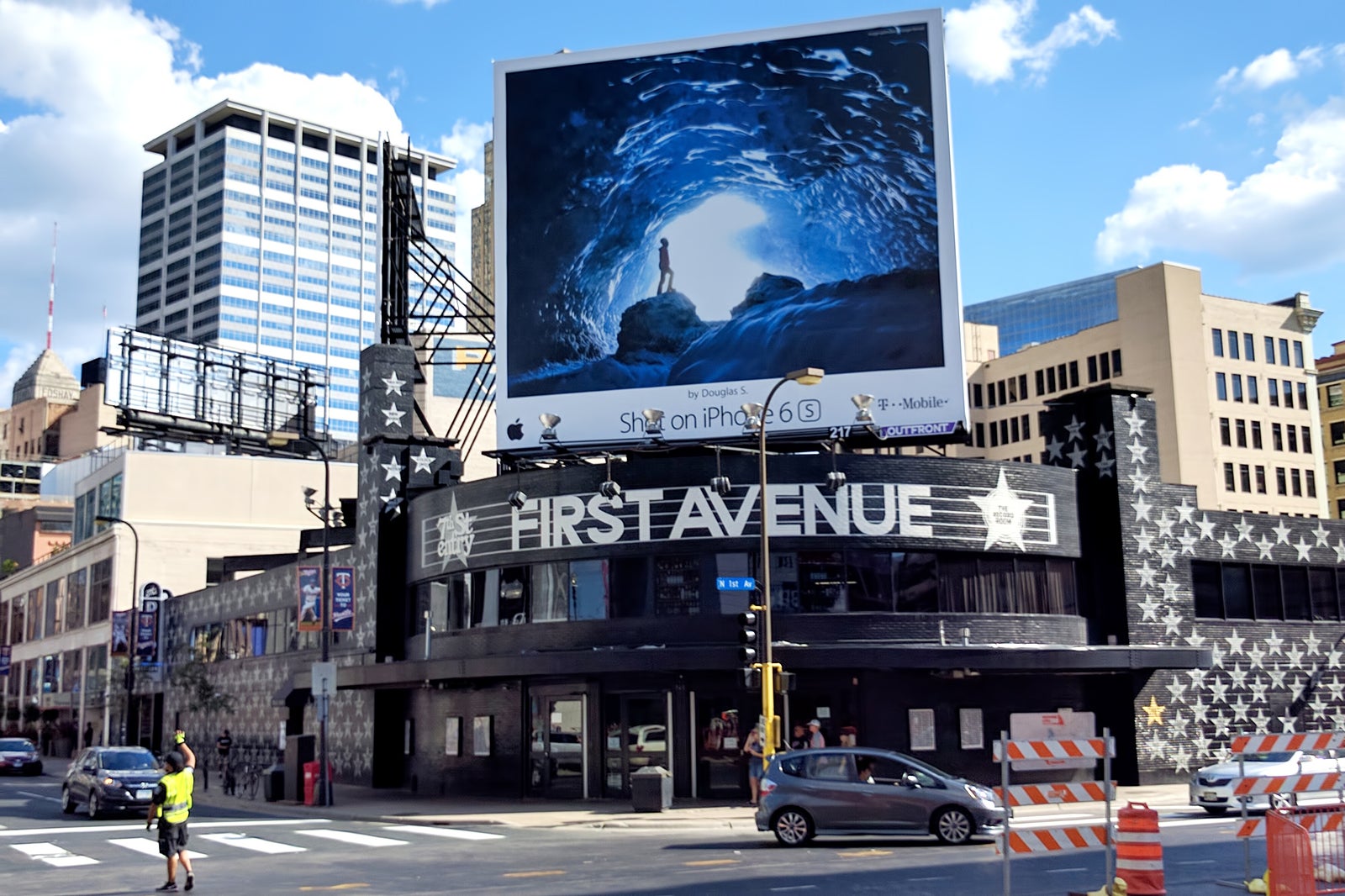 First Avenue is a prominent live music venue in downtown Minneapolis. Since 1970, it has hosted concerts by emerging and established artists from all over the world. Prince, Tina Turner and Depeche Mode are just a few big names who have performed on its expansive stage.
Pop, rock and indie music acts often take place throughout the year, so it's a good idea to check their website for official dates. If you're feeling peckish, First Avenue has a couple of onsite bars and restaurants. The Depot Tavern is one of its oldest dining spots, with its walls covered with photos and memorabilia from past shows.
Location: 701 North 1st Ave, Minneapolis, MN 55403, USA
Open: Saturday–Thursday from 5 pm to 12.30 am, Fridays from 5 pm to 6 pm (closed on Sundays)
Phone: +1 612-338-8388
photo by Runner1928 (CC BY-SA 4.0) modified
Back to top