Savannah Travel Essentials
Useful Information to Help You Start Your Trip to Savannah
Our Savannah Travel Essentials lays out the essential information you need to help you plan your trip to one of the most popular destinations in Georgia, USA. No matter how frequently you travel, some questions will always need answers: What's the weather like? How can I get from Savannah/Hilton Head International Airport (SAV) to my hotel? What currency and type of plug do I need?
We have all these answers plus other basic info about the best time to go, getting there, getting around, and a few useful travel tips. You'll also learn about the most popular landmarks in Savannah such as the Savannah Historic District, Cathedral of St. John the Baptist, and Old Fort Jackson. It's all compiled in this Savannah Travel Essentials. After going through this short and easy-to-read guide, you'll be a little more prepared to start your trip to Savannah.
1
When is the best time to travel to Savannah?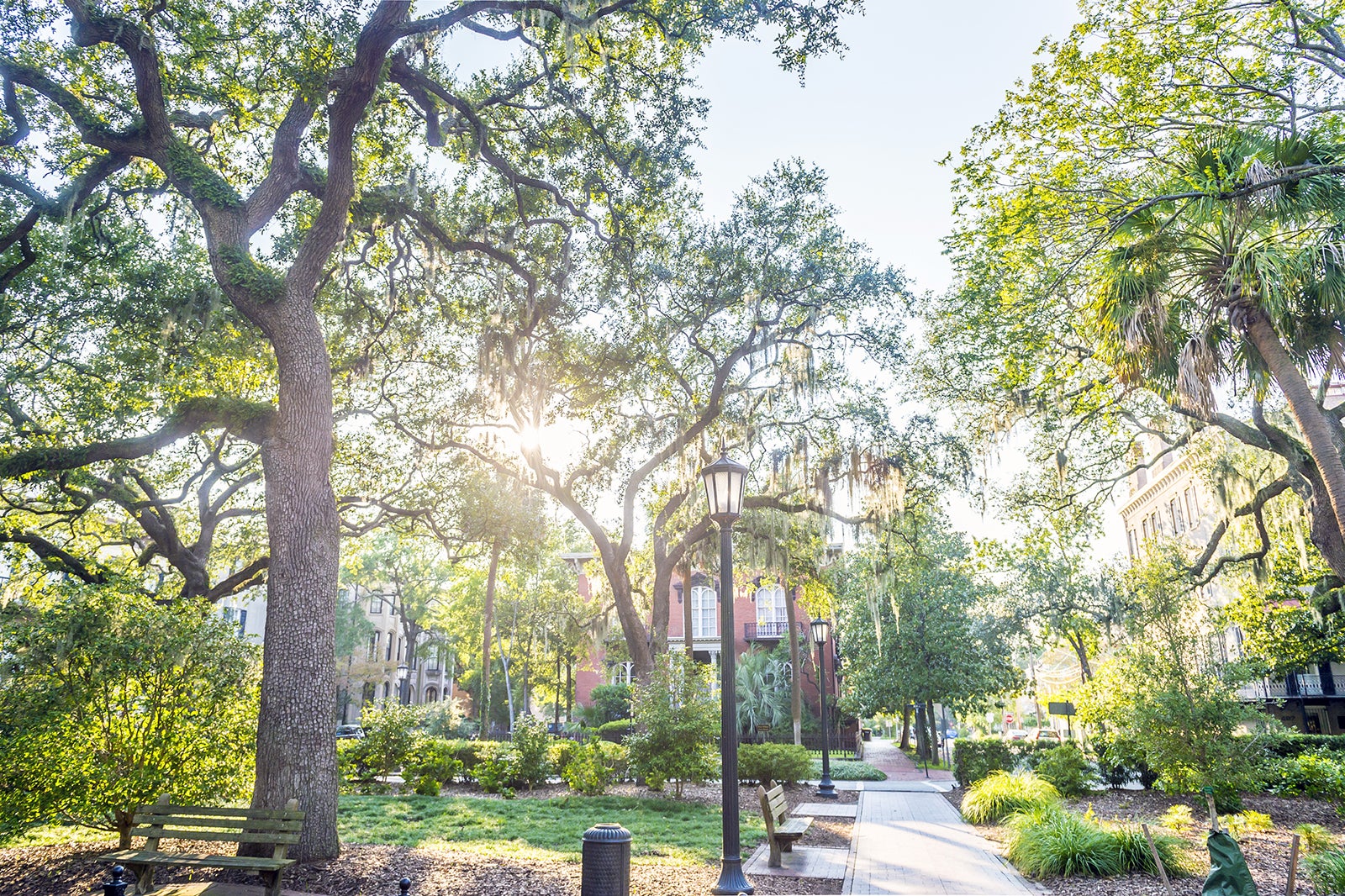 Savannah, the oldest city of Georgia on the southeast coast of the USA, has a subtropical climate with long, warm, and humid summers and short, mild winters. Average temperatures range between 49°F in winter and 83°F in summer.
The period with the most rain is June–August, with around 12 wet days per month. Expect an average of 8 rainy days per month for the rest of the year.
May–September is the warmest period of the year. Summer record highs can reach up to 105°F, but Savannah rarely experiences extremely hot days.
The peak seasons for tourism are March–July and September–November. Expect higher hotel rates and more crowds over these periods.
The best times to visit Savannah are April–May and September–October. Spring and autumn truly enhance the beautiful natural areas around Savannah, though good hotel offers are rare as many people visit during these times.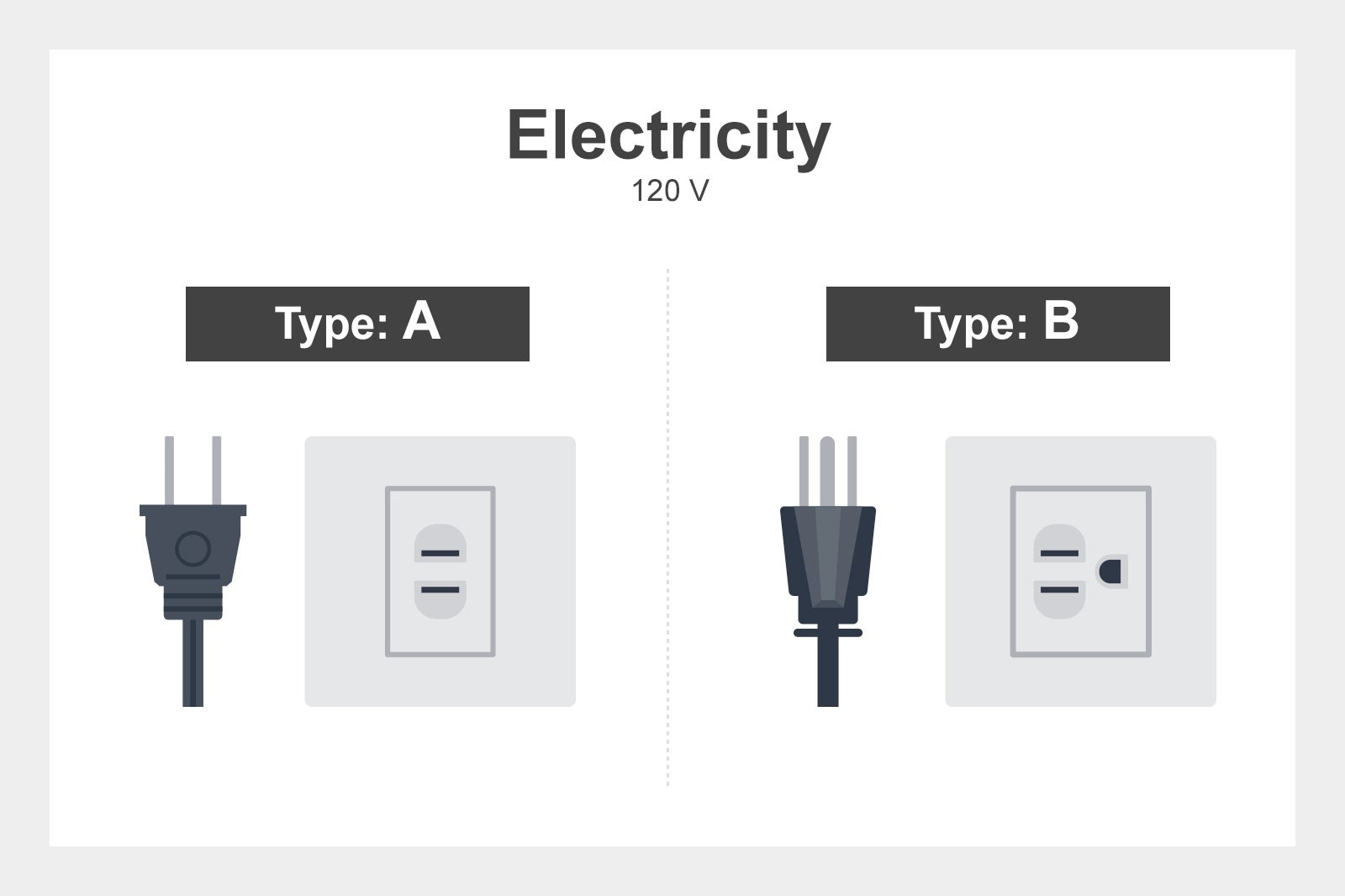 Plug type: A and B
Electricity: 120 V
Currency: United States Dollar (US$)
International dialling code: +1 912
Emergency telephone number: 911
3
How to get to my hotel in Savannah?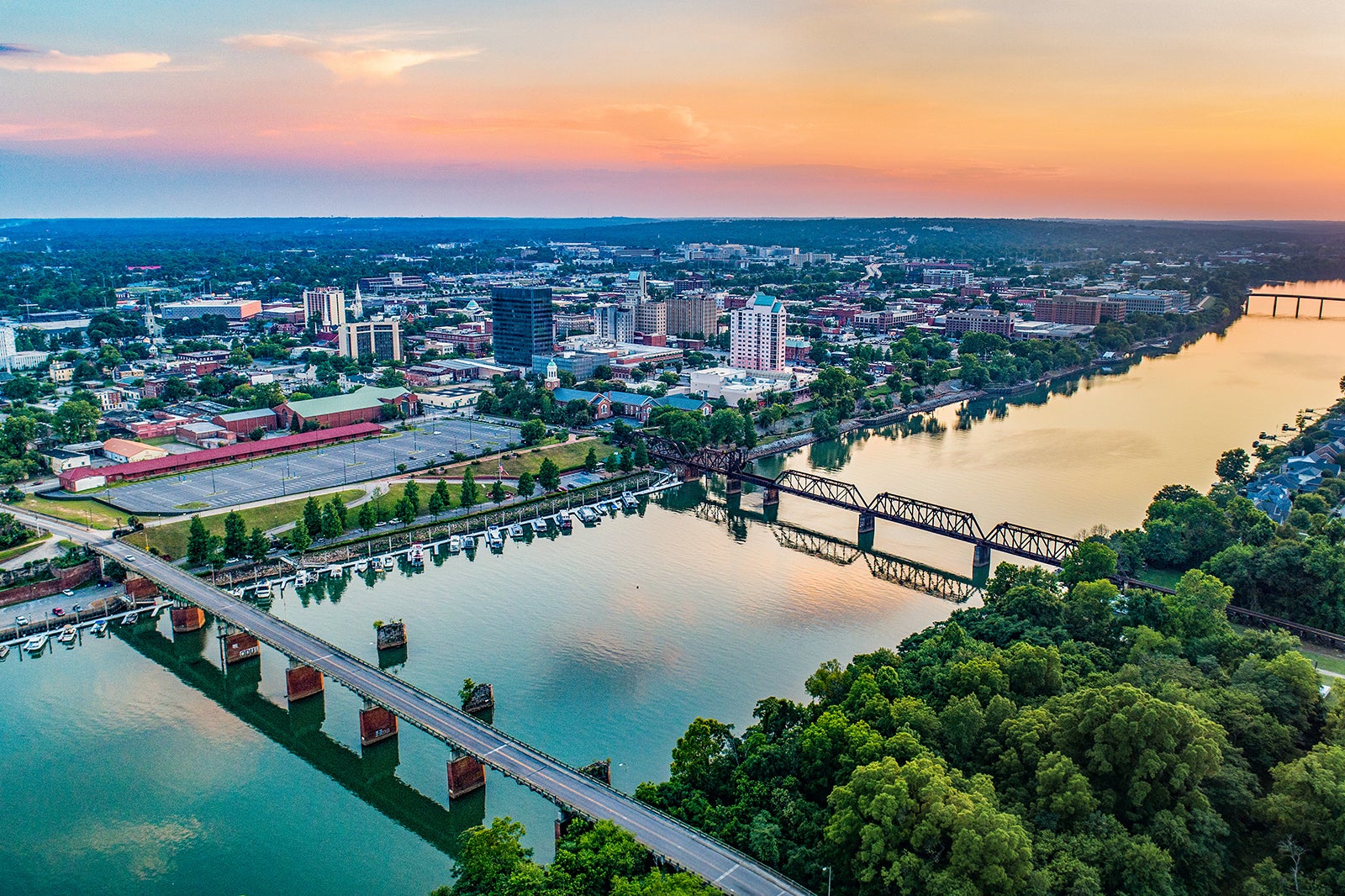 Savannah/Hilton Head International Airport is the main arrival hub for Savannah as well as the whole of Georgia and South Carolina. It's served by most major airports around the US, as well as by a few Canadian airports.
You can also get to Savannah by Amtrak train on its Palmetto and Silver lines.
If you're on a budget (and not on a tight schedule) or want to travel through the States with a bit of old-fashioned flair, you can get to Savannah by Greyhound bus.
Savannah/Hilton Head International Airport (SAV)
Savannah/Hilton Head International Airport is 7 miles northwest of the city centre. It received many awards for the quality of its services from various travel publications.
Free Wi-Fi is available throughout the airport. Ground transport options for getting to your hotel are as follows:
Many taxi companies as well as limousine, shuttle, and coach services are available at the airport. The taxi rank is on the lower level outside baggage claim.
The Uber and Lyft pick-up area is at the north entrance of baggage claim.
Chatham Area Transit operates an express bus line to Savannah. The bus stop is in front of the terminal. It takes twice as long as a taxi, but it's the cheapest way to get to the city centre.
A handful of major car rental companies have counters in the baggage claim area.
Savannah Amtrak train station
Run by Amtrak, Savannah train station is on Seaboard Coastline Drive, 3 miles west of the city centre. It's the southern terminus of the Palmetto line departing from New York City, and it's a stop on the Silver Star and Meteor lines that go along the East Coast down to Miami.
From here, you can get to your hotel by taxi, rideshare, or bus.
Savannah Greyhound bus station
The Greyhound bus station is on West Oglethorpe Avenue in the Yamacraw Village district, walking distance west of downtown Savannah. You'll find a taxi rank, a rideshare pick-up area, as well as a public bus stop here.
4
How to get around Savannah?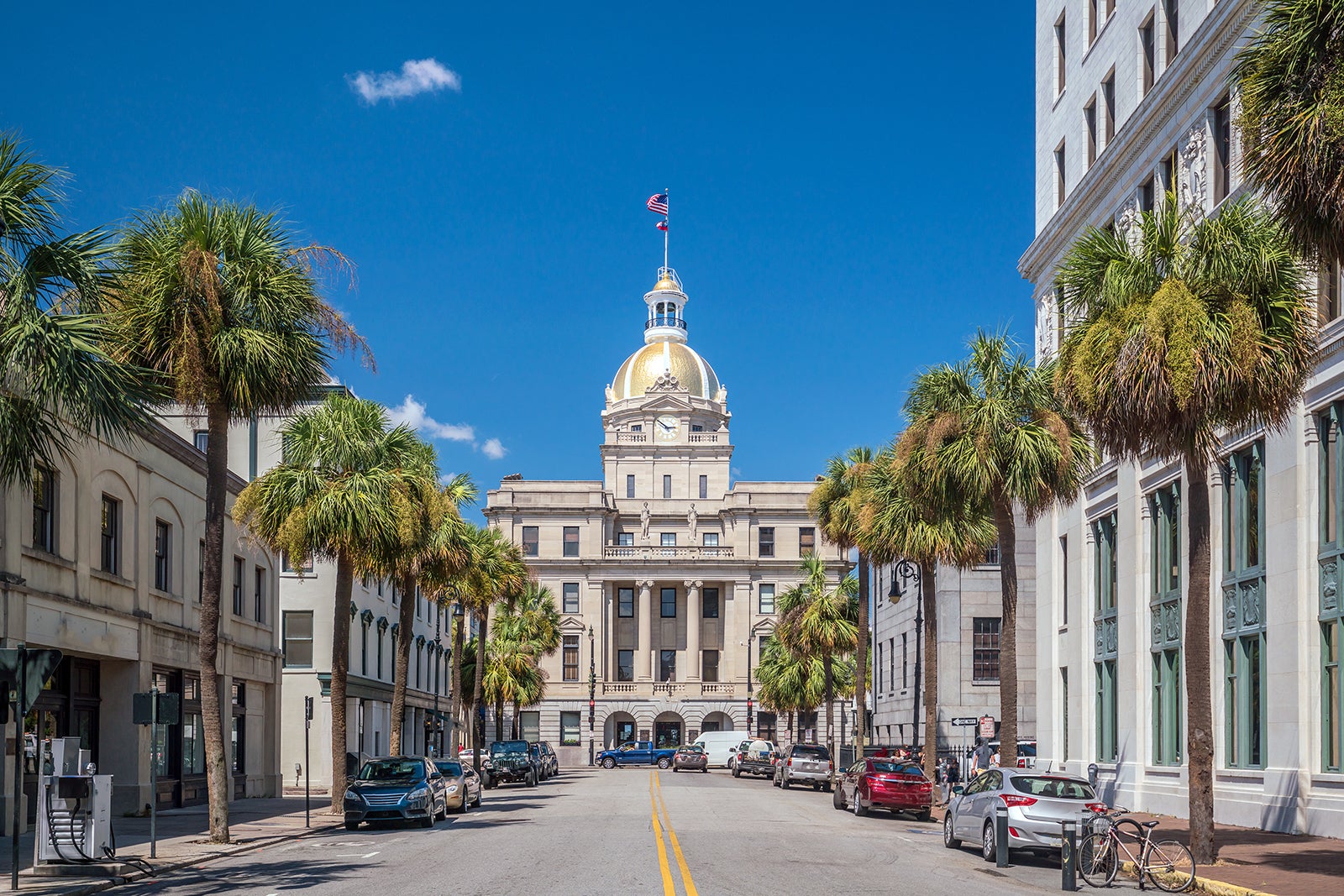 Travel tips
Savannah city centre covers about a square mile and is therefore easily walkable. Besides a lively scene of restaurants, bars, and shops, downtown Savannah is home to a variety of landmarks and attractions such as the Historic District, Davenport House Museum, and Emmet Park on the Savannah riverside. Hop-on hop-off Old Town Trolley tours are available for discovering the city centre's places of interest.
Riding a bicycle is also a fun way of exploring the charming city of Savannah. For longer distances, you can get around by taxi, rideshare, public bus, ferry, or rental car, depending on your budget and preference.
Taking a taxi in Savannah
From Yellow Cab (+1 912-236-1133) to Savannah Taxi (+1 912-208-5054), Elite Taxi (+1 706-513-3721), and many more, finding a taxi in Savannah is easy. Taxi lines can be found in front of hotels and main attractions and you can easily hail a cab on the street.
Convenient yet rather expensive, getting around Savannah by taxicab is not your best option if you're on a budget, although a taxi ride may be your only option to get back to your hotel if you're a night owl. Note that tipping for taxis in the States is usually between 15-20% of the fare. Most taxi drivers accept credit cards, though sometimes reluctantly.
Uber and Lyft are the 2 main ride-sharing apps used in Savannah. Their rates are slightly cheaper than standard taxicabs.
Travelling by public transport in Savannah
Chatham Area Transit (CAT) is the main public transport company operating in Savannah and Chatham County. Featuring about 1,300 bus stops, it's an affordable and convenient way of getting around Savannah. CAT services include a free downtown shuttle known as 'The Dot' and the free Savannah Belles Ferry. The ferry can accommodate bicycles and get you to Hutchinson Island between 7 am and midnight.
The CAT headquarters is in the Joe Murray Rivers, Jr. Intermodal Transit Center, where there's also a Greyhound bus station. Here, you can buy tickets and passes for multiple trips. You can also get 10-day travel passes online.
Renting a car in Savannah
Renting and driving a car is a convenient way of exploring Savannah and its surrounding region. It's certainly more expensive than public transport, but it gives you the freedom to go anywhere you want whenever you want. As in most places, finding and paying for parking places in Savannah can be frustrating. Fortunately, you can download the ParkSavannah app, which allows you to pay online without having to rush back to feeding the parking meter.
Foreigners can use their standard driving license for up to 90 days in Georgia. Car rental companies are available at the airport and throughout the city.
Cycling around Palm Springs
Hiring a bicycle is a cool, cheap, and healthy way of getting around Savannah. The city achieved Bronze Level bicycle-friendly community status from the League of American Bicyclists. Many cycling trails for all levels branch throughout the city. Chatham Area Transit buses and Savannah Belles ferries have bike racks that allow you to easily reach cycling trails outside Savannah. Cycling route maps are available online.
You can hire a road, electric, or mountain bike at bike rental companies like Savannah On Wheels (+1 912-777-4620), Pedal Pub Savannah (+1 912-508-5080), and Perry Rubber Bike Shop (+1 912-236-9929), just to name a few.
5
What are the main annual events in Savannah?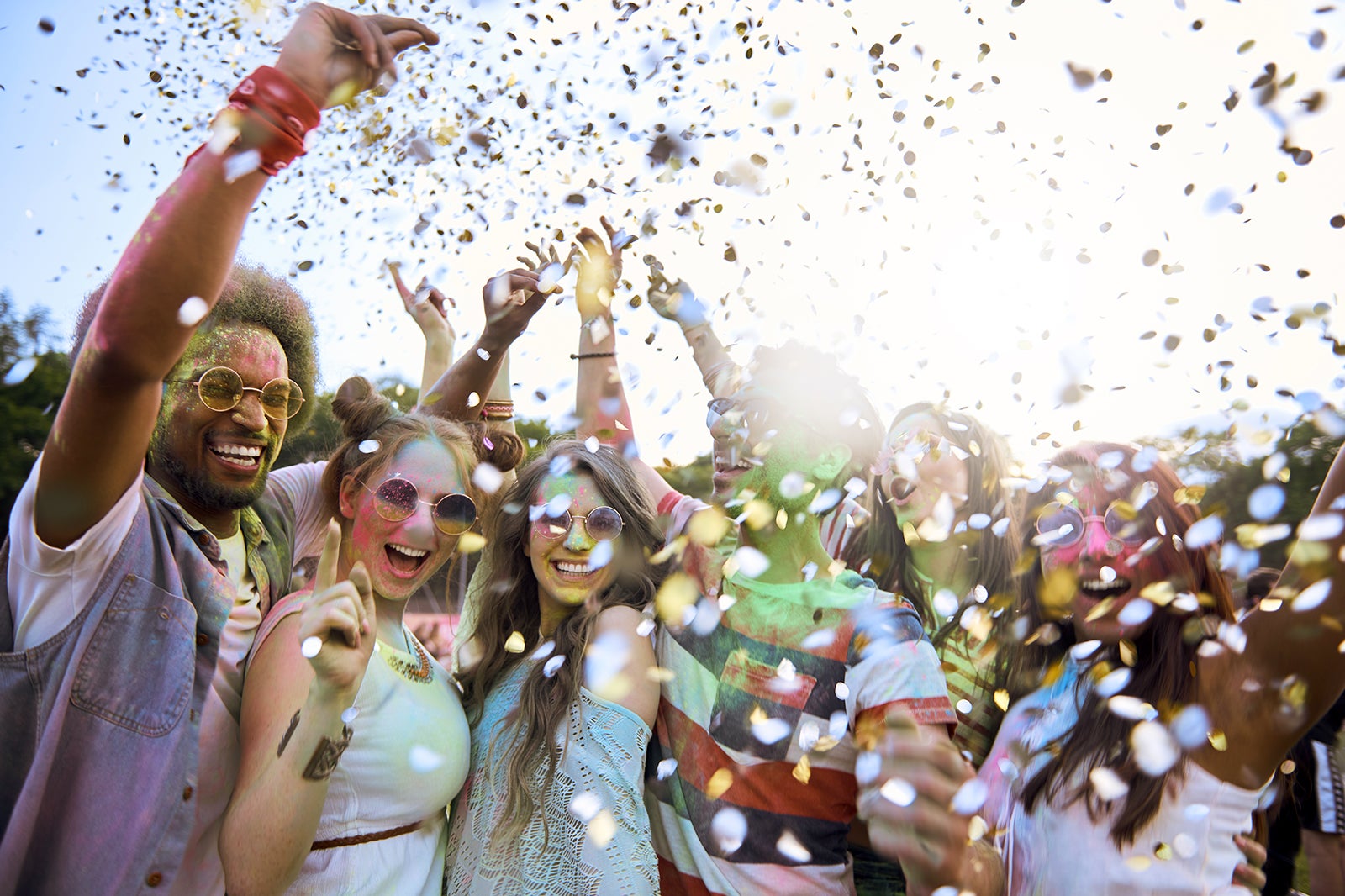 Savannah Music Festival
May
One of the largest music events in Georgia that highlights a wide range of music styles from jazz to classical music to American acoustic music, and more, for 2 weeks.
Where: various venues, downtown Savannah
River Street Fourth of July Celebration
July 4th
Independence Day is celebrated in style on Savannah's historic waterfront, featuring live music, a kids' entertainment zone, and a beautiful fireworks display over the Savannah River.
Where: River Street, Savannah
Savannah Film Festival
October
A tribute to the 7th art, inviting famed and popular actors and film directors. Competition film screenings, workshops, and conferences are a few of the events held at this festival.
Where: various movie theatres, downtown Savannah
6
What are the main landmarks in Savannah?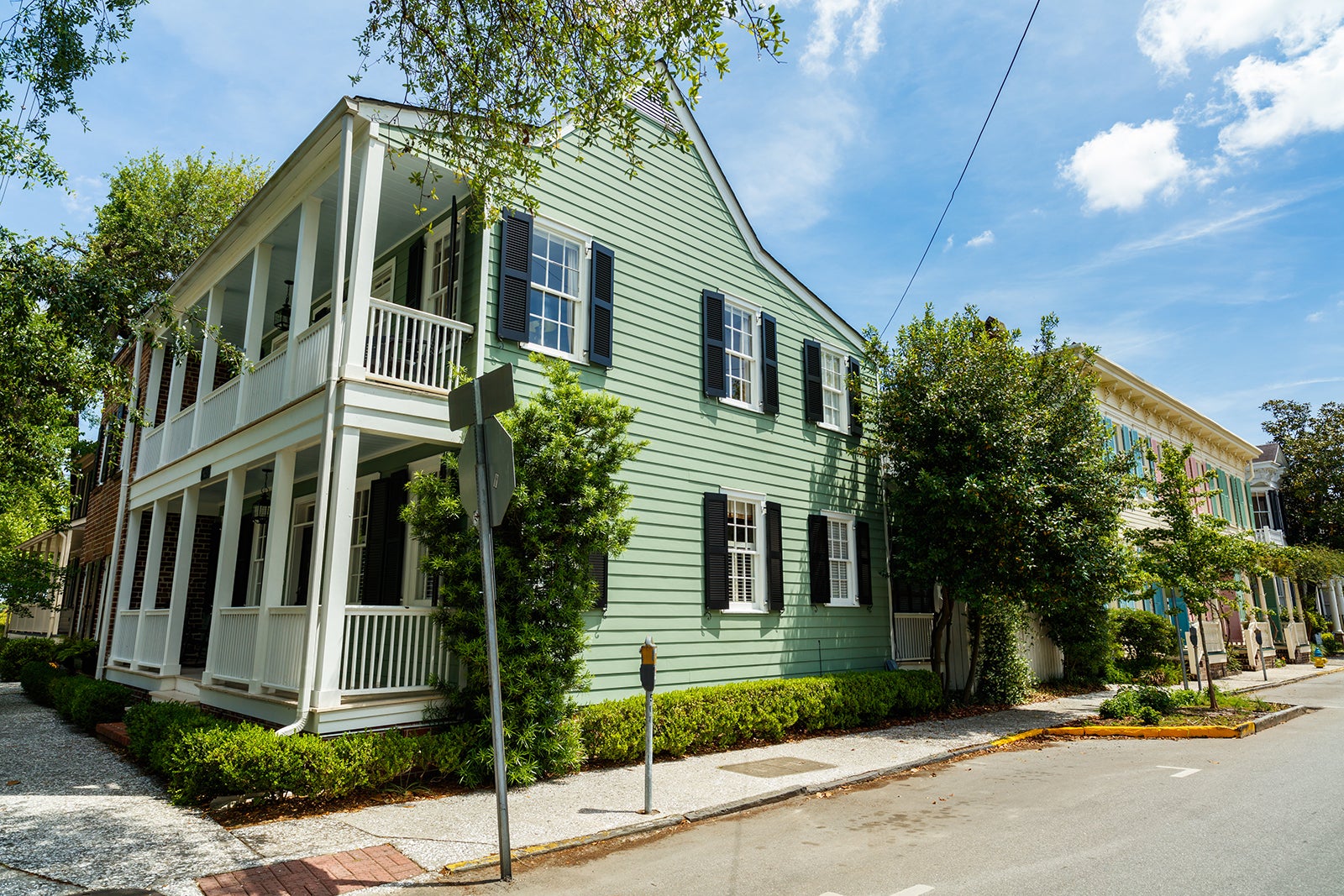 Savannah Historic District
The oldest city in Georgia, established in 1773 and home to squares, vintage mansions, churches, and museums. It's also famous for its dining scene and its British- and Irish-inspired pubs.
Cathedral of St. John the Baptist
Savannah's landmark cathedral that dates back to the 18th century. Throughout history, the church has served as a protestant church, the city's main church for freed slaves, and is a Roman Catholic cathedral today.
Old Fort Jackson
A fort established in 1808, where you can view displays of 19th-century muskets, cannons, and other restored weapons. Guides in authentic military attire show visitors around the well-preserved buildings.
Bonaventure Cemetery
A cemetery that appears in Clint Eastwood's Midnight in the Garden of Good and Evil (1997). This rural graveyard is 4 miles east-southeast of Savannah city centre.
Back to top