10 Money Saving Tips in Cambridge
How to Enjoy Cambridge on a Small Budget
Visiting Cambridge on a small budget is doable – even if the UK's not the first place you'd think of if you're looking for a cheap vacation destination. But with these money-saving tips, a stay in the university city of Cambridge doesn't have to break the bank. Located about 50 miles north of London, it makes an excellent add-on to a capital city break, an easy day excursion or a stay in its own right.
Archaeological evidence points to the earliest settlement here as far back as the Bronze Age, but Cambridge really came to the fore after the founding of its university, the UK's second after rival Oxford, in 1209. Those university buildings and a characterful and historic centre draw over 5 million visitors to this part of East Anglia every year, contributing over £800 million to the city coffers. But if you'd rather keep a little more of that money to yourself, here's how to enjoy Cambridge on a small budget.
1
Evensong at Kings College
Get inside without the college entrance charge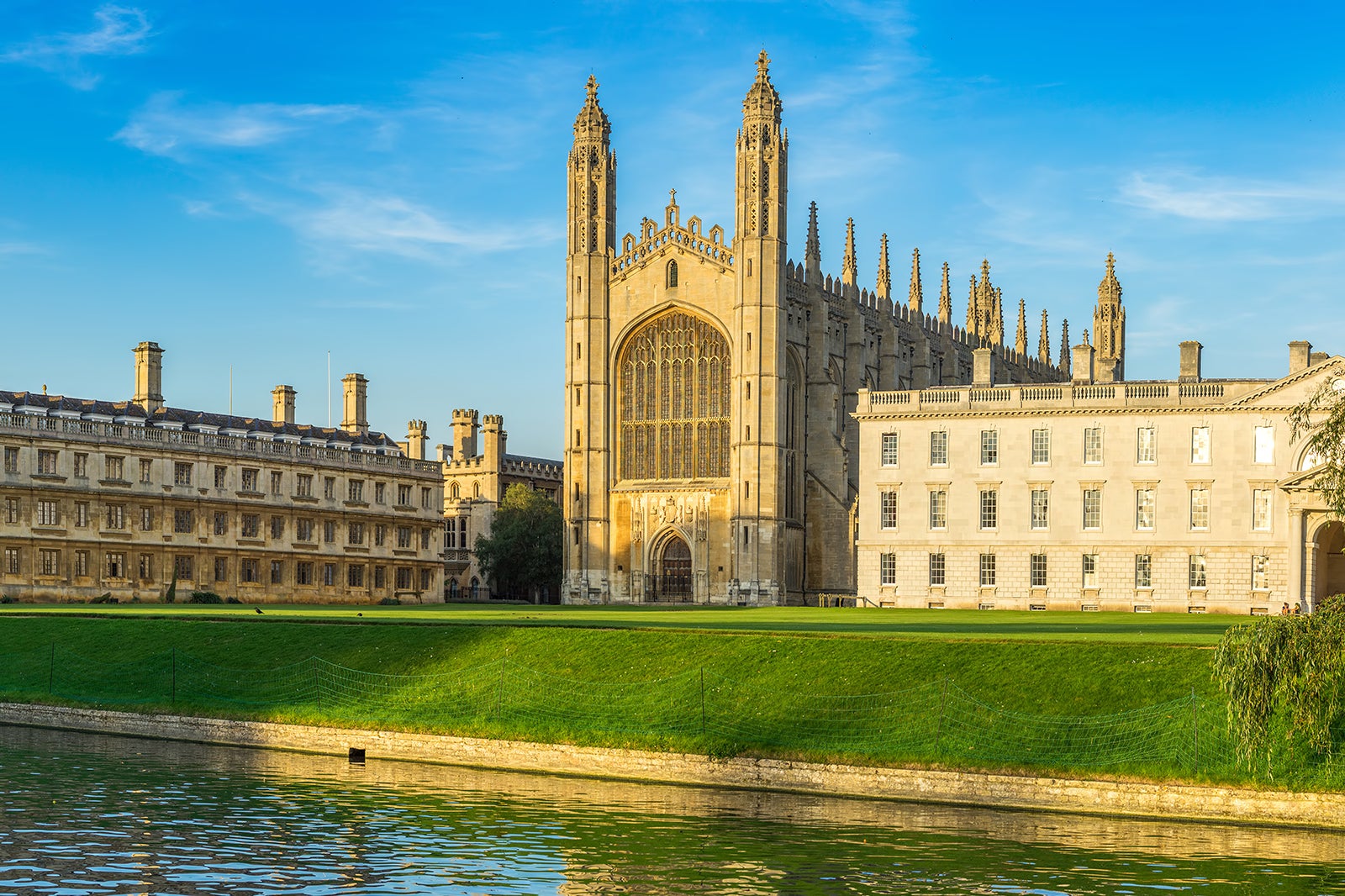 Evensong at Kings College is a wonderful occasion to witness while in Cambridge. A ticket to Kings College will set you back £9 or £10 depending on the season, but evensong is free. Much of the college is private, so even if you pay the admission fee, you'll only get inside the chapel and the gardens – if they're open. However, there's a workaround. The college extends a warm welcome to anyone who wishes to join them as a guest at one of their services in the chapel.
Worship takes place daily during term time, as well as at Easter and Christmas. You don't have to be a Christian – members of other faiths, agnostics and atheists are also free to attend. You can sit and watch, so long as you remain there for the entire service and respect those who are participating. Don't forget to look up to view the world's largest fan-vaulted ceiling and Rubens' Adoration of the Magi.
Location: King's Parade, Cambridge CB2 1ST, UK
Phone: +44 (0)1223 331212
2
Visit Cambridge museums for free
From arts and antiquities to Earth sciences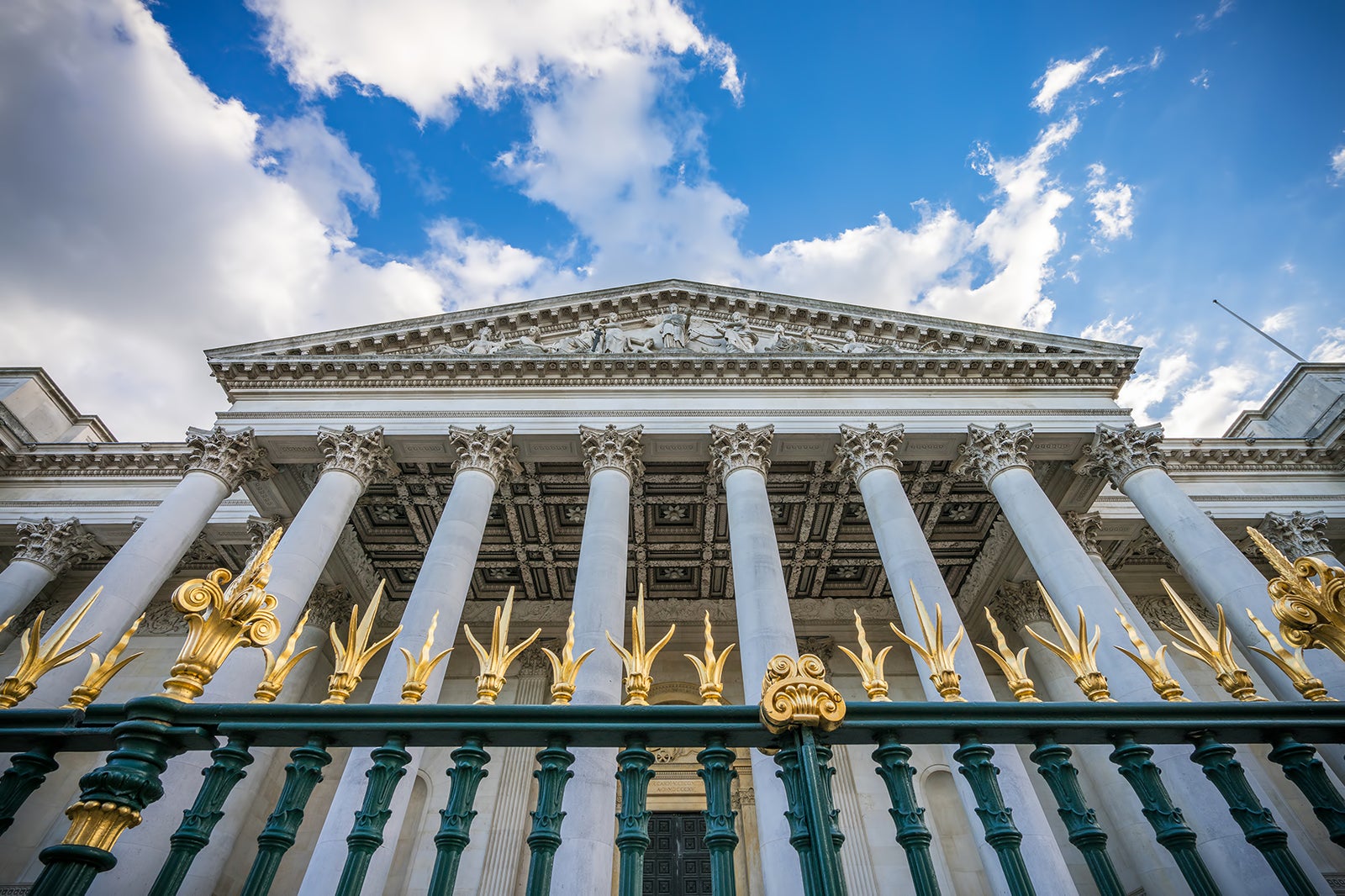 Cambridge isn't short of museums and the good news is that a number of them offer free entry. The most famous is the Fitzwilliam Museum, founded around 2 centuries ago with a considerable bequest of works of art to the university, including paintings by Rubens, Constable and Breughel. Today, there are about 500,000 pieces in the museum's collection. As there's no admission charge, there's no pressure to try to see them in a single visit.
Split your time with the city's oldest museum, the Sedgwick Museum of Earth Sciences. Affiliated to the university's department, its mineral specimens will impress geologists – among the tens of thousands of rocks are those collected by Charles Darwin on his Beagle expedition. Rounding off the trio of must-see freebies is the Scott Polar Research Institute Museum.
3
Wren Library
See the original Winnie the Pooh book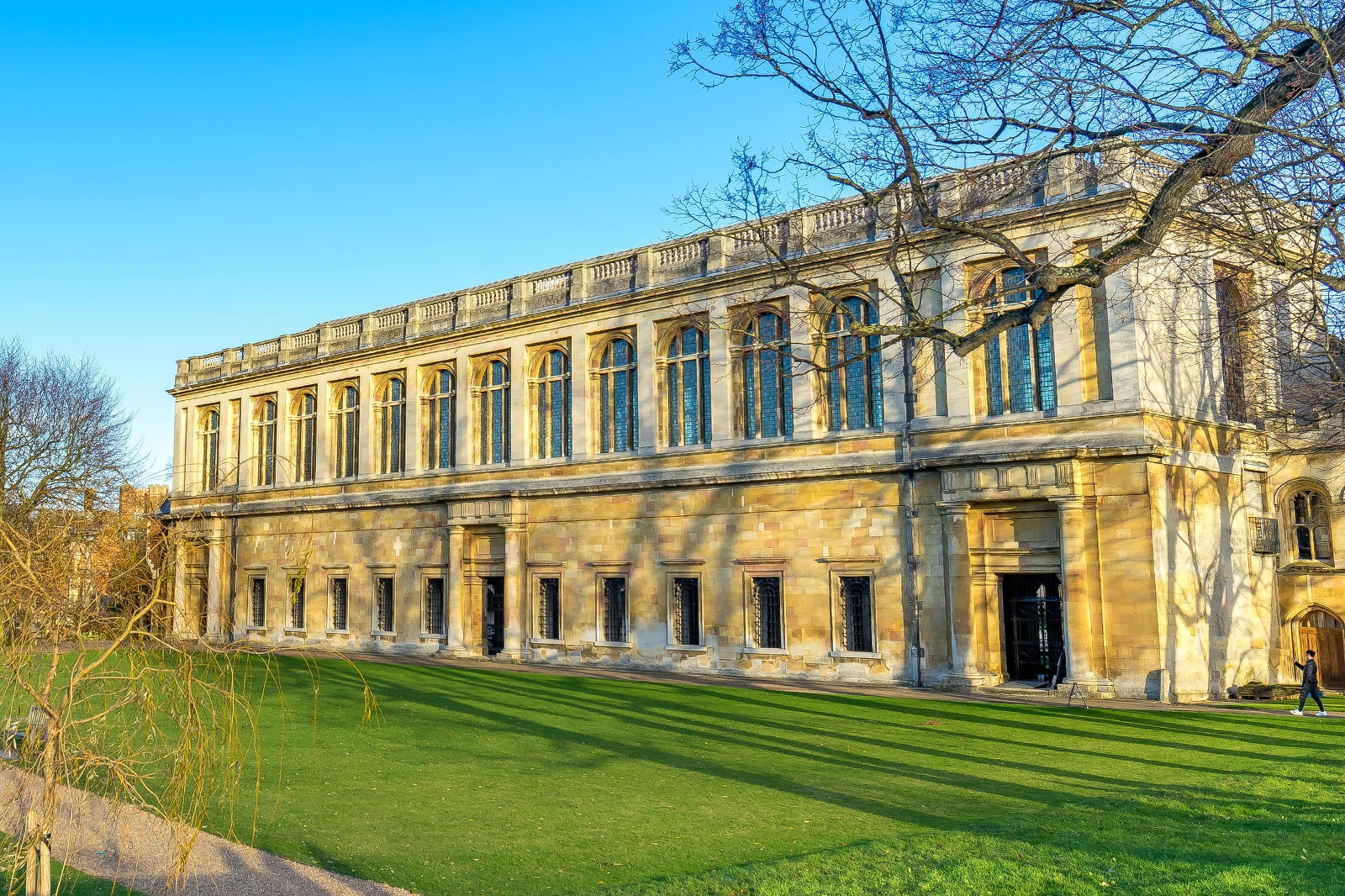 Getting into the Wren Library is free, but it doesn't permit walk-ups. If you're keen to see its many literary treasures, you'll need an appointment, and they're only granted to visiting readers who meet certain criteria. But if you're one of them, then you're in for a real treat.
One of the library's most famous books is the original A.A. Milne manuscript of his children's classic Winnie the Pooh. Why is it here? The author's son, Christopher Robin attended Trinity College, which manages the library. While you're there, check out some of the 70,000 books printed before 1820, among them an annotated copy of Sir Isaac Newton's Principia Mathematica (plus a lock of his hair).
Location: Cambridge CB2 1TJ, UK
Phone: +44 (0)1223 338400
4
The Eagle pub
Get some free history with your pint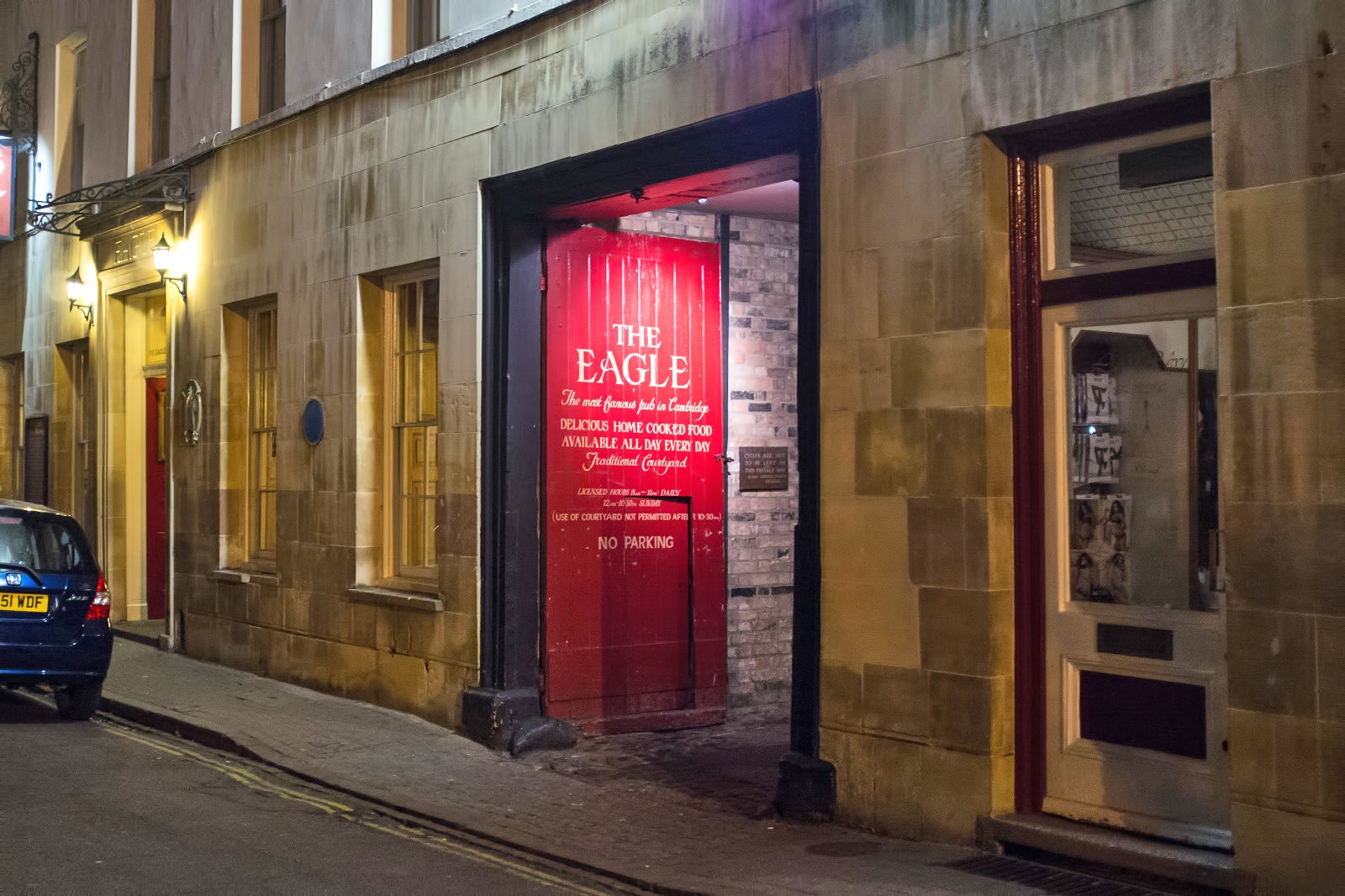 At The Eagle pub in Cambridge, you'll have to pay for your pint – but the history that comes with it will cost you nothing. An inn has stood on this site since the middle of the 14th century, though the present incarnation dates back to 1667 – records show an 'Egle and Chyld' leased to Corpus Christi College.
Its 2 main claims to fame, however, date from the 20th century. In 1953, a pair of scientists, Francis Crick and James Watson, walked into the bar with a celebration in mind. They announced, "We have discovered the secret of life", referring to the double helix structure of DNA. Rather more down to earth is the graffiti on the ceiling created by RAF pilots during WWII. A naked lady, thought to be the pub's landlady, is depicted in lipstick.
Location: 8 Bene't St, Cambridge CB2 3QN, UK
Phone: +44 (0)1223 505020
photo by Rainer Stropek (CC BY 2.0) modified
5
Rent your own punt direct from Trinity College
Look out for the Bridge of Sighs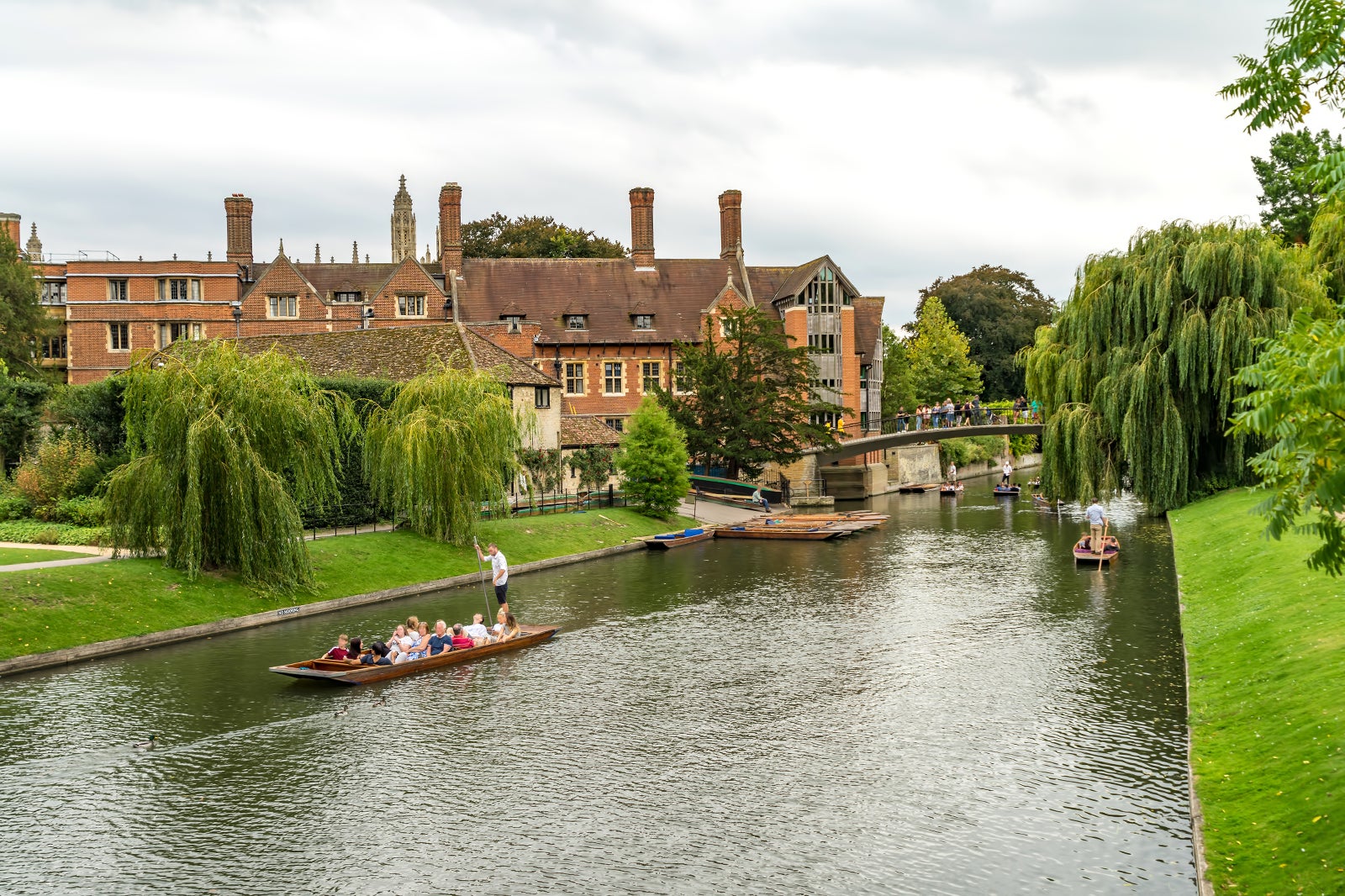 Families
Budget
Couples
Photo
Adventure
Save money in Cambridge by renting your own punt from Trinity College. Sliding along the River Cam on a wooden punt is a quintessentially Cantabrigian pursuit, thanks to the serenity of the location and the extraordinary views of the riverside colleges. In fact, it's almost impossible to see the city's Bridge of Sighs any other way, as access is restricted.
However, as with all tourist activities, such popularity can push the price up. The biggest operator, Scudamore's, charges a walk-up fee of about £33 per hour for private rental, but hire from Trinity College and the same ride will set you back just £20. If you want someone else to do the hard work, consider a shared tour – punts seat up to 12 people. If reserved in advance, this costs from around £19 per person – dearer than self-hire but cheaper than the £100 or so you'll typically pay for exclusive use. Off-season, you might even be lucky enough to score a punt to yourself.
Location: Cambridge CB2 1TQ, UK
Phone: +44 (0)1223 338400
6
Footprints Tours Cambridge
Get a free walking tour led by a university student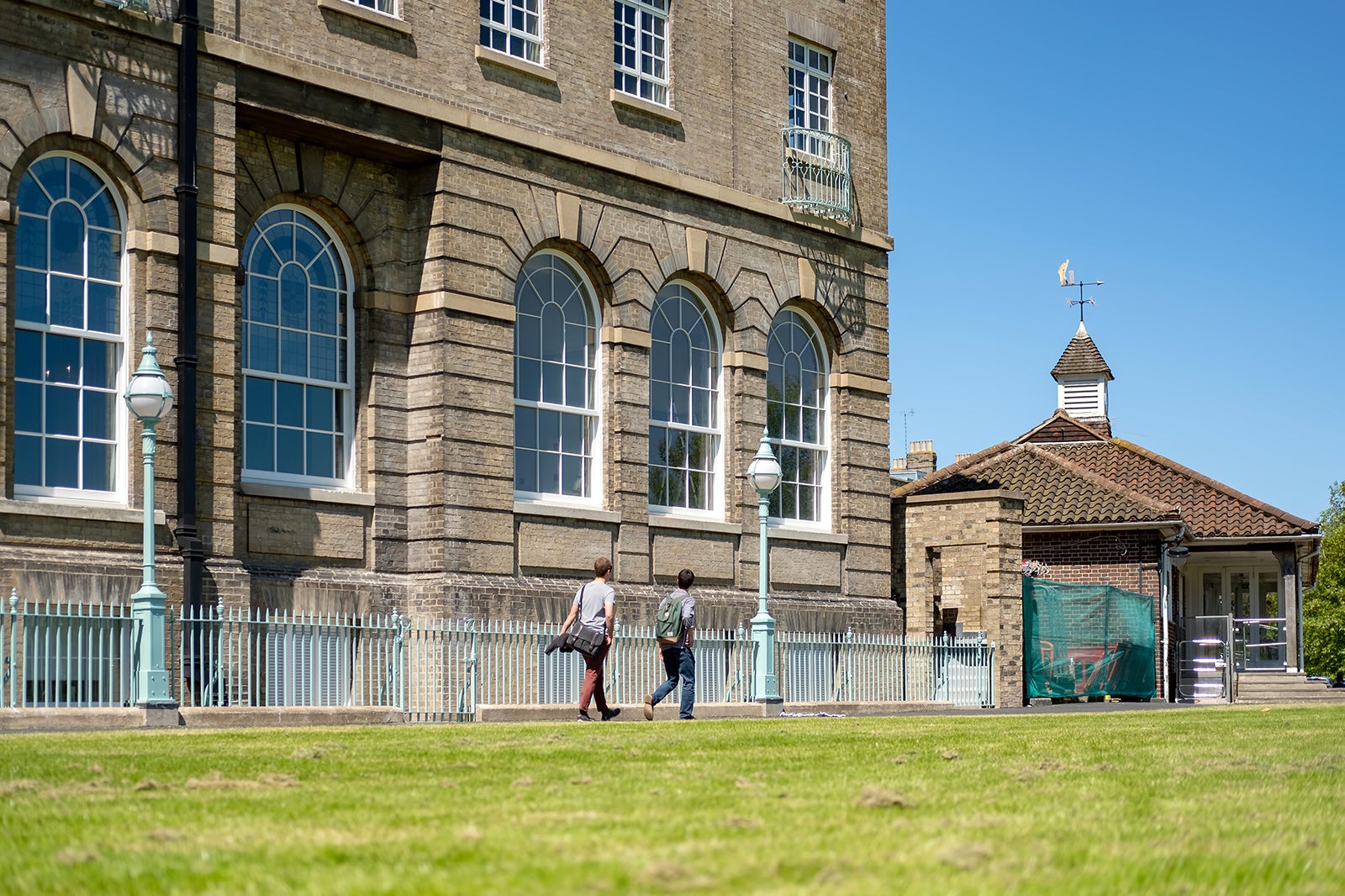 Budget
History
Photo
Adventure
Walking tours are the best way to get to know a city's stories and who better to tell them than those who live and study there? Footprints Tours began in Oxford and proud of its success, have exported their successful free walking tour to Cambridge. This 2-hour guided tour takes you on a journey encompassing some of the city's oldest colleges including Clare, Corpus Christi, Trinity, and King's.
Learn about the Senate House and how it's now used for graduation ceremonies – hear about the infamous exploits of the Cambridge Five spy ring, which passed information onto the Soviets in the mid-20th century. Tours last 2 hours. Tips are welcome but not expected.
Location: 11 King's Parade, Cambridge, CB2 1SJ, UK
Open: Daily at 11 am and 2 pm
Phone: +44 (0)207 55 88 706
7
Stay in university accommodation during the holidays
Seasonal digs at bargain rates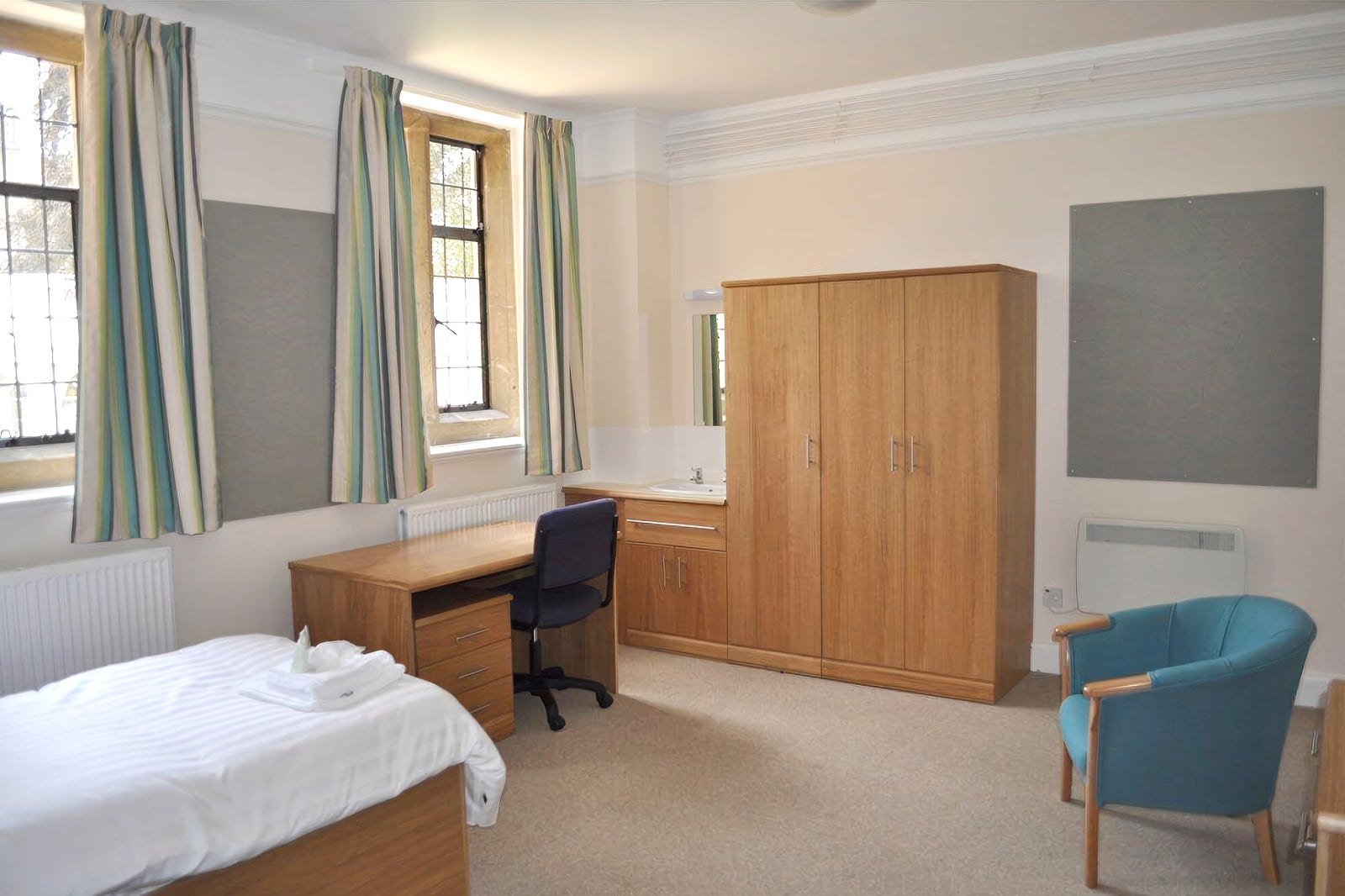 You don't have to be a student to stay in university accommodation in Cambridge, so long as you time it right. During the university holidays, rooms that are no longer occupied are rented out to holidaymakers. The good news is that they're also very reasonably priced and of course, very central.
Availability is limited to Easter (from mid-March to mid-April), summer (from mid-June to mid-October) and Christmas (around the beginning of December through mid-January). But if you've ever wondered what it might feel like to be a student at one of England's most prestigious seats of learning, this is your chance.
8
Book a stay at a youth hostel
Be at the centre of it all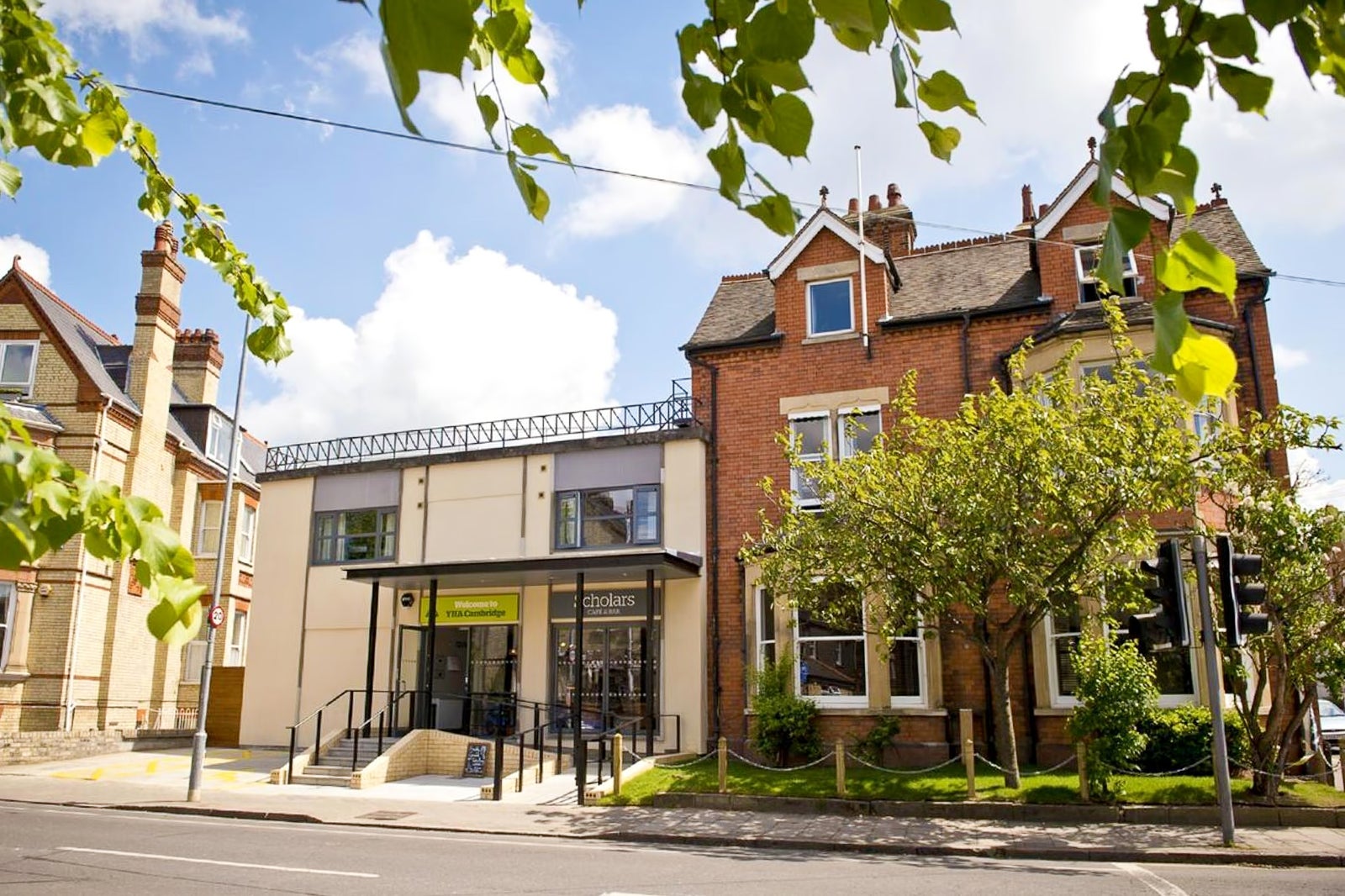 In Cambridge, centrally-located accommodation doesn't have to come at a premium price. That's true if you stay at the YHA, Cambridge's only youth hostel. Dorm rooms offer the best value, but families and groups of friends might splash out on a private room. It's located just 3 minutes from the train station and offers free Wi-Fi.
The city's guesthouses also offer good value if you're looking to book on a bed-and-breakfast basis. They're particularly good value outside peak summer season when occupancy rates are lower. Check out the listings on Hotels.com to see what's available for your dates of travel.
9
The Backs
Picnic with a riverside setting and a view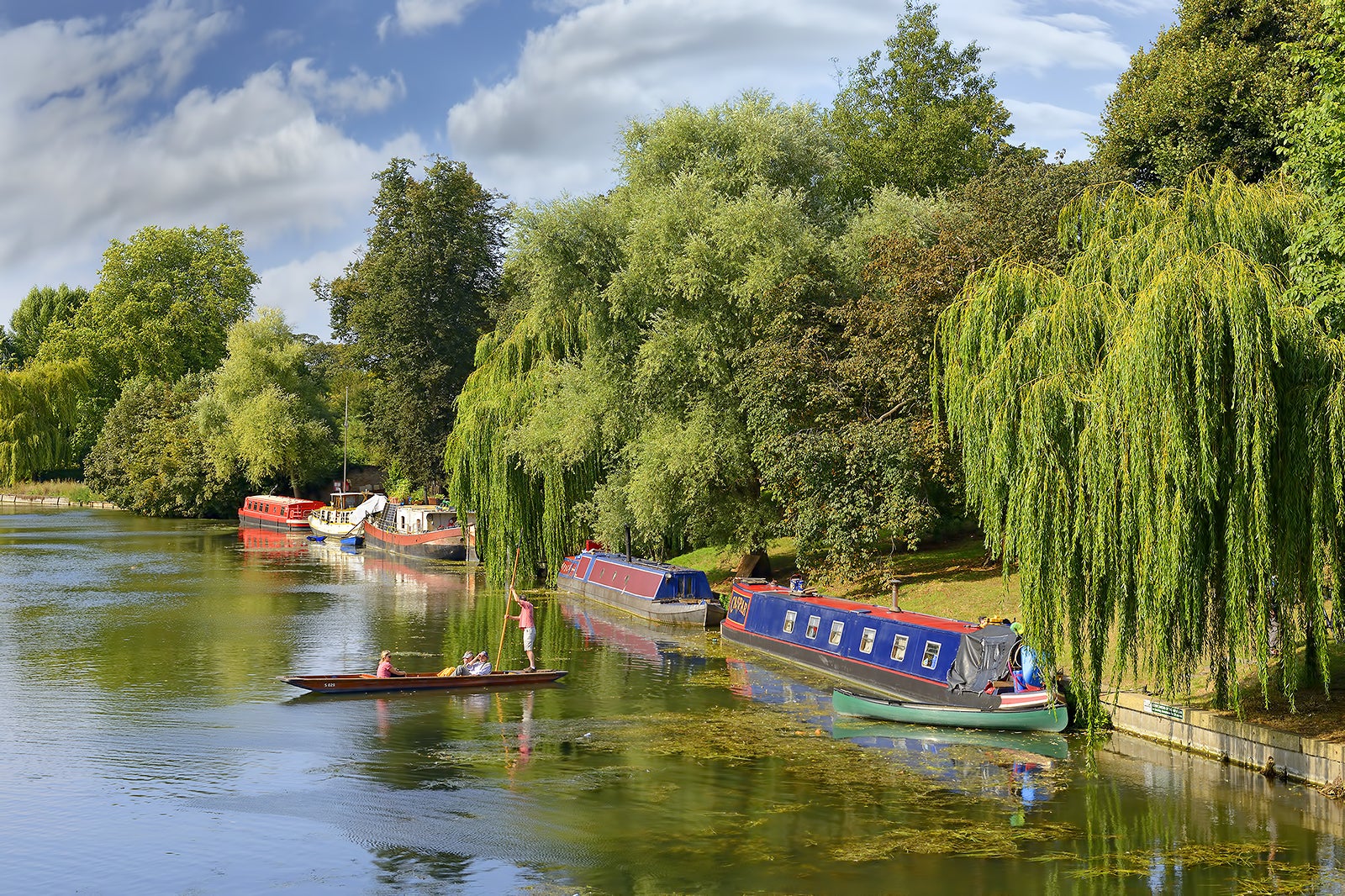 Families
Budget
Couples
Photo
The Backs got their name from the colleges that back onto the River Cam, namely St John's, Trinity, Trinity Hall, Clare, King's and Queen's. The meadows were used for livestock to graze on and for growing crops. King's still maintains that tradition, and you'll see cows munching on sweet grass.
A picnic on The Backs or in Grantchester Meadows is a fabulous way to savour the views of the colleges that back on to the River Cam. Besides these riverside parks, Mill Pond is another great location for an al fresco lunch.
Location: Crosses the city centre east of Queen's Road, Cambridge, UK
10
Cambridge Market Square
Eat on the hoof from food trucks and stalls
Cambridge Market Square is the go-to for global cuisine at reasonable prices. Sure, you can eschew the many excellent restaurants in Cambridge city centre, but this is where you can find food trucks and semi-permanent stalls set up regularly to provide an eclectic selection of food.
If you're travelling on a tight budget, don't limit yourself to a single visit. With such a wide selection, from Asian dumplings to German bratwurst, you'll find yourself returning to Cambridge Market Square for second or even third helpings.
Location: Market Hill, Cambridge CB1 0SS, UK
Back to top