Albuquerque Travel Essentials
Useful Information to Help You Start Your Trip to Albuquerque
Our Albuquerque Travel Essentials lays out the essential information you need to help you plan your trip to one of the most popular destinations in New Mexico, USA. No matter how frequently you travel, some questions will always need answers: What's the weather like? How can I get from Albuquerque International Sunport to my hotel? What currency and type of plug do I need?
We have all these answers plus other basic info about the best time to go, getting there, getting around, and a few useful travel tips. You'll also learn about the most popular landmarks in Albuquerque such as the Petroglyph National Monument, the New Mexico Museum of Natural History and Science, and Old Town Plaza. It's all compiled in this Albuquerque Travel Essentials. After going through this short and easy-to-read guide, you'll be a little more prepared to start your trip to Albuquerque.
1
When is the best time to travel to Albuquerque?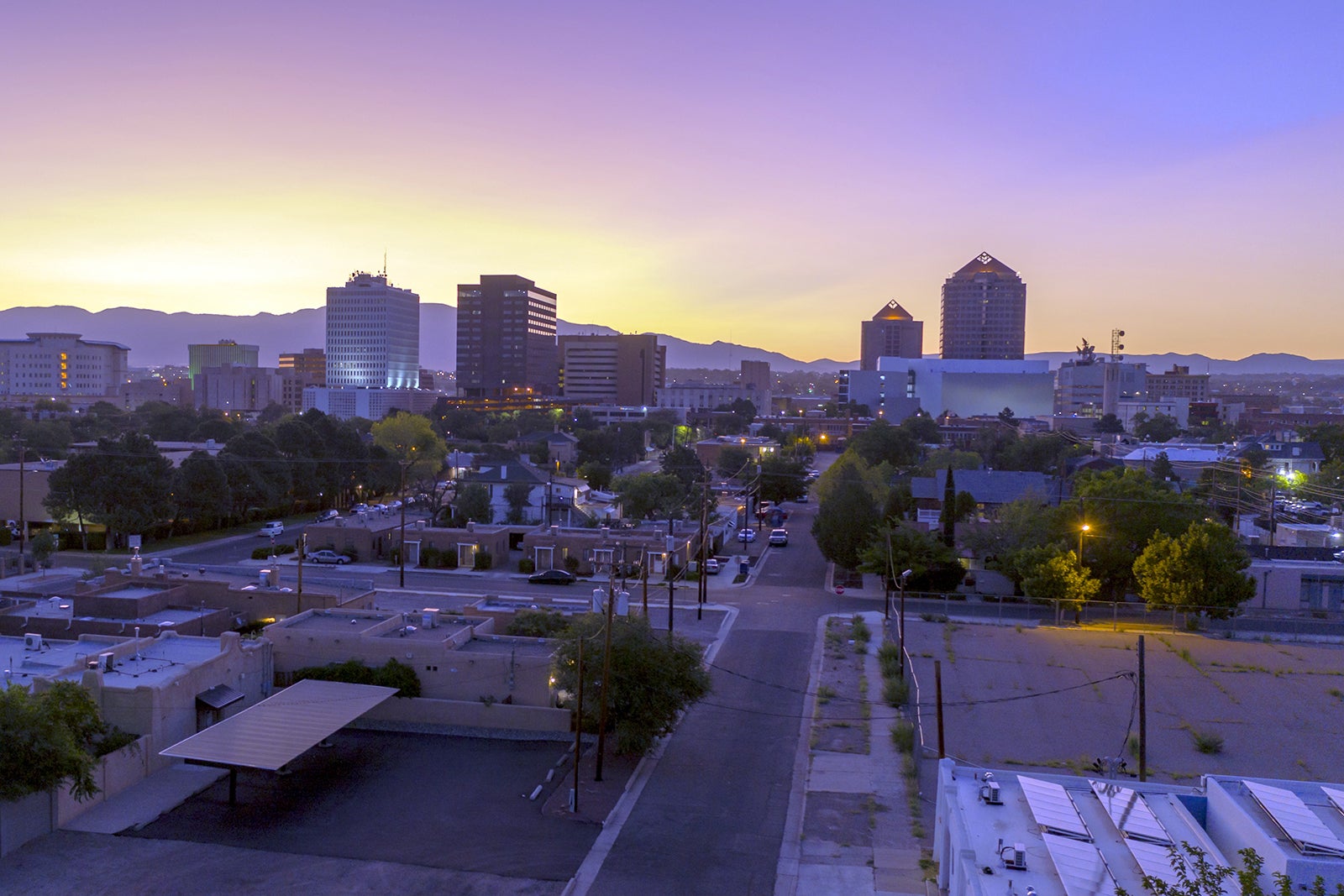 Albuquerque has a mild high desert climate. You can expect short, cool winters and hot, dry summers. Average temperatures range from 27°F to 93°F. Surprising to many, it snows in winter (around December and January) especially high up in the Sandia Mountains. It's not a constant event in the city itself.
As in most of New Mexico, Albuquerque receives abundant sunshine but low rainfall throughout the year. Rain occurs between July and September, with August being the wettest month.
The summer months in Albuquerque are between May and September, July being the hottest month. This is also often the peak season when most of the festivities or art and state fairs take place. It's advisable to book your travels ahead of time for better rates.
With main festivities aside, many consider the autumn period (September–November) as the best time to visit Albuquerque. It's when the high desert climate becomes more bearable for most outdoor activities and when many other events following summer take place.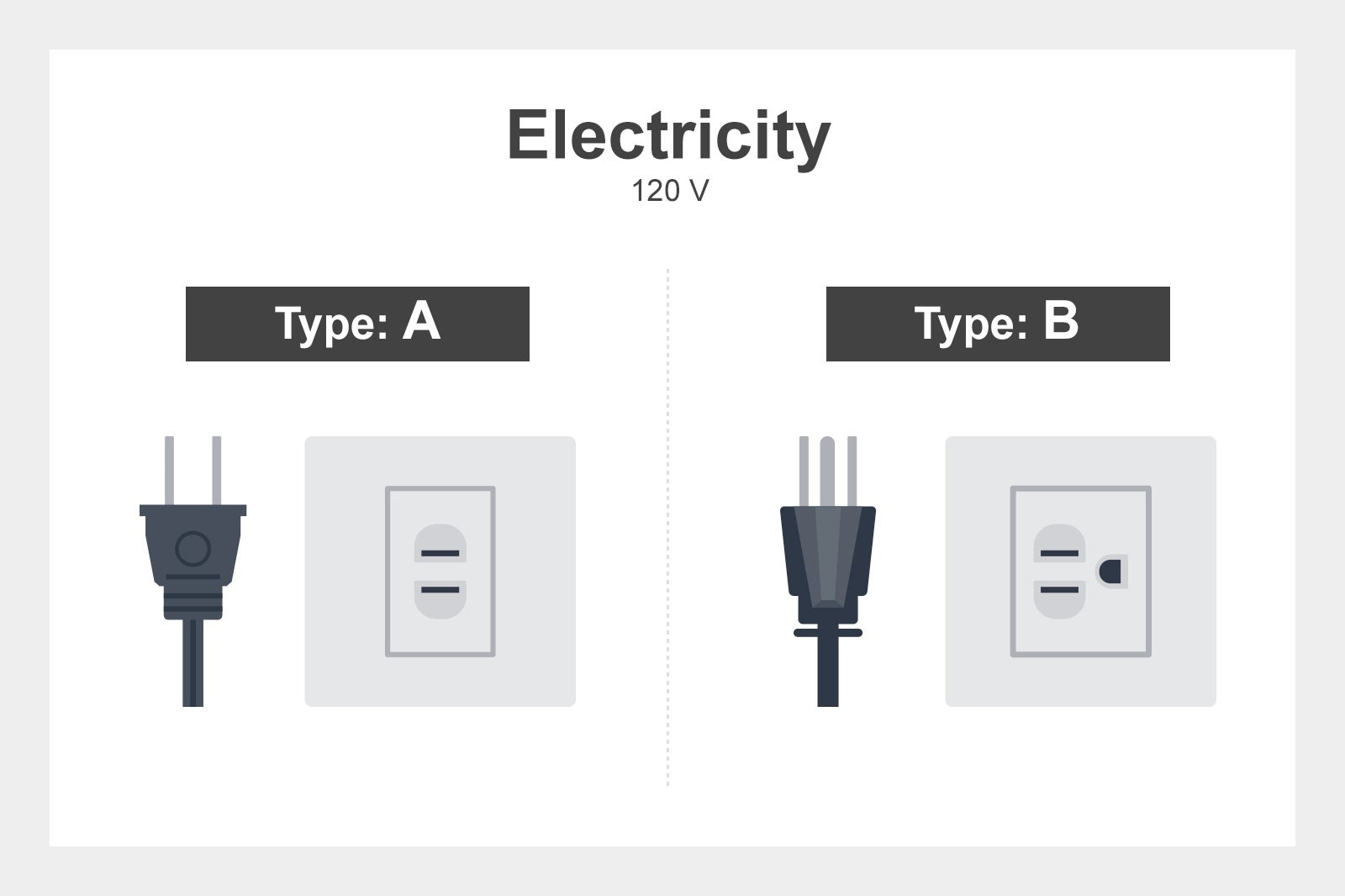 Plug type: A and B
Electricity: 120 V
Currency: United States Dollar (US$)
International dialling code: +1 505
Emergency telephone number: 911
3
How to get to my hotel in Albuquerque?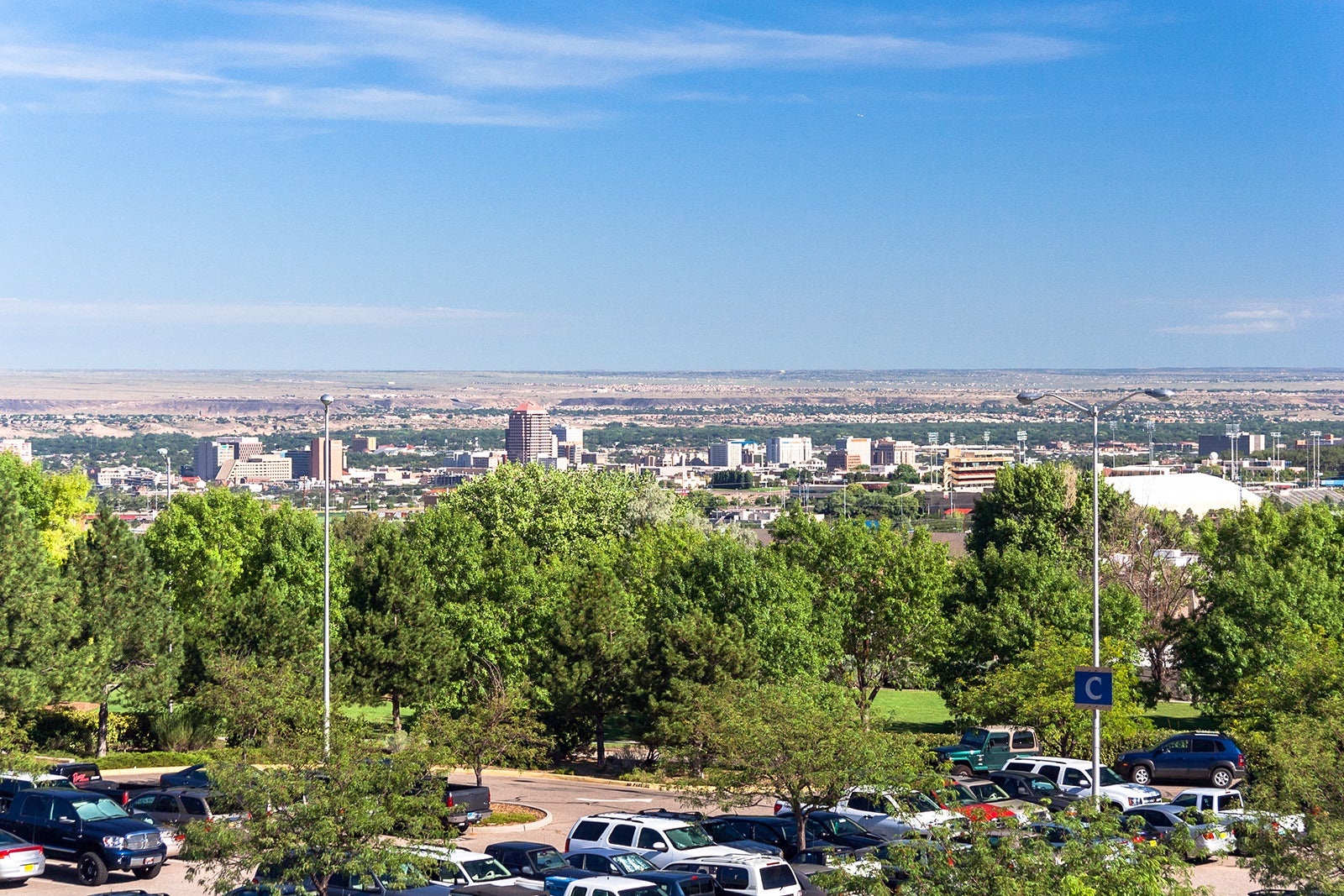 Many visit Albuquerque and most of New Mexico by car from other cities within the states. This is especially true for road-trippers from Texas, Oklahoma, and Arizona wanting to experience the historic and famous Route 66. The old Route 66 now follows the east-west Interstate 40 highway and runs through Albuquerque. Similarly, the major north-south Interstate 25 takes you to Albuquerque from Wyoming and Colorado. By land, you can also get to Albuquerque by Amtrak train or Greyhound bus.
Others fly into Albuquerque International Sunport (ABQ), the main gateway to all of New Mexico. It has nonstop domestic flights to and from many cities. Airlines serving ABQ include American, Delta, Southwest, Alaska, United, Boutique Air, Allegiant, Frontier, and Advanced Air. Flights from abroad would require connecting flights from other major international airports.
Albuquerque International Sunport (ABQ)
Landing at Albuquerque International Sunport, you'll practically arrive close to the heart of the city. The airport is only 5 miles or roughly a 15-minute drive to downtown, via Sunport Boulevard and northern Interstate 25.
Sunport is notable for its Santa Fe style architecture and has spaces filled with impressive New Mexican arts and crafts. There's free Wi-Fi throughout the airport alongside plenty of charging stations. Ground transport options to get you from ABQ to downtown include:
Public buses and shuttle services such as Taos Rides (+1 575-613-3256) are available at the west end on the 1st floor, past baggage claim. You can take the local bus #50, part of the city's public transit system, to downtown.
Car rentals, available at the dedicated 24-hour Car Rental Center on south-east University Boulevard. You can proceed to the commercial lane past baggage claim and hop on a 5-minute ride on the free car rental shuttles from the airport's terminal building.
Taxis are available along the 'commercial lane', south outside baggage claim. The main taxi companies serving ABQ are zTrip/formerly Yellow Cab Company (+1 505-247-8888) and ABQ Green Cab Company (+1 505-243-6800). Enterprise (+1 866-255-4284) and Hertz (+1 800-654-3131) have special services for travellers with disabilities – advanced bookings recommended.
You can use ridesharing services such as Uber and Lyft at ABQ – their pickup areas are on the 'commercial lane' outside baggage claim.
Alvarado Transportation Center
Alvarado Transportation Center, otherwise referred to as Albuquerque Train Station or Downtown Albuquerque Station, is a transit hub serving various modes of transport on the eastern end of downtown. It primarily serves as a layover stop for Amtrak trains and Greyhound buses and serves as the city's intercity bus depot.
Trains on Amtrak's Southwest Chief train route that runs daily between Los Angeles and Chicago. There's also the New Mexico Rail Runner Express that runs daily between Albuquerque and Sandoval County as well as to Belen and Santa Fe. From the station, you have regular buses running along Central Avenue and towards Albuquerque International Sunport. Popular Greyhound routes to Albuquerque are from El Paso, Denver, and Phoenix.
4
How to get around Albuquerque?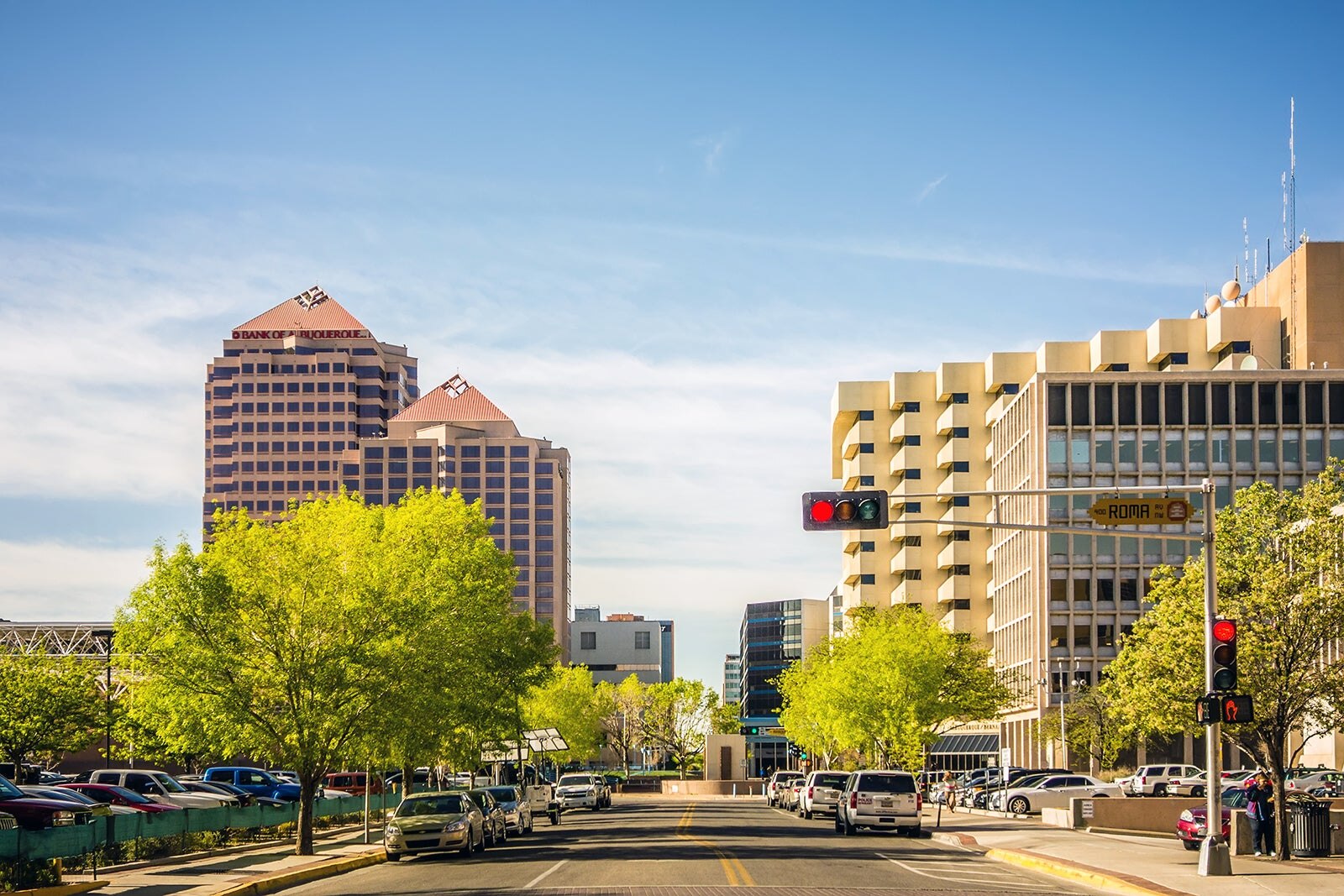 Travel tips
Downtown Albuquerque, especially the Old Town just west of it, is mostly walkable. However, note that the high-desert city is indeed about a mile high above sea level – some people with a history of altitude sickness may need to acclimate longer on their first visit. A great idea is to use the city's rapid transit buses to get around or use ride-sharing apps such as Uber or Lyft, then explore an area on foot.
If most of your visit is within Albuquerque's Central Avenue corridor, you're covered well by the Albuquerque Rapid Transit (ART), which runs consistently. To explore further afield and for more freedom, hiring a car to drive around is a good idea. There are a few quirks about driving in Albuquerque that you should be aware of, though.
How does the Albuquerque Rapid Transit work?
Albuquerque Rapid Transit (ART) is the city's bus rapid transit system featuring diesel-electric hybrid ABQ RIDE buses and its Rapid Ride express buses. You can download the City of Albuquerque's official mobile app, ABQ RIDE, to learn more about how to use the transit system as well as track buses and show stops in real-time. Besides the single, 1-way ride fare, there are also single-day unlimited ride passes as well as combo fares with New Mexico Rail Runner Express.
ART buses operate Monday–Thursday from 5.30 am to 10 pm and until 11 pm on Fridays and Saturdays, and Sundays from 6.15 am to 7 pm. Buses arrive every 8 to 15 minutes at various platform stations, curb-side stations, and curb-side stops along Central Avenue. You can buy tickets before boarding via the app or from any ticket vending machine using cash or credit card. Tickets are to be bought on the bus if boarding at a curbside stop.
Taking a taxi
You can call to arrange for a taxi at your hotel, but they can be quite expensive for getting around Albuquerque. The main taxi companies are ABQ Taxi Service (+1 505-307-9209), ABQ Metro Taxi (+1 505-450-8580, and Abq Green Cab (+1 505-243-6800). You can use ride-sharing apps such as Uber and Lyft, as well as zTrip in Albuquerque.
Renting a car in Albuquerque
Renting a car is a good option for getting around Albuquerque, especially if you want the freedom of travel and also plan to visit outlying attractions such as Santa Fe or the Sandia Mountains. A few quirks about driving in Albuquerque is that you must stay away from designated red ART bus lanes – there are also specific ART traffic lights with 3 unique light signals drivers should get used to: 'vertical line' means 'go', a cautionary 'triangle' means 'yield', and 'horizontal line' means 'stop'. And remember, you can only make left turns or U-turns at intersections with an arrow.
Mild traffic congestions are common in Albuquerque, especially along the 2 major interstates, namely the I-40 and the I-25, and at their complex stack interchange nicknamed 'The Big I'.
Car rentals in Albuquerque include Budget Car Rental (+1 505-764-3560), Hertz (+1 505-842-4235), Avis (+1 505-884-6807), and E-Z Rent-A-Car (+1 800-277-5171).
Cycling around Albuquerque
The downtown area is fairly bikeable, but it's the surrounding area where most of the scenic sites are worth discovering on 2 wheels. The city has varied terrain – you're fine if you're cycling around the Old Town area and downtown where it's mostly flat. But biking out to the eastern side of the city involves slight ascents only for the fit.
Most major streets in downtown lack cycling lanes, and you must always take extra caution and beware of the traffic. Even so, there's an extensive paved trail biking network that continues to expand. For one, try the scenic Paseo del Bosque Trail along the Rio Grande's eastern bank. You can find comprehensive bike maps for Albuquerque online.
Among Albuquerque's bike rentals are Routes Bicycle Tours & Rentals, Inc. (+1 505-933-5667), The Bike Smith (+1 505-242-9253), Fat Tyre Cycles (+1 505-345-9005), and High Desert Bicycles (+1 505-896-4700).
5
What are the main annual events in Albuquerque?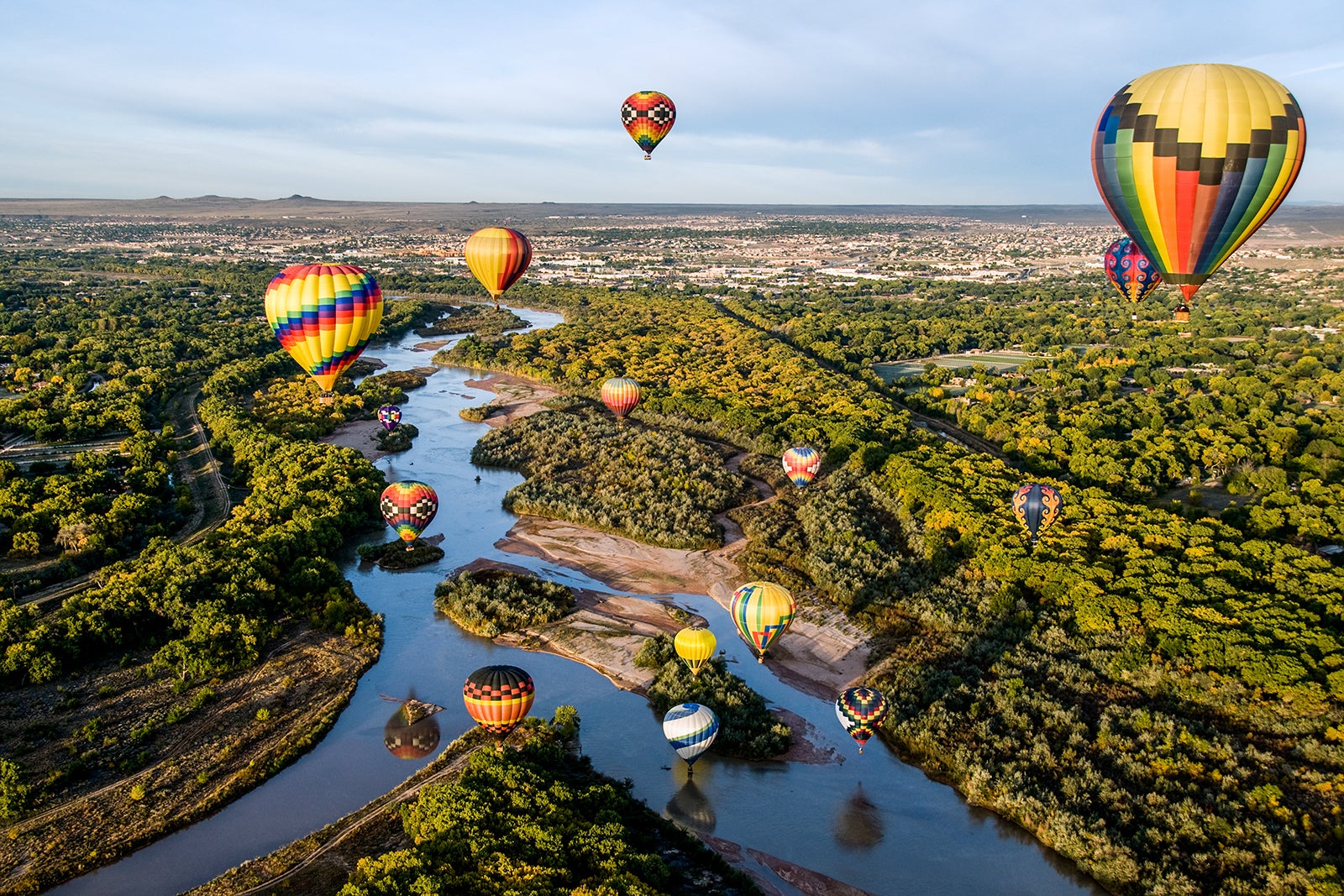 Albuquerque International Balloon Fiesta
October
One of the largest hot-air balloon festivals in the world, this event has been held for 9 days in October every year since 1972. The event features hundreds of balloons filling the skies over New Mexico.
Where: Balloon Fiesta Park, Alameda Boulevard
New Mexico State Fair
September
One of the largest state fairs in the United States, attracting half a million each year to its live concerts, carnival rides, expos, and rodeos at Tingley Coliseum.
Where: Expo New Mexico
River of Lights
November–December
An Albuquerque winter tradition when ABQ BioPark Botanic Garden by the Rio Grande is lit with dazzling and colourful light sculptures and illuminated gardens.
Where: ABQ BioPark Botanic Garden
6
What are the main landmarks in Albuquerque?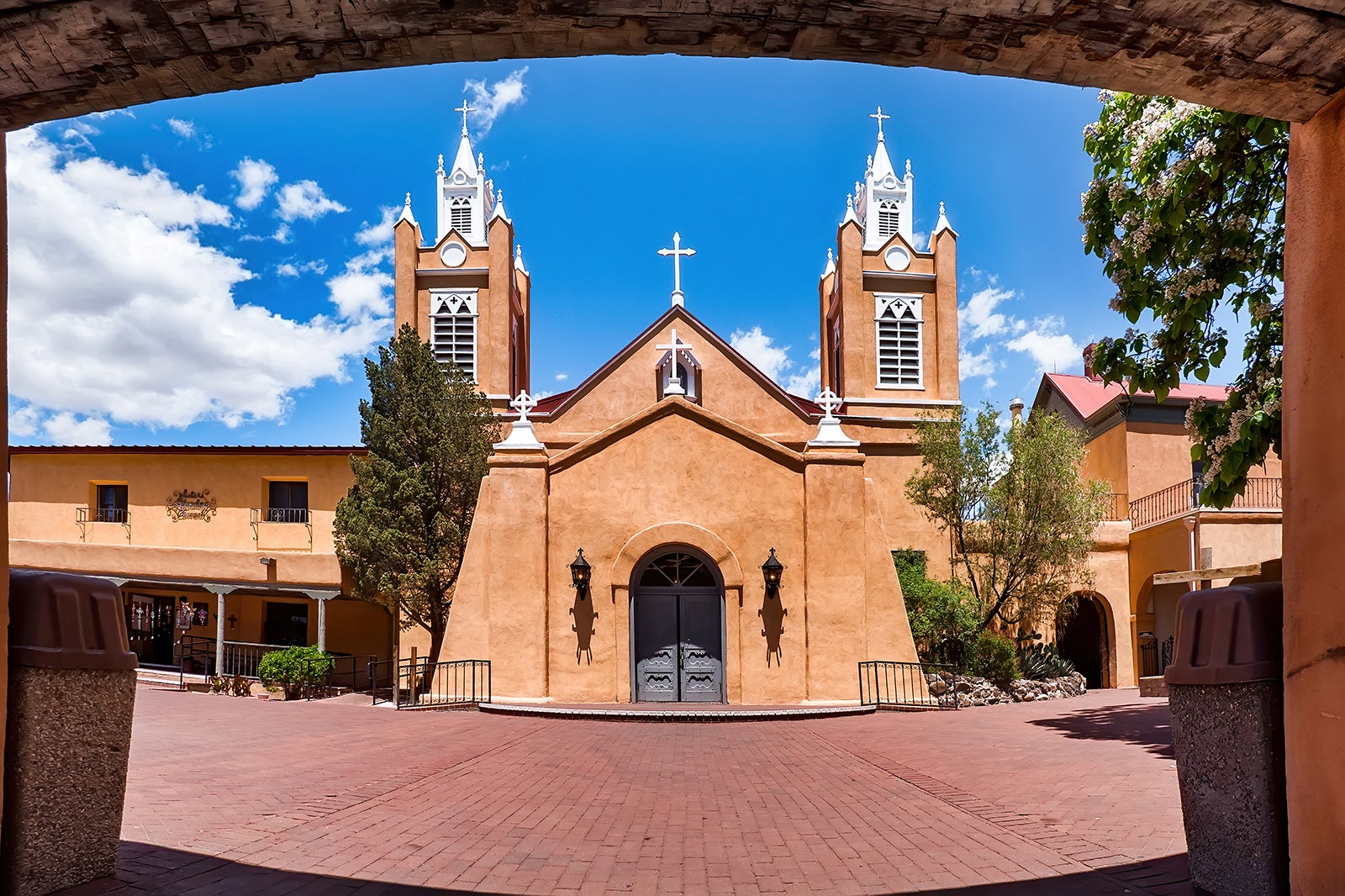 Petroglyph National Monument
A 7,236-acre national monument with a 17-mile-long volcanic basalt escarpment that dominates Albuquerque's western horizon. Some of the petroglyphs date back to prehistoric times.
New Mexico Museum of Natural History and Science
A museum founded in 1986 presenting the rich history and culture of New Mexico through an impressive collection of artefacts. It is home to Lucy, one of the most complete skeletal remains of early hominids.
Old Town Plaza
A focal point of Albuquerque Old Town and one of Albuquerque's important historical sites. It's where Spanish Governor Cuervo y Valdes officially founded the city way back in 1706.
Albuquerque Museum
A museum in the Old Town of Albuquerque that's dedicated to preserving the art and rich history of the American Southwest and the Middle Rio Grande Valley of New Mexico.
Back to top