Pacific Park is a classic American amusement park on the Santa Monica Pier. The park is popular with both kids and adults and attracts millions of visitors each year. Besides enjoying thrilling oceanfront rides, you can visit an aquarium, play arcade games, and shop for souvenirs. Many bars and restaurants serve typical Golden State food, such as burgers, pizzas, and tacos.
Exciting fun and games aren't the only draws to Pacific Park. The pier itself is over 100 years old and a notable California landmark. Historically, it was the final destination on the original Route 66 that ran from Chicago to LA. From the dock, you can enjoy spectacular views of the ocean and Santa Monica Beach. So, on your next trip to Los Angeles, be sure to include the picturesque Pacific Park in your travel plans.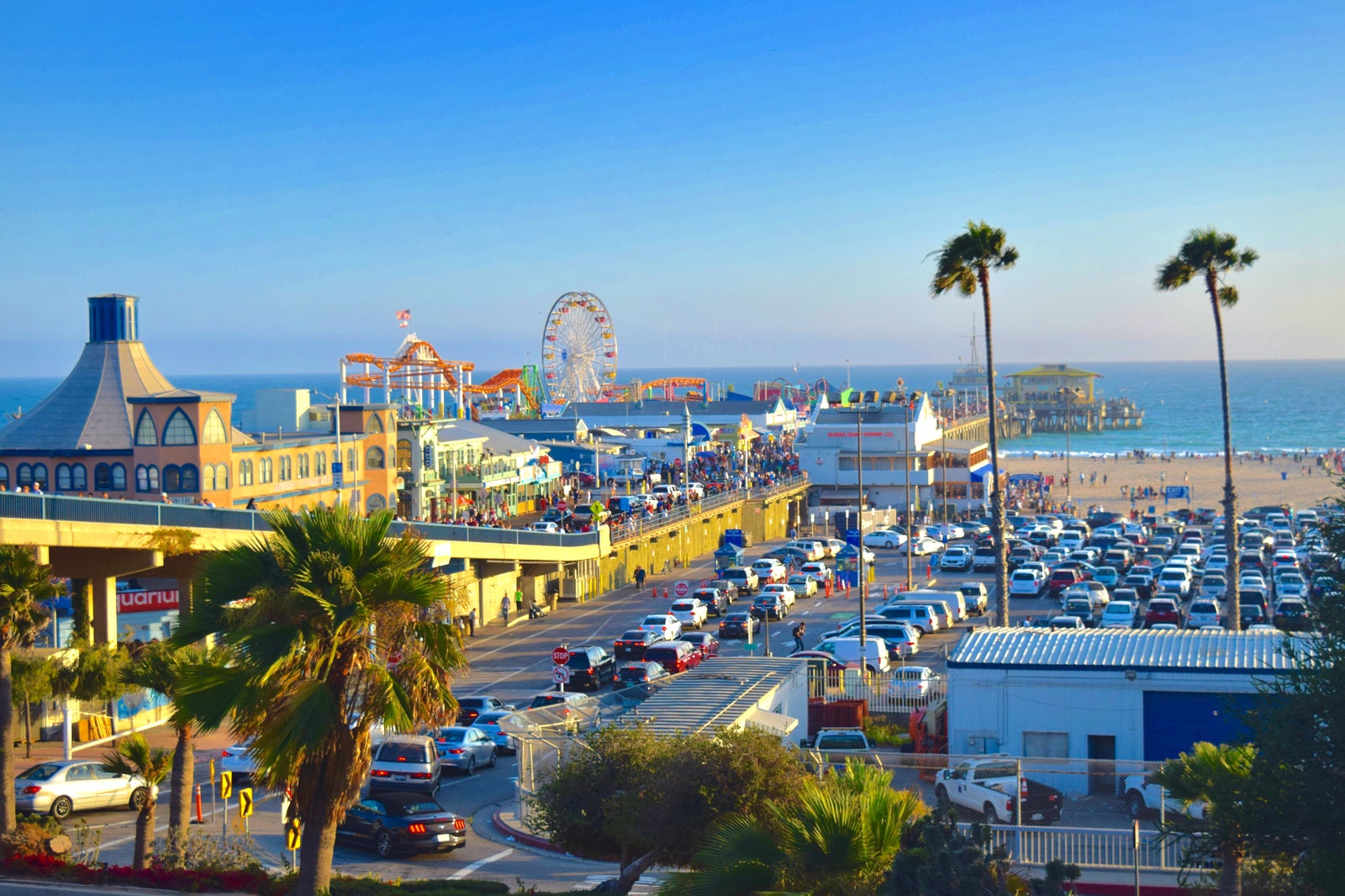 What are the highlights and features of Pacific Park?
Pacific Park in Los Angeles offers 12 fun rides for visitors of all ages. For unmatched views of the Southern California coastline, ride the famed Pacific Wheel. It's the world's only solar-powered Ferris wheel and carries you 130 ft above the Santa Monica Pier. While romantic any time of day, the experience is especially stunning at sunset. The Ferris wheel also features 174,000 LED lights. And in the evenings, you can enjoy fantastic computer-generated lighting entertainment.
Set against the stunning backdrop of the Pacific Ocean, the West Coaster is the only oceanfront rollercoaster on the West Coast. Don't forget to smile for the camera on the stomach-dropping hills! Younger children can get their kicks on the spinning Shark Frenzy, the swinging Sea Dragon or the fast-paced swirling Inkie's Scrambler. You'll also find boardwalk-style games. Put your targeting, throwing, and mole-whacking skills to the test and see what fun prizes you can take home.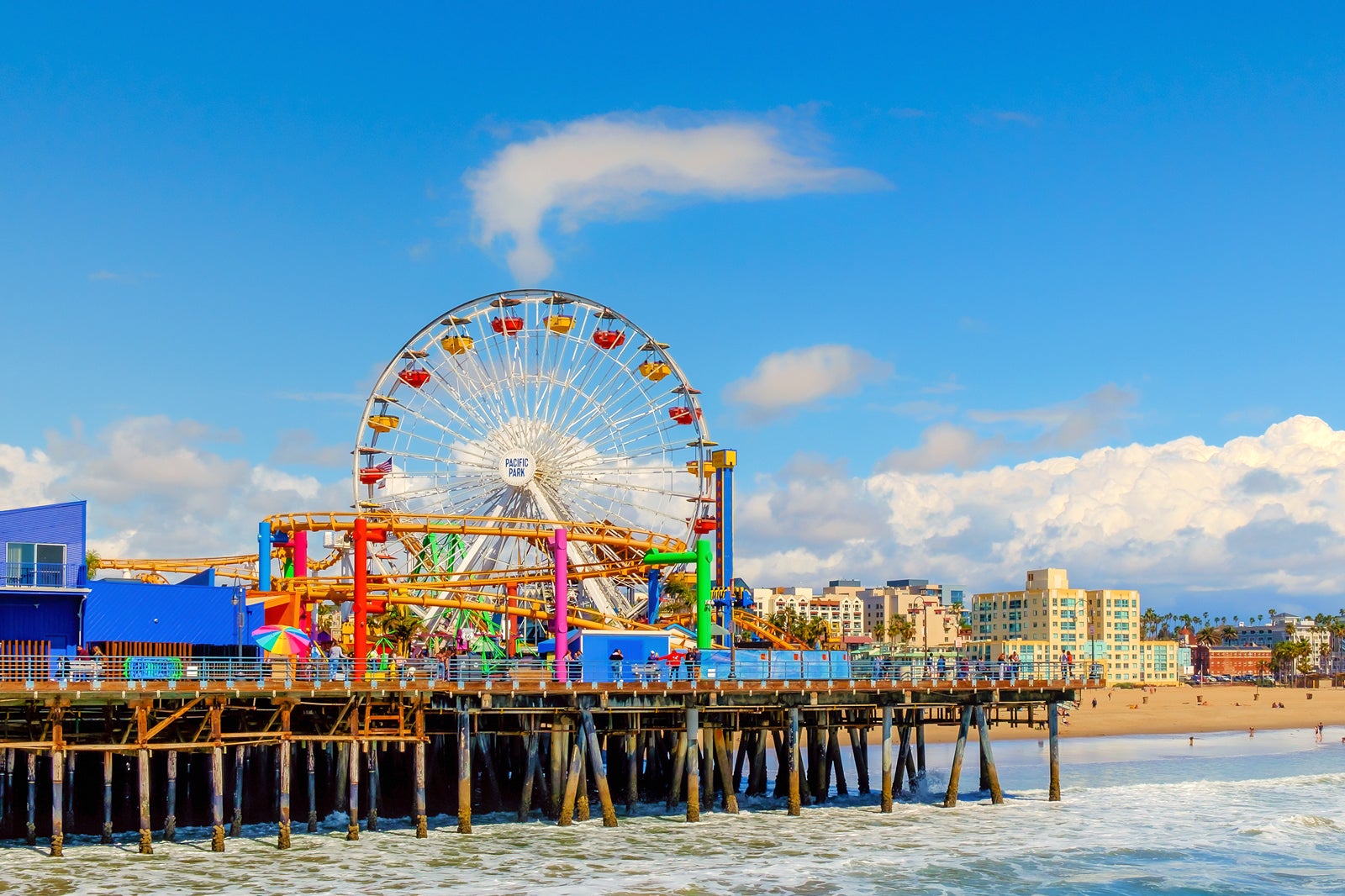 Where to shop and dine at Pacific Park?
Pacific Park appeals to those looking for authentic California gifts for friends and family. At Pie Gear, pick out your favourite seashell jewellery and Santa Monica Life Guard sweatshirts. Airstream specialises in Route 66's End of the Trail memorabilia and souvenirs. Magnet Hall sells a fabulous choice of collectable magnets, so you'll remember your trip to Santa Monica every time you open the fridge.
Shopping and playing games can make you hungry. Fortunately, Pacific Park and Santa Monica Pier have a variety of restaurants, sweet shops, and food carts. For delicious seafood and beautiful views of the pier, Seaside on the Pier is an excellent destination for a relaxed meal or romantic date night.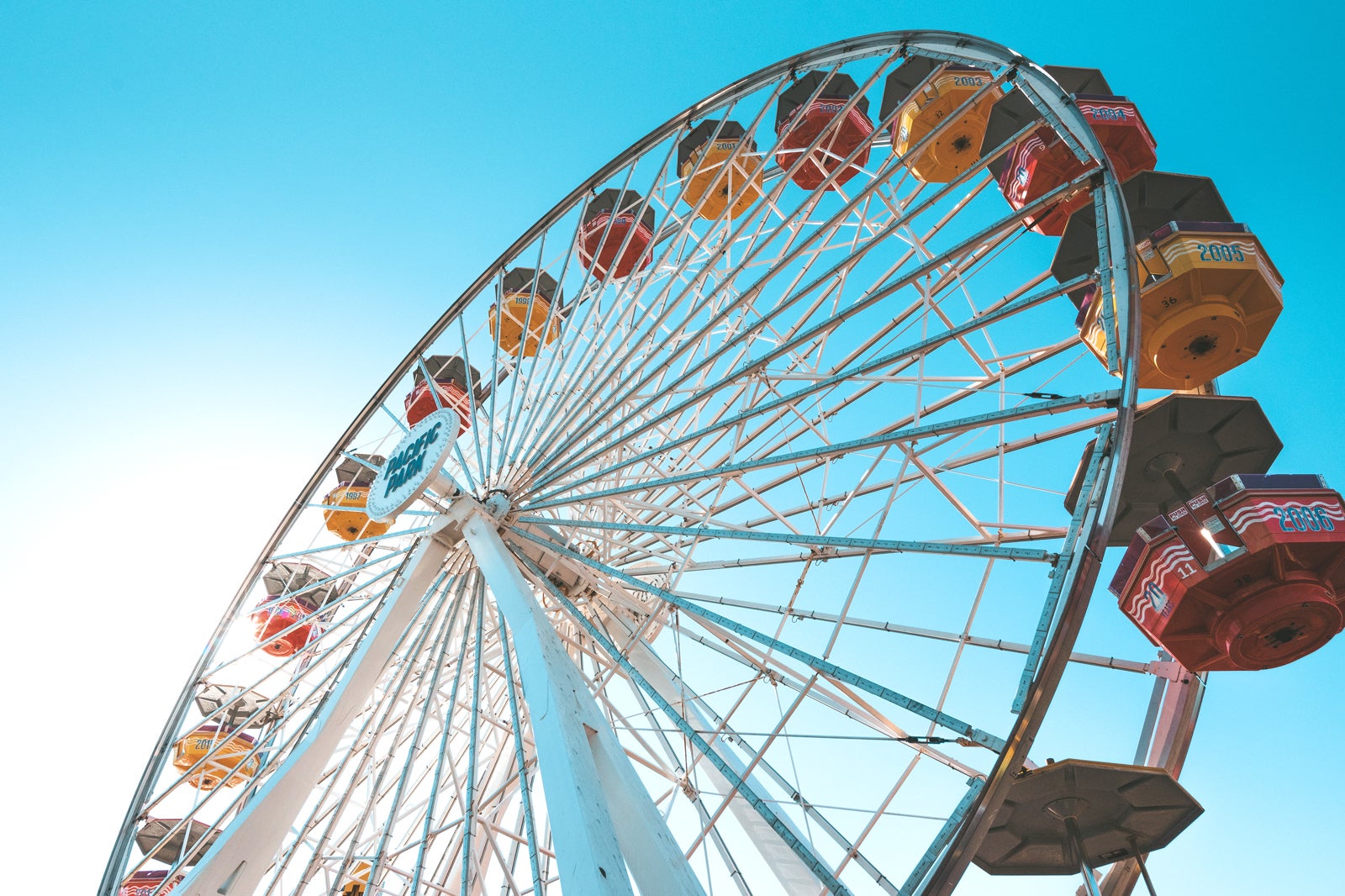 Good to know about Pacific Park
Admission to Pacific Park is free – you pay per ride. Tickets for the rides are around $5 to $10, but you can buy an unlimited, all-day ride wristband. The best way to get to Pacific Park is by the Metro Rail Expo Line from Downtown LA to Santa Monica. The journey takes under 1 hour. Driving is possible but be prepared to experience Los Angeles' notorious traffic. Once you're in Santa Monica, it's easy to get around on foot. You can also rent a bike, in-line skates, or an electric scooter from kiosks on the pier or beachside.
The Original Muscle Beach is just south of the Santa Monica Pier. Here, fitness fanatics can enjoy free entry to an outdoor body-building gym, which has ropes, swings, and parallel bars. The nearby International Chess Park is open (and free) to anyone looking for a mental challenge with a colourful, eccentric opponent. Chess tables are on a first-come-first-served basis. If you want to soak up some California sun and watch the surfers, find a spot on Santa Monica Beach.
Pacific Park in Los Angeles
Location: 380 Santa Monica Pier, Santa Monica, CA 90401, USA
Phone: +1 310-260-8744
Back to top