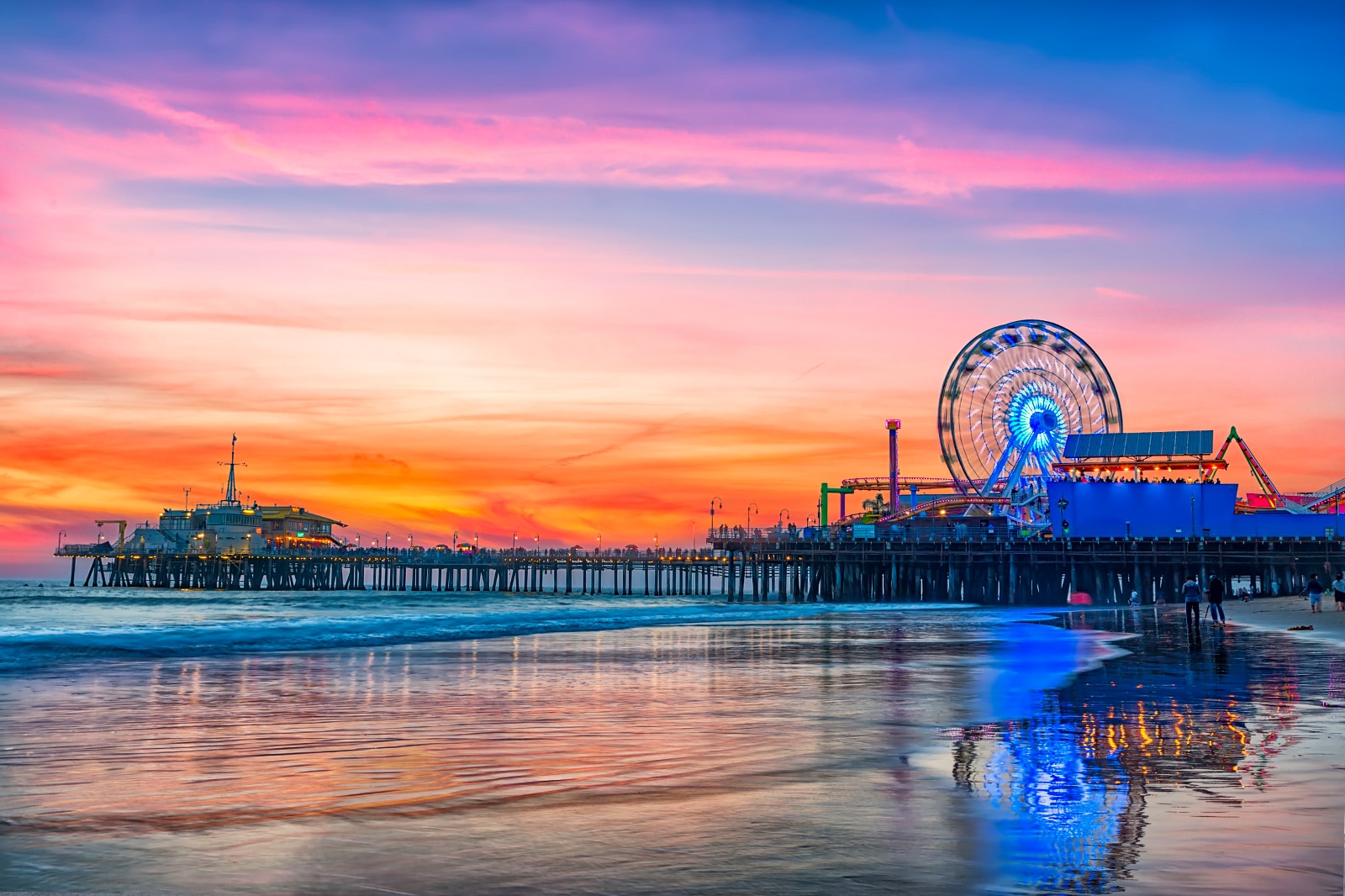 Santa Monica
What you need to know before you go
Santa Monica, located 16 miles west of downtown Los Angeles, is home to the irresistible namesake beach and pier. Santa Monica Pier is often the first port of call for many visitors, with its iconic giant Ferris wheel, rattling steel rollercoaster, and delightfully nostalgic amusement arcades.
The city is also home to one of the region's best-loved beaches, a perpetually sun-kissed expanse of golden sand, with plenty of gently crashing waves, ideal for budding surfers. As the sun goes down, grab an outdoor table at a hip seafront bar, and enjoy the cooling ocean breeze with a colourful cocktail in hand.
What to see & do in Santa Monica
Featured stories & fun stuff
10 Best Things to Do in Santa Monica

There are plenty of things to do in Santa Monica, whether you're visiting solo or with family. This palm tree-lined, sunset-hued Californian city is more often seen on screens than in person, with far too many films and TV shows featuring the beachfront town's gorgeous scenery. More than a few of Santa Monica's sights mark Hollywood history in...
Where to shop & what to buy in Santa Monica
10 Best Places to Go Shopping in Santa Monica

Looking for the best places to go shopping in Santa Monica? There are so many superb retail areas in this bustling seaside suburb it can be hard to work out where to go. Los Angeles' premier beach destination isn't just for sunbathing and sightseeing; the coastal zone is a hit with both visitors and local shopaholics. From the busy boardwalk...
Where to go & what to do at night in Santa Monica
10 Best Things to Do After Dinner in Santa Monica

There are plenty of things to do after dinner in the beachside city of Santa Monica. Its famous Santa Monica Pier and Third Street Promenade are ideal places to wander, shop and stop for a drink, while lively bars and upscale sea-view lounges offer plenty of choices for unwinding after dinner. Santa Monica is also sprinkled with a diverse...
Back to top