10 Best Things to Do in Atlanta
What is Atlanta Most Famous For?
Atlanta has plenty in store for visitors looking for a classic American experience. Some of its landmarks boast interesting histories and are well-preserved. The Fox Theatre, for example, harks back to the end of the Roaring '20s with its Art Deco styling, while a local restaurant chain has sold famous chilli dogs since the same era.
The capital city of Georgia is the birthplace of Coca-Cola, which has a museum here all about it. Great family attractions are all within easy reach from downtown, while more remote places like the Stone Mountain Park are often well worth the scenic trip. Here are some of the great things to do in Atlanta in a day.
What are the best things to do in Atlanta?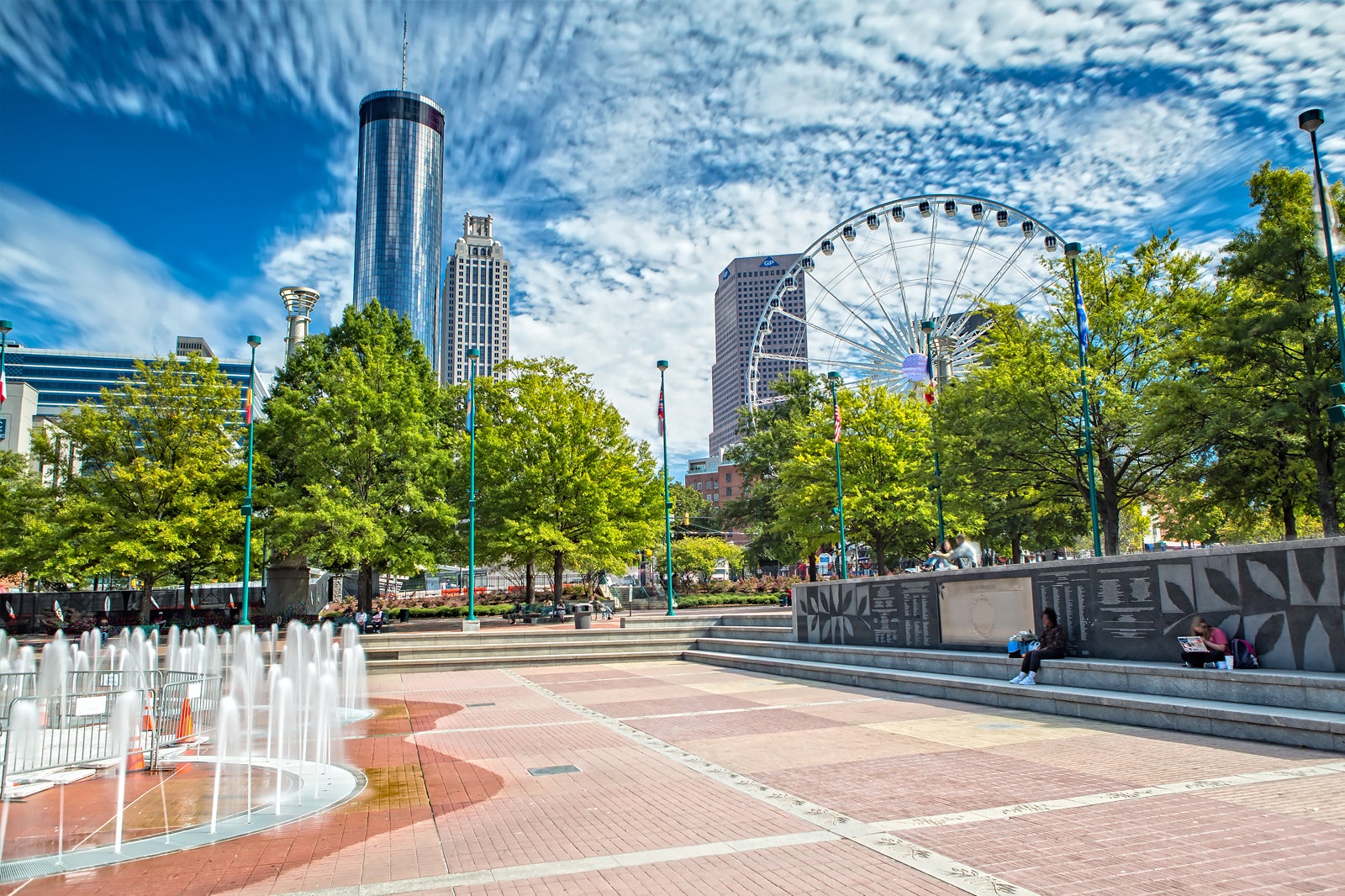 Start your day at Centennial Olympic Park
Watch the Fountain of Rings putting on a show
This green space in downtown Atlanta was built for the Summer Olympics in 1996. The beautiful grounds are filled with attractions and many of the city's important landmarks, such as the Georgia Aquarium and the World of Coca-Cola, are close by. The centrepiece and main highlight of the park is the Fountain of Rings, where kids can splash about and where the whole family can enjoy its spouts beautifully dancing in sync to The Beatles, Sinatra, and orchestral symphonies.
Location: 265 Park Avenue West, Atlanta, GA 30313, USA
Open: Daily from 7am to 11pm
Phone: +1 404-223-4412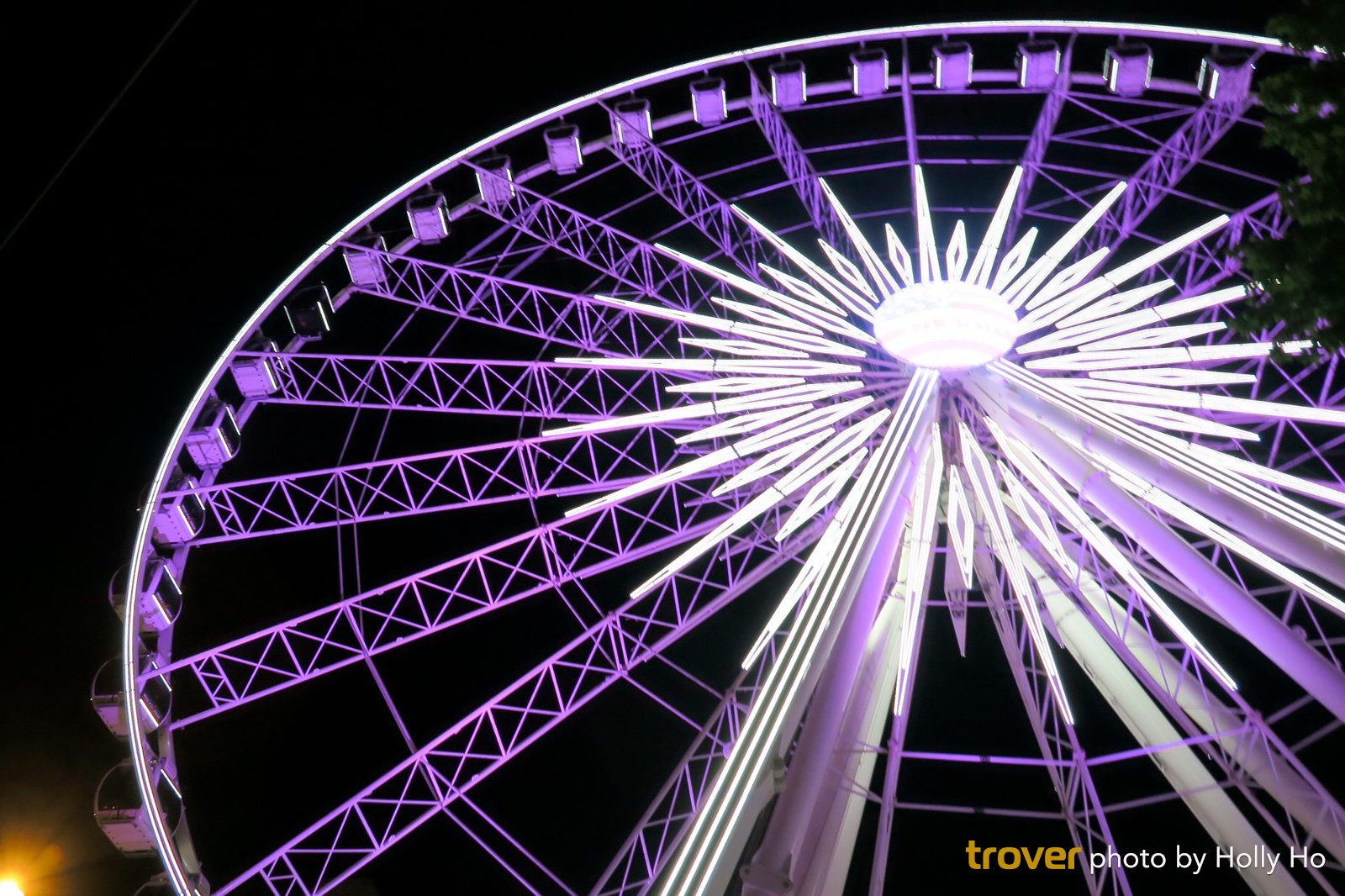 Ride the SkyView Atlanta
Elevated views over Atlanta's skyline and Centennial Park
Looming at around 20 stories high over Centennial Park, the SkyView Ferris wheel is a great way to complete your downtown adventures and take in the panoramic views of the Atlanta skyline. It has a total of 42 air-conditioned gondolas. Tickets are around $13 for adults, giving you 4 turns. There are VIP gondolas for around $50 per person, which have race car-style leather seats that can seat up to 5. They also feature see-through floors to add to the thrills.
Location: 168 Luckie St NW, Atlanta, GA 30303, USA
Open: Sunday – Thursday from 12pm to 11pm, Fridays from 12pm to 12am, Saturdays from 10am to 12am
Phone: +1 678-949-9023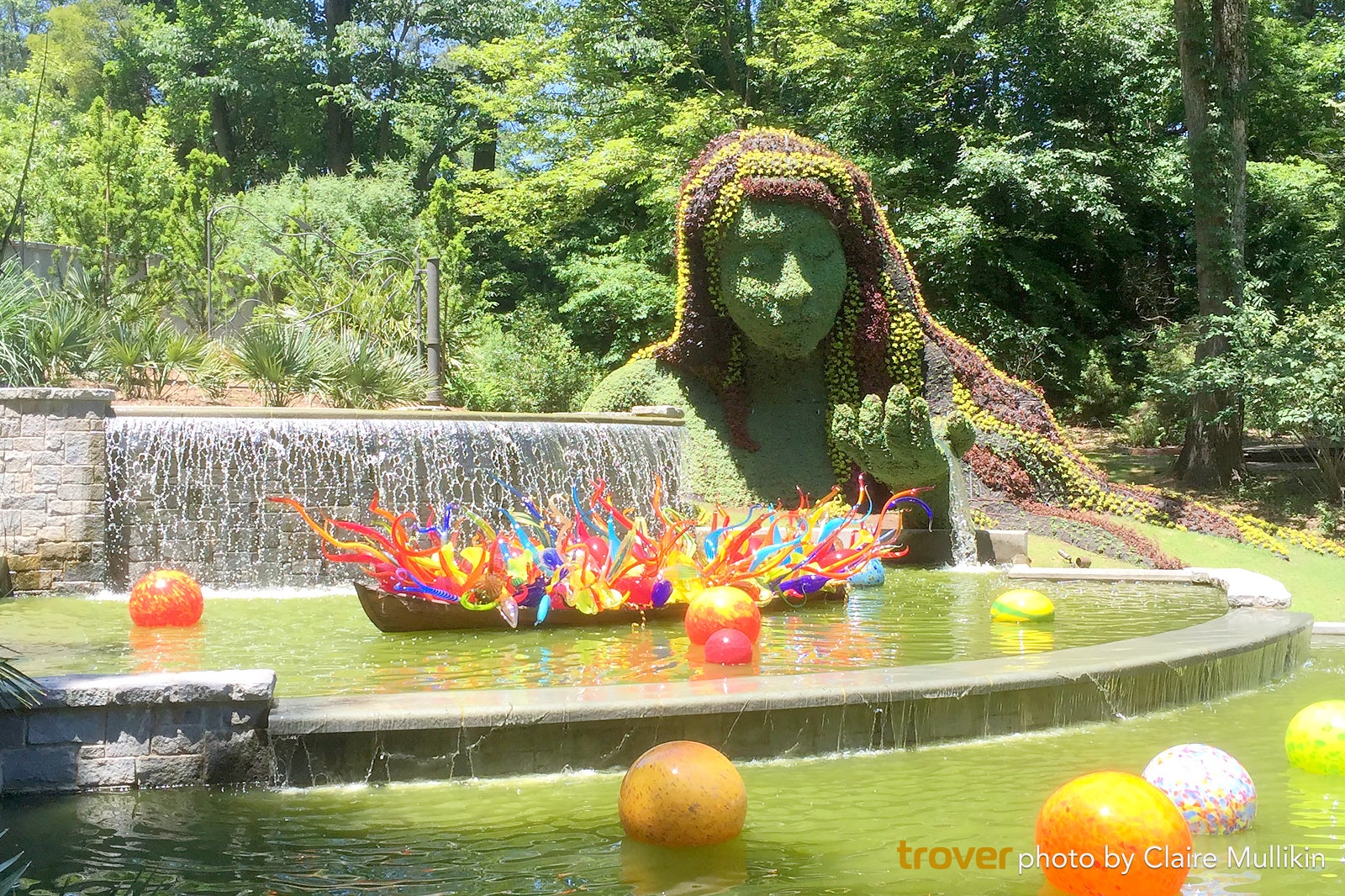 See rare orchids in Atlanta Botanical Garden
A serene and artistic place to reconnect with nature
Atlanta Botanical Garden features more than just rare plants and flowers. It's an art gallery, filled with sculpted gardens and sculptured structures that are made from plants. Think giant figures like its Earth Goddess, part of the Imaginary Worlds exhibit of 2013, which is now a permanent installation adorning one of the garden's water features. Be sure to check out the fountains that cradle brightly coloured blown-glass masterpieces. Kids can have plenty of fun in a dedicated garden space with a bird's nest-like treehouse.
Location: 1345 Piedmont Ave NE, Atlanta, GA 30309, USA
Open: Tuesday – Sunday from 9am to 7pm (closed on Mondays)
Phone: +1 404-876-5859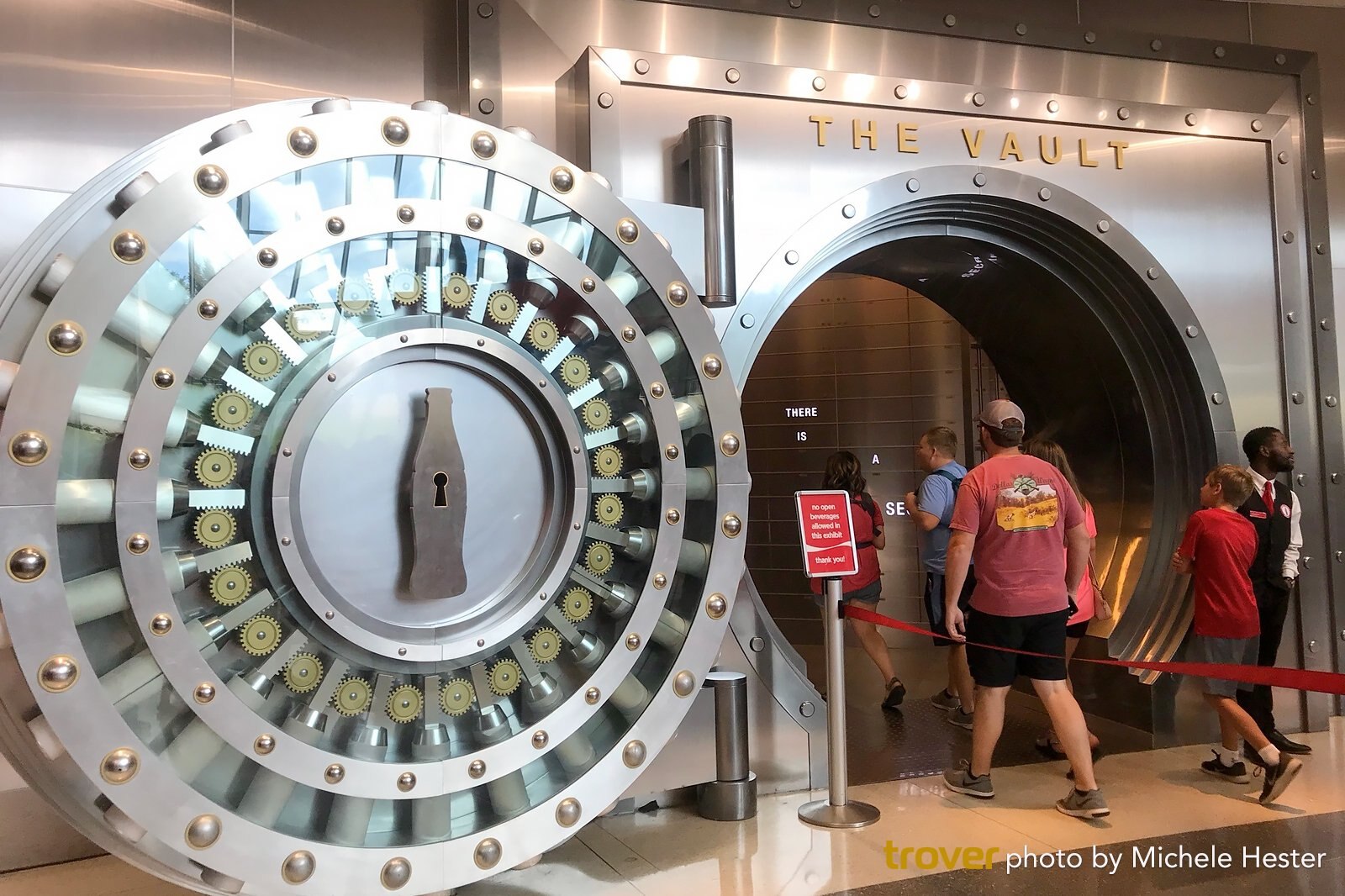 Try different Cokes at World of Coca-Cola
Proud showcase of the world-famous soft drink
This striking facility next to the Georgia Aquarium might easily come across as a giant advertisement for the famous soft drink. However, it can simply be a fun way to learn about the history of a beverage that needs no introduction. You'll find interiors awash with the brand's signature bright red logo and memorabilia, and exhibits give you an interesting look back at how it all started. Check out the tasting room with varying Coke flavours from around the world. Tickets are around $18.
Location: 121 Baker St NW, Atlanta, GA 30313, USA
Open: Monday – Saturday from 9am to 6pm, Sundays from 10 am to 6pm
Phone: +1 404-676-5151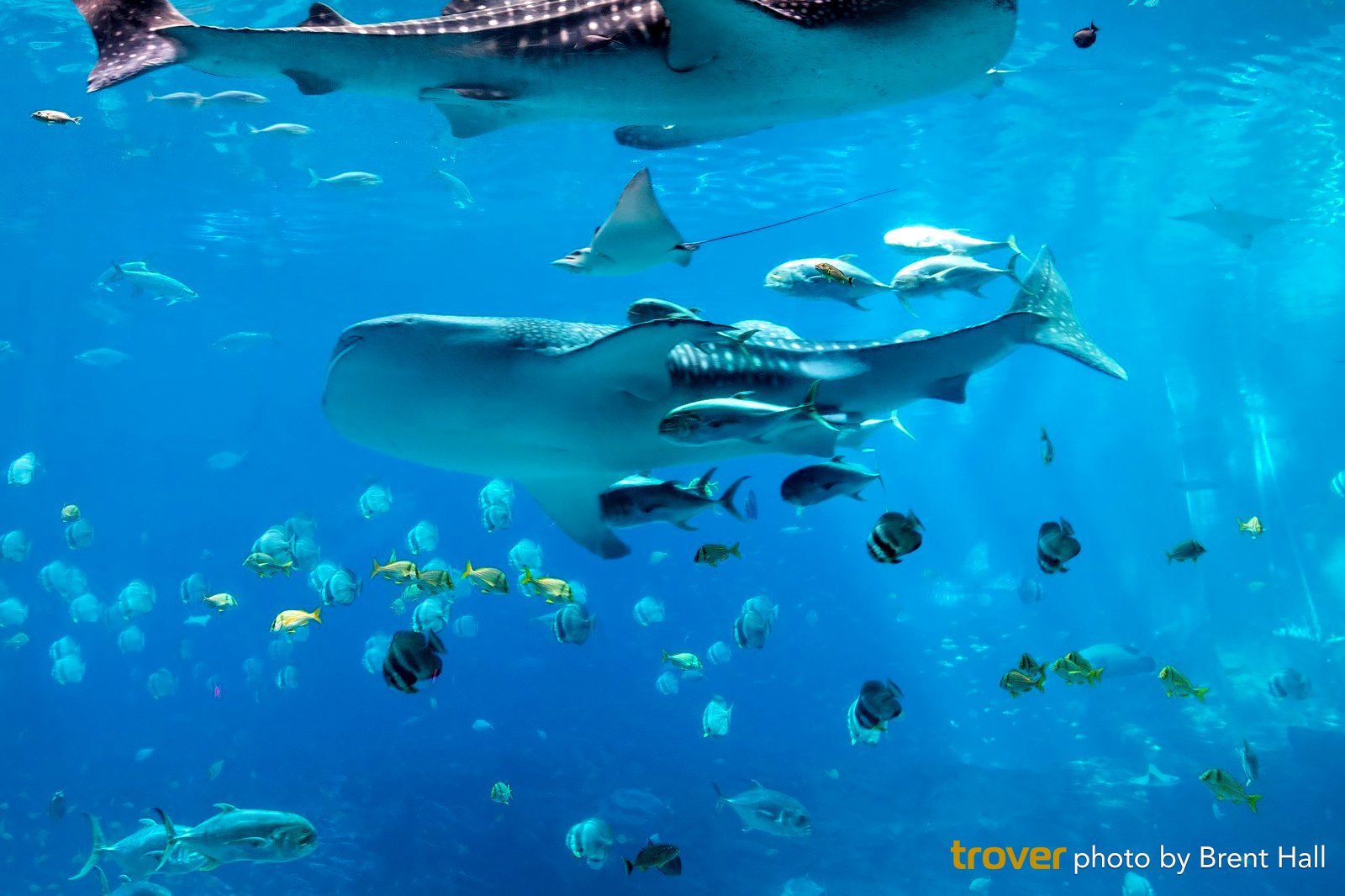 Take the kids to Georgia Aquarium
One of the world's largest
Right next door to Atlanta's Centennial Olympic Park and the World of Coca-Cola, Georgia Aquarium is where you can take the family for a fun and educational day out. The amazing sea life collection, spread across 6 galleries, includes whale sharks and manta rays. You'll also come across sea otters and African penguins. Families with younger kids can enjoy the stereoscopic 3D short film that takes you on a deep ocean journey, with an important underlying message about animal conservation.
Location: 225 Baker St NW, Atlanta, GA 30313, USA
Open: Daily from 9am to 9pm (Saturdays from 8am)
Phone: +1 404-581-4000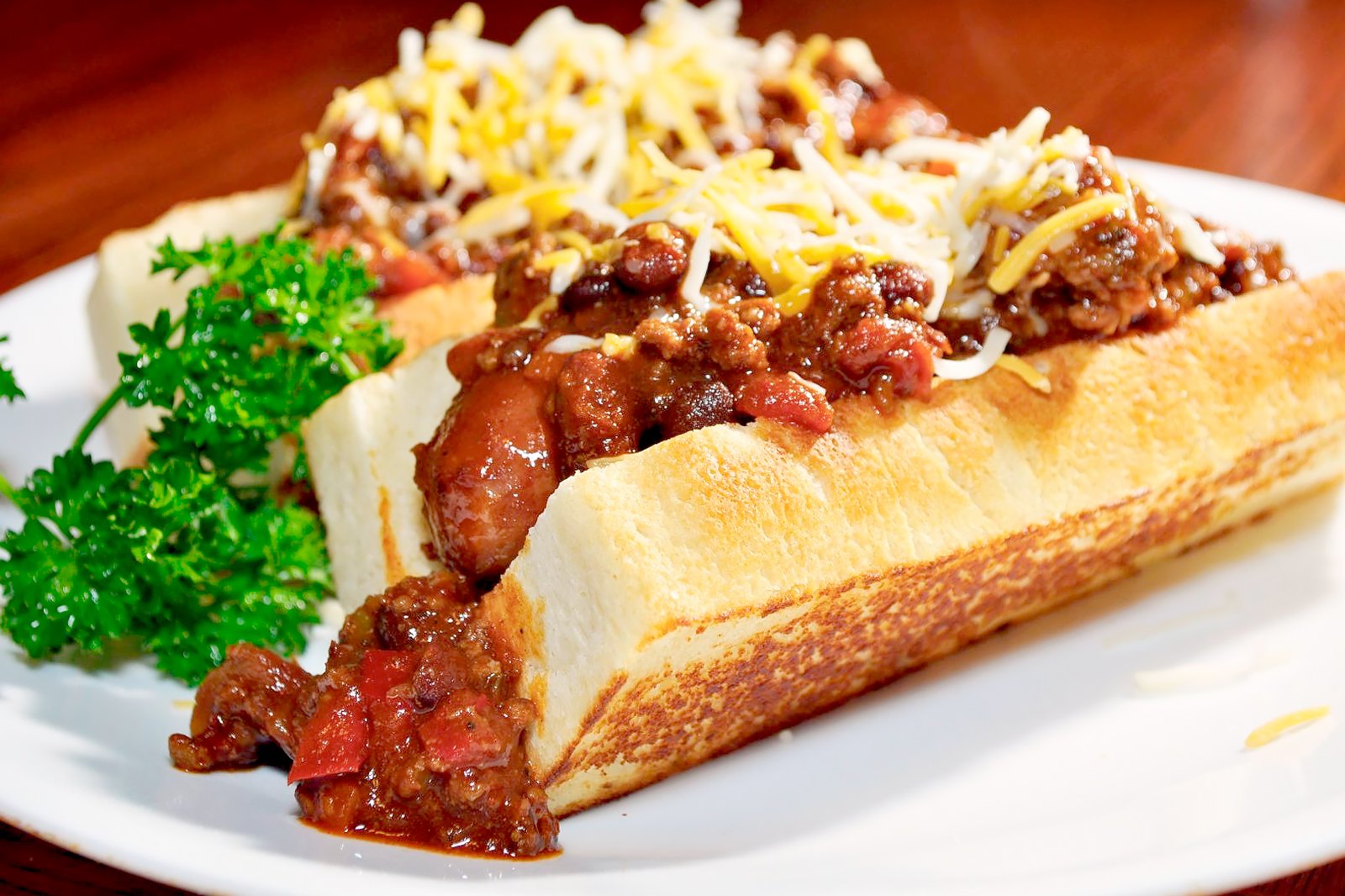 Try a chili cheese dog at The Varsity
Burgers and hotdogs galore
One of Atlanta's must-try foods is the chili dog. The Varsity has been serving them since the 1920s, with branches spreading from the eye-catching first restaurant on North Avenue, with its iconic big, bright red "V" sign. It's a classic American restaurant, and the menu is very straightforward: burgers, sandwiches, hotdogs, salads, fries, and shakes. Each of these come in a good variety, such as the "heavy dog" that comes with extra mustard and a generous slab of meaty chili.
Location: 61 North Avenue NW, Atlanta, GA 30308, USA
Open: Daily from 10.30am to 10pm (Fridays and Saturdays until midnight)
Phone: +1 404-881-1706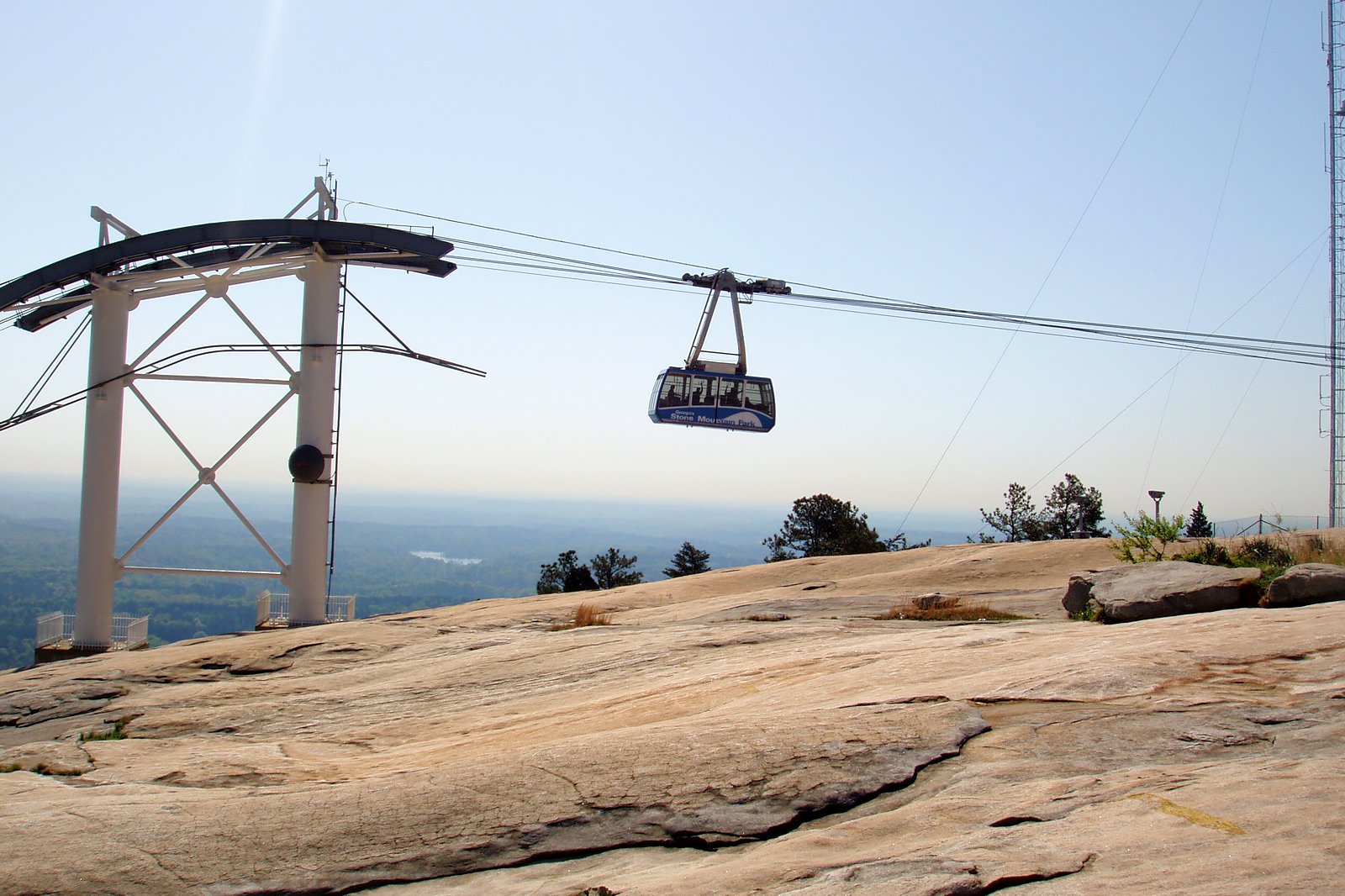 Ride the Summit Skyride at Stone Mountain
Head up for mountaintop panoramas over Atlanta
This cable car ride lets you enjoy amazing views of Atlanta and its surroundings from the top of Stone Mountain, a vast monolith that serves as a Civil War monument. Each car of the Summit Skyride features only a few seats, so don't be surprised if you end up having to enjoy the ride standing. The ascent provides you with a peek at the commemorative etching on one side of the rock, and the operator may provide a bit of fun historical detail along the way.
Location: Stone Mountain Park, 1000 Robert E Lee Blvd, Stone Mountain, GA 30083, USA
Open: Daily from 10am to 5pm
Phone: +1 770-498-5690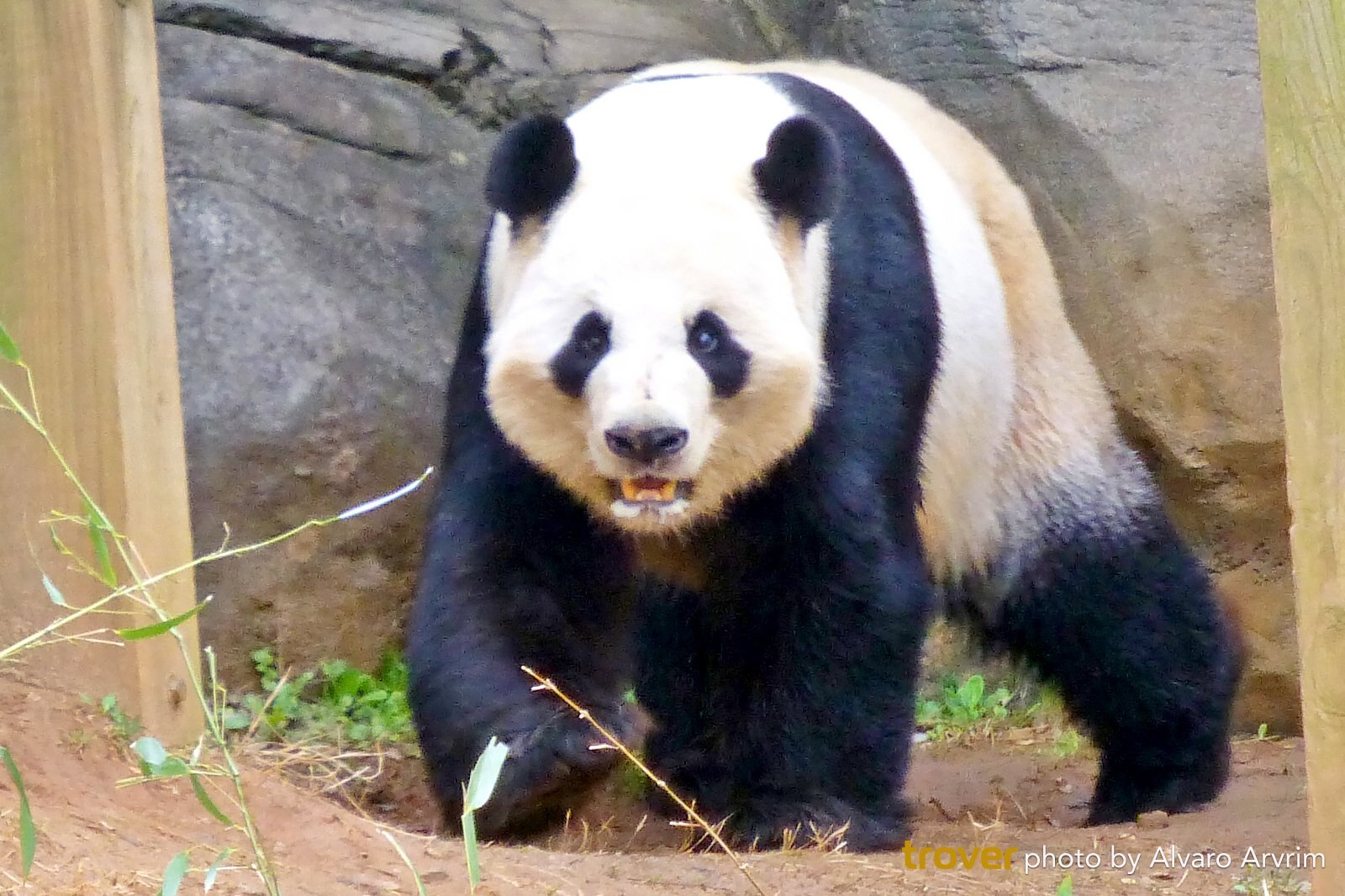 See the giant pandas at Zoo Atlanta
An American home to furry bears from China
As one of the oldest zoos in the States, Zoo Atlanta features a rich collection of animals from around the world, with 4 pandas from China among its main highlights. Some of the other big animals include African elephants, lions, and Sumatran tigers. You can go on a safari-like tour through its African Savannah. There's a colourful mini train, a handcrafted replica of an original 1863 locomotive, which over a hundred kids can go together on in a single ride.
Location: 800 Cherokee Avenue SE, Atlanta, GA 30315, USA
Open: Daily from 9.30am to 5.30pm
Phone: +1 404-624-5600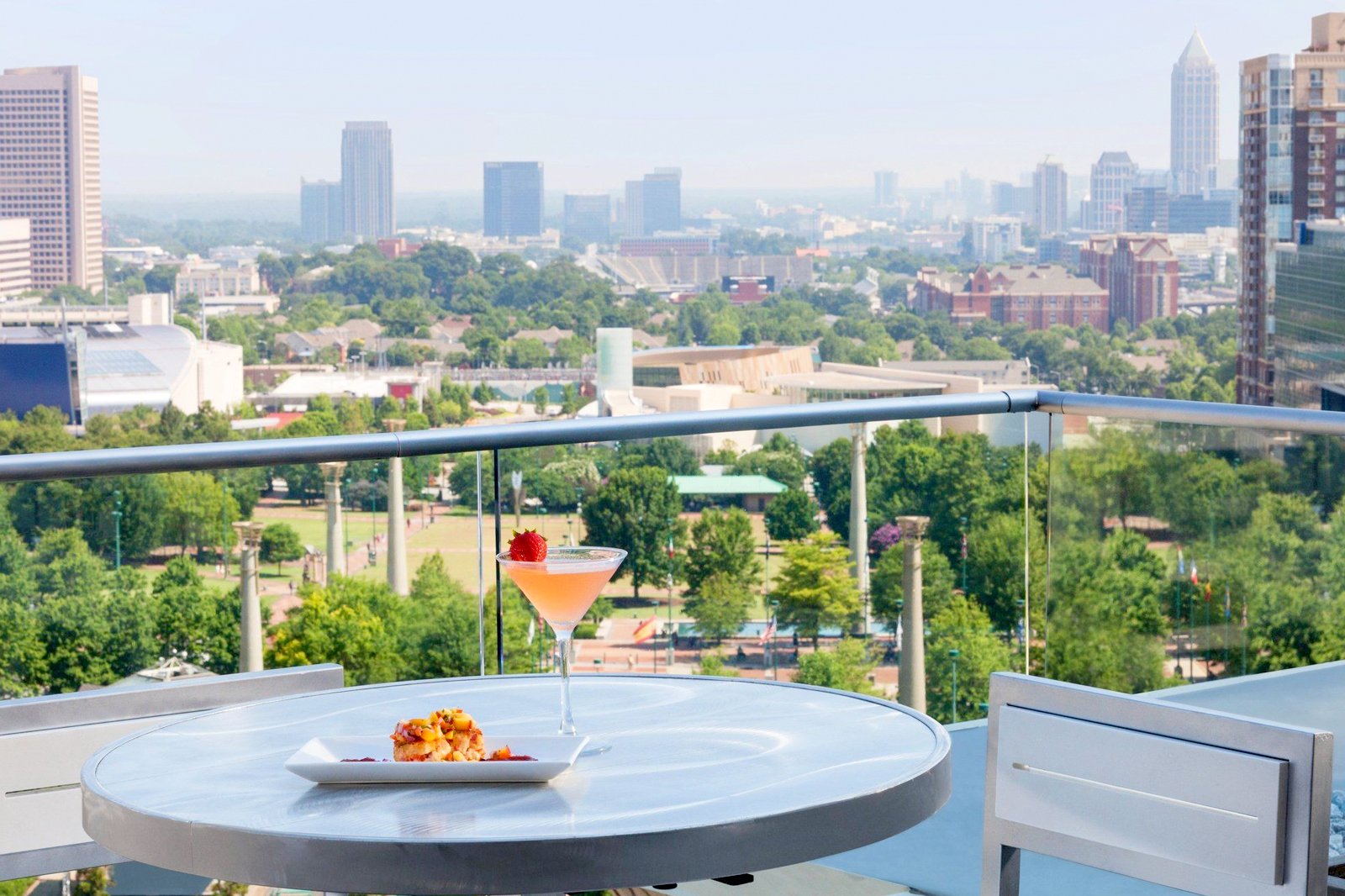 Chill on the rooftop at SkyLounge
Cocktails with a view from a sophisticated rooftop lounge
You can easily view the SkyView Ferris wheel, the Fountain of Rings at the Centennial Park, and the traffic down below in downtown Atlanta from up high at SkyLounge. This chic rooftop lounge at the Glenn Hotel is usually not so crowded on weekdays, but if you're planning on coming over the weekend, you might need to book ahead. For cocktails, try their signature Glenntini, a refreshing blend of infused vodka, garnished with a paper-thin slice of cucumber. Expect live music over the weekends, from 7pm onwards.
Location: Glenn Hotel, 110 Marietta St NW, Atlanta, GA 30303, USA
Open: Daily from 6pm to 11pm (Fridays and Saturdays until 1am, Sundays until 10pm)
Phone: +1 404-521-2250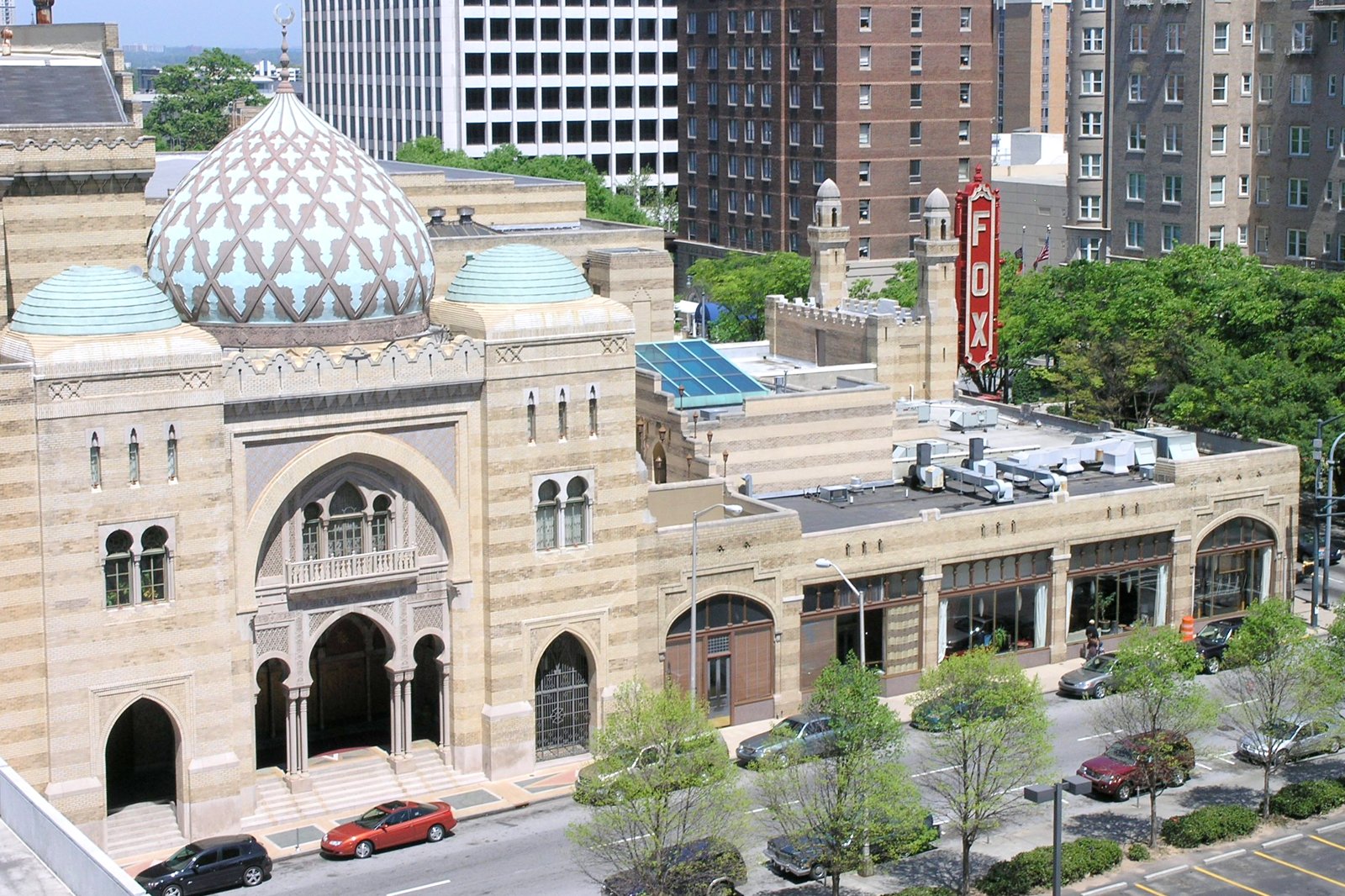 End the day with a show at Fox Theatre
Concerts and shows at Atlanta's favourite theatre
Home to a rare and classic Moller organ called the "Mighty Mo", the Fox Theatre on West Peachtree Street in Midtown Atlanta is one of the city's favourite theatres. It's where you can check out a regular schedule featuring dance performances, symphony orchestras, comedic acts, and various Broadway musicals. Even when the shows aren't on, it's a great spot to learn about some of the city's history and how its beautiful architecture was restored to its 1920's glory.
Location: 660 W Peachtree St NW, Atlanta, GA 30308, USA
Open: Most shows start at around 8pm
Phone: +1 404-881-2100
photo by Daniel Mayer (CC BY-SA 3.0) modified