12 Best Food Markets in London
Where to Find Great London Street Food
London is a cosmopolitan hub of diverse and eccentric cultures, so it's not surprising that it remains one of the top culinary destinations in the world. The city's spirit is very much linked to its vibrant street life and the London food scene is no exception to this. From Borough Market to Brixton Village, what rings true with all these markets is that food quality comes first.
We have picked out the best of the best food markets within London below. Forget pristine table clothes and silver service – hit these street vendors for some of the best food in the city.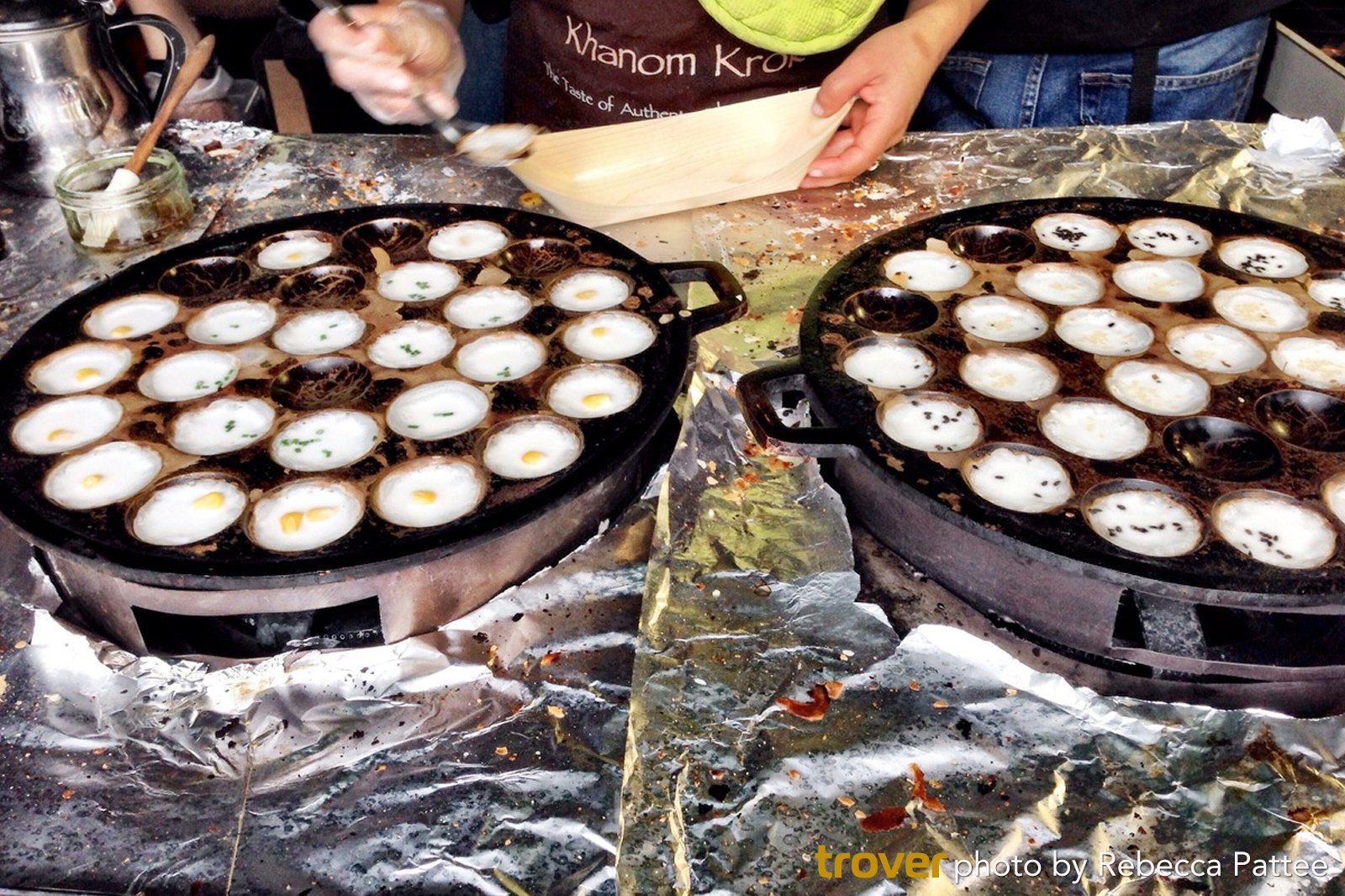 Borough Market
The best-known market in London
Borough Market is an unmissable food market, beloved by both locals and tourists. It first opened in 1756, and still has a great reputation for providing high quality produce and artisanal goods. Visiting the market can be a sensory overload, with the colourful stands, the chattering of the crowds and the random wafts of unusual smells. The hustle and bustle of the market is what has kept it thriving for so long. Try one of the homemade cold and hot pies from Mrs King's Pork – made with love since 1853. For a little something sweet, visit Rabot 1745 for inventive cocoa creations.
Location: 8 Southwark Street, London SE1 1TL, UK
Open: Monday–Thursday from 10am to 5pm, Fridays from 10am to 6pm, Saturdays from 8am to 5pm (closed on Sundays)
Phone: +44 (0)20 7407 1002
Shoppers
History
Photo
Food
Budget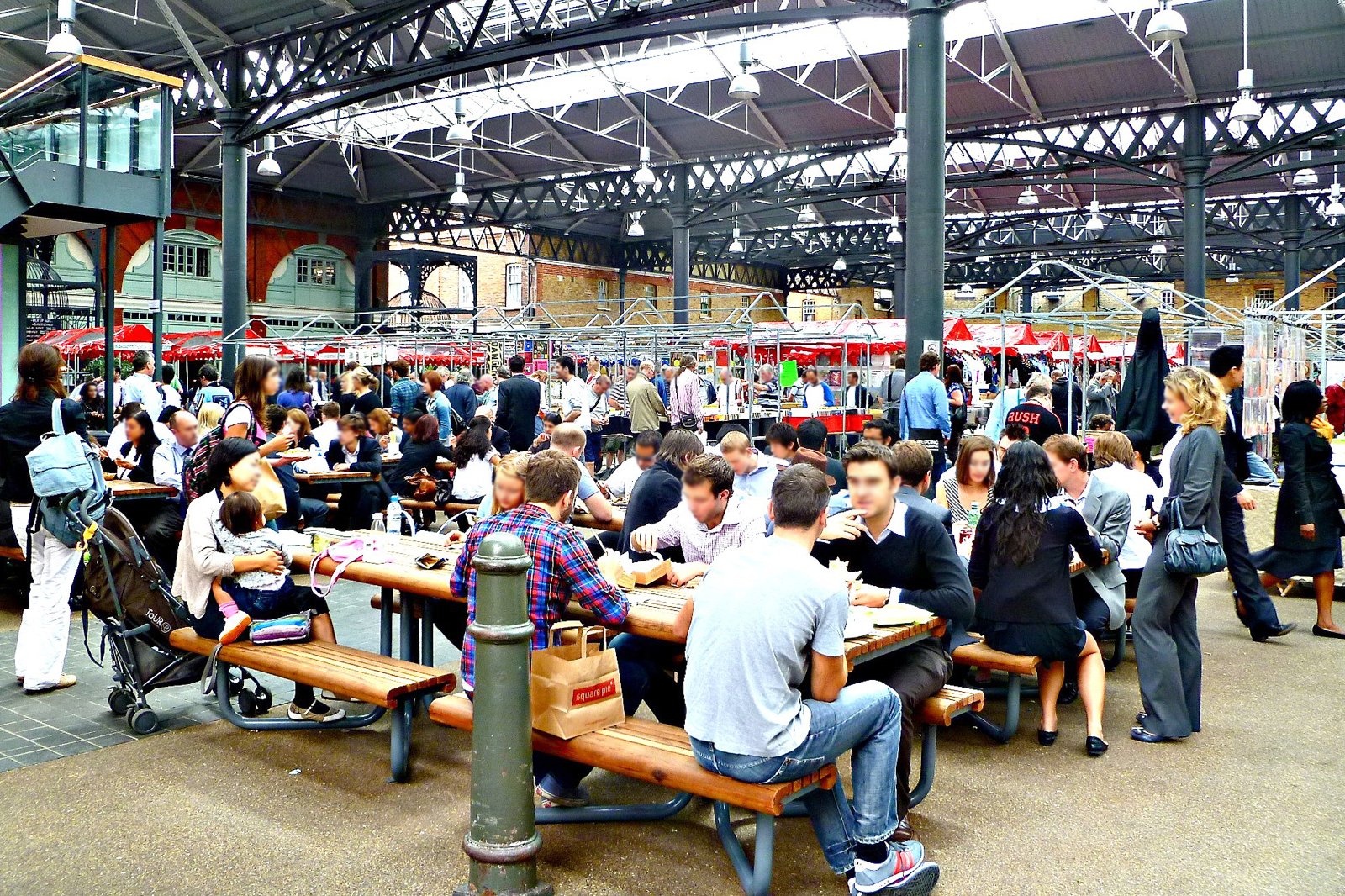 The Kitchens at Old Spitalfields Market
A stylish market with excellent international foods
Old Spitalfields Market is probably already be on your bucket list, so The Kitchens market just gives you even more reason to visit. This intimate market is found within the larger complex and is a collection of some of London's best restaurants in street food form. The atmosphere is stylish and refined and the food follows suit. There are 10 fully working kitchen units within this space, and our favourites are SOOD Family, Rök, Breddos Tacos, Berber & Q and Flank. Take your pick and choose a stall or give the diet a day off and try them all.
Location: 16 Horner Square, London E1 6EW, UK
Open: Monday–Friday from 11am to 8pm, Saturdays from 11am to 6pm, Sundays from 11am to 5pm
photo by Herry Lawford (CC BY 2.0) modified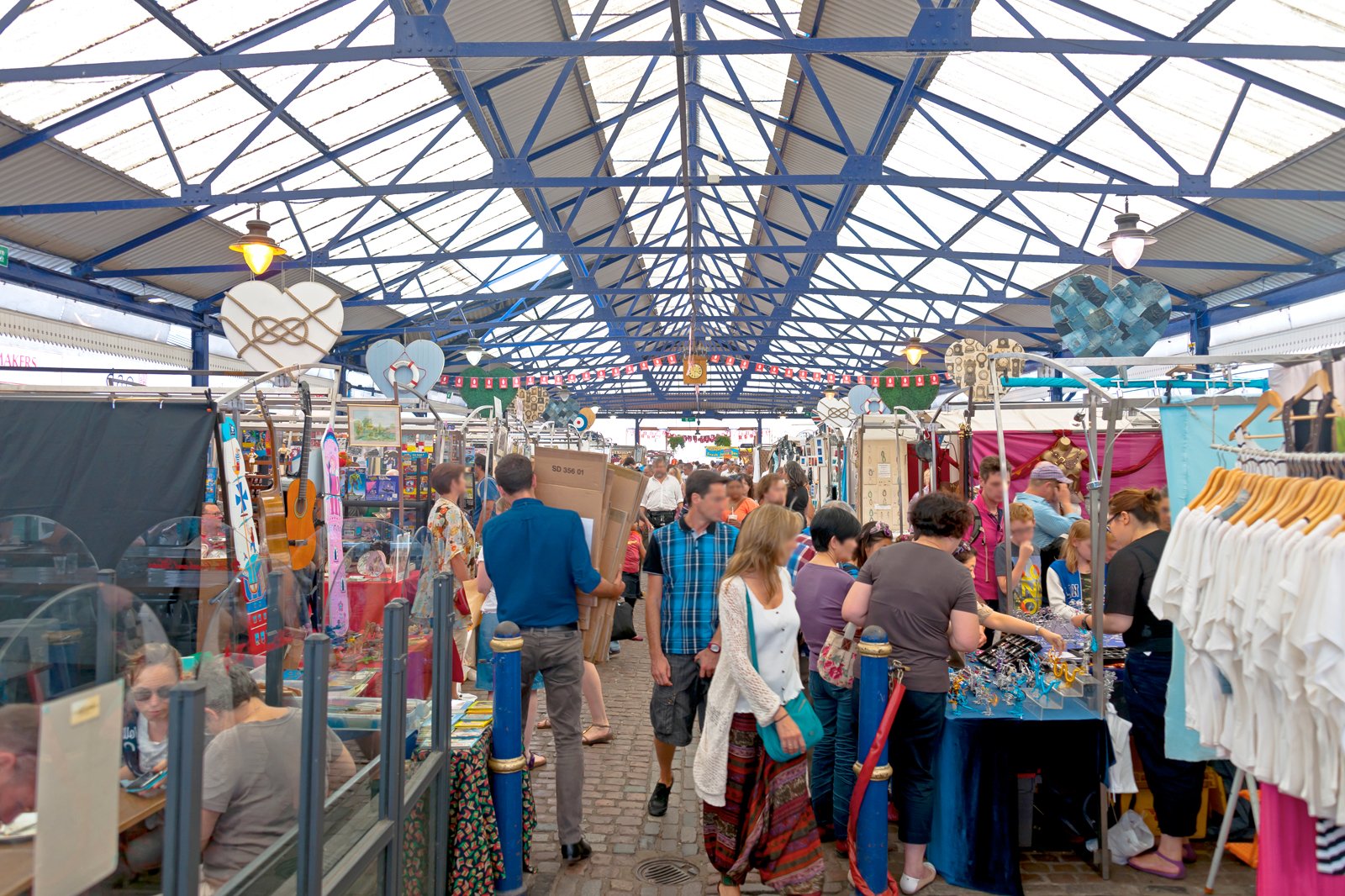 Greenwich Market
The city's only historical market set in a World Heritage site
Greenwich Market attracts an eclectic mix of people – from tourists to hippie locals and trendy South Londoners. Like the area around it, Greenwich Market has a character of its own due to the multicultural community and rich historical roots as an ancient village on the banks of the Thames. Stalls peddle street foods, antiques, handicrafts, vintage fashion and jewellery. Expect all sorts of cuisines here: Indian, Ethiopian, Japanese and Italian, among others. On weekends, food stalls extend onto Durnford Street, where outdoor seating is offered for diners. Look out an old-fashioned typewriter kiosk – next to this is an excellent sushi stall.
Location: 5B Greenwich Market, London SE10 9HZ, UK
Open: Daily from 10am to 5.30pm
Phone: +44 (0)20 8269 5096
photo by Daniel Case (CC BY-SA 3.0) modified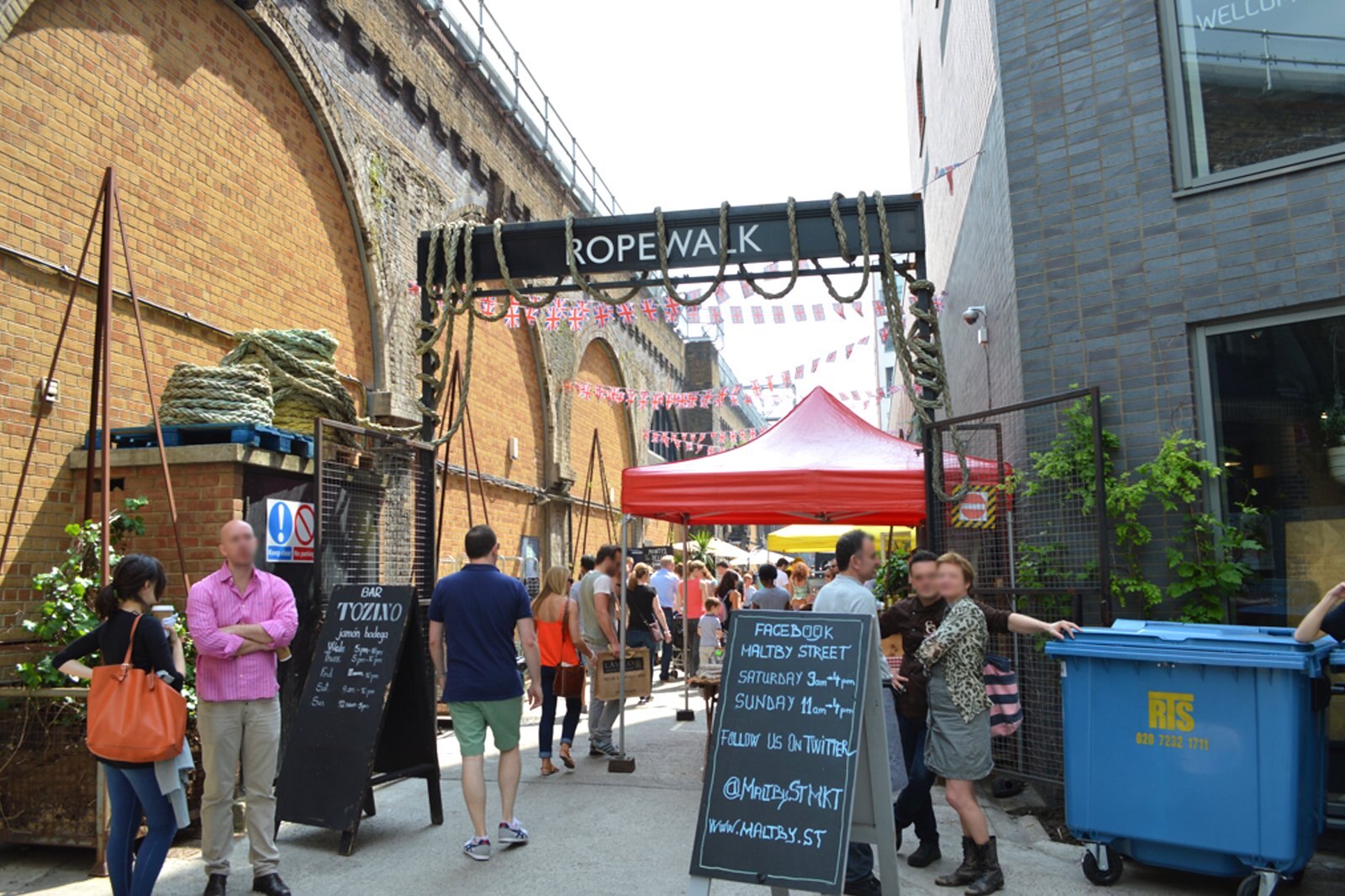 Maltby Street Market
Gourmet food paradise
Maltby Street Market is one of those ridiculously pretty markets that will have you snapping pictures at an alarming rate. Found below railway arches and billowing bunting, you almost feel like you're in a country village, far away from the bustle of London. Although the market is fairly small, the quality of the traders is fantastic, and you'll be spoilt for choice. Stroll around the market sampling foods from all the stalls and chit-chatting with the friendly vendors. Make sure to try the salted caramel brownies at Bad Brownie, along with any other new, over-the-top brownies they've created. For something to warm you up, head to Raclette Brothers and order the sausage option of the classic raclette potatoes – they top it with their signature maple-bacon crumb. For something truly out-there, visit Dhan Waffle for their puffs of waffles topped with sweet, gooey sauces.
Location: Maltby Street, London SE1 3PA, UK
Open: Saturdays from 10am to 5pm, Sundays from 11am to 4pm
Phone: +44 (0)20 7394 8061
photo by Matt Brown (CC BY 2.0) modified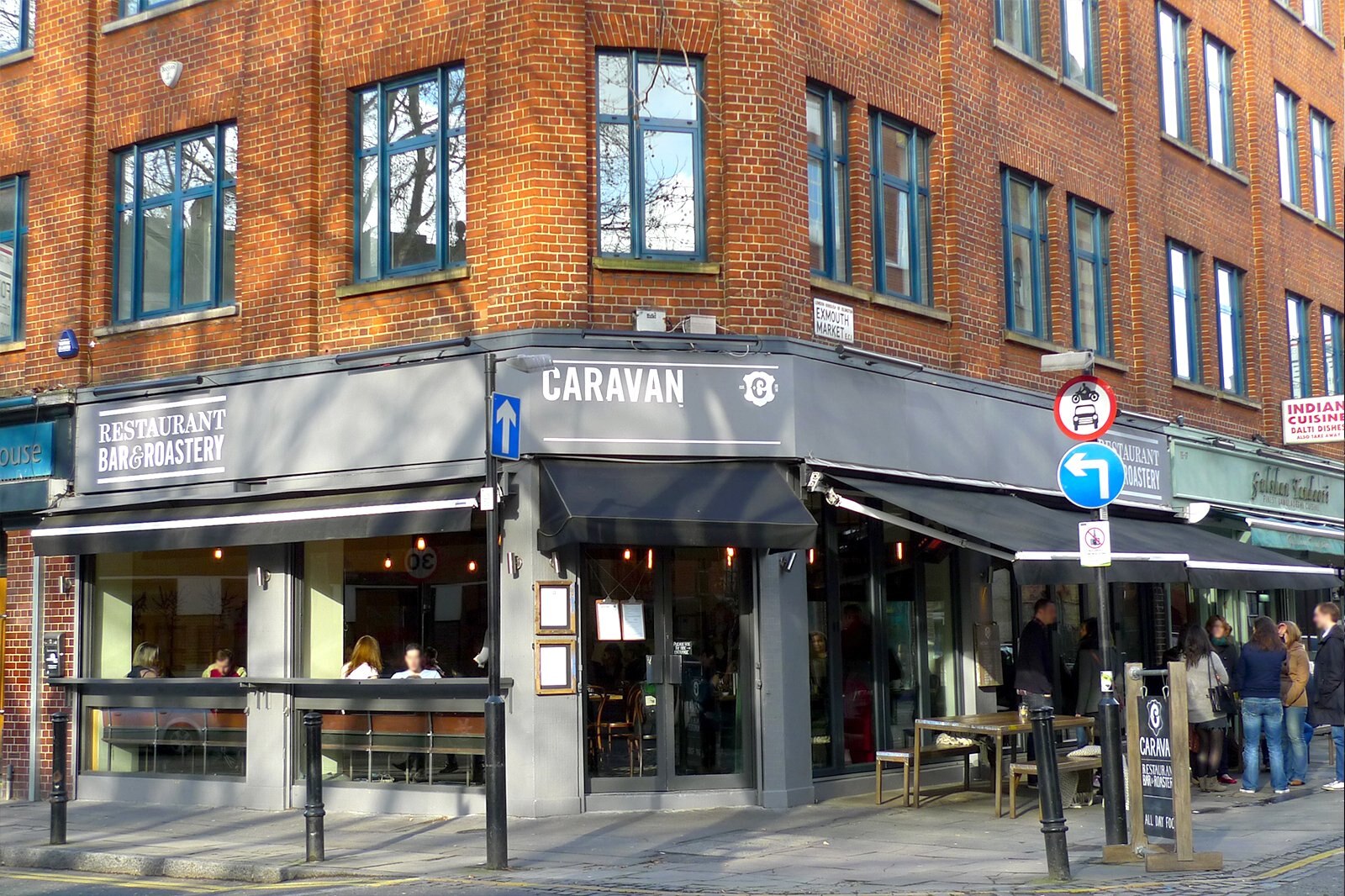 Exmouth Market
Grab some food in a picturesque setting
Exmouth Market is set in an idyllic cobbled enclave. Vendors are pitched amid quaint vintage shops and cafés with golden fairy lights strung between either end of the lane. Delicious smells of spices and herbs fill the air, and young professionals from the nearby offices flock to get their lunch here. This market is a great place to stop by for a quick but delicious bite to eat. Sit on a bench with the charming bell tower in view or indulge in some window-shopping along the street. A true shining star of the market is the Ghanaian stall – order the 'small' tub of jollof rice with 2 stews for only £5.
Location: 49 Exmouth Market, Clerkenwell, London EC1R 4QL, UK
Open: Monday–Friday from 11am to 2pm
photo by Ewan Munro (CC BY-SA 2.0) modified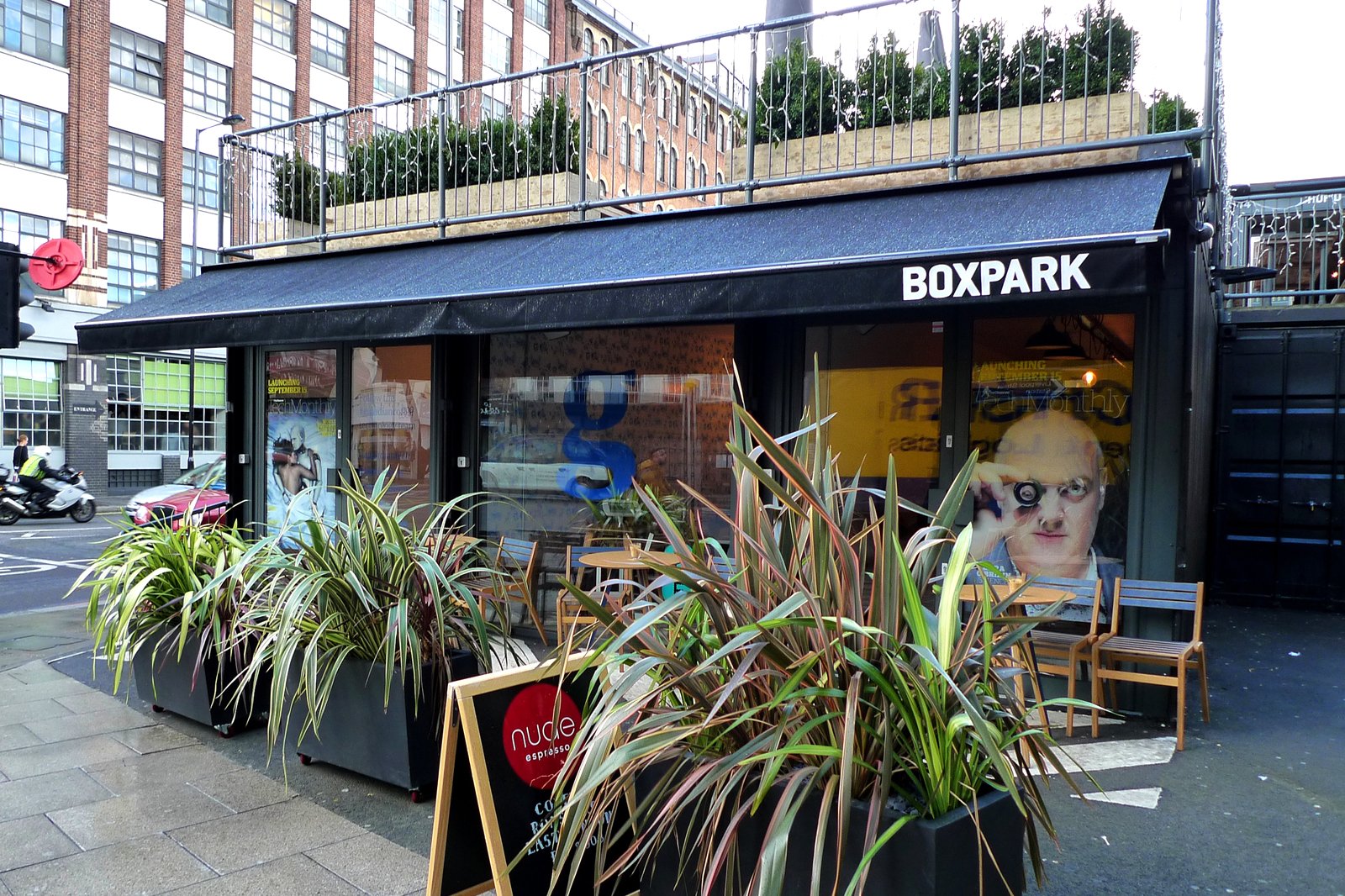 Boxpark Shoreditch
Scoff down treats from small vendors
Boxpark in Shoreditch is a food and retail park made out of repurposed shipping containers. This market fits right in with the hipster vibe that runs wild in Shoreditch, as do most of the shoppers. Whether you're looking for a full-on meal or just a little snack and a cocktail, Boxpark can offer both. Cottons Rhum Shack serves up a huge selection of rum – 250 different kinds to be exact. Their jerk chicken barbecue skewers are a big hit, too. To end your meal sweetly, head over to Dum Dums Donutterie and order the raspberry-preserve doughnut.
Location: 2-10 Bethnal Green Road, London E1 6GY, UK
Open: Monday–Saturday from 11am to 11pm, Sundays from 12pm to 10pm
Phone: +44 (0)20 7186 8800
photo by Ewan Munro (CC BY-SA 2.0) modified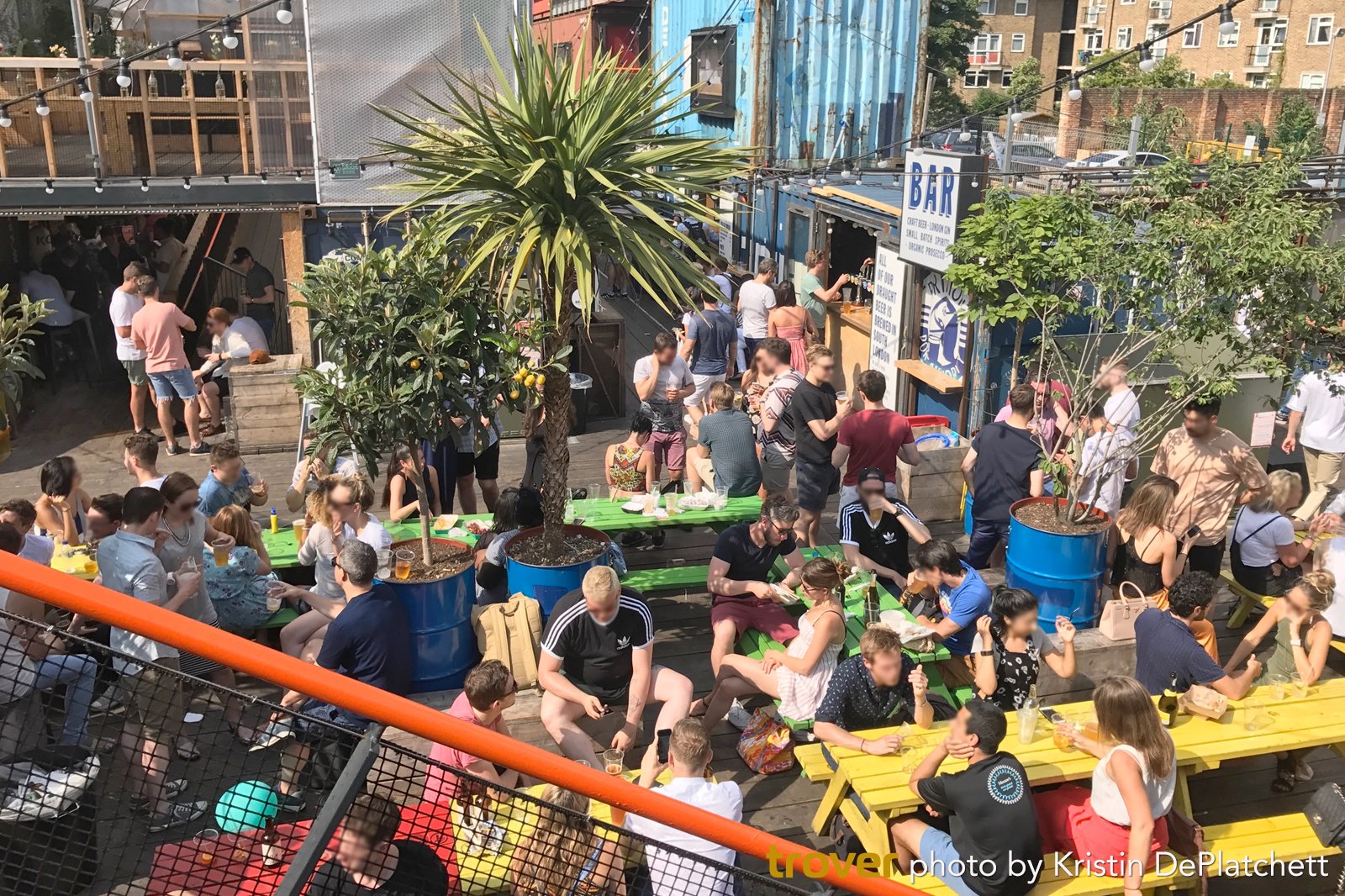 Brixton Village and Market Row Markets
For all sorts of unique foods
Found in South London, Brixton Village and Market Row Markets are 2 separate markets found in 2 different arcades, but strongly linked by their ties to Brixton's rich cultural history. The markets are home to over 120 independent traders, such as the famous Franco Manca and Honest Burgers, both of which started in the area. More niche restaurants and cafés include Etta's Seafood Kitchen, where Jamaican/European fusion seafood is served, and Brixton Village Grill, where mouth-watering, smoky Portuguese grilled meats are cooked. There are also multiple excellent Caribbean restaurants and takeaways – almost too much to choose from.
Location: Unit 74, Brixton Village, Coldharbour Lane, Brixton, London SW9 8PS, UK
Open: Tuesday–Sunday from 8am to 11.30pm, Mondays from 8am to 6pm
Phone: +44 (0)20 7274 2990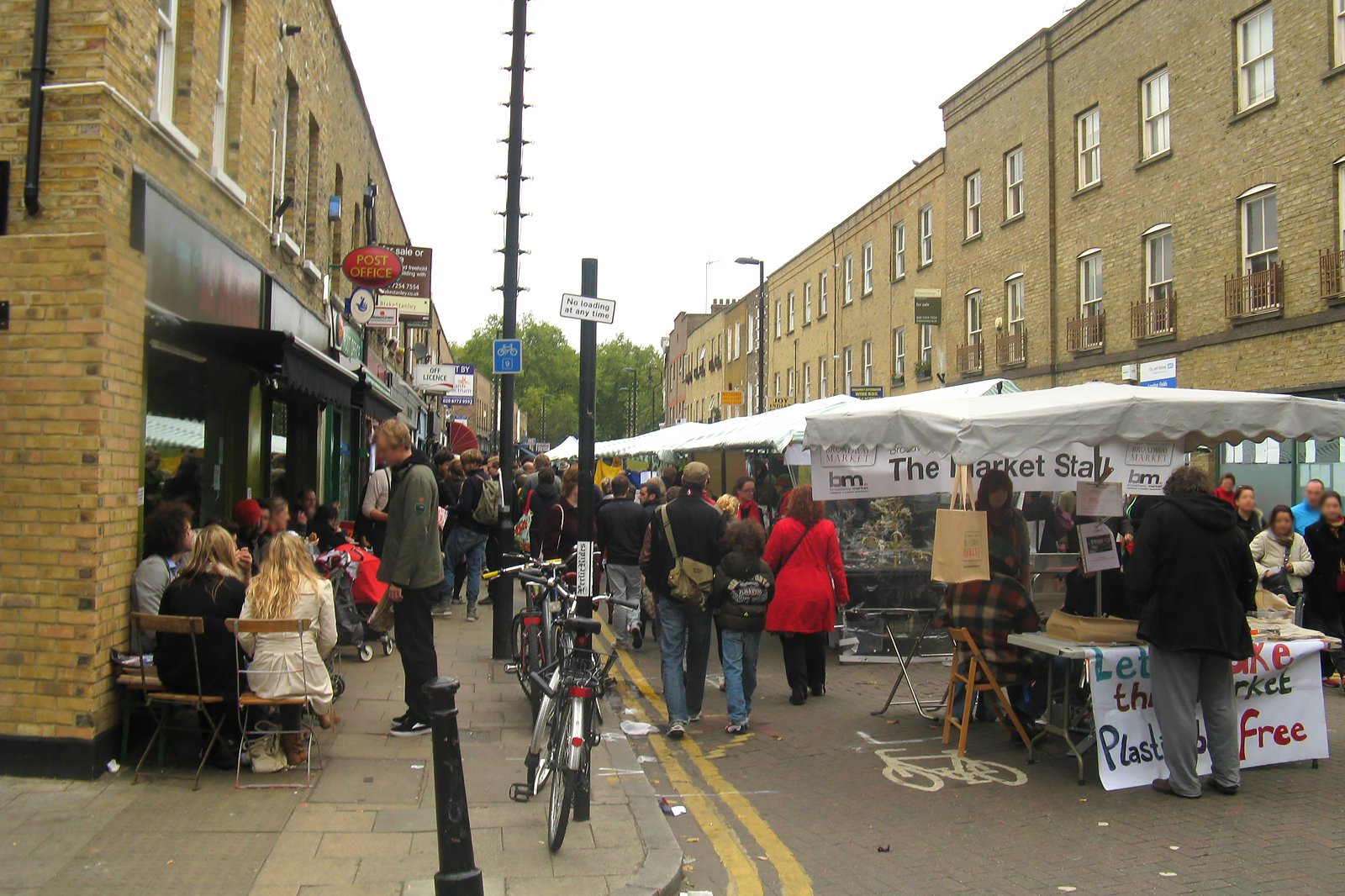 Broadway Market, East London
Arguably London's hippest market
Broadway Market is nestled in the heart of Hackney and connects London Fields to the Regent's Canal. On sunny days, the market shines bright with life and happy noise as crowds of all ages come to revel in the cheerful atmosphere. The market offers 135 stalls of street food, fresh produce, flowers, vintage clothes, books, groceries, coffee – the list goes on. The stalls are only set up on Saturdays, but it's still worth visiting on other days of the week for the charming cafés and trendy boutiques. For something a bit unusual, try the Sunday Roast burrito at Yorkshire Burritos. Other dishes worth mentioning include the crab cake burgers at Fin and Flounder and the chocolate eclairs at Floris Bakery.
Location: Broadway Market, London E8 4PH, UK
Open: Saturdays from 9am to 5pm
photo by Matthew Black (CC BY-SA 2.0) modified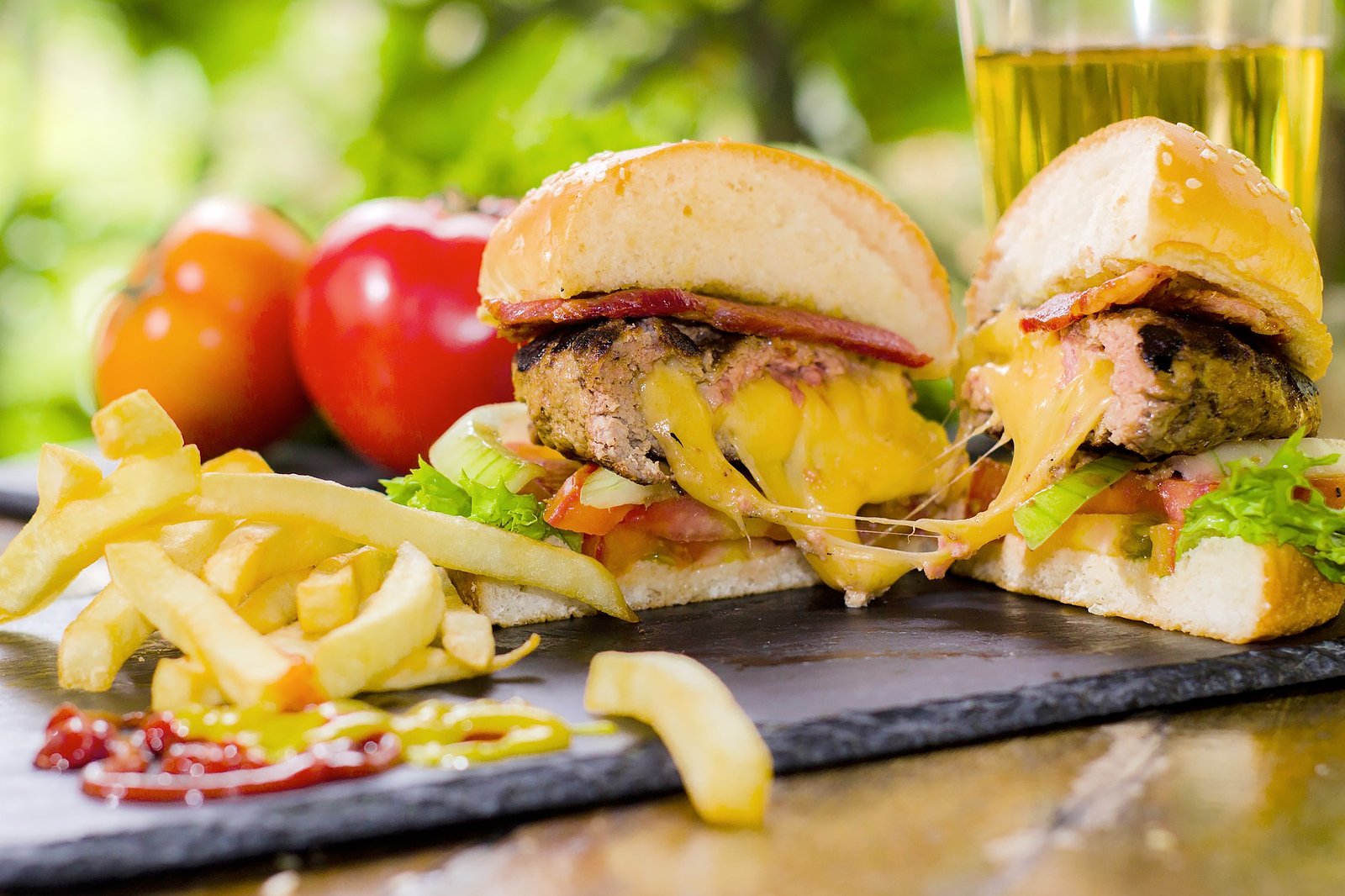 Flat Iron Square
A market sprawled under railway arches
Flat Iron Square is a hub of street dining, drinking and dancing in the shadow of The Shard. On weekends, a flea market pops up selling vintage clothes, cameras, homeware, books and much more. The square is always bustling with either tourists or young professionals ready to down a drink and a burger after a hard day's work. The street stalls and vans cook a range of international foods, from Neapolitan-style pizzas from Baz & Fred to Turkish dumplings from Manti by Mike + Ollie. Fit for winter, Apres is a make-believe winter ski chalet serving hot cocktails and a cosy atmosphere.
Location: 64 Southwark Street, London SE1 1RU, UK
Open: Mondays from 12pm to 9pm, Tuesday–Friday from 8am to 12am, Saturdays from 9am to 12am, Sundays from 9am to 8pm
Phone: +44 (0)20 3179 9800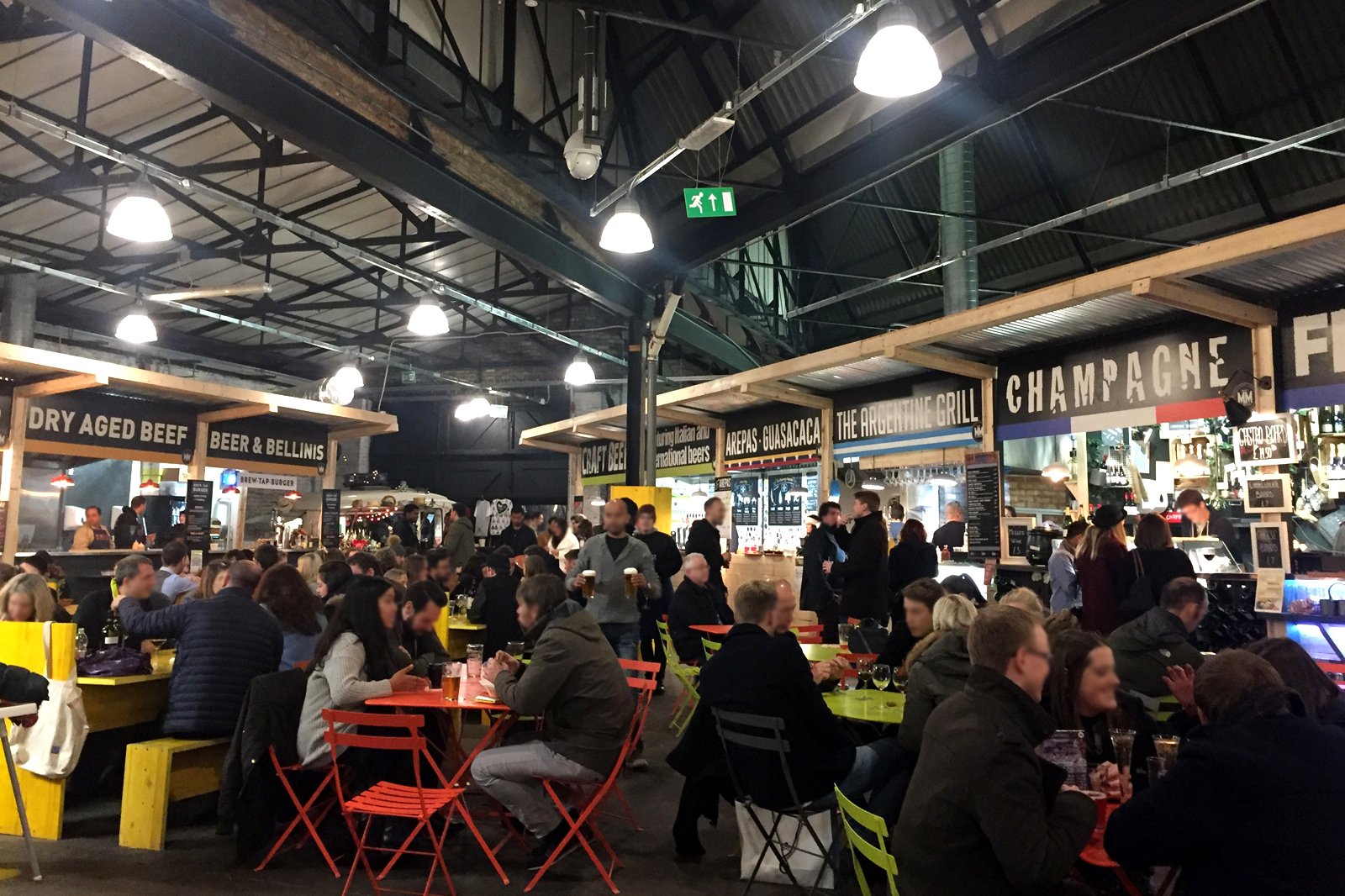 Mercato Metropolitano
For lovers of Italian food
Sprawled out on an industrial space, Mercato Metropolitano is located in Elephant & Castle and focuses mainly on Italian cuisine in a casual setting. This massive street food hall will certainly impress in size and variety. There are 26 different food stalls, with most types of Italian food available, including fresh pizza, pasta, fritto misto and arancini. If you're not feeling Italian, don't fret, they also have Turkish, Indian, Mexican and Lebanese food, among others. The setting is truly cool, and you'll find yourself munching away and staring at your surroundings pretty often. To top it off, the hidden-away Backyard Cinema can be visited after your meal for sci-fi films inside a fake spaceship. If you're up for something more active, head to the yoga studio upstairs.
Location: 42 Newington Causeway, London SE1 6DR, UK
Open: Monday–Friday from 8am to 11pm, Saturdays from 11am to 11pm, Sundays from 11am to 10pm
Phone: +44 (0)20 7403 0930
photo by Bex Walton (CC BY 2.0) modified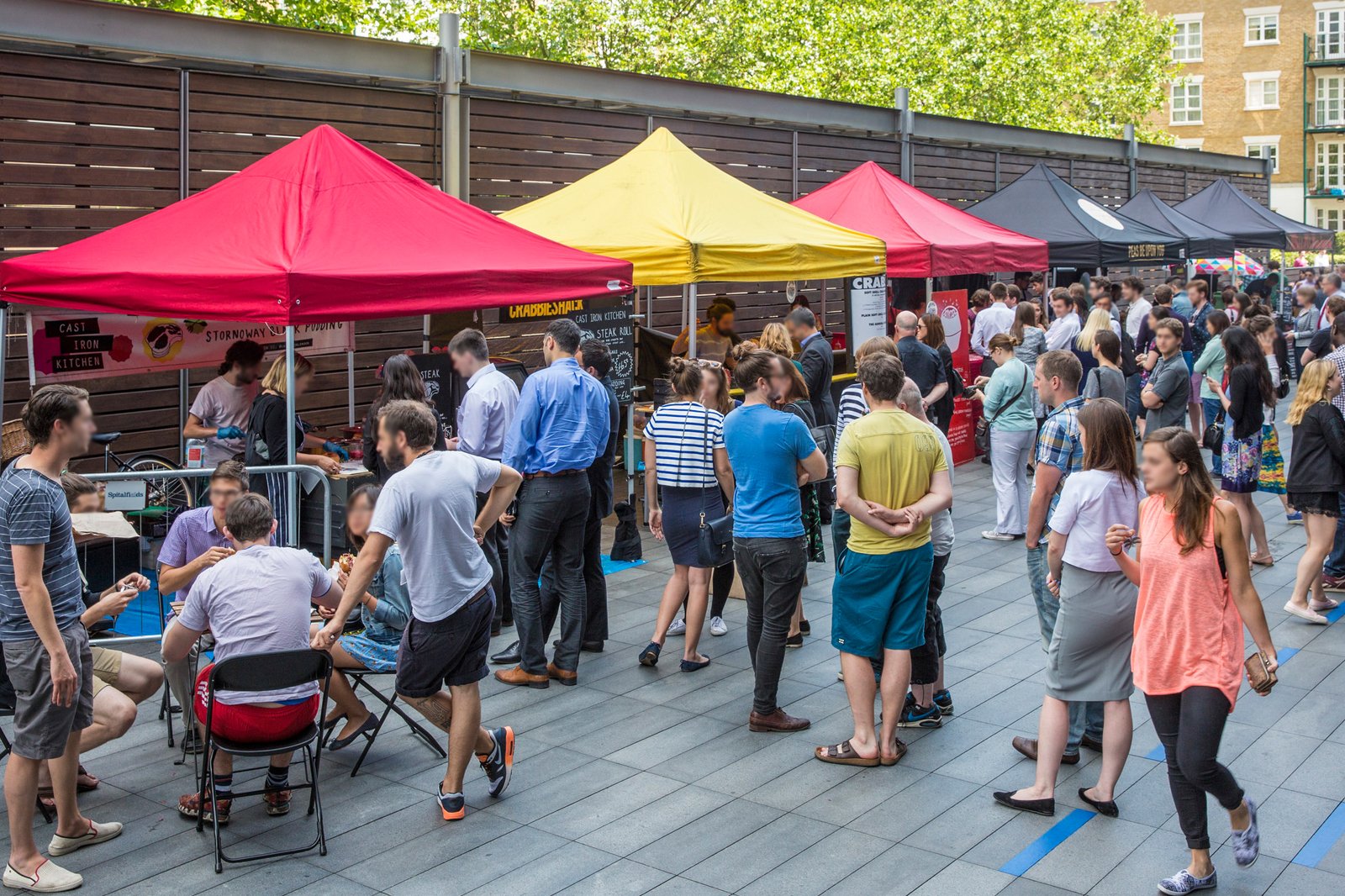 KERB, Citywide
A street food company running 5 markets
KERB prides itself in serving adventurous and tasty street food and wants everyone to try it. Crowds at KERB markets are often office workers looking to spice up their lunch or dinner times. There are 5 markets spread across the city. The best of the 5 being Paddington and Camden. The fortnightly Paddington market offers a mean mac 'n' cheese at Anna Mae's and flavourful jollof and peas from Cally Munchy. The Camden Market is open all week and has addictive halloumi fries cooked up by Oli Baba's. You should also try the Taiwanese steamed buns from Bian Dong.
photo by Spitalfields_E1 (CC BY-SA 2.0) modified
Street Feast, Citywide
For party crowds with an appetite
The most famous of Street Feast's markets is Dinerama in Shoreditch. Street Feast's markets are always set up in an effortlessly cool environment, with Dinerama found in a former bullion truck depot and the Lewisham market in a former '50s market. The markets are guaranteed to give you a good time, with excellent sound systems, impressive cocktail bars and heavenly street food. Whether you're at the Woolwich market trampolining in between meal breaks (probably not a good idea) or at Canary Wharf sampling the extensive supply of dumplings, you'll have a good time (and maybe a hangover).
photo by Bex Walton (CC BY 2.0) modified