Heathrow Airport (LHR) is the largest airport in London. It has 4 terminals, which are confusingly numbered 2 to 5. Terminal 1 closed in 2015 after 47 years of service. The airport's planned expansion continues well into 2030, including for its Terminal 2. Fun fact: Terminal 3, not 1, was the first building of the current terminals to open, welcoming its first passengers back in 1961. At that time, the airport was still known as London Airport. It became Heathrow 5 years later. The largest and most modern terminal is T5, from where most British Airways flights depart.
In 2018, a whopping 80.1 million passengers used Heathrow as their London gateway. That puts it in the top ten of airports worldwide when measured by passenger traffic. That's almost double the number of passengers that visited the closest London rival, which is Gatwick, in the same year. From Heathrow, over 80 airlines serve more than 200 destinations worldwide.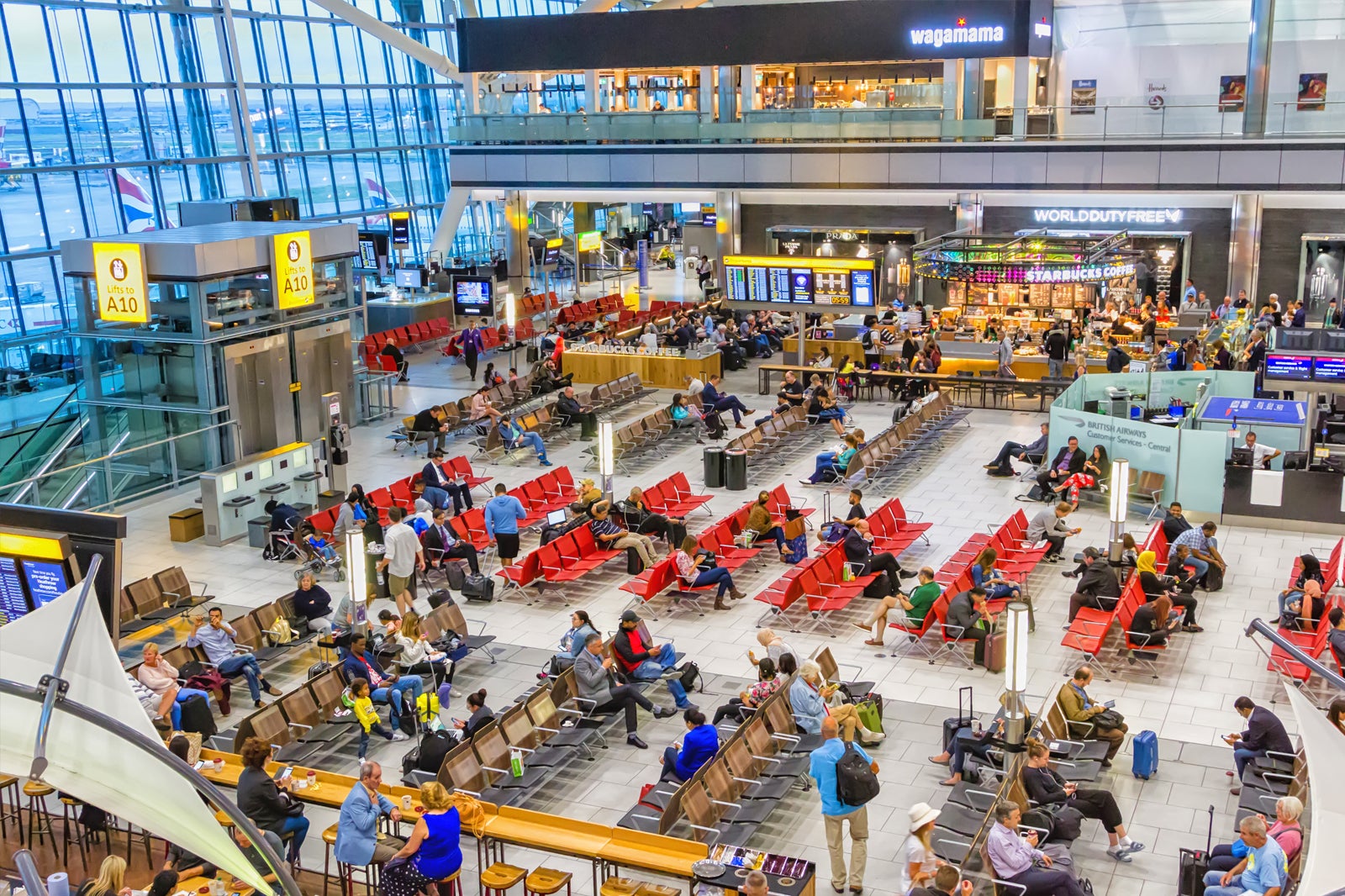 What are the highlights and features of Heathrow Airport?
If you have a few hours to spare before your flight, there's plenty to do in Heathrow Airport after you clear security. Take the opportunity to dine at a celebrity chef's restaurant. Terminal 5 is home to Gordon Ramsey's Plane Food. You'll never moan about airline food again because the restaurant's To Go menu is designed to be taken on board your flight. At Terminal 2, you'll find The Perfectionist's Café by the equally successful Heston Blumenthal. Sample the ice cream, which is chilled by liquid nitrogen.
The airport has several retail initiatives that make shopping much easier and more convenient for flyers. For instance, you can book a complimentary appointment with a personal shopper airside. Transfer passengers with more than 3 hours between flights can visit shops in other terminals. The "reserve and collect" service allows you to browse at home – you pick up your purchases before your flight. There's also a "collect on return" option for inbound passengers. You simply pick up what you've paid for in the arrivals hall when you return from your trip.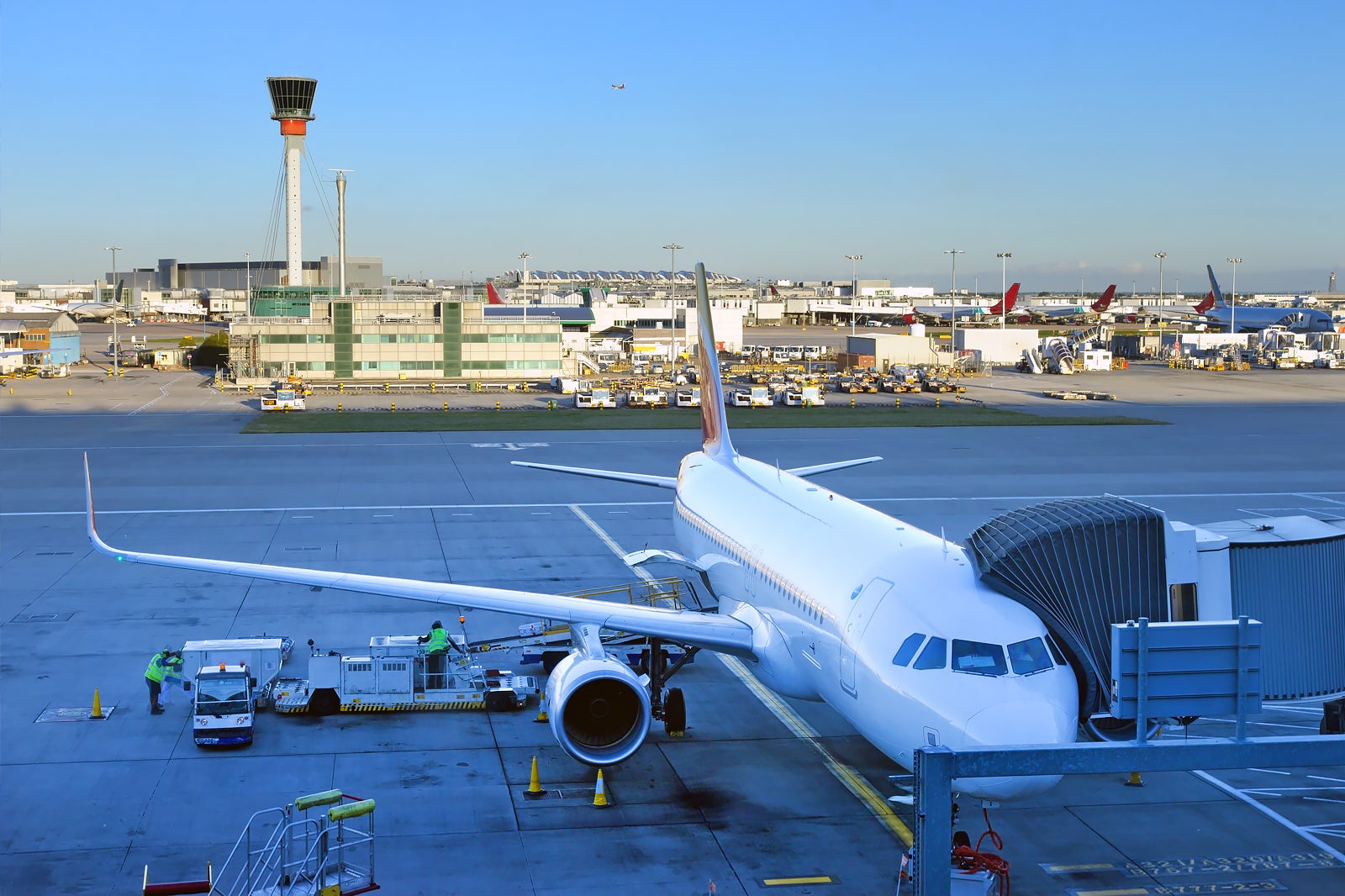 Getting to and from Heathrow Airport
Heathrow is the 2nd closest of the 6 London airports to the centre of the city – the appropriately named London City Airport is nearer. Even so, the capital's congested roads mean that getting to the West End by taxi can be time-consuming. Similarly, bus transfers aren't recommended unless you're a fan of sitting in traffic. Instead, it's far better to travel by train.
Catch the Heathrow Express to Paddington Station. It is the quickest route – just 15 minutes. However, it's also the most expensive. The Tube is a lot slower but you'll save money if you have time to sit on the Piccadilly Line for an hour. Compromise and hop on the stopping trains to Paddington. Transport for London (TfL) runs them now but some people still use their old name, Heathrow Connect. The ticket is about half the price of the Heathrow Express. The journey time is a lot shorter than the Underground. When the Elizabeth Line opens, these trains will cross London to Shenfield in Essex.
If you're a transit passenger at Heathrow, make the most of your layover and head into town. Store your luggage at the airport with the Excess Baggage Company (charges apply). Set your sights on Notting Hill, Kensington, or Marylebone which are all in the western part of London. Allow at least 4 or 5 hours to avoid missing your flight. Alternatively, make an appointment at the Be Relax Spa in Terminal 5. Pamper yourself with a massage, mani-pedi or facial, and board your flight looking like a million dollars.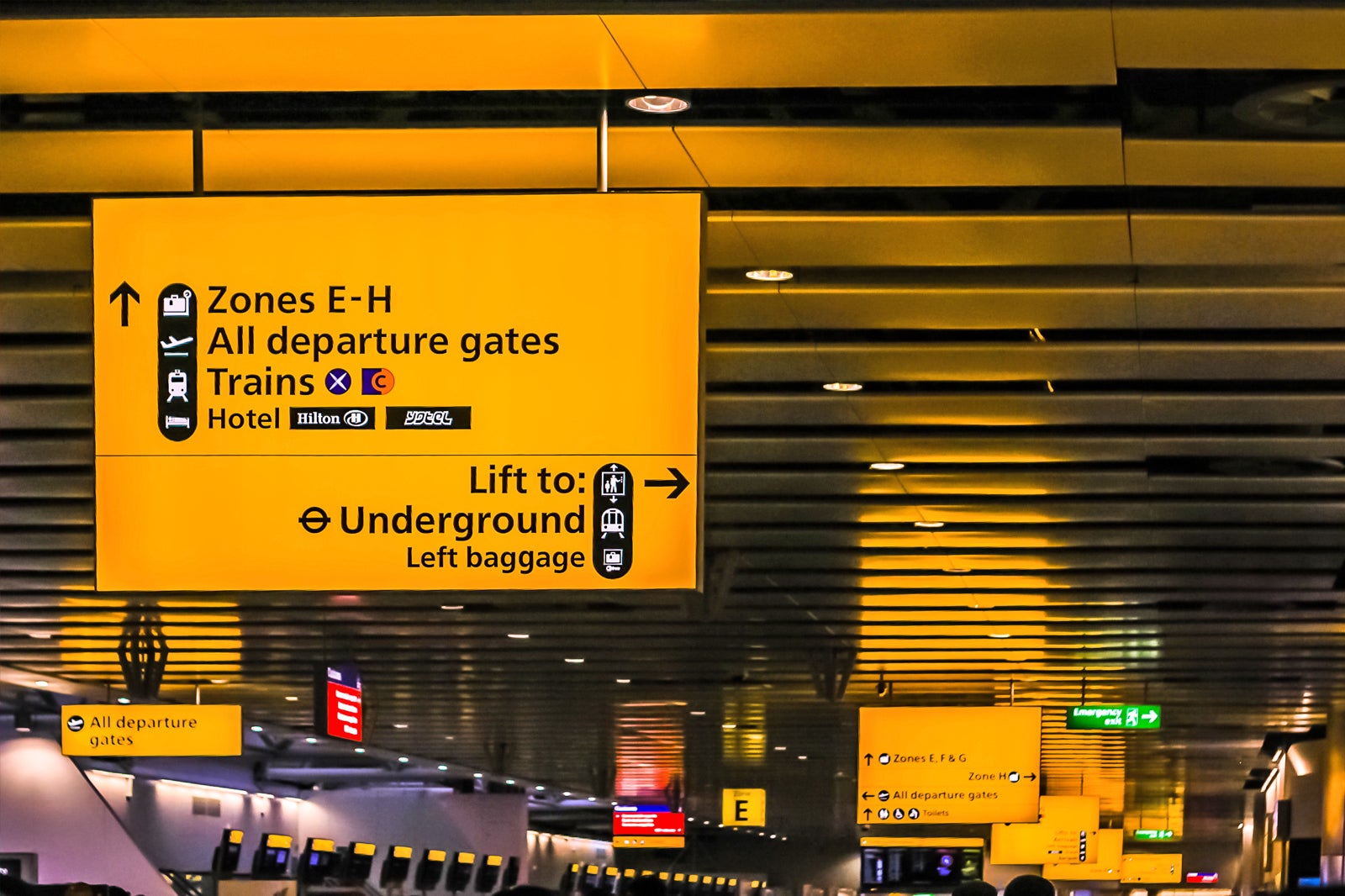 London Heathrow Airport
Location: Longford TW6, UK
Phone: +44 (0)8443 351801
Back to top