10 Money Saving Tips in Weymouth
How to Enjoy Weymouth With a Small Budget
You don't need to miss out on an exciting holiday in Weymouth if you're on a budget. A great start is to practice cost-saving tricks like booking your travel early, whether for accommodation or airfare, and visiting during the off-peak season. Additionally, there are many great activities for all types of travellers that won't break the bank.
For example, you could grab a pair of waders to go crabbing, or rent a bicycle to tour the countryside. Read our list of money-saving tips in Weymouth, so you can start planning your exciting holiday without having to worry about scrimping along the way.
1
Book travel early
Find deals when you book travel early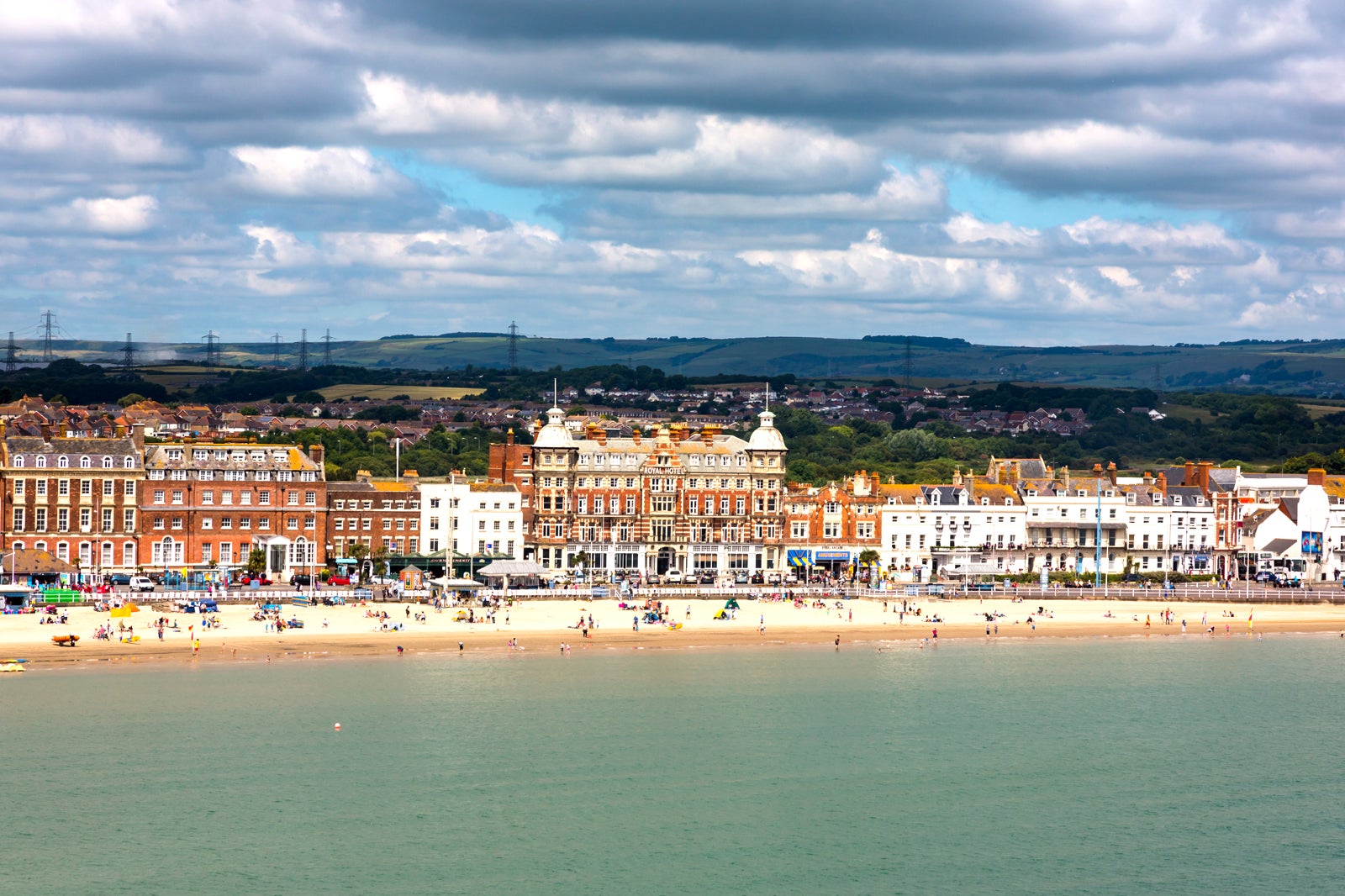 Save money on a Weymouth trip by booking your travel early. You'll fly into Bournemouth if you're planning to use air travel to get to Weymouth. Booking a flight early will potentially save you a lot because early fares are often discounted when an airline is incentivized to ensure its flights are full.
Book at least 4 weeks early, sometimes even 4 months in advance. You can even monitor fares over a period to see if saving trends emerge and strike a deal when it's most convenient.
2
Visit in the off-season
Experience better savings by avoiding peak season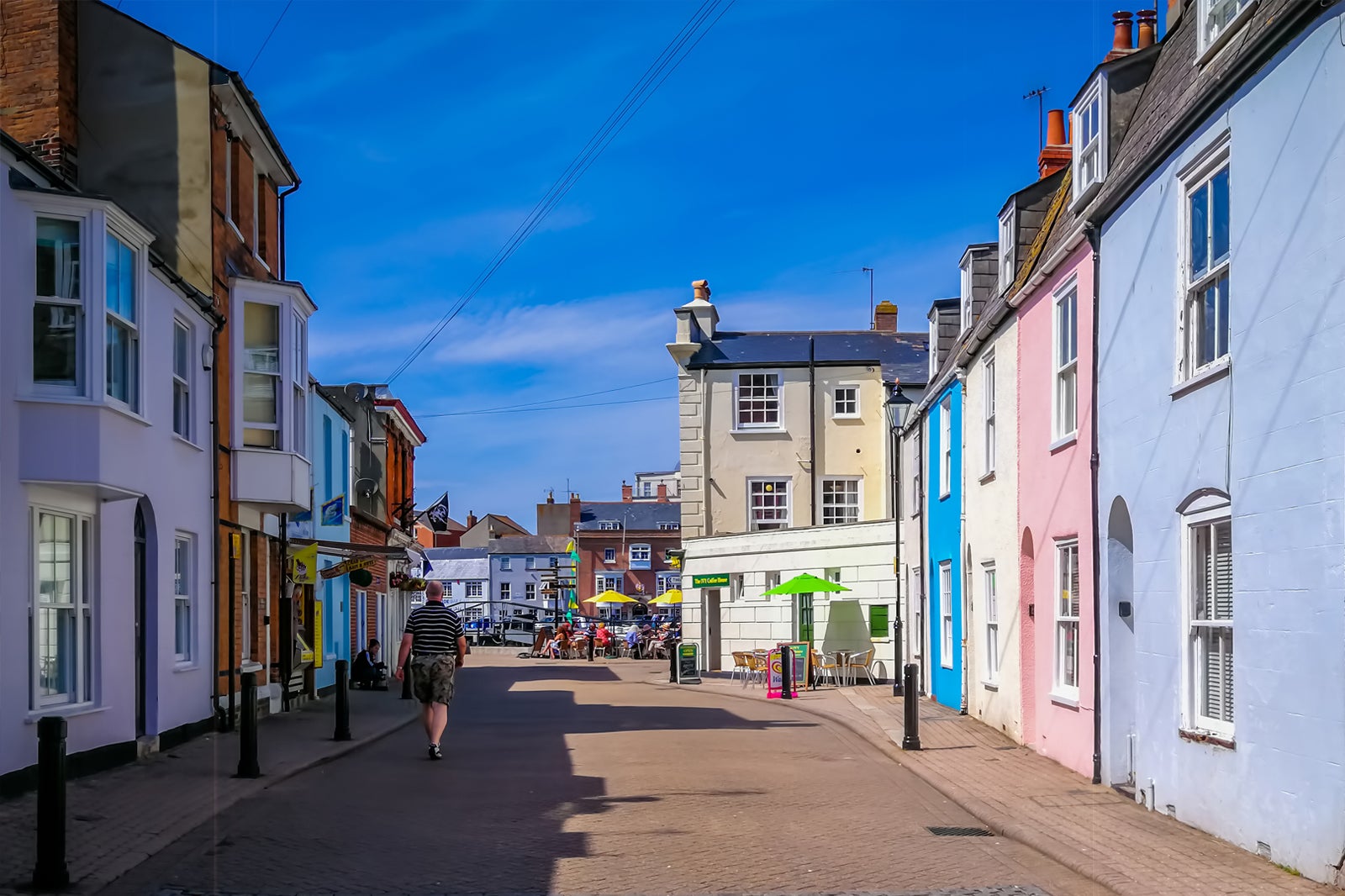 Weymouth is a resort town on the southern coast of England that's popular for its pleasant weather and sandy beaches. The summer months can be refreshingly warm, but they are also peak travel season. If you want to beat the crowds to see the popular sites while enjoying a relaxing Weymouth trip, think about visiting in the off-season.
For example, the Weymouth Sea Life Centre has discounted admission during the winter months. Additionally, many hotels and lodgings will offer discounted rates when the tourism demand is lower.
3
Crabbing
For low-cost family fun on the coast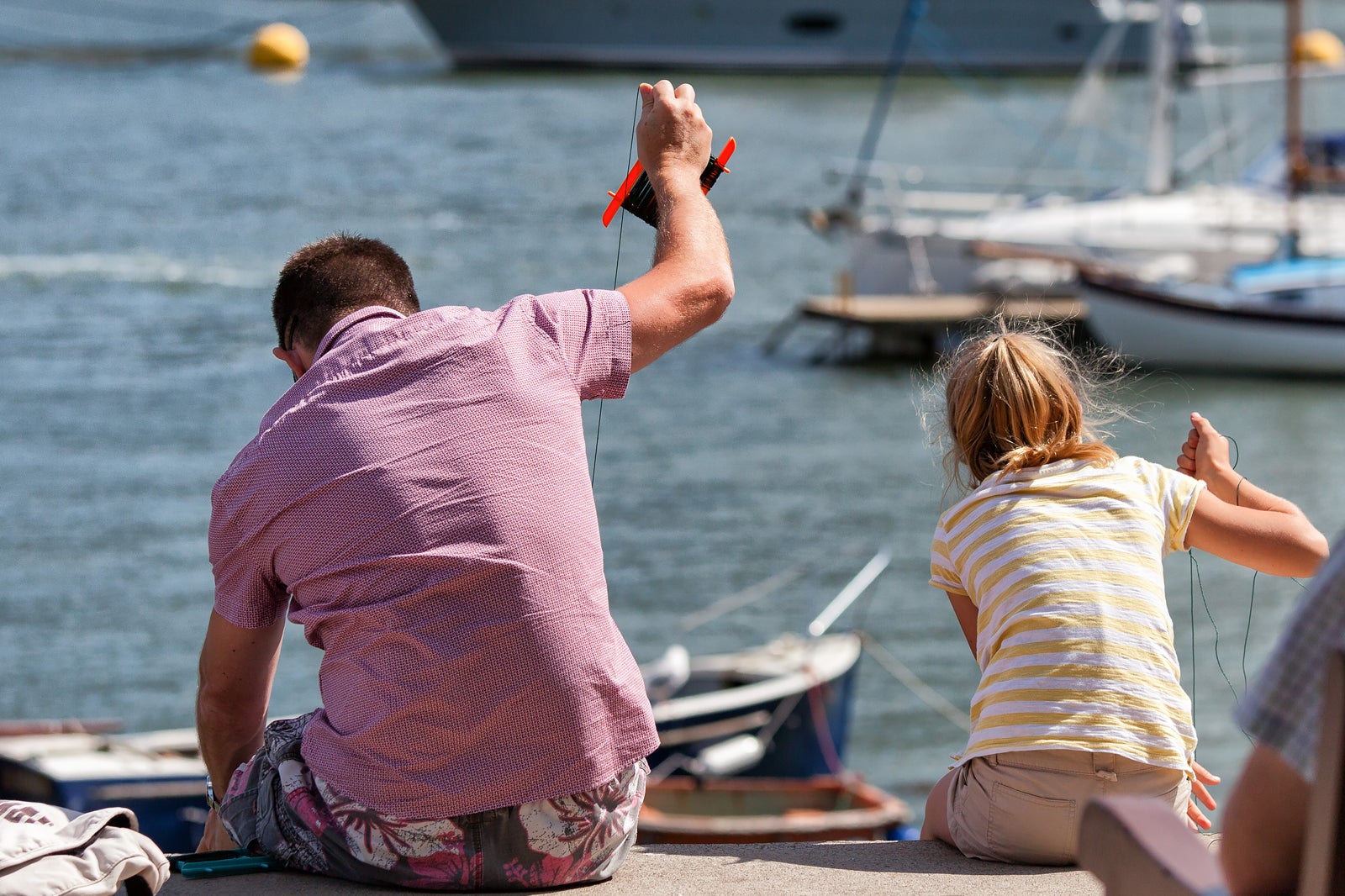 Enjoying a crabbing excursion in Weymouth is a fun activity that doesn't have to break the bank. Weymouth Harbour is probably the most popular spot to go crabbing, but it's not the only location. If you have already picked up your gear, you could look for coastal rock pools that are crawling with the critters.
Just be aware of how you can encourage responsible crabbing, such as using a bait bag, being careful with the crabs in your bucket, and gently returning them after the catch.
4
Sand sculptures on the beach
Fun in the sun with sand sculptures on the beach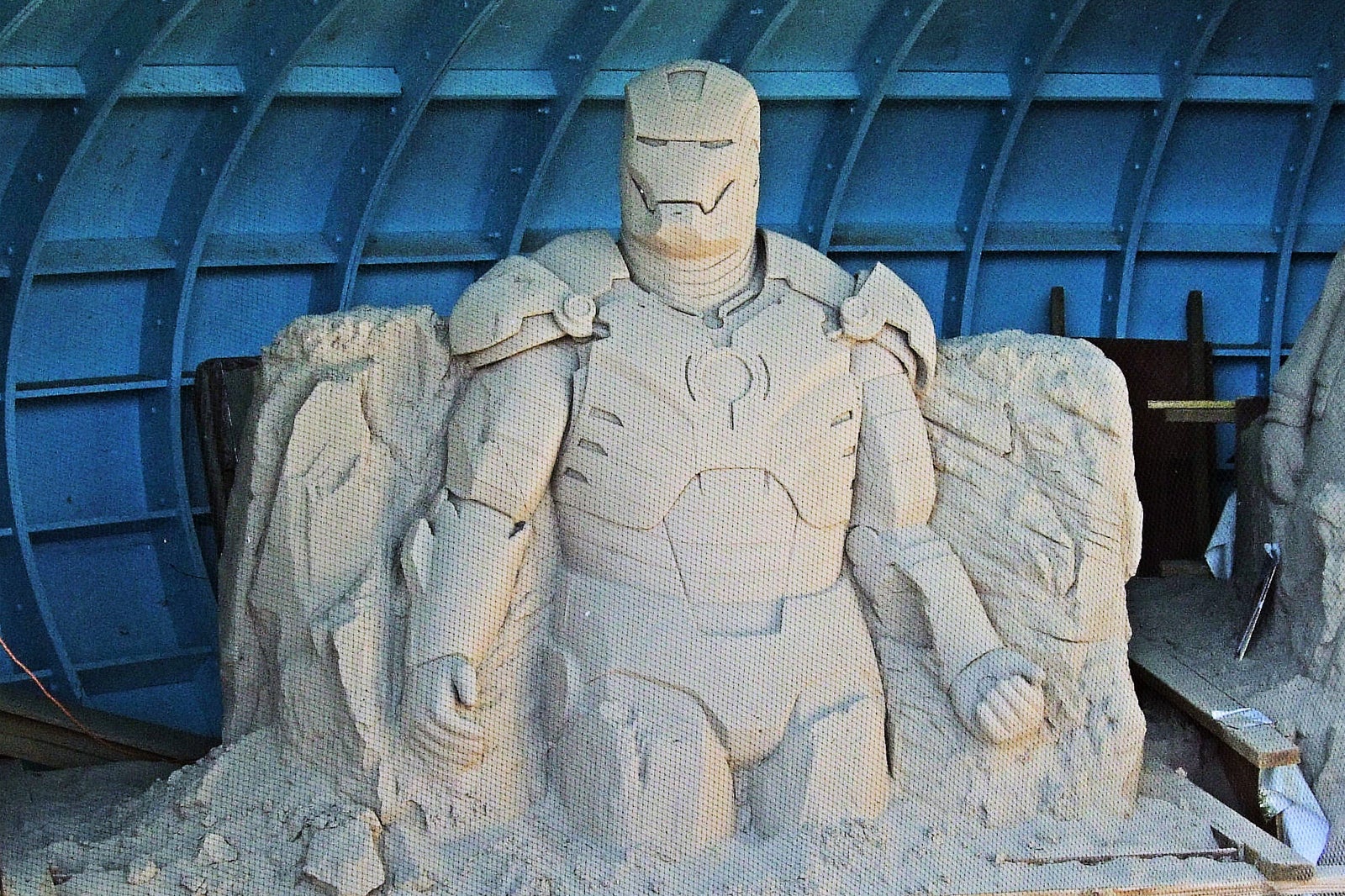 Weymouth is famous for its Sandworld sand sculpture festival but you don't need to be an art connoisseur to enjoy the budget-friendly fun of admiring these larger-than-life sand sculptures. Best of all, you can visit Sandworld during popular travel months.
You'll hardly believe your eyes when getting up close and personal to these giant sculptures, made entirely from sand. You can even put your sandcastle-building skills to the test in the open sand area. Family rates are available, and children under 4 are admitted for free.
Location: Preston Beach Road Lodmoor Country Park Weymouth DT4 7SX GB, Weymouth DT4 7SX, UK
Open: Daily from 10.30 am to 3.30 pm
Phone: +44 (0) 7411 387529
photo by Jim Linwood (CC BY 2.0) modified
5
Bike around
Bike around Weymouth for affordable, scenic fun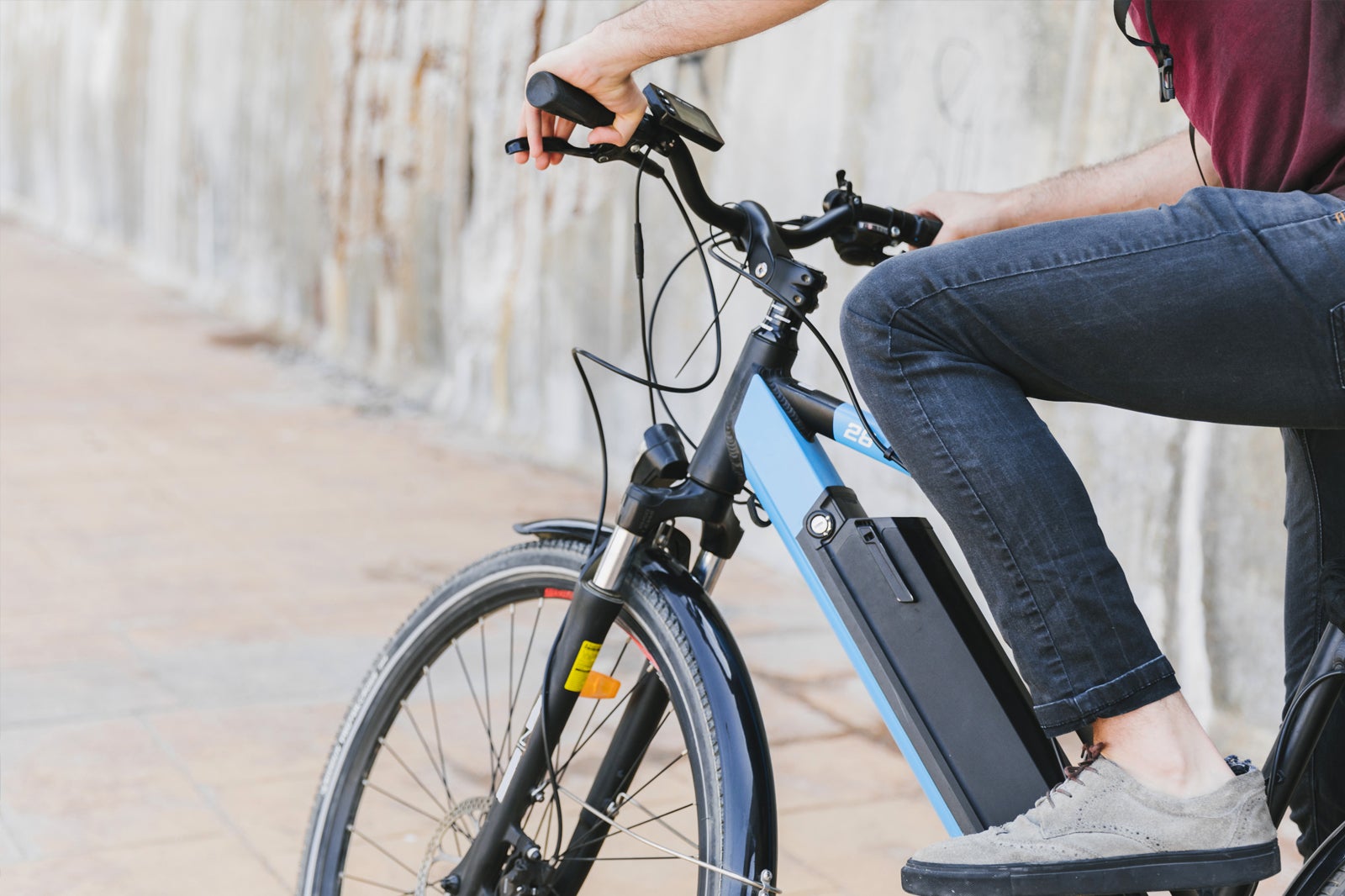 Biking around Weymouth is a fantastic activity for families, couples, and anyone who wants to enjoy the views around this coastal resort town. A cycling excursion is not only fun but it can be very budget-friendly. You'll find a few different bicycle rental services across Weymouth, and feel free to ask locals for a recommendation about specific trails and paths that might sound exciting to you.
There are also maps you can pick up or easily download online. One interesting route is the Jurassic Cycle Trails, which provide a scenic trip that follows the footprints of dinosaurs.
6
Weymouth Beach
Sand and sun at Weymouth Beach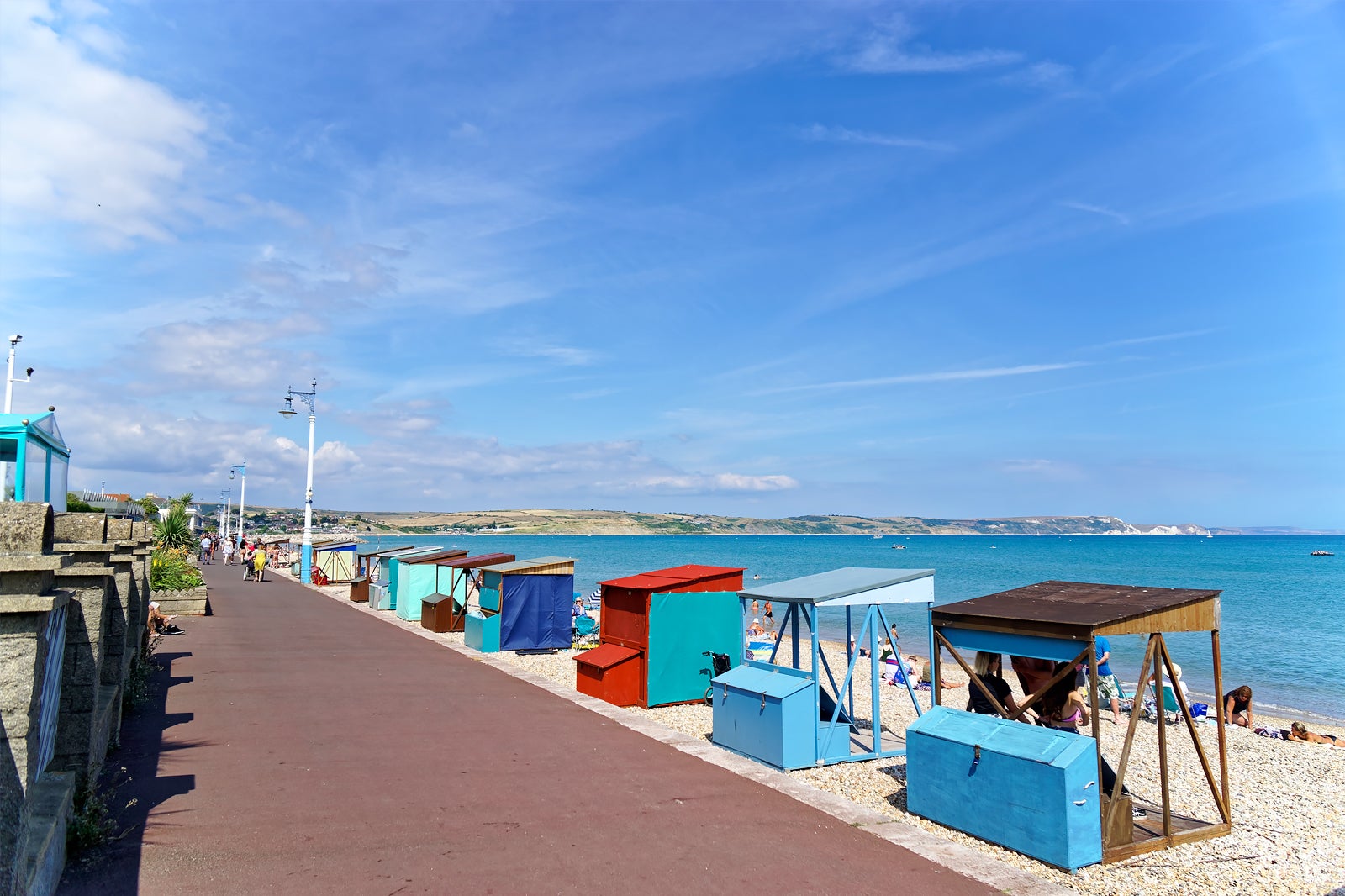 When the weather is bright and sunny in Weymouth, crowds roll onto Weymouth Beach as often as the tides. The beach itself consists of soft, golden sand that arcs along the coastline from beyond the Overcombe area all the way down to the Weymouth pier.
There is no cost to access Weymouth Beach, and you can bring your own beach gear and activities, instead of having to rent and spend additional money on your trip. The beach is a great spot for families, as you'll have hours of healthy entertainment with plenty of nearby facilities.
Location: The Esplanade, Weymouth DT4 7SL, UK
Open: 24/7
Phone: +44 (0)1305 779410
7
Weymouth Harbour
Have fun on the shore or on the water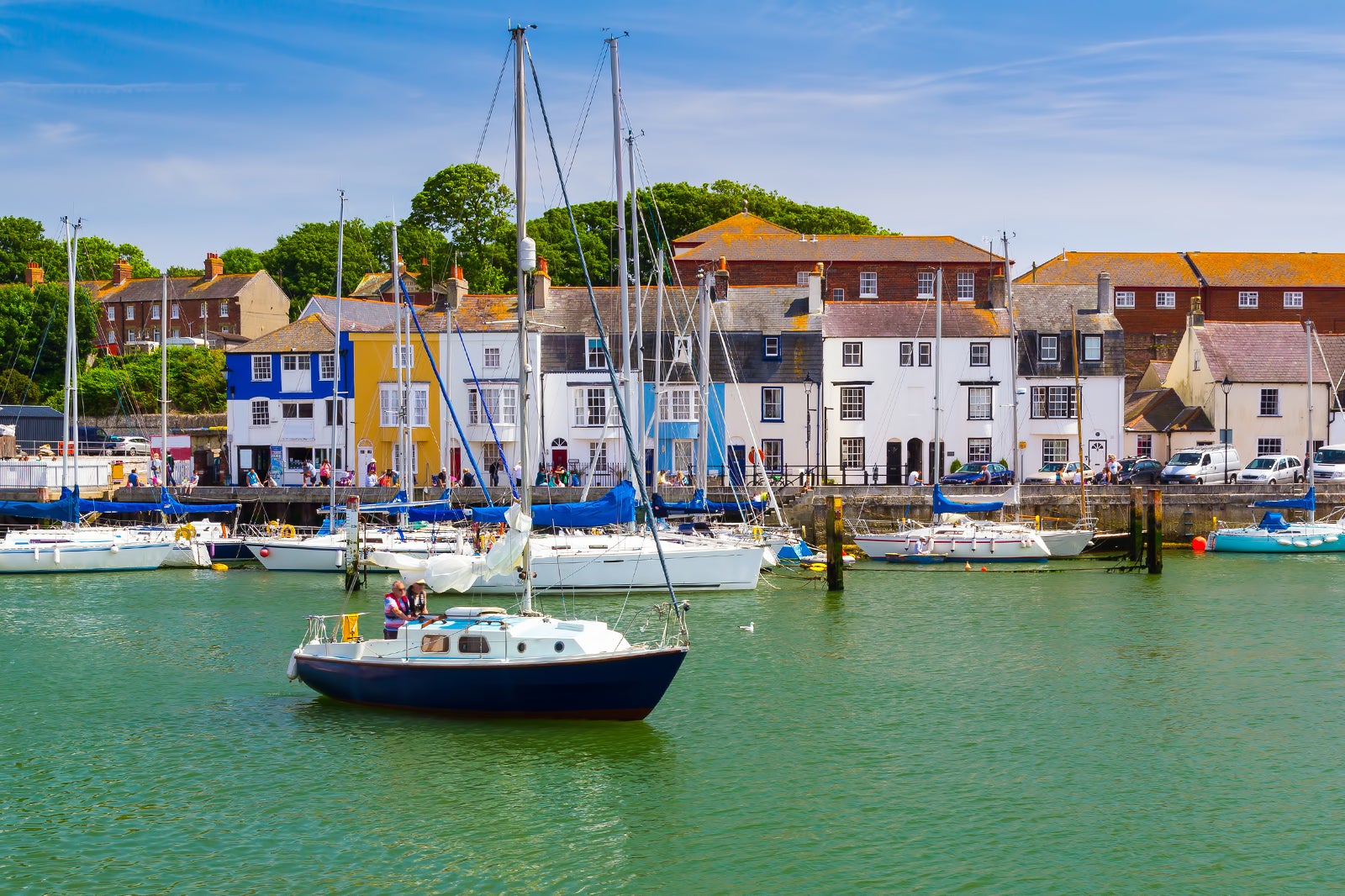 Weymouth Harbour is one of the most charmingly scenic destinations in Weymouth and it's budget-friendly as well. First of all, the harbour is a great launching point for a day trip across the channel, or to find a reasonably priced boat to enjoy an afternoon on the water.
Secondly, the harbour itself is there for you to walk around and experience the history and tradition of many 17th-century heritage sites. An activity that won't cost you anything is to watch ships come and go, noticing how each navigates as the tide rises and falls.
Location: 13 Custom House Quay, Weymouth DT4 8BG, UK
Open: Daily from 7.30 am to 5.30 pm
Phone: +44 (0)1305 838423
8
Nothe Fort
History comes alive at the Nothe Fort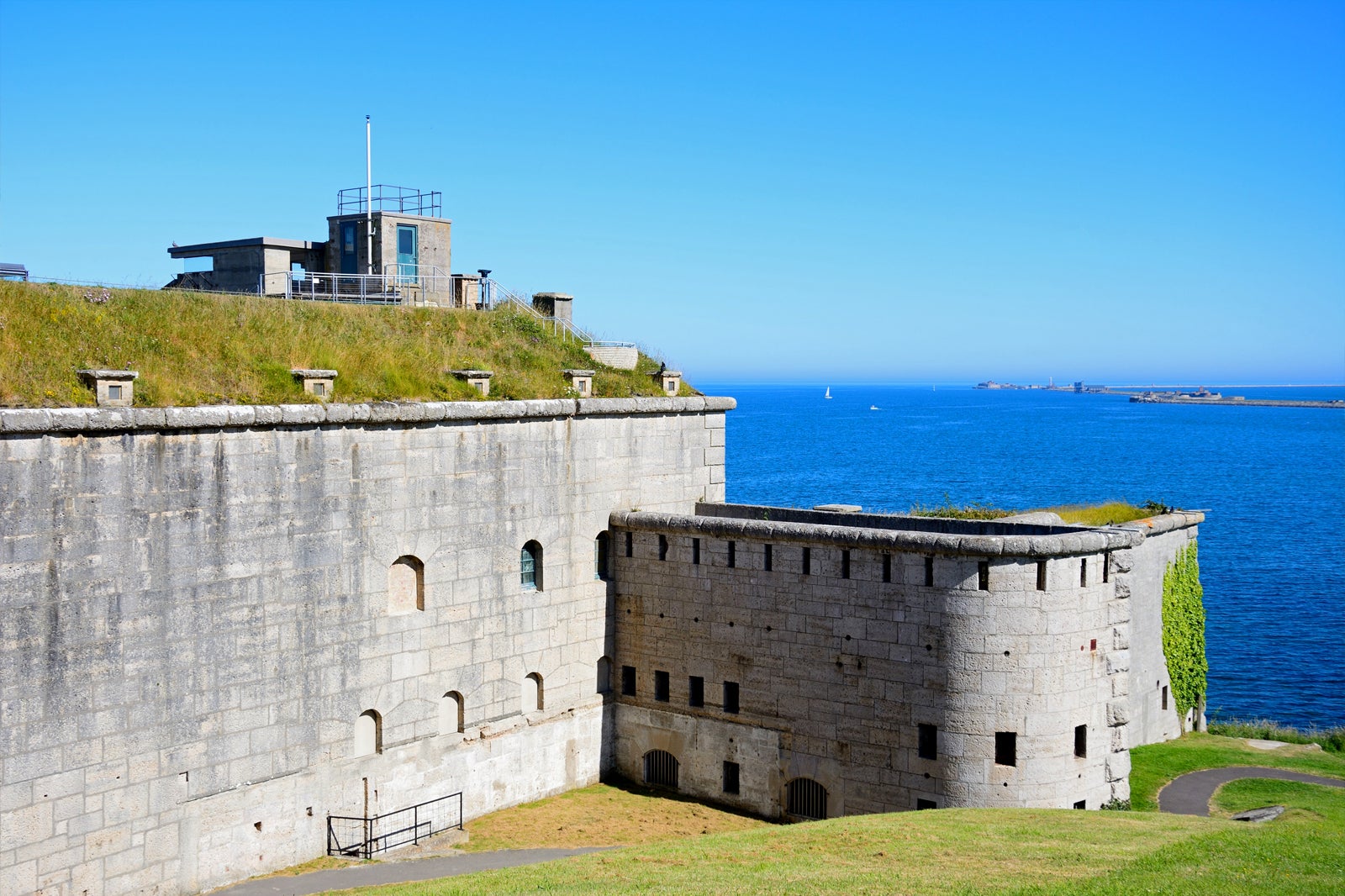 On your next trip to Weymouth, you have to stop by the historic Nothe Fort. Not only is Nothe Fort budget-friendly, but it could also be the highlight of your trip. There's a modest entry price for adults and children over the age of 4, but you could look into an annual pass and other money-saving opportunities, like bringing lunch and taking advantage of the picnic area, to keep overall costs low.
Check ahead during summer months because you could come when the family-friendly "Pirates of the Pavilion" are holding a show at the Port.
Location: Barrack Rd, Weymouth DT4 8UF, UK
Open: Daily from 11 am to 3 pm
Phone: +44 (0)1305 766626
9
Chesil Beach
Experience the love of nature at Chesil Beach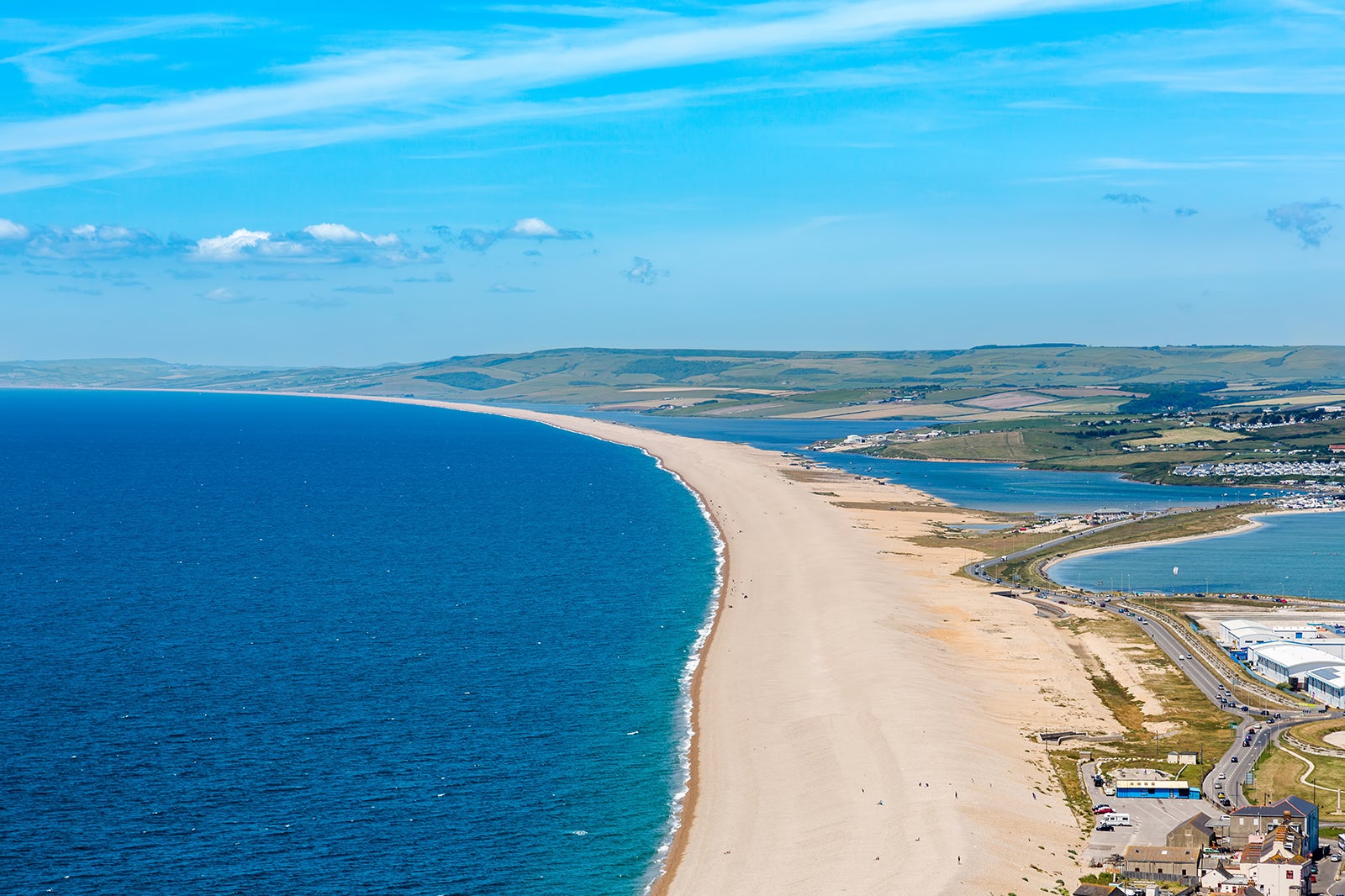 Chesil Beach is a steep shingle beach that stretches for kilometre after kilometre and makes a great spot for anglers and nature enthusiasts. There is no cost if you want to come and take an evening stroll as the sun sets over the channel. Many different species of birds and critters make Chesil Beach their home.
Just off the beachfront, you'll find a plethora of natural and historical sites that make a trip here even more exciting. Chesil Beach is also a very dog-friendly location.
Location: The Fine Foundation Chesil Beach Centre, Portland, Dorset DT4 9XE, UK
Open: 24/7
Phone: +44 (0)1305 206191
10
Lodmoor Country Park
Enjoy plenty of outdoor family fun
Lodmoor Country Park offers many playgrounds and winding trails that you and your family will love. Within walking distance of the town centre, Lodmoor Country Park has a plethora of activities for kids and adults alike. With mostly outdoor activities, you could come let your kids ride the mini-train or go for a nature walk.
One of the popular playgrounds for kids is the imagination-stoking galleon pirate ship. Picnic tables and pavilions are also available to the public, which are great resources to bring your own lunch and enjoy more family time.
Location: Weymouth DT4 7SX, UK
Open: Hours may vary
Phone: +44 (0)1305 838000
Back to top