Amphawa Floating Market
Explore One of the Most Popular Floating Markets Near Bangkok
Amphawa is one of the most popular floating markets near Bangkok. It's not as large as Damnoen Saduak but it's more authentic, with visitors almost exclusively Thai. Located 50 km from Bangkok, this once small village has been around since the mid-17th century. It's become such a magnet for Bangkokians during weekends that food stalls have grown from the riverbanks and stretched far into the surrounding streets.
The main draw is, of course, eating seafood grilled precariously on wooden boats moored around the famous central bridge, serving an appetising array of prawns, shellfish and squid. From noon until late in the evening, the smell is simply irresistible and customers flock to each side of the river all day long.
Amphawa Floating Market - one of the highlights of 6 Floating Markets Around Bangkok (Read all about Bangkok here)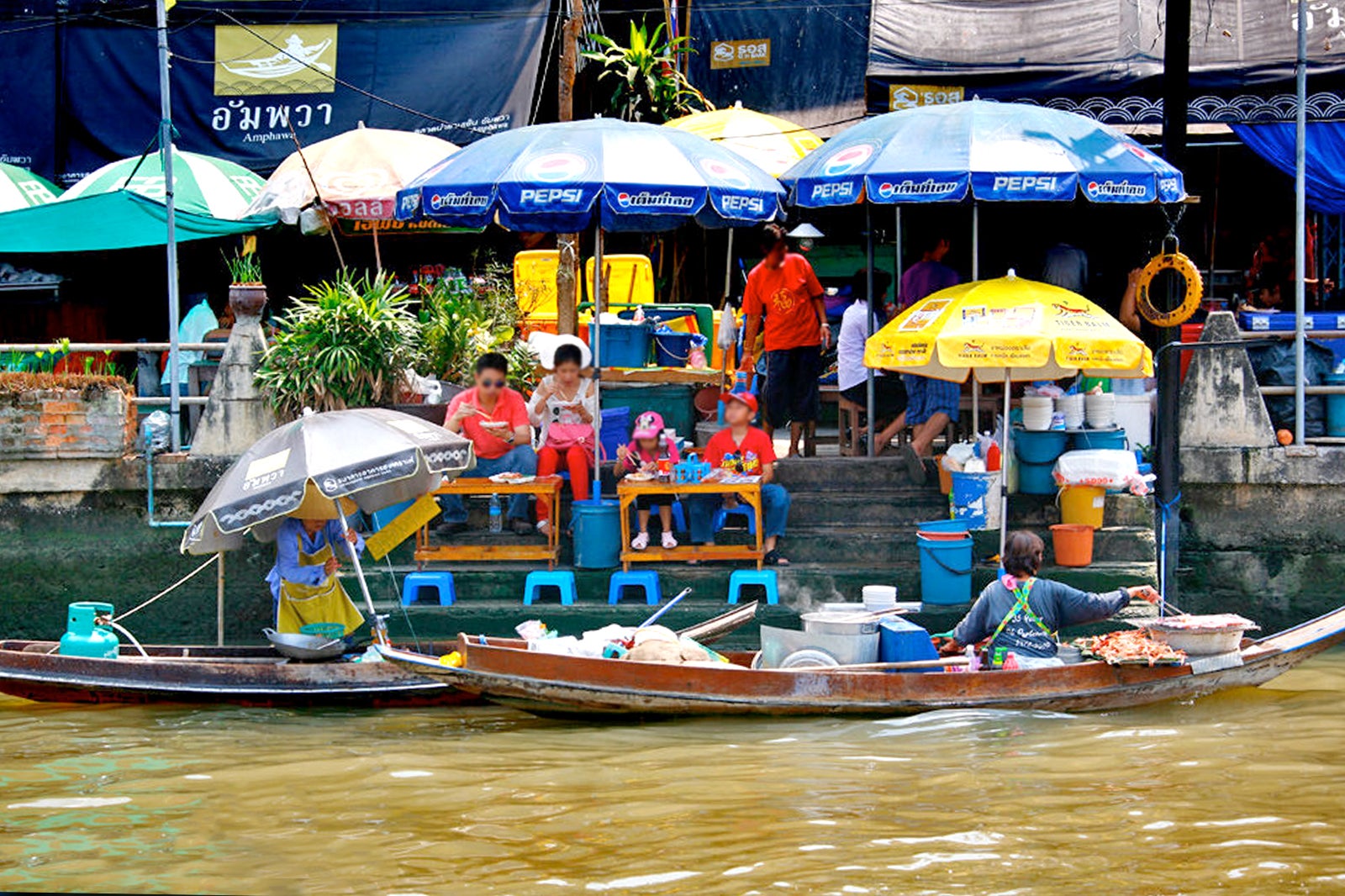 Seafood at Amphawa Floating Market
Seafood prices are what you'd expect at floating markets: according to weight, but to give you an idea, 5 large prawns usually cost around 300 baht. Customers perch on rows of narrow steps leading down to the water and food is brought directly from the boats onto really tiny tables.
If you don't feel like sitting on a concrete ledge very close to brownish waters, walk a bit further from the bridge to find restaurants with real tables and chairs. Even better, try to get a seat on the balcony of the restaurant next to the bridge – it's the only one around – but you might have to wait a bit or come early. The nicest and most quiet restaurant is located at the very end of the boardwalk where the canal meets the Mae Khlong River.
Shopping and snacking at Amphawa
Along each side of the canal, old charming wooden shops sell Amphawa souvenirs, from the usual teeshirts to some more interesting creations. And of course, lots of sweets and ice cream – Thai people have a very sweet tooth and a passion for snacking throughout the day.
In all streets radiating from the market, you can find an incredible array of local food sold from small carts during weekends only. Most dishes look familiar but some do look unusual or even funny, from ice cream sandwiches to alien-looking helmet crab egg salad (yum magda talay).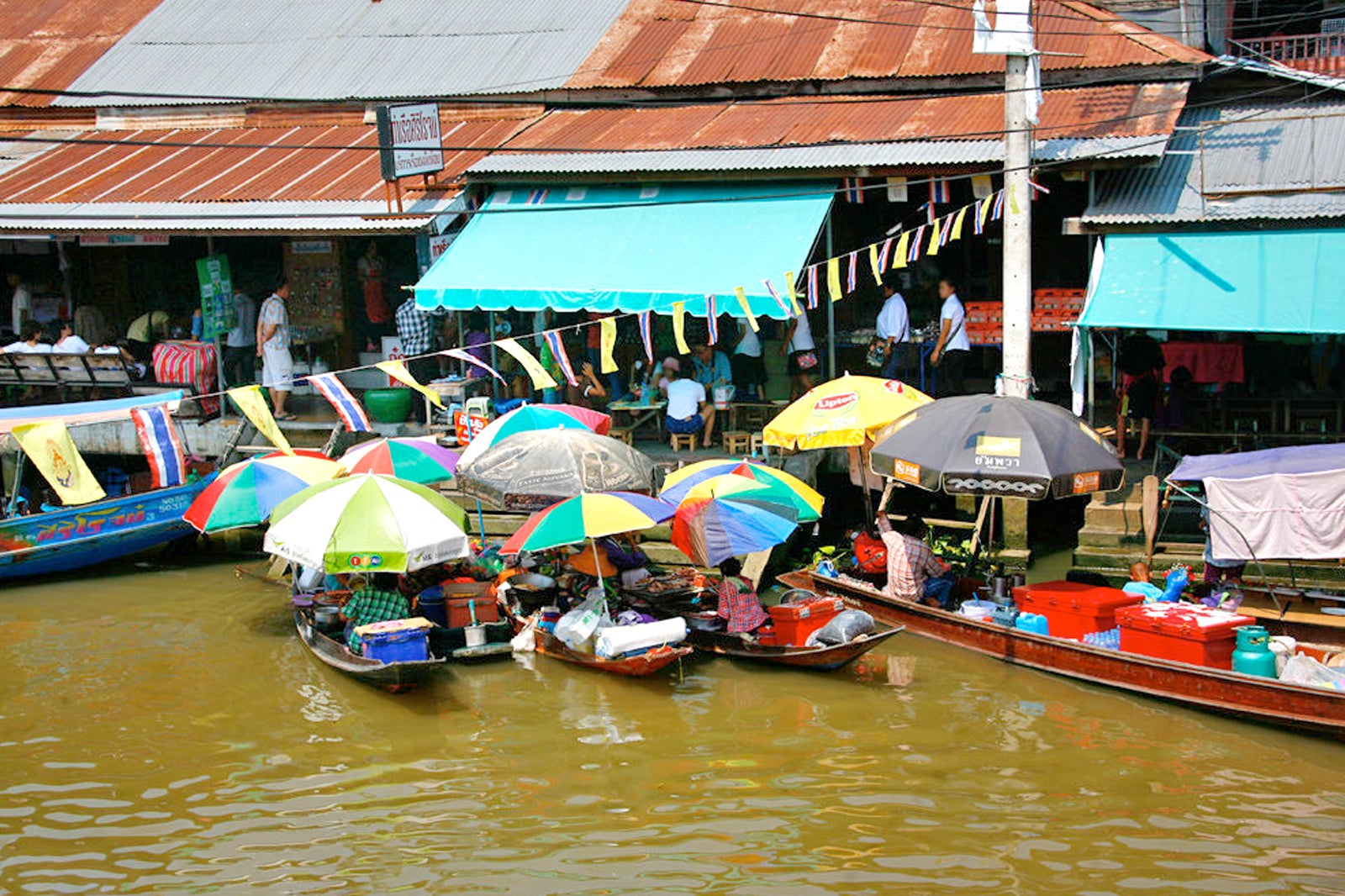 Cruise the Mae Khlong by longtail boat
Once you have had enough of walking (or trying to walk) around Amphawa, it's time to take one of the many longtail boats and explore the surrounding canals and rivers. It's not as impressive as the Bangkok Khlongs but it's always good fun. After the heat of the market, the breeze from the river is a welcome relief.
There are tours available from the many counters found around the bridge: the temple tour and the island tour. Both usually cost 50 baht per person for combined tours and 500 baht for a private boat. 50 baht appears cheap, but the tour tends to last a lot longer as the boat has to wait to be full before leaving. It also waits for all passengers at each stop.
Discover Wat Bang Koong Temple
On the other side of the Mae Khlong River, Amphawa hides a surprising temple called Wat Bang Koong, which you definitely shouldn't miss if you came all the way from Bangkok. The boat takes you to a couple of rather small temples, but each having their own characteristics such as surprisingly large golden seated buddhas, tall chedis, and even small museum houses. It's not all that impressive, but it can be a good change from the crowds at Amphawa.
Built in the middle of nowhere, Wat Bang Koong alone is worth the trip to Amphawa. Of course, kids and teenagers love the wacky mini zoo set on the temple grounds – a camel, an ostrich, a dozen deer and a group of boars, a couple of naughty goats and 2 beautiful peacocks happily doing what they do best: parading around and showing off their colourful feathers to ecstatic photographers.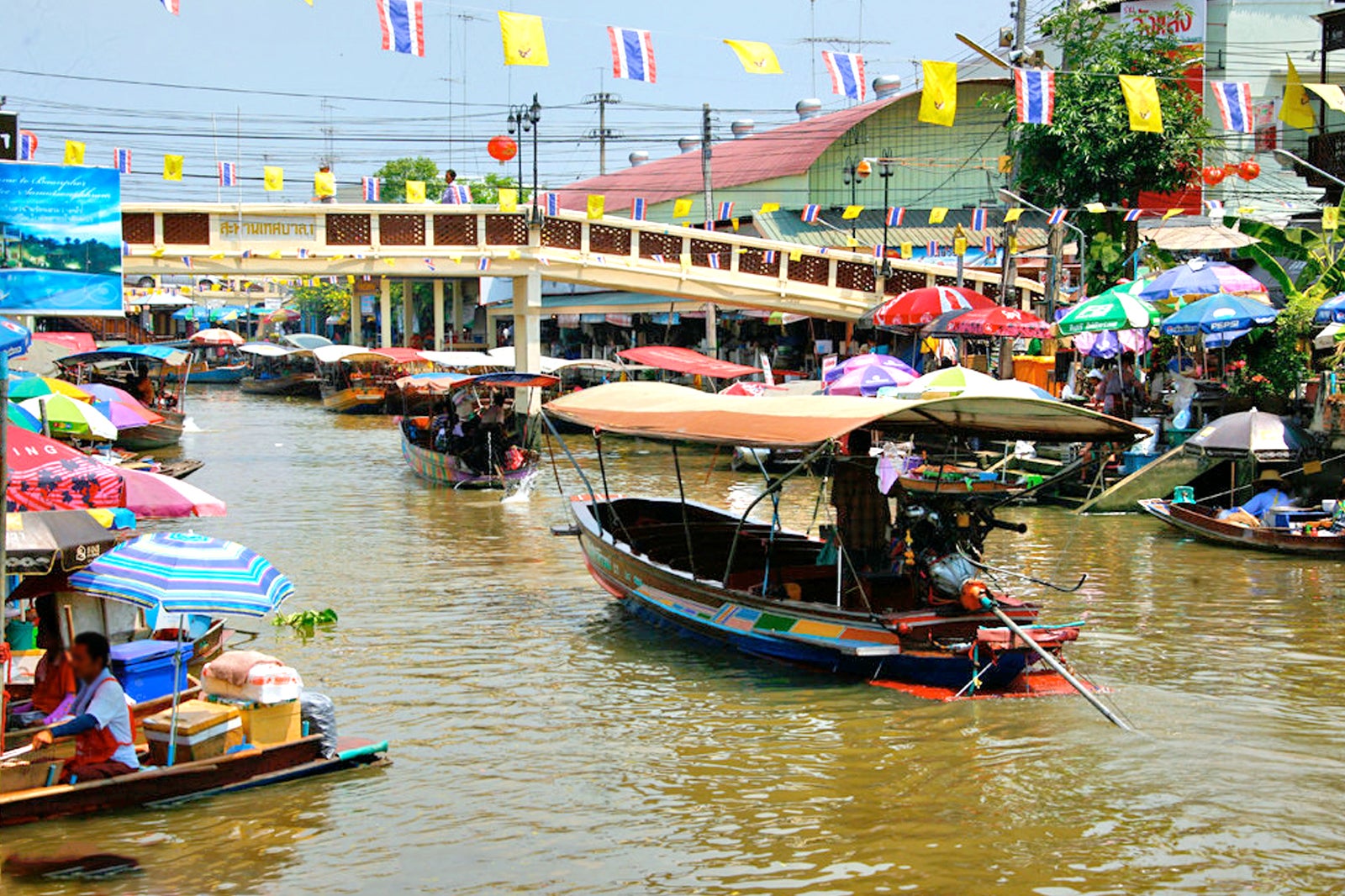 It's hard to believe but some people come all the way here and miss entirely the magnificent temple located 100 metres from the river. Just like a scene that's directly out of Indiana Jones, a whole temple entangled in the roots of an immense tree, similar to what you see around Angkor Wat – not just partially covered, but literally swallowed.
Only the door and the 6 windows are free from roots. The temple is far from being abandoned or neglected. Queues of devotees often walk in and out to pay respect to the golden Buddha seated inside the temple.
Good to know about Amphawa Floating Market
The Amphawa Floating Market is arguably the most attractive of all floating markets near Bangkok. It has retained its authenticity and barely on every tourist map. But Bangkokians love this place so much that past noon, it becomes almost impossible to walk through. The best way to enjoy Amphawa is to come before 10am and leave soon after lunch.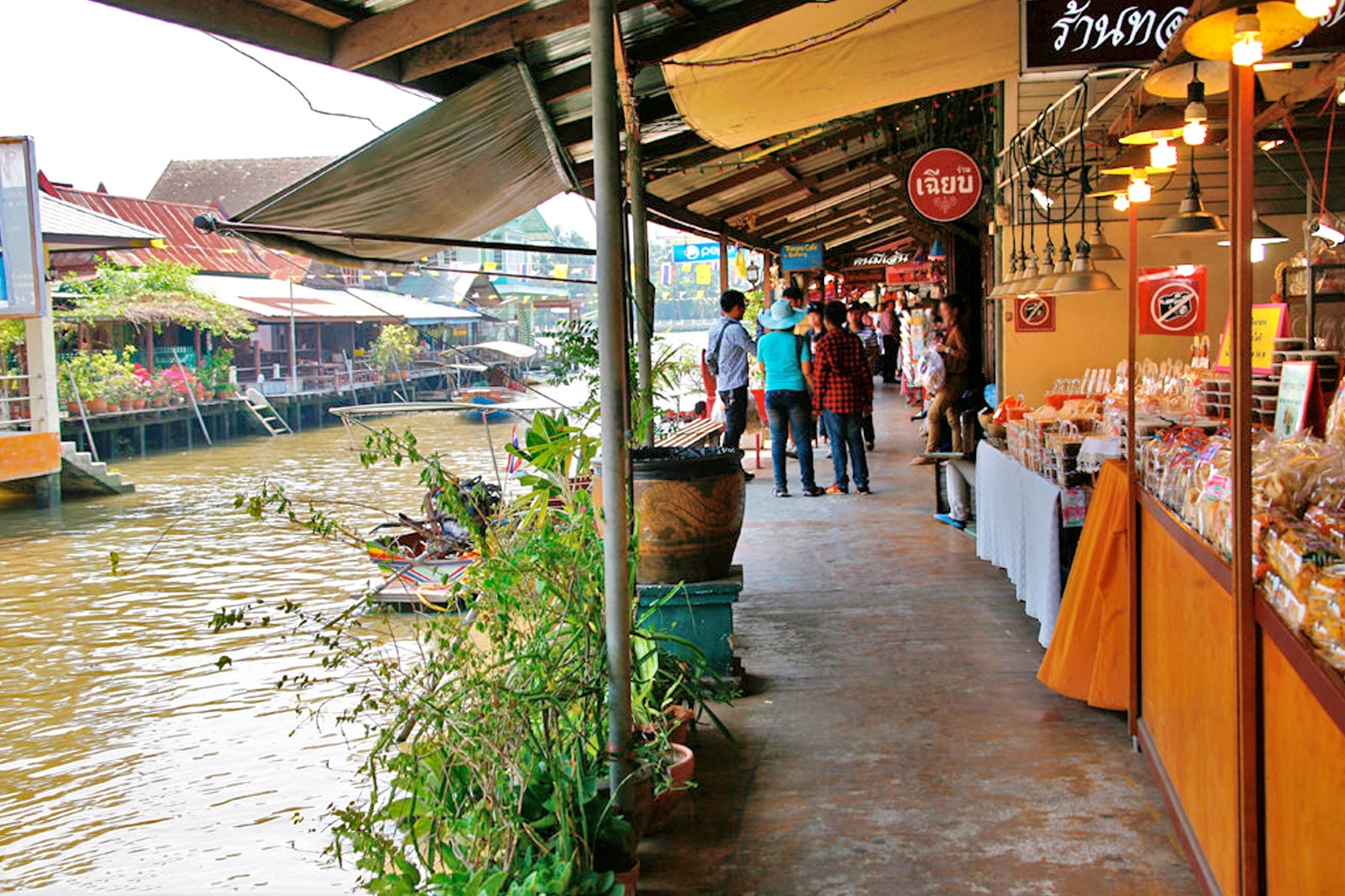 Amphawa Floating Market
Location: Amphawa, Samut Songkhram 75110, Thailand
Open: Friday–Sunday from 11am to 9.30pm (closed from Mondays to Thursdays)
Back to top