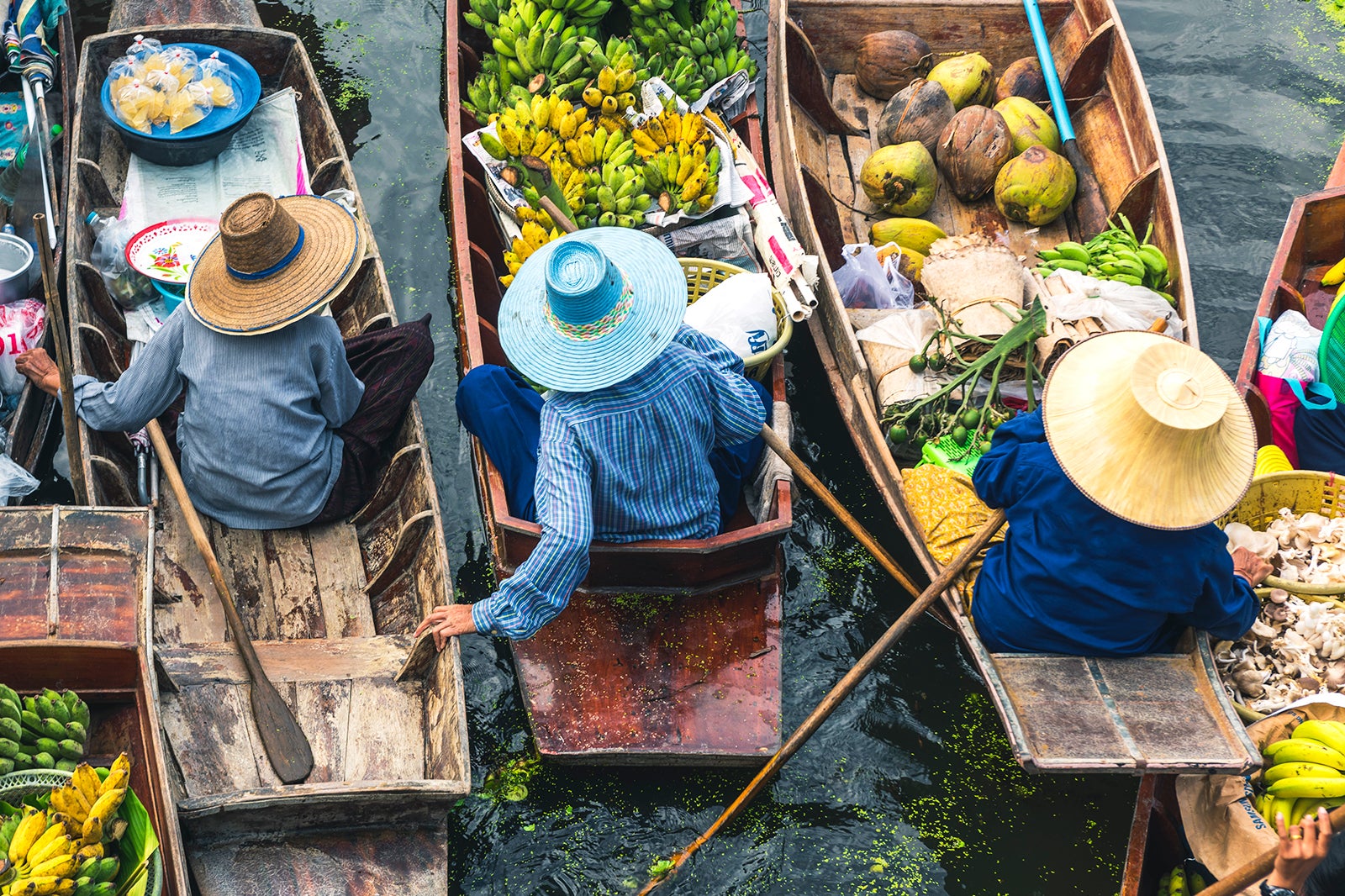 Khlong Lat Mayom is a traditional floating market around 10 km east of downtown Bangkok. You can get there by taxi from the Wongwian Yai BTS Skytrain Station. Local market culture has deep roots in Thai daily life and eating out is not a special event as it is in western culture. It's fun, cheap and casual, and Thai food has so many variations it can be a travelling theme on its own. Khlong Lat Mayom really has the charm and authenticity of a local market – you might be one of the only foreigners around when you visit.
Khlong Lat Mayom Floating Market - one of the highlights of 10 Best Things to Do in Thonburi and 6 Floating Markets Around Bangkok (Read all about Bangkok here)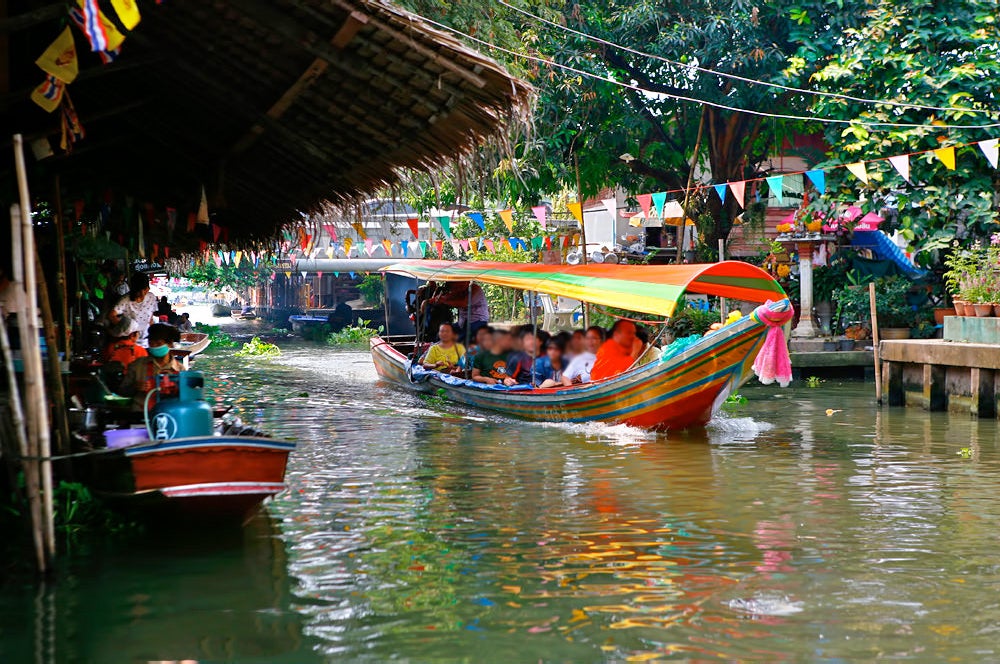 Highlights at Khlong Lat Mayom Floating Market
The canal at Khlong Lat Mayom is very narrow, with only a few boats parked alongside the riverbank and below a low bridge. These small boats usually prepare meals for customers who sit at low tables on the waterfront. Eating is always the highlight of a floating market visit, sitting on a little wooden stool and ordering a dish cooked on a tiny wooden boat anchored just next to your table is such a fun and exotic experience.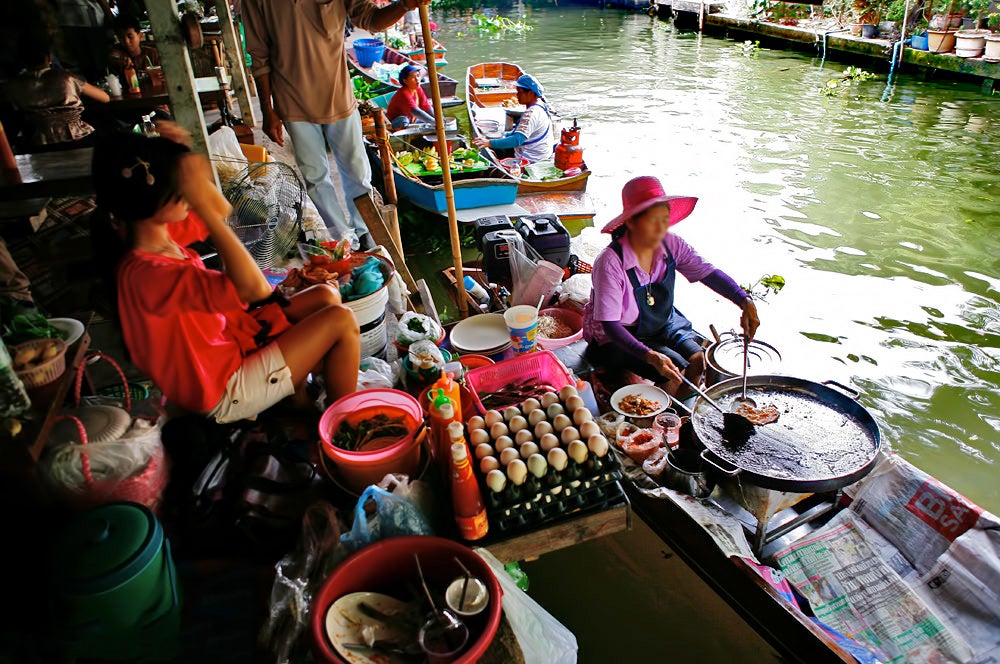 Some of the best things to eat at Khlong Lat Mayom Floating Market are boat noodles, pad Thai, kanom jeen (cold rice vermicelli) or hoi tod (oyster omelette) – which sets you back about 30 baht per dish. Drinks are usually sold by someone with a pushcart.
The largest part of the market is built on firm ground. One side is dedicated to the fresh market, mostly beautiful veggies and fruits, while the other sells all kinds of colourful snacks, sweets and cooked food. Stock up on tropical fruits, including huge papayas, large green or ripe mangoes, rose apples, sapodillas, and pomelos. Further inside the market, you can buy cheap clothing, home décor, accessories, toys, and fresh flowers (always popular at Bangkok's riverside markets).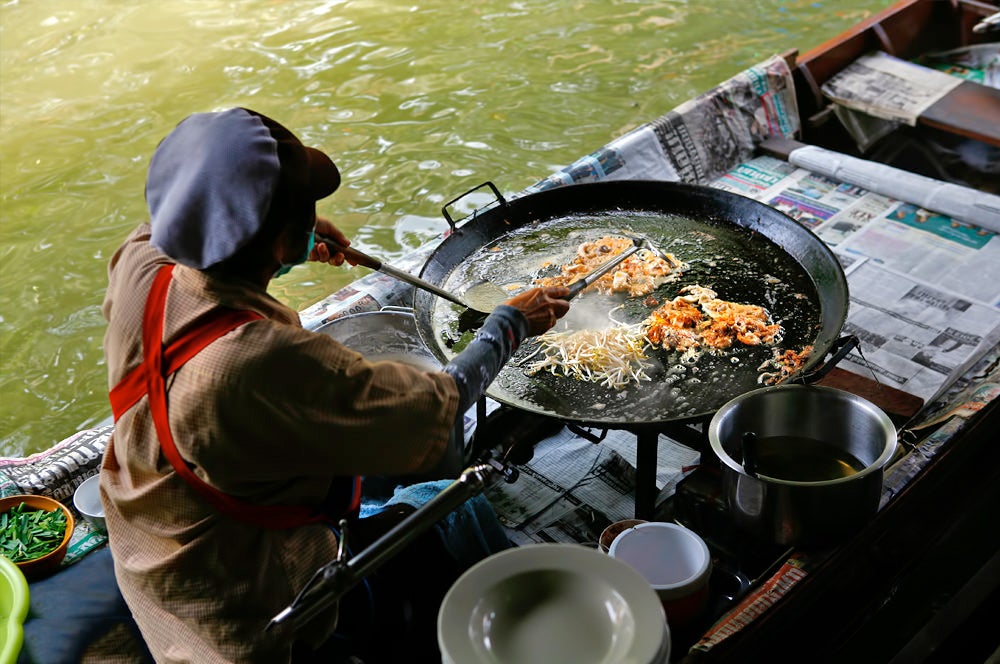 Good to know about Khlong Lat Mayom Floating Market
To make the best of your day in the area, it's a good idea to visit both Taling Chan and Khlong Lat Mayom as they're about 4 km away from each other. Start with Khlong Lat Mayom – the smallest of both – before moving on to Taling Chan, where you can board a long-tail boat for a small fee. Both markets should give you a view of the local life and a relaxing morning away from Bangkok.
Khlong Lat Mayom Floating Market
Location: 15 30/1 Bang Ramat Rd, Bang Ramat, Taling Chan, Bangkok 10170, Thailand
Open: Saturdays–Sundays from 8am to 5pm (closed on weekdays)
Back to top