Wakeboarding at Taco Lake
Fun Family-Friendly Wakeboarding in Bangkok
Wakeboarding in Bangkok is an awesome way to escape the hustle of the city while having about as much fun as you can in the capital for less than 500 baht. Taco Lake is about 40 minutes away from the city centre and near Suvarnabhumi Airport and it's one of the best places to do it in Bangkok.
For those wondering what wakeboarding actually is, just think waterskiing on a snowboard. Usually, this water sport involves being towed along by a boat, but at Taco Lake metal cables attached to motors pull you around instead. Most are content with just completing the full circuit, which is about the same distance as a running track, while the more experienced boarders use ramps to do jumps and tricks.
Wakeboarding at Taco Lake - one of the highlights of 10 Extreme Sports in Bangkok (Read all about Bangkok here)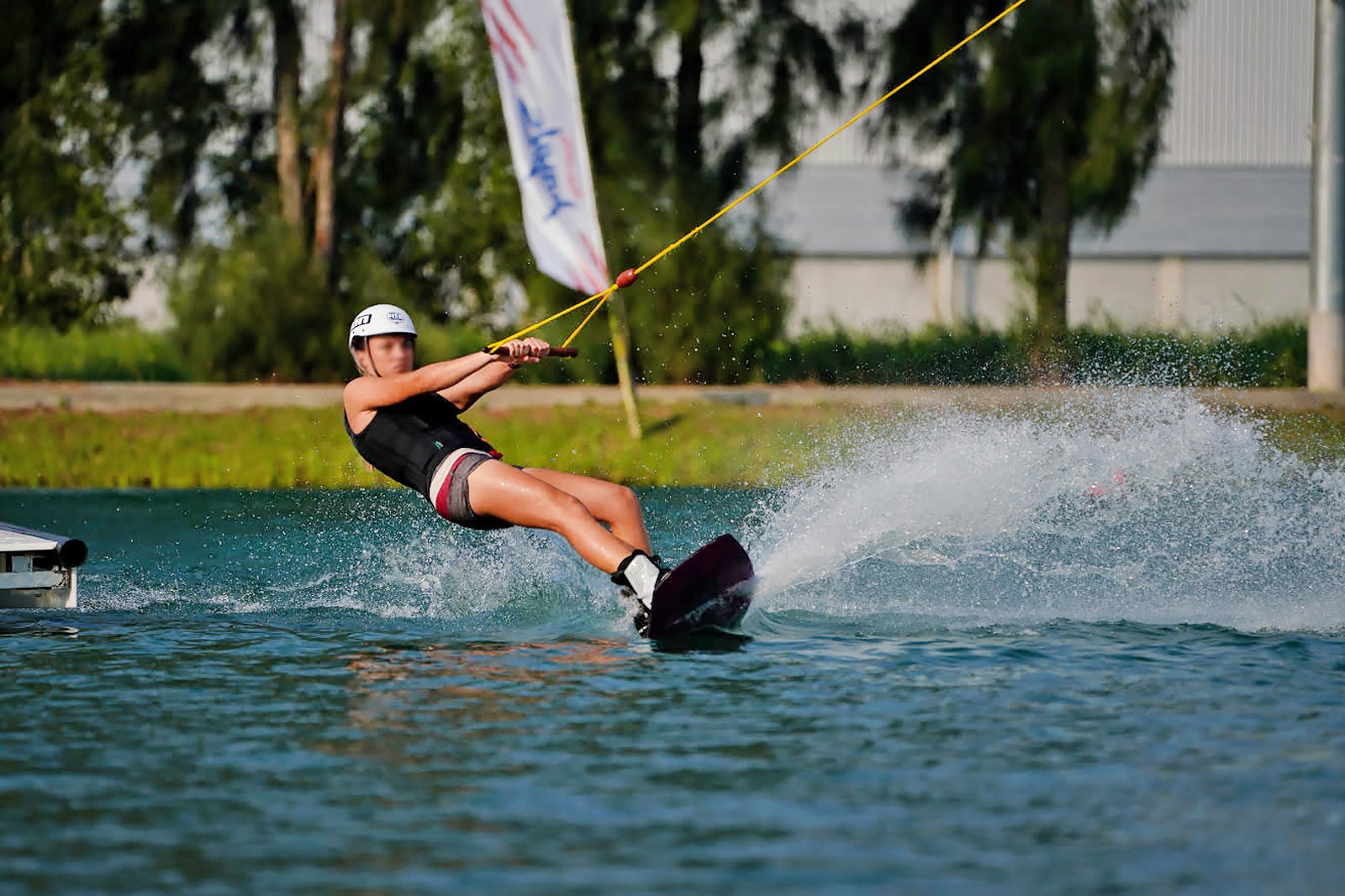 First-timers need not fear, as there's plenty of safety gear (including lifejackets, helmets, and knee pads). Amateurs whose centre of gravity is not their strong point can try the 'kneeling boards' which are much easier to use. More experienced Thais and expats who have clearly been practising a lot, are always on hand to give you some advice and encouragement. You'll also notice plenty of kids who have mastered the waves – wakeboarding in Bangkok is also a great family activity.
If the attractive scenery, close proximity to central Bangkok, and prospect of having an adrenaline-fuelled day out is not enough to tempt you, then the prices just might. A whole day of fun on the water will set you back about 600 baht – and that's with all the standard boards and safety equipment included. Most, however, opt for the half-day option, about 400 baht, which still seems like a bargain.
Taco lake is open every day, but we suggest you arrive around midday on a weekday – remember your sunscreen. At the moment, wakeboarding in Bangkok seems to be an activity mostly enjoyed on the weekends, so come on a Saturday or Sunday and you might find the circuit full with regulars. It's no huge problem, but it just means you might have to queue for a few minutes for your turn.
As well as the water sports fun, the Taco Lake also boasts a waterside restaurant which serves cheap and tasty Thai food alongside a selection of cold soft drinks and beers – perfect when you want to sit back and watch some of the action from dry land.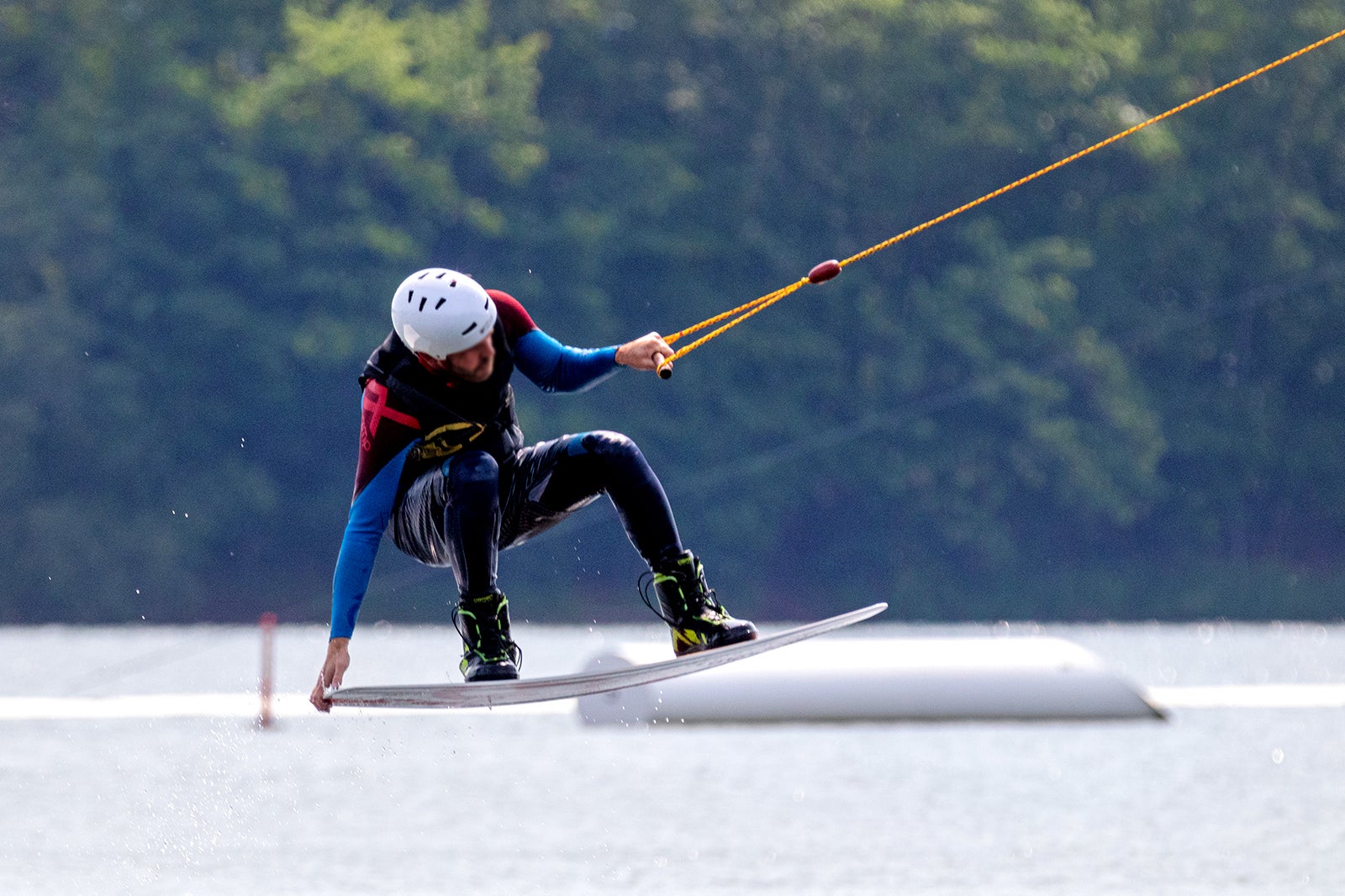 Getting to Taco Lake
Some visitors interested in wakeboarding in Bangkok might be put off by the distance. Few people have actually heard of Taco Lake and hailing a random taxi and asking to go 'wakeboarding' will only lead to some puzzled looks. Even so, if you plan your journey, you can get there in as little as 30 minutes from central Bangkok (but usually 45 when there's heavy traffic). Here's how:
Take a taxi in the direction of Suvarnabhumi Airport along the Bangna-Trad Highway. Take a U-turn at the 'K.M 16' turnoff. Now you will be going in the opposite direction. When you see a Mitsubishi showroom, turn left down 'Soi Wat Luangpor' (the way to Bangphiliyai Temple), then follow the bright yellow 'Wake' signs (that you'll see on your right).
From central Bangkok, take the airport link train to Suvarnabhumi. Then take a taxi to Soi Wat Luangpor and follow the signs.
Use Google Maps! Print off or save the location to your phone and then ask your hotel to arrange a taxi or minivan.
If you have any problems, call the friendly folks at Taco Lake directly and ask your hotel or taxi driver to get more precise instructions.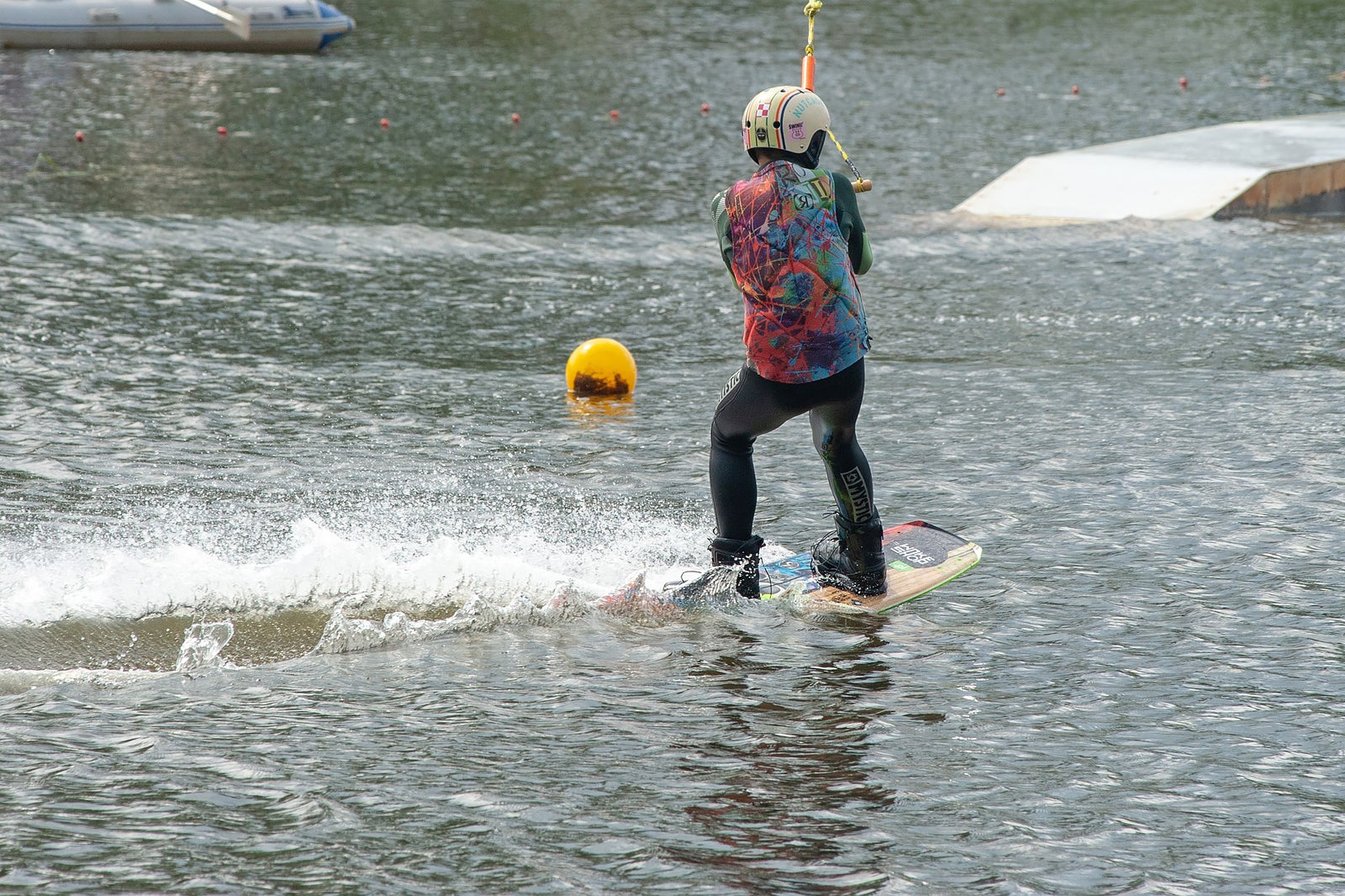 Wakeboarding at Taco Lake
Location: 75/1 Km13 Bangna-trad Rd, Moo 12, Bangplee Bangplee-yai, Samut Prakan 10540 Thailand
Open: Monday–Friday from midday to 10pm, Saturday–Sunday from 10am to 10pm
Phone: +66 (0)2 316 7809
Back to top