Chinatown in Honolulu
A Bustling Neighbourhood with Authentic Restaurants and Shops
Chinatown in Honolulu is one of the oldest such areas of cities across the US with a strong Chinese population and heritage. Famous for its many fabulous restaurants, unique hole-in-the-wall coffeeshops, striking stores and markets, the true beauty of Chinatown comes from the people.
Many of the businesses are family-owned and operated. The multigenerational impact this immigrant community has built over the years is evident everywhere you turn. The area's long history is also evident from the architecture and scenic highlights. Despite the area's name, many other Asian cultures are represented in Chinatown Honolulu.
Chinatown in Honolulu - one of the highlights of 10 Things to Do in Oahu on a Small Budget and 10 Most Popular Neighbourhoods in Honolulu (Read all about Honolulu here)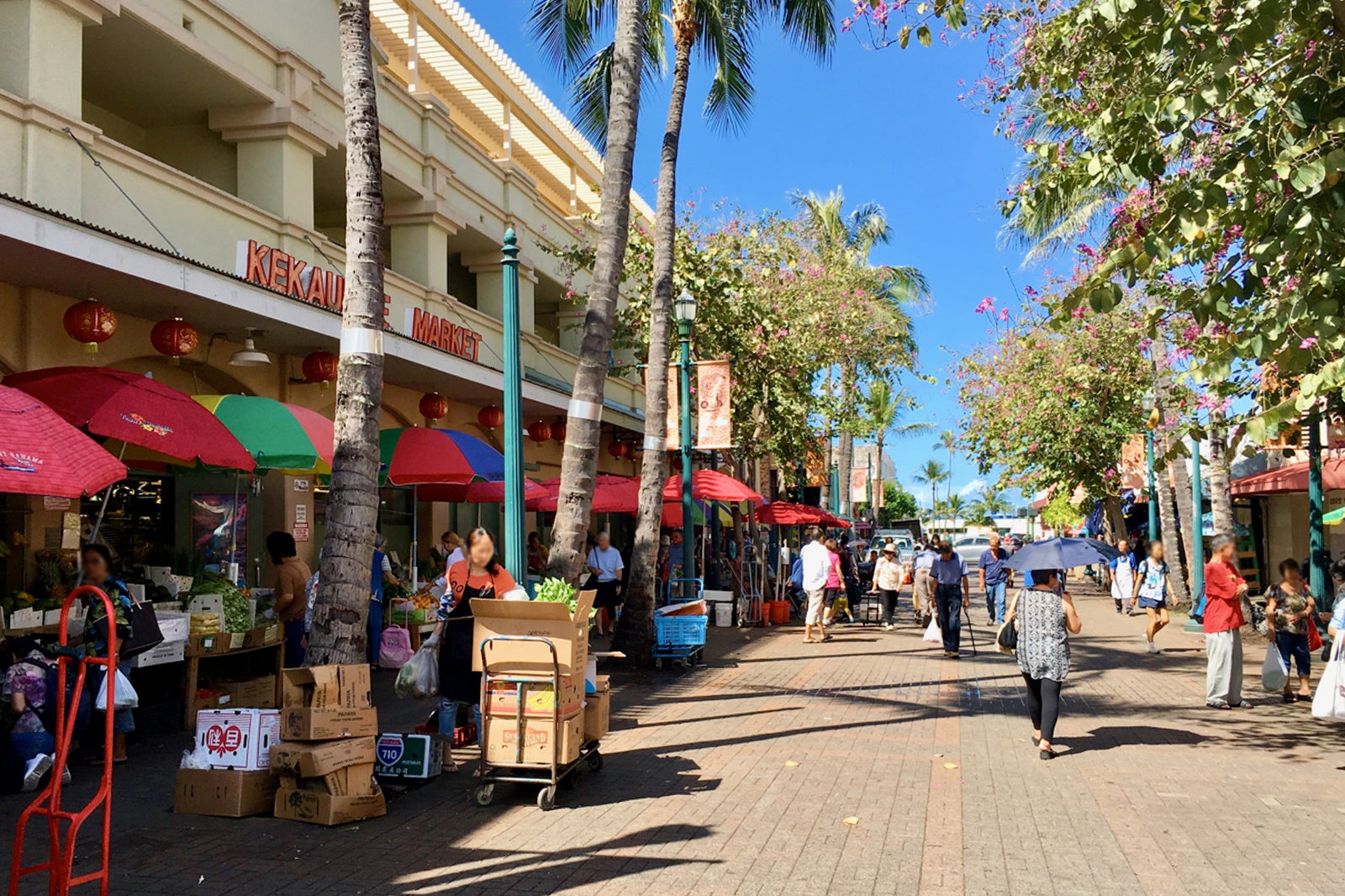 Where to eat in Chinatown Honolulu?
What makes Chinatown a unique hub in the city is its multicultural and diverse restaurant scene. Cuisines ranging from Chinese, Thai, and Vietnamese to Korean, Lao, and Filipino are all represented in this neighbourhood. The food is mind-blowingly good, too.
For adventurous eaters who like to try a little bit of everything, the markets are the perfect place to stop. The most popular is Oahu Market, which always has colourful displays of fresh juices and exotic fruits. Just a few blocks away, you'll find the lively outdoor meat market and Maunakea Marketplace, which is a local favourite for its food court.
Other notable restaurants include the popular Yat Tung Chow Noodle Factory, which serves almost a dozen different sizes of noodles. There's also Maguro Brothers, an unassuming seafood stand known for serving some of the freshest seafood on the island. Finally, The Pig & The Lady is an upscale Vietnamese restaurant run by an award-winning chef who crafts his recipes with inspiration from his childhood – definitely worth a look.
What are the highlights of Honolulu's Chinatown?
Chinatown is one of the busiest neighbourhoods in Honolulu. It has some beautiful historic buildings and a thriving art scene. Nestled on the eastern edge of Chinatown is the vintage Hawaii Theatre. Known as "The Pride of the Pacific", this historic theatre was first opened in 1922 and has been restored throughout the years to retain its opulent beauty. The inside of the theatre is just as beautiful as its exterior. The best way to check it out is by grabbing tickets to a show or joining a guided tour to learn all about its colourful history.
Other notable structures in Chinatown include the Mendonca Building, the Kamehameha V Post Office, and the McCandless Building. In addition to great food and incredible architecture, Chinatown has an amazing art scene. Bethel Street and Nu'uanu Avenue are the best roads to admire all types of art. From street art and affordable prints to upscale galleries and arts centres, creatives who specialise in all mediums are represented here. Some of the most popular galleries have impressive collections from artists like Pegge Hopper, Ravizza Brownfield, and Louis Pohl.
Good to know about Chinatown in Honolulu
Chinatown is in the western part of Honolulu. It's easy to walk to from almost anywhere downtown. If you love walking, there are a few tours offered by the Hawaii Heritage Centre and the Chinese Chamber of Commerce Hawaii. These last from 1 to 2.5 hours and take you through the 15 blocks that make up the neighbourhood.
If you happen to be in Honolulu on the first Friday of the month, you're in for a treat. Local businesses and artists in Chinatown host a neighbourhood-wide event with free entertainment, extended museum and gallery hours, and plenty of great souvenir shopping. As these events get crowded, you'll want to plan ahead to avoid a headache when parking. One option is to park downtown and walk over. You can also hop on the city bus, which is an inexpensive way to get to the heart of the neighbourhood.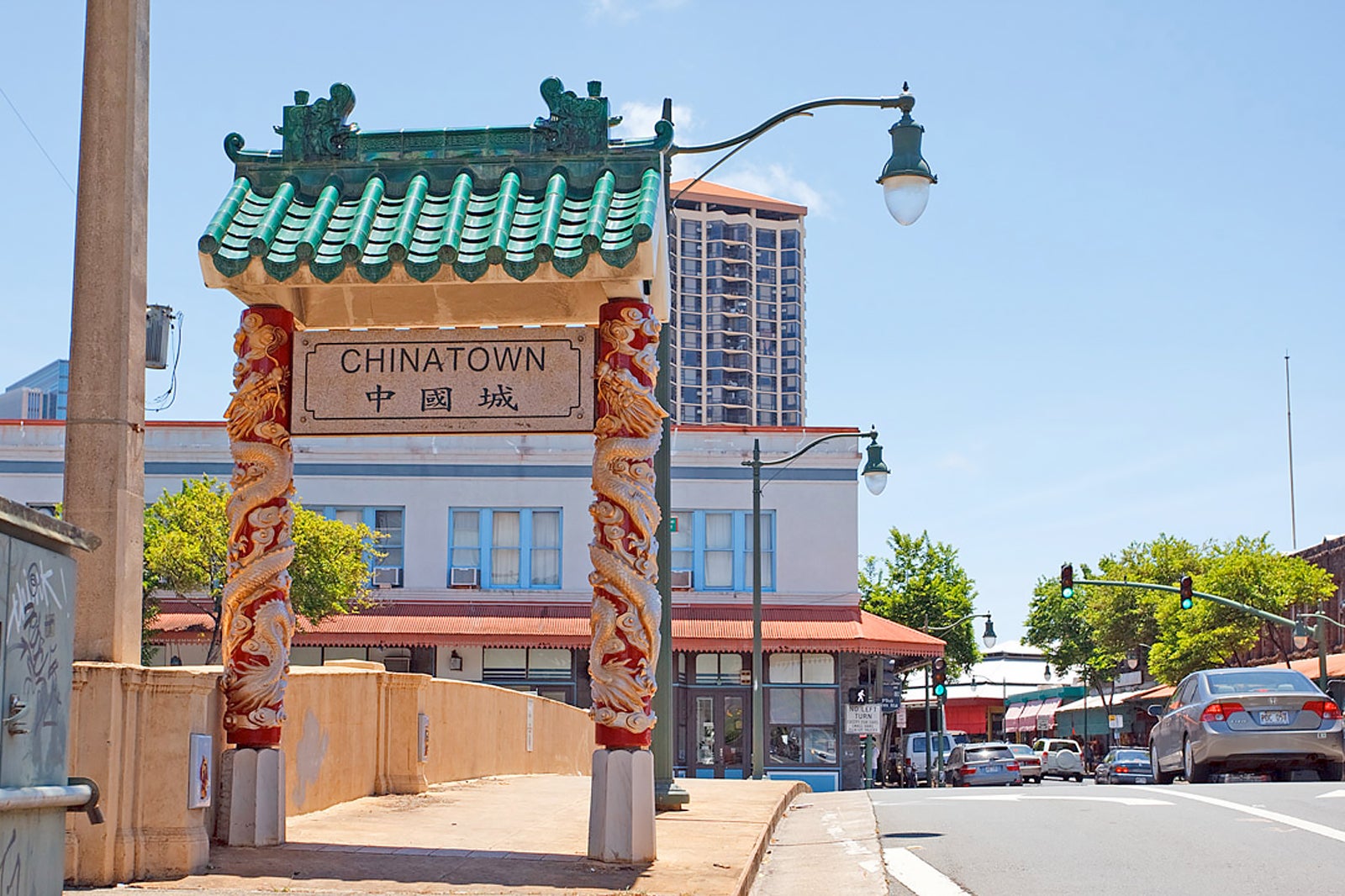 Chinatown in Honolulu
Back to top