10 Things to Do in Manchester Off the Beaten Track
Cool Places in Manchester You Might Not Know
Manchester offers plenty of unique and off-the-beaten-path things to see and do, but only if you know where to look. From Turkish baths and centuries-old libraries to Neolithic monuments and masterpieces of artwork, some of Manchester's greatest treasures are worth looking and happen to be found beyond the common tourist spots.
Read on to discover some of the coolest sights and places you might've never heard of. Here, we help you where to look – take a tour of the great things to do in Manchester off the beaten track.
1
Victoria Baths
Relax in a thermal spa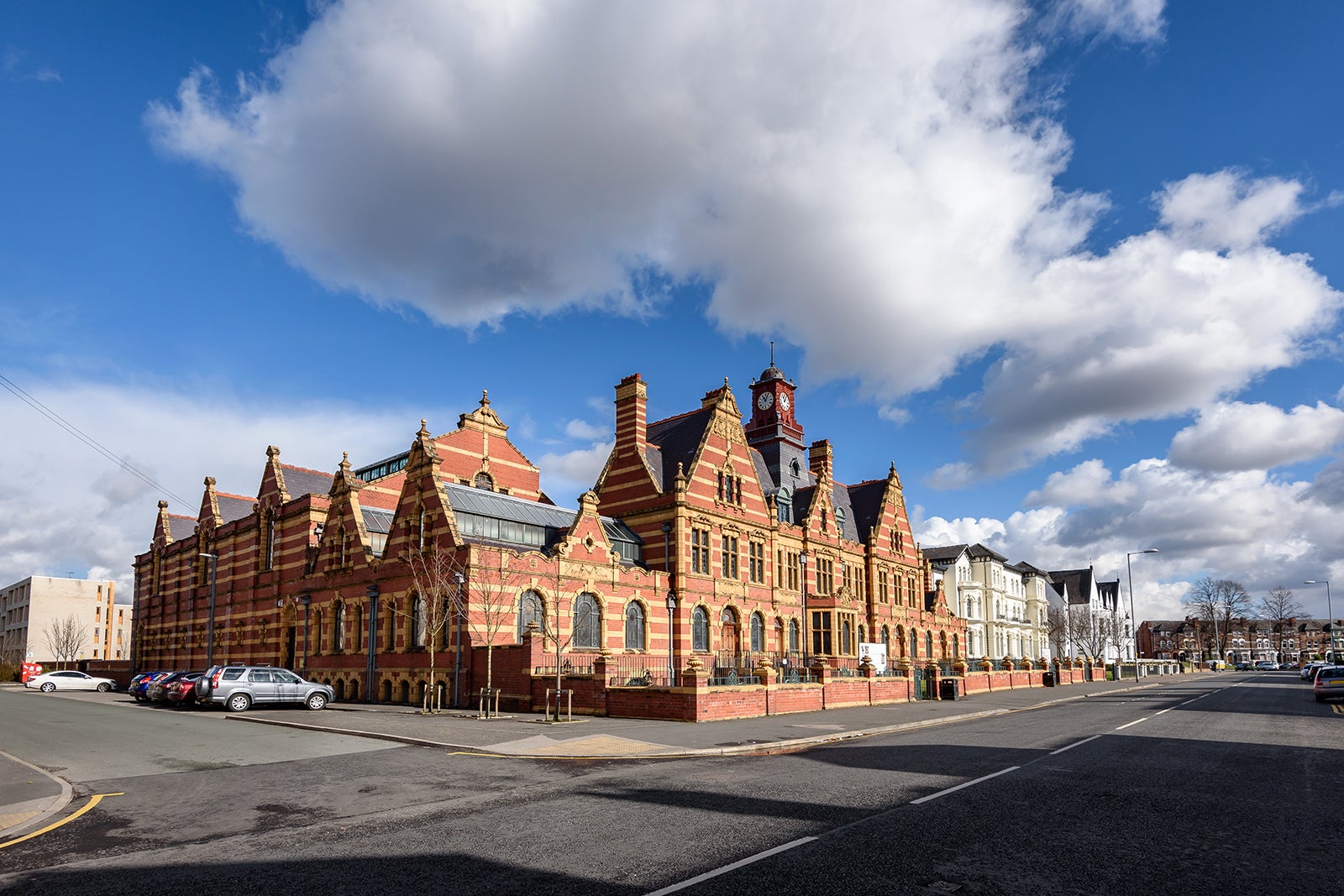 The Victoria Baths began in 1906 as a lush bathhouse that drew local bathers and was more opulent and luxurious than equivalent bathhouses of the time. The space was filled with swimming pools, private baths, Turkish baths, lavish multi-coloured brickwork and terracotta, glazed tiles, stained glass, and other decadent features fitting a 'water palace'.
Unfortunately, the Victoria Baths fell into disrepair in the 1990s, before being revived by a reality television competition with a restoration grant. Now, the Victoria Baths are open seasonally for guided tours, public open swimming and bathing days and special events like live performances.
Location: Hathersage Rd., Manchester M13 0FE, UK
Open: Hours vary by season
Phone: +44 (0)161 224 2020
2
Castlefield
Wander cobbled pathways along the canal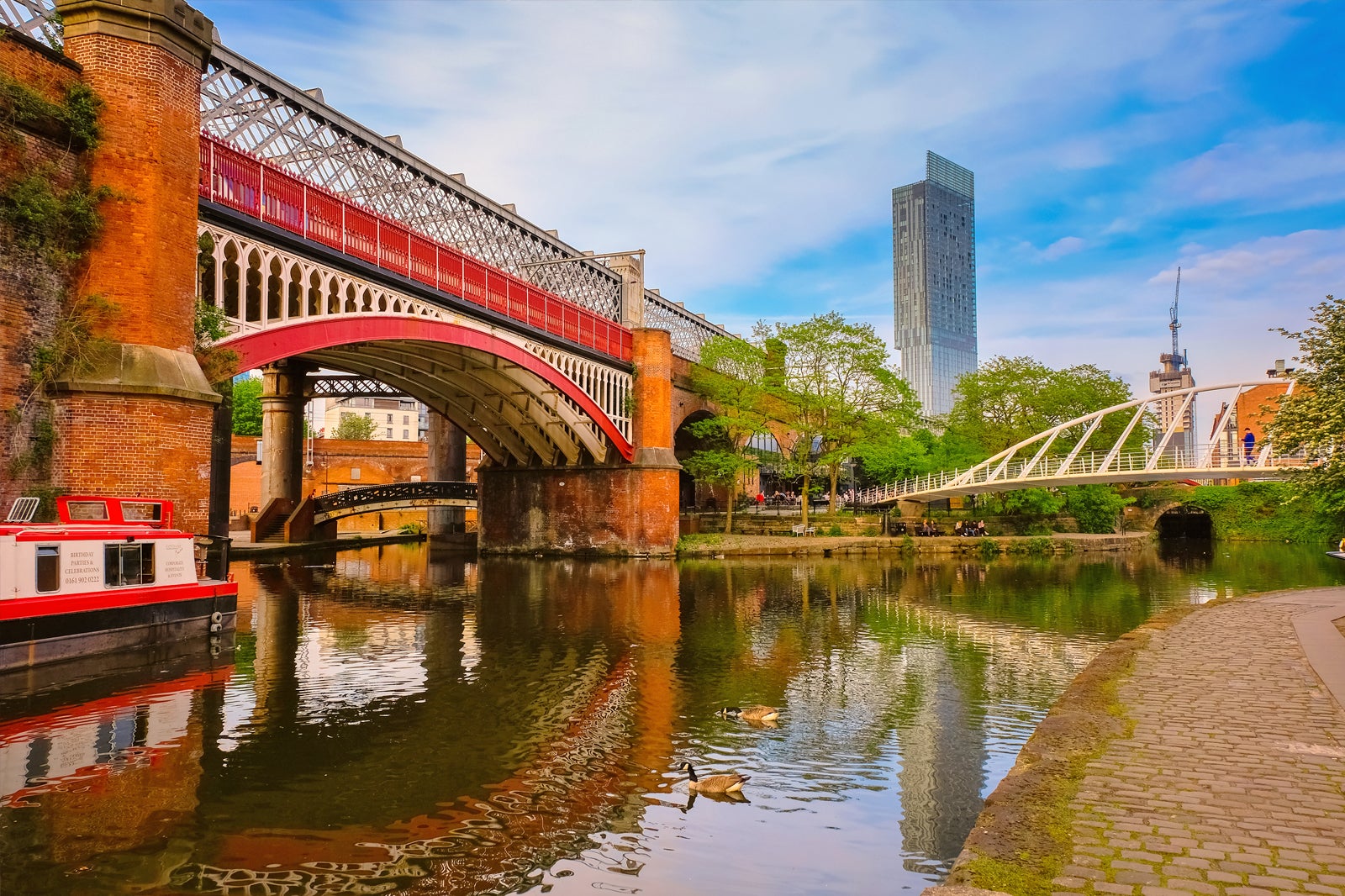 Castlefield is a charming conservation area in the northern part of the city. It was once the site of a Roman-era fort and the terminus of the Bridgewater Canal, the world's first industrial canal. Now, the area is home to restaurants, bars, and events venues that draw visitors, especially in the summer months.
Castlefield is an Urban Heritage Park, which means its canals and cobbled pathways are sheltered and free of traffic, so it's one of the most peaceful areas in the city. You can spend the day exploring to get a glimpse into life for residents along the canal in the past and sample some delicious food and drinks from local bars and restaurants.
3
Chetham's Library
Immerse yourself in history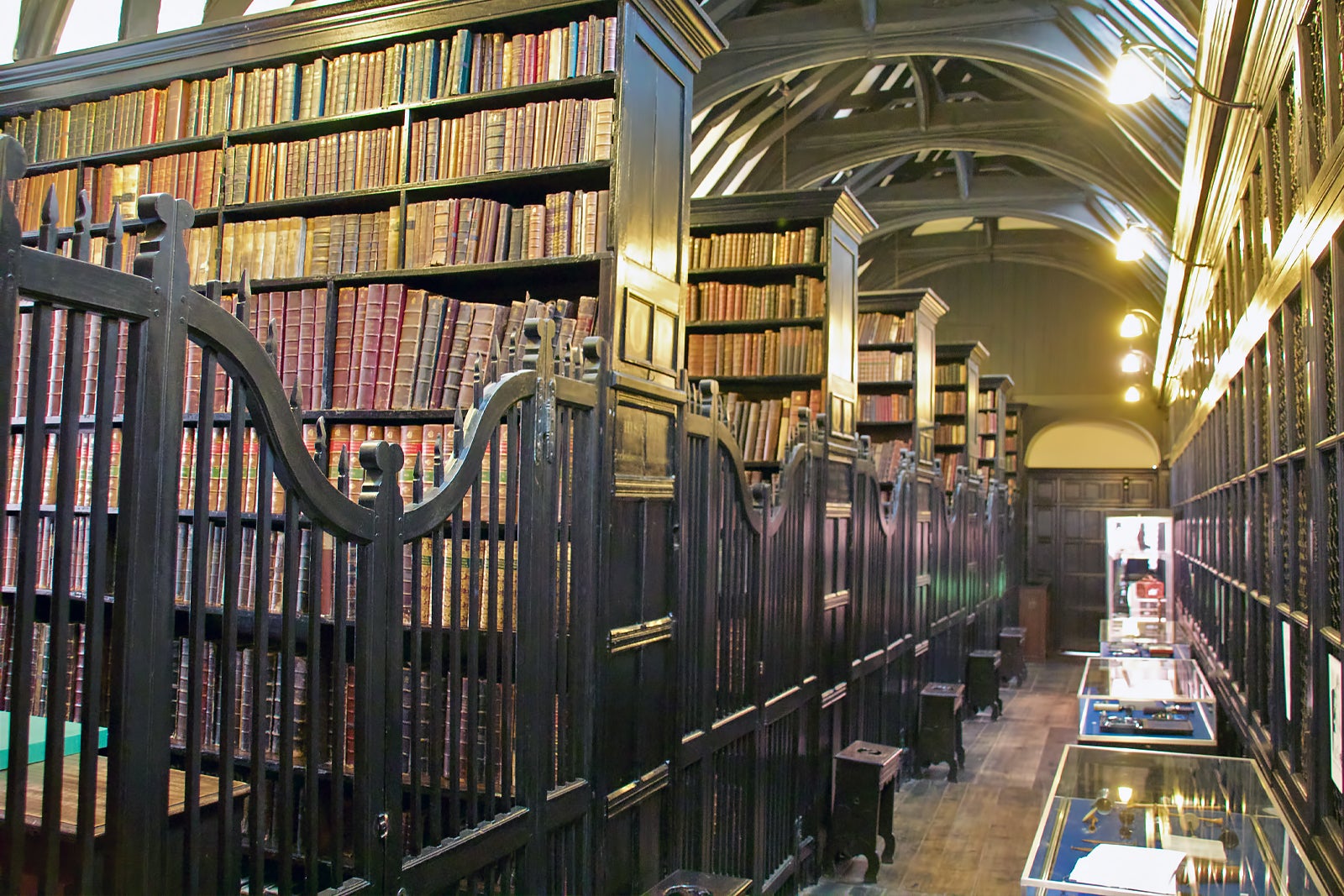 Chetham's Library, dating back nearly 400 years, is the oldest public collection library in the UK. First established in 1653, the library has been a haven for scholars ever since, including Karl Marx and Friedrich Engels. The library is home to over 100,000 books that are open to the public, many of which date back to the 1800s.
The building itself is historic as well and was once used as a priest's college in the 1400s. Some of the notable texts in the collection include Hooke's Micrographia, Strawberry Hill, Newton's Principia, Henry VIII's Prosper of Aquitaine, Saxton's Atlas of England and Wales and the Latin Vulgate Bible. Library visits are by appointment or guided tour only.
Location: Long Millgate, Manchester M3 1SB, UK
Phone: +44 (0)161 834 7961
photo by Mike Peel (CC BY-SA 4.0) modified
4
Ancoats
Sample unique eateries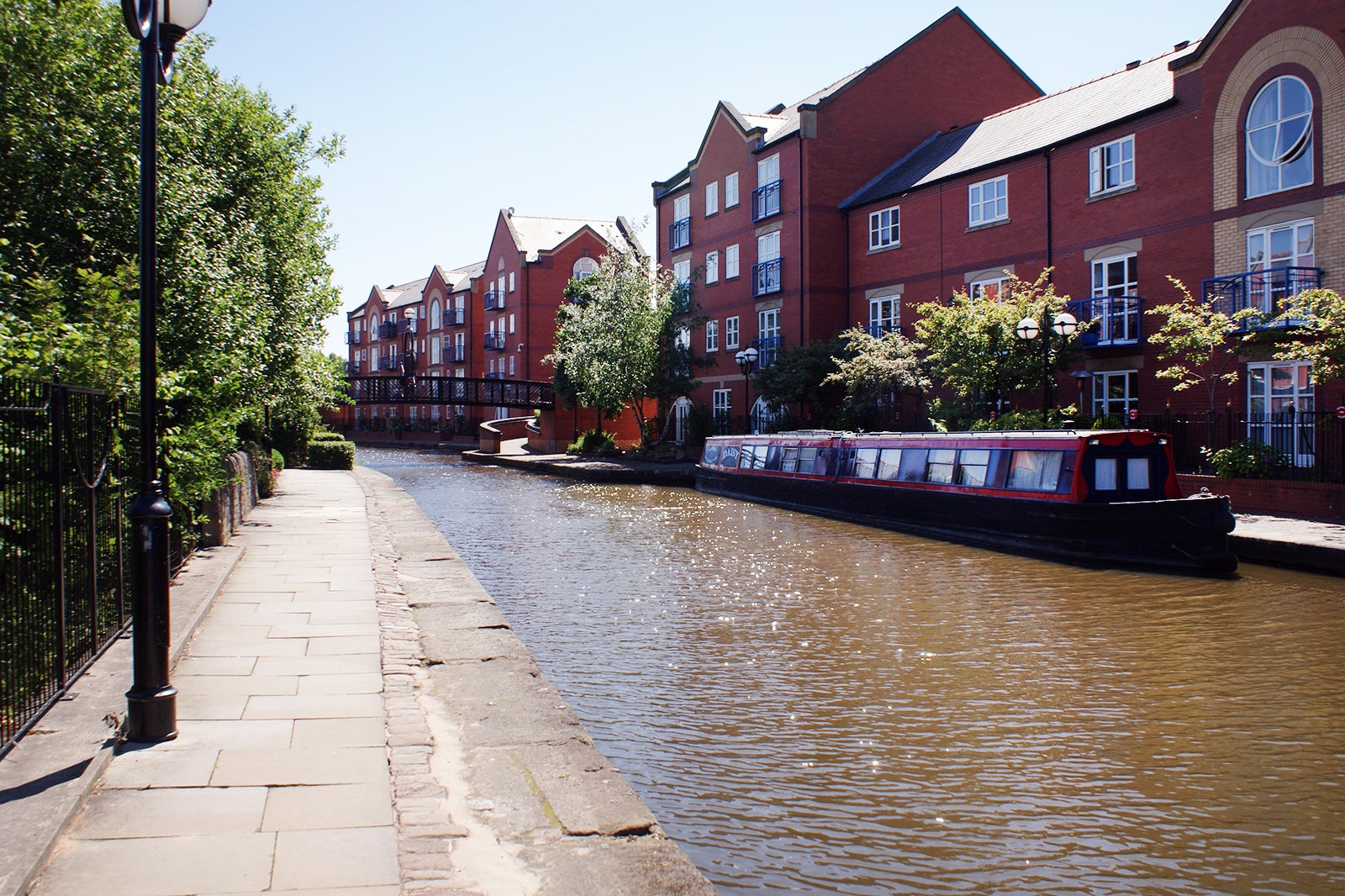 Ancoats dates back to the cotton era and is one of the hippest places in Manchester. It's now home to an array of trendy bars and restaurants with eclectic menu options and picturesque surrounds, including romantic canals and haunting old factories.
This is a great place to find hidden gem bars and restaurants, whether you're looking for Scandinavian food, Japanese tea houses, craft breweries or old-fashioned speakeasies. To immerse yourself deeper into the past, you can peek in the 'peeps', or brass peepholes that you'll see on buildings, that give you a look into the inner workings of the machinery and textile mills in the area.
5
Manchester Museum
Browse millennia of natural history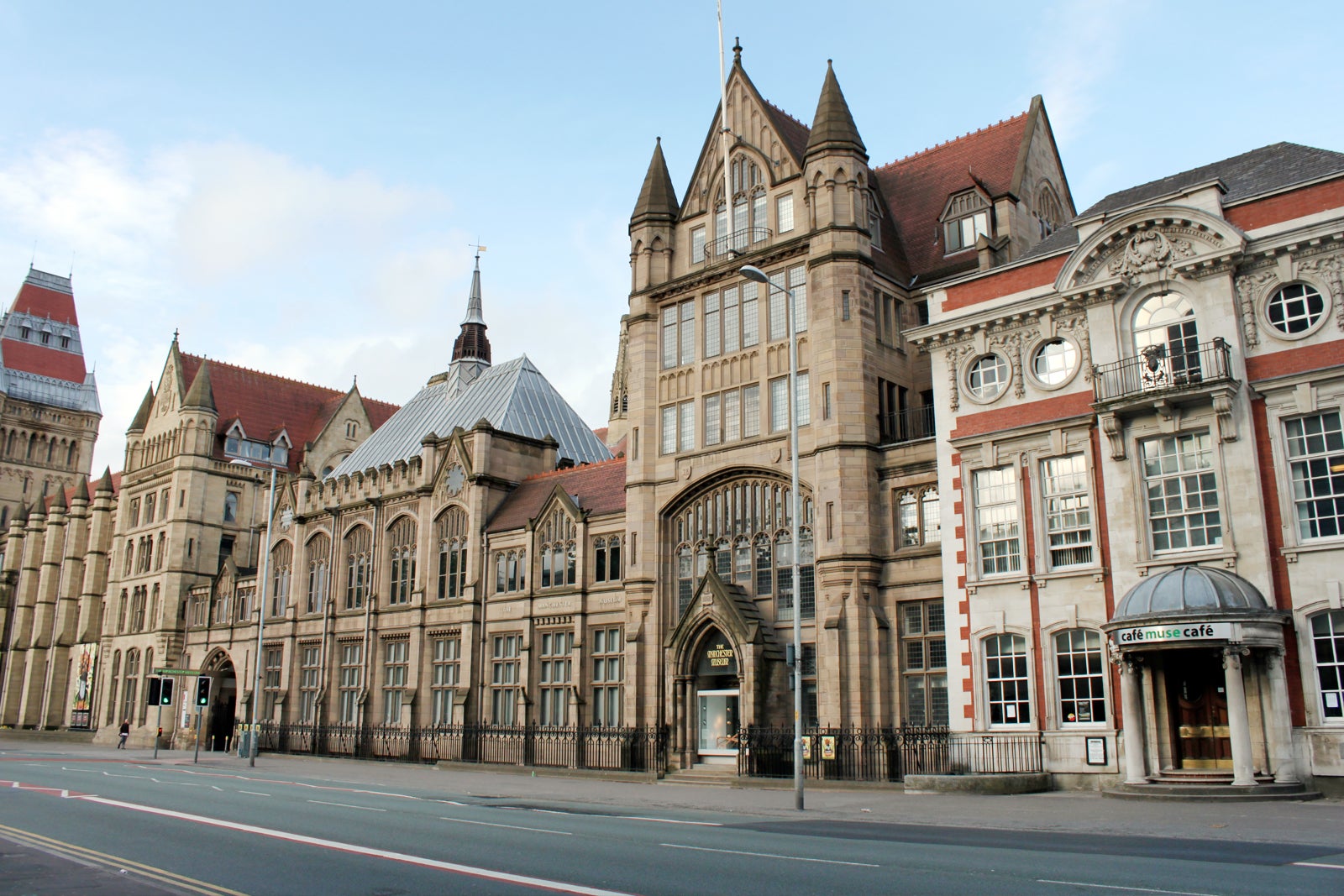 Manchester Museum was founded as a natural history museum in 1821 and is one of the most intriguing museums in the city. The museum boasts 4 floors of displays and exhibits with 4.5 million items in collections from all over the world. Some of the museum's highlights include a fossilized Tyrannosaurus Rex, artefacts from Oceania and Aboriginal Australia, the Lindow Man bog body, archaeological artefacts from ancient worlds, archery relics, a numismatic collection and mineralogical and fossil specimens.
Manchester Museum also has zoological specimens, including mounted exotic animal species, and a vivarium where you can see live reptiles and frogs in their natural habitat.
Location: University of Manchester, Oxford Road, Manchester, Greater Manchester M13 9PL, UK
Open: Daily from 10 am to 5 pm
Phone: +44 (0)161 275 2648
photo by DrPhoenix (CC BY-SA 3.0) modified
6
Andesite Boulder
See an Ice Age wonder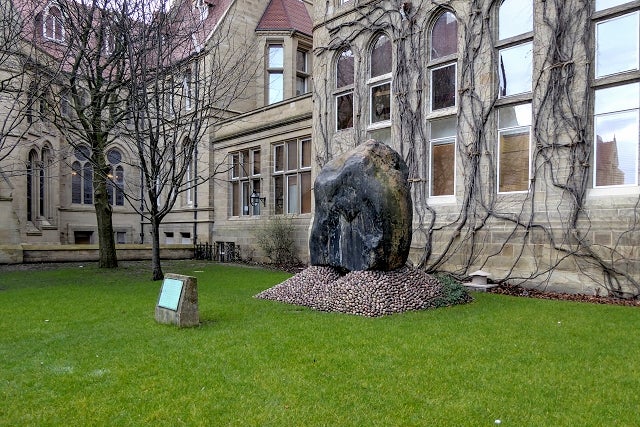 The Andesite Boulder at the University of Manchester's Old Quadrangle is an unusual and fascinating hunk of lava. It's mounted on a stone plinth against the backdrop of the university's gothic architecture, measuring 2.4 metres by 2.7 metres by 1.5 metres and weighing over 20 tonnes. It's believed to come from the Lake District and date back to the last Ice Age, roughly 20,000 years ago.
When it was discovered during excavations in 1888, it was moved to the university and rests in the spot where graduation celebrations take place. The boulder is accessible to the public and a great landmark for memorable holiday photos.
Location: Oxford Rd., Manchester M13 9PL, UK
photo by David Dixon (CC BY-SA 2.0) modified
7
Manchester Gallery
Browse masterpieces of artwork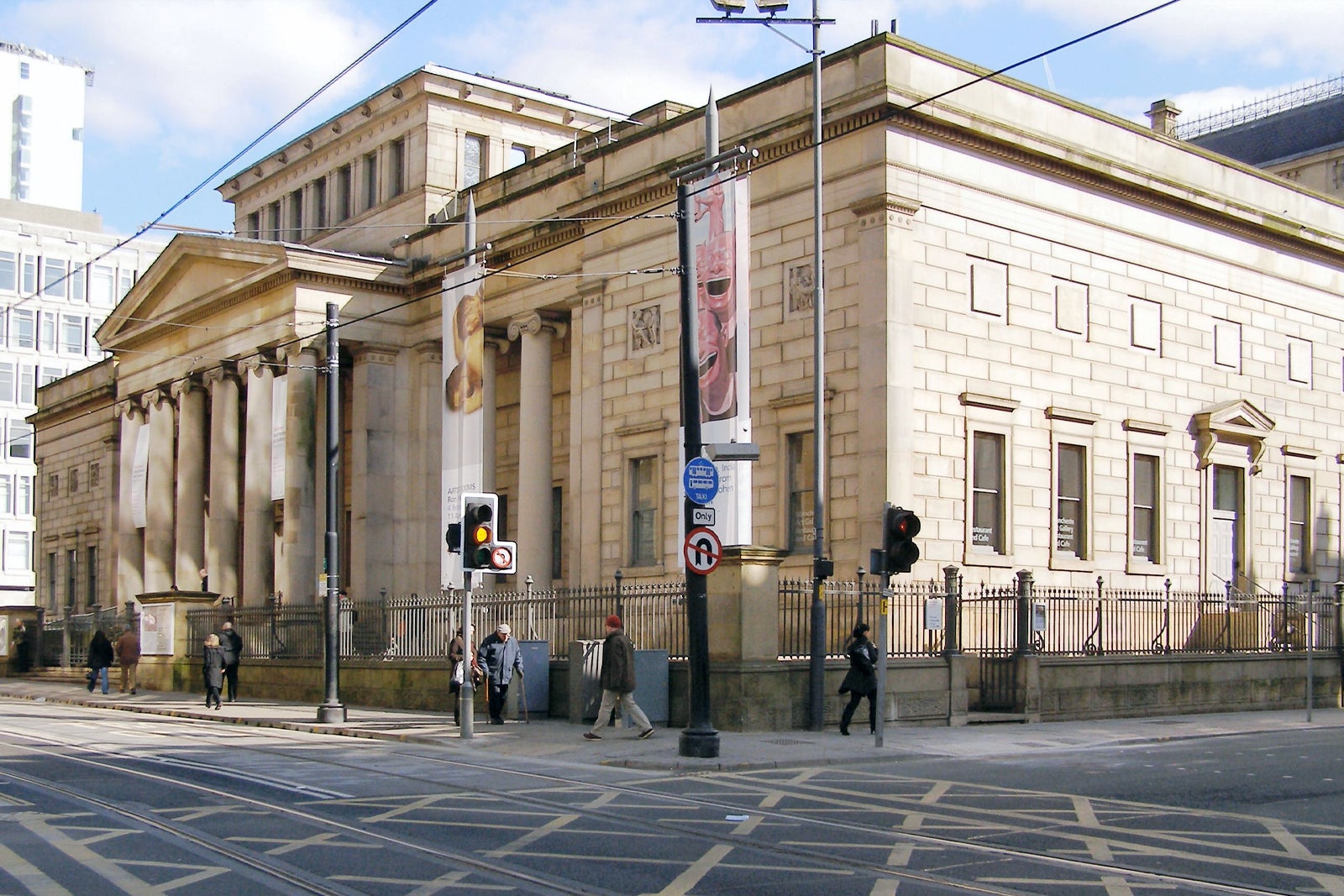 Manchester Art Gallery is a stunning art museum and gallery comprised of 3 connected buildings. The museum is home to many masterpieces of local and international importance in its 25,000-item collection, including 5,000 paintings, 250 sculptures, 90 miniatures, and about 1,000 prints. There are also over 13,000 decorative art pieces, including glass, furniture, metalwork, ceramics, arms, dollhouses, and wallpapers.
Despite its vast collection, the gallery is most renowned for its works of Victorian art and the works of French impressionist, Pierre Adolphe Valette. It also hosts temporary exhibitions of notable artists or movements. Best of all, the Manchester Museum is free to enter, so it's an excellent attraction for a budget-friendly holiday.
Location: Mosley St, Manchester M2 3JL, UK
Open: Monday from 11 am to 5 pm, Tuesday–Thursday and Saturday–Sunday from 10 am to 5 pm (closed on Fridays)
Phone: +44 (0)161 235 8888
photo by David Dixon (CC BY-SA 2.0) modified
8
People's Museum
Get involved in social history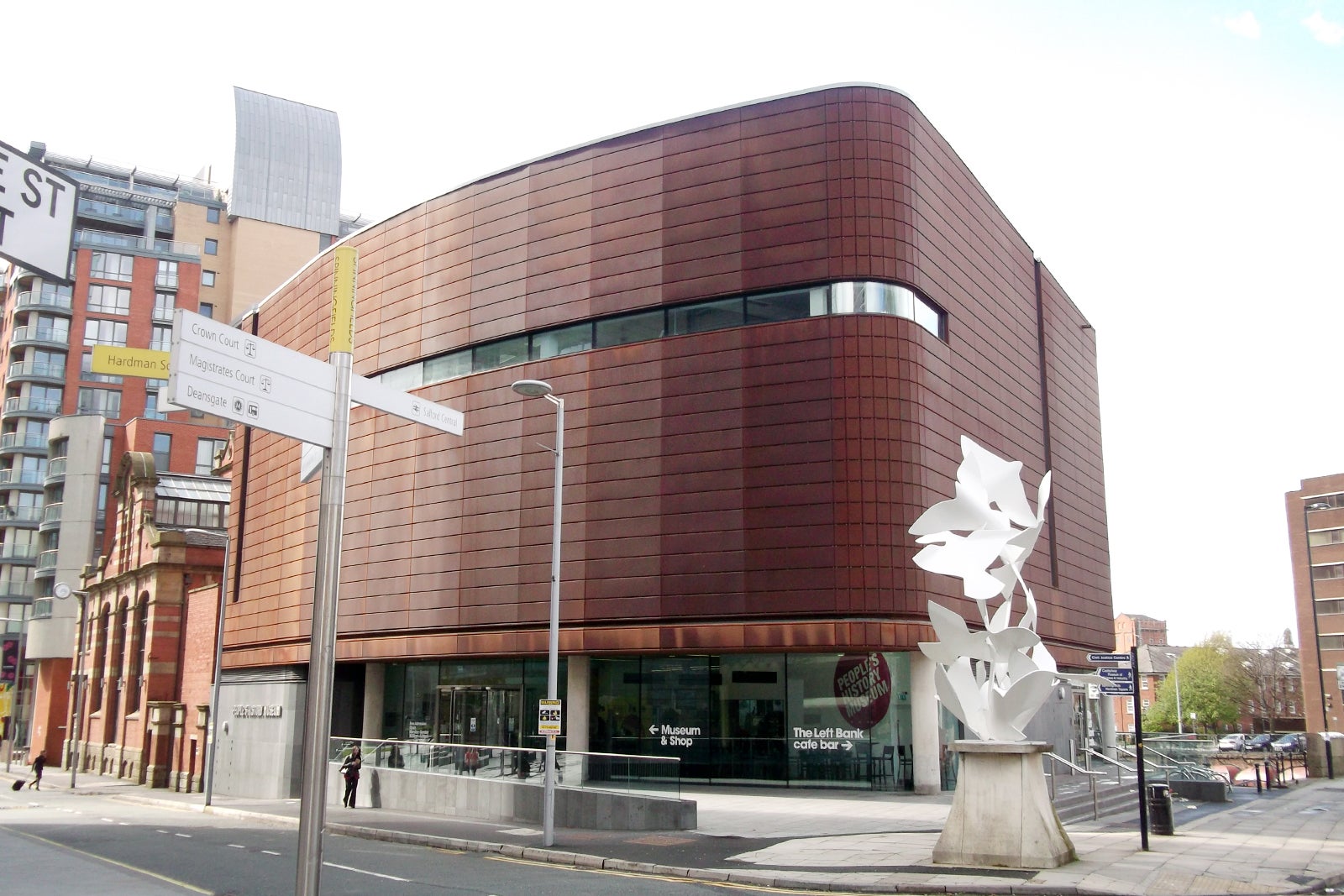 The People's History Museum is a national centre for collection, conservation, and interpretation of the history of working people in the UK. Located within a former hydraulic pumping station, the museum chronicles life for the working class over the last 200 years with a vast collection of artefacts, including photos, prints and personal objects.
There are many fascinating periods covered in the collection, including trade unionism, women's suffrage, and friendly societies. It also holds a vital archive of historic materials, including items related to the Department for Work and Pensions, the Communist Party of Great Britain, and the Labour Party.
Location: New Ct St., Manchester M3 3ER, UK
Open: Daily from 10 am to 5 pm
Phone: +44 (0)161 838 9190
photo by Bernard Randall (CC BY-SA 3.0) modified
9
Mackie Mayor
Shop at an industrial-era market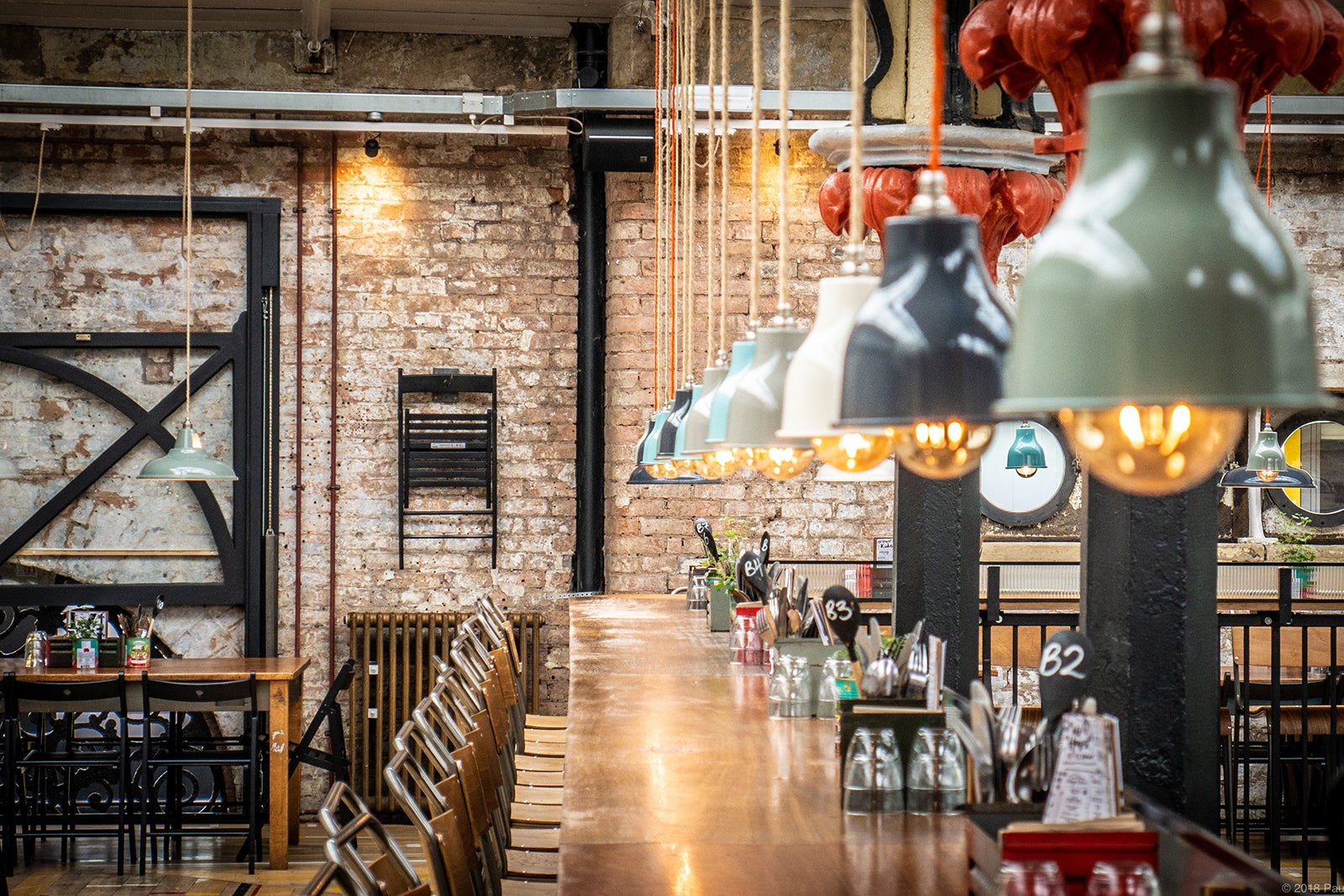 Mackie Mayor, dating back to the industrial period, is one of the city's best markets for foodie gems. The Grade-II-listed building is located on the outskirts of the Northern Quarter and offers a range of activities and culinary experiences. You can find some of Manchester's best restaurants for sit-down meals, quick snacks or beer, wine, and cocktails.
Whether you're looking for traditional English food or something exotic and different, you'll find it at Mackie Mayor. The market hosts many events throughout the year as well, such as yoga and brunch sessions, informal feasts and more. Kids and dogs are also welcome, so you can enjoy dining with the whole family.
Location: 1 Eagle St, Manchester M4 5BU, UK
10
The Washhouse
Sip cocktails incognito in a laundromat
From the outside, the Washhouse appears to be like any old neighbourhood laundromat. Beyond the exterior is a hidden bar with a phone and a single washing machine. To get a drink, you need to call ahead to book your washing and machine and hit a button on the phone to request to 'do your load', then you're allowed in for a drink.
Once past the doorway, you'll be in a room awash with brick, rich, dark leather and low lights for a clandestine bar experience. Equal parts old-fashioned speakeasy and hip and exclusive, the Washhouse is a cocktail experience like no other that's a must-visit hidden gem on your trip to Manchester.
Location: 19 Shudehill, Manchester M4 2AF, UK
Open: Monday–Wednesday from 5 pm to 1 am, Thursday from 5 pm to midnight, Friday from 3 pm to 3 am, Saturday from noon to 3 am, Sunday from noon to 11 pm
Phone: +44 (0)161 839 5387