Biarritz Travel Essentials
Useful Information to Help You Start Your Trip to Biarritz
Our Biarritz Travel Essentials lays out the essential information you need to help you plan your trip to one of the most popular destinations in the French Basque Country. No matter how often you travel, some questions will always need answers: What's the weather like? How can I get from Biarritz Pays Basque Airport to my hotel? What currency and type of plug do I need?
We have all these answers plus other basic info about the best time to go, getting there, getting around, and a few useful travel tips. You'll also learn about the most popular landmarks in Biarritz such as Rocher de la Vierge, the Old Port, and Sainte-Eugénie church. It's all compiled in this Biarritz Travel Essentials. After going through this short and easy-to-read guide, you'll be a little more prepared to start your trip to Biarritz.
1
When is the best time to travel to Biarritz?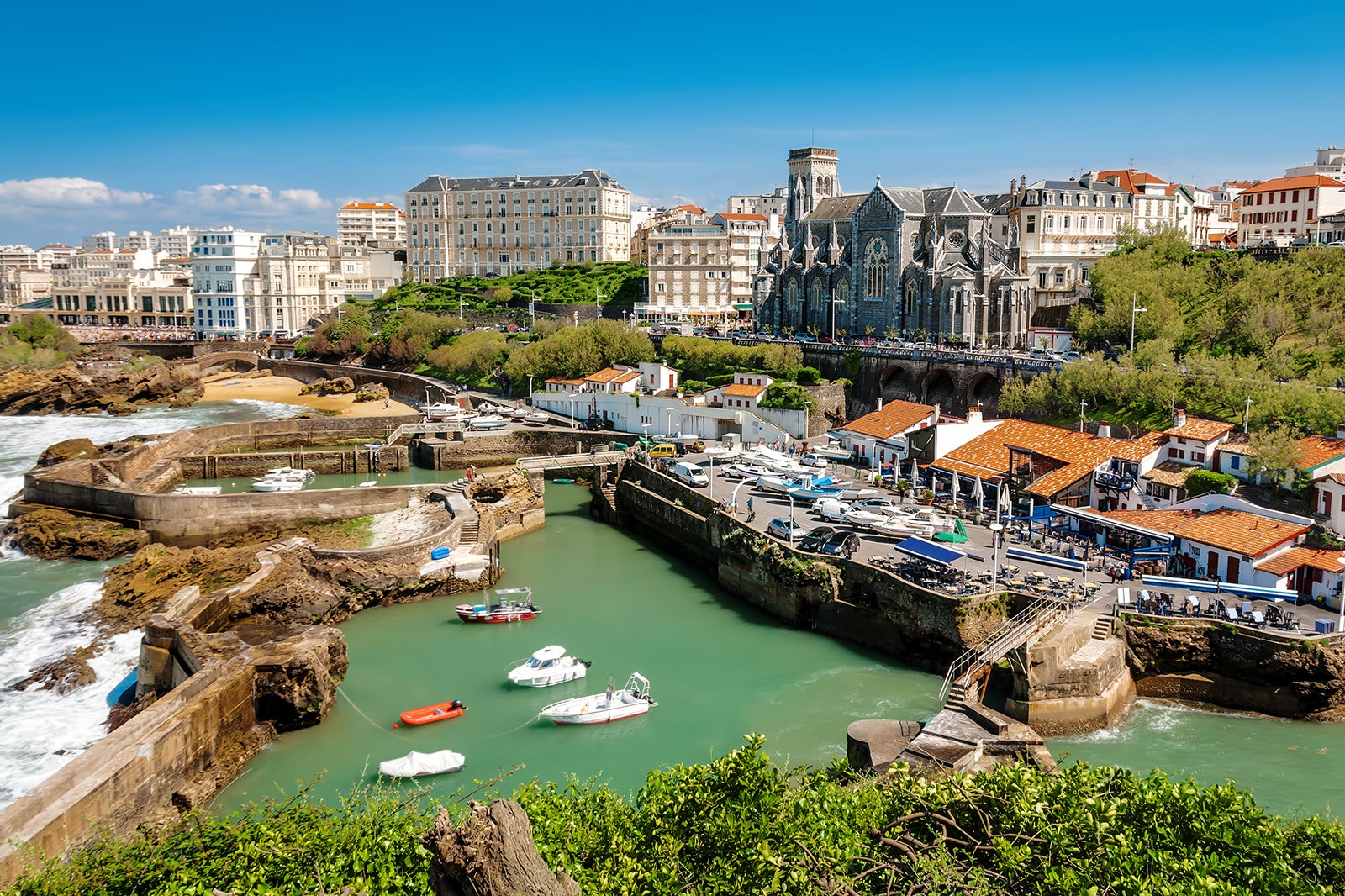 Biarritz has a temperate oceanic climate with warm, humid summers and mild, humid winters. Average temperatures range between 9°C in winter and 21°C in Summer.
Biarritz is considered one of the wettest cities in France. On average, it rains up to 10 days per month in June–September and up to 13 days during the other months.
With average temperatures above 15°C, the warmest time of the year is from May to October. The peak tourist season is during the July–August school holidays. Hotel rates are at their highest and places of interest are packed during this period.
The best times to visit Biarritz are in spring (May–mid-June) and autumn (late September–October). Hotels usually have lower rates, and the weather is mostly mild and pleasant, although carrying a raincoat is a must. Also, you'll avoid the summer crowds.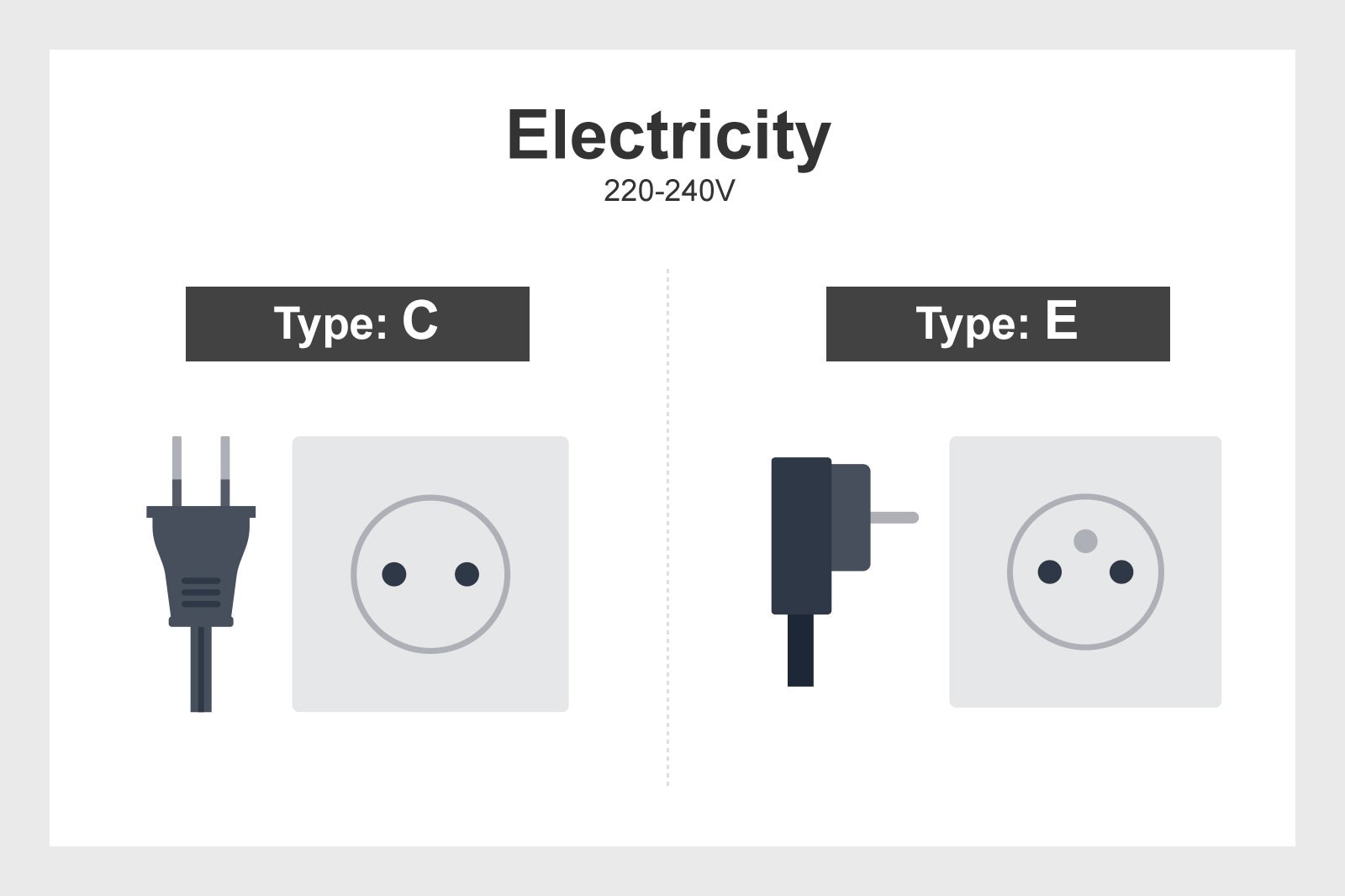 Plug type: C and E
Electricity: 220-240 V
Currency: Euro (€)
International dialling code: +33 5
Emergency telephone number: 112
3
How to get to my hotel in Biarritz?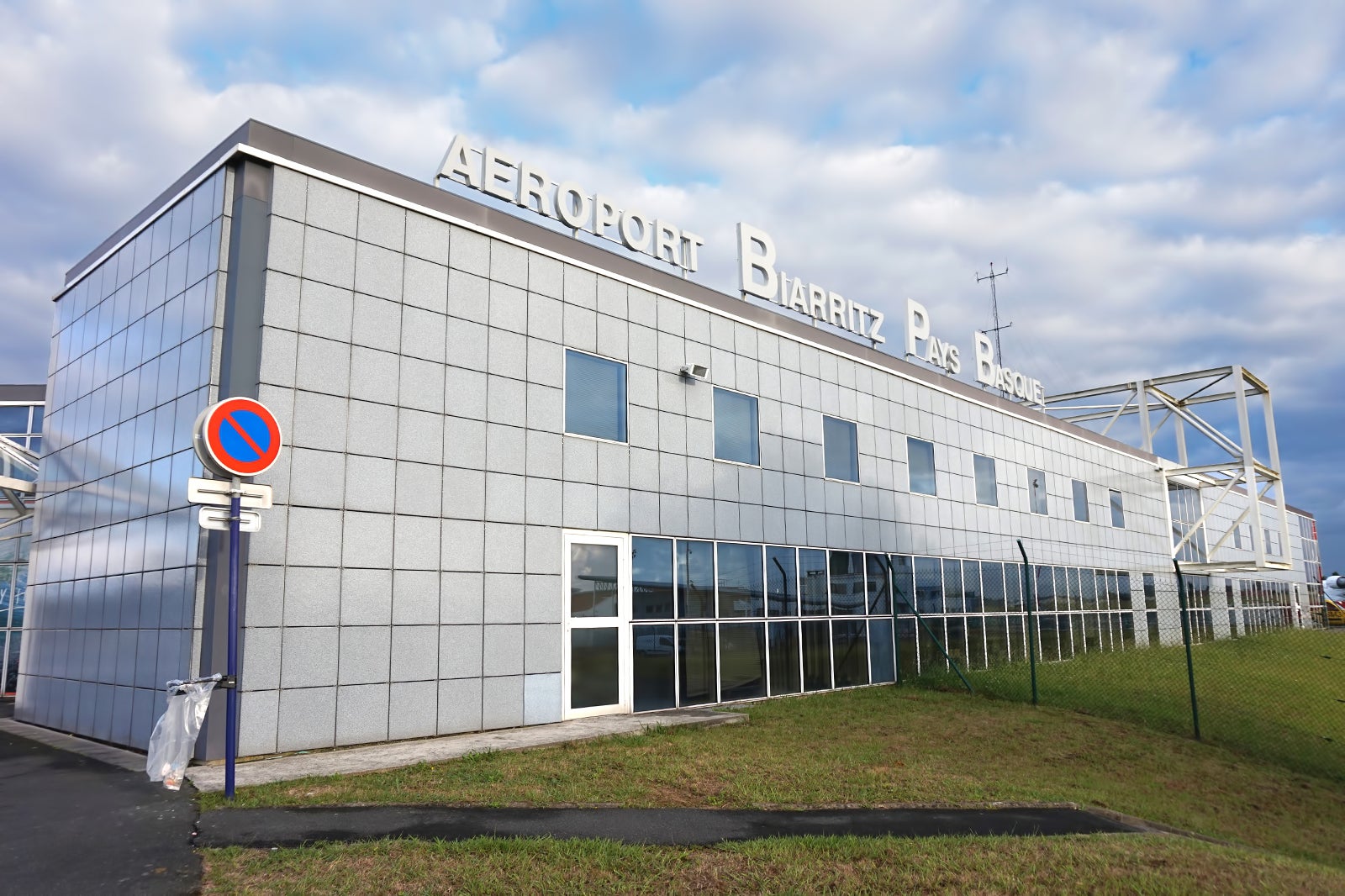 From abroad, Biarritz Pays Basque Airport is the main arrival hub to the Bay of Biscay. If you're already in France, you can also get to Biarritz by train. It takes about 4.5 hours to get to Biarritz by High-Speed Train (TGV – Train à Grande Vitesse) from Gare Montparnasse in Paris.
If you travel by car, the A63 is the closest highway serving Biarritz from Bordeaux. The drive time between the 2 cities is about 1 hour and 30 minutes.
Biarritz Pays Basque Airport (BIQ)
Biarritz Pays Basque Airport is 3.5 km east-southeast from the city centre. It serves regular flights to the major French airports and seasonal flights to England, Ireland, and Switzerland. It features 1 runway and 1 terminal that's home to convenient dining and shopping options. The driving time between the airport and downtown Biarritz is about 10–15 minutes. Free Wi-Fi is available throughout the terminal.
Ground transport options available are as follows:
Taxis can be found outside the terminal, next to the arrivals hall.
Chronobus lines 3, 4, and 36 serve Biarritz city centre. The journey takes about 15 minutes. It's the cheapest way to get to downtown Biarritz from the airport.
Major car rental agencies such as Avis, Hertz, and Sixt can be found inside the terminal building, after the baggage claim area. It's advisable to pre-book your vehicle online before getting there.
Biarritz train station
Biarritz train station is on Allée du Moura, 3 km south-southeast of the city centre. It's served by High-Speed Trains (Bordeaux–Irun railway line) and standard trains. The station features Wi-Fi, a newsstand, and refreshment facilities.
From here, you can reach your hotel by public bus, taxi, or rental car.
photo by Tiia Monto (CC BY-SA 3.0) modified
4
How to get around Biarritz?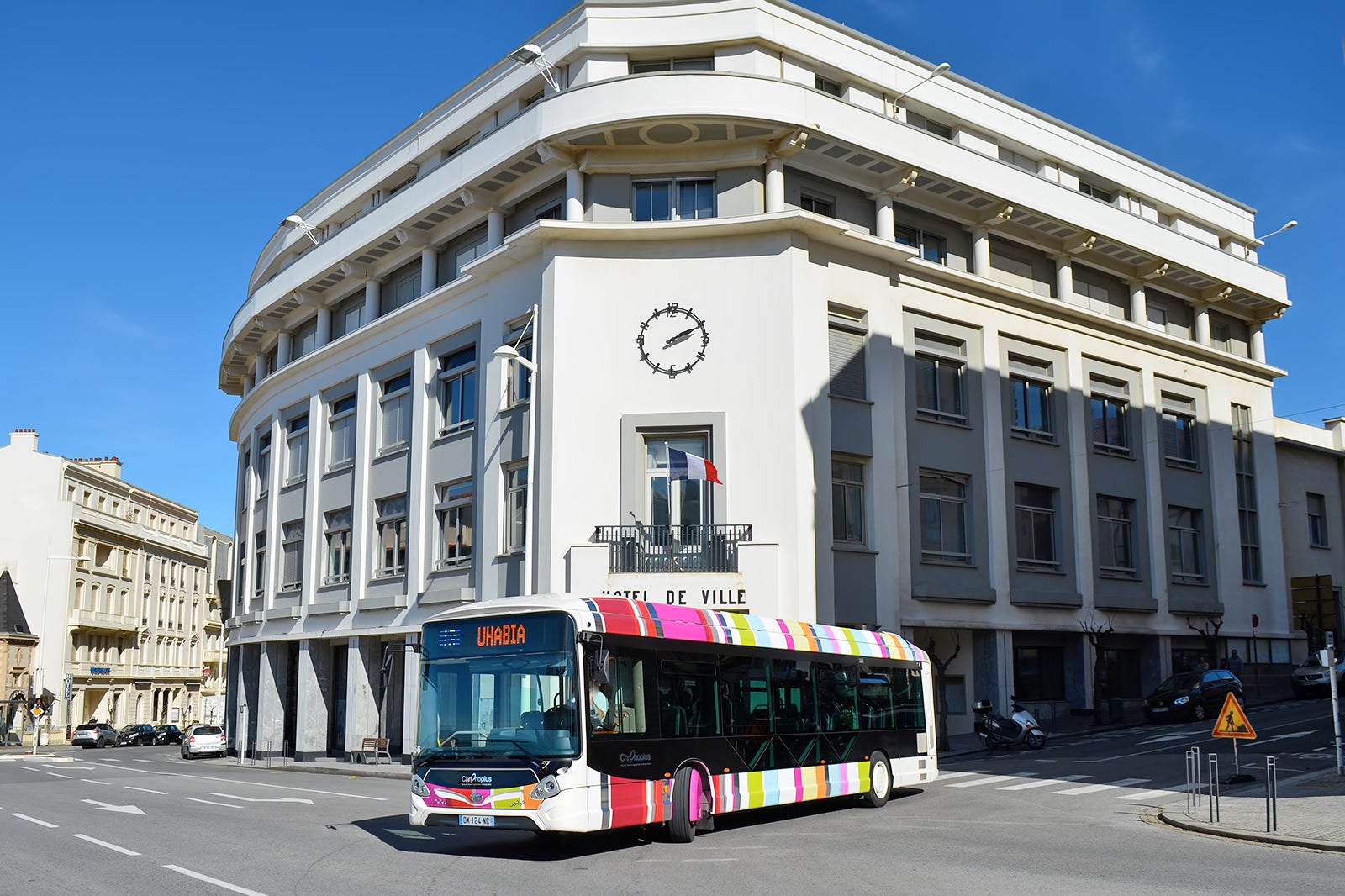 Travel tips
Biarritz city centre is walkable. It covers an area of about 2 sq km. It's filled with landmarks and iconic buildings, such as the Biarritz Aquarium, the Rocher de la Vierge, and the Asiatica Museum, just to name a few. There are 3 beaches also within walking distance from the city centre. Downtown Biarritz is home to a great range of dining and shopping options, as well as cool bars for enjoying a nightcap.
Cycling is a pleasurable way of exploring the city on brighter days. Even so, the hilly nature of the city and its surroundings can be challenging. For longer distances, Chronoplus runs an extensive network of buses that cover the city and its vicinity.
How does Biarritz's public transport work?
Chronoplus is the name of the public transport system that covers Biarritz and the Basque Country by bus. Chronoplus operates over 40 lines. From Biarritz, you can get to cities and towns including Bayonne, Anglet, Saint-Pierre-d'Irube, Boucau, Tarnos, and Bidart by bus.
During the summer, a few bus lines running through the city centre operate for free. Single, 10-trip, day, and week tickets are available. Single tickets can be purchased on the bus and are valid for 1 hour. Other tickets can be bought from vending machines at many bus stops and in many tobacco shops. All types of tickets can also be purchased online. Note that buses are wheelchair accessible.
You can combine transportation and entry to attractions by purchasing a Bayonne City Pass. Valid for 1, 3, or 7 days, it offers free entrance in some museums, free guided tours, and discounted prices in shops part of the scheme.
Taking a taxi in Biarritz
Karine Ilharragorry Taxi Services (+33 (0)6 98 14 03 52), Sud Taxi (+33 (0)6 12 67 55 80), and Atlantic Taxis Biarritz (+33 (0)5 59 03 18 18) are just a few of the taxi companies that operate in Biarritz. You can also easily find taxi lines in front of hotels and main attractions. It's easy to hail one on the street.
Convenient yet rather expensive, getting around Biarritz by taxicab is not your best option if you're on a budget, although a taxi ride may be your most convenient option to get back to your hotel if you're enjoying a late night out. Note that tipping for taxis in France isn't necessary, but if you're happy with your driver's service, you can give an extra 5% or 10% of the fare. In France, all taxis are obliged to accept payment by Visa and MasterCard.
Yuse is the main ride-sharing app used in Biarritz. Yuse rates are slightly cheaper than standard taxicabs.
Renting a car in Biarritz
Renting a car is preferable if you plan to go outside the city and explore the stunning landscapes of the Basque Country and enjoy the many beautiful beaches along the coast at your own pace. Car rental companies are available at the airport and throughout Biarritz. Foreigners can use their country-issued driving license accompanied by a notarized translation in French for up to 3 months. An International Driving Permit is acceptable too.
As for parking spaces, there are a few across Biarritz with various price bands. Note that some streets in the city centre and around the Old Port are car-free zones during peak season.
Cycling around Biarritz
Settled at the foot of the Pyrennees mountain, Biarritz and the Basque Country are home to too many steep slopes to be qualified as bike-friendly. Nevertheless, short distances along the beach are very pleasant to be enjoyed riding a bike, even if you're just a casual cyclist. If you're up to challenging rides, you can find maps of many scenic cycle routes around Biarritz online.
All types of bikes – including electric bikes – can be rented from rental shops in Biarritz such as Les Roues de Lilou (+33 (0)9 81 96 44 11), Volta Edison (+33 (0)9 83 62 31 88), and Bike Basque (+33 (0)6 95 94 82 37), just to name a few.
photo by Snoopy 31 (CC BY-SA 4.0) modified
5
What are the main annual events in Biarritz?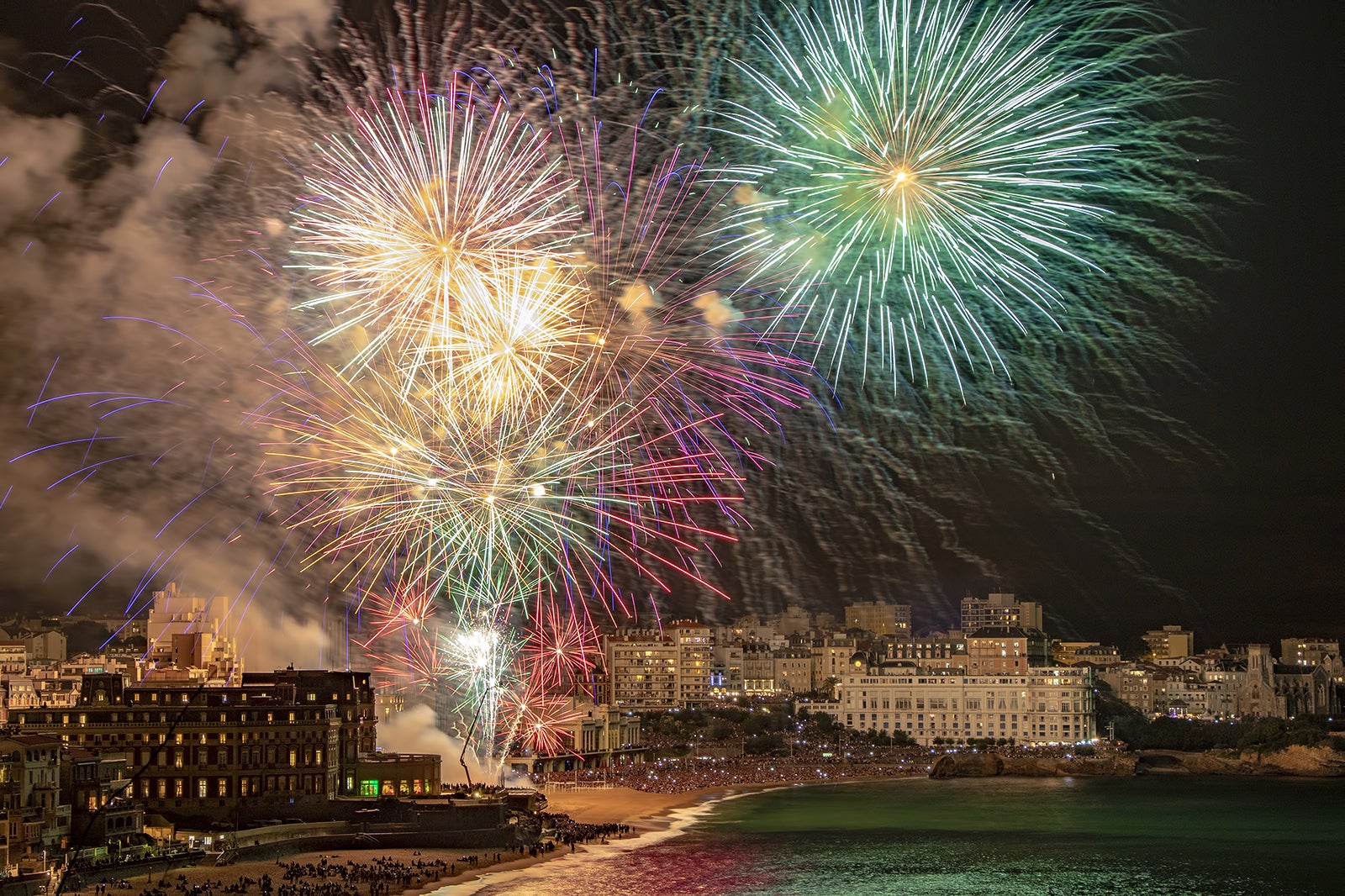 Street Arts Festival (Festival des Arts de la Rue)
June
Every year in June, musicians, actors, poets, but also jugglers, puppeteers, and dancers perform in the streets of Biarritz. The city is transformed into a gigantic stage with a festive atmosphere.
Where: Various streets, squares, and parks in Biarritz city centre
The Summer Scenes (Les Scènes Estivales)
July and August
Each year, Biarritz Evénement offers an entertainment program to ignite summer nights. Concerts are offered free of charge, with varied musical scenes: pop, rock, jazz, or even Basque, salsa, and Latin dances.
Where: South Parvis of the Grande Plage and the kiosk of the Place Sainte Eugenie
Le Brouillarta
October
An art festival promoting the work of local – Basque – artists. Professional and amateur painters, watercolourists, sculptors, and pastel artists set up an outdoor exhibition of their work.
Where: Jardins de la Grande Plage
6
What are the main landmarks in Biarritz?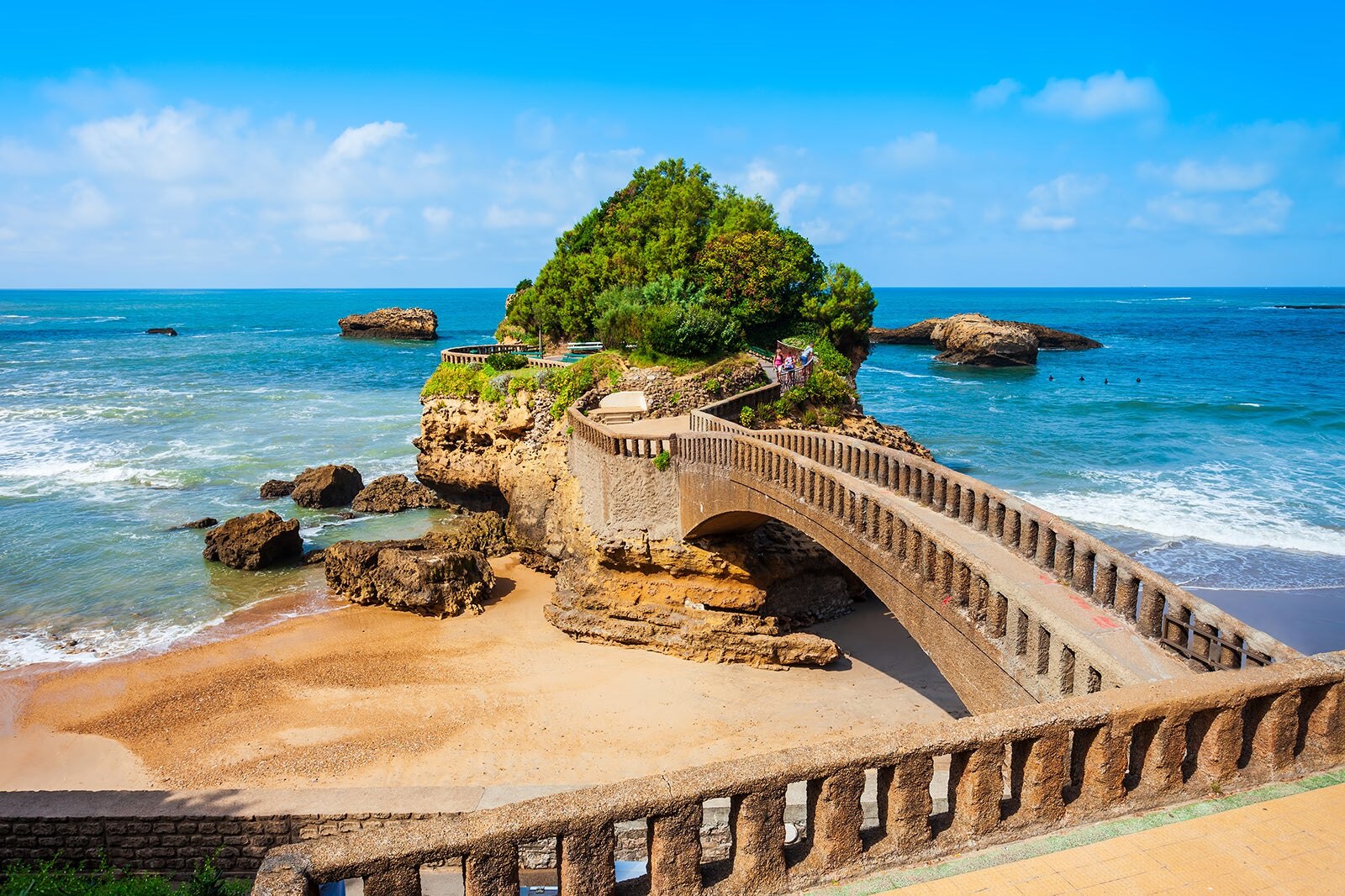 Rock of the Virgin (Rocher de la Vierge)
A rugged rock formation on which local fishermen erected a white Virgin statue back in 1865. It offers stunning views back across to Biarritz and as far as the mountains of the Spanish Basque Country.
The Old Port
Once the focal point of Biarritz, the Old Port (Port Vieux) is now a charming mini-village, frequented by locals and visitors alike. Take a wander around its quaint, narrow streets, and discover the fishermen's old crampottes, the name given to the small cottages that they once lived in.
Biarritz lighthouse
Built in 1834 at the town's northernmost point, the lighthouse still functions to this day and is open to the public. It's 74 metres tall and offers unrivalled views in every direction, from out to sea, to across Biarritz, Anglet, and the coastline.
Sainte-Eugénie church
A beautiful, Romanesque-Byzantine church built between 1898 and 1903, which appeals to many with its neo-Gothic structure and prominent coastal location overlooking the fishing port.
Back to top